It is a known notion that Ibiza, for many years now, has been at the top of the list on every clubber's list. It has been a favourite destination for tourists from all corners of the world.
Ibiza is a small island in the Mediterranean Sea, and despite its size, it remains a wonderful island with friendly locals. Ibiza town is a Spanish-speaking island, and although Spanish is spoken, the majority of the population speaks Catalan, a regional dialect.
The majority of tourists come to dance and enjoy themselves in the pleasant sunshine because it is recognized as the centre of electronic dance music. While it is known for its nightlife and dance clubs, it's definitely much more than that. This Spanish Island boasts some of the most breathtaking beaches in the world, and whether you're into kayaking or simply sightseeing, there is something available for everyone.
Here, we provided a list of the ten best places to visit in Ibiza for you to be guided on where to go next.
Ibiza Town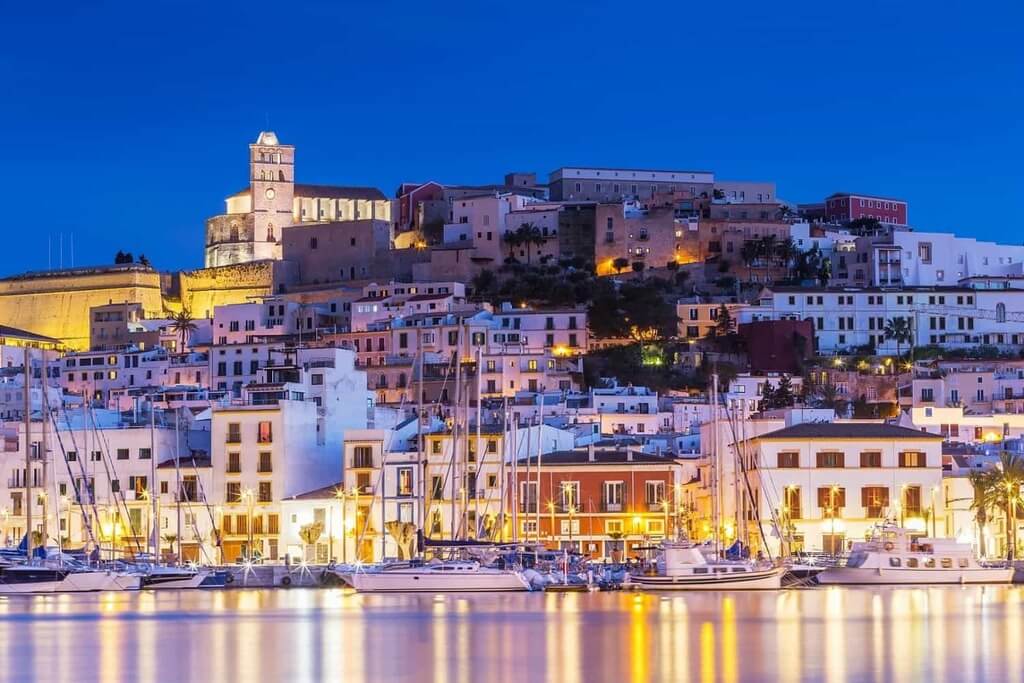 Source: newswebzone.com
The capital and largest city on the island is a port city with a magnificent view of the Mediterranean. The place has definitely something for everyone. The vibrant nightlife in the charming Old Town and fashionable Marina Botafoch is famous, with world-class restaurants and a diverse range of pubs. Here, you will discover a wide range of tiny boutiques, high-end fashion stores, shoe stores, and novelty shops.
It draws a diverse international clientele all year and is a fantastic site to catch celebrities in the summer. There are several fantastic art galleries and historical museums, as well as the charming medieval citadel of Dalt Vila. From late May to early October, the social life in Ibiza town is alive and well, resurfacing in December when the town transforms into a winter paradise of Christmas markets and unique events.
Es Canar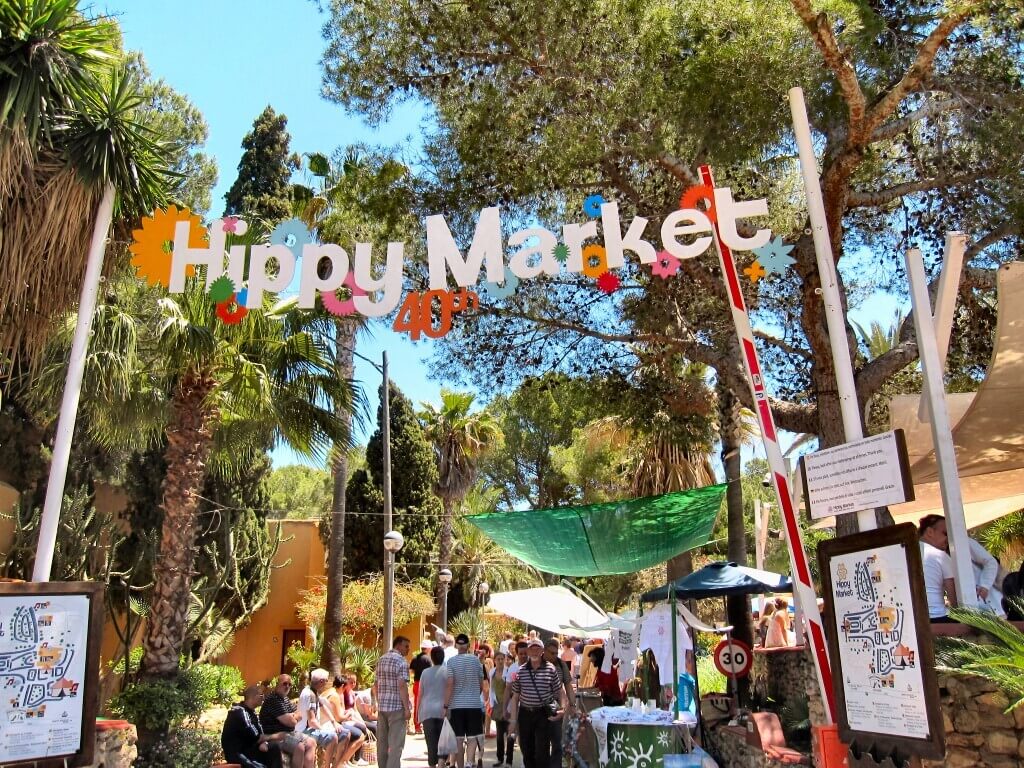 Source: amazonaws.com
On the Spanish island of Ibiza, Es Canar is one of its beach resort hamlets. The resort is located in the Santa Eulària des Riu municipality. Sun loungers, parasols, and pedalo boats may be rented on the Es Canar beach for you to enjoy the sun and the waters. It is also a great site for water sports like water skiing, pedalos, and even boat tours from the harbour that take you through beautiful sceneries.
There are other more relaxed areas where you may view the sunset. Spectacular views, as well as friendly locals, a decent range of pubs, busy cafés, and restaurants, can be found here. After a day at the beach, you may go to the surrounding pubs and restaurants for a drink, dinner, or perhaps spend the night dancing in the clubs.
Portinatx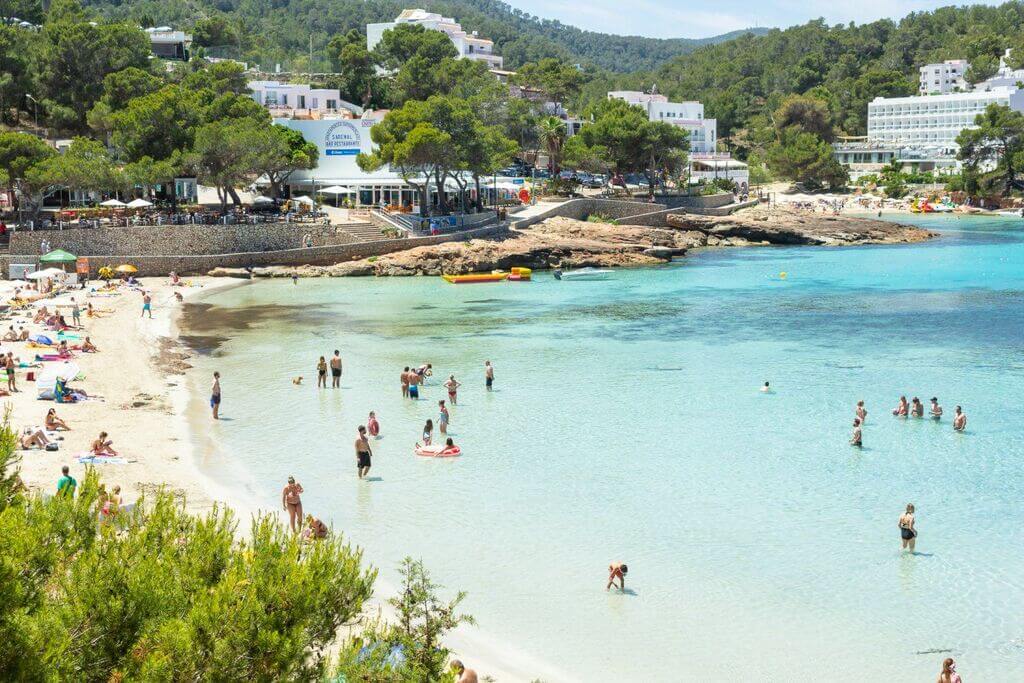 Source: metropoliabierta.com
A tiny town that was formerly known as a small fishing community. The bay boasts breathtaking panoramic vistas, sparkling water ideal for snorkelling, steep, rocky shorelines, surrounded by fine, white sand. In this region, there are three nice sandy beaches, all of which are suitable for children and provide a range of activities. The largest, S'Arenal Gros, is across the bay from the major coach park; the smaller, more private S'Arenal Petit lies around the bend from the rocky point to the left.
The third is Playa Porto Beach, which is located in a little cove surrounded by small pine-covered hills at the end of the main road, near the lighthouse. It's worth spending the time to explore these beaches because there are some wonderful, beautiful hikes and photo possibilities. Anyone near the area should definitely visit.
Es Vedra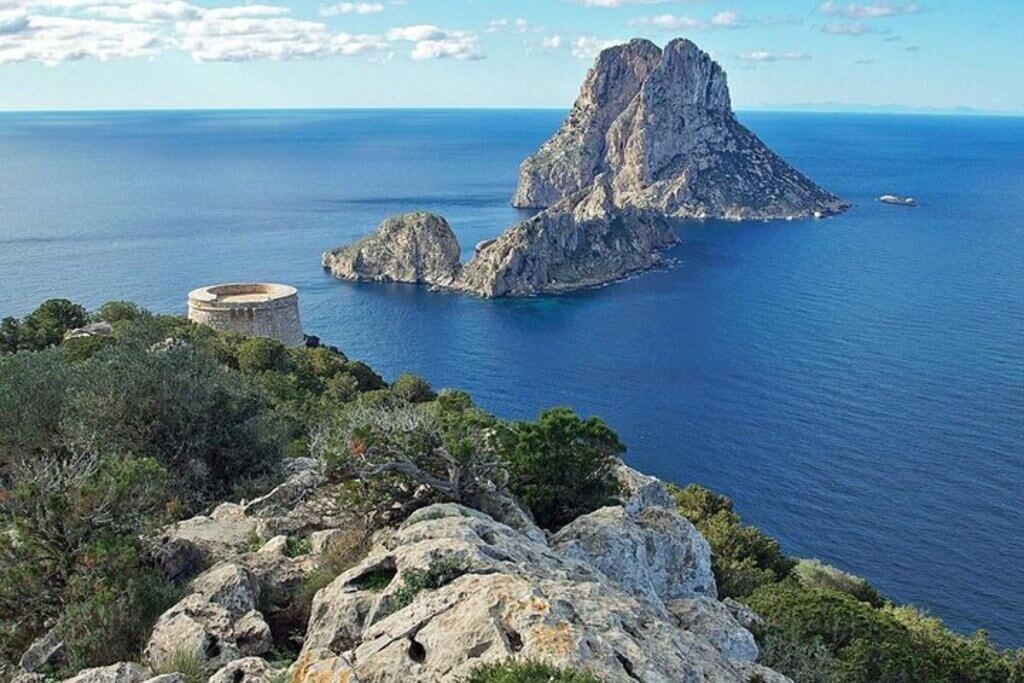 Source: tripadvisor.com
A small rocky island off the Spanish island of Ibiza's southwestern coast. Known as a legendary island, it has long been touted as the location of the long-lost city of Atlantis and has been attracting a steady stream of tourists since then. It has quickly become one of Ibiza's must-see attractions, and it truly does steal your breath away. You'll note how magnificently it rises from the water, almost emanating a sense of tranquillity and comfort.
Ibiza sees over six million tourists each year and is a haven for those who enjoy long nights and lazy mornings. Es Vedra is a quiet, uninhabited outcrop that most people are not allowed to step foot on. Those who are fortunate enough to visit Es Vedra in person do so only with special permission, so the rest of us must find another way to appreciate this otherworldly marvel. Several firms, such as Ibiza Boat Cruises, can bring you near it.
Sant Antoni de Portmany
Source: tournavigator.pro
Is the second largest town in Ibiza, situated, on the west coast of the Balearic Island of Ibiza, Spain. It is noted for its vibrant nightlife and Sant Antoni's Bay, a large natural port. It is one of the island's most popular tourist destinations, and it has grown in popularity over time.
It is one of the best sites in Ibiza to watch the sunset, and its shoreline is full of tiny, readily accessible coves and beaches with crystal clear turquoise seas, giving it the ideal location for a pleasant and lovely vacation without leaving the municipality. The gastronomy of this little Ibizan town is diverse, with restaurants serving a variety of international cuisines as well as significant locations for enjoying real Ibizan food.
Sant Josep de sa Talaia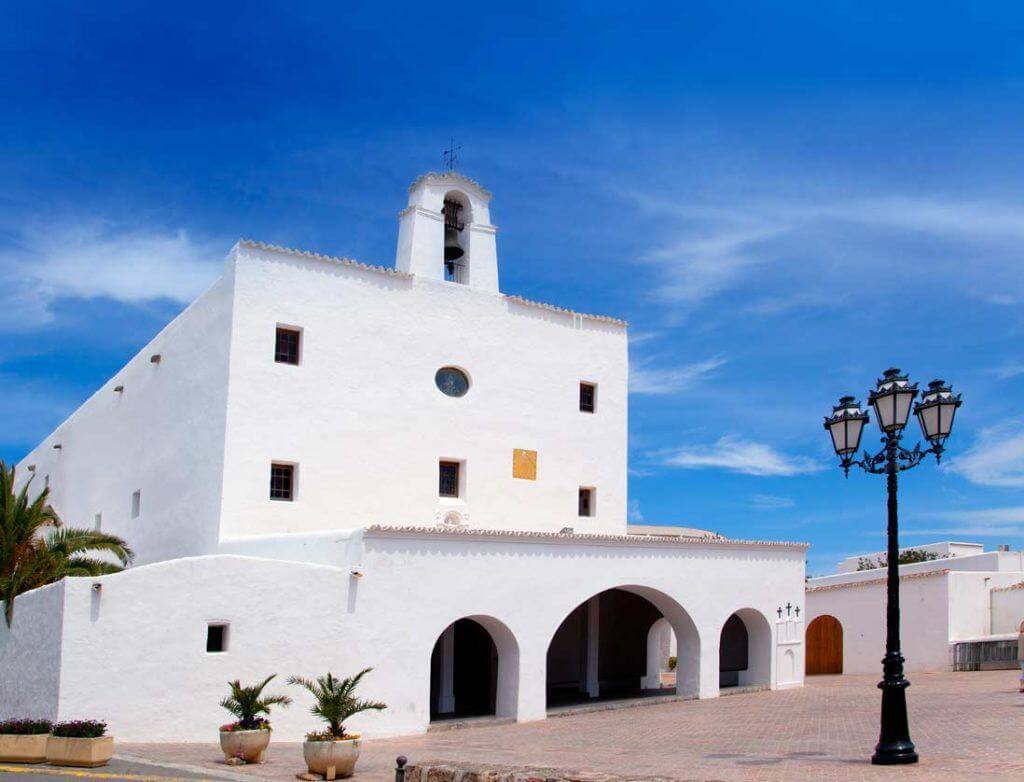 Source: tripkay.com
Noted for its tranquil coves, pleasant fishing towns, and nightlife. It gets its name from the highest point on the island, Sant Josep. With 80 kilometres of coastline, the municipality boasts more beaches and coves than any other in Ibiza. Famous coves with crystal blue seas, such as Cala Comte, Cala Bassa, and Cala Vedella, are bordered by pine woods that go right up to the shoreline.
Both of the island's natural reserves, Ses Salines and Cala d' Hort, are located here. Sant Josep's history is equally fascinating, with several medieval churches to see, as well as archaeological monuments like the UNESCO World Heritage-listed Phoenician settlement of Sa Caleta and defensive towers along the shore.
Cala Llonga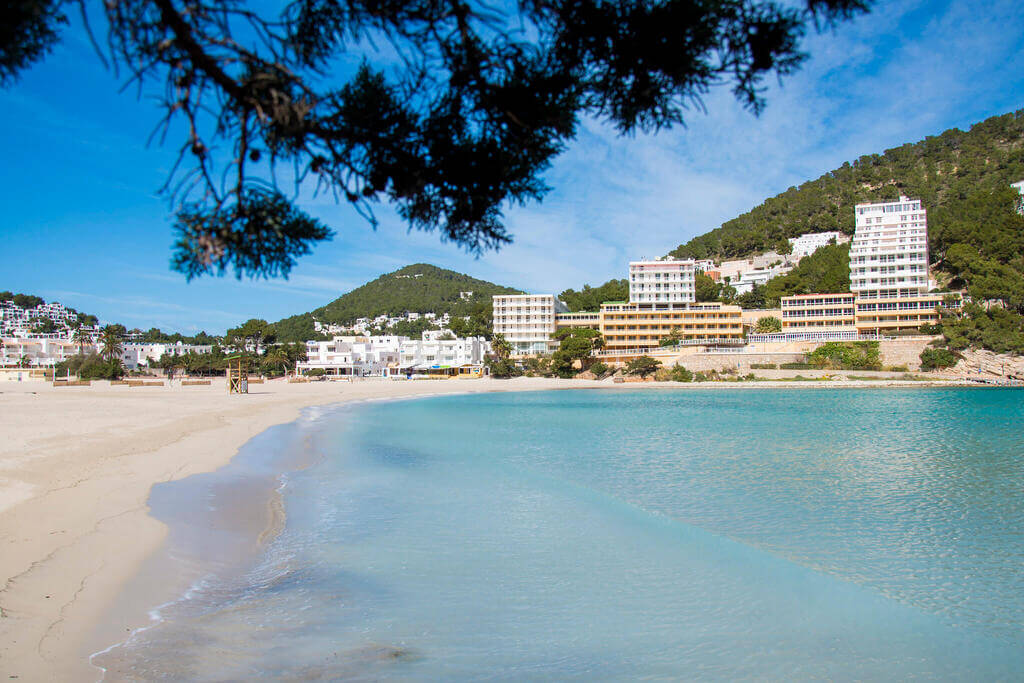 Source: ibiza.com
Is a town and beach resort in the municipality of Santa Eulalia del Rio on the island of Ibiza, in the Balearic Island beaches, Spain. Cala Llonga's residents work hard to preserve their beach's good condition. During peak times, the beach is cleaned daily to maintain its cleanliness and beauty. The seawater is crystal clear and well-kept. At the further end of the beach, there are freshwater showers available for everyone. The beach dips gently down into the sea and beyond, allowing youngsters and non-swimmers to swim in a safe and shallow environment.
Due to the abundance of things to do, water sports, stores, activities, and safe, shallow water, it is a hotspot for families on vacation. Surrounded by a magnificent pine forest, the 360-degree vista from the sand is picture lovely, and the calm waters are shallow, clear, and secure – making it a favourite option among Ibiza beaches for families with young children. There are lots of sun lounges, and the coastal hotel restaurants have beverages and snacks on hand. In addition, pine trees give much-needed shade for tourists who would like to chill in the sand.
Santa Eulalia del Rio
Santa Eulalia is Ibiza's third-biggest town, popular with locals as well as visitors looking for a peaceful vacation. It offers a variety of activities for its visitors. It is a municipality made up of five parishes: Santa Eulària, Sant Carles de Peralta, Santa Gertrudis de Fruitera, Jess, and Puig d'en Valls. This region overlooks forty-six kilometres of shoreline and has a lovely hinterland with farmland valleys and pine-covered hills.
Swimming is possible in its pristine coves, beaches with clear seas, and beautiful fisherman's nooks. The town's most visible feature is the oceanfront promenade, which runs the length of the vast, smoke-free beach and is lined with palm trees, tiny gardens, and a big fountain. Facing the sea, you may walk to the extreme right until you can no longer proceed to Mariner's beach, where the Balearics' solitary river flows into the sea.
Also Read: Explore the Best Places to Visit in Michigan
Playa d'en Bossa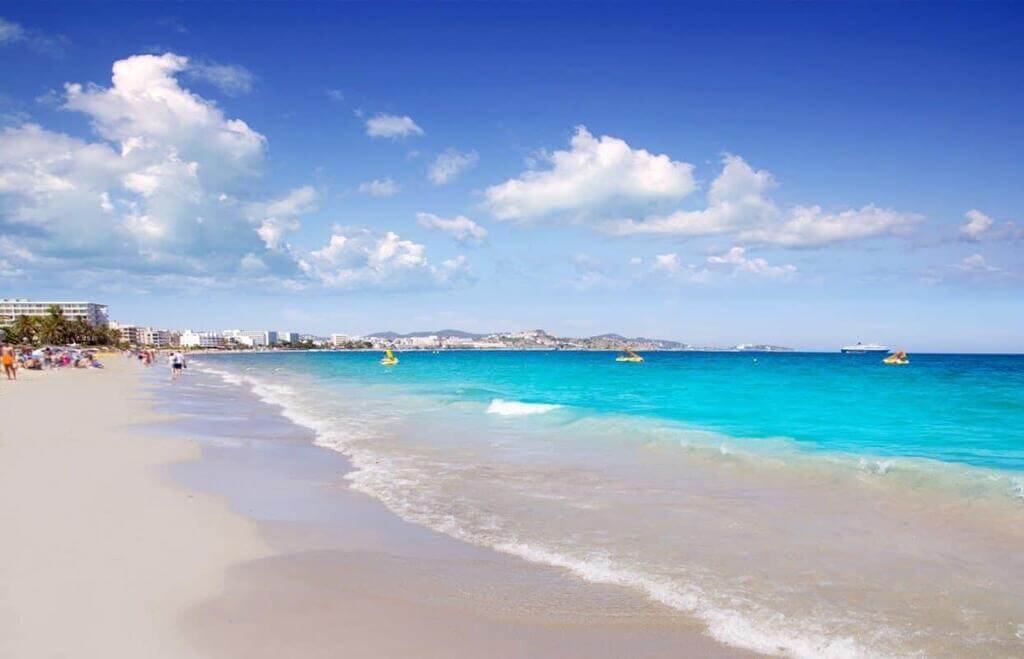 Source: logitravel.com
A popular tourist destination on the Spanish island of Ibiza, catering mostly to British, German, and Italian package vacationers. It is located in the Sant Josep de Sa Talaia municipality, roughly 3 kilometres (1.9 miles) south of Ibiza Town. Here, the beach is surrounded by pubs and beach lounges that cater to a wide range of settings, from laid-back family-friendly to ultra-trendy to party-goers' dancing locations.
The clean waters cover a sandy seabed, making it excellent for ball activities and kids at play. And it's not just the kids who can have fun: Playa d'en Bossa boasts the largest assortment of water sports, boats, and a variety of exciting water toys on the island. Along the length of the beach, there are several pubs, beach clubs, and restaurants. A cluster of beach bars with a dynamic party scene, as well as several attractive and economical beach eateries, are located in the resort's heart making it a perfect place for everyone.
Cala Llenya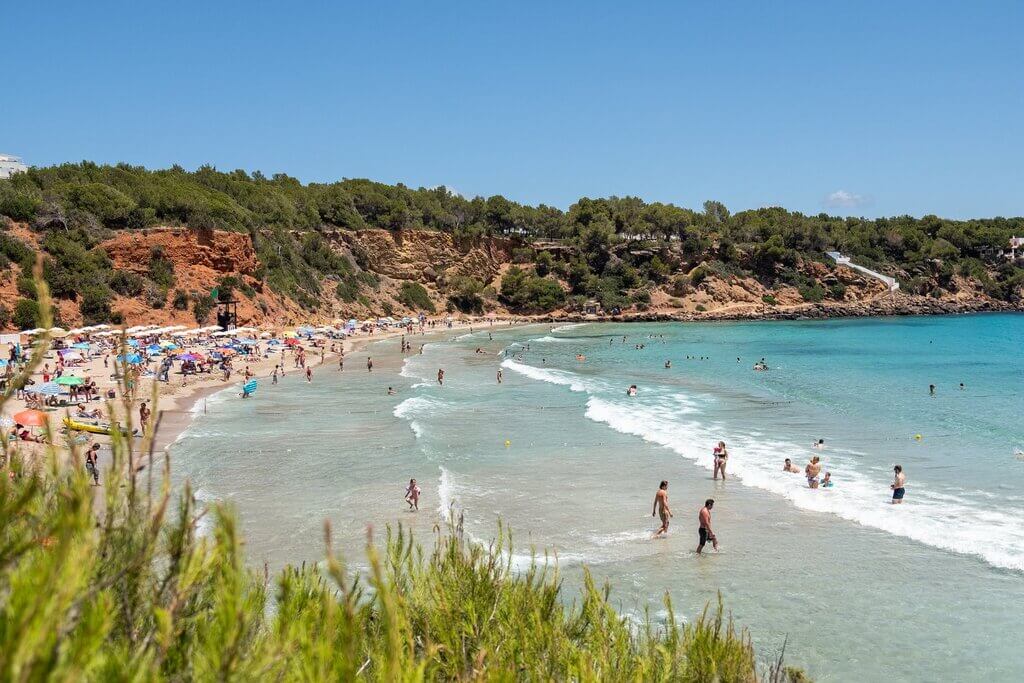 Source: ssl.com
Is ten kilometres from Santa Eulalia and halfway between Cala Nova and Punta d'en Ribes. This U-shaped cove is gifted with golden fine-grained sand and a triangular slope. On the rear side, there is a beautiful pine forest, the dry Torrent d'es Coix, and a road that goes to the neighbouring Cala Nova, which is a bit obscured by the greenery. It is one of the quieter beaches in Ibiza, even in high season, and has a wide variety of activities and facilities which make it a perfect destination.
There is a good range of facilities at Cala Llenya including toilets, showers, lifeguards, sunbeds, parasols and wheelchair access. This is a sandy beach surrounded by pine trees which is at the end of a dried-up river. Its setting is peaceful with a range of leisure and sporting activities available. Due to its characteristics, it is an ideal spot for sailing, snorkelling and is also a jumping-off point for numerous excursions through the surrounding countryside. The gentle slope of the seabed means that it is a very safe site for bathing.