Pagosa Springs Hot Springs: Healing Waters Resort & Spa
Are you ready to take your relaxation and rejuvenation seriously? Then it's time to see Pagosa Springs' mineral-rich natural hot springs. You have a few alternatives in the region, including The Springs Resort & Spa, Healing Waters Resort & Spa, and Overlook Hot Springs Spa.
Pagosa Springs Hot springs, Colorado, is one of those charming mountain villages you fantasize about visiting for a vacation or perhaps relocating to. While there are plenty of paid activities to do in Pagosa Springs during the summer and fall, we've compiled a list of the finest free things to do in Pagosa Springs, CO, for infinite amounts of fun that will make your visit unforgettable!
Even though Pagosa hot springs have 300 days of sunshine on average each year, the bulk of the attractions on this list are best visited in the late spring to early fall, when temperatures reach 83°F in July. Continue reading to learn about the greatest hikes, waterfalls, hot springs, river excursions, and art studios to visit while in Pagosa Springs, CO.
A Place Full of Positive Vibes and Strong Energies
You don't just visit Pagosa hot springs; you participate. The temptation to explore the outdoors is tough to ignore, whether you come to see spectacular fall foliage, a winter wonderland, a rainbow of wildflowers in the spring, or the ideal temps of summer.
You're seeking a little town where you can disconnect from your busy life. You're in desperate need of some fresh air and outdoor recreation. You want a destination where you can go at any time of year and have a wonderful experience. Pagosa Springs Hot springs are what you're looking for. Pagosa Springs, located along the San Juan River in southern Colorado, boasts a laid-back feel, beautiful mountain vistas, and four seasons of outdoor activities, from snow sports in the winter to river fun in the summer. When you need to relax, bathe in the world's deepest geothermal hot springs while admiring the views of downtown and the surrounding surroundings.
Things to Enjoy at Pagosa Springs Hot Springs
Source: theboutiqueadventurer.com
Pagosa springs hot springs, Colorado, is a popular destination for visitors wishing to relax in a little town in one of the most beautiful states in the United States. This village, located on the San Juan River, is laid-back, full of outdoor activities, and stunningly picturesque. There's also a world-record-breaking hot spring here!
If you're wondering what makes hot springs so wonderful, it's not just because of the heat. Hot springs are popular not just because of their calming properties but also because of their mineral content.
Look no further if you're looking for the greatest Pagosa hot springs. This article will walk you through some of the most prominent springs in Colorado, where you may find your zen during a relaxing trip.
Pools That Have a View
Source: theboutiqueadventurer.com
Even when you're not bathing in Pagosa springs hot springs, the San Juan Mountains are gorgeous. The pools at The Springs Resort & Spa are terraced along the San Juan River, so you can bathe while taking in the views of the mountains and river. The spring-fed rooftop pool at the Overlook Hot Springs Spa boasts spectacular views of the mountains and city. The Healing Waters Resort & Spa is situated beside the San Juan River, which runs through Pagosa hot springs downtown district. Plus, there are 3 million acres of wilderness and national forest regions to explore just outside of town.
Relaxation Should Be Prioritized
Don't stop at soaking! Instead, combine your Pagosa springs hot springs visit with a massage, acupressure, Reiki, or other spa treatment at one of the hot springs. Other massage therapists are also available in Pagosa Springs, so the alternatives for relaxing, adventurous, Rocky Mountain-exploring muscles are almost unlimited.
Never Leave Too Early
Source: theboutiqueadventurer.com
Two of Pagosa spring's hot springs include hotel choices, while many more housing options are within walking distance of all three facilities. The magnificent rooms and suites at the Springs Resort have extra robes, a 24-hour beverage bar, and other amenities. Healing Waters Resort & Spa caters to all types of hot-water seekers with rooms and suites, cottages, and an RV park.
This Will Go Down in History
According to the Guinness Book of World Records, the spring underneath Pagosa springs hot springs is the "Deepest Geothermal Hot Spring," according to the Guinness Book of World Records. It was named in 2011 and measured a maximum depth of 1,002 feet. Unfortunately, although the spring might go considerably deeper, the plumb line ran out before it reached the bottom.
Everyone Has Access to Water
Source: theboutiqueadventurer.com
There are hundreds of swimming pools at each Pagosa hot springs resort, with temperatures ranging from the mid-80s to 114 degrees. When it comes to choosing the correct soak, it's a bit like Goldilocks tasting porridge: not too hot, not too cool…just right.
Treasure Will Make Your Heart Skip a Beat
Whether Pagosa Springs appears to have an unending supply of incredible waterfalls, experts believe Treasure Falls is one you must see while visiting or travelling through! Treasure Falls is located 15 miles east of Pagosa, directly off Highway 160.
Treasure Falls was called from a local tradition of a "treasure of gold" buried in the mountain by Frenchmen in the late 1700s while they were on Spanish turf at the time. While you can see the falls from the parking lot, the 0.5-mile climb up to the observation platform provides magnificent views of the thundering falls. A word of caution: the viewing deck is wet!
Healing Through the Ages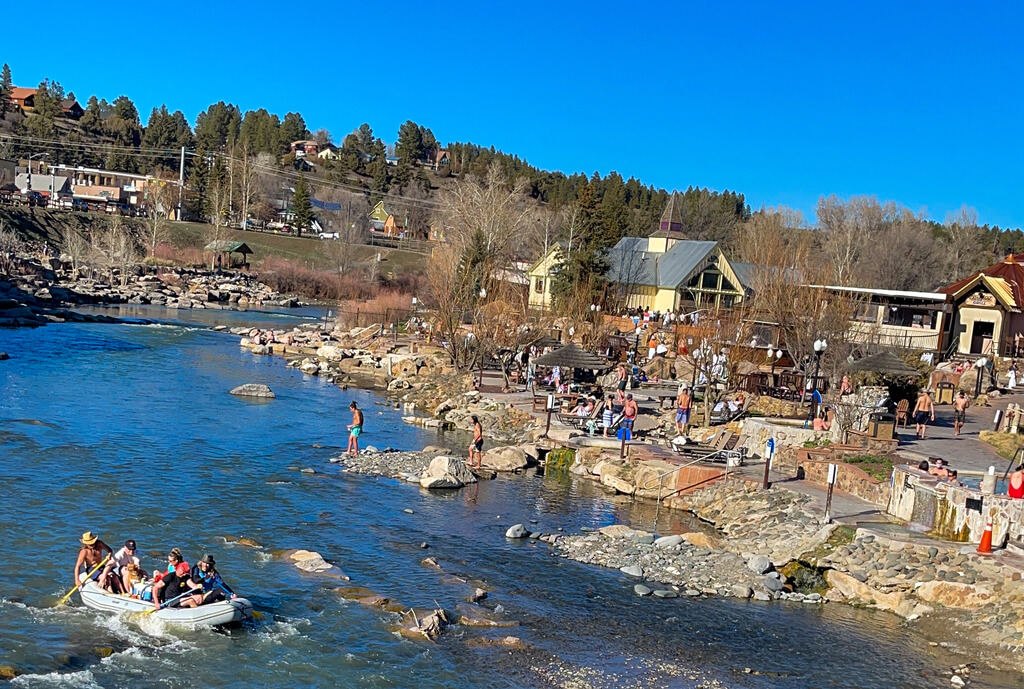 Source: denverpost.com
Southern Ute tribes have used the Pagosa hot springs for hundreds of years, and the name "Pag-Osah" means "healing waters." The US Army began studying the medicinal properties of the springs in 1860, after hearing stories about the mystical waters, and they returned glowingly about the results. People have been bathing in the springs since 1881 when the first bathhouse was erected.
You'll spend most of your time walking beside the river, taking in sights of people kayaking or rafting down the rapids, getting a peek of all the hot springs right off the river, and marvelling at the geodesic domes that serve as vegetable greenhouses. After crossing the bridge on the west side of town, either continue along the paved route or hike up to the Mother Springs, located just outside the place.
Minerals
Natural minerals are found in a large quantity at these places. There are several advantages: Bone strength, joint health, tissue healing, hormone balance, and more! If you love to enjoy nature at its core, this is the best place to look for. It will make you feel rejuvenated in the best manner.
Four Seasons of Entertainment
Source: townnews.com
The place is known to offer the experience of enjoying four seasons together. You can have a blast all around the year at this place. No matter what time you select for travelling it is the best option to enjoy.
Enjoy the Feeling of Being a Celebrity
Oprah Winfrey, Sunset Magazine, Country Living, and others are among the many celebrities that have visited Pagosa Springs. You'll see why the springs are so popular after soaking in them.
Also Read: Best Tips For Ginnie Springs Florida: A Perfect Florida Oasis
How to Reach Pagosa Springs?
Here are a few choices for getting to Pagosa hot springs resort, whether you're taking a road trip across the Southwest or flying in:
Durango: fly into Durango-La Plata County Airport, rent a car, then drive to Pagosa Springs, CO in 1 hour/56 miles.

Via Albuquerque: fly into ABQ International Airport, rent a car, then drive to Pagosa Springs, CO, in 3.5 hours/205 miles.

Via Denver: fly into DEN International Airport, rent a car, and drive to Pagosa Springs, CO, in 5 hours/300 miles.
Source: pagosahotsprings.com
Conclusion
Pagosa hot springs have a lot of culture for a little mountain community. Visit the Pagosa Springs Center for the Arts to see the resident Thingamajig Theatre Company perform dramas, musicals, and comedies. In addition, the Pagosa Springs Museum has exhibitions about local history that are available periodically, and neighbouring old railways provide an insight into the region's pioneer and mining history.
Don't miss a trip to Chimney Rock National Monument, a fascinating location full of ancient Puebloan archaeological artifacts. There are lots of diversions and facilities on the streets of downtown Pagosa Springs, yet there isn't a chain business insight. Instead, explore the galleries, jewellery stores, and boutiques that feature the work of local craftsmen; you're sure to discover the ideal souvenir. Finish the day with a meal at one of the many locally-owned restaurants, breweries, or cafes at Pagosa hot springs Colorado.
For more updates on the tourism industry, visit Travelila.