The 10 Easiest NYC Hotel to Get to from the Airport!
Wondering about the perfect places near the airport to stay in NYC? If you're heading out for a vacation, you surely want the utmost convenience upon your arrival and departure. That's why we put together a list of the best hotels near JFK so you can enjoy a short drive to and from the airport with a free shuttle service or taxi trip! Let's explore some best NYC hotels near the airport.
A hassle-free trip would mean that you need to double-check the hotels on your list before deciding. However, if you don't have the list yet, check out these hotel compilations that offer easy access to the airport. Here are the 10 hotels that offer easy access from local airports!
1. Westgate New York Grand Central
Source: hotelscombined.ae
The Westgate New York Grand Central will be an ideal hotel for you if you're searching for a convenient place to stay close to the airport while still situated near the best attractions NYC has to offer.
The hotel is located in Tudor City, and it offers a 20-minute door-to-door location from LaGuardia airport. Suppose you'd also explore its exact address. In that case, the United Nations and Grand Central Station are only within walking distance, plus you can arrive at the hotel within 3 minutes upon your arrival on the island of Manhattan.
The hotel, located in a quiet part of town, offers a wide range of rooms and suites. All are equipped with triple panel glass from their standard rooms to deluxe rooms to save their guests from the street noise. Likewise, their rooms feature a rich set of amenities and services to ensure the comfort of their guests.
Spending your days outside the hotel won't bore you because you can find Times Square, Rockefeller Center, and Central Park just near it. With its proximity to LaGuardia airport, don't hesitate to reserve a room by visiting the hotel website now!
2. Crowne Plaza JFK Airport New York City, An IHG Hotel
Source: bringfido.com
Crowne Plaza JFK Airport New York City, an IHG Hotel located at 138-10 135th Avenue, Jamaica. A hotel is a business hotel near JFK International Airport featuring eye-catching airport and city views.
The hotel offers access to high-speed internet, accessible rooms with parking onsite, wheelchair and animal service, and an IHG Engage System.
You can also see onsite fitness centers with elliptical machines, free weights, stair steppers, stationary bicycles, and treadmills.
It highlights hotel rooms with views, events to remember, delectable food and drink in their Idlewild restaurant, bar, and lounge and is conveniently located near hospitals.
You will also love the sleep advantage, which provides you premium bedding, quiet zones, and guaranteed wake-up calls for a better night's sleep.
3. Radisson Hotel JFK Airport
A place where you can unwind and relax. Radisson Hotel JFK Airport is located 15 miles southwest of Times Square in Jamaica, at 135-30 140th Street Jamaica. You can explore New York from here. Since it has a lot to offer, this hotel can help you navigate your options with your tour.
Whether you're here on vacation to unwind, on a business trip, or extended stay, you can still be productive and connected with the things they can provide.
You can enjoy and experience 385 hotel rooms and suites with modern amenities, free wi-fi, and comfort and convenience. If you are into events, you can host up to 280 guests in their Grand Ballroom.
The hotel's other services are accessibility, airport shuttle, breakfast, concierge service, early check-in, express check-out, fitness center, luggage storage, meeting facilities, non-smoking areas, onsite dining, sports approved, and steam room.
4. Arthouse Hotel New York City
Source: bstatic.com
A vintage boutique hotel on the upper west side, this is the Arthouse Hotel. The hotel will give you a vintage charm and boutique style.
For a new standard of New York City Hotel, this century-old building retains historic accents that offer a homely sense of space you wouldn't find just anywhere. This is located at 2178 Broadway at W 77th Street.
Here in upper west side hotels, you can have exclusive deals, early bookings discounts, and more.
You can also enjoy summertime in the city up to 25% off, arthouse pooch vacation with 20% discount off the room, the art of the suite life where you can celebrate in style with 25% off, central bike park, Patis breakfast package, AAA membership rate, and AARP membership offer.
All rooms feature wood floors and modern furnishings, and artwork with elegant design touches with contemporary light wood furniture, crisp, and great blue drapes. It also has industrial-style windows. Amenities include 42 flat-screen HD TV, coffee makers, wi-fi, bath products, and bottled water.
5. Library Hotel by Library Hotel Collection
Do you love reading? Is the library your second home? If so, you will feel right at home in the Library Hotel located at 299 Madison Avenue at East 41st Street. The hotel entrance is on 41st street, just East of Madison Avenue.
Be refreshed with their coffee, tea, soft drinks, flavored water, fresh fruits, health bars, snacks, and more that are available 24 hours in their reading room.
You can also enjoy in-room bottled water, high-speed wireless internet access, local and toll-free calls, fax and packages services, and access to their collection of over 6,000 books. Here, you can also travel with ease.
Ensure peace of mind when planning your next journey and trip with 20% off their best flexible rate. You also have an option to change or cancel up to 24 hours before arrival.
Make this library hotel your paradise by experiencing their rooms. Choose your ideal room by looking at their guest rooms that feature rich wood furnishings and fabrics in a sleek, contemporary design, plus a library of inspiring books that will help you and your imagination wander more.
It has 60 exquisitely appointed rooms adorned with collections of art and books.
6. Allegria Hotel
Source: bstatic.com
Discover New York City's backyard with Allegria Hotel located at 80 West Broadway Long Beach.
Explore their Long Beach, NY hotel's 156 high-design guest rooms, dine at Atlantic on the ocean, and the buzz of a fashionable crowd at L'Onda lounge.
Experience the only luxury oceanfront hotel on Long Beach, seasonally heated rooftop pool, onsite restaurant & lounge, wi-fi, beach access, and daily breakfast buffet.
Savor and relax on their satisfying and comfortable oceanfront accommodations that will exceed your expectations. All rooms will give you ocean relaxing vibes from their partial ocean view king room to a standard room.
This hotel features modern guest rooms with luxurious feels and a "beach chic" design. It has a king-size bed, limestone-tiled bath with rain shower and luxurious amenities; and a 50-inch LCD TV in 250 square feet.
This is undoubtedly the place where you can find your new escape from the city.
7. Wyndham Garden LaGuardia South
Whatever the time and place you decide to travel, choose to have peace of mind. Be relaxed at Wyndham Garden LaGuardia South, located at 61 18 93rd Street, Rego Park.
Enjoy their flexible booking and cancellation policies, training support to help protect your safety, and extended Wyndham rewards member levels and points.
The hotel also offers several amenities like free wi-fi, restaurant, fitness center, onsite parking, bar, business center, cafe, 24-hour reception desk, ATM, daily housekeeping, dry cleaning services, early check-in, and late check-out, near public transportation, non-smoking hotel, and wedding and events.
Also, satisfy yourself and taste BLVD Bistro & Bar and Starbucks!
8. Hyatt Regency Jfk Airport at Resorts World New York
Are you into games and casinos? Hyatt Regency JFK Airport at Resorts World New York is located at 110-00 Rockaway Boulevard.
It showcases the southeast side of Long Island. Whether you're here for travel, work, leisure, or enjoyment, feel the incredibly convenient location near John F. Kennedy International Airport and NYS's only casino, home to more than 6,500 slots and electronic table games.
The hotel also provides free internet access, parking, restaurant onsite, digital check-in, business services, meeting facilities, and a casino.
The hotel features 400 rooms, including 34 suites, three dining outlets, a regency club, a 24-hour fitness center, a business center kiosk, a market, and 7,000 square feet of indoor meeting space.
Each room features a 60" flat-screen HDTV, individually-controlled heating and air conditioning, blackout curtains, hairdryer, coffee and tea, minifridge, iron and ironing board, and in-room safe. Other services and enjoyment are in-room dinings, wi-fi, and shuttle to Jamaica Train Station.
9. Days Inn by Wyndham Brooklyn Marine Park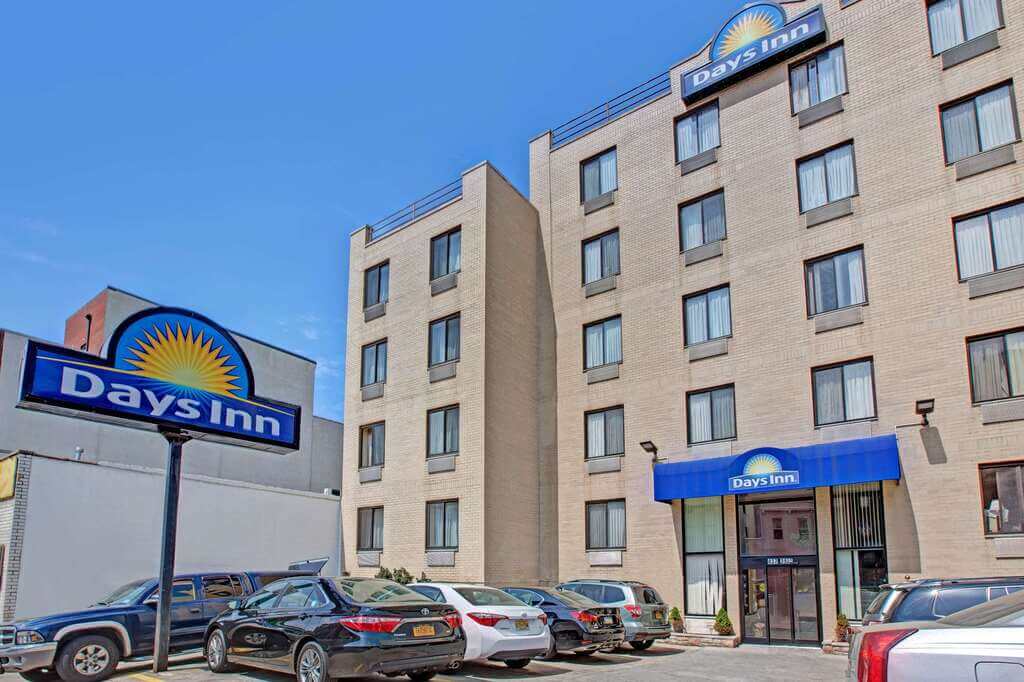 Source: tripcdn.com
Vacation is not just about "me time" but also a "we time" here in Days Inn by Wyndham Brooklyn Marine Park located at 1766 East 49th Street, Brooklyn.
Enjoy its featured amenities, including mobile check-in, complimentary breakfast, a non-smoking hotel, free wi-fi, a business center, a coffee and tea maker, daily housekeeping, luggage hold, a complimentary breakfast, a hairdryer, and multilingual staff.
The hotel also offers accessible guest room doorways with 32" clear width, public entrance, route, parking, service animals welcome, staff trained in service to guests with disabilities, and TVs with closed captioning.
Spend your days here in Day Inn and get the chance to have one complimentary stay at thousands of hotels by Wyndham just by staying two nights here.
Please make a difference with their brighter day rate where you can get 5% off their best available rate at participating Days Inn. Enjoy, explore, rest, relax and make a worthwhile stay here.
10. Super 8 by Wyndham Jamaica North Conduit
Be on the right road with the help of Super 8 by Wyndham Jamaica North Conduit located at 15167 North Conduit Avenue, Jamaica.
The hotel is conveniently located in a suburban neighborhood in Queens, about two miles from JFK International Airport. It offers a 100% non-smoking hotel with affordable accommodations and access to all area's major attractions, shopping, restaurants, and museums.
Here, you can have complimentary breakfast, a free airport shuttle, free wi-fi, free parking, a fitness center, and more.
You can also enjoy a journey to Jamaica which is minutes from JFK International Airport and Aqueduct Racetrack. Entertainment also awaits you at the Resorts World Casino. Plan your or your group's travel now with Super 8 and enjoy their super offers.