Being in love is one of the greatest feelings in the World and makes it a better place for all. Couples can never get over the endless conversation, holding hands, first date, and first kiss, and so on. Likewise, taking your first vacation together with your love is special, as you want to utilize the time available in your hands, your first vacation must be at the best destination for couples in the world!! Plan top romantic spots in New York, as it tops the list of most romantic places in the USA where couples can plan a proposal, plan their honeymoon, or just want to spend some time together.
New York is predominantly a famous business city rather than a romantic place. Nicknamed the 'Big Apple' it is a fast-paced city but if you take time to explore you are sure to stumble upon top romantic spots in New York where couples can have a whale of a time.
We will list the top ten romantic places for couples in New York, where you can rejuvenate your relationship with your loved one.
Central Park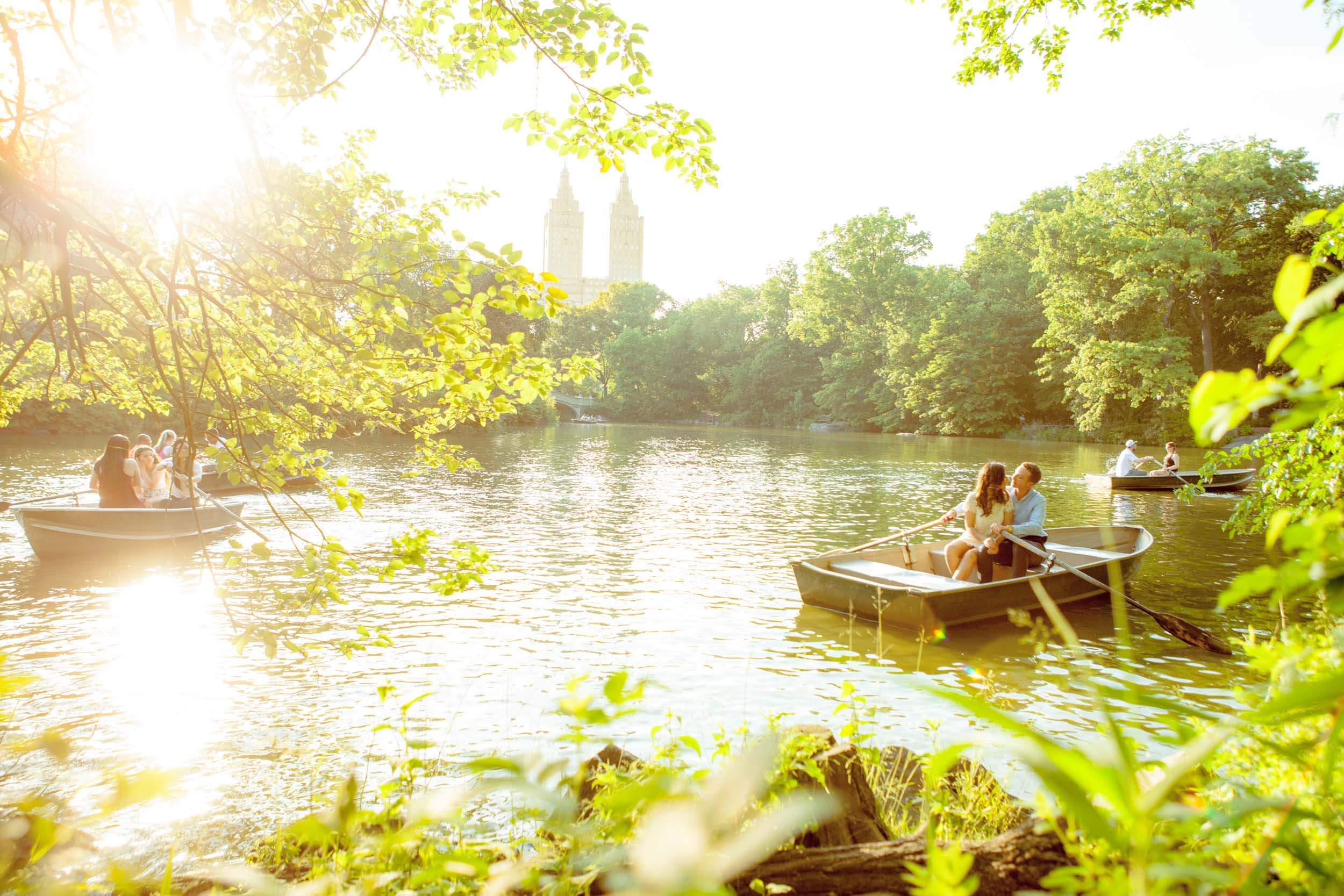 Source: flytographer.com
The first place that comes to everyone's mind when they think of the United States of America or New York is Central Park. The park's 843 acres of greenery serves as an oasis surrounded by concrete jungles. Central Park is located between 59th Street on the South, 110th Street on the North, Fifth Avenue on the East, and Eighth Avenue on the West. Couples can plan a romantic trip by taking a stroll hand in hand through Central Park. You can also make a plan for a picnic in the park.
The park offers many activities such as Volleyball, paddle boarding, carriage rides through the park, a loop-running, and water fights. Plan a romantic boat ride in Central Park under the Bow Bridge and sneak a kiss under the bridge.
Brooklyn Botanical Gardens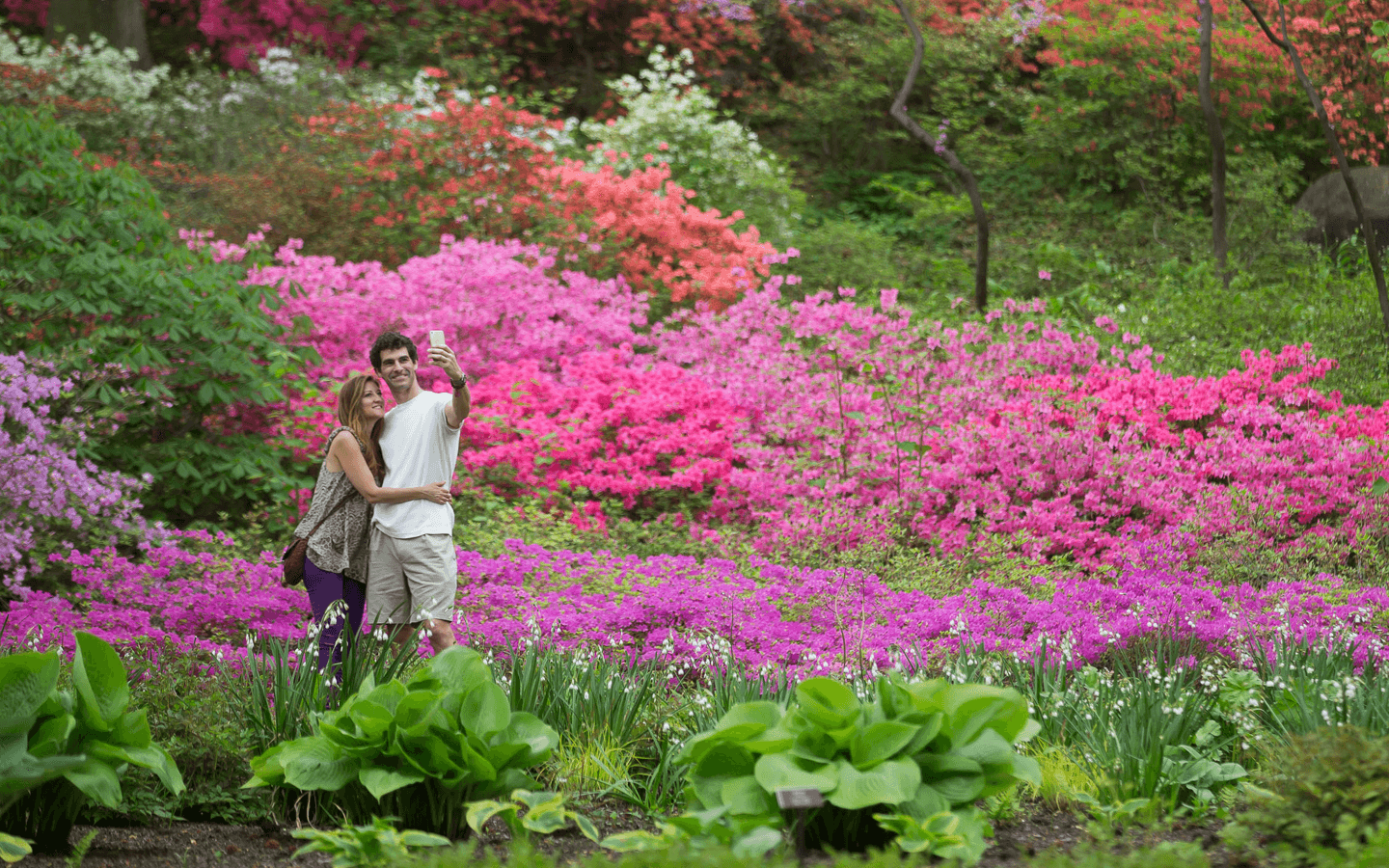 Source: dev.jrrny.com
Couples looking to spend some intimate moments in New York can head to the Brooklyn Botanical Gardens to experience some tranquil time with each other. Couples can take a romantic stroll in Brooklyn Botanical Gardens to admire the various species of flora. You can plan a romantic trip during spring to attend the Sakura Matsuri Festival to view the Sakura trees in full bloom. Couples can go further ahead and plan a romantic proposal along the Cherry Esplanade to surprise your girl.
You can also spend some intimate moments in serene spots such as Japanese Hill and Pond Garden, Shakespeare garden. You can also grab a bite in the Yellow Magnolia Café; or shop for plants at the Garden shop located in the Visitors Center.
Empire State Building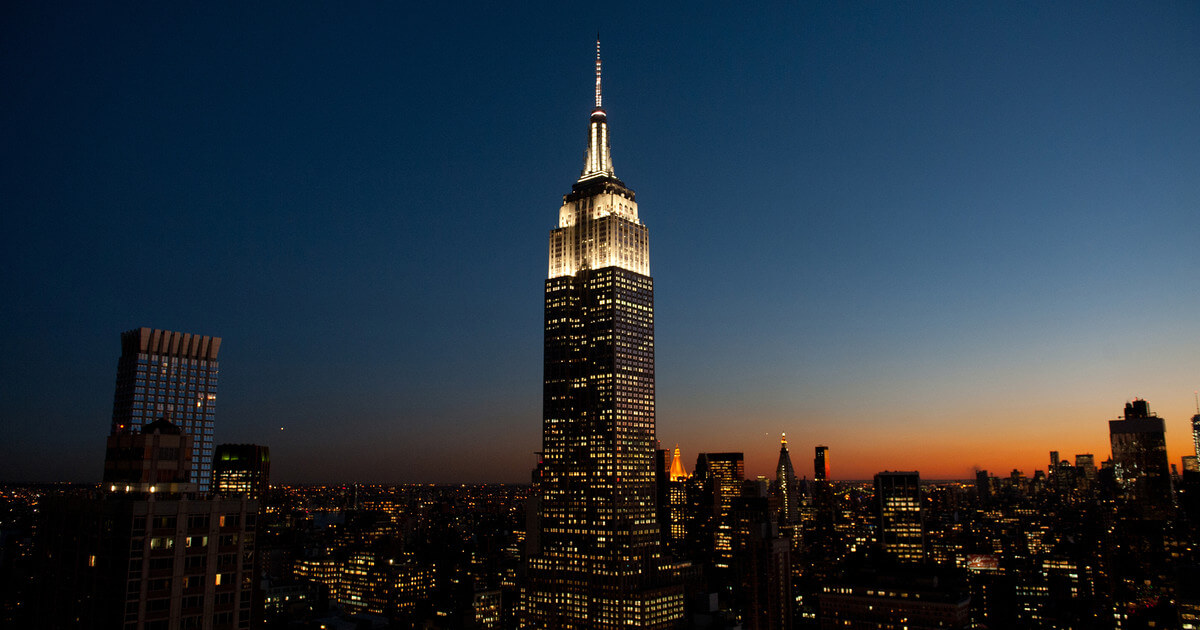 Source: cdn.getyourguide.com
The Empire State Building is a World famous iconic spot located in Manhattan and offers a mesmerizing view of New York City. Couples can visit the main deck located on the 86th floor that comprises the highest open-air observatory in all of New York. Couples can experience a 360-degree view of the Hudson and East Rivers, the Brooklyn Bridge, the Statue of Liberty, and more sites.
Furthermore, couples can visit the inner observation deck located on the 102nd floor to catch a glimpse of Central Park and seal the moment with a kiss.
Rockefeller Center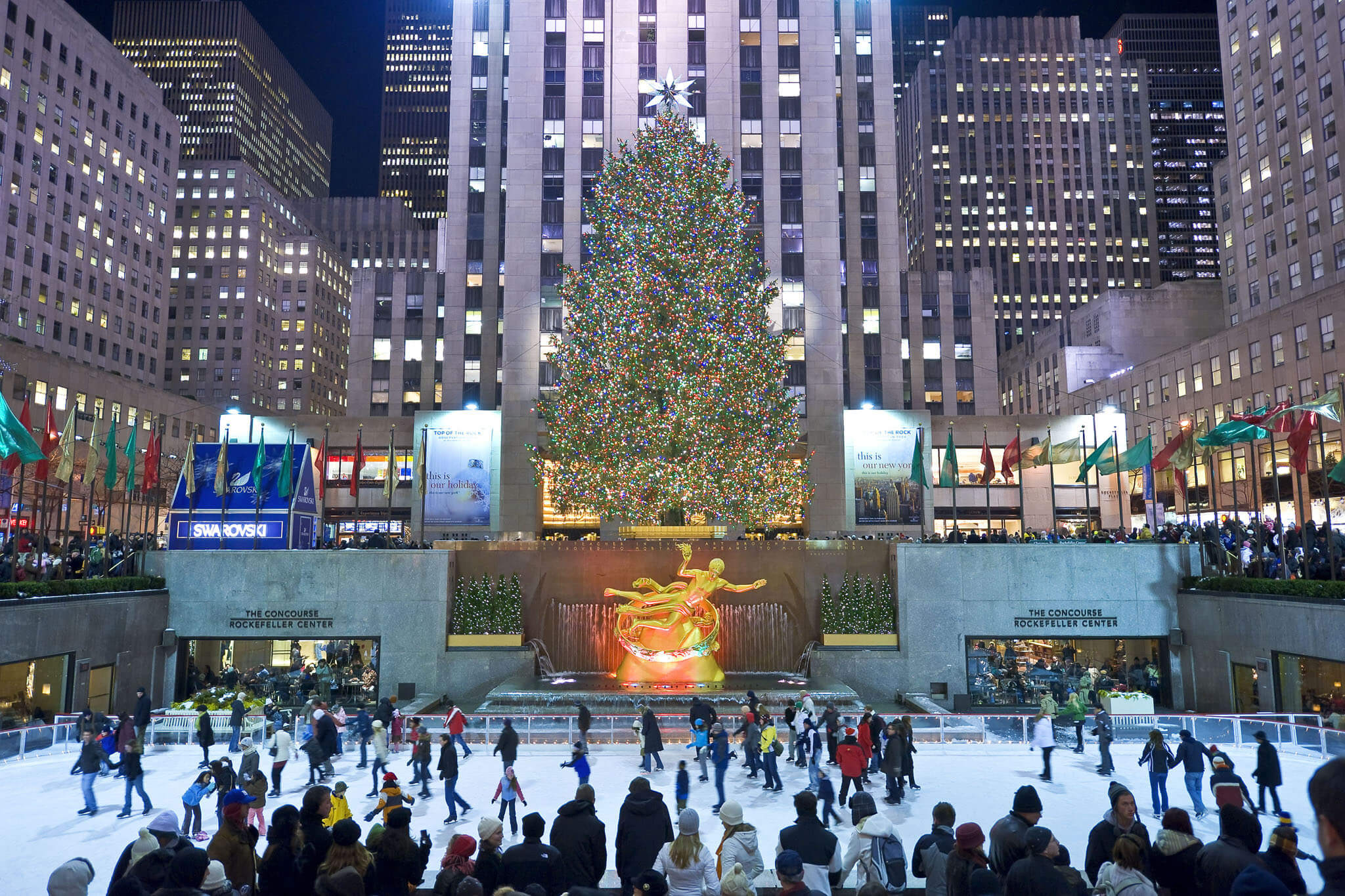 Source: media.timeout.com
The Rockefeller Center is a collection of 19 buildings in Midtown Manhattan. The historical Center features unique art-deco style architecture and is an art lover's paradise. Couples who are fascinated by art can visit the Rockefeller Center to witness famous sculptures such as Atlas, Prometheus, and various art pieces. This is the best place to visit in New York, you can not miss this out!!
Couples can plan a romantic winter vacation to New York City and visit the Rockefeller Center to see the place lavishly decorated with a giant Christmas tree. Couples can also indulge in ice skating where your wishes come true by kissing under the giant Christmas tree.
The High Line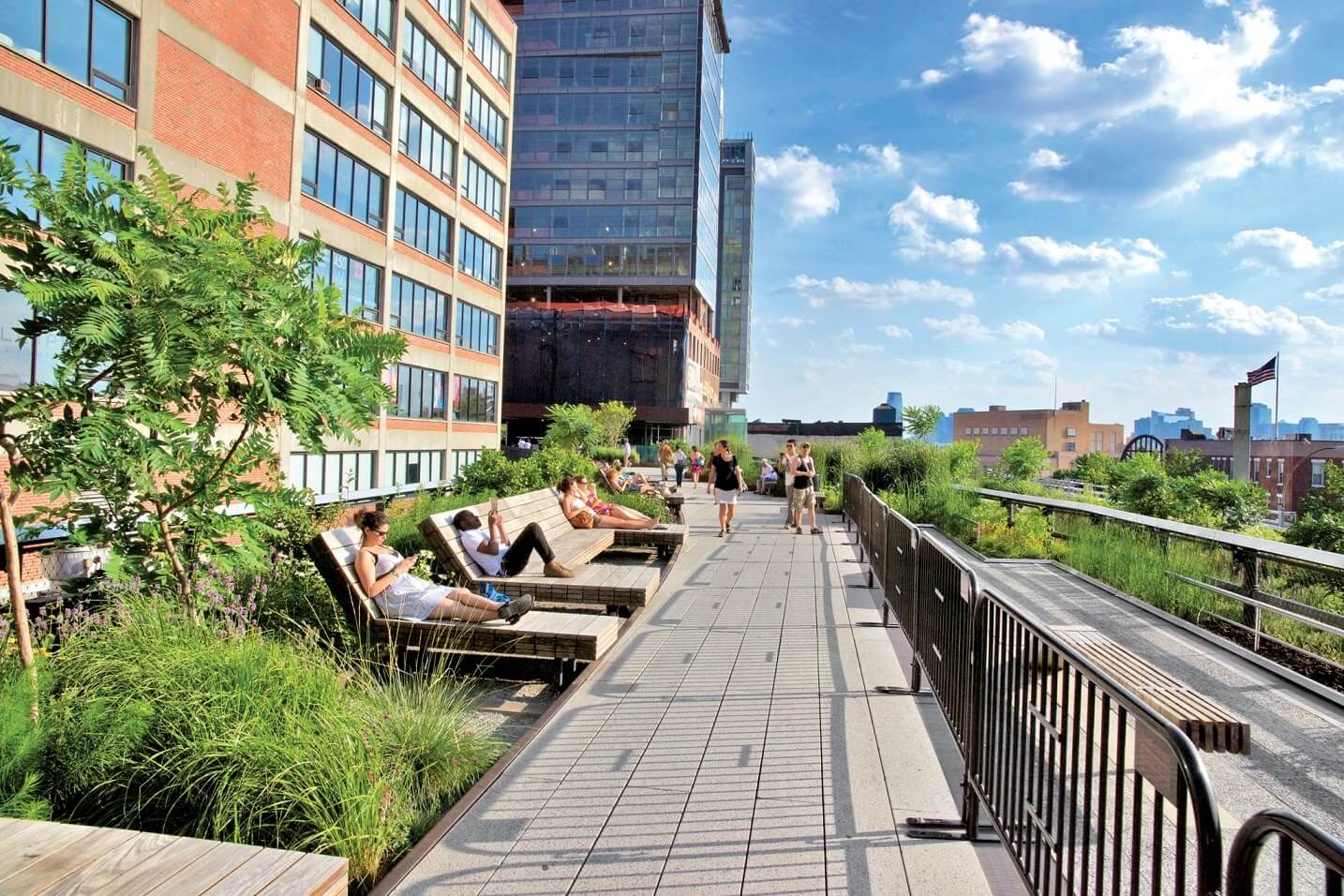 Source: i.ytimg.com
The High Line is a hidden gem located amidst the concrete jungle of New York City. The 1.45-mile-long park was set up on an abandoned elevated train track. Couples flock to the park to catch a glimpse of the Hudson River and the New York skyline.
Couples can cozy up over a cup of coffee and revel in the beauty of the great Hudson River. You can take a romantic stroll through the park and explore the indigenous flora and fauna. Couples can indulge in stargazing at the High Line through the telescope set up at the observatory deck.
Prospect Park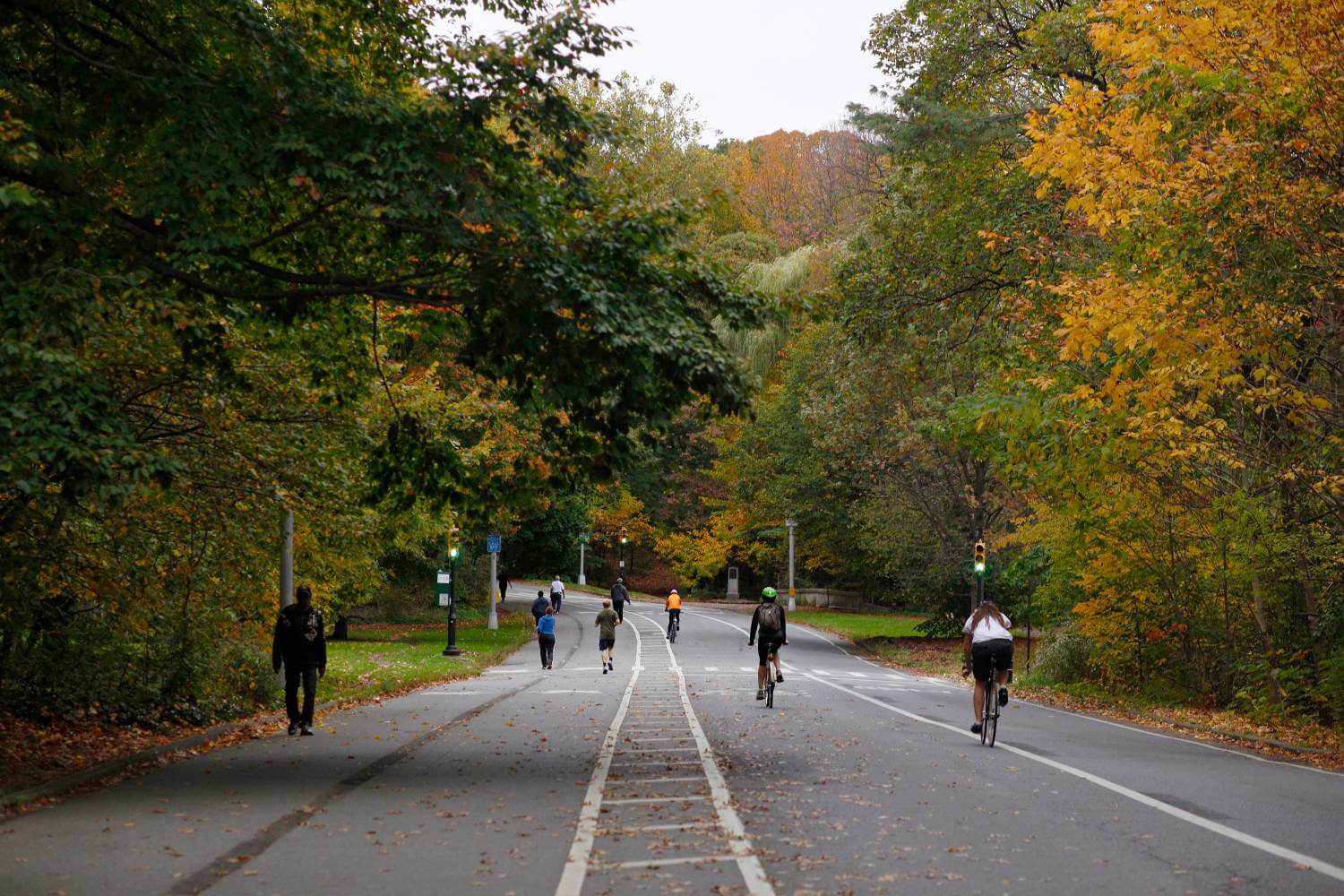 Source: brooklynreporter.com
Prospect Park is an amazing place for couples to visit in New York and offers an array of activities. Couples can plan a picnic on the Long Meadow and Nethermead to spend some relaxing time with each other. Couples can take a romantic boat ride at Lakeside Brooklyn to channel their inner Romeo and Juliet.
If you are an animal lover, you can plan a trip to the Prospect Park Zoo or go roller skating at the Lakeside Prospect Park, or indulge in a steamy make-out session in any of the isolated places inside the park.
River Café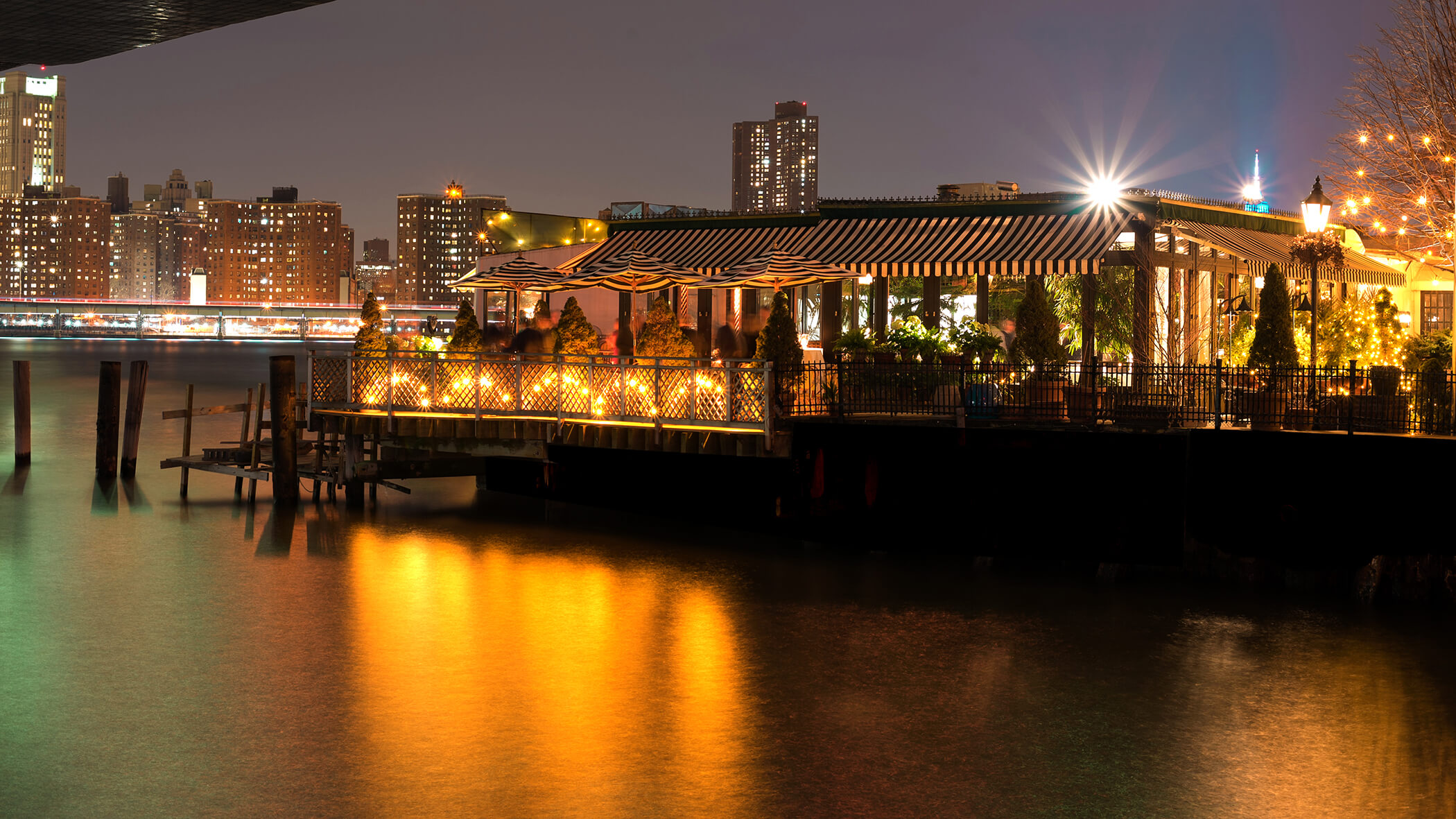 Source: innewyork.com
River Café is described as one of the most romantic spots for couples in New York with an immaculate view of the Brooklyn Bridge. The romantic café offers couples a fine dining experience in the heart of the city. Couples sip champagne while catching a view of the East River and the Brooklyn Bride to experience the best moment.
As the lights of lower Manhattan sparkle of the East River, you can go down on your knee and make a proposal to your ladylove, making it the most romantic café of all time forever etched in your minds.
The Lincoln Center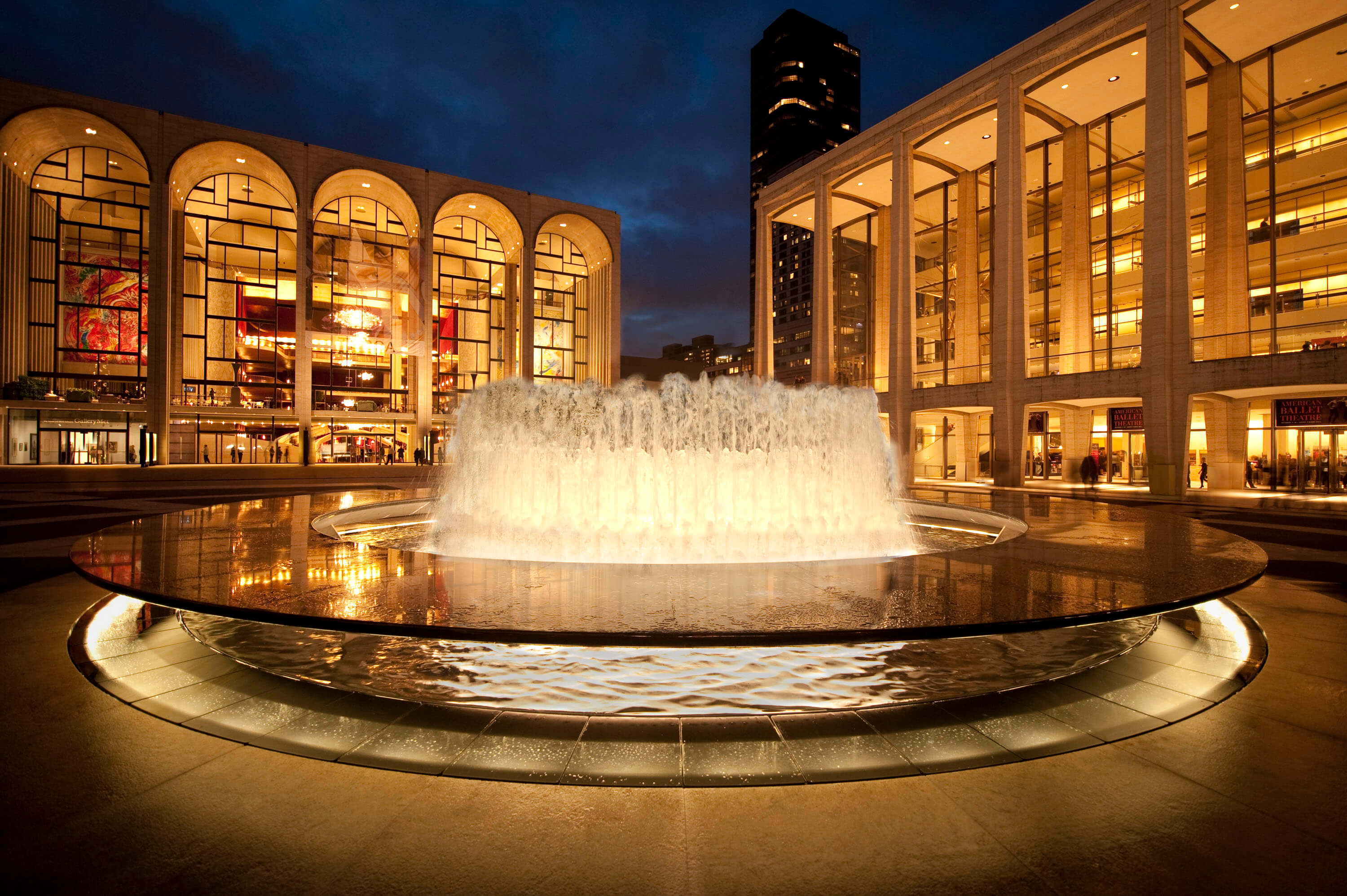 Source: cdn.collider.com
The Lincoln Center is located in New York's Upper West Side. It is a well-known Performing Arts stage and a music lover's paradise. The Center holds numerous music concerts, ballets, and operas which are a hit among the couples. Plan a trip to the Lincoln Center with your loved one to catch a romantic opera that will score you many brownie points with your loved one. Also, there is a full-day trip to New York City by train for all the tourists!!
Couples can spend a romantic night at the Revson Fountain which is lit at night and catch the five-minute water shows throughout the night and sneak in some intimate moments with each other.
Classic Harbor Tours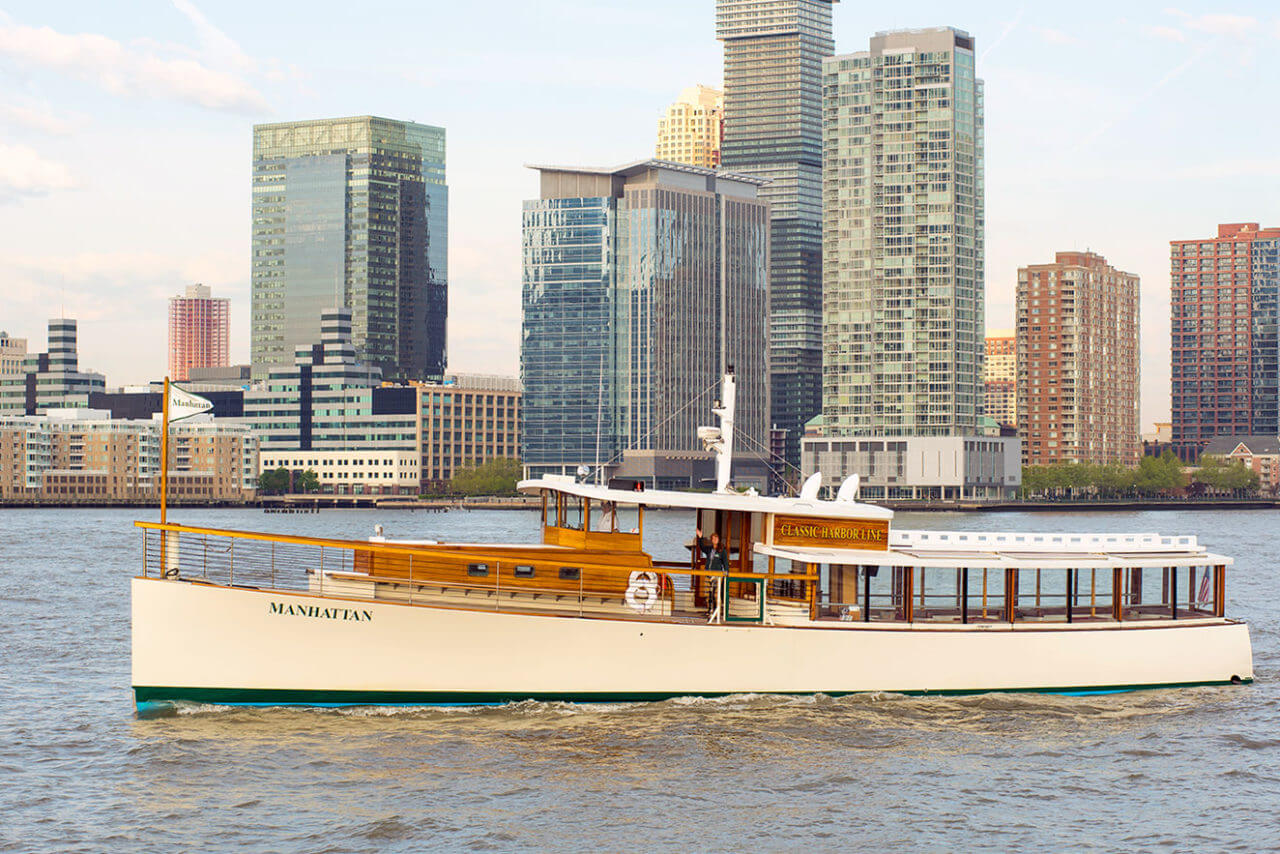 Source: cdn.collider.com
Are you a couple planning for a romantic date in New York City? Plan a river cruise with your loved one and fall in love all over again. Hire a private yacht or enjoy a boat ride around New York Harbor. Opt for a sunset cruise or a late-night cruise to get a view of the city lights.
Couples have their dream vacation in New York City by going on a relaxing cruise, sip on champagne while having an intimate conversation with your loved one as you drift by the Statue of Liberty, or indulge in a passionate kiss under the Brooklyn Bridge.
Also Read: 6 Things To Do In New York In January 2021: Make Your Trip Memorable
Jacques Marchais Museum of Tibetan Art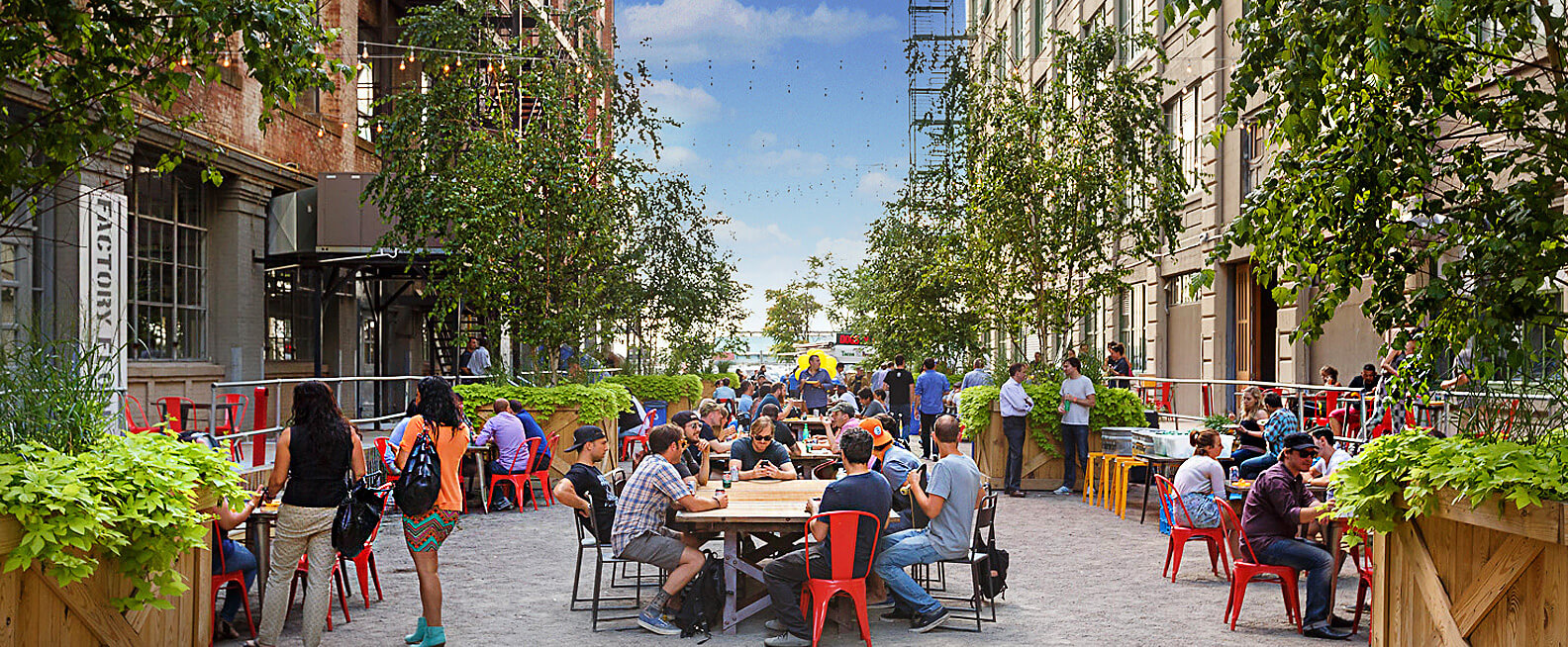 Source: ttnotes.com
Jacques Marchais Museum of Tibetan Art provides solace for couples who are searching for a place that offers tranquillity and is situated amidst nature. This small museum is located on Staten Island and is the only Himalayan Temple-style building built in the United States.
Couples can visit the museum to practice yoga or meditation and breathe in the fresh air.
Couples what are you waiting for? Pack up your bags and book your tickets to the city which never sleeps. We are sure you would have the best time of your lives and a chance to rekindle your love life.
To explore more places visit Travelila.