Exploring Rajasthan: India's Most Iconic Travel Destination
Rajasthan is undisputedly India's most iconic travel destination. The vast country boasts many other areas that have long lured visitors, such as the rolling tea hills, snow-capped mountains of the north, and the beaches and backwaters of Kerala in the south. However, despite this array of amazing places to visit, none have proved to be more captivating than Rajasthan.
As the home of the Taj Mahal, one of the world's seven wonders, perhaps it is unsurprising that Rajasthan has and continues to draw droves of tourists each year. But this astonishing destination is more than its monuments: the rich culture, vibrant colours, and majestic cities come together to transport you straight back to the time of the Mughals and maharajas and create exotic experiences that you will never forget…?
It can be complicated to organize a holiday to India without help, not least because of the sheer volume of places and hotels to choose from. As a busy country that is sometimes overwhelming, it is useful to have support when traveling. Make life easy and gain peace of mind with guided India tours that include expert recommendations on where to stay and what to do, as well as the services of a reliable English-speaking driver for the duration of your tour.
Here is a guide for exploring Rajasthan so that you will be inspired to visit India's most iconic travel destination, the perfect getaway for all types of tourists, from adventurous backpackers to older couples seeking a luxurious escape.
When Should You Visit Rajasthan?
Source: devilonwheels.com
The best time to travel through Rajasthan is October and November or February and March, making it a great holiday option for those who like to escape the English winter. During these months, the temperature is reasonable (roughly 25 – 30'C), and the sunshine is pretty much constant.
If you travel in March, you have the chance to experience Holi Festival, an ancient Hindu celebration known as the Festival of Spring which is a joyous occasion marked by the throwing of colored paint. Visiting Rajasthan in the late autumn means you will encounter the traditions used to mark Diwali, the Festival of Lights, which Hindus and Sikhs also celebrate, and Jains.
During Diwali, nights are illuminated by diyas (traditional oil lamps) and lights placed outside almost every building. You can also witness fantastic firework displays, and sample special sweets only made during this festival.
Why Should You Visit Rajasthan?
History
Source: blogspot.com
Rajasthan is steeped in history, which is evident in its key locations. Once the capital of the Mughal Empire, Agra features spectacular monuments dating back to the 16th and 17th centuries that were constructed during the reign of the most powerful Mughal emperors, including the stunning Taj Mahal and imposing Red Fort.
The majestic Mehrangarh Fort in Jodhpur looms over the city and is the backdrop for some of the biggest Bollywood movies. The most intriguing historical aspect of Rajasthan is Jaipur's color-coordinated old town which was painted pink as an expression of welcome when Prince Albert visited the city in 1876.
Bazaars
Source: tripsavvy.com
As well as their glorious monuments, the cities of Rajasthan also offer buzzing bazaars that are sure to ensnare the senses. Stroll along winding alleyways filled with the aroma of sweets and spices and overflowing with vibrant products, including fabrics, jewelry, furniture, and street food. The chaotic Delhi markets are best explored by rickshaw for an added touch of authenticity.
Wildlife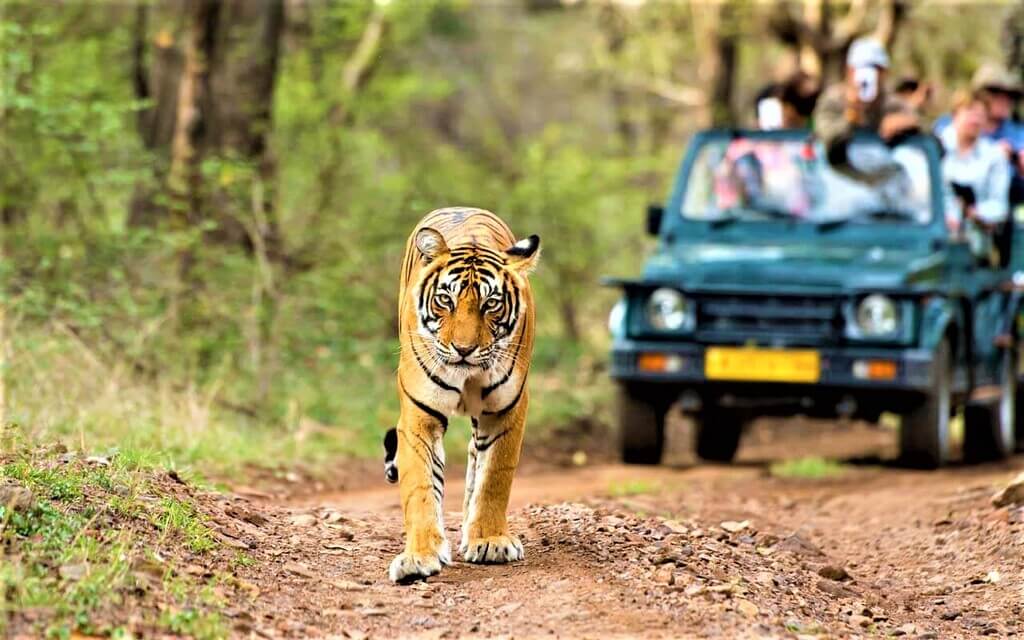 Source: revv.co.in
You might be surprised that wildlife enters into a tour of Rajasthan, but it is one of its crowning factors. Ranthambhore National Park, once a hunting ground for British colonizers, is one of the best places in India to see tigers in the wild. Watch from the safety of an open-topped jeep as these magnificent cats prowl through the trees, eat their kill, and drink and bathe at the lakeside. You can also see monkeys, deer, sloth bears, and a wide variety of birds here, including the proud peacock.
Also Read: Most Beautiful Countries in the World
Food
Source: indiatimes.com
Foodies will believe themselves to be in paradise when sampling the traditional delicacies of Rajasthan. Spices play an important part in creating the wonderfully complex flavors of North Indian staples such as dhal and meat roasted in the tandoor, the authentic clay pot which cooks meat over a fire. You will also find spices adding sweetness and fragrance, such as the inclusion of cardamom and cinnamon in the rich and milky chai (tea) that is sold on the street corner in each city.
Accommodation
Source: wordpress.com
Rajasthan has some of the most striking and architecturally interesting holiday accommodations worldwide. Picture lavish palace-like hotels fit for a king with ornate pillars, open-air courtyards, and decorated with richly colored murals and fabrics.
Suppose this is too opulent for your taste. In that case, you can find authentic character and beautiful design at the less luxurious Havelis, traditional manor houses once belonging to maharajas, which offer a stunning and peaceful place to retreat from the hustle and bustle of the city without any pomp and circumstance.