13+ Lip Smacking Foods in Spanish You Must Try Out!
A visit to Spain will reveal precisely how vital the cuisine is to the country's rich and varied traditions. Foods in Spanish have evolved into a wide variety of delectable meals throughout the ages based on locally sourced and vibrantly colored ingredients. There is a wide range of cuisines to choose from in this dynamic country, from heavy stews to light nibbles. It's not just about the taste of Spanish cuisine: it's a way of life.
Since the dawn of time, these Spanish foods have served to bring people together. A wide range of culinary delights may be found across Spain, from mountainous regions to seaside resorts. Here are these 15 exquisite foods in Spanish that you must-try list on your next trip to Spain.
15 Foods in Spanish You Must Try
1. Paella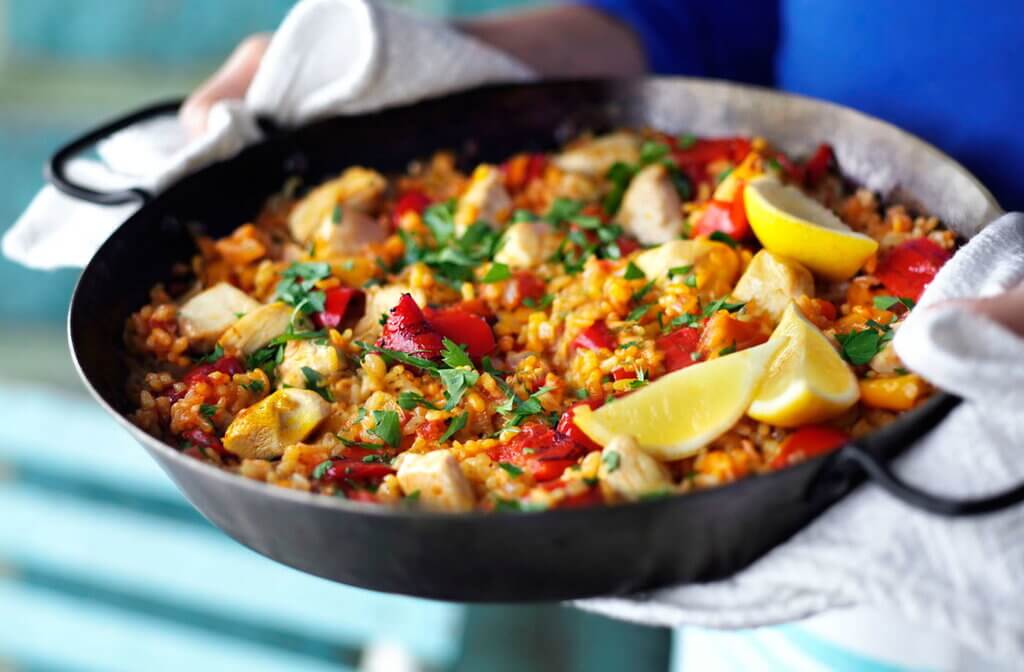 Source: realfood.tesco.com
We begin our tour with a cuisine that is not only popular in Spain but also around the globe. Valencia, Spain, is home to some of the world's best paella. A special kind of round rice is used in this Spanish rice recipe.
There are several variations of this Spanish food: paella, but seafood is the most prevalent. The paella is prepared in a shallow, extensive, circular pan that cooks flawlessly over an open flame. The golden tint of paella's rice is due to its olive oil base. The typical seasonings for this dish include rosemary and saffron.
Many other components have been employed throughout history. Chicken, rabbit, duck, and even snails were once used in the original paella dish. However, the abundance of Mediterranean fish has made seafood paella a popular food in recent years. The rice's robust warmth and the seafood's succulent meat is a truly unforgettable taste. It's a must-have Spanish delicacy.
2. Tapas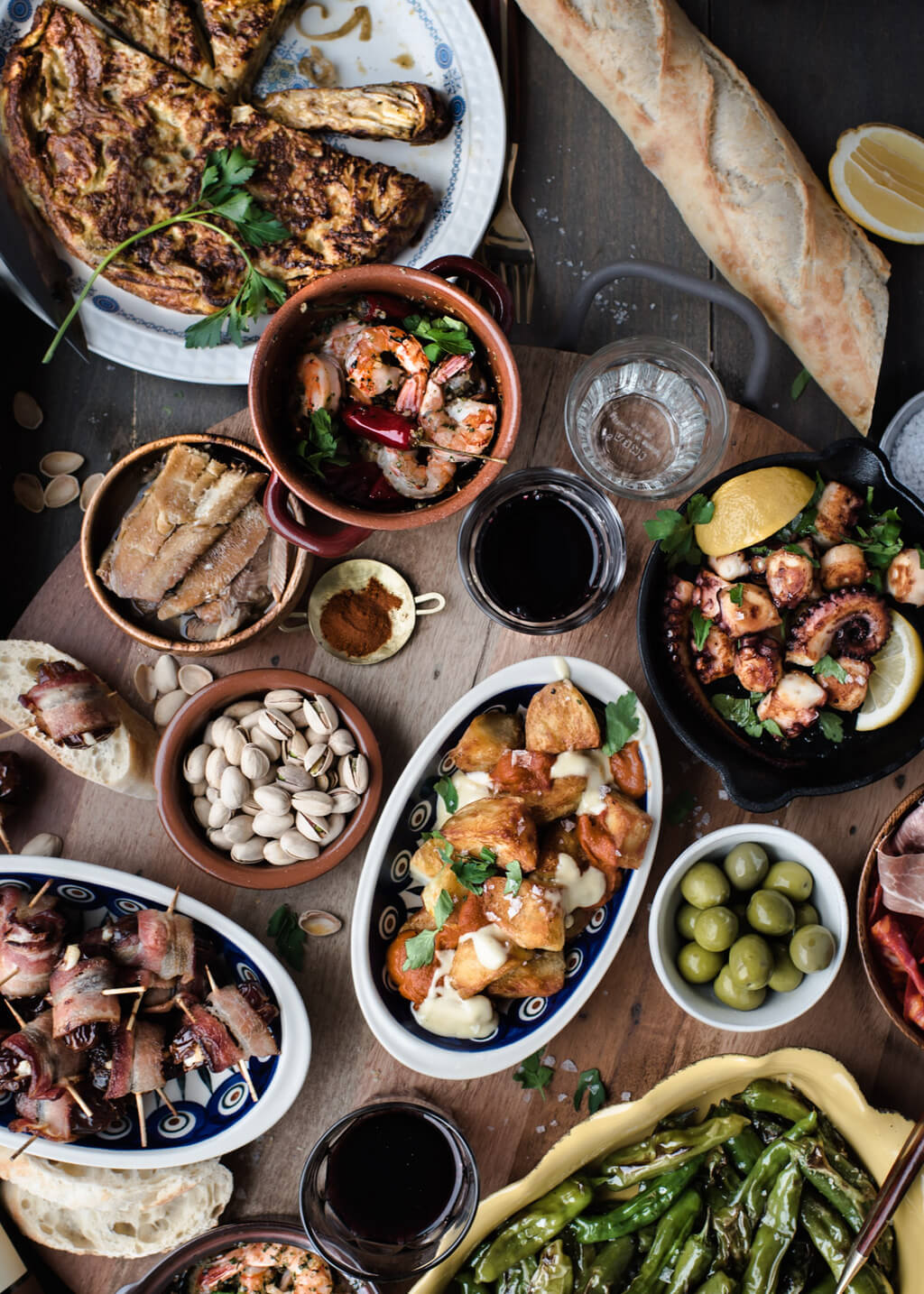 Source: squarespace-cdn.com
Spanish tapas are renowned worldwide, and a visit to a tapas bar is a must while in Spain. Small snacks and appetizers are known as "tapas" are prominent foods in Spanish.
The menus at most tapas establishments offer a wide variety of options. When it comes to the number of dishes and the type of food, it's entirely your decision—Spanish chorizo's smoky crunch.
3. Ibérico Ham
Source: meredithcorp.io
Jamon Iberico, or Iberian ham, is renowned for its deep pink hue and beautiful silky texture. The Black Iberian pig is the source of this ham, a kind of pig native to the Iberian Peninsula. Butchers prepare the ham by salting it heavily and air-drying it for some time.
The ham's rich taste and flawless texture can be attributed to the lengthy curing procedure. Jamon Iberico is a delicacy found in countries around the world. One of the most popular aspects of Spanish food is its wide range of sandwich and tapas options.
4. Patatas Bravas
Source: tumblr.com
You may make some of the best cuisines in the world in minutes. Crispy, filling patatas bravas are a perfect example of this.
Potato-based recipes have evolved to become bolder and more imaginative in foods in Spanish. The cooking procedure is the key to the addictive flavor of patatas bravas. The white potatoes are cut into cubes, then deep-fried in vegetable oil. Once the golden cubes of potato are in the dish, Spanish chefs add a hot or spicy sauce. Patatas bravas are made even better by the fiery sauce and their crispy exterior.
5. Pimientos de Padrón
Source: fooddrinkdestinations.com
Another dish is Pimientos de Padrón, authentic Spanish food and one of Spain's most intriguing cuisines. Padrón peppers are small, measuring roughly 2 inches in length. Despite this, their bodies are bent and swollen or narrowed in specific places. These peppers are usually moderate in flavor.
Peppers can range from mild to extremely hot, depending on their size and variety. The growing method determines how hot or mild a pepper will be. Its flavor is influenced by various factors, including the amount of water applied to the soil vs. the entire plant. You don't know how fiery each Padrón pepper is until you try it.
With the stalk still attached, fried Pimientos de Padrón are usually served. When the peppers have been coated in olive oil and sprinkled with salt, they are ready to be served. Taste, and you'll be rewarded with a burst of flavor, unlike anything you've ever experienced.
6. A Spanish Tortilla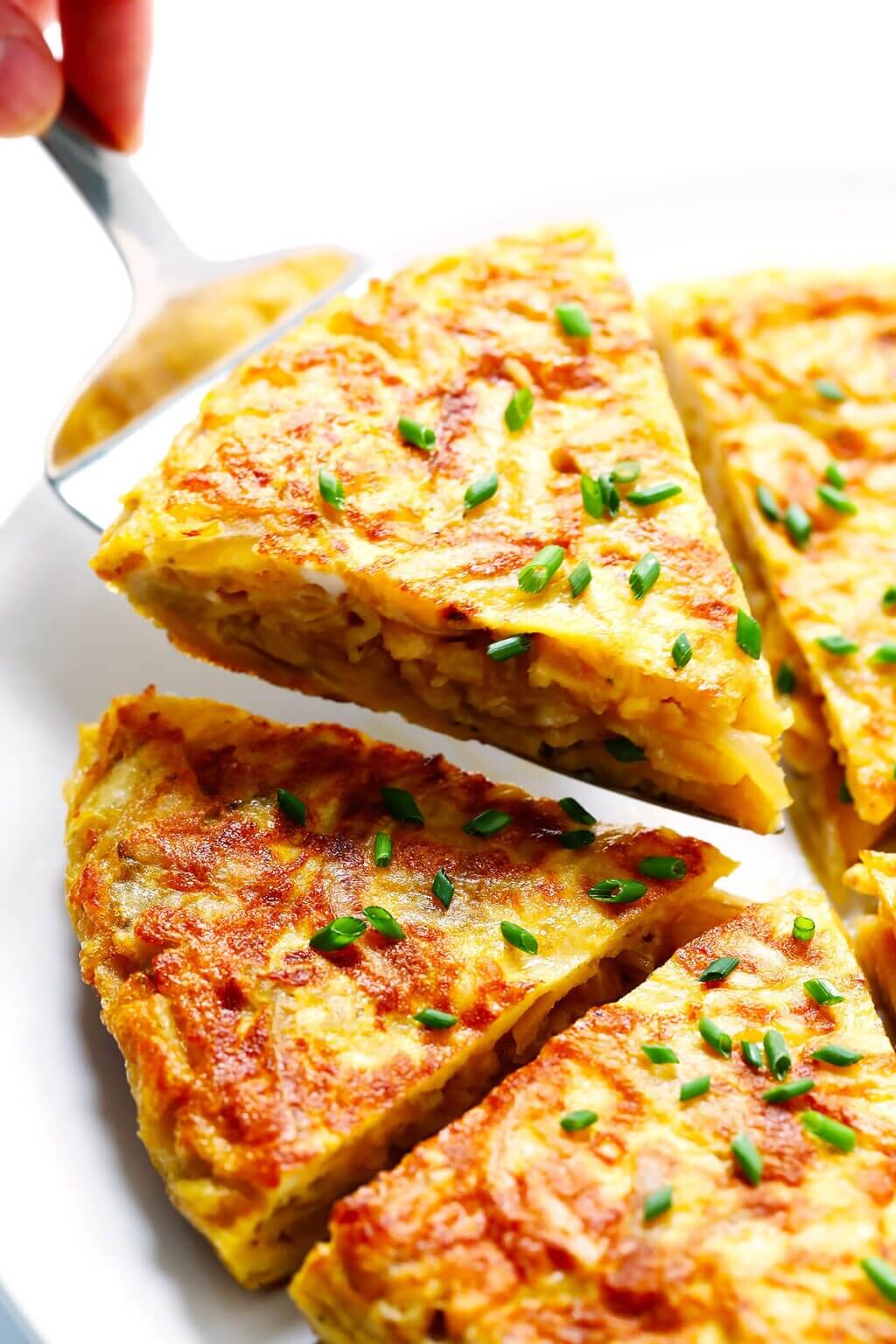 Source: copymethat.com
This dish is a must-have in any Spanish kitchen. Millions of people across the United States are in love with Spanish tortillas. Sliced onions and cubed or sliced potatoes are sautéed in olive oil until the potatoes are tender.
Once the potatoes and onions have been drained, they are mixed with eggs. Finally, the mixture is placed in a pan and cooked on both sides for a few minutes.
Among the most appealing aspects of Spanish tortillas is their adaptability. As a starter or a main entrée, they can be served either hot or cold. This dish's delicate, fluffy flavor makes it one of the best foods in Spanish.
7. Gazpacho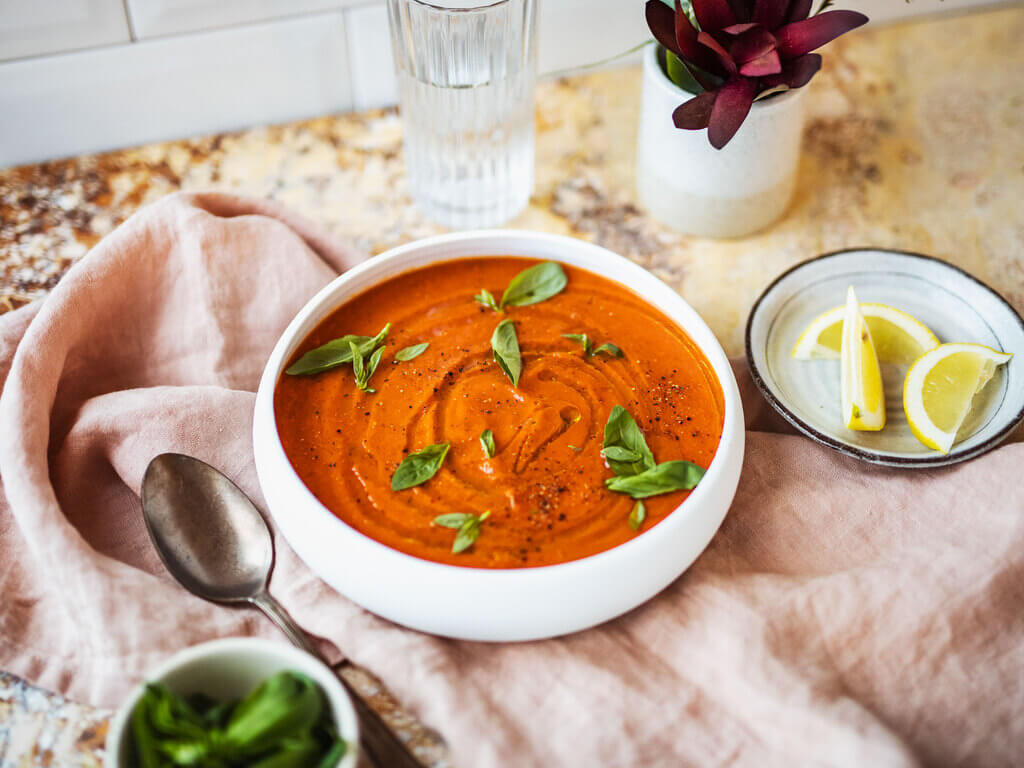 Source: kitchenstories.io
Gazpacho is a refreshing cold soup made from various fresh, raw vegetables in Spain. Gazpacho, a hallmark of Spanish food, is a big hit during the summer. There is nothing better than a cold glass of this in the scorching heat of Spain.
Blending fresh veggies in a food processor, and then filtering the liquid to remove the solids is all that is required. The consistency of the soup is determined by the mixing time.
You can make gazpacho with various ingredients, not just tomatoes. Cucumbers, watermelons, avocados, and other natural fruits are just a few options. Finishing touches include sprinkling the top with chopped parsley or cilantro. Cucumber, tomato, and pepper dice are all typical ingredients. After a hot day in the sun, this refreshing delicious food in the Spanish list is just what we crave.
8. Salmorejo
Source: pinimg.com
In Spanish food, tomatoes are a common element. Salmorejo, on the other hand, has an entirely distinct consistency from gazpacho. Salmorejo is a tomato-and-bread purée, essentially.
It's made using peeled tomatoes, bread, garlic, and olive oil in a puree form. The puree's thickness is determined by the amount of bread used. It contributes to the silky, creamy texture of Salmorejo.
Salmorejo is often topped with a variety of colorful garnishes in Spain. Variations in the recipe include hard-boiled eggs sliced into cubes and ham. It is served chilled, like gazpacho. Nothing beats this light and refreshing dish to keep you cool and energized on a scorching summer day.
9. Croquetas
Source: spanishsabores.com
Croquetas, a staple food in Spanish, have a crunchy texture and various fillings that are sure to please. Croquetas begin as a flavorful dough. Croquetas are commonly filled with ham or cheese from Serrano, Mexico, or some veggies.
Those who prefer a spicier flavor can add onion, garlic, and other spices. It is rolled into small cylinders after the dough cools down a bit. Flour, egg, and breadcrumbs are then sprinkled on top of the delectable morsels. The final step is to fry them in heated olive oil.
As a result, it has a wonderful crunch when you first bite then the softer dough flavors take over. Croquetas are a tasty breakfast food in Spanish. They keep you coming back for more since they're so filling and satisfying.
10. Bocadillo
Source: pinimg.com
It's impossible to drive far in Spain without coming across a bakery or café with an inviting Bocadillo on display. Bocadillos have been a staple of Spanish food for generations.
The bread is essential to making a proper Bocadillo. Spanish bread is cut lengthwise rather than from top to bottom like a French baguette. As you may guess, the options for filling are nearly infinite. Bocadillos are enjoyed in a variety of ways by millions of Spaniards.
Cold meats are a big hit with consumers. Adding cheese and savory dry-cured ham or salami to the Bocadillo elevates it to culinary divinity. Locals love the cheese Bocadillos made with Tasmanian feta or cheese spread.
11. Chorizo
Source: hearstapps.com
The chorizo from Spain is some of the best for flavor. The sausage is made with ground pork and rendered pork fat in the Spanish variant. Garlic, salt, smoked paprika, and peppers are used in the seasoning. The amount of pimentón (a type of pepper) used in a chorizo's preparation determines its level of spiciness or sweetness.
The peppers used in the preparation of Spanish chorizo give the sausage its distinctive rich red hue. The delicate chorizo curing process contributes to Spanish chorizo's rich, complex flavor. If you like your chorizo smoked or unsmoked, you can get it in various dishes. Chorizo Bocadillo is a popular Spanish food. The chorizo is a staple of Spanish cooking and a must-have for every foodie.
12. Pulpo Gallega (Galician-Style Octopus)
Source: pinimg.com
Octopus has long been considered a delicacy in Spain food, where it has been prepared in various ways. The Galician term for this meal is Polpo a la Gallega, which translates to "Galician Octopus." Galicians are descended from a region of northwest Spain called Galicia, where they live near Portuguese people. That's where this cuisine comes from.
The delicate texture of Pulpo a la Gallega is mainly due to the method used to cook the octopus. Large copper pots are used to boil the octopus. The octopus is chopped and trimmed when it is ready. Finally, it is liberally sprinkled with salt, paprika, and olive oil. This dish is traditionally served in Spain on a wooden board with bread and a good bottle of red wine on the side. It's worth the trip!
13. Leche Frita
Source: akamaized.net
The dish on the menu is Leche Frita, a traditional Spanish dessert. The sweetness and delectability of Leche Frita are deceptively simple. Its name translates from the English as "fried milk."
Leche Frita, on the other hand, is more of a milk pudding encased in crunchy flour and eggshell. Cinnamon is often included in the recipe. Other ingredients, such as lemon zest, have been added by various chefs over the years. Adding a sugar glaze and a sprinkle of cinnamon gives you a delightfully sweet Spanish food that is adored by millions. You'll come across these pastries in bakeries, cafes, and restaurants all around Spain. Delicious to the core!
14. Natillas Dulces (Custard)
Source: pinimg.com
Many Spaniards' fondest childhood memories are evoked just by looking at Natillas. For years, Spaniards have savored this sweet treat. Natillas, along with flans and cream Cataloniana, are great comfort foods.
Custard-like Spanish egg custard is known as Natillas. Vanilla is commonly included in Natilla recipes, contributing to their bright yellow hue. Cinnamon and lemon are widely used to enhance the sweetness of the mixture in Spain food. It is one of the most popular foods in Spanish, and it's easy to see why. It is possible to find them in a variety of sizes and shapes. It's scrumptious!
Also Read: 12 Food Hub Spots In South America For A Delightful Meal
15. Churros
Source: challengedairy.com
Finally, we had churros to round out the meal. Fried dough strips and twists are a breakfast food in Spanish, and they're also great dipped in a variety of sweets. Dulce de leche (caramel) and hot chocolate are among the options.
It's fascinating to watch the dough come together for churros. You can find street sellers who will create churros for you at any time of the day or night. Churros are classic Spanish food with a pleasing crunch and mouth-watering sweetness dipped in hot chocolate or caramel.
Final Words
Foods in Spain feature a wide range of delights, from gazpacho to Pulpo a la Gallega. And it's not surprising, given how important food is in Spanish culture. You can find cafes, bakeries, tapas, bars, and restaurants on any street.
Spanish food has a very fresh and organic flavor because of its proximity to the Pacific Ocean and the ideal temperature for growing vegetables. Local bakeries and restaurants are better options to try these scrumptious foods in Spanish. Grab your bags and visit Spain then you may be sure that Spanish food has some of the world's richest and tastiest meals, no matter your taste preferences.
For more updates on the tourism industry, visit Travelila.