7 El Salvador Food: Most Popular & Traditional Dishes to Try
El Salvador is the heartthrob of North America; this country is a sight to behold with its diverse landscape. Whether you are hiking up the volcanos or partying at a beach, there is one thing that binds the whole country that is food. Food in El Salvador food is exquisite, with unmistakable hints of Spanish and native North American cuisine. Salvadorians love their fresh fruits and meat; that is why there is a hefty amount of fruit, meat, and cheese in their traditional meals. The culinary tradition of these native dishes showcases a very bold and unique flavor palette. Here are some dishes plucked out from the Salvadorian cuisine that you must treat yourself with when backpacking across El Salvador.
Pupusas
source: medium.com
Pupusas is the highlight of Salvadorian cuisine consisting of mildly sweet corn tortillas. The corn dough is usually stuffed with cheese, cooked ground pork, beans, and loroco. The thick tortilla is fried and served with sour shredded cabbage salad and homemade tomato sauce.
Pupusas also have mouthwatering vegetarian versions where the filling is prepared with local squash and garlic. The filling of pupusas is customizable, with numerous combinations of flavors available. With its slight sweetness balanced by savory stuffing and creamy cheese texture, this dish is adored by the whole country.
Sopa De Pata
source: pinterest.com
Soups and stews are extremely loved by the locals of El Salvador; one such soup is Sopa de Pata. This wholesome soup has a variety of different ingredients, some familiar and some unexpected to the typical Salvadorian food. There are varying versions of this soup served across the country, but the ideal one involves sweet corn, beans, yuca, cow's feet, plantains, tripes.
All the ingredients are thrown into a pot, seasoned with lemon, cumin, cilantro, and chilly powder and long-cooked for hours to create a rich broth. This local delicacy is prepared in huge pots and served hot at family gatherings. The zest of the lemon and savory, thick broth make this soup a perfect companion for a chilly winter night.
Ensalada
source: staticflickr.com
Ensalada is nothing like it sounds; it is a refreshing local fruit drink perfect for quenching your thirst on a hot sunny day. This authentic drink consists of a heaping jar of tiny diced mangoes, pineapple, and orange, which tease your tastebuds while the mix of lemon juice, water, and pineapple juice refreshes your mind.
This sweet and tangy mocktail is perfect, paired with any hot seasoned native dish to soothe your insides after a mouthful of spiciness.
Also Read: Food In Kyoto To Try For Satisfying The Taste Buds
Platanos Con Crema Y Frijoles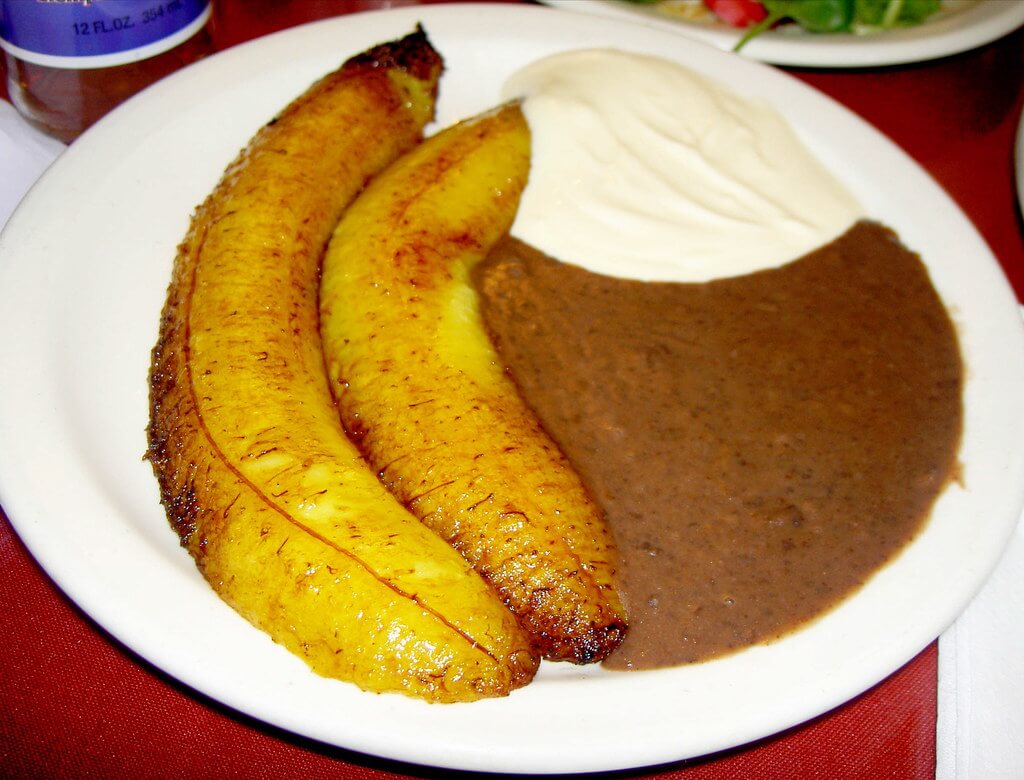 source: staticflickr.com
Platanos Con Crema Y Frijoles is a typical breakfast of El Salvador, which is usually enjoyed by locals on the weekends. Some plantains are pan-fried, beans are ground, and served on a plate alongside sour cream.
This dish has a mildly sweet flavor from the plantains and a spicy, salty taste from the well-seasoned ground beans. The combination of both with the sour cream dip is absolutely delightful.
Empanadas
source: thedailymeal.com
Although Empanadas can be eaten at any time of the day, they are traditionally served as breakfast in El Salvadorian food. Empanadas can be served both sweet and savory, depending upon the stuffing of these fried goods.
To make this treat plantain is ground, given an oval shape and are later deep-fried in a frier. These dough pastries make a perfectly good dessert when filled with vanilla custard or sweet cream and sprinkled powdered sugar on top. For savory eaters, the plantain is packed with potatoes, cheese, or meat and is served with homemade tomato salsa. Empanadas are a mouthful of heaven, and they can be a classic midnight munching snack.
Tamales
source: khaidai.co
Tamales are famous all across North America, but El Salvador is famous for the different varieties of these steamed pockets. Tamales are served both as meals and desserts, depending upon the stuffing used while preparing them. This delicious dish is made using a corn dough pocket that is tucked snuggly into a blanket of corn husk or banana leaf and steamed.
If the delicacy is to be served as a meal, these corn pouches are filled with beans, spicy meat, and cheese, which is seasoned according to taste preferences. On the other hand, tamales for dessert are full of sweet corn and dried fruits.
Quesadilla Salvadorena

source: cookingtheglobe.com
Quesadilla Salvadorena is a traditional coffee cake served as breakfast or dessert. Don't jump to conclusions. This cake is not coffee-flavored; it is called coffee cake because it is served with coffee. In villages, it is a tradition for people to make this bread every Sunday morning for their families.
This delightful pound cake is made with queso fresco cheese, butter, flour, eggs, and sugar. This sweet bread can be found in all the local bakeries of El Salvador and is the ideal breakfast to kick start your day.
These are some of the most iconic dishes from El Salvador food, which you must try when visiting this North American country. These local goodies will take you one step closer to the understanding of Salvadorian culture. For more information on food, visit Travelila.