What you need to focus on while traveling? Views, budget, souvenirs and what else? The answer is FOOD. Your trip is still incomplete if you haven't gobbled up some famous cuisines or traditional dishes of the country. And this applies to everyone and every place. So today, we are looking at some delicious Kyoto food which is mouthwatering.
Kyoto, once an old capital city of Japan, has so much to offer, be it places to visit or foods to try. You may have planned your itinerary, but it is still incomplete if you haven't added the name of restaurants or cafes to visit and cuisines to try on.
Japan is famous for its Zen Buddhist culture and temples. But when we talk about Japanese food, not everything that is well-known there tastes the same in every region. For instance, the traditional dish of Japan, Sushi, has different variants according to the regions.
Here Travelila has come up with a few famous dishes and cuisines to try when you are in Kyoto. Kyoto food is famous for its redefined and delicate taste.
Start savoring the food in Kyoto with us, below is the list of Kyoto cuisines that you should try when you visit Japan. And for you, we have also mentioned the names of a few restaurants along with the super tasty dishes.
But firstly, don't miss the Nishiki Market in central Kyoto. It is basically a food market where you can taste the local eatables and meals.
Kyo Kaiseki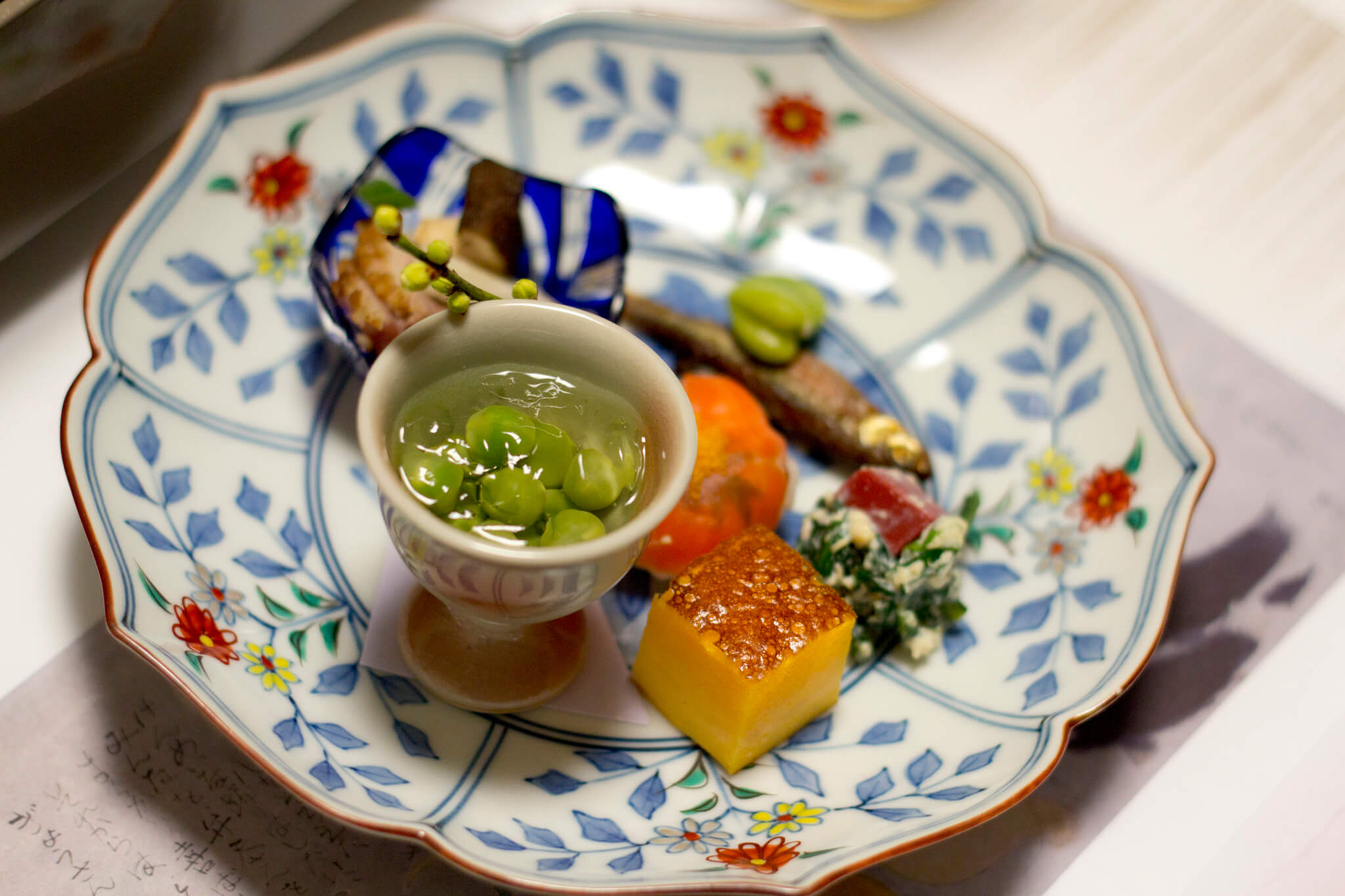 source: theculturetrip.com
Kyo Kaiseki is a haute cuisine of Japanese culture. It is not only a dish, but it is also a combination of art and balance in taste, texture, and color. The taste of this dish is more traditional and finger-licking.
This plate is served mostly in ryokans or specialized restaurants in Kyoto. The making of the dish includes fresh flavors and seasonal ingredients. It is savored slowly as a group and with lashings of Sochu or Sake.
While having this flavorful dish you can expect starters, main course, and even dessert.
Best Restaurant to try from:- Gion Karyo
Address:- 570-235 Gionmachi Minamigawa, Higashiyama Ward, Kyoto, 605-0074, Japan.
Ambiance:- Fine Dining, Traditional
Range:- Budgeted
Meals:- Lunch and Dinner
Buddhist Shojin Ryori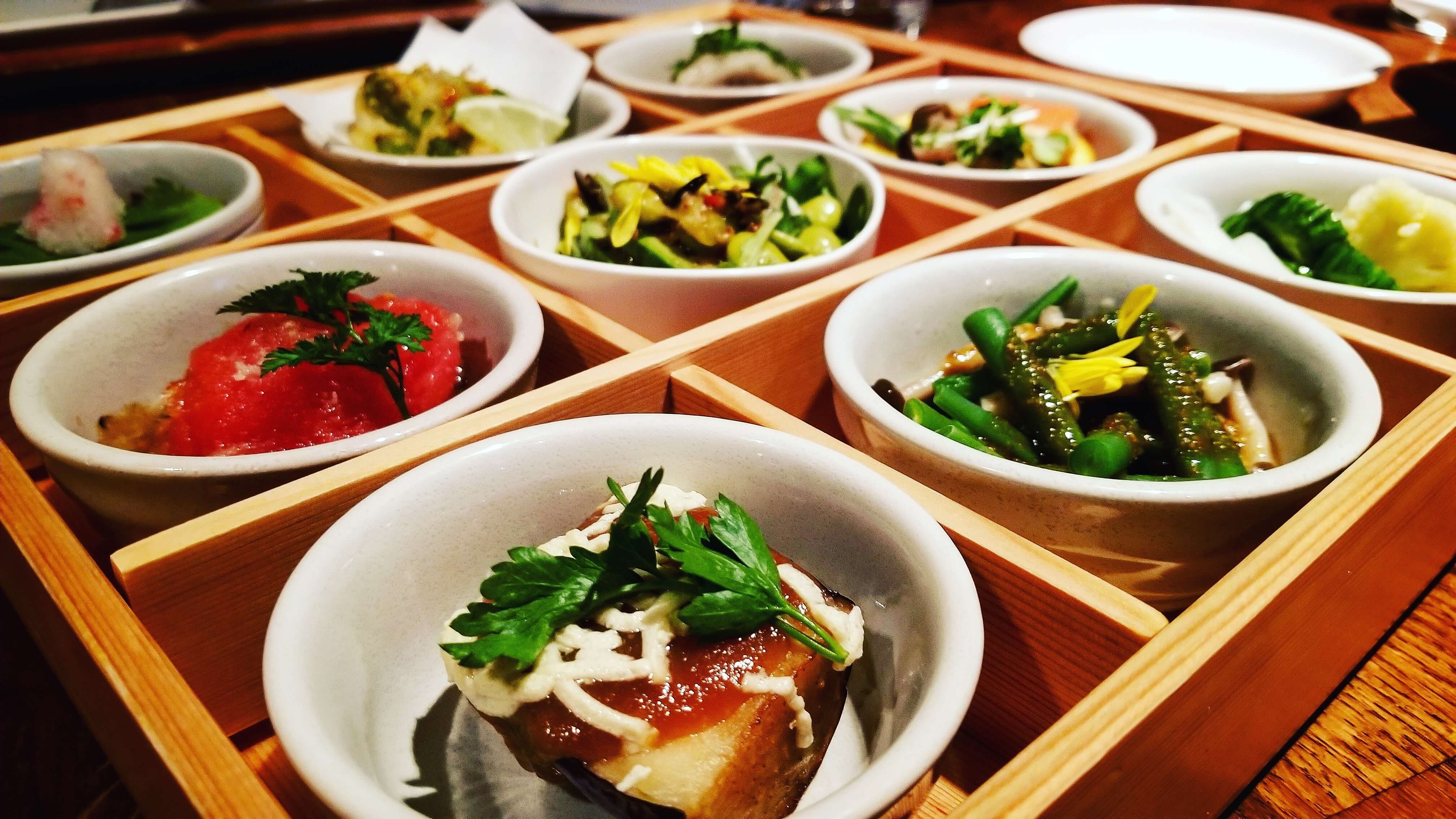 source: reddit.com
Buddhist Shojin Ryori is a vegetarian cuisine that has roots dating back to the 13th century. This meal was eaten by Zen Buddhist during those times to avoid meat, onion, and garlic. Now you will be thinking, then what adds flavor to it? This cuisine basically has the flavor of soy in it.
And that doesn't mean it doesn't have any taste other than this, and it has all the flavors that activate all the senses of the tongue from spicy to tangy and sweet. You will get the better smack on taste buds if you are temple lodging. It is a part of a "regular" meal.
The basic element of the cuisine is Tofu, which is also the typical traditional food of Kyoto. The dish reflects the message of ahimsa (respect for all living things and avoidance of violence toward others).
Best Restaurant to try from:- Shigetsu, Tenryuji Temple
Address:- 68 Sagatenryuji Susukinobabacho, Ukyo Ward, Kyoto, 616-8385, Japan
Ambiance:- Soothing and Natural
Range:- from Budgeted to Mid-Range (you need to reserve a table in advance)
Meal:- Lunch and Dinner
Yatsuhashi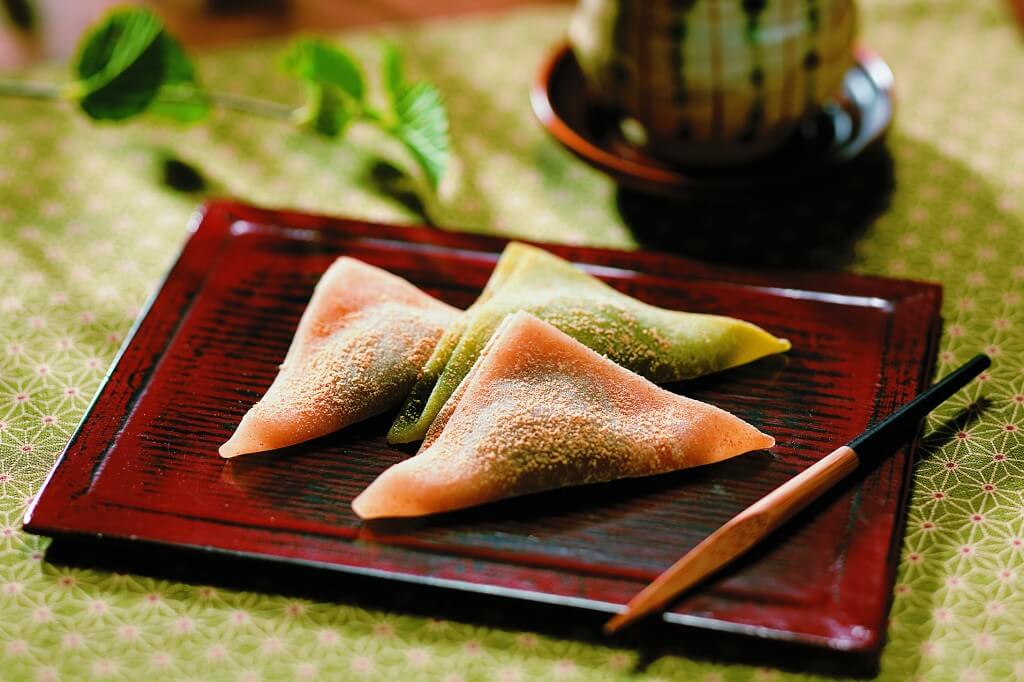 source: thisis-japan.com
Yatsuhashi a sweet dish of Kyoto. It is the most popular dessert of the city and can be compared with Mochi (Rice Cake) of Japanese Ryori. This sweet flavored dish is mostly taken as a souvenir by backpackers.
What exactly Yatsuhashi is? The skin of it is made from glutinous rice flour with the hidden delicious filling. It has the shape of a triangle. There are different flavors of skin that vary from cinnamon, green tea, and sesame which results in the color change of the outlook of the dish. There are seasonal flavors too like cherry blossom and plum.
You can find them in almost all the cafes in this old capital city. Yep! It is that famous. But still,
Best Restaurant to try from:- Honke Nishio Yatsuhashi Gion
Address:- 576 Gionmachi Minamigawa, Higashiyama Ward, Kyoto, 605-0074, Japan
Ambiance:- Modern and Illuminated
Range:- Mid-Range
Meal:- Dessert
Kyoto-Style Sushi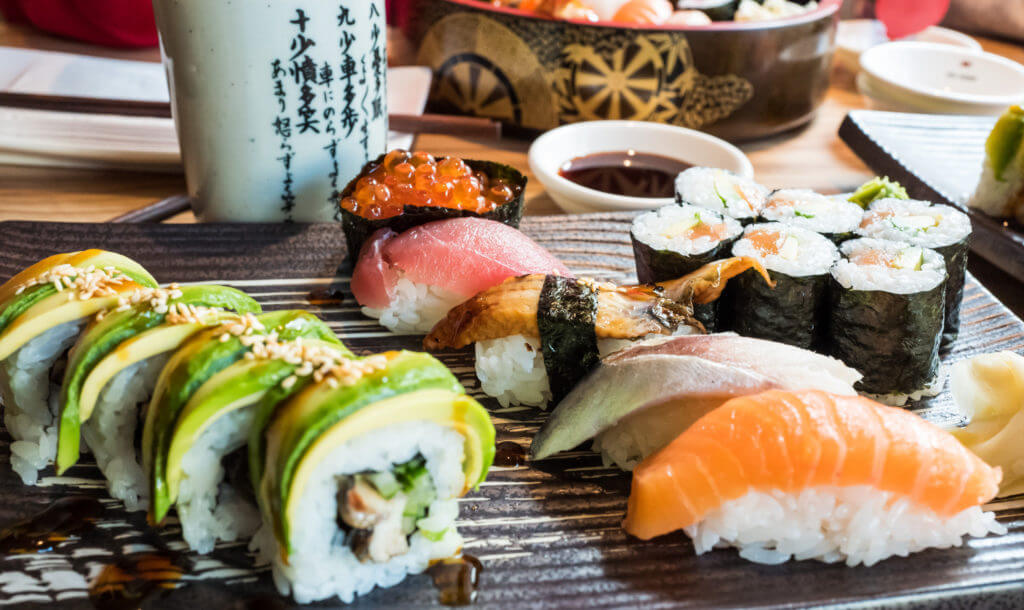 source: travelingpetitegirl.com
You might have read about Sushi, the traditional and most popular food in Japan. You are wrong if you think sushi tastes the same in any part of the country. The taste of sushi varies from region to region.
Every region has its cultural and traditional elements added to the sushi. You can't unlove, hate, or skip the Sushi. The food god will get mad. This super cute and tasty food is basically a rice roll covered in other fresh plants or skin of something.
Let's roll away with sushi at Kyoto in its own style. The dish was a result of landlocked necessity. As the city wasn't able to get the fresh fish, the chef preserved the fish skin and made the roll using it and the vinegary ice. The taste of it will blow your mind, and you will keep asking for more and more.
Best Restaurant to try from:- Izuju
Address:- 292 Gionmachi Kitagawa, Higashiyama Ward, Kyoto, 605-0073, Japan
Ambiance:- Traditional and homely
Range:- Budgeted to mid-range
Meal:- Lunch and Dinner
Also Read: 8 Foremost Things To Do In Sapporo-Japan
Obanzai Ryori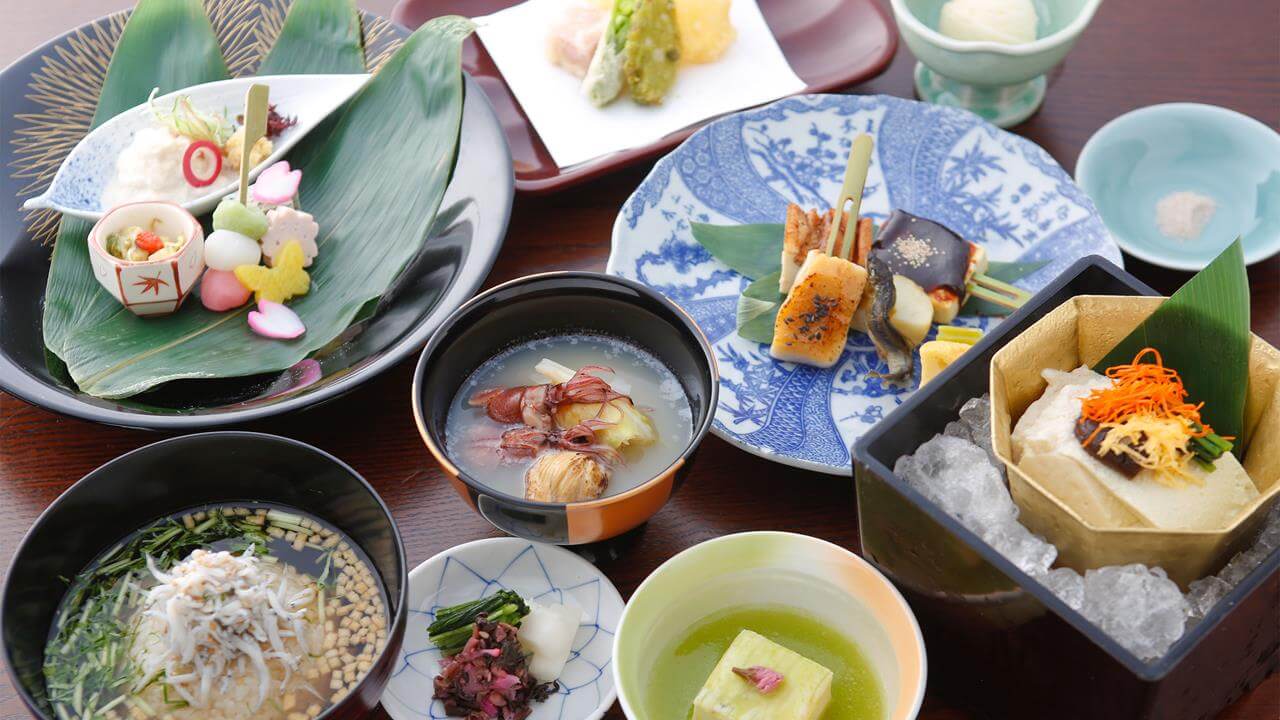 source: departures-international.com
Obanzai Ryori is a traditional meal of Kyoto, just like pizza of Italy. The dish is mostly prepared at home and is very simple and full of natural flavors. The natural flavored taste is pulled out skillfully by chefs.
The cuisine is packed with protein from seasonal ingredients. The dish consists of soup, rice, main dish, and a few smaller dishes. You will find Obanzai Ryori in any area of Kyoto. The place where this dish is offered mostly has a simple and calming atmosphere.
The most popular plates you will find in the meal are grilled eggplant, curry, nikujaga (meat and potato stew), and grilled fish.
Best Restaurant to try from:- Moritoshi
Address:- 265 Shikibucho, Nakagyo, Kyoto 604-8061, Kyoto Prefecture
Ambiance:- Cozy and Comfortable
Range:- Mid-range to expensive
Meal:- Dinner
Namagashi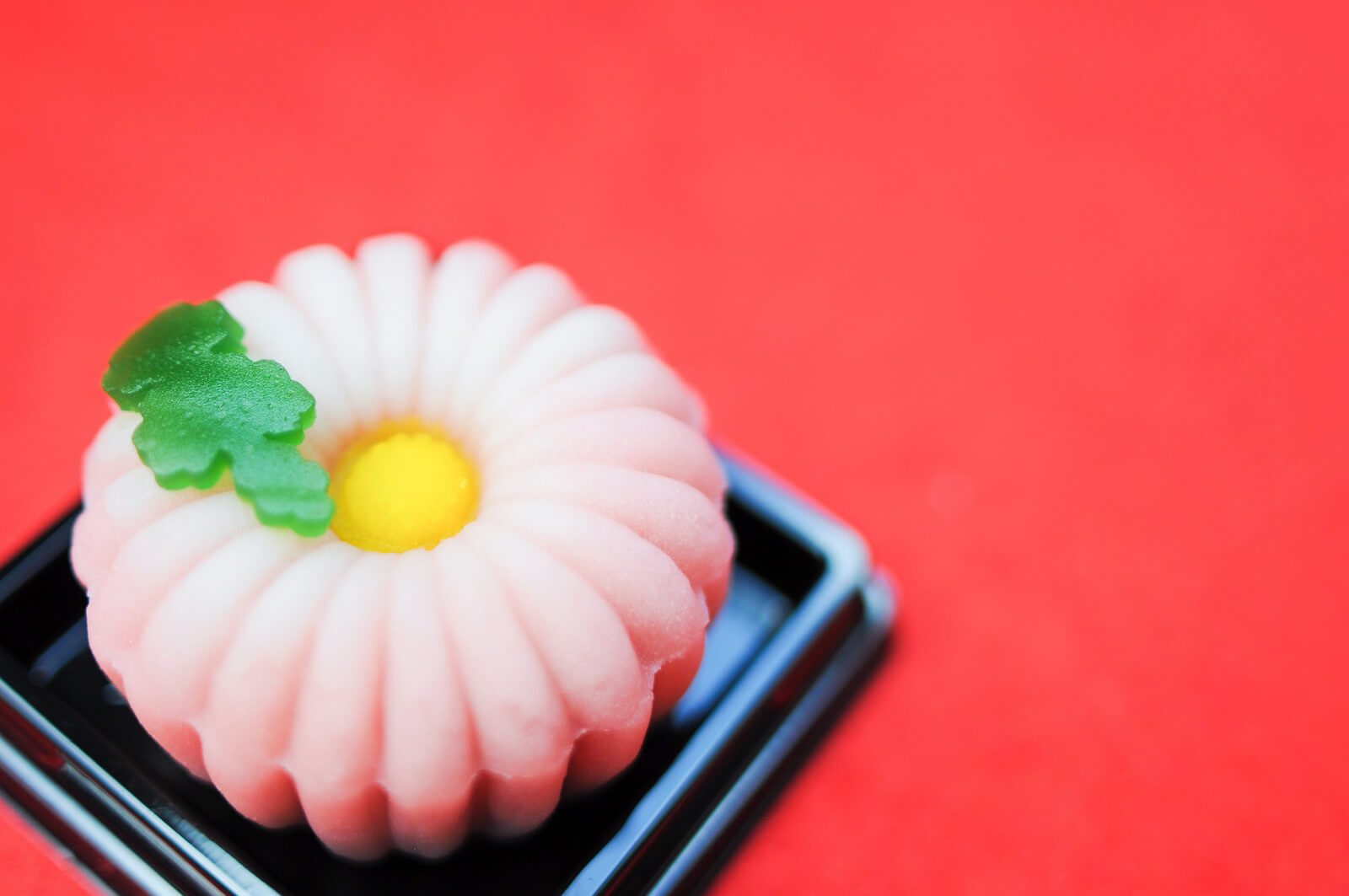 source: wanderandblossom.com
The art of Japan reflects in this dish. It is a type of wagashi (Japanese sweet). You will find every kind of shape, including flowers, leaves, and fruits. Rice flour and azuki paste creates the sweet dish.
You may find namagashi in natural fruit flavors too. The key ingredient of the wagashi is fruit jellies, and sweetened beans paste. This dish is usually with tea. This wagashi is a snack in a Japanese tea ceremony.
The sweet taste of it blends perfectly with the bitter tea and gives the best tang to the taste buds. They are damn functional too, want to know how? You can gulp it down with tea, but before that, take a few pictures of it and post it online. Then, see the demand for your trip insights increasing.
Best Restaurant to try from:- Tokyo Mise
Address:- 1-5-5 Muromachi, Nihonbashi, Tokyo, Japan
Ambiance:- Calming, and elegant
Range:- Mid-Range
Meal:- Dessert and Wagashi (Sweet Dish)
Yudofu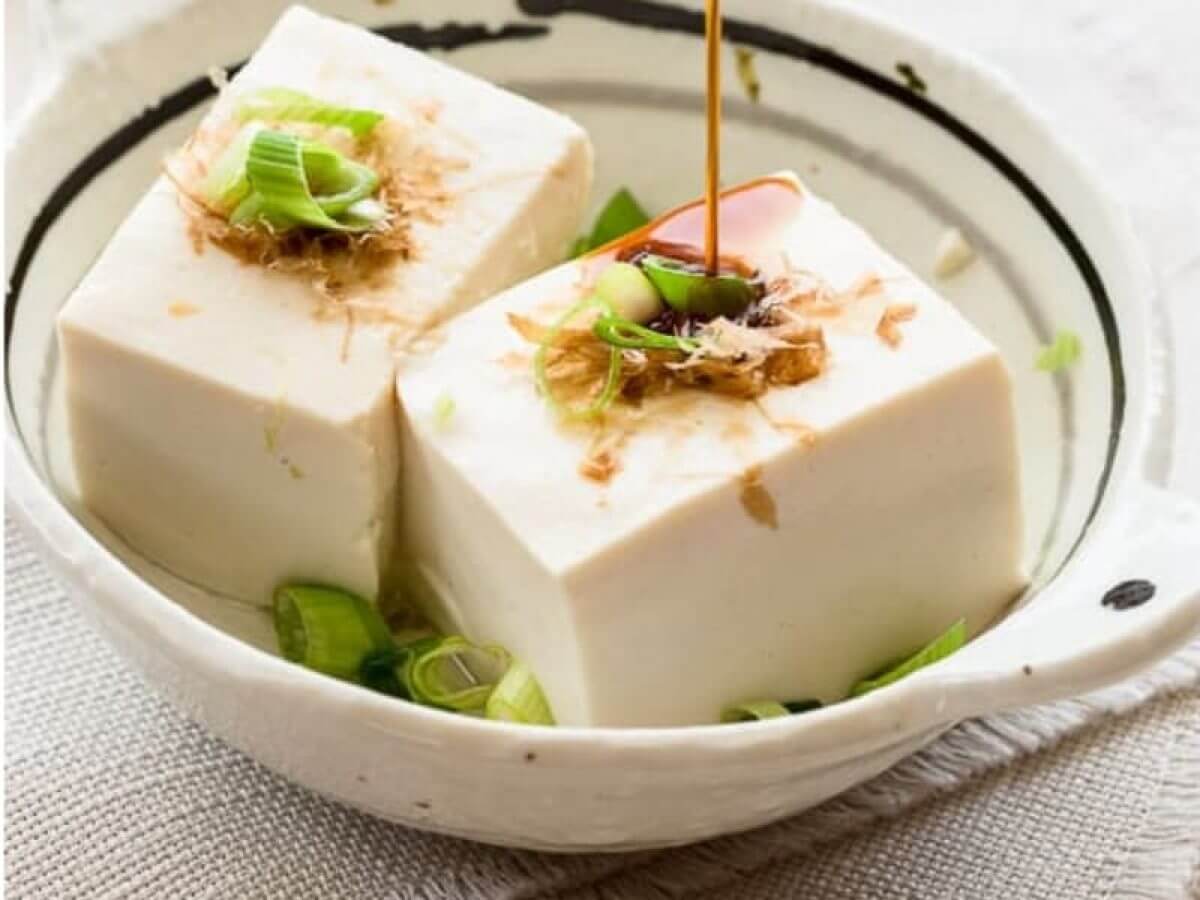 source: asian-recipe.com
You can consider this dish as the daughter of Shojin Ryori. It was born out of the traditional meal of Kyoto. And no other city describes the presence and taste of it as best as Kyoto.
Four simple ingredients and mouthwatering taste – these words explain the importance of the dish in the best manner possible. The ingredients for Yudofu is water, kelp, tofu and a dipping sauce.
The yudofu is a light and healthy meal that originated in Kyoto due to the quality of water that gives the tofu a creamy texture. You will find many different styles of dishes made using tofu in any restaurant.
Best Restaurant to try from:- Yudofu Sagano
Address:- 45 Sagatenryuji Susukinobabacho, Ukyo-Ku, Kyoto 616-8385, Kyoto Prefecture
Ambiance:- Traditional, Fine Dine, and Close-to-Nature
Range:- Mid-Range
Meal:- Lunch, Brunch, and Dinner
Yuba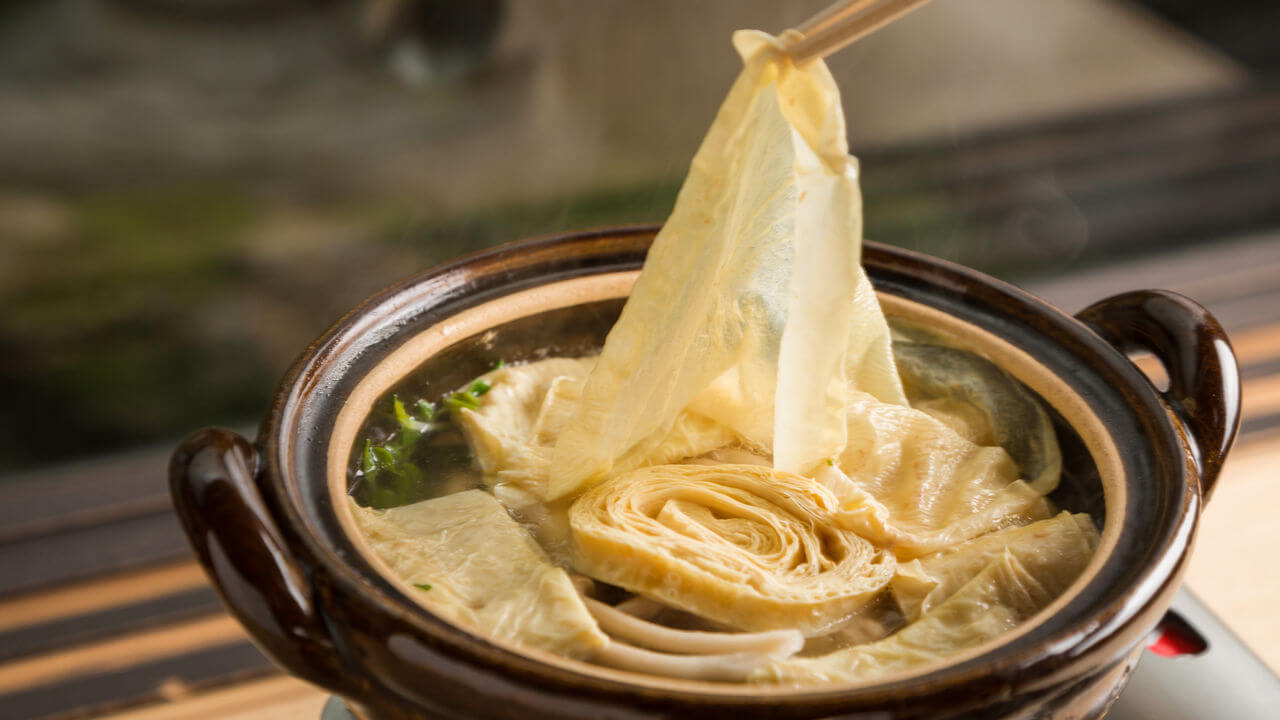 source: nippon.com
Yuba – the food that originated in China (almost 1200 years ago), and now it is a staple food of Japanese cuisine. The taste of yuba is simple yet addictive. You can't miss tasting this one, you will regret it! This is one of the best foods in Kyoto after Sushi.
Yuba is made by boiling soybean milk. Skimming the skin forming on its surface. The soft texture of it gets by adding the soy sauce and grated ponzu (citrus-based sauce) or wasabi. Yuba can be eaten raw, fried, or with soup.
The most important question. Why is Kyoto famous for it? When the dish is originated in China? The answer is because of the clear water and high-quality soybeans of Kyoto.
Best Restaurant to try from:- Toyouke Jaya
Address:- 822 Kamiyagawacho, Kamigyo-Ku, Kyoto 602-8384, Kyoto Prefecture
Ambiance:- Traditional
Range:- Mid-Range
Meal:- Lunch and Dinner
Tsukemono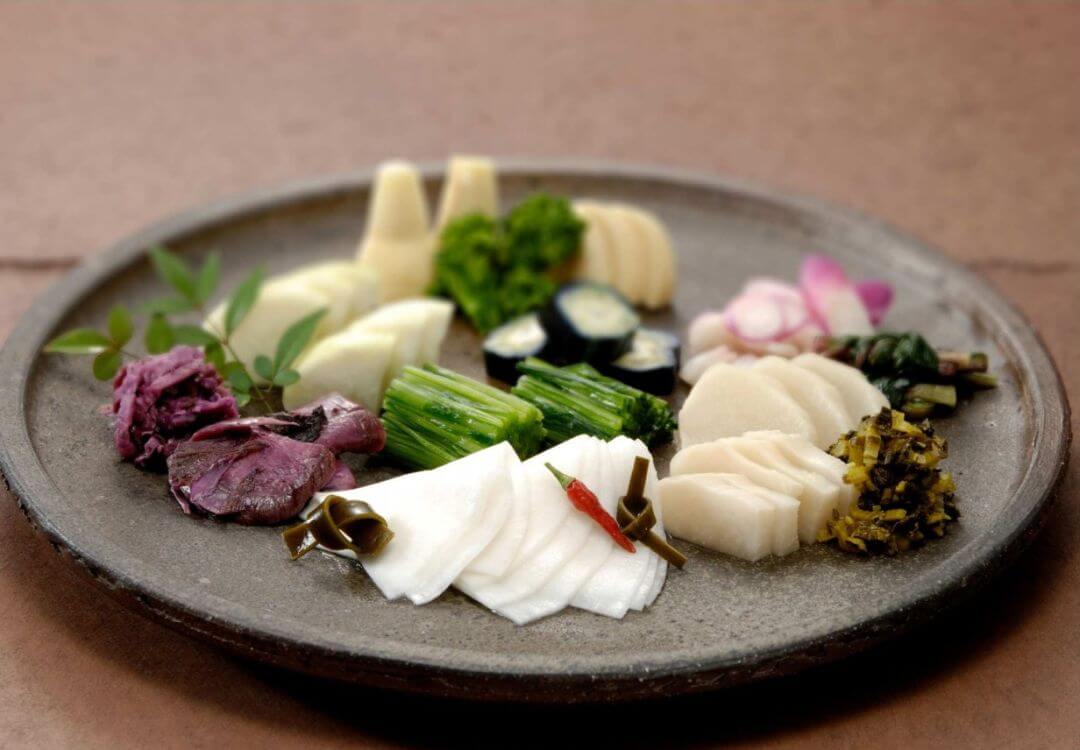 source: japancentre.com
Tsukemono in Japnese and pickle in English. Yes! Tsukemono is basically a pickle, the meaning of which is pickled things. This was even before the refrigerator came into existence. You would be thinking, for achieving the tangy flavor.
But no, the snack came in with the purpose of preserving fresh vegetables for a longer time period. And in today's era, Tsukemono has become the side dish of famous cuisines like Shojin Ryori and Kaiseki.
If Tsukemono is not perfect, it ruins the taste of the main course too. You will find the pickle of ingredients like cucumber, eggplants, cabbage, turnips, and parsnips. The process of making pickles of the ingredients starts with soaking them in green tea.
Best Restaurant to try from:- Akoya-chaya
Address:- 3 Chome-343 Kiyomizu, Higashiyama Ward, Kyoto, 605-0862, Japan
Ambiance:- Fine Dine and Modern
Range:- Budgeted
Meal:- Pickled Veggies
Get the Best of Japan Food in Kyoto:
Make the most out of your trip by gulping down the most demanded delicacies of Kyoto. We are sure you are going to get the best souvenirs for your mates. If possible, try the homely dishes like Obanzai at someone's place, or in a local area. You will get to taste the real Kyoto.
For more information on food tours and things to do, visit Travelila.