Austin chalks out an image of a rising hip, eclectic American city and is surely one of the best-kept travel secrets of America. Perched on the Colorado River and Lake Austin – this Texas state capital city boasts of offbeat neighborhoods, contemporary food, popular nightlife, trendy shopping places, and a vibrant music scene. In short, there is a lot of character to this sprawling yet cool city which has something worth discovering every single hour of the day.
Frankly, Austin is divided into 59 neighborhoods, each offering something unique to travelers and locals. So your obvious question would be where to stay in Austin? To experience the best of the city, we recommended you browse through the boutique hotels to funky neighborhoods to plush downtown properties that all showcase the city's love of live music, and even bohemian-styled hostels, where you can feel like fellow Austinites.
To complement your stay in Austin whether you are visiting to enjoy a weekend or a landmark event we have put together a list of the best hotels to stay in Austin to help you navigate through the lively city!
Downtown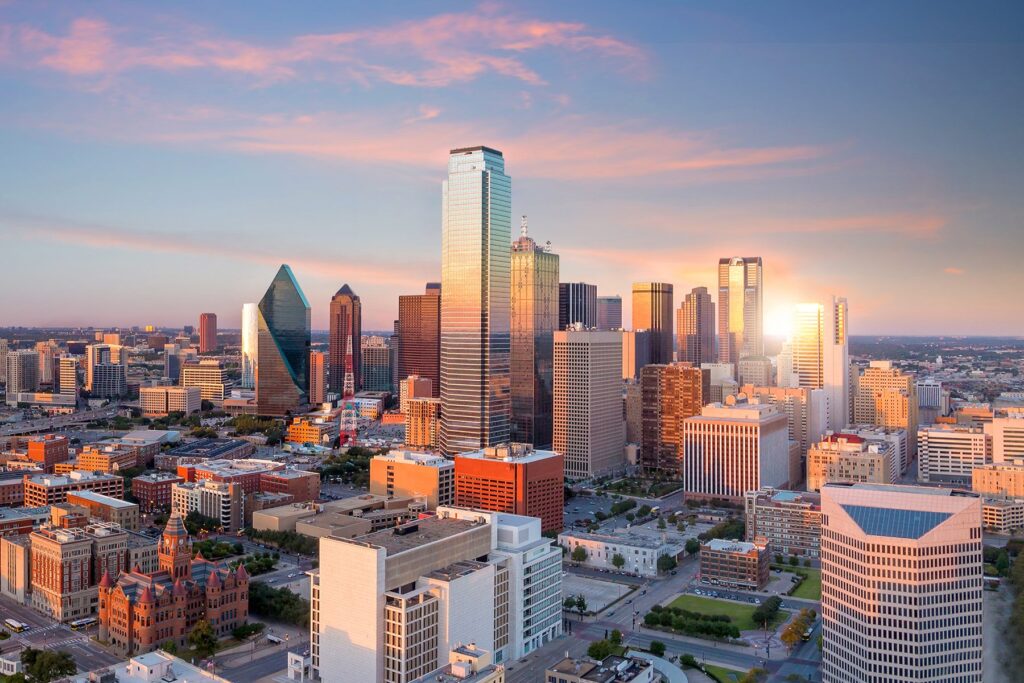 source: dmagazine.com
Downtown is a fashionable central business district packed with tons of student hotspots, eating as well as drinking joints, skyscrapers, government headquarters, shopping streets, and vogue hotels. The city skyline of downtown blankets itself in blue, pink, and purplish twilight hues at dawn and dusk giving Austin one of its famous nicknames 'the city of the violet crown. From the hosts of live music, movie premiers, comedy gigs at Paramount Theater to tons of colorful pubs, bars, and food trucks across Rainey Street – the downtown is the fulfilling epicenter for a first-time traveler to Austin.
Popular Attractions in Downtown:
Explore the history of the city at the Texas State Capitol Building, Austin City Hall, Austin Children's Museum, Bullock Texas State History Museum;

Indulge in a hike at Boardwalk;

B

oard the Austin Duck Adventure;

Enjoy nightlife, bars, pubs, food trucks at Rainey Street.
Best Hotels in Downtown Austin
Omni Austin Hotel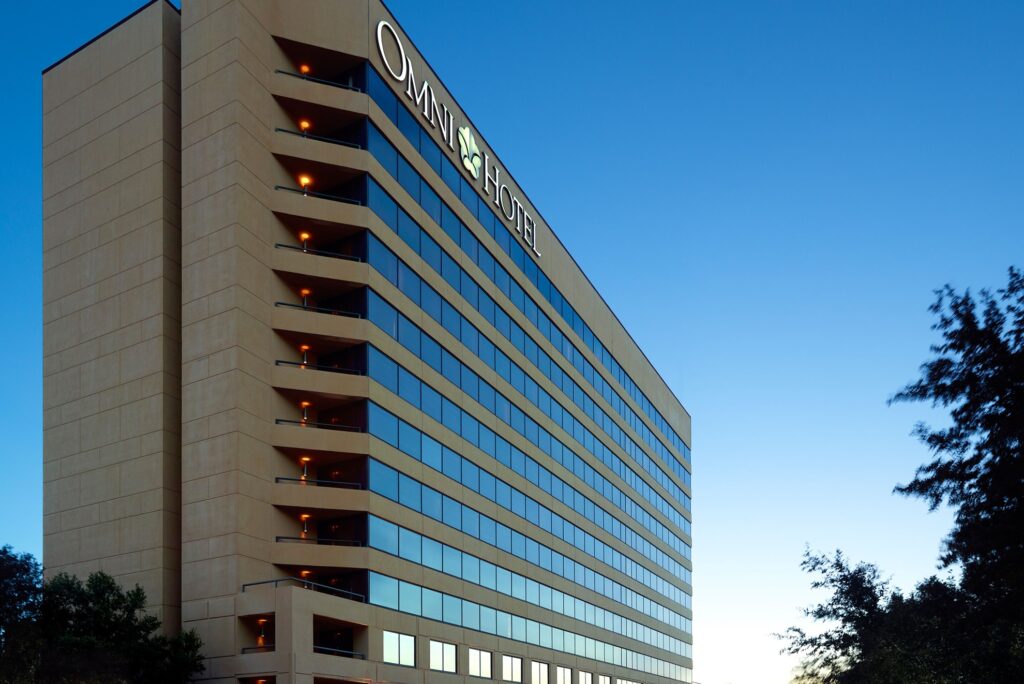 source: omnihotels.com
Towering over downtown Austin, this hotel offers rooms with modern furnishings and striking views of the city skyline. Apart from that, Omni Austin Hotel Downtown's location allows you to explore various hotspots in the city and the quaint parks and hiking areas. This hotel offers multiple options to unwind and lounge at the heated pool at the rooftop, sip some freshly brewed coffee and snacks at the café and eat a satisfying meal at the Ancho's restaurant.
Fairmont Austin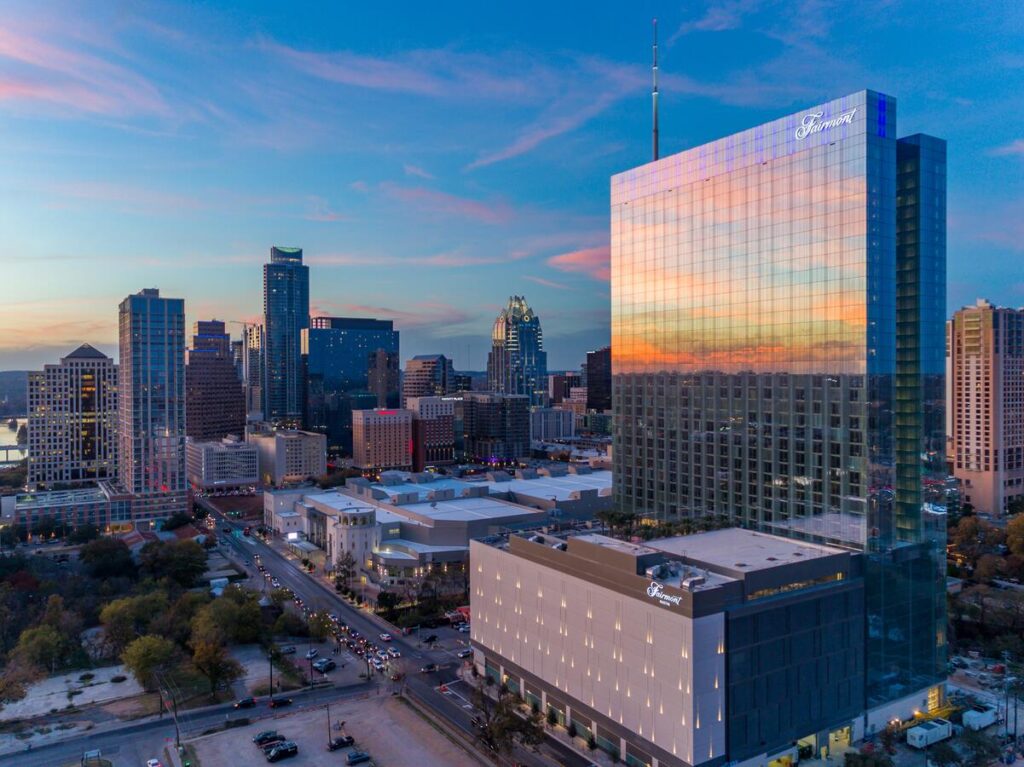 source: booking.com
This recently opened five-star upscale hotel understands what it means to take a quirky staycation and offers rooms with swish bathrooms with lake views, and of course, a large flat-screen TV that comes with internet streaming service. Fairmont Austin Gold Experience lets you enjoy a resort-style vacation with its seasonally heated pool and comfortable loungers and elegant cabanas by the poolside. Soothe your tired muscles in the hotel's spa with rooms having the floor to ceiling glass windows that give you amazing views of downtown Austin.
The Driskill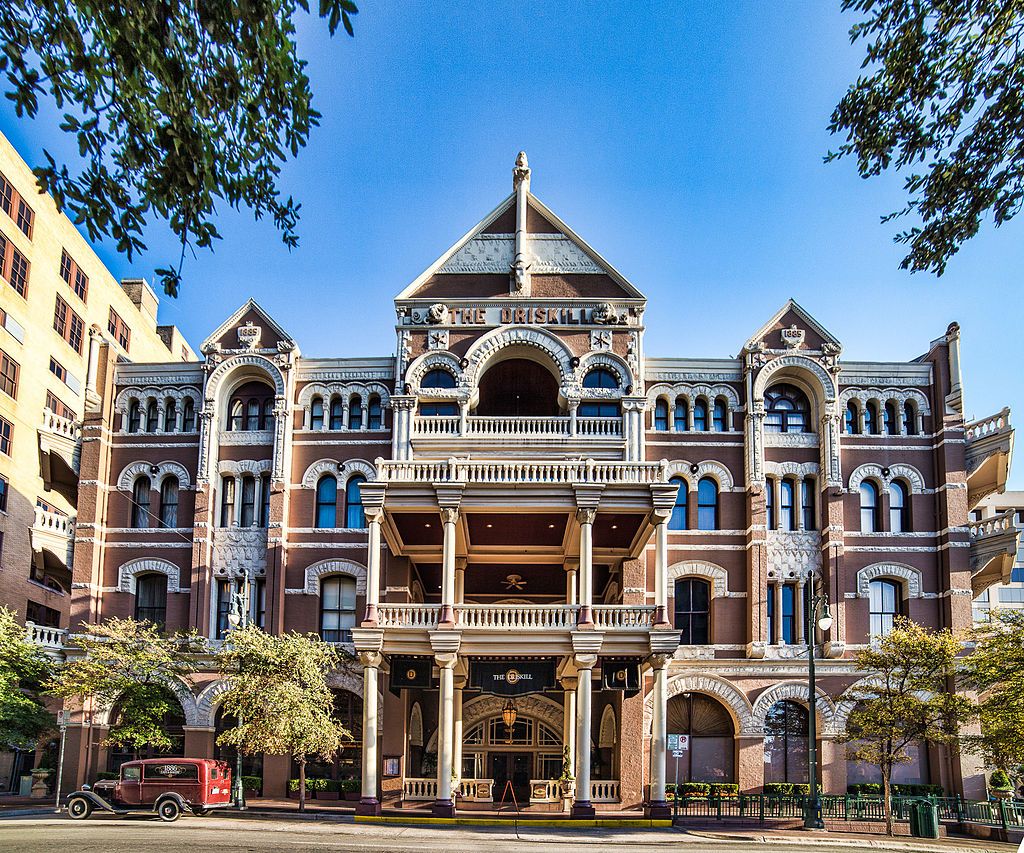 source: spiabroad.com
This iconic hotel built in 1886 is one of the oldest yet best hotels in Austin with state-of-the-art architecture and the iconic limestone and brick façade giving it the perfect old-world charm. The Driskill's is located at the city center allowing you to check out local restaurants and visit nearby attractions like Texas State Capitol and the Austin Music Hall. With attractive rooms, a restaurant, a café, a bar, and a spa – this is an excellent hotel ideal for an Austin luxury getaway. BTW don't forget to try the famous Texan '1886 Chocolate Cake' at the café!
The Guild East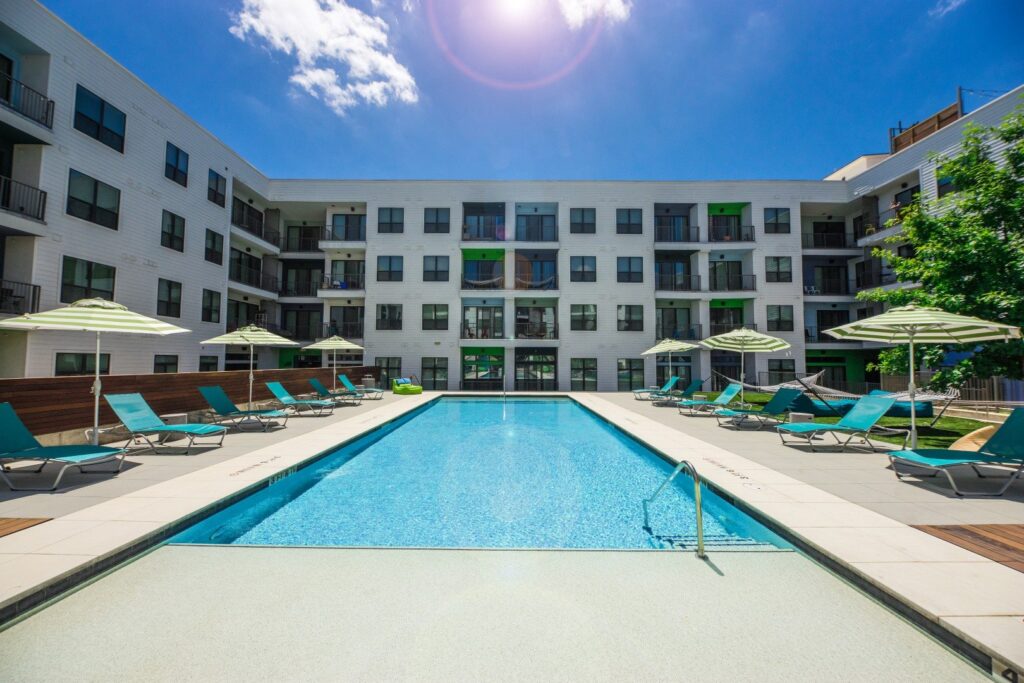 source: corazonatxapartments.com
This 28 boutique hotel apartment is a 4-star rated luxury-filled experience equipped with pretty much everything you have at your home. One can enjoy services like a swimming pool, Wi-Fi, and great amenities.
East Austin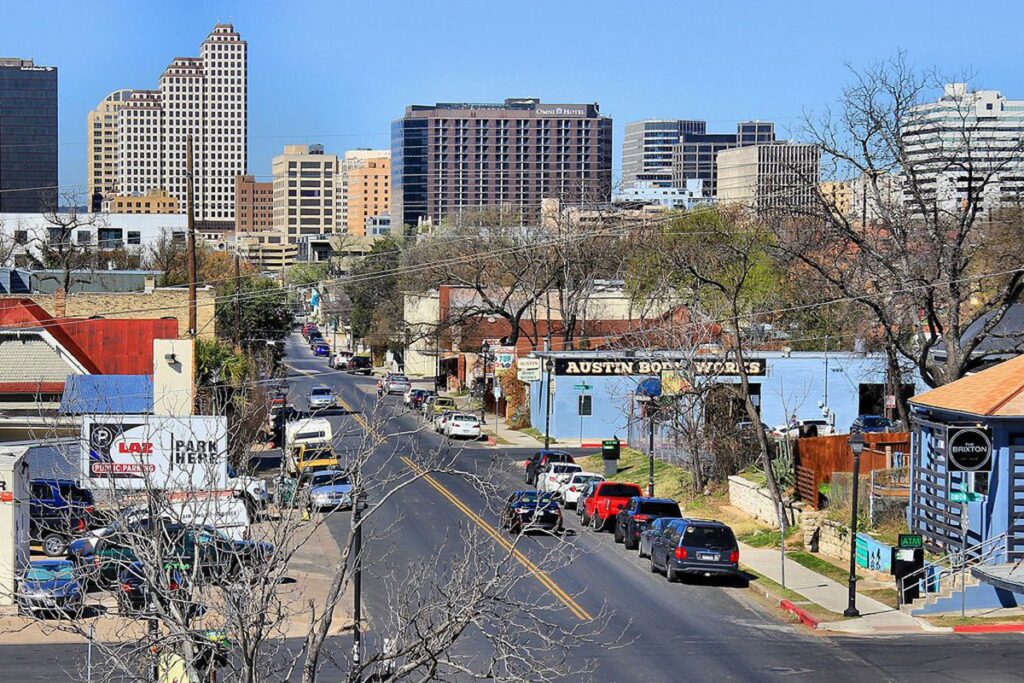 source: cdn.com
This originally working-class neighborhood has been turned into a place to savor great food, is the current creative art district, and is thus considered the coolest neighborhood in Austin. The favorite spots include book shops, studios, art galleries, colorful street art, cocktail bars, colorful food trucks, and live music venues. Most of the decades' old bungalows have been remodeled into fancy bistros, barbeque, and taco joints, as well as some hipster hair salons. The best part about discovering this area is that it is very much walkable, easily navigable, and guided by pedestrian sidewalks.
Popular Attractions in East Austin:
Explore attractions like the Texas Museum of music, George Washington Carver Museum;

Eat and drink at Paperboy, Dozen street for cocktails, and Historic Victory Grill; and

Shop for books, handmade jewelry, and clothing.
Best Hotels in East Austin
East Austin Hotel
source: eastaustinhotel.com
East Austin Hotel is a stylish boutique hotel in an area filled with popular coffee shops, bars, stores, and eateries. The hotel is a new build and presents a clean, crisp image with a modern exterior and more traditional, peculiar furnishings inside. The bedrooms at this striking hotel are inspired by the Danish mid-century and have a retro vibe. The pool area is small and features an outdoor bar, sunbathing loungers, and plenty of seating.
Heywood Hotel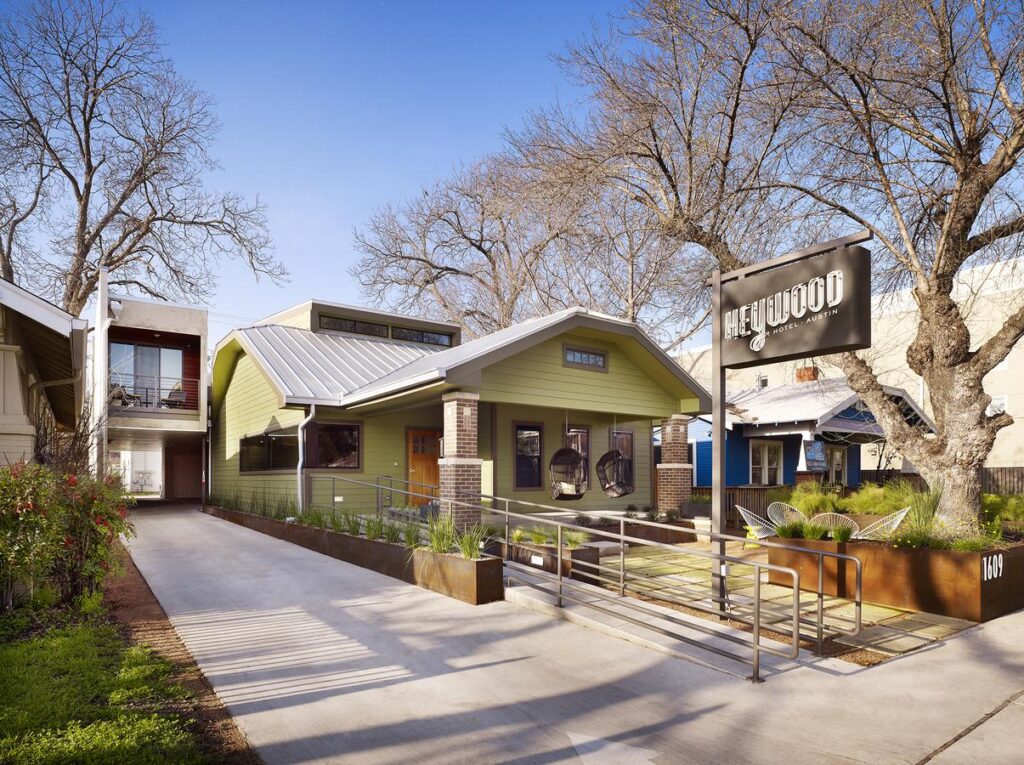 source: curbed.com
This is an intimate, stylish yet eco-friendly hotel with award-winning architecture, bespoke local art, and furnishing. The hotel has cool stuff like free bicycles, music jukeboxes, eco-friendly toiletries, and friendly staff. The hotel is perfect for families and youth seeking for a mid-range hotel.
DoubleTree by Hilton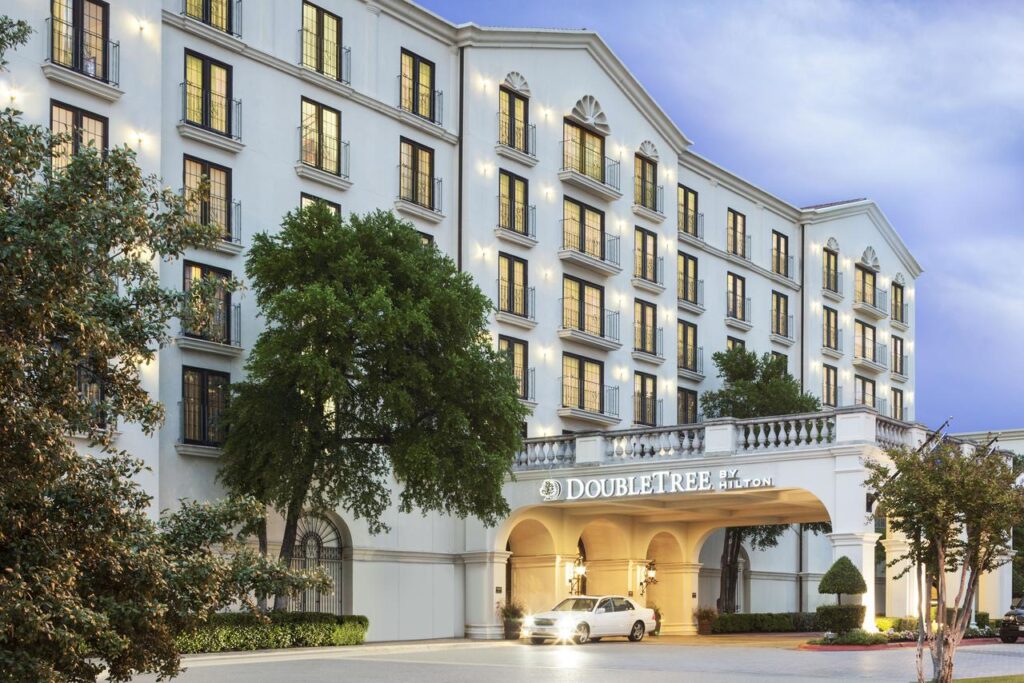 source: booking.com`
Thirty-five, minutes from the downtown area, this hotel features many of today's fashionable conveniences like an outdoor pool, spa, and fitness center along with a relaxing garden-like atmosphere. Guests can enjoy the views of Texas State Capitol, the University of Texas, and the entertainment of Sixth Street, only a short drive from the Doubletree Hotel Austin. The hotel has free shuttle service within a 3.2 km radius; also guests can easily explore other nearby points of interest.
Red River Culture District:
source: wikimedia.org
The Red River Culture District (RRCD) is famous for its nightlife and entertainment. This district sustains Austin's reputation of the live music capital of the world and is considered as the singing soul of the city. The pubs here feature themed nights like disco and punk, drag comedy show, and LGBT special nights. Hence, for a music aficionado, this is the place to stay!
Popular Attractions in Red River Culture District
Visit Elysium, Plush, Barbarella Nightclub, Beerland, Cheer-Up Charlie's, Hoboken Pie, etc.
Best Hotels in Red River Culture District
Hampton Inn & Suites Austin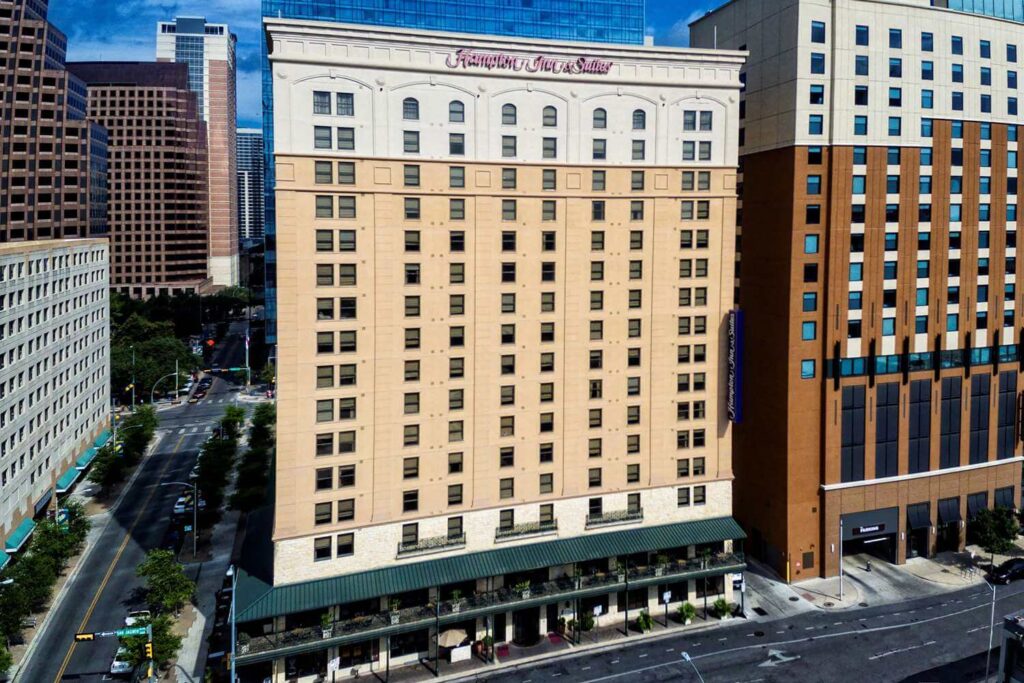 source: ametsoc.org
It is a 3-star hotel located just east of the Red River Cultural District and within walking distance of lively 6th Street entertainment. This is a perfect mid-range hotel in Austin with spacious, well-equipped rooms with a very chic vibe to it. Additionally, the hotel also features a rooftop pool and a good breakfast spread.
La Quinta Inn Austin Capitol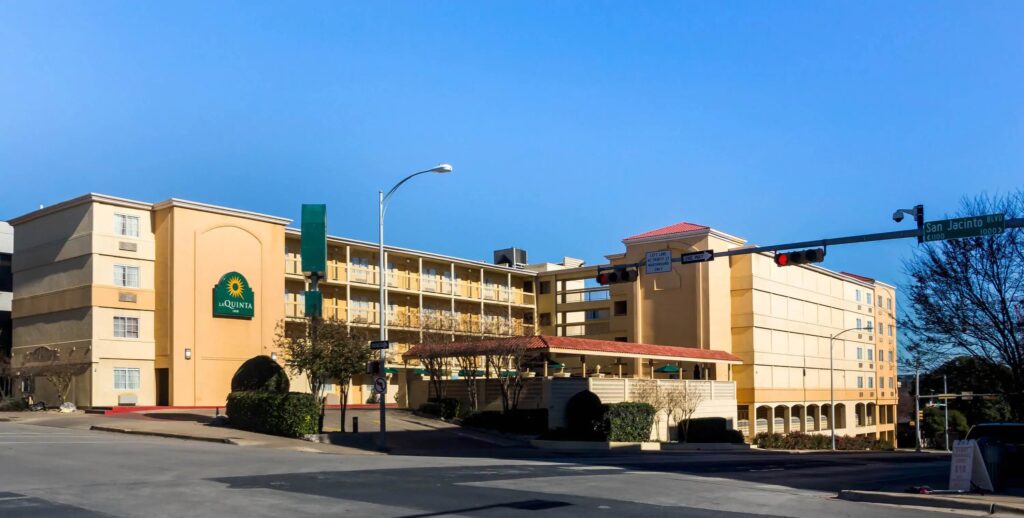 source: wyndhamhotels.com
This 3-star hotel is under the flagship of Wyndham group of hotels featuring free Wi-Fi, express check-in and check-out, and concierge services. A perfect hotel for party lovers as most of the entertainment places are within walking distance.
Sheraton Austin Hotel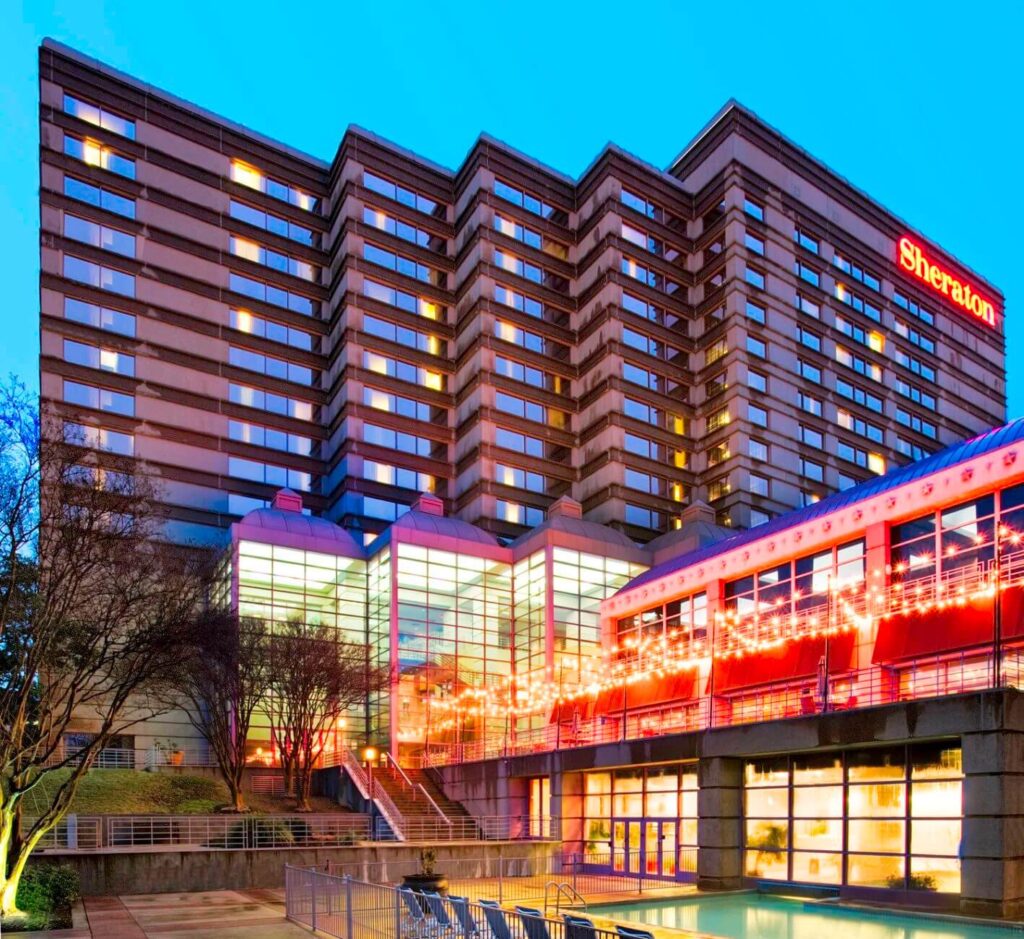 source: trivago.com
This one belongs to the Marriott group of hotels with spacious guest rooms offering fresh refreshments and wide screened TV. A work desk and coffee maker are provided for added convenience. The Austin Convention Center and Austin Children's Museum is a 15-minute walk from the Sheraton Austin. Shopping on 6th Street is also within walking distance.
Also Read: Fun Things Not to Miss for First-Time Travelers in Houston, Texas
South Congress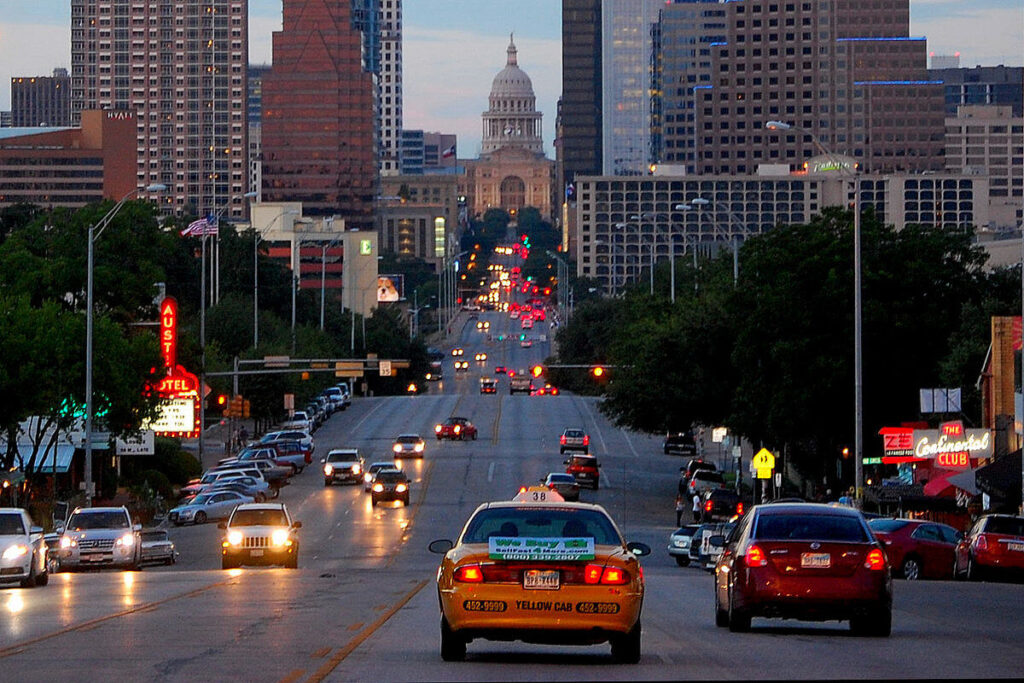 source: wikimedia.org
Located south of River Colorado – this suburb is fondly called 'SoCo' and is the artsy and foodie paradise kind-a-place. One can easily fall in love with the street art and murals here. From March to October, the Congress Avenue Bridge Bats draw visitors to this part of town, all hoping to see around 1.5 million bats take part in a nightly migration. This district has some cool shopping options and fine dining places too.
Popular Attractions in South Congress
Eat at Amy's Ice Creams, The Continental Club;

Visit South Congress Restaurants, Books, Street Entertainers & Performers, Murals & Graffiti Walls, Yard Dog Art Gallery, Sfanthor House of Wax.
Best Hotels in South Congress
South Congress Hotel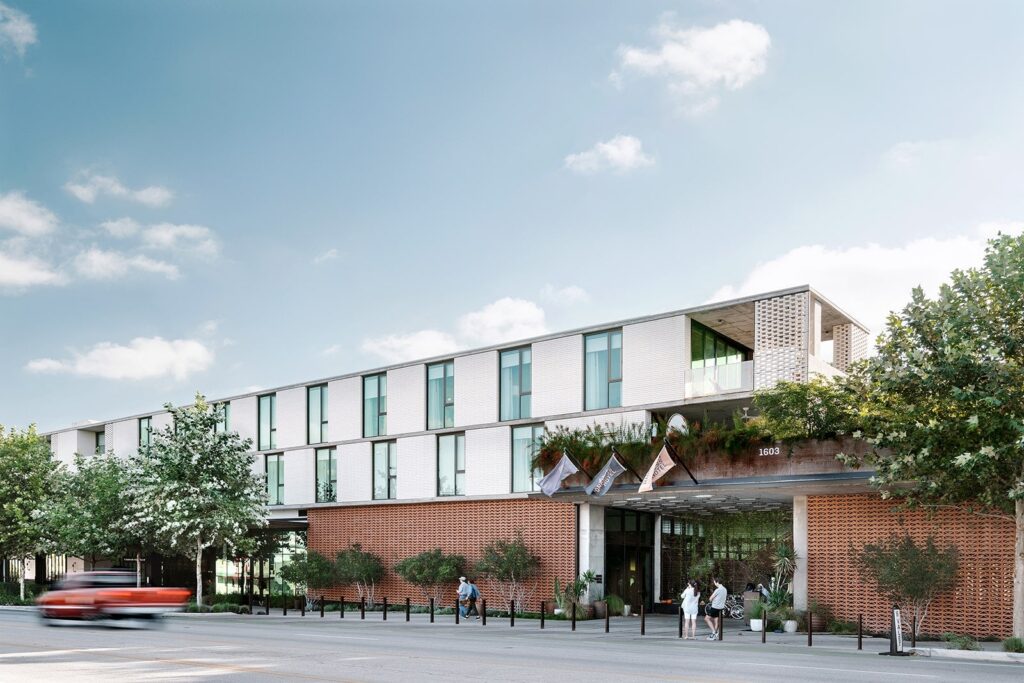 source: culturemap.com
This boutique hotel with 83 rooms is an exceptional 4-star property with a promising comfortable stay. One can enjoy eating and drinking at Manana, Cafe No Se, and a fine Texan grill. The arty rooms have spacious rooms and balconies with quirky design features. Guests can easily lounge and hit the sauna, and a rooftop pool. This perfect Austin abode is located very close to boutique shopping and fine dining restaurants.
Hotel San Jose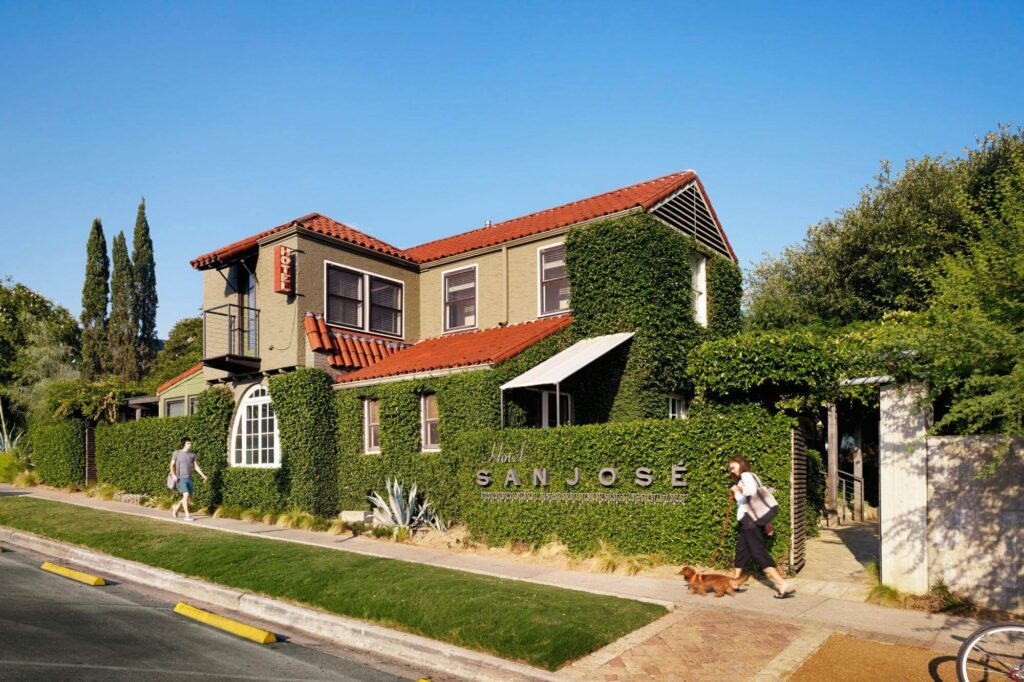 source: lakeflato.com
This very highly rated Austin bungalow-style hotel with a minimalist retro yet calm designs. This 4-star accommodation features 40 rooms and has an outdoor swimming pool. The hotel has an uber-chic bar that hosts various guest DJ's nights making it a fun place.
Austin Motel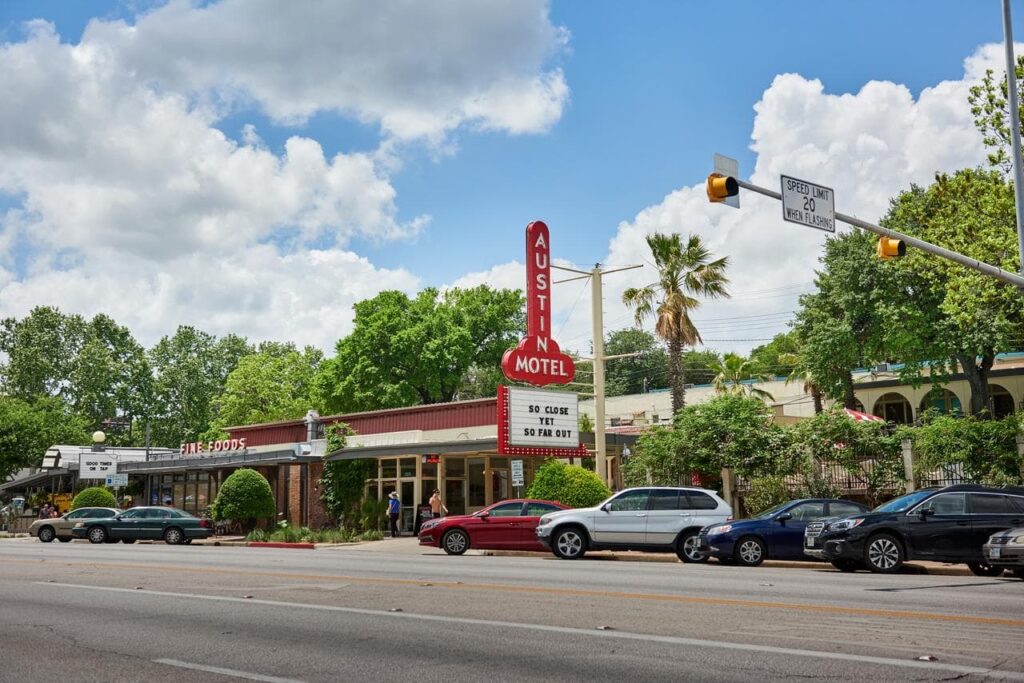 source: booking.com
A very historic, quirky hotel with very neon and funky décor is rated one of the best motels in Austin which is almost 65 years old. The motel is very pocket friendly and screams America in all its art pieces! It has 21 rooms each decorated with its unique vintage style and also has the coolest swimming pool.
Zilker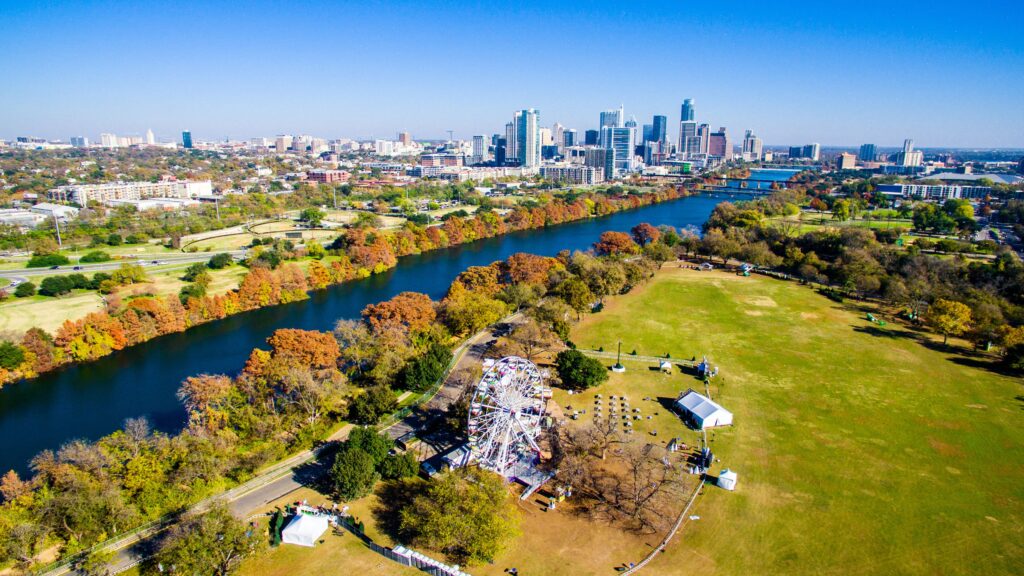 source: tripsavvy.com
This neighborhood is the most appropriate for families. Kids and adults can hang out at the renowned Metropolitan Park, an urban green space home to many outdoor recreational activities like hiking, biking, kayaking, and waterside activities.
Popular Attractions in Zilker
– Swim at Barton Springs;
– Visit the Austin Nature and Science Centre, Umlauf Sculpture Garden, Zilker Botanical Garden;
– Ride the Zephyr Train ride;
– Rent kayaks or paddle boats around Lady Bird Lake;
– Eat amazing food at Shady Grove, Chuy's, etc.
Best Hotels in Zilker
The Carpenter Hotel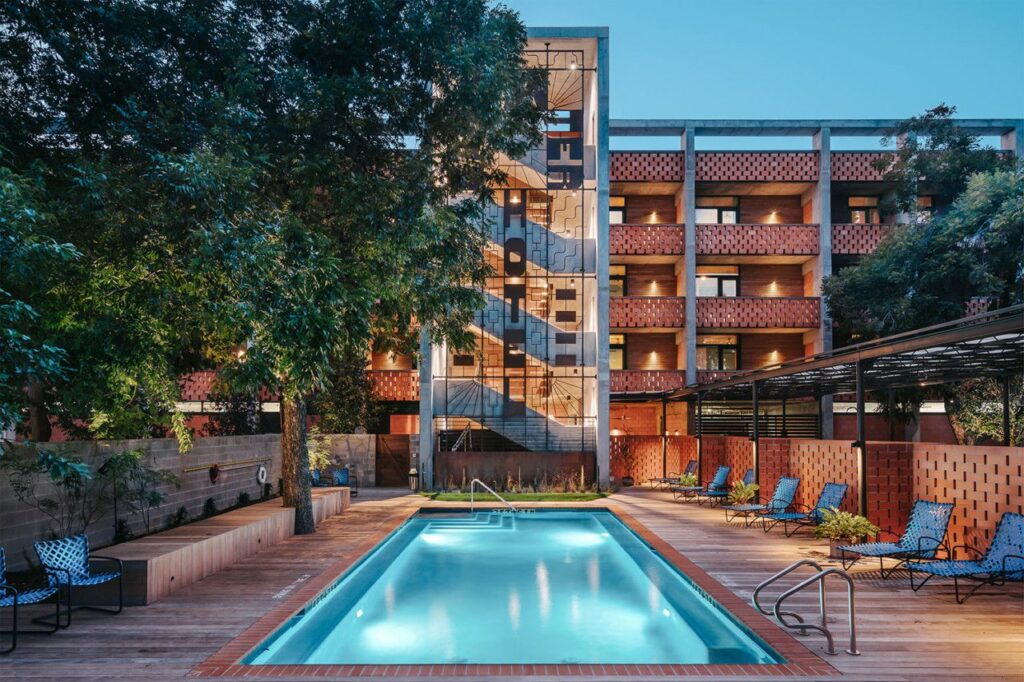 source: pinterest.com
The Carpenter Hotel is conveniently located and is at a walkable distance from Zilker Metropolitan Park. The hotel has a chilled out vibe with modern and cool decor. Various restaurants, bars, eateries, and stores can be found at a short distance from the hotel. The hotel has clean and large rooms, a swimming pool and space for events and outdoor parties.
Conclusion
We have highlighted the five best neighborhoods in Austin and the best hotels in Austin in each of these localities. Whether you are looking for interesting culture, history, art, food, or music – Austin has everything to surprise people of all age groups. For information, visit Travelila.