The place full of magical kingdoms, future worlds, and galaxies will surely make you feel the adrenaline rush. You might have already guessed the destination. It is there on almost everyone's bucket list, from school-going kid to retired adult. The. Disneyland. Whether you are a regular visitor or planning to go there for the first time, you should know, it is pretty expensive. It can gulp all your savings in a go. But isn't there any solution to this? Fortunately, there is! For which you will have to find the cheapest time to go to Disney World.
Before anything else, we all know the current situation of the world and its economy. So it is natural whenever the lockdown will lift, or parks will reopen, the crowd won't be much plus it will be riskier to go on a trip just after moving out of the deadly situation.
Cheapest Time To Go Disney World
It's already May, and we don't think anytime until June or July the things are going to be normal, but still, hope is all we can have. COVID has the highest effect on the tourism industry. Many travellers are postponing or cancelling the trip altogether. There are meagre chances that people will book the tickets to Disney World for the remaining year.
Although that's a good point too, as there won't be much crowd, the price will be affordable but only after the parks reopen. No one knows when it will start its magical world for the people to see.
Being prepared never hurts the plan. Right now, all you can do is plan out things and wait for it to open its gates again for the doubled-up fun.
Here in this blog, we will be mentioning the pocket-friendly Disneyland cost, and for that, 'off-season' is the best time to plan a trip.
Wait a minute! Before we head towards planning an economical trip to Disney World, we need to know,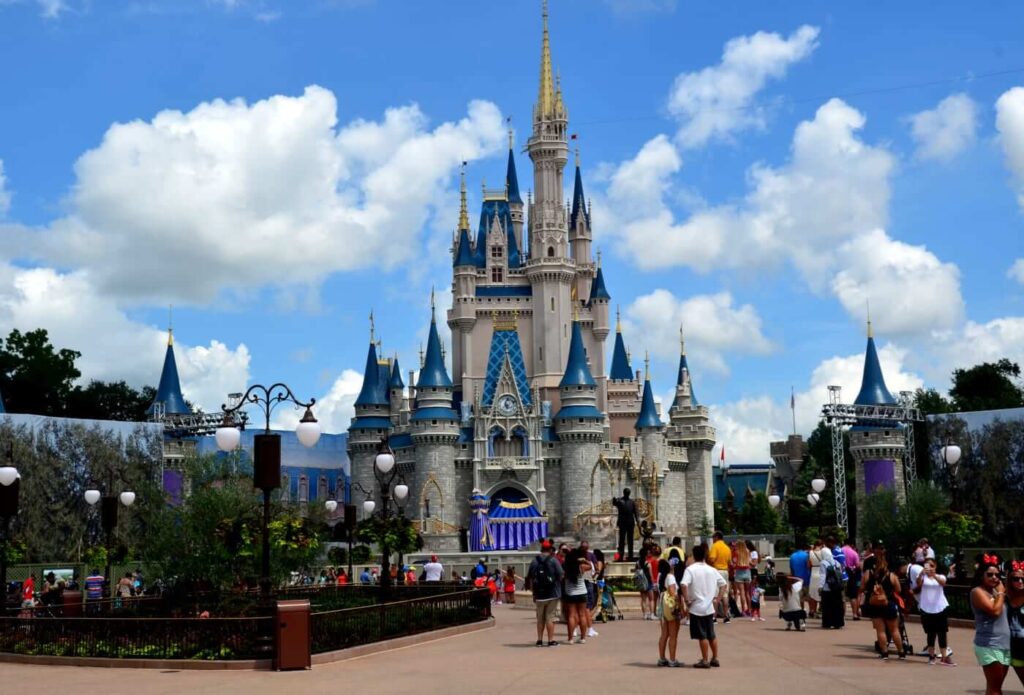 source: cnbc.com
How much does it cost to go to Disneyland?
Always remember going in a group is always a benefit when planning a trip. Be it for clicking pictures or getting a discount on booking. According to Disneyland's booking website:
It will cost $124/per ticket for one day

For two days it will cost $117/per ticket

It will cost $103/per ticket for three day

For four days trip, it will cost $85/per ticket

For a five day trip, it will cost $72/per ticket
*Excluding accommodation and events.
Buying tickets for more than 3 days will get you access to Magic Morning, where you can claim early admission to have a look at the selected attractions, stores, dining areas, and entertainment at Disneyland park.
Now let's see the best time to visit Disney World that won't cost you a lot of money.
Usually, this magical world is crowded with festivities, national, and school holidays. So while planning a trip to make sure you exclude these days firsts.
Also Read: Are You Planning To Travel During The Coronavirus Outbreak?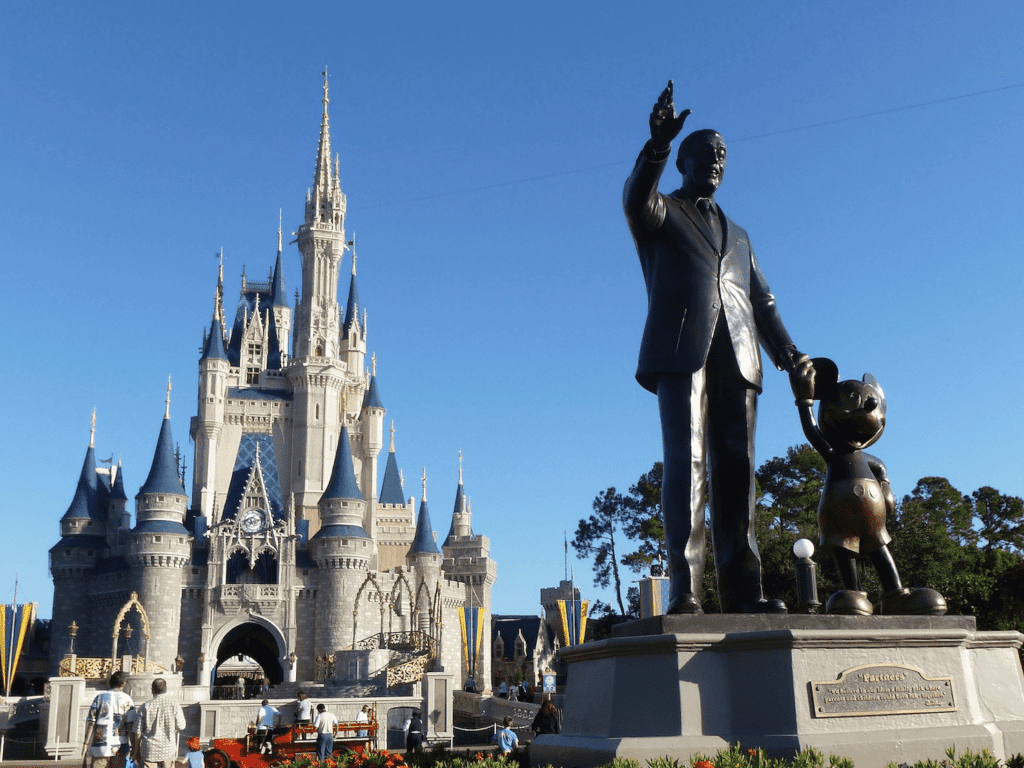 source: insider.com
Here is the list when there is mad public on the streets of Disneyland:
1st of January (New Year's)
1st to 15th of April (School Spring Break/Easter)
20th to 24th of May (Memorial Day)
18th to 25th of November (Thanksgiving Week)
15th to 31st of December (Christmas Holiday)
These are the seasonal days when the tickets to heaven land are hell expensive too. You will be stuck navigating the way to the attraction and entertainment centers for hours, and to add more to it, you may also encounter many frustrated tourists like you.
To avoid the hustle, wander with a peaceful mind during the off-peak. Now when selecting the best and cheapest time to go to Disney World, you will have to consider the weather as well as festivals or entertainment weeks running.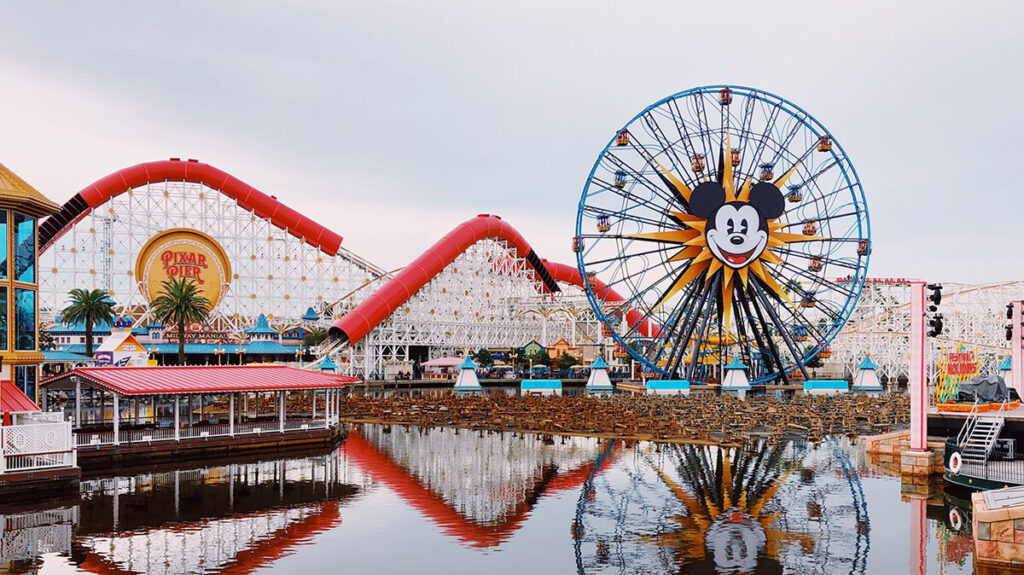 source: rakuten.com
In January, February, and March
January and February have much less crowded as compared to other months, especially after the Walt Disney World Marathon. It is also a great time to visit, but the drawback is many of the attractions like Splash Mountain, Kali River Rapids, Disney's Blizzard Beach, and rides go on refurbishment during this period.
Plus, the park timings are also reduced. Though it's not rainy, the cold is enough to make you avoid the pools. So if you are planning to enjoy swimming and staying in the pool for a longer time, these aren't the months you should opt for! March, is the busiest month for magic land, and it is fully crowded. You will have to wait for around two hours to explore the single attraction.
The Cheapest Time To Go To Disney World between June to October
The first week of June is the best time to visit Disneyland, be it crowd-wise or weather-wise. As the month progresses, the crowd starts pulling off. The situation remains the same until the end of July.
August isn't that worse crowd-wise, but it is the hottest month of Florida. The weekdays are usually busiest and weekends have wall-to-wall crowds.
September is an ideal and cheapest month to visit Disneyland. By this time, the kids have returned to school, and it is also the hot month, so you will only be able to enjoy pool time.
Apart from that, during this time the ticket rates and crowd are also fewer and favourable. The famous Epcot International Food & Wine Festival is held during this month only. You can also get your hands on the cheapest dates for Mickey's Not So Scary Halloween Party.
Though October isn't the bad month either, it experiences the mad footprints because of Halloween parties and the food & wine festival, with a slight increase in the fee-scale.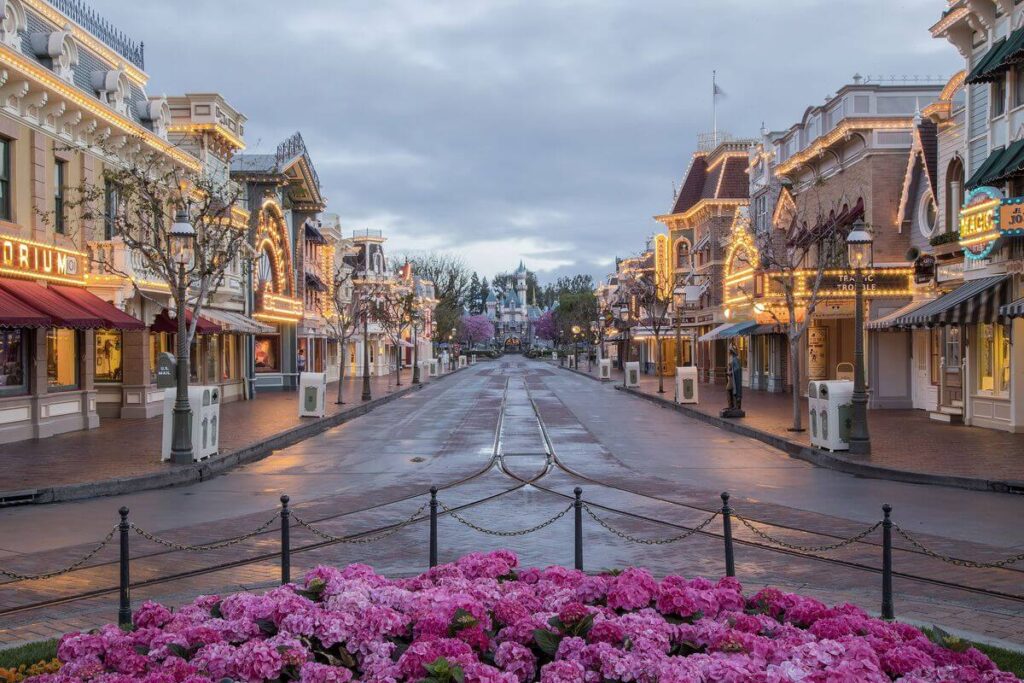 source: cdn.com
November and December
November and December are not at all favourable months to visit, but if you want to see those decorated streets and attractions of Disneyland, then plan to visit there, before and after Thanksgiving week. Try to grab tickets for weekdays.
For December, it should be before the Christmas holidays. In short, you might just drop the thought of exploring Disneyland during the last month of the year.
Here are few hacks to try for planning the trip to Disneyland in a more pocket-friendly way:-
Get tickets from the trip planner rather than booking directly from Disney.
The benefit of booking with a travel planner is, they will take care of the costs of tickets and hotels. Some of them also get you FastPasses, that too, for free. FastPass means no waiting in a long line.
Plan for more than one day
The tickets to Disney World are cheaper when you book for three days or more. That's beneficial for you in many ways, you can explore places peacefully at low costs. You won't feel tired and will have enough time to give yourself a rest.
Look for hotel bookings near the park
Always book the hotel near the park, it will cut down the transportation costs, and many of them provide free rides to Disneyland on shuttles (check about that beforehand). Also, look for hotels with breakfast included in the package.
Have a meal outside the park
Having a meal in Disney park may imbalance your budget. You can pack a meal for yourself before entering the park. They allow packed snacks and pre-made food items in the park. Beverages are also allowed, make sure you don't carry any glass bottles.
There are several restaurants and fast food centres outside the park, offering the best meal to savour.
Get Disney T-shirts and Outfits from the Stores
It's a ritual to have a photo clicked in a mickey t-shirt or an outfit. They are available in Disney World too, but they are too… expensive. You will get the same from wall-mart or any other store.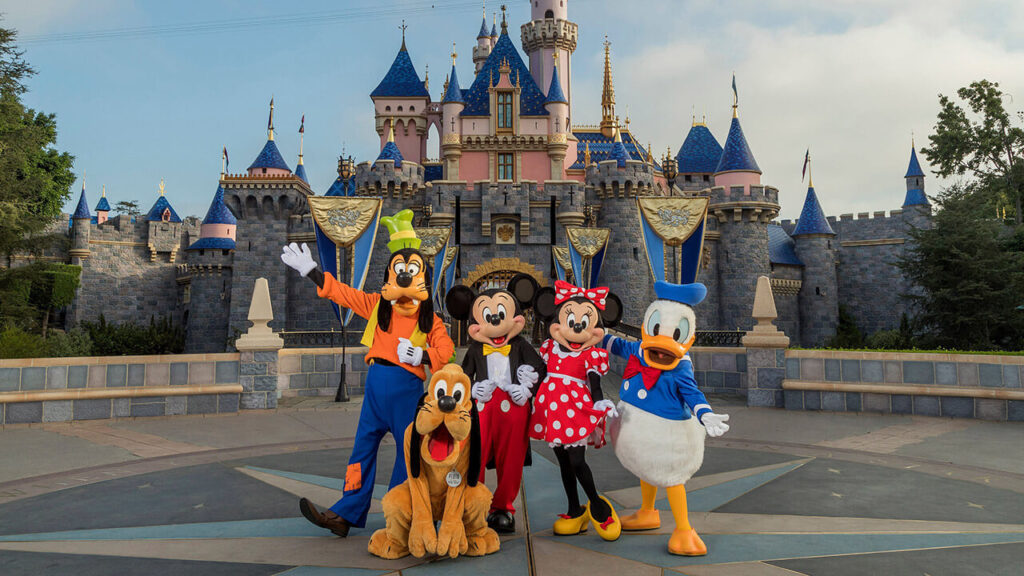 source: disney.com
Visit Disneyland Within a Budget:
There's nothing we can't do. You will always find a way to plan and execute your trip within the limits of funds available. All you need is an eagle's eye to spot the right deal! Right now, none of us knows when Disneyland will reopen for the magical fun.
Till it announces the date, plan your trip, if you are scared for this year, not an issue, get it booked for the next year. Till then, it might open its gates for Disney fans for unlimited fun. For more on travel tips, visit Travelila.