Are you in Bali right now? Then you must visit the Tegenungan waterfall!
The most splendid and scenic waterfall you will see is this one only. Bali is known for its flea market, Buddhist culture, and amazing waterfalls. Among all, the one in the Tegenungan village is the best.
This article is specially dedicated to the Tegenungan waterfall for you to know about it in detail. From reaching there to things to see, here you will find everything.
Let's first start with things to know about the waterfall: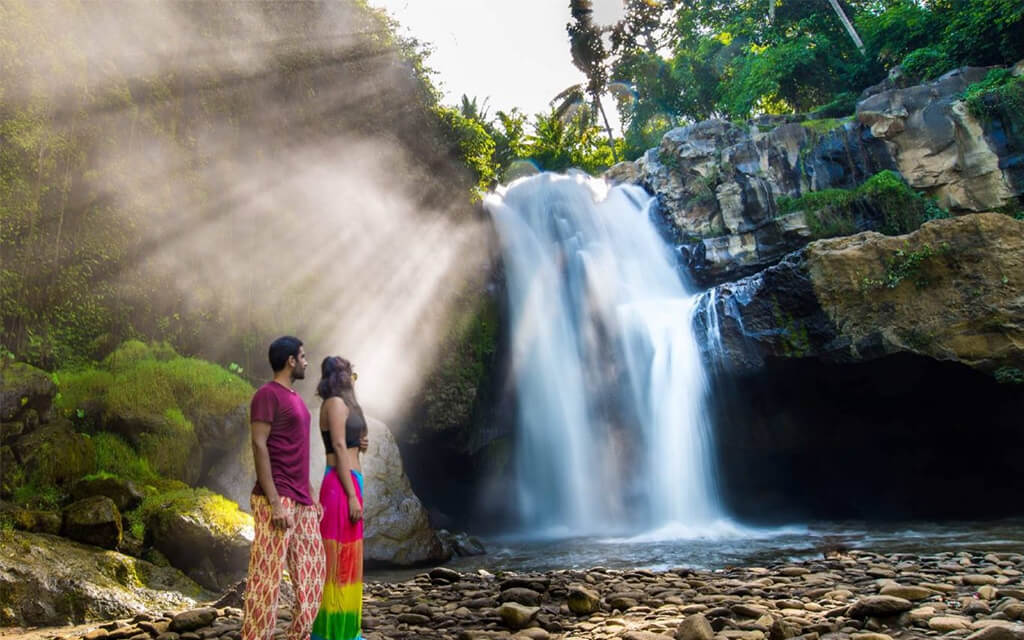 Source: tripsonwheels.com
Things to Know About Tegenungan Waterfall Bali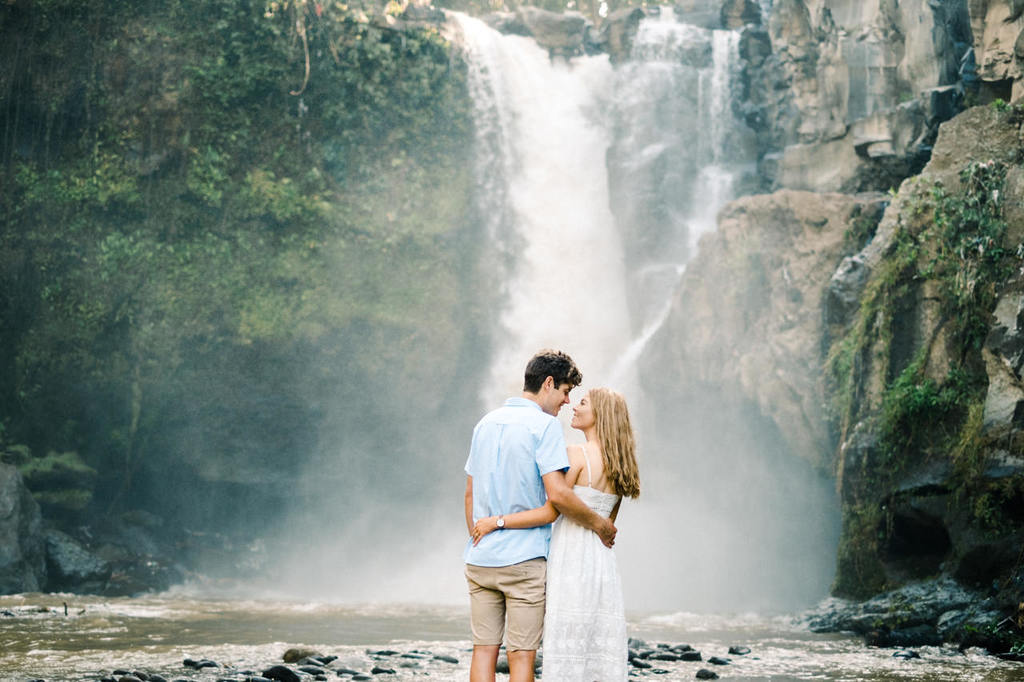 Source: gusmank.com
Tegenungan waterfall is famous among nature lovers for its heavenly beauty. It is located in a village with the same name, and you can reach there through a bit of hiking. Many visitors like to take a dip in the water, however, it isn't advisable. Why? Because of the risk of flash floods.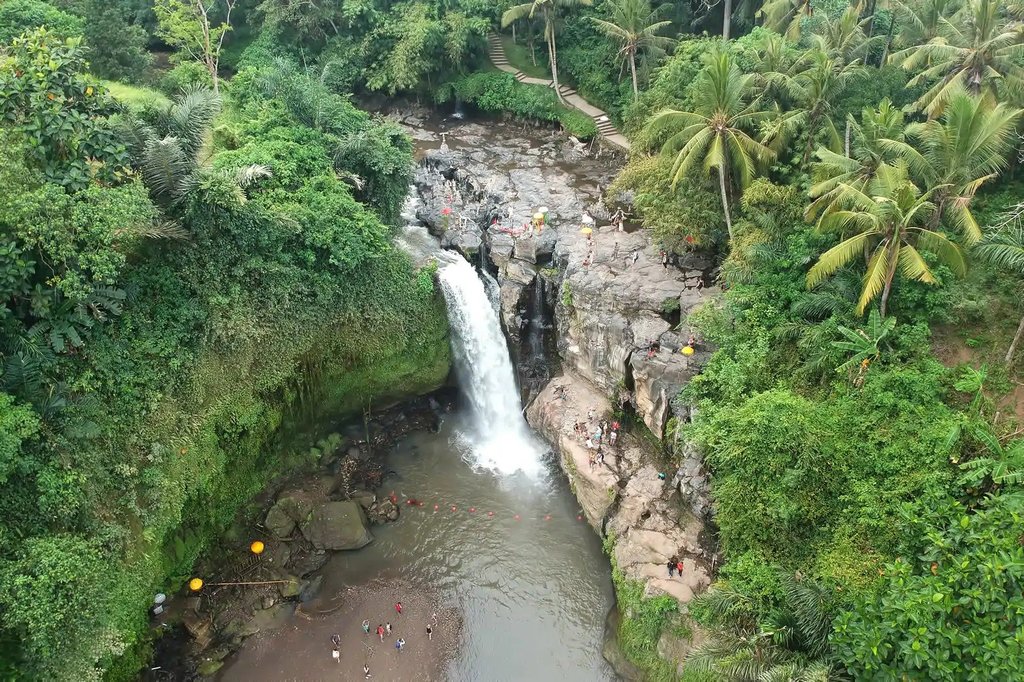 Source: cdn-hotels.com
Near the waterfall, you will find many restaurants and stalls selling local delicacies and cold drinks. You are allowed to wear a bikini, whereas enjoying being completely naked is prohibited. You will even see a signboard for the same.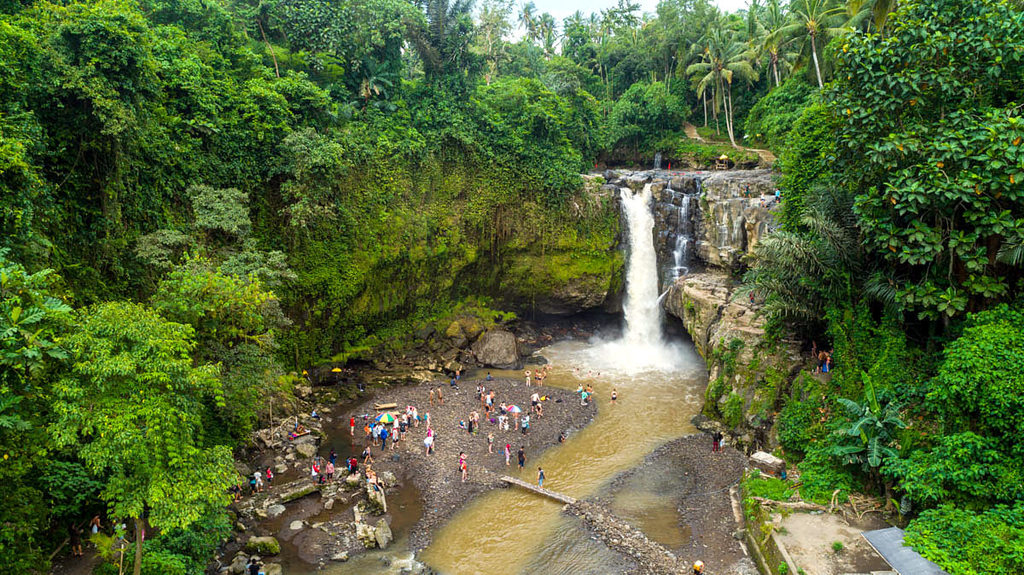 Source: wp.com
The first look of the scenery will be something like this: A frame of greenery around and exactly at the mid you will see a stream of water flowing down pleasant and heavenly. As for water volume, it is pretty normal throughout the year except for winters. At that time of year, it is strongest.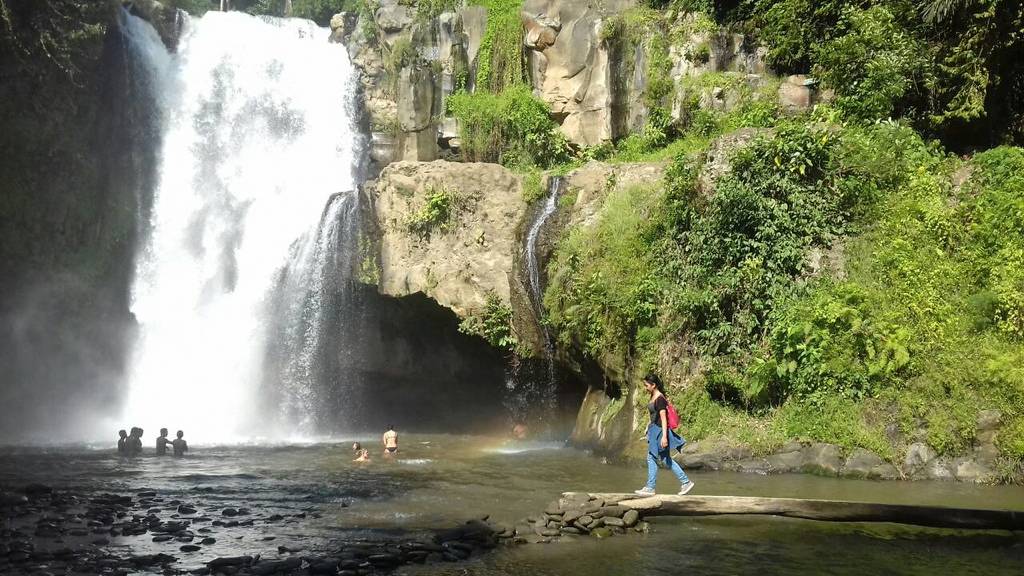 Source: wordpress.com
If you are looking to visit this hidden beauty in Bali, make sure you make it there early in the morning, the sunrise and the atmosphere there make it look more beautiful. You will definitely be able to get the Insta-perfect picture. Be it a couple or single! *wink*
Now let's see how you can reach there.
How to Reach the Tegenungan waterfall?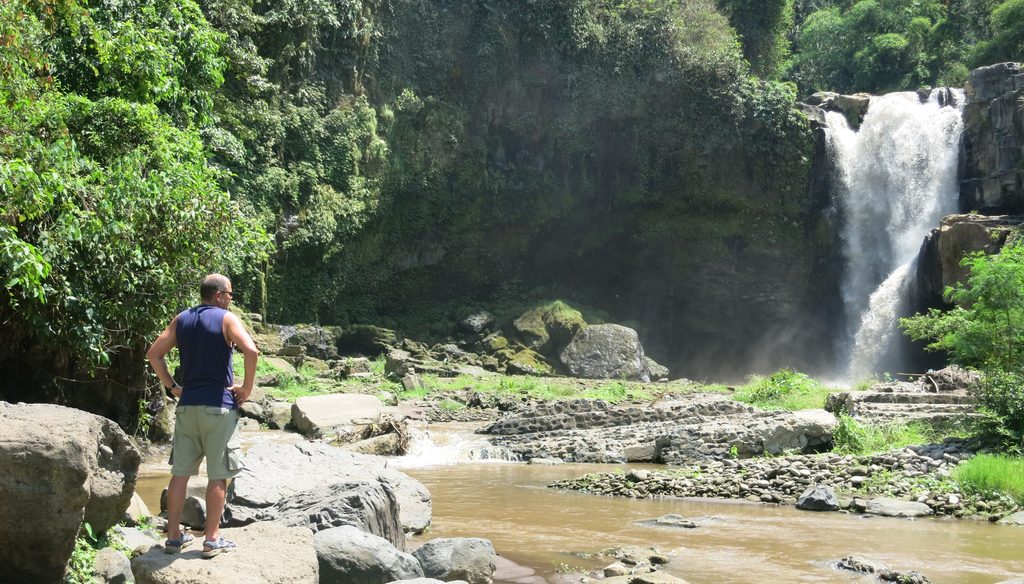 Source: discoverbooktravel.com
The route depends on where you are currently. Like, if you are in Ubud, the fall is just 30 minutes away from central Ubud. However, it will take at least an hour to reach there if you are currently in Seminyak or Canggu.
While riding to the fall you will see the beautiful green rice fields on both sides of the nicely paved village road. Now, you have the option of taking taxing or renting a scooter to reach the village.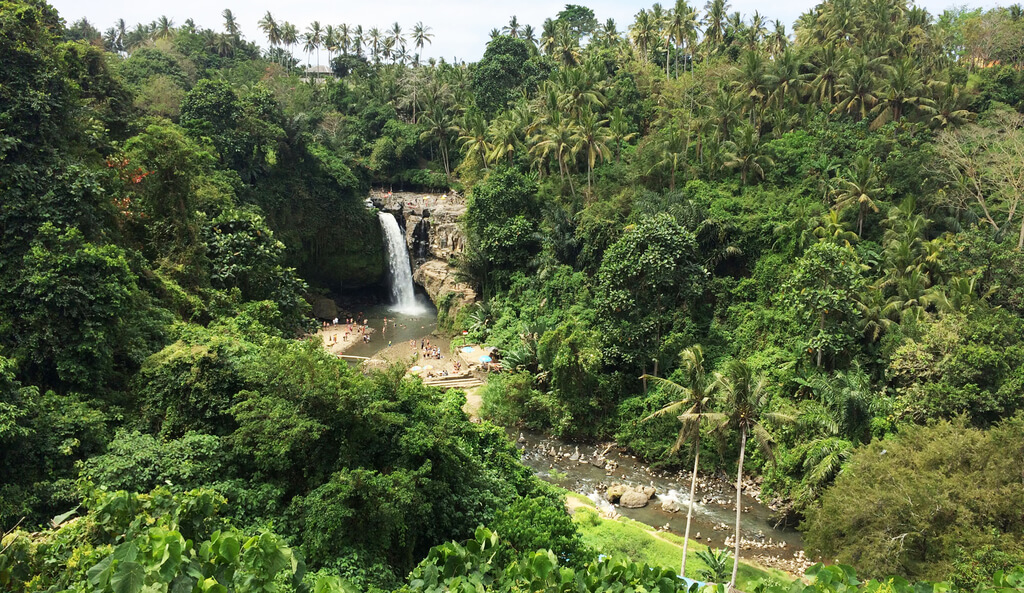 Source: bigbalitours.com
Getting a taxi may be a bit of work and also costly. But when you hire a scooter, you have to log on to google maps and drive to the location as shown. So we would recommend renting a scooter (if you are comfortable).
Once you are at the get of the village you will see an entrance board named, "Welcome to Tegenungan Waterfall." It will take you 5 minutes from the exact location or you can say 100 steps to reach the view of fall with a frame of blooming trees.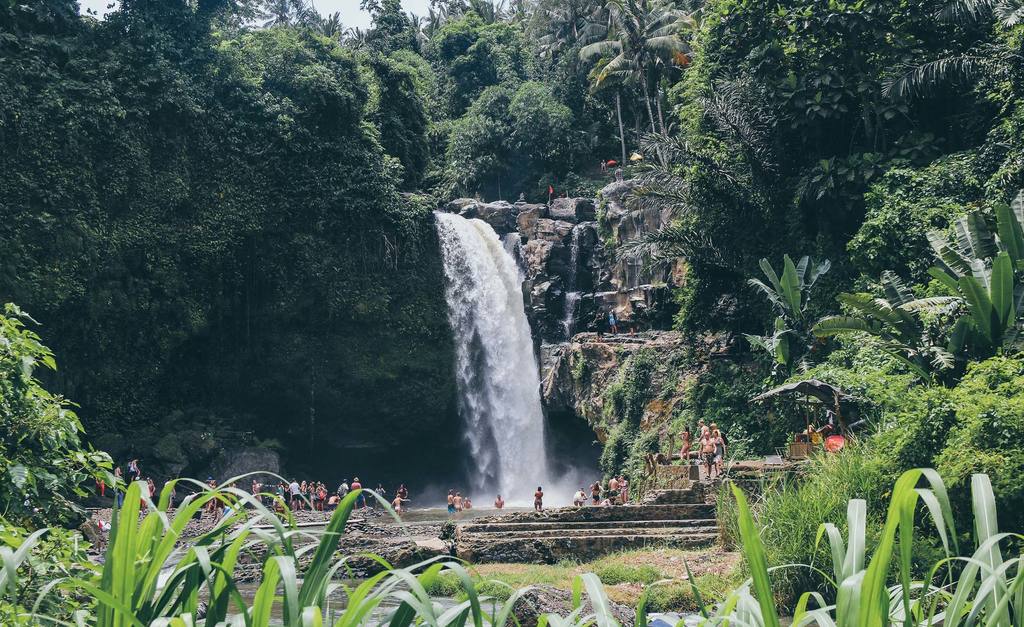 Source: balisemaratour.com
Now upon entering the village and reaching halfway, you will see a direction board addressing two pathways, the left one is for the waterfall and the right one is for the temple. No matter which one you take sooner or later you will end up at the spot. In short, you can reach both places by taking opposite pathways as well.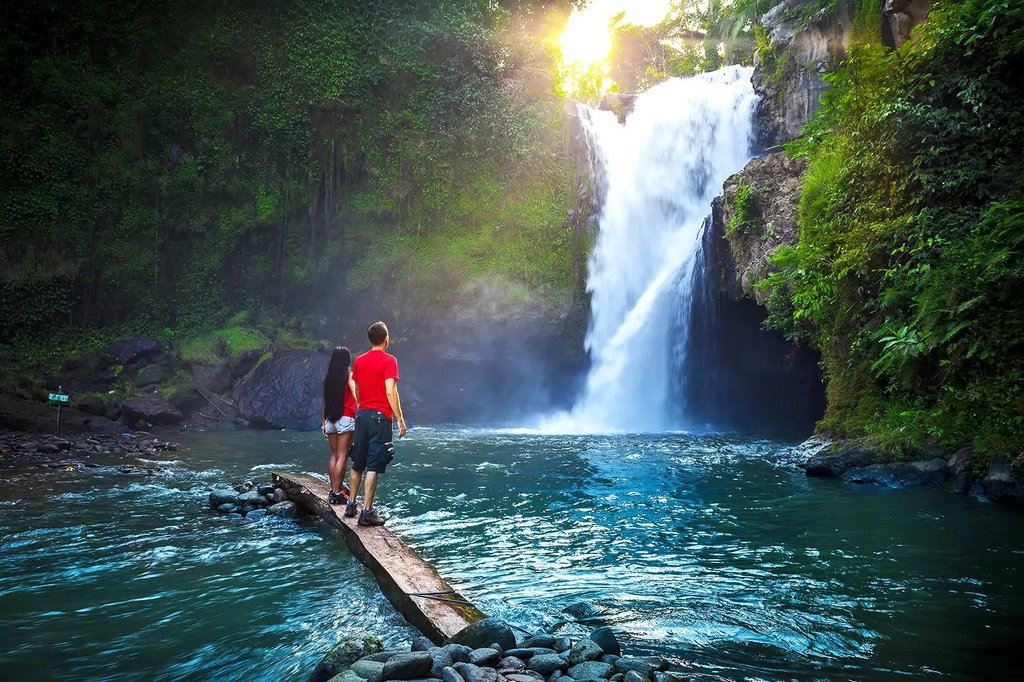 Source: cdn-hotels.com
There are a few more questions asked by the tourists and visitors, let's have a look at them!
Also Read: Best As well As Exciting Indonesia Holiday Destinations
Frequently Asked Questions (FAQs) on Tegenungan Waterfall
What is the entrance fee for the Tegenungan waterfall?
The entrance fee of the Tegenungan waterfall is pocket-friendly. It is Rp 15,000 per adult and Rp 10,000 for each child. If you are vouching for car parking, the cost will add up, as car parking is Rp 5,000 per car.
What are the opening hours of the Tegenungan waterfall?
As for the opening hours, the Tegenungan waterfall opens at 6.30 in the morning and closes at 6.00 pm. The best time to visit the waterfall is around 9.00 am (during half sunrise) and at 3.00 pm (half-set). The place will get crowded at 12.00 pm.
What are the best things to do in the Tegenungan waterfall?
There are three best things that you can do near or in the Tegenungan waterfall – bathing, swimming, and photography. However, swimming isn't advised.
Are there any restaurants near the fall?
Yes, there are restaurants near the waterfall, where you can buy food and beverages. Mind it, they are a bit pricey.
Do you need to have hiking experience or knowledge to reach there?
No, no, that isn't necessary. There are just a few steps like 100 or so to reach the waterfall. Even if you want to reach the second level of the waterfall, it won't be necessary. It's so easy that you can do it with sandals as well.
Final Expectations for Air Terjun Tegenungan (waterfall):
You can expect many things from this waterfall, which is also known as Air Terjun Tegenungan. This fall is one of a kind in Bali. This paradisical waterfall helps people to relax their minds and soul in the presence of a serene flowing of water. Many visitors come here to soak under the sun and enjoy real nature's beauty.
For more information on such beautiful destinations around the world, come back to Travelila.