Bali has become the most picked destination for a bachelorette, honeymoon, or even a family vacation. In the world of tourism, Bali has acquired its bonus points both for its picturesque locations and the adventure that comes with it. This Indonesian island has got every bit of exotica to it with respect to experiences. Right from the hills covered in lush green meadows to white and golden beaches to the turquoise shade of water; Bali destinations will surely dazzle your Instagram feed up. It is the most popular place for a honeymoon vacation!!
There are hundreds of hidden beautiful temples in Bali, places like Ubud, Kuta, Sanur, etc. takes you back to the rich cultural heritage that this island holds for decades. There is an early morning trekking spot to experience the clouds roaming around your face along with the scuba diving sessions that lets you discover the mysterious underwater world. The Ayung river rapids are going to raise your adrenaline rush as you paddle along the water. Here are the top best things to do in Bali, which will be enough to urge you to plan your next vacation to Bali.
Surfing at Canggu Bali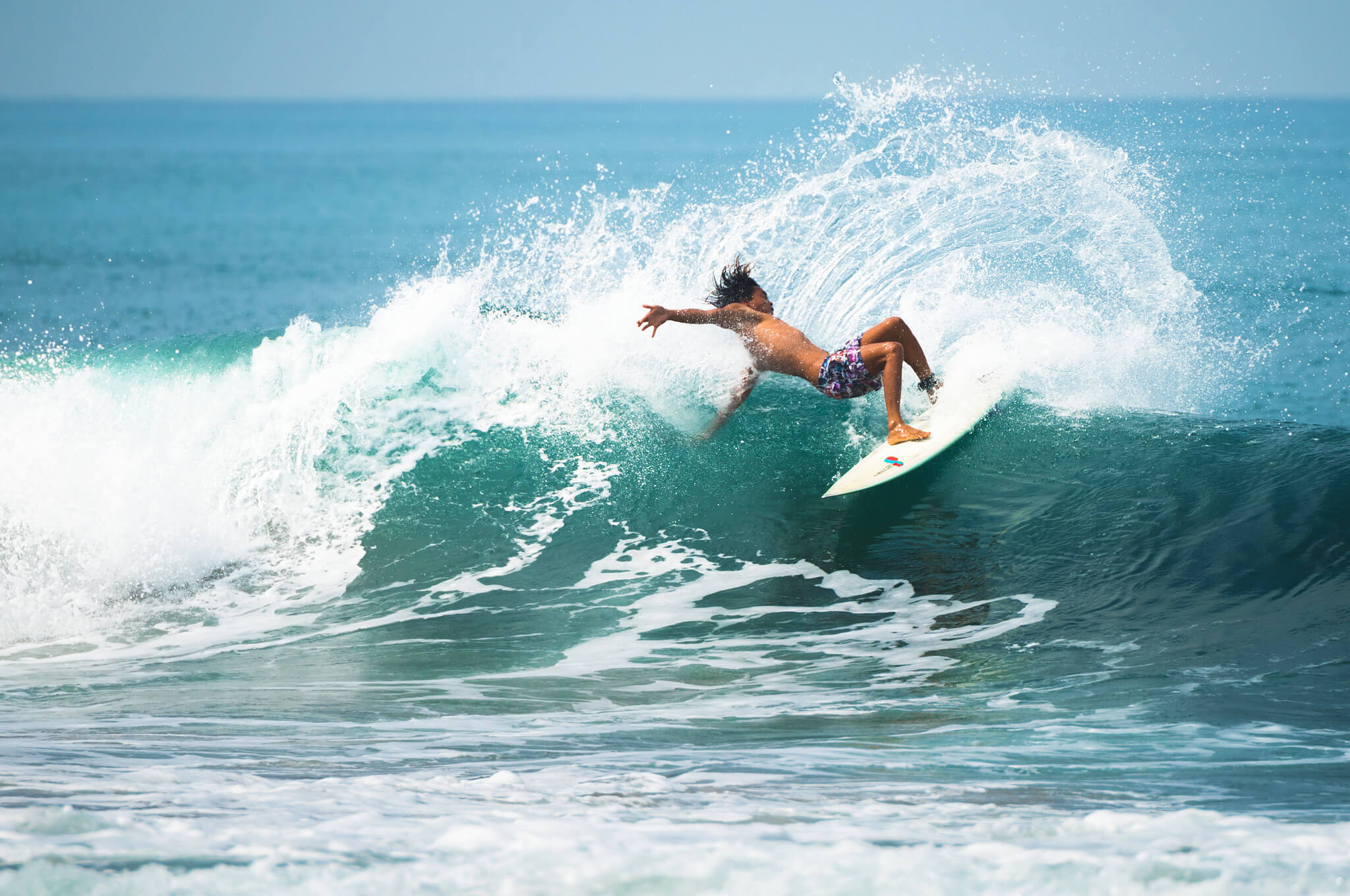 Source: pandotrip.com
Amongst the most amazing surf spots in the world, Canggu Bali happens to be one of the must-visit places for surfing lovers. It is located between Seminyak and Kuta Beach, Canggu Beach, and has black sands and small coastal villages around, to make your surfing more blissful.
Canggu also includes the Berawa Beach, Echo Beach, and Batu baton, Surfers here can whoop it up in the beauty of lavish rice fields and also enjoy a bountiful stay at one of the stunning villas on the beach. It also has many surf shops and is known for having the largest surf camps in Bali making it an alluring visit for all adventure enthusiasts.
Snorkeling in Amed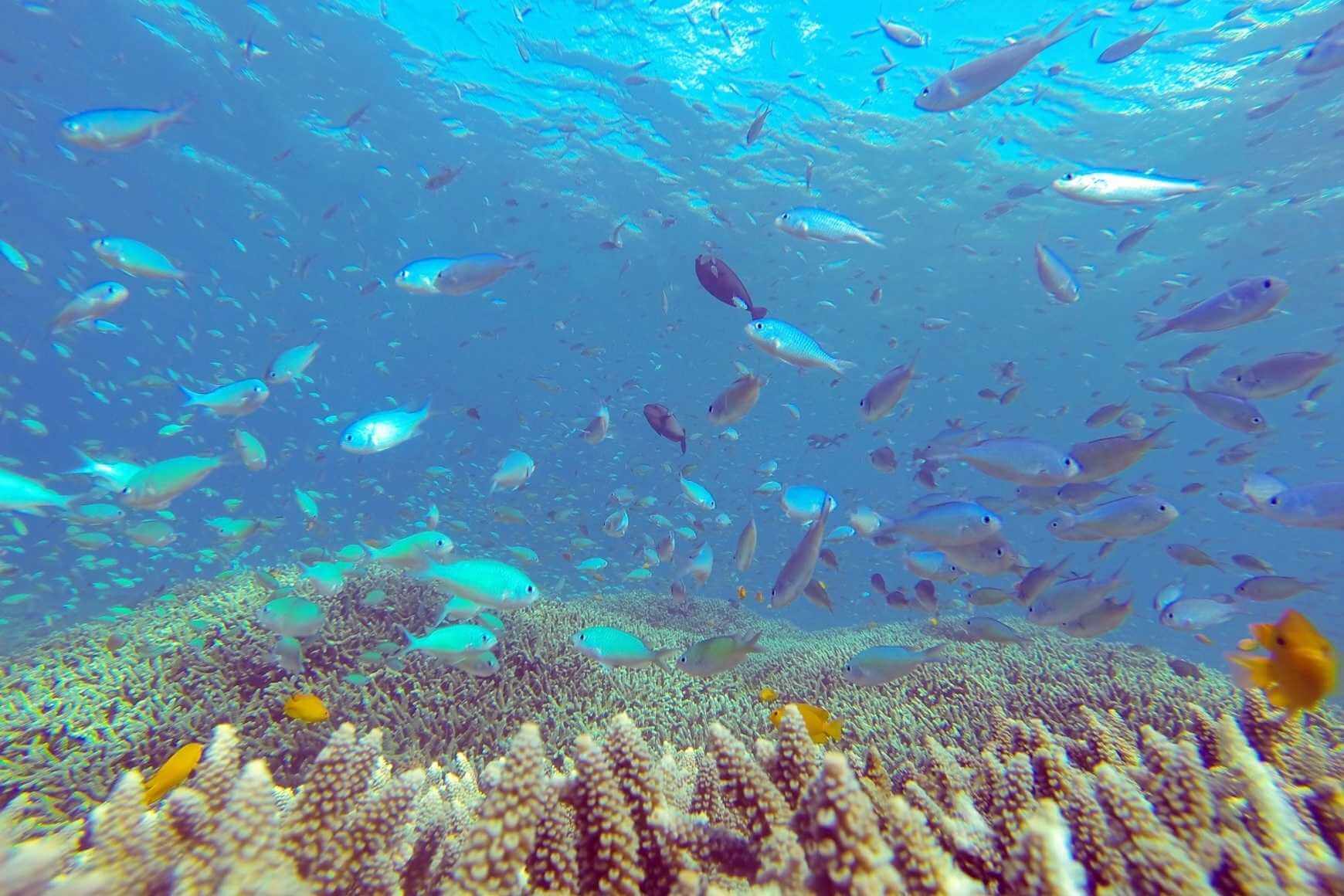 Source: cloudfront.net
Breakaway from the hustle-bustle of the cities with an amusing trip to Amed for snorkeling. The fishing village of Amed showcases a serene ambiance that will give you ultimate leisure with adventure. Jemeluk Beach which is positioned off the coast of Amed presents the most gorgeous spots for snorkeling in Bali. With vivid coral formations and colorful fishes, snorkeling at Jemeluk Beach is an astonishing experience whether you are a professional snorkeler or a beginner.
Also Read: 10 Places to Visit in the Maldives if You Are Seeking Tranquility
Parasailing at Tanjung Benoa Beach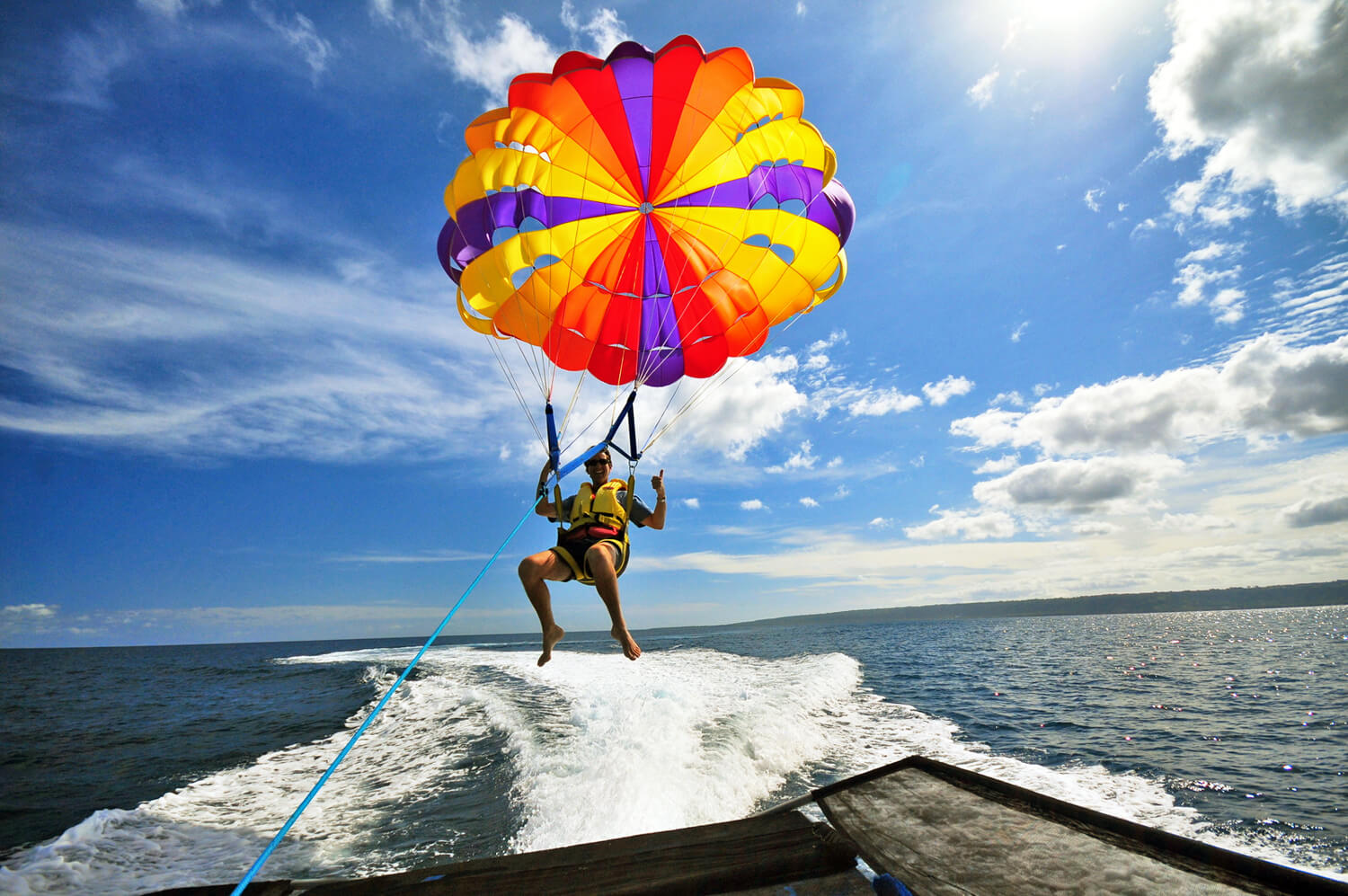 Source: balitravelshop.com
For all the adventure lovers, parasailing at Tanjung Benoa Beach is often regarded as one of the most awe-inspiring and best things to do in Bali. This watersports activity at Bali acts like a magnet to a number of tourists and helps them to live their adventures in real life.
At Tanjung Benoa, you can coddle in both tandem and single parasailing. Also, there is no need to have any prior experience of being a paratrooper to indulge in this activity; it is a go-getter for everyone.
With the supervision of professional guides, this is one of the safest things to do in Bali and meeting the international standards of safety.
Marvel at Uluwatu Temple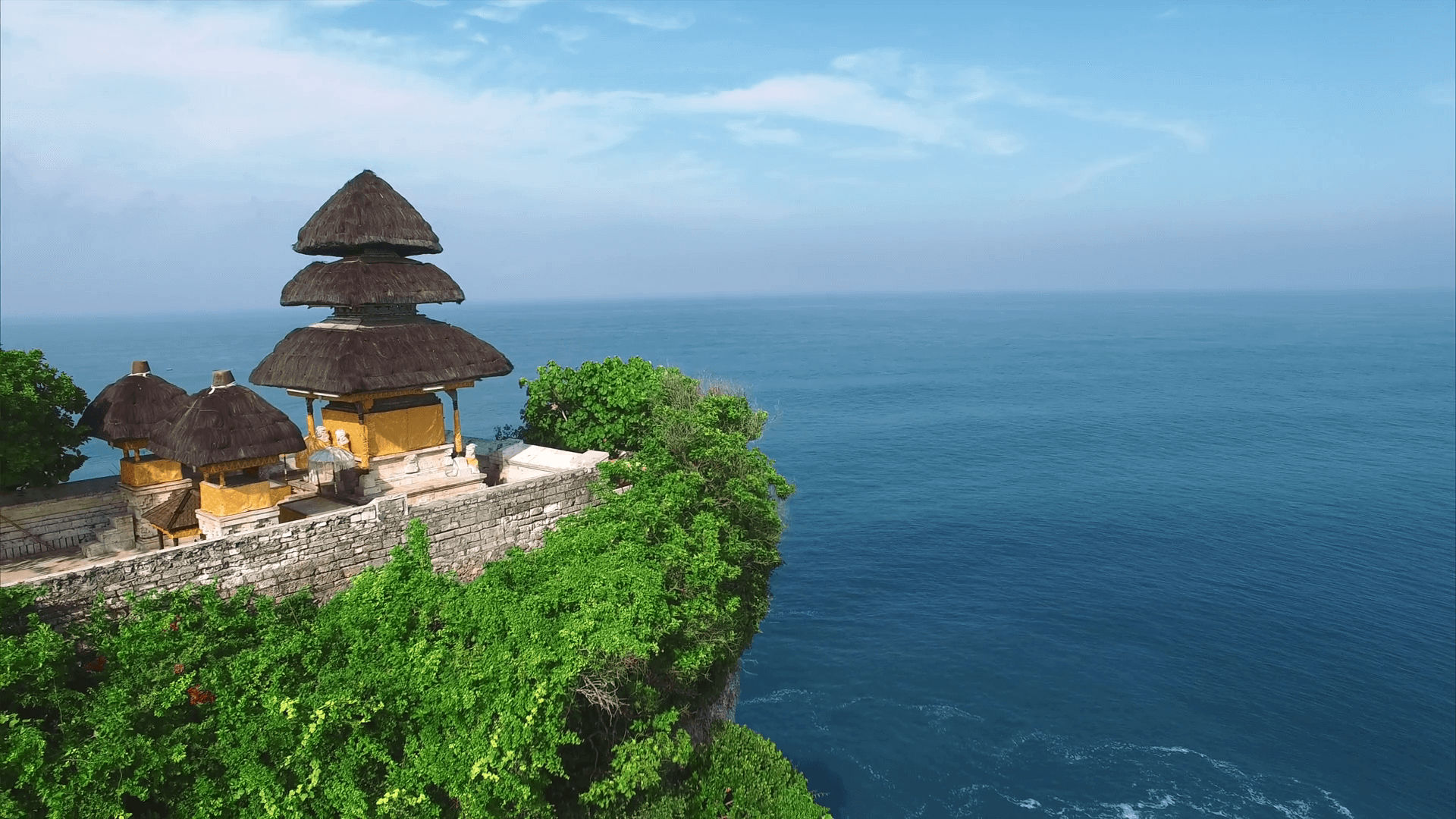 Source: cloudfront.net
The Uluwatu Temple is one of the most famous six directional temples of the Balinese Hindu. Just Like the Tanah Lot Temple, it is admired for its seaside location and views of the magnificent sunset it has to offer to the visitors. The temple is located on the edge of a cliff, about 100 meters above the sea level, and it is gifted with the captivating view of the Indian Ocean as the air gets filled with holiness and serenity.
Do not miss the Kecak and fire dance performance at the temple, when you visit the temple. It is one of the major highlights of the temple.
Explore Bali Safari and Marine Park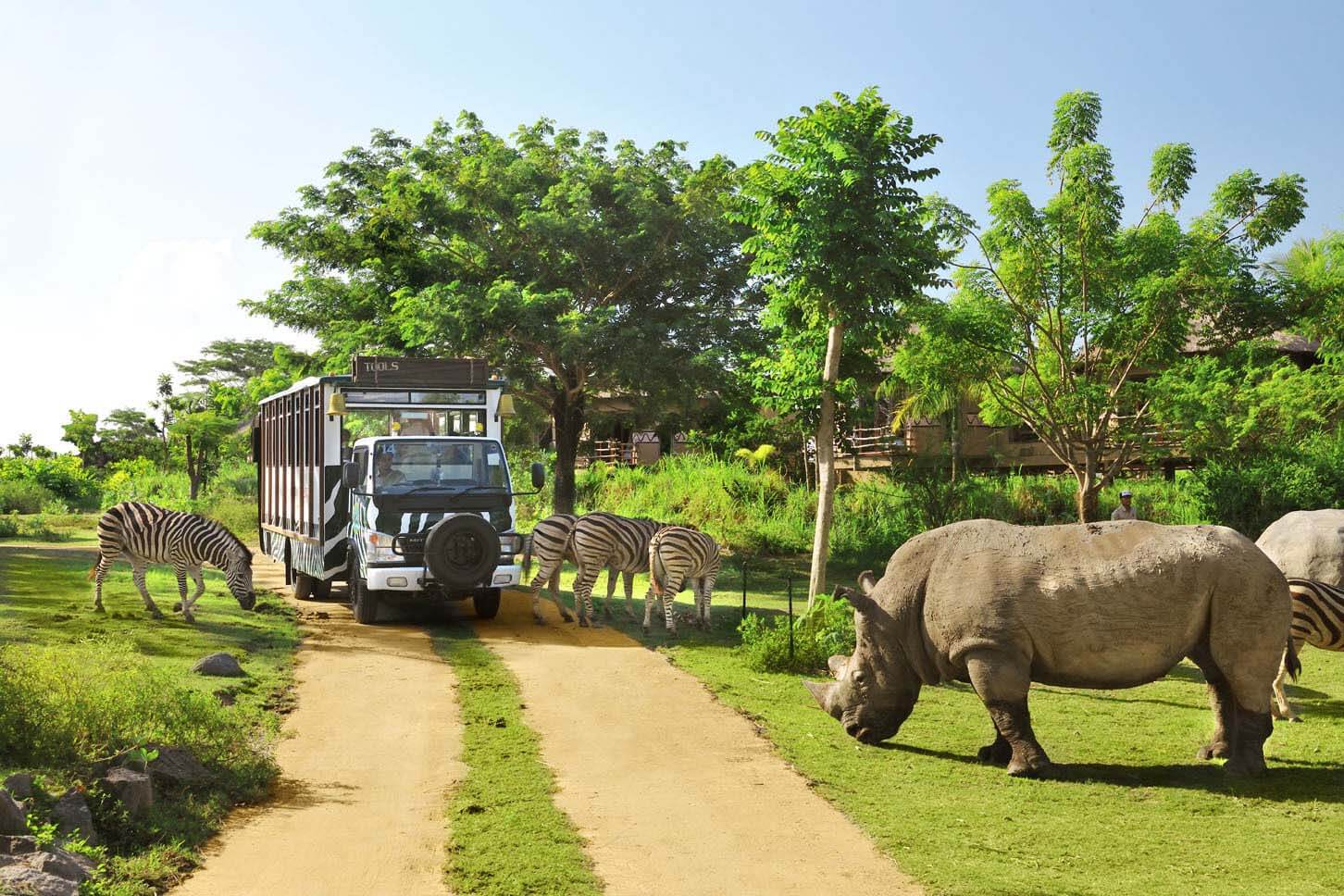 Source: balihellotravel.com
Stopover at one of the most exciting animals themed parks to enjoy a day into the wilderness at Bali Safari and Marine Park. It refers to being a habitat to more than 60 species where one can hold a chance to discover these tempting natural creatures in their natural habitat.
Some of the fascinating activities which you can indulge in at Bali Safari and Marine Park are a safari bus ride, elephant show, playfulness of baby sharks, and getting a closer view at the lively orang-utans, etc. And it is best for solo travel!!
Trek to Mount Batur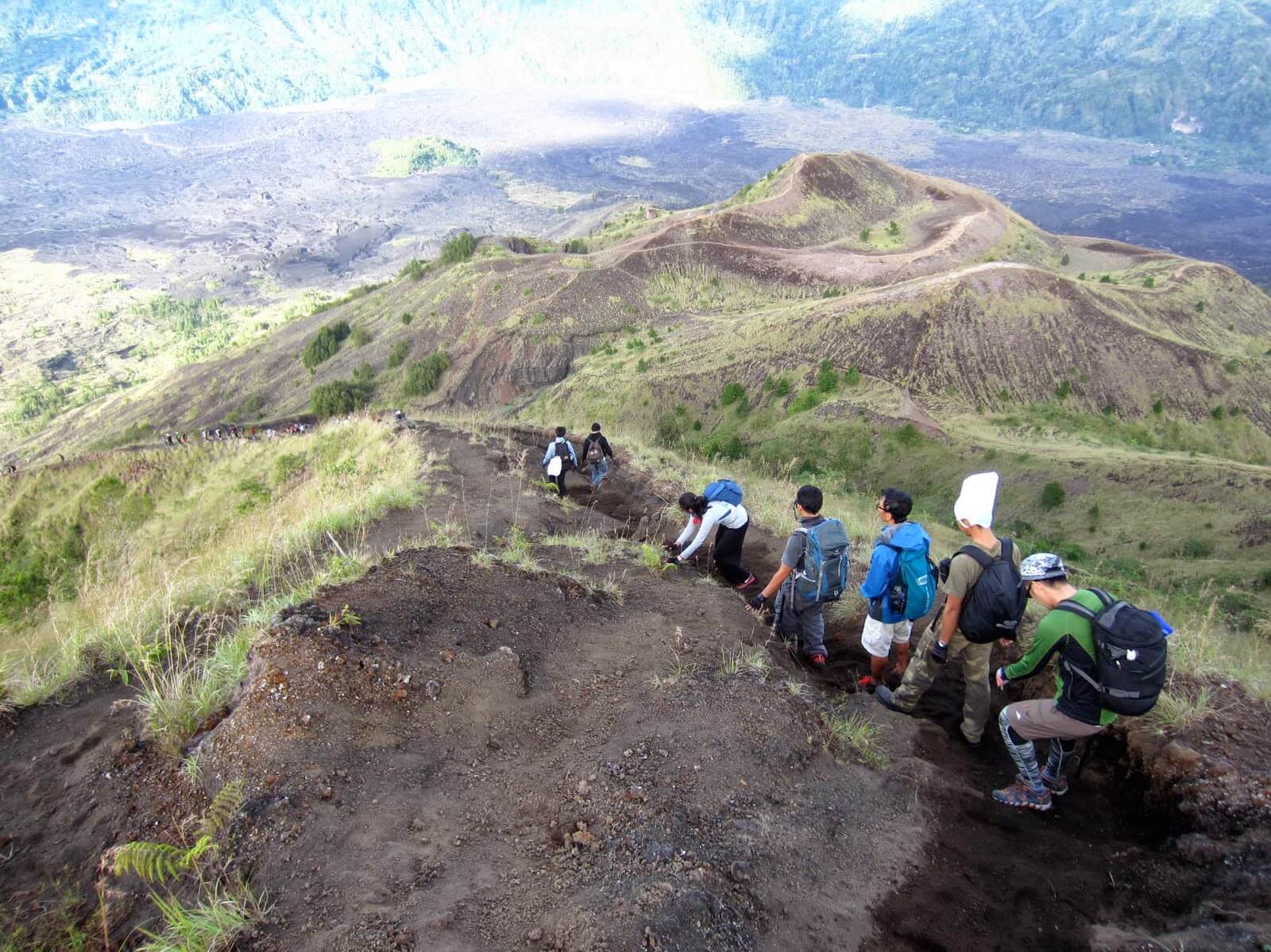 Source: noosabalitours.com
Climb up to the top of Mount Batur to gift yourself the most miraculous sunrise scenery of your life. Trek to Mount Batur is one of the most exploratory and best things to do in Bali where you get to trek on an active volcano and experience only one of its kind getaway.
The trek incepts at midnight using headlamps and night torches and concludes with an extravagant view of Mt. Agung during the sunrise. The two hours uphill journey to Mount Batur is a very exhilarating adventure as you climb over the volcanic rocks with your blood rushing. However, make sure you should confirm whether there is an active volcanic activity going on before starting the trek.
Thank you for visiting
Travelila
. Have a happy journey!!