Oktoberfest is now just a few months away, and if you're looking to visit Munich to join in the celebration, you're in to have a very memorable Wiesn experience. Every year, millions of people crowd Munich to celebrate the wild event. Well, you can expect it to even wilder this year, as 2021's Oktoberfest is the first since the 2019 iteration of the event. If you want to enjoy the event, you'd want to have it as authentic as possible by enjoying Oktoberfest like a local. To help you have a true, authentic, and German Oktoberfest experience, we prepared this guide on how to enjoy Oktoberfest like a local.
Choose When to Go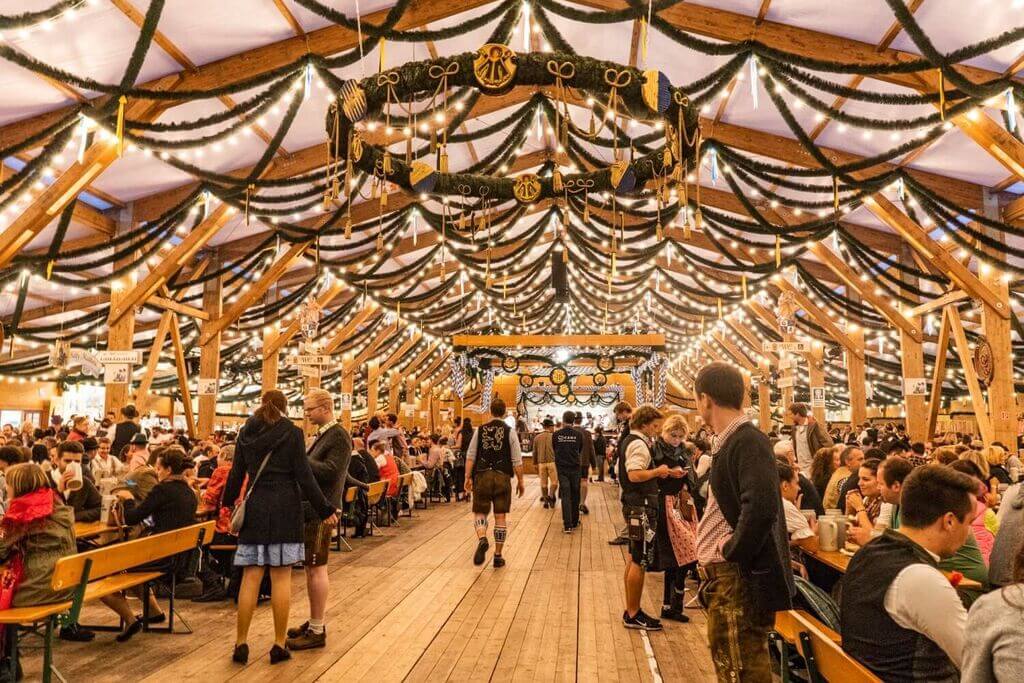 Source: pinimg.com
The Oktoberfest lasts three weeks, and that means you have a lot of choices when it comes to when you want to go there. However, even if there are three weeks to go, there are only a few days when you can truly enjoy the Oktoberfest vibe and spirit.
If you want a wild experience, you should consider going during the second week, or what is popularly known as the "Italian weekend", where Italians flock to Munich. If you didn't know it yet, Italians love the Wiesn so much that Italian police partner with Germans to keep everything orderly.
On the other hand, if you want something a little more child-friendly. You'd enjoy the "Familienplatzl" family tent every Tuesday or the "family day". On Tuesdays, many shows and activities are organizing for children on the festival grounds during the afternoon.
Be There at the Right Time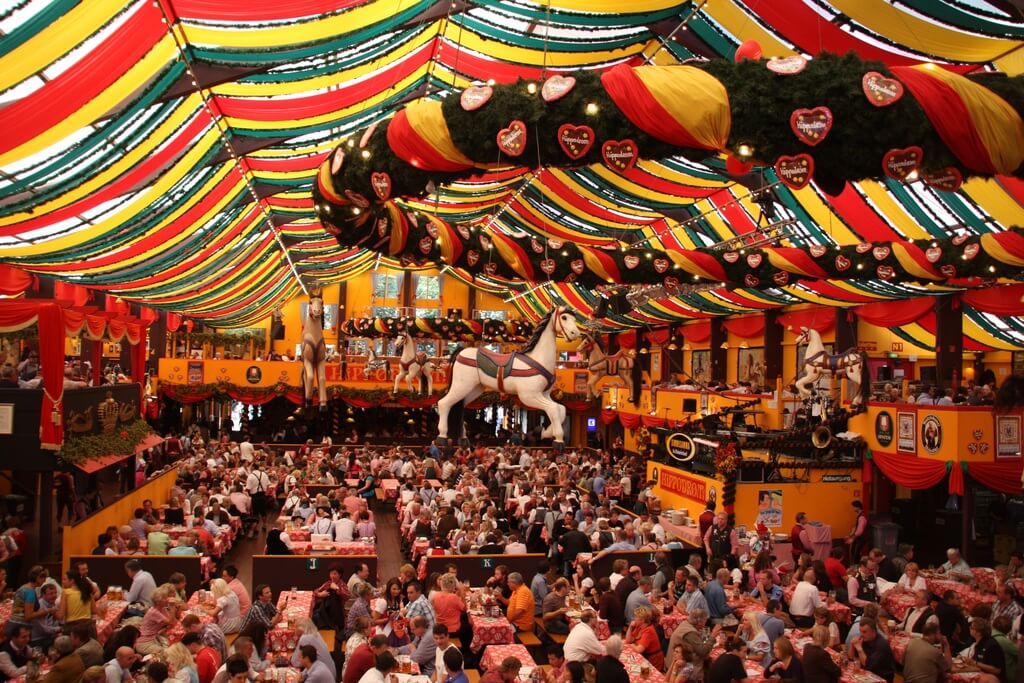 Source: wikimedia.org
You can go to tents as early as 10 AM on weekdays and 9 AM on weekends, but you shouldn't if you don't want to start drinking early.
However, if you want to drink well during the weekends. You need to be there even earlier than 9 AM because locals will be in line to get a seat on the benches as early as 6 AM. So, if you want to ensure your spot, make sure to be there at the right time.
Wear a Dirndl and Lederhosen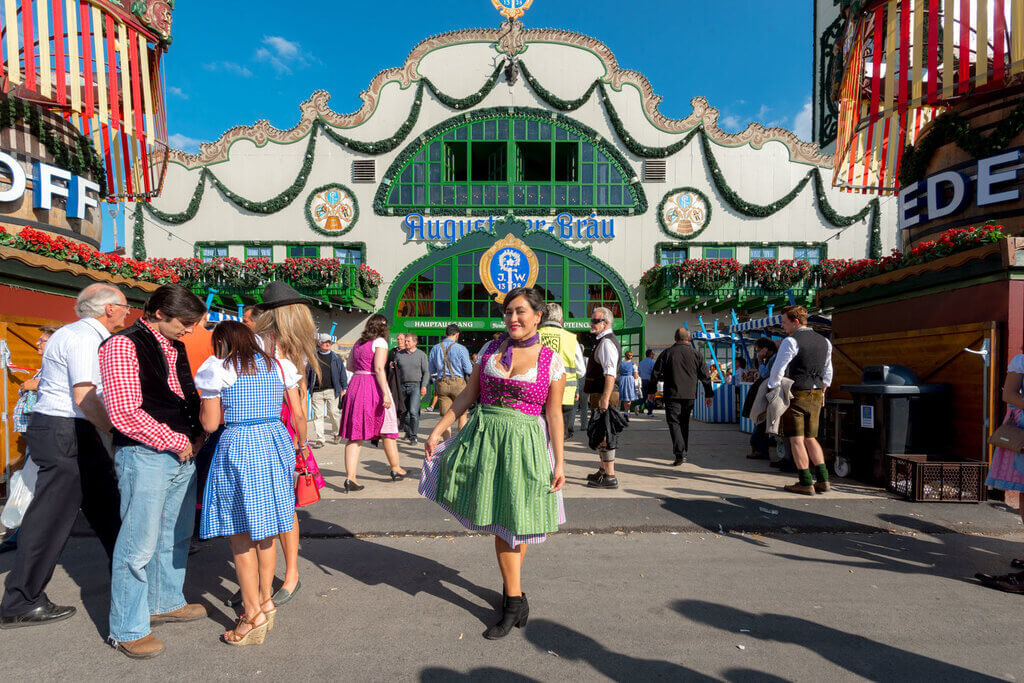 Source: squarespace-cdn.com
Sure, you can wear casual clothes at the Wiesn, but be prepared to feel left out over a sea of people wearing their traditional dirndl and lederhosen. Before going to Oktoberfest, make sure to buy your clothes in Munich.
Also, remember to keep your dirndl simple yet classy as people don't like cheap and tacky dirndls, while for the lederhosen, never have the cut above the knee.
Furthermore, if you're a single woman, tie your apron on the left side and do the opposite if you're taken. It might not be a big deal to you, but it's an old tradition that locals still remember today.
Get a Wiesen Bekanntschaft
In Germany, "wiesn bekanntschaft" means an Oktoberfest acquaintance. With Oktoberfest, it's not all about drinking and having fun, it's also about making acquaintances and friends. If you're going alone, make sure to be friendly and find yourself a new friend. Even having your own friends with you is not an excuse to make a wiesen bekanntschaft.
Also, since people line up for tables and can't make reservations. Chances are you'll be sitting with people you don't know. Which means it's an easy chance for you to meet new people. Add beer to the equation, and you'll be laughing and sharing stories with new buddies in no time.
Drink Like You're German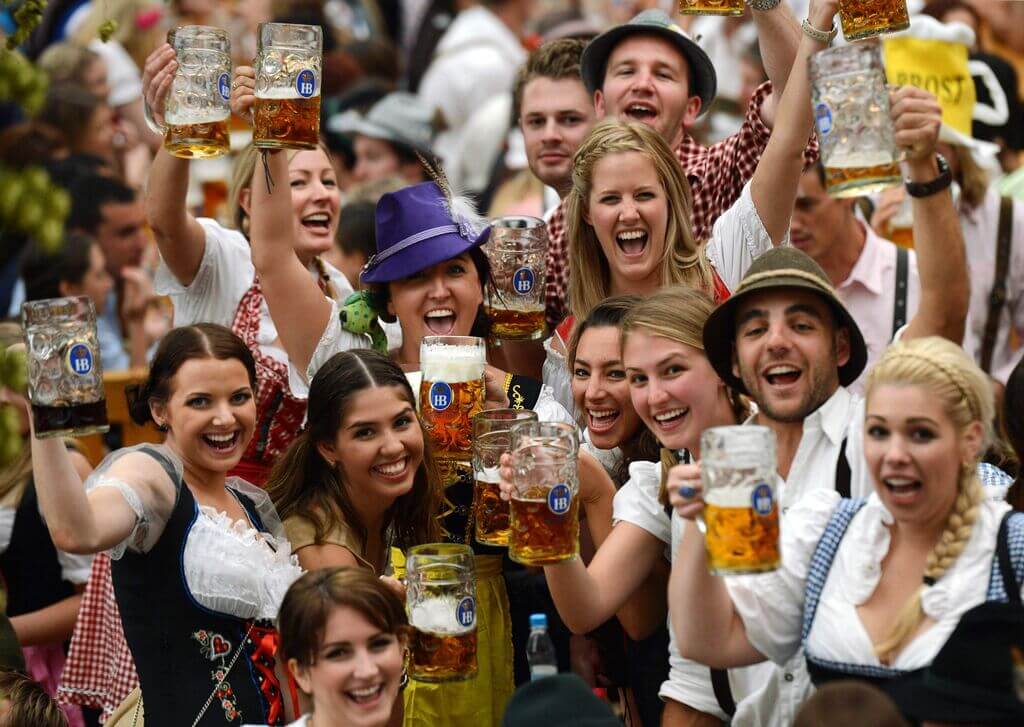 Source: indulgexpress.com
There's only one way to drink beer at the Wiesn like a local. That's from a mass on your hand! Also, make sure to hold it the right way. That's with your hand through the handle with your thumb on top. After that, toast with your wiesn bekanntschaften by hitting the bottom of the glasses, looking at everyone, and saying "Prost!"
Don't Skip on Traditional Food
You can make your Oktoberfest more authentic by enjoying your beer with traditional food. Such as Schweinebraten (roast pork), würstl (sausages), brezen (pretzels), and other traditional Wiesn food. If you want a specific type of food, some tents are even named after the food serving inside.
Also Read: Beautiful Places In The World 2021
Learn Some Songs for the Wiesn
It's not the Wiesn without some good live band music, which is why every tent has its own live band. If you don't want yourself just looking around while everyone else around you is singing to the music. While enjoying the festive Oktoberfest experience, try to learn some Oktoberfest songs.
For starters, try to learn "Ein Prosit", a famous tune played every year. It's not that long and there aren't many words, so it should be easy for you.
Don't Smuggle Your Mass
Aside from not being unable to claim your "pfand" or deposit for your glass. It will also not be a nice thing to do for the locals. In front of your new friends. Such a big glass is also tough to hide, especially when you're drunk and you're being checked by sober security guards. If you want to leave Munich happy, don't even think of smuggling your mass.
Someone to Guide You
If you want to ensure a good Wiesn, you need to celebrate it like a local, and if to make it even better, Oktoberfest tours by Thirsty Swagman are always available for you. With many affordable packages, we at Thirsty Swagman will ensure that this year Wiesn is an Oktoberfest that you will never ever forget.