Who doesn't love the summer season? Literally, everyone on this planet waits for this season, right! Beach, pool and picnics, and many more fun activities we all do in the summer season. But when the winters come, we are not able to do these kinds of stuff. Fortunately, not all of these, but one thing we can still do in winter or any season and that is the pool adventures. Yes, don't let your summer vibes down because today we're going to tell you about indoor water parks.
Water parks have always been a fun place for kids and as well as for adults. Location and weather are two severe restrictions that you might have seen in the open water parks. But worry not, there are many indoor water parks in the world, where the temperature never drops under 80 degrees! Where there are lots of humid, wet concrete, steel-reinforced roof, and a wondrous atmosphere which will be full of the sounds of happy kids. Believe us, visiting these insanely cool indoor water parks will be a great memorable adventure for you and your family.
Now, you might have been thinking about which places you should go to? Where are these awesome parks located? Worry not, in this blog we have listed the top 5 indoor water parks in the United States. So take out your swimsuit and get ready to have some thrilling adventure!
5 Best Indoor Water Parks in America
Spend your morning on the slopes of water slides and warm up your body in the hot springs and enjoy extra thrills in these indoor parks. Below is the list of five indoor water parks in the USA:
1. Aquatopia Indoor Water Park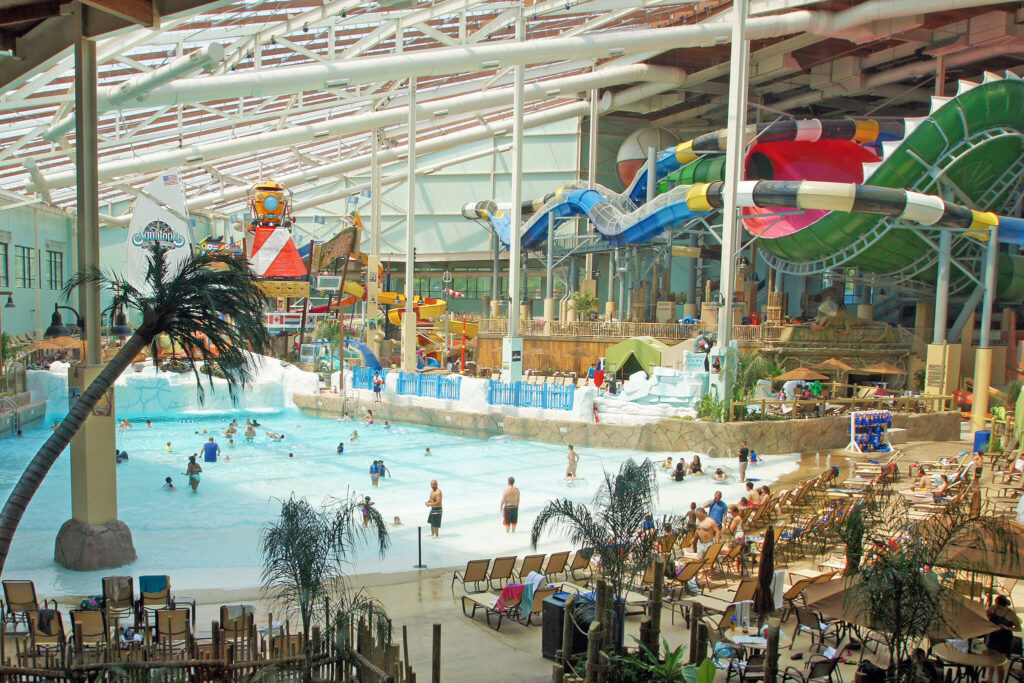 source: aquaticgroup.com
Location: Tannersville, Pennsylvania
Want to enjoy a waterpark in summer and as well as in winter? Yes, this Pennsylvania water park will give you the best feeling in both seasons. Here you will find 13 various types of water slides such as mat slides, tube slides, bowl slides, and body slides. You can also ski outside, later can go inside to play with adorable penguins at the Penguin Play Bay (a shallow adventure lagoon), which is the perfect place for your kids.
If you want something more exciting, then try the Skydive Plummet. It is a free-fall body slide with a 360-degree figure-eight loop. For bigger kids, there are 80 interactive water features at Kartrite's Quest. They surely will enjoy playing in a multilevel water playground with canons. Later you can relax with your family in the Mystic Springs hot pool.
2. Great Wolf Lodge Wisconsin Dells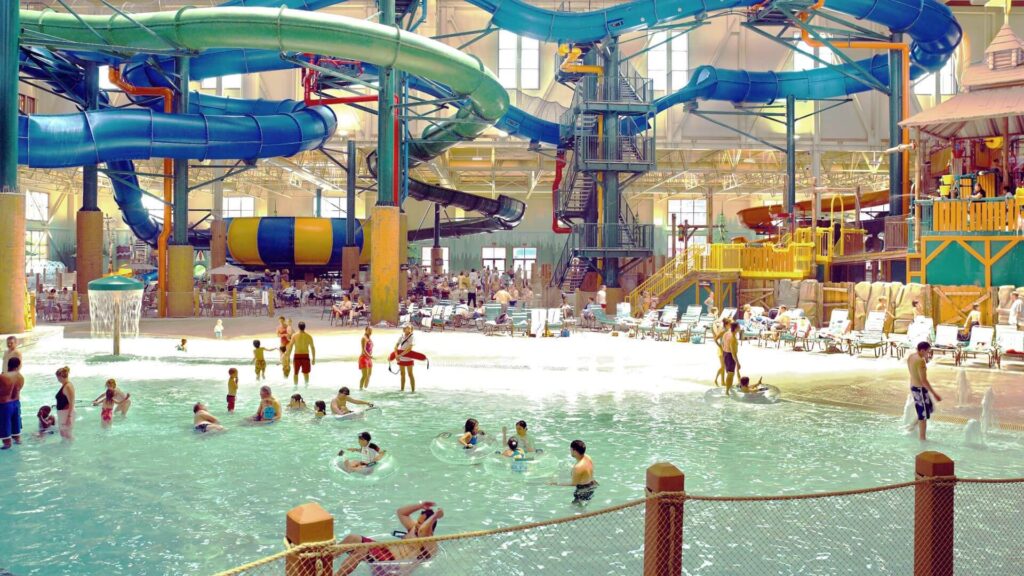 source: tripsavvy.com
Location: Wisconsin Dells, Wis.
Enjoy the toboggan-style slide with your friends at this fantastic Wisconsin Dells water park. Not only toboggan-style, but here you can find 13 different slides such as vortex slides, tube, slide boarding, and nine pools. How cool is this?
Did you know that Great Wolf Lodge is the largest chain of indoor water parks in the United States? They are spread over 20 locations in the United States and Canada, including Virginia, Scotrun, Southern California, Pennsylvania, Massachusetts, and Texas. So, you can visit any nearby Great Wolf Water Park.
Here you'll find many adventurous things such as tipping buckets to stand under, multilevel water forts to explore, and a lot of pools to splash and play in. If you want to relax and soothe your body muscles, then take a dip in the South Hot Springs warming pool.
3. Kahuna Laguna Indoor Water Park
source: pinterest.com
Location: North Conway, New Hampshire
You'll be surprised to know that the Kahuna Laguna water park spreads in 40,000 square feet, and it offers plenty of slides, wave pools, and splash pads! This park is worth going once in a lifetime, and we're pretty sure that your kids will love it.
Start your adventure with one of the four slides that make up the 3-story slide tower, and later these slides go to the 67,000-gallon zero-entry wave pool. The Little Kahuna Play Area will be a perfect spot for your little kids, that has a 12-inch deep pool and a 3-person slide.
4. Massanutten Resort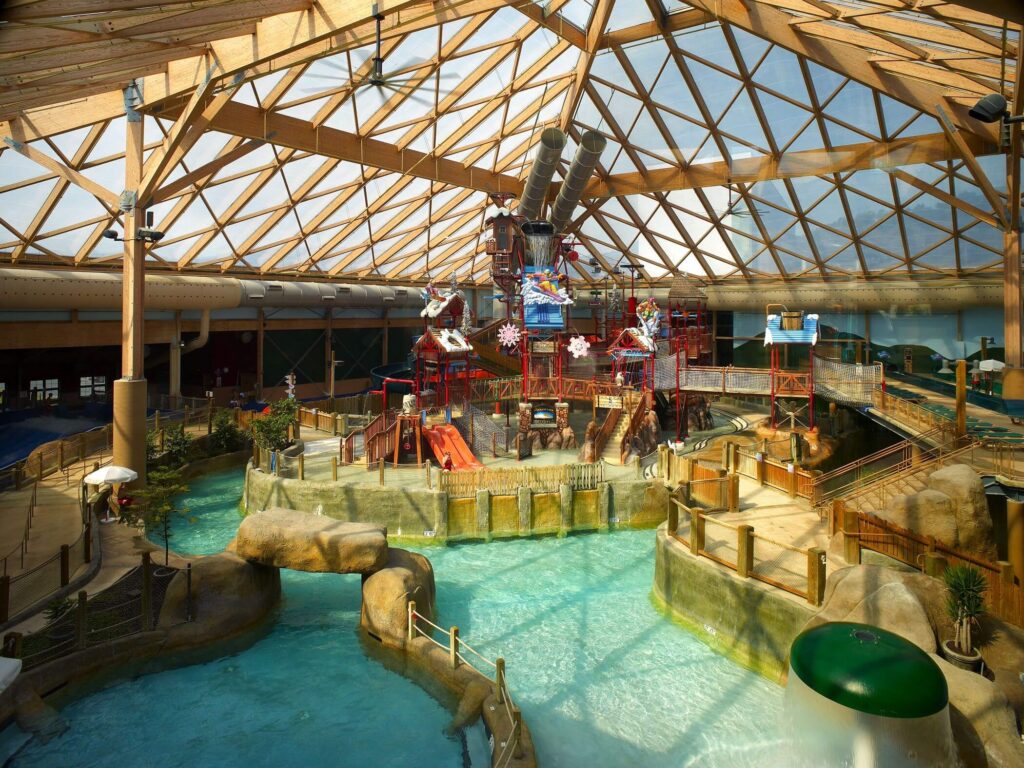 source: pinterest.com
Location: McGaheysville, Virginia
Who will play in a regular playground when they have an option to play in a water-powered playground? Nobody, right!! This astonishing resort is known as Massanutten Resort, located in Shenandoah Valley in Virginia. Actually, It is a part of the larger Massanutten resort that has many fun things such as a giant tipping bucket and a total of eight water slides that has been established at an inclination known as Massanutten Meltdown.
People who love body slides, they can check out the body slides, which is 39 feet above the ground, and you can also try surfing the Pipeline, which pumps 48,645 gallons of water each minute. The hot tubs, a lazy river, pools, body slides, tube slides, water cannons, waterfalls, and more things that'll keep you and your family entertained at this Virginia indoor water park mecca.
5. Splash Lagoon Indoor Water Park Resort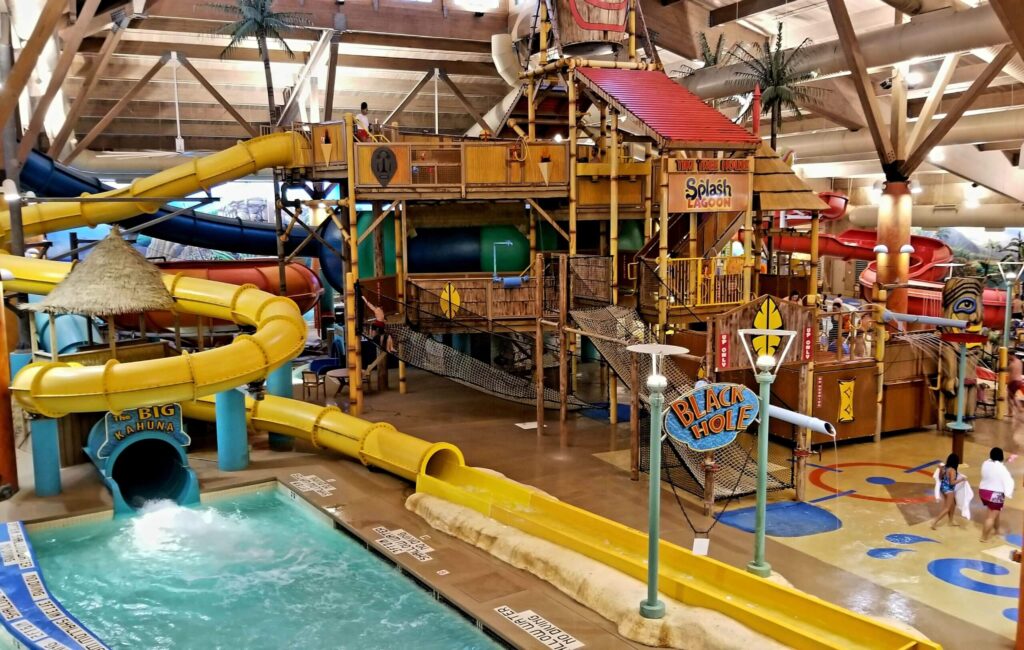 source: daddyrealness.com
Location: Erie, Pennsylvania
This indoor water park is the biggest indoor wave pool in the Eastern United States. Splash Lagoon Indoor Water Park Resort is themed on tiki that has many unique water-centric attractions. Another great thing about this park is that you can also visit this place in winter, you'll not feel cold there because the temperature inside here is kept at a balmy 84 degrees, so it feels like summer all the time. Cool right!
The Splash Lagoon water park is action-packed. Why are we saying this? Because here you'll find astonishing water adventures including pitch-black Black Hole sliders, the Aqua Tumbler, and massive bowls.
You can also jet down from a slide that whirls around a huge bowl then funnels you out. In short, you can enjoy nine different waterslides, including one tube that reaches 40 miles per hour and five on-site restaurants, bars, and shops. For kids, there is also a five-story Tiki Tree House with a 200,000-gallon wave pool.
Also Read: 12 Amazing Holiday Destinations: Escape to the Best of North America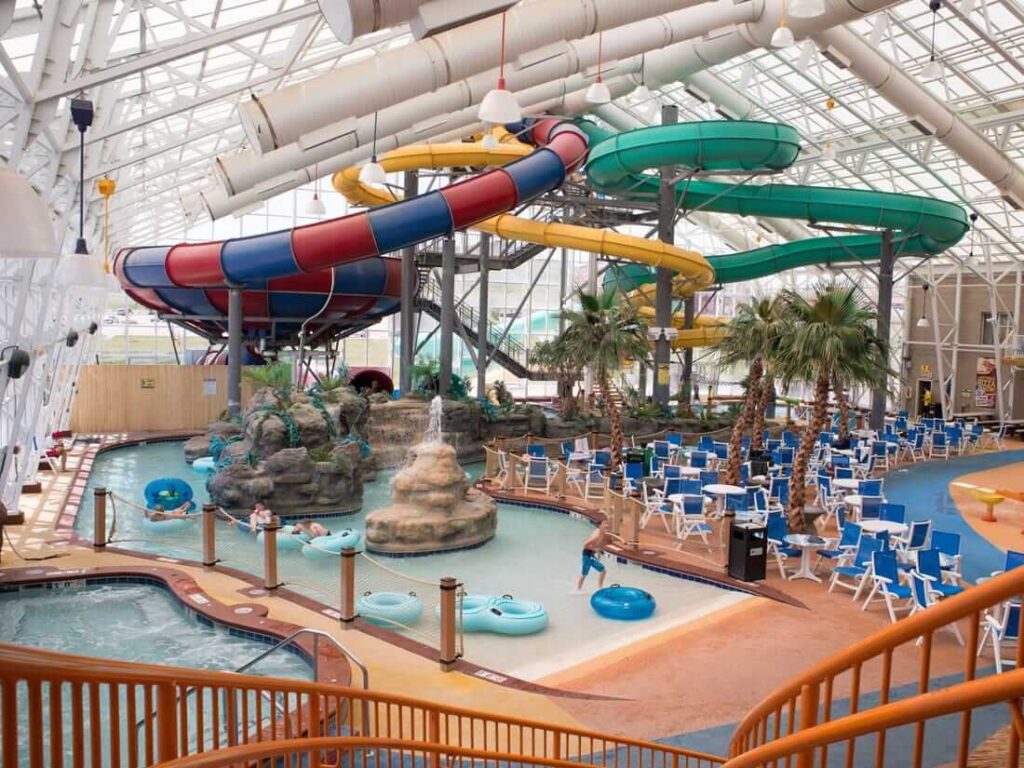 source: insider.com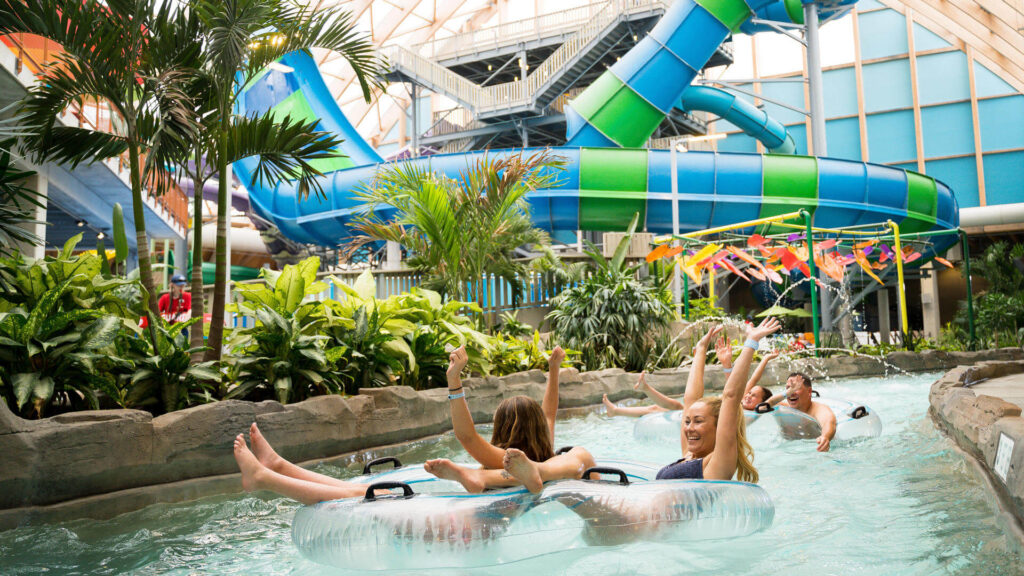 Image Credit: thekartrite.com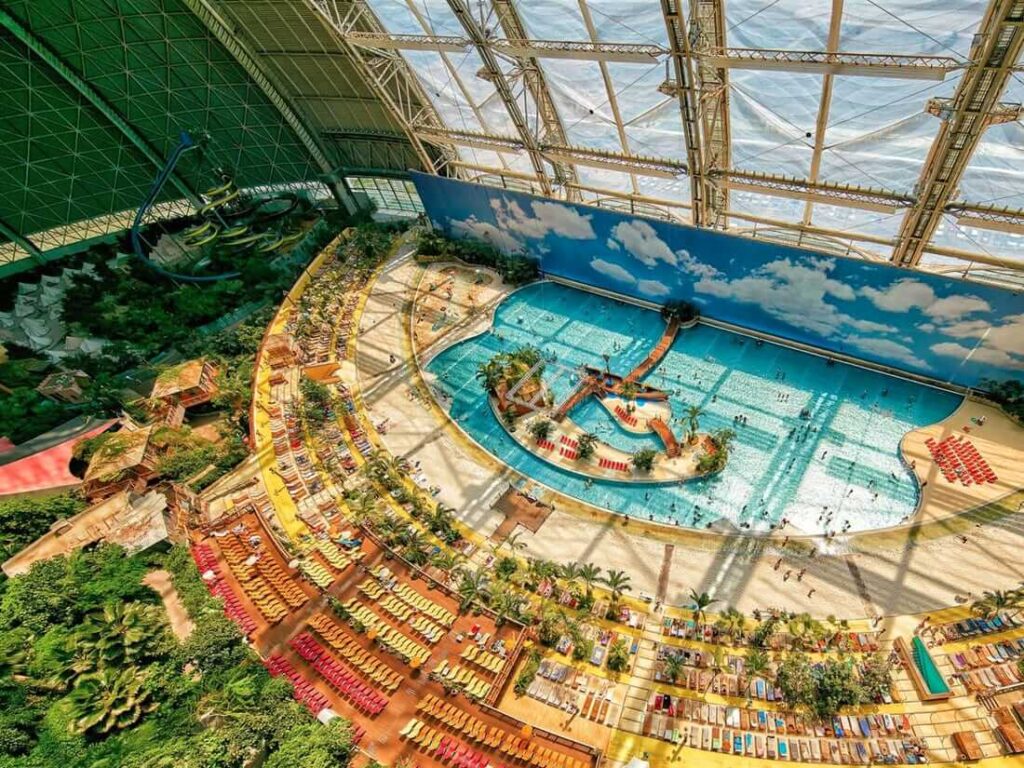 source: insider.com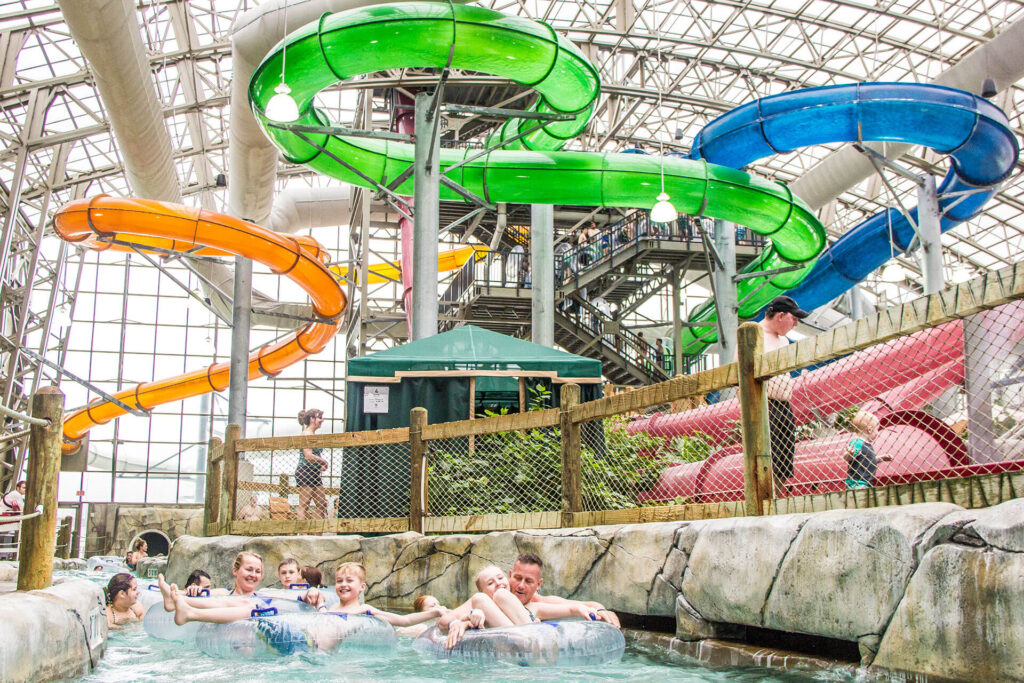 Image Credit: familyvacationcritic.com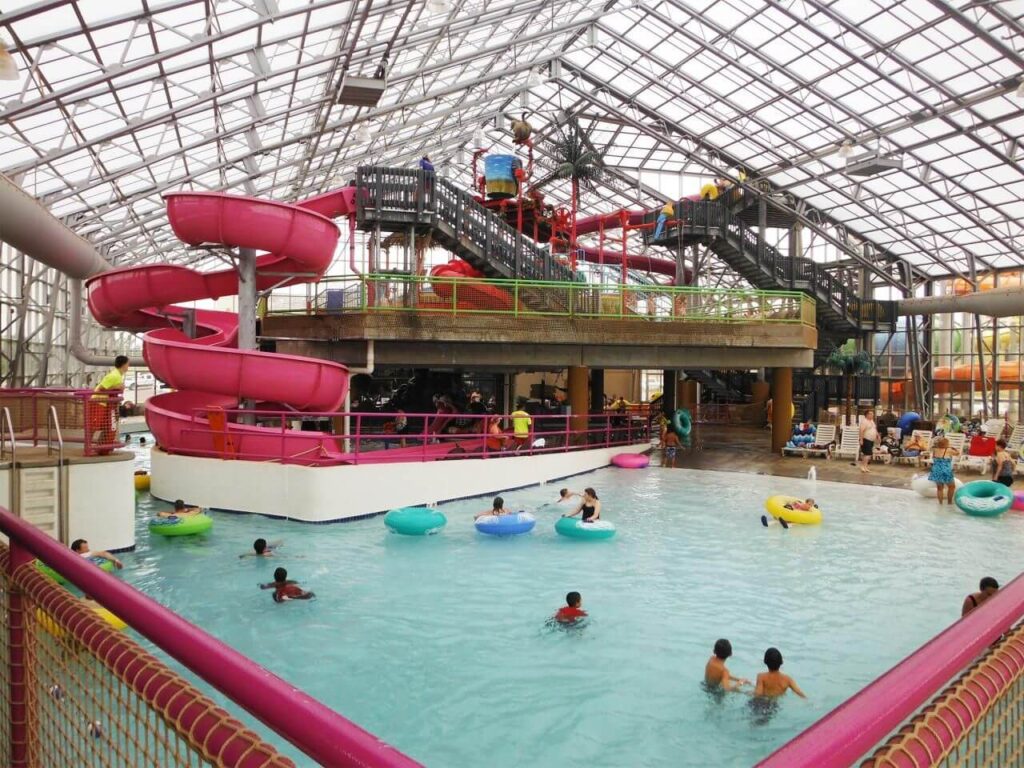 source: pinterest.com
Splash The Fun!
So this was the list of top 5 most thrilling, memorable indoor water parks around the states. No matter whether you're 5 or 50, these parks offer fun for every age. You can select any of the above-mentioned destinations for spending some exciting time with your friends and family. One thing we assure you that all these parks will take you to the peak of fun and you'll have a thrilling and fun experience that you'll remember all of your life.
For more travel guides and interesting tourist places, keep coming to Travelila.