How pissed you feel when you have to rummage through your backpack just to find a tangled neckpiece? When you start traveling the basic advice everyone around you gives is to be organized. Everyone goes through this stage. Once in a lifetime, everyone has faced the unorganized and frustrating moment when you re looking for something but isn't anywhere in the sight. So to keep yourself away from the struggle of finding your favorite piece of jewelry, invest in travel jewelry case or kit. This amazing product will save you time and keep your jewelry safe will you are jumping bumping in a foreign country.
Before we list out the best travel jewelry organizer for the year 2020, let's see what exactly it is, and wonders it can do.
Come!
What is a Travel Jewelry Case or Kit?
They are blessing in disguise to the wanderers like you and me. This amazing travel gear will help you stay organized. You can pack clothes perfectly in the bag but when it comes to jewelry, you will need to arrange them in a way that it doesn't get tangled.
The travel cases have different sections for all kinds of jewelry arranged nicely. Those sections are secured with a velcro system or standard size belts. So let's get to the amazing travel jewelry cases.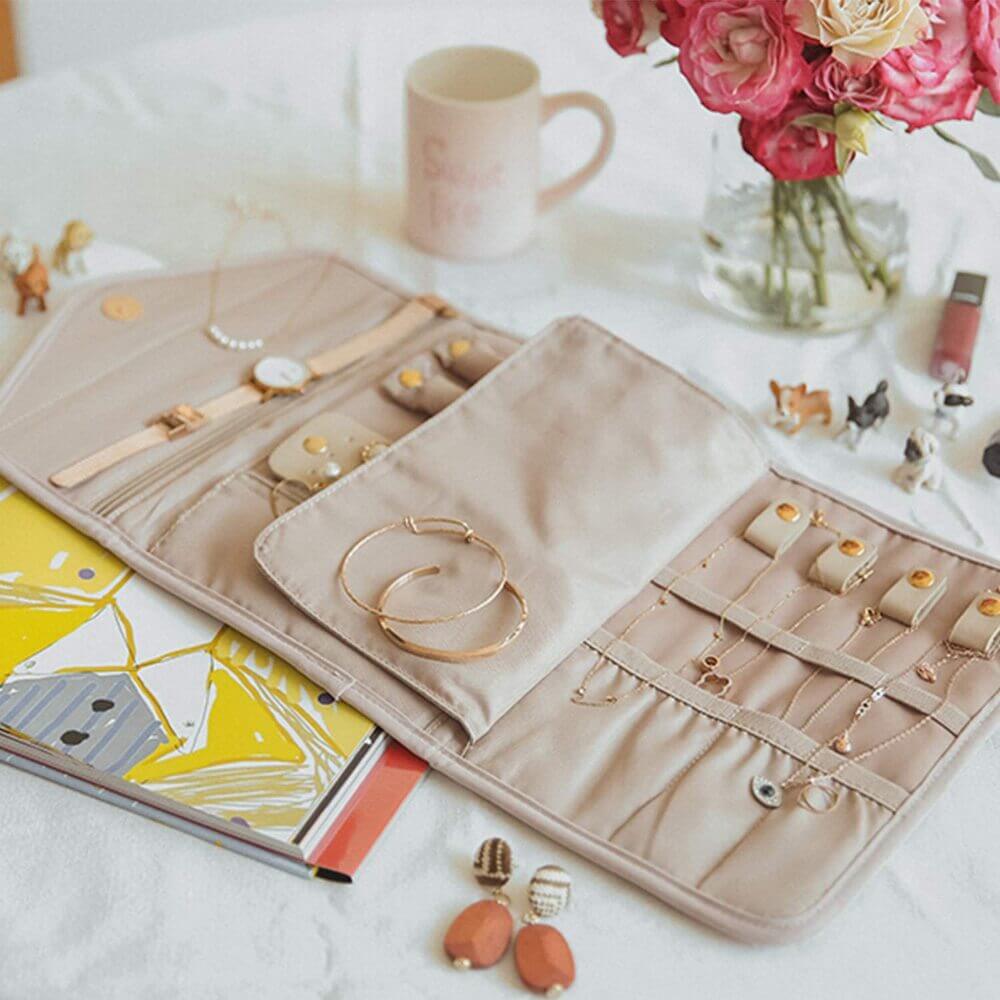 Source: amazon.com

Would you believe us we say that you store upto 10 pairs of earrings, 4 to 5 necklaces, and around 2 watches in a slim pouch? Maybe not, but that's true, here is this travel jewelry organizer from Bagsmart.
Whether you are moving out for a business trip or attending a royal wedding, it will hold all the essentials in it and won't take up much space as well. It comes in different colors and prints.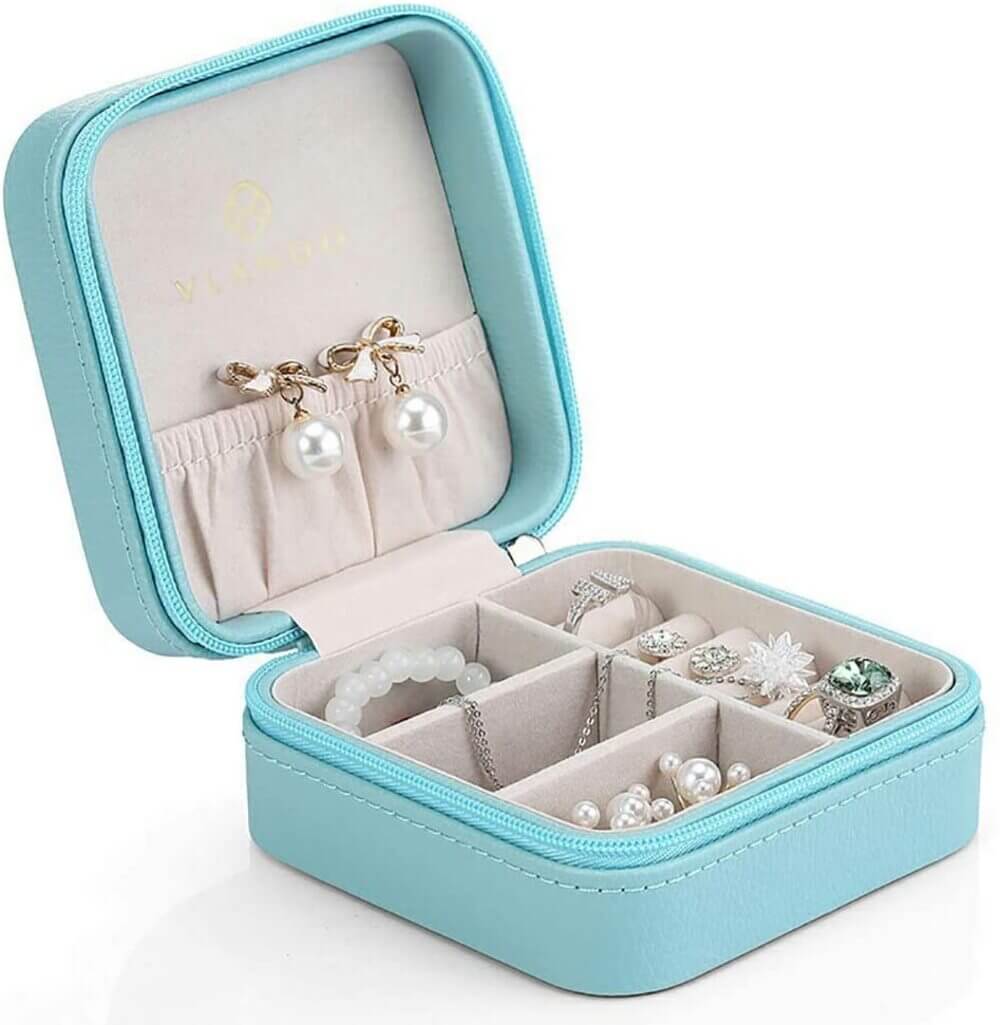 Source: amazon.com

Are you looking for a more secured jewelry case to store rings, earrings, bracelets, and other pieces of ornament? Vlando's small travel jewelry box is the answer. It has a small and sophisticated design, and double the storage space than its size.
This box won't only save space in the luggage but will also act as a vanity box. The material used for the exterior covering is synthetic leather and lining is of velvet.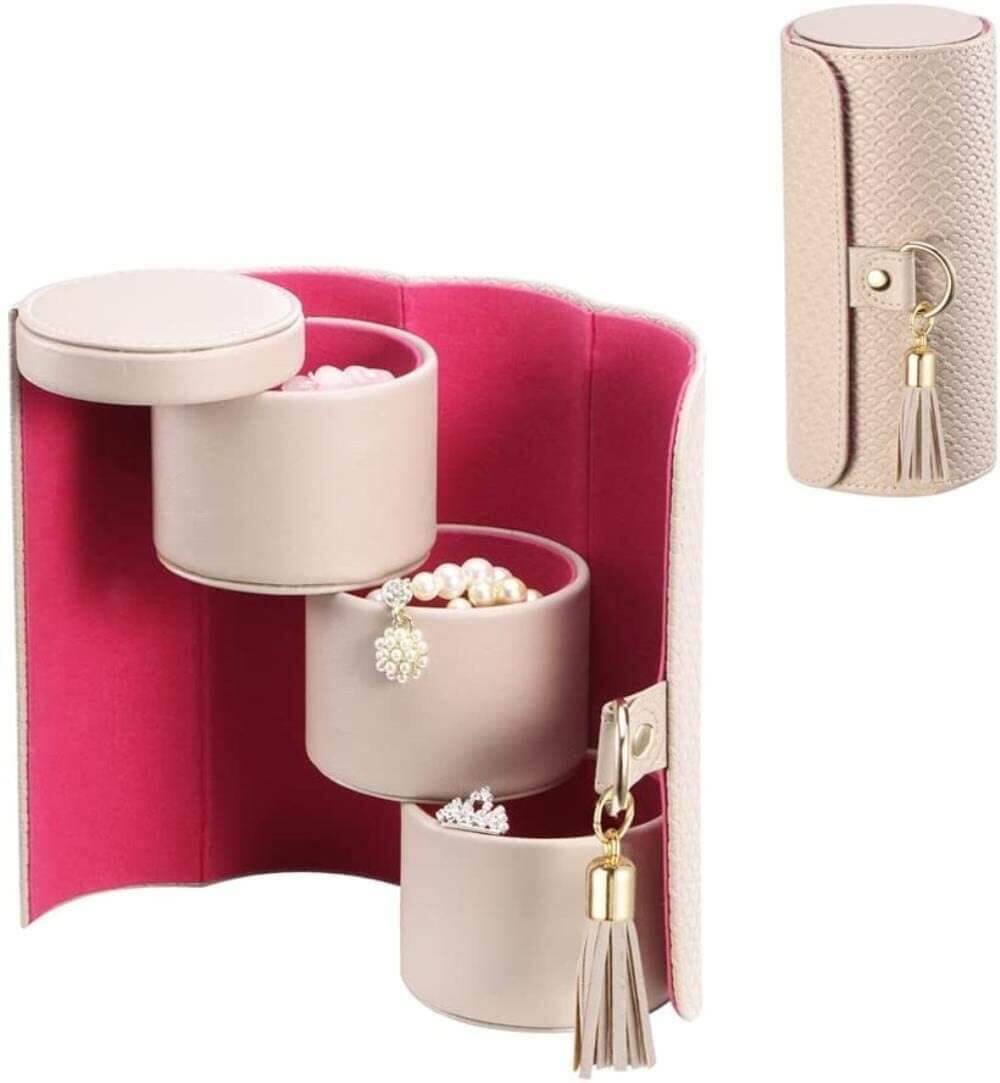 Source: amazon.com

One more product from Vlando Viaggio for storing jewelry, this one isn't the box, but the roll-up case. The design is mind-blowing and much minimal. If we talk about the functionality, no doubt it is at its best, with three containers of 2.2-inches in height, it can store earrings, rings, bracelets, anklets, and whatnot. Here you get to choose from two colors – grey and white.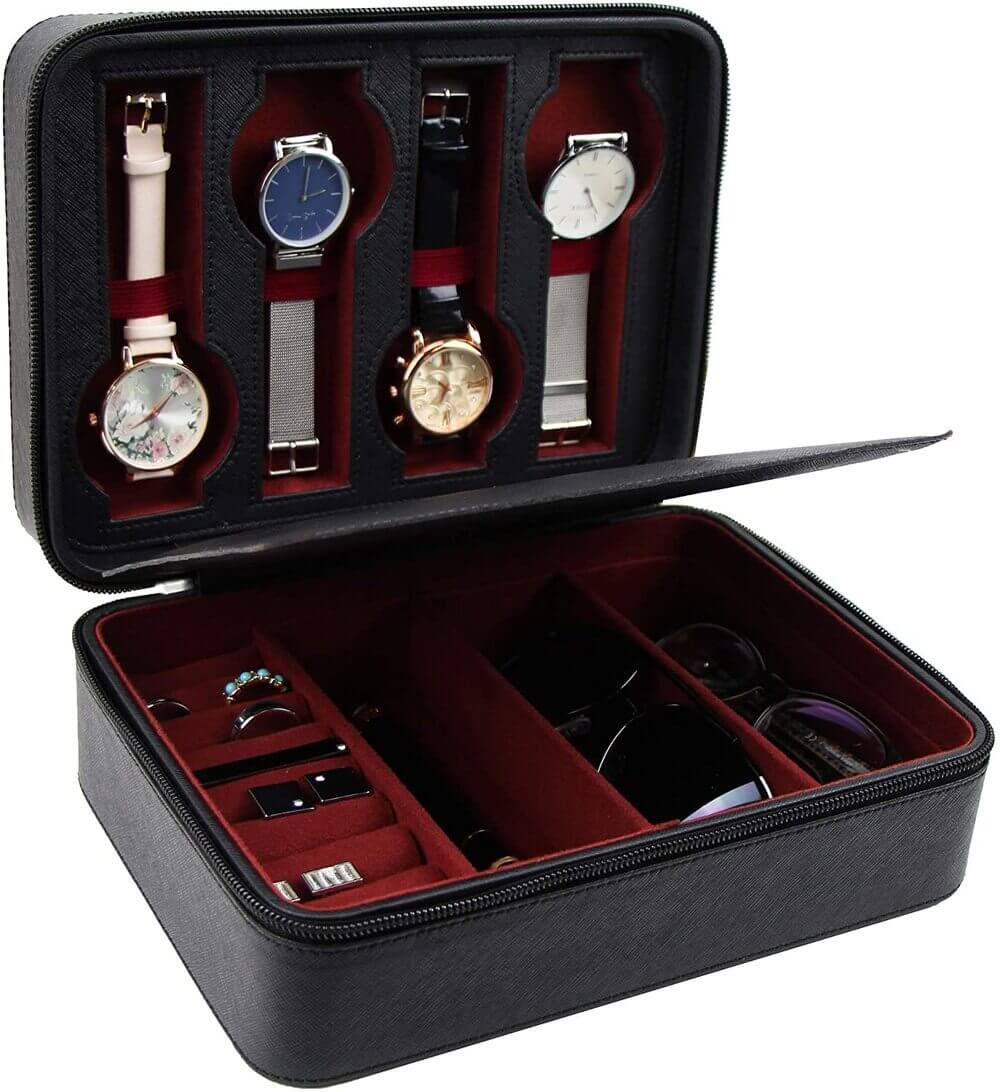 Source: amazon.com

Traveling with your partner? Don't worry we got you covered here as well. Whether you are a watch love for your partner is sunglasses lover, we have found the jewelry box that can carry both without a scratch. Along with those, you can also store cufflinks, earrings, rings, bracelets, and even necklaces.
The spacious compartment design and soft material to hold the jewelry in place is the key to this perfect travel jewelry organizer. It has a soft divider that keeps everything in place and scratch-free.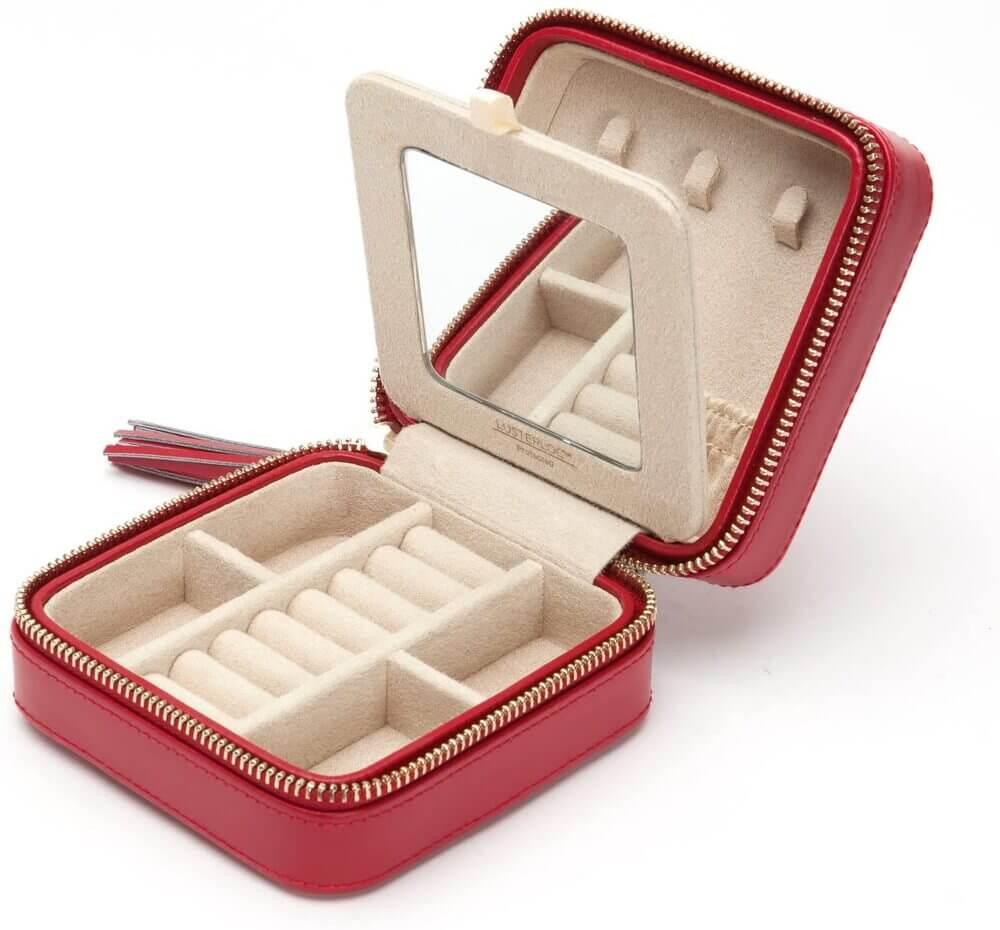 Source: amazon.com

The caroline zip travel case is from Wolf, this tiny yet impactful design of the case makes it ideal for the solo travelers. You can carry it in your handbag. It can store any piece of jewelry without them being tangled, scratched, or worse, broken.
It has a mirror that might come handy for last-minute touch-ups. You can now change your earrings or necklace anywhere on the street or in the or train to the next stop.
Also Read: 9+ Best Travel Purse To Have For The Functional Voyage in 2020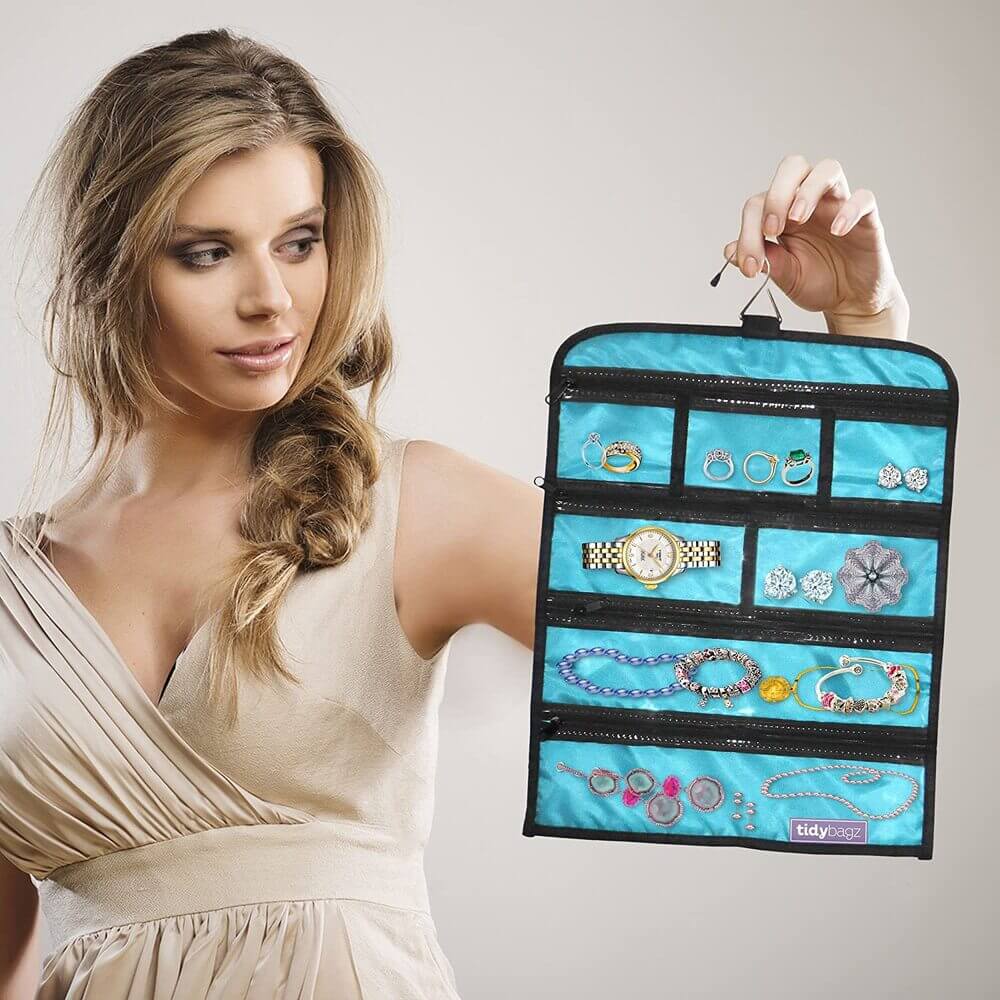 Source: amazon.com

Okay, this one isn't the safest one on the list, but trust just if you are someone who likes to be organized even in the hotel room, this one's for you. How? First thing, it comes with a hanger so you can hang it on the mirror or beside the dressing table. Second thing, it will only take a T-shirt's space in your bag.
This jewelry roll bag comes with 8 compartments of various sizes. You can use all the compartments for storing different types of jewelry. Plus they come with zipper lock, so you won't have to worry about losing them.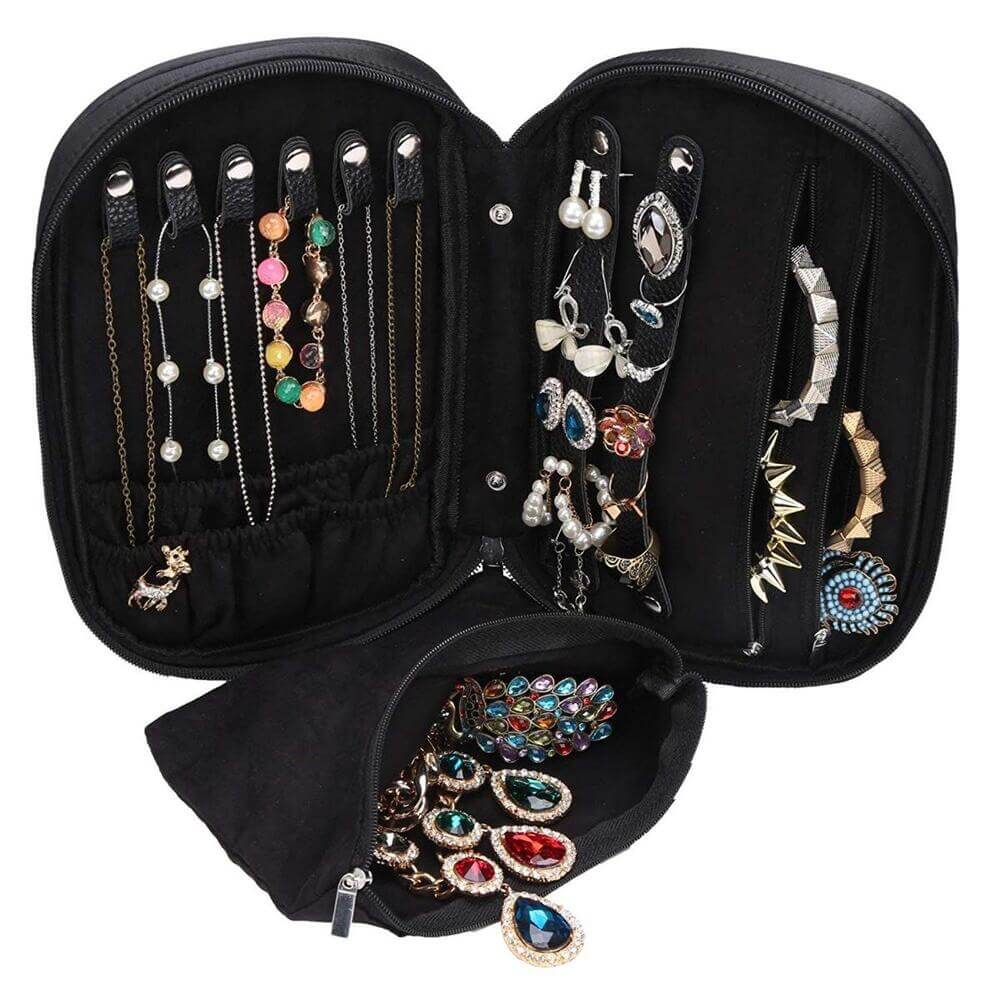 Source: amazon.com

Last but not the least, this one is super awesome and cool. The travel jewelry case from Wodison provides you enough space to store most of your jewelry that you will need on a trip. From earrings to bracelets and necklaces.
It has separate loops for the necklaces and two earring straps. A small compartment for rings and two other for bracelets and anklets. If you still have jewelry left to store it comes with an extra pouch.
Travel Hassle-free and Organized with Jewelry Organizers:
Source: lifestyleasia.com
These were seven different travel carry-on's that will keep your jewelry safe and sound. Get your hands on any of this and you will see how many wonders it can do. It will not only keep your earrings, rings, necklaces, and all sort of jewelry safe and detangled but will also save lot of space in your backpack. Take a look at these best travel pilllow for you.
What are you still waiting for? Order the one you liked (our heart lies in all). Pack your bags and go on the trip you always wanted, without any tension. Take your all the babies (jewelry) don't put them back. To know more these types of teavel tips and travel planning visit Travelila.