Things to Know About Traveling During the Coronavirus Outbreak
You would have heard about the deadly or terrifying coronavirus outbreak. Everyone is asking whether to travel during this time or not? And that is obvious. But what if you have already booked tickets? Should you cancel the booking or take precautions? We will address these questions in this article.
Do you know? According to Worldometers, there have been 102,237 cases around the world as of 7th March 2020 (04:35 GMT). Of which 41,118 active cases and 3,497 people have died because of the virus. And remaining 57,622 cases have been solved. And the numbers have been increasing in minutes.
So, is it recommended to travel during the corona outbreak? The answer is dicey. Why? Because the thing that we all know is, it is contagious. So, what to do? What if someone sitting beside you while traveling has the virus, but it hasn't yet been detected. When such a deadly disease is spreading all around, we can't help but overthink. It's common human psychology!
Don't overthink, and read the content to get the most of the answers related to traveling during coronavirus outbreak.
If you still have doubts about COVID-19, here's the exact meaning of it from WHO (World Health Organization). "Coronaviruses (CoV) are a large family of viruses that cause illness ranging from the common cold to more severe diseases such as Middle East Respiratory Syndrome (MERS-CoV) and Severe Acute Respiratory Syndrome (SARS-CoV). A novel coronavirus (nCoV) is a new strain that has not been previously identified in humans."
Who is at risk for the outbreak of nCOV? Older adults and younger children. The disease doesn't spread recognizing the age, but the immune system. Immunity is directly connected to age. So the people with a low immune system are at higher risk.
Now let's get the answers to make you stop panicking.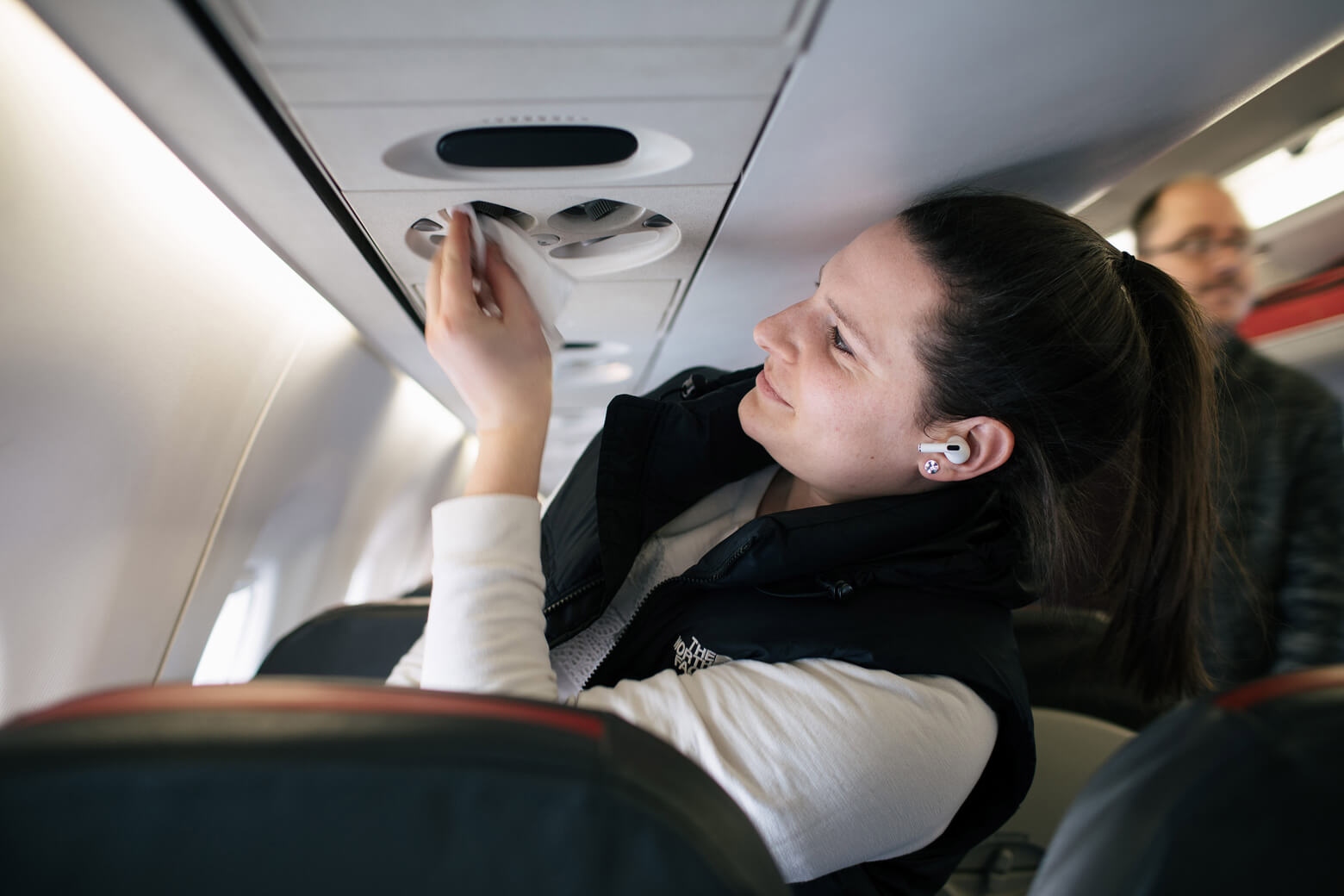 source: seattletimes.com
How to take care of yourselves while traveling during COVID-19?
As said, the viruses of the corona are transmitted through the cough and sneeze of an infected patient or by touching the contaminated objects. And while traveling, you don't know whether the person who is going to sit next to you will be suffering from a virus or not.
So to stay precautious, here are some routines that you should follow while you travel on a plane. Always. Keep. Sanitizers. With. You!
Sanitize the entire seat (including handles and remote control for entertainment too).

Use seat covers.

Carry mask and sanitizer (the one with alcohol content)
Be it your 2-hours flight or 2 days, this is a must. Keep washing your hands with soap and sanitizing too!
How to protect yourself against coronavirus in a hotel?
While on a plane you can sanitize your seat but what about a hotel room? Who knows if there are coronaviruses on the floor? Normally this won't happen as the rooms in hotels are cleaned every day but if you still feel insecure.
You can ask the hotel staff to deep clean your room with a bed sheet change. And follow the basic instruction on self-care during the outbreak. Hand washing, sanitizing, covering your face with a mask while in crowded places. Or best stay away from crowded areas.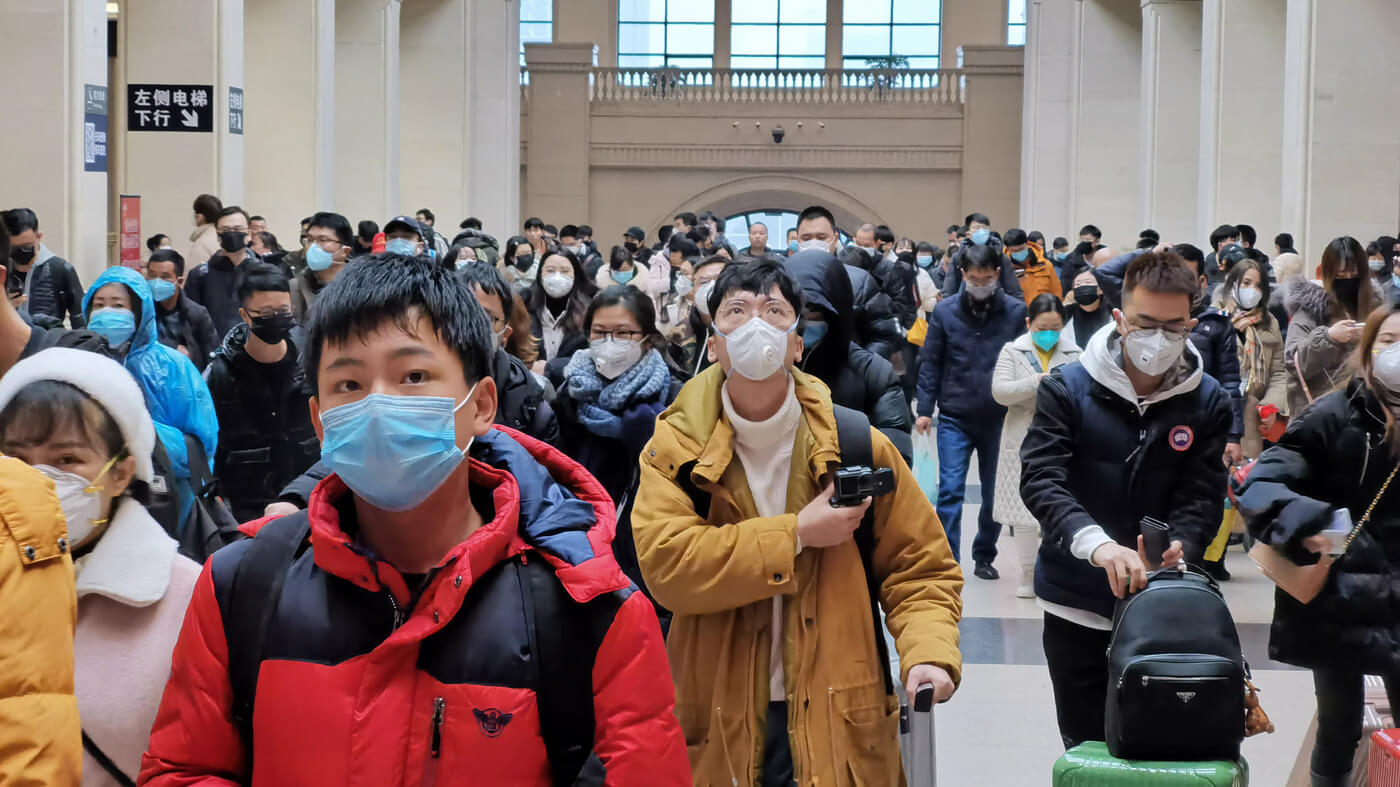 source: npr.org
What to do if you're traveling and feel sick?
No doubt, when you travel to foreign cities, there are chances of you getting ill. If it weren't the period of the outbreak, we would only suggest you taking medicines and having rest. But since this is not the case, you should first analyze the situation as in whether there are symptoms of nCOV or not.
Following are the symptoms of Coronavirus:
Fever,

Dry cough,

Mild breathing difficulties,

Stomach issues,

Diarrhea and general body aches.
So if you find any of the signs or all of them together, contact the health care provider and visit for a check-up as soon as possible. Till you get checked up, avoid going to crowded places, this way it won't transmit to anyone else.
Don't directly visit the clinic, make an appointment with the health care center so that they can take necessary steps to avoid the transmission of viruses to others.
Also Read: Camping Packing List: 19 Essentials To Take On Camping
How is Coronavirus affecting Travel & Tourism Industry?
The coronavirus is having a huge impact on the travel and tourism industry. Many people are canceling their flights and hotel bookings due to this outbreak. And why not? Health should be the utmost priority.
According to Statista, "As of early February, outbound travel bookings from China to worldwide regions for March and April fell by almost 56 percent from the same period last year. The bookings to the Americas, with a market share of six percent, dropped by 63.2 percent."
Hotel and airlines are providing refundable bookings, and prices have also fallen down. There has been a drastic change due to the COVID-19 on the travel & tourism industry resulting in degrowth of the economy too.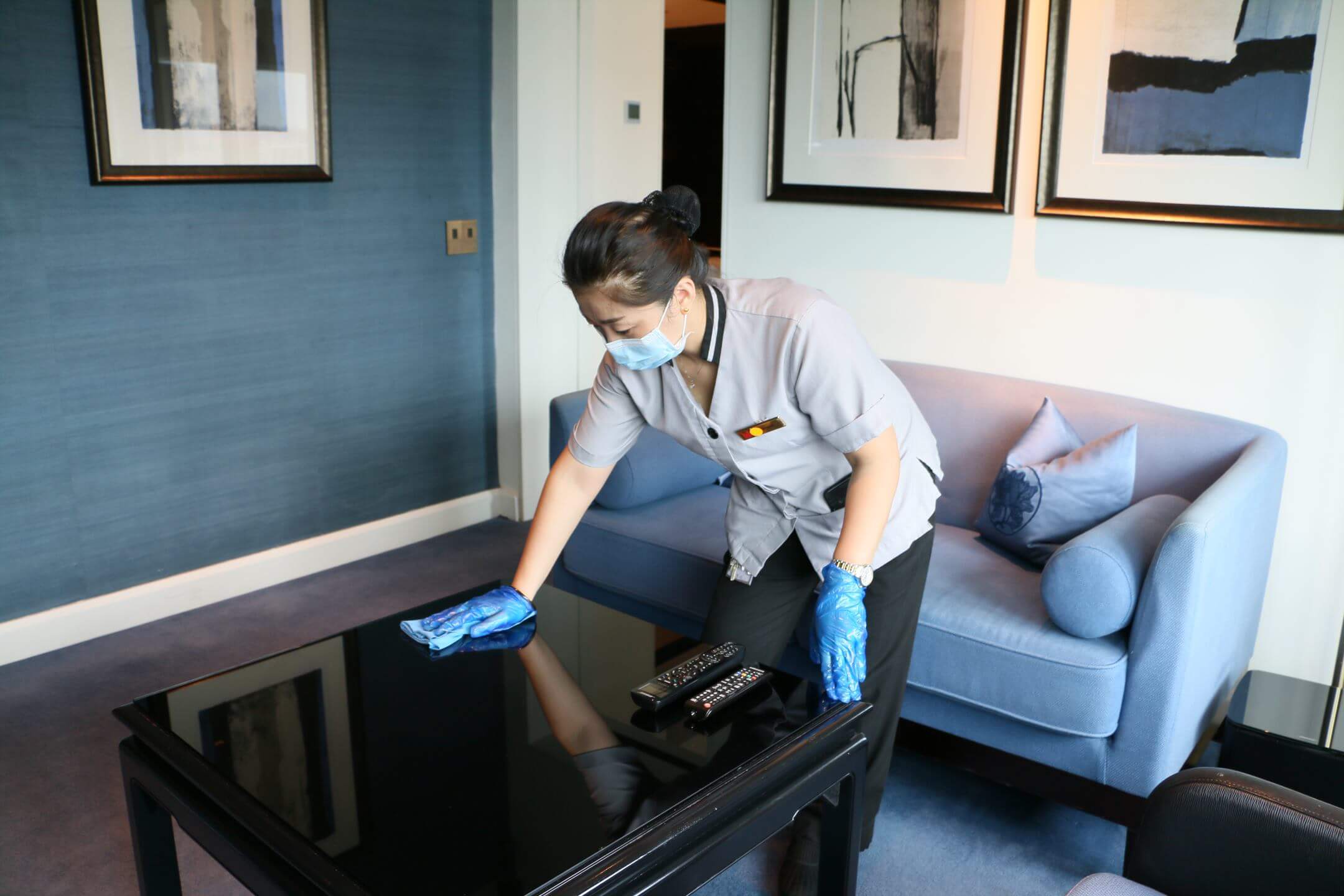 source: millenniumhotels.com
Which are the countries that are COVID-19 affected?
Here is the list of countries that are affected by the novel coronavirus. So if you need to travel, you should have an idea about the situation there. There are 70+ countries that are affected by the nCOV of which China (the mainland), South Korea, Italy, Iran, and Japan have the highest recorded cases. And China has the highest number of deaths.
Slowly, slowly, the number of cases and countries is increasing hour by hour. Yes! Not day by day. It is spreading on a large scale. Recently, Singapore, the United States of America, India, and other countries have experienced the positive cases of the coronavirus.
How is it affecting events around the world?
The COVID-19 is affecting the events all around the world, be it the entertainment industry, travel industry, sports industry, food industry, etc. In short, any business group. Many events have been postponed and canceled due to the outbreak. Of which some are:
– The World Athletics Indoor Championships (Postponed till 2021).
– 2020 Summer Olympics can also get canceled (Yet not decided).
– Stock Market has suffered the worst week after the crisis in the year 2008.
– Mobile World Congress (MWC) canceled its large convention in Barcelona due to the nCOV outbreak.
– When others are canceling and postponing the events, PGA Tour thought of relocating. They are avoiding the affected areas and relocating the matches in other countries (safer ones!).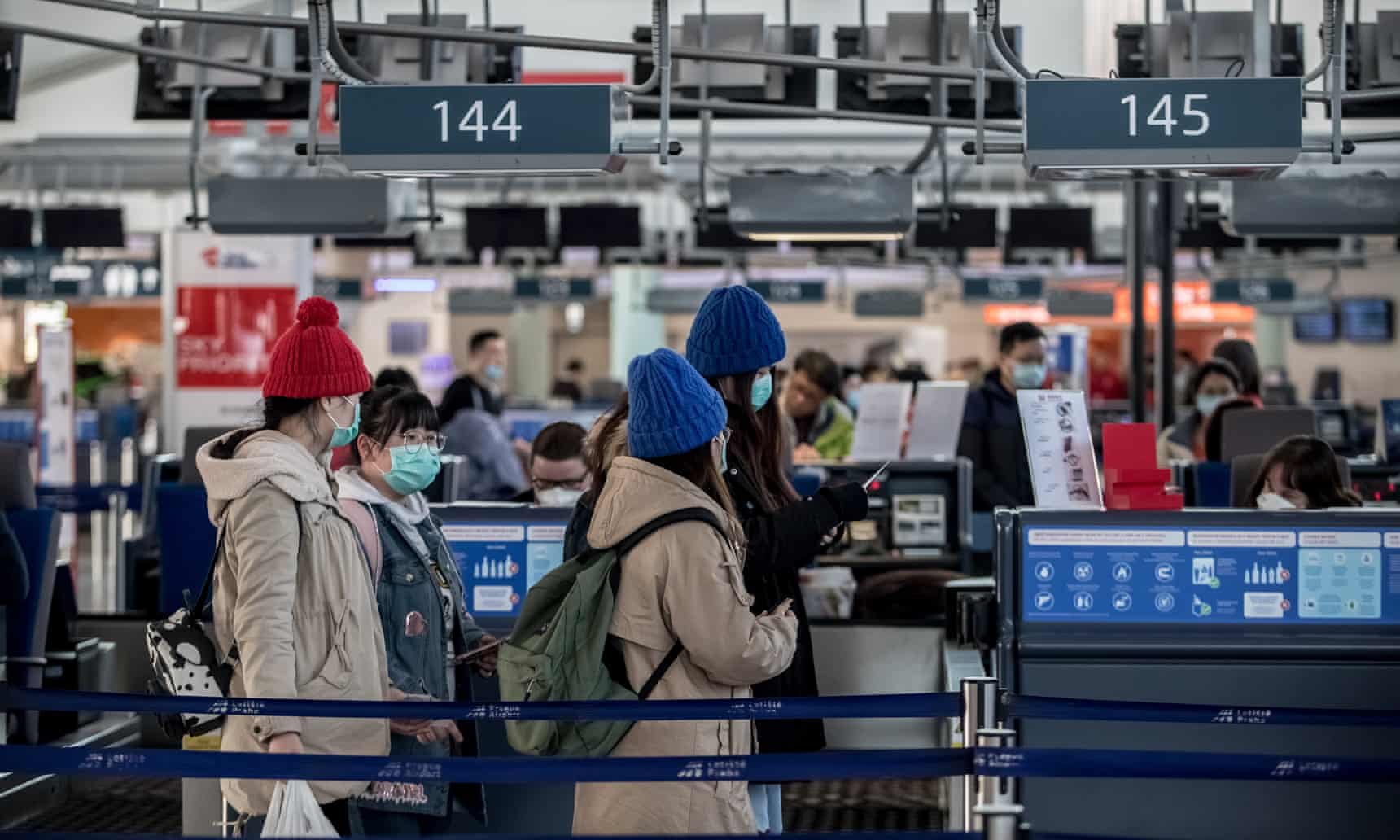 source: theguardian.com
Countries' Risk Assessment Level for COVID-19
Here is the list regarding the risk assessment level for coronavirus outbreak for the countries by CDC. Specially for travelers and travel-related industries.
| | |
| --- | --- |
| Risk Assessment Level | Country |
| Level 3 | China, Iran, South Korea, Italy |
| Level 2 | Japan |
| Level 1 | Hong Kong |
*Level 3 indicates avoiding nonessential travel. *Level 2 indicates traveling with enhanced precautions. *Level 1 indicates taking usual precautionary measures.
Of this list, it is recommended to avoid traveling to China and Iran. And people of an older age should avoid traveling to South Korea and Italy too.
Here we put a final full-stop on the information regarding the travel during the coronavirus outbreak. In the below section, we have answered a few FAQs that people around the globe are asking. Take heed!
Frequently Asked Question (FAQs)
Will travel insurance cover me if I cancel my trip?
That really depends on the service provider. Many airlines are canceling, redirecting, and reducing the services to China and many of them are offering full refunds too. There are other ways too for waving the itinerary like credit card travel protection and travel insurance. It's always beneficial to ask about the policies before booking. Many airlines have changed their refund policies because of the outbreak.
What to do if I went to a coronavirus affected area and got sick?
If your travel history shows a trip to a coronavirus affected area within the past few months (i.e., from December to till now) and you are feeling sick, then there are chances of you having a symptom of nCOV. Get a checkup done at the health care center for confirmation.
Is it safe to go via cruise?
Cruises have a large number of people traveling on it. So there are high chances of transmission of viruses through cough, sneeze, or by touch. So it is not exactly safe, but you can take precautionary measures to avoid the passage of viruses of the corona.
Is it safe to go via plane?
The plane is a relatively safe option to travel as it doesn't have many people on it. It can carry a limited number of people and you have a separate seat and you don't need to gather up. Some time to sanitize the seat and you are good to go! The novel coronavirus is not an airborne disease.
Is it safe to travel to China?
NO, at least till the coronavirus outbreak. You should avoid traveling to china unless it is damn necessary. The Level 3 warning has been given to the country (for traveling purposes).
Is it safe to travel to Europe?
There is an outbreak of corona in Italy on a large scale and around 100+ people have died due to it. This is a highly contagious disease, so we would recommend you not to travel and if you need to, then keep the precautionary measures in mind.
Is it safe to travel to Asia?
Yes, you can but avoid the infected countries. Recently South Korea and Japan have recorded cases of coronavirus of 5000 and 1000, respectively.
This was all about traveling during the COVID 19 outbreak. Keep Traveling Safely! For more updates on traveling or its industry, visit Travelila.