Kauai is one of the most stunning islands in Hawaii. With lush mountains, plunging waterfalls, dramatic sea cliffs, and golden beaches. It is the fourth largest island, and it is also one of the oldest islands of the Hawaiian Islands remote chain. From hiking to the most challenging paths to the fun water scuba activities, there are a lot of things that you can do in Kauai.
On this island, you'll find some of remarkable sharp mountain spires and jagged cliffs and tropical rainforests. Everything in here is a great example of real natural beauty. When you explore the various regions of Kauai, you'll discover the undeniable allure and the hidden secrets of the island.
So, if you've also booked your tickets and are now wondering what things to do in Kauai, read this blog. Today in this post, we are going to tell you about the 5 topmost things to do in Kauai. This itinerary guide will surely help you create an adventurous bucket list. Your whole trip will be full with joy, excitement, and fun!!
Visiting this part of the world will let you know the amazing things that mother nature has created. From incredible coastal tails to the sighting of whales, dolphins, and turtles, you will never forget your Kauai journey.
What to Do in Kauai?
From extraordinary beaches to the mountains, below are 5 must-see locations in Kauai. Originally, the Kauai island is divided into four regions – the north shore, the east coast (which is also known as the coconut coast), the west coast, and last is south shore. Here we try to combine the locations of every region.
1. Take A Dip In The Queen's Bath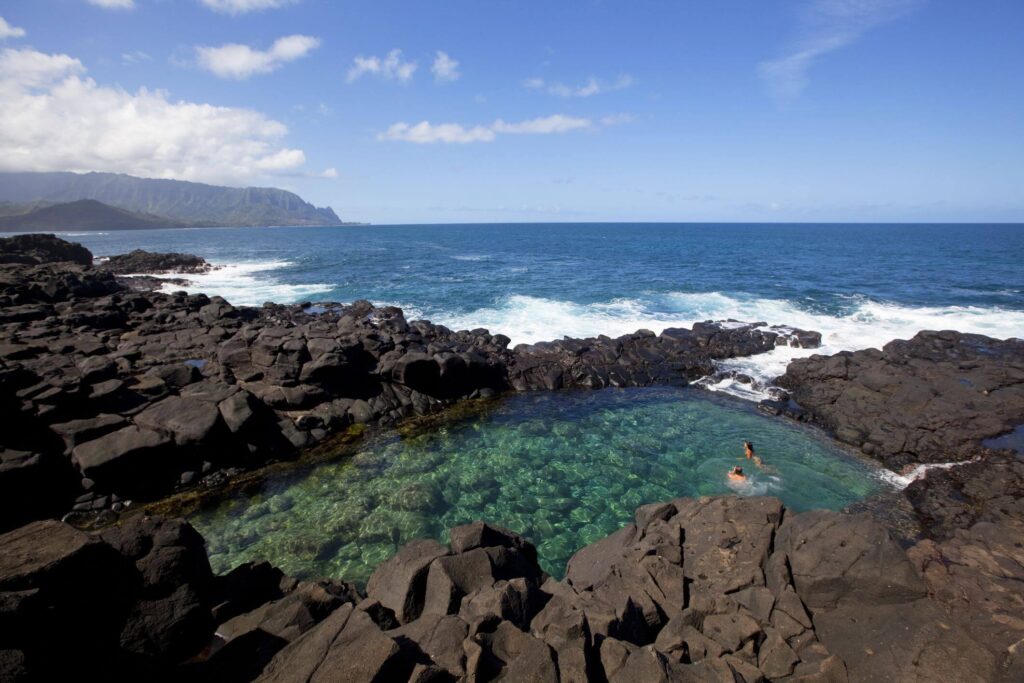 source: countryliving.com
Another exciting thing to do on the north shore of Kauai island is taking a bath in Queen's Bath. It is actually a sinkhole that is surrounded by igneous rocks. The summer months, from May to October, are best to visit. Since the tidal pool water is relatively calm in these months.
But in winter (from November to April), Pacific Ocean waves can crash into the pool, making it extremely dangerous. There are also many warning signs near the Queen's bath, so use your best judgment whether to swim or not.
Traveler tip: Always check the surf report on the day of your visit and try going during low tides.
2. Hiking the Kalalau Trail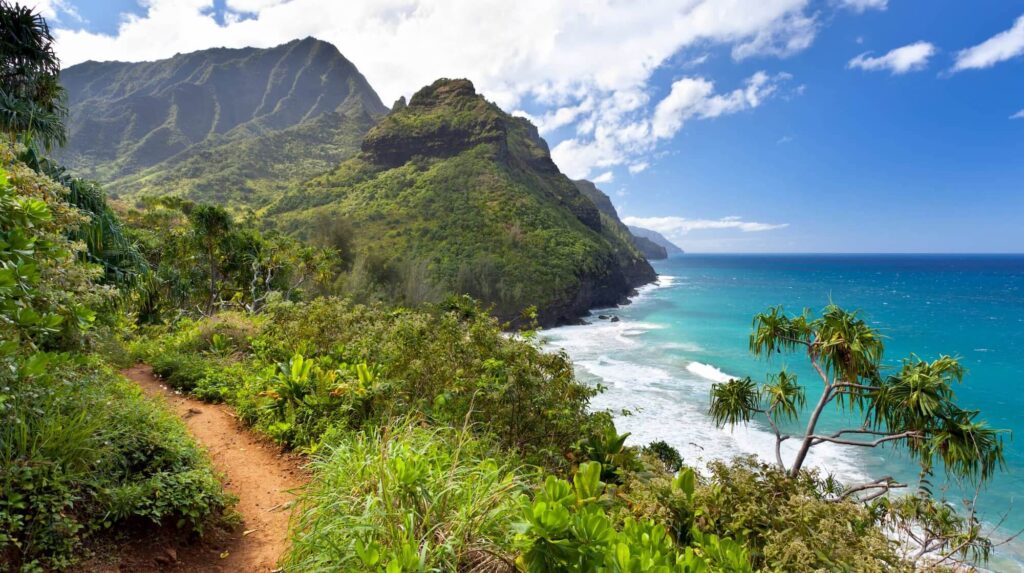 source: thedyrt.com
Love hiking? So pack your backpack and get ready to hike a challenging 11 miles from Kee to Kalalau Beach, which is one of the best beaches in Kauai. Yes, we're talking about the Kalalau Trail, which is hailed as the "most incredible hike in America." If you wanna enjoy the stunning coastal Dayviews of the popular Na Pali coast, you can also cross a series of lush valleys. Later they'll further take you to Hanakapiai Beach and its towering waterfall.
But those who like to hike at night, they can enjoy mother nature with the incredible jagged peaks of the Na Pali coast. The eroding forces of water & wind and breathtaking views of the beach will make you feel that you're extremely close to nature.
Traveler Tip: Always bring two water bottles with you. Because you may feel thirsty while hiking.
3. See Rainbows at Wailua Falls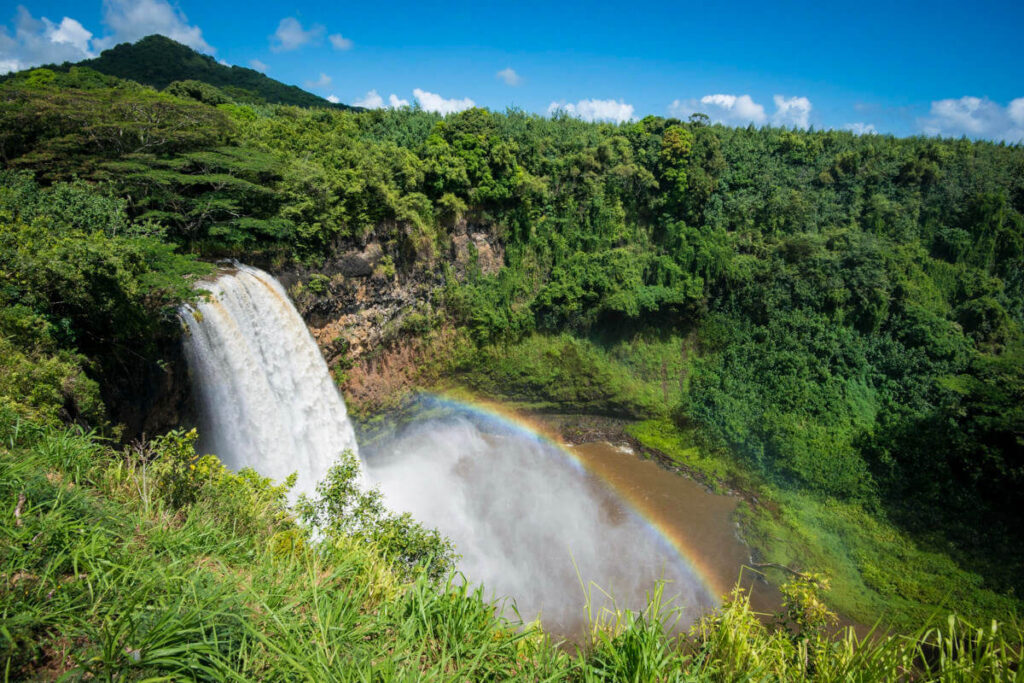 source: kauaicalls.com
Do you know most of the waterfalls in Kauai are inaccessible? Yes, because there are no roads leading to them and also they're on private lands, but still there are some falls, where you can go and feel the thrill.
One of them is the Wailua waterfall. This is easily accessible for people, just drive up and park your vehicle, then enjoy the magnificent views. There is also a possibility that you will see a big rainbow there.
Exploring Kauai's epic waterfalls is another fun thing that you can do. You can also take the Kauai helicopter tour. Waterfalls like Opaekaa Falls and Wailua Falls are easy to get to, but some of them are hidden in the deep crevices of the aging mountains. So, by air tour, you can see all of them.
Traveler Tip: Wear proper footwear as you won't be able to walk properly in uncomfortable shoes.
Also Read: Have An Unforgettable Trip By These Amazing Things To Do In Oahu, Hawaii
4. Princeville Botanical Gardens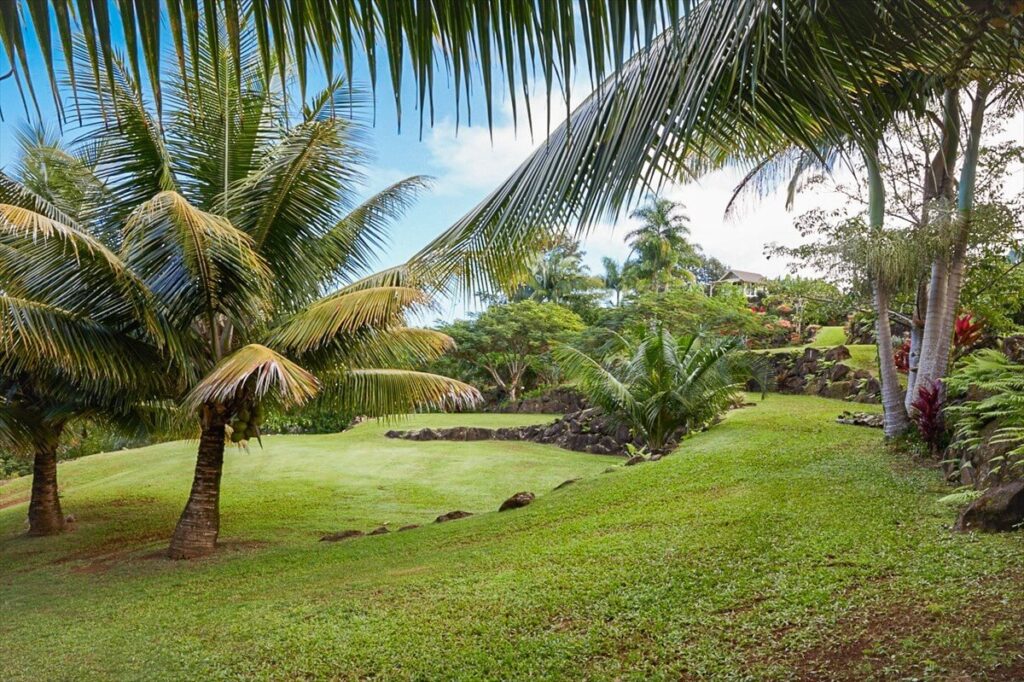 source: balihai.com
There is no wonder why Kauai is known as The Garden Isle. The whole island is filled with magical forests and parks. If you love to explore the forest, then you should visit the gardens of the Kauai. Princeville Botanical Garden is one of the most amazing parks present on the island. You can also enjoy the sampling of the various chocolates, fruits, and honey while roaming.
Only this portion of the Kauai rainforest is open for the public, and it is only available for guided tours. While exploring this forest, learn about the chocolate-making process.
Traveler Tip: Try wearing full-sleeved pants and bringing bug spray as there is a possibility of bug bites
5. Watch The Sunset At Hanalei Bay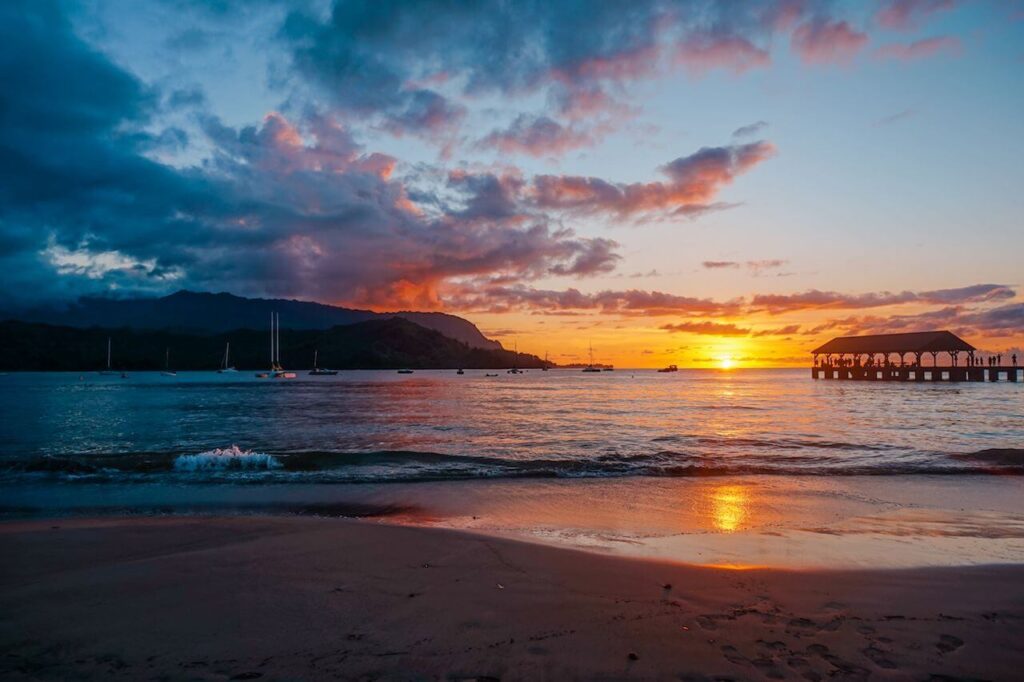 source: pinterest.com
Hanalei Bay is the largest and the most impressive bay in Kauai. If you are visiting Kauai with your kids, we highly recommend you to visit this place. People from all age groups love to visit this location. Hanalei Bay is located on the north shore of Kauai, and it is shaped like a crescent. It runs from the busier Black Pot Beach and Hanalei Beach Park in the east to the more sequestered western beaches.
Just pack your picnic bag and head over to the beach to watch the beautiful sea waters, sailboats, and the gorgeous sunset view. You can also enjoy many water activities such as a kayak or paddleboard boarding, and snorkeling.
Traveler Tip: You could also bring some food and later eat it here while enjoying the sunset.
To Wrap it all up…
So, those are the top things to do in Kauai!! We hope your trip to this island will be adventurous and exciting. There are also a variety of outdoor activities that you can enjoy, such as biking, golf, horse riding, and water activities such as snorkeling and scuba, paddle boating, and more. Kauai has not only unusual places, but it also has wonderful food and accommodations. So enjoy the local cuisines in the fine restaurants.
Don't miss any of the above things while you're at Kauai. To know more about such things and for also helpful itinerary guides, you can browse Travelila.