Give Your Backbone Much Needed Relaxation Through These Best Travel Backpacks!
Are you the one who loves to explore new places? If your answer is yes, you also know the preparations you have to do before going on any trip, right? The excitement of traveling to a new place or just visiting your grandparents in the countryside is always high! But with that, we all have worries like how to go? How to pack everything? What things to carry with us? Which type of bag should you take? Sometimes in the dilemma of what to pack or not, we always end up packing too much stuff and later on regret it. Does the same thing happen to you? Don't worry because today we come with an idea where you can easily select the best travel backpacks. So keep on reading and don't miss anything!
Why Use a Backpack Over a Suitcase?
Before you say anything, I know suitcases are good. They're reliable and rugged, but there's something so freeing about traveling with only one bag. Don't you agree? There is almost no place where you can't carry a backpack with you. Whether you're traveling from a plane, train or car, this comes in very handily. So, travel with a backpack rather than a heavy suitcase and feel the freedom yourself.
Benefits of a Backpack
Easy to stow and store

They put less strain on your body than most of the other type of luggage

Easy to move

They'll protect your stuff from water as many are water-resistant.

They'll keep you organized.
3 Things you Should Keep in Mind While Buying any Backpack
Material & Durability
Always check the material of the bag before buying any backpack. Select the one which is made from a durable and robust material. Nowadays, Rip-stop or ballistic nylon are popular choices as they are not only sturdy but also offer extra protection against wear and tear.
Comfortability
Another vital factor that you need to keep in mind is comfortability. As some of you might do climbing or trekking so the shoulder straps should be soft against your body, and also you should not feel any ache and stress while carrying the bag.
"So, always select the one which has extra support straps and shoulder straps with padding to give you that extra comfort."
Size
Lastly, purchase the one according to your body size. Because some people just buy the oversized one to fit all their stuff, but in the end, they're not able to carry it as it is too big for them! So make sure this will not happen with you.
Top 10 Best Travel Backpack
After you analyze everything, it's time to shop. Below is the list of 10 best travel backpacks for men & women. Select the best one for you and your family and friends.
1. POKARLA Hiking Backpack
source: jessieonajourney.com
This backpack is a travel Daypack, from the Prokarla brand. It has the most amazing things, such as tension straps, chest straps, and also a whistle built into the belt. How amazing is that? It is also made from high-quality tear and wear-resisting & rain-proof honeycomb nylon material. It has heavy-duty metal zippers and weighs just about 0.9 pounds.
"Another interesting feature about this bag is that you can transform it into a packable hiking backpack."
Features:
Light-weighted

Waterproof

40 L Storage Space

Comes with chest strap and adjustable buckle

Double mesh shoulder straps

Reflective strips for night outdoor adventures
Dimensions: Unfolded bag: 21(H)x13 (W)x 8(D) inches & folded: 9×7 inches.
Weight: 0.9 pounds
Capacity: 40 L
2. Venture Pal Waterproof Travel Hiking Backpack
source: ebay.com
This backpack has a massive capacity of 40 L, and it is also made of durable nylon material. It is also one of the best sellers on Amazon in the sports & outdoor category. The most fantastic thing about this bag is that it has a wet pocket, where you can store your valuable items & they'll stay protected from the rain.
Features:
Compact & Comfortable

Has Multiple Compartments

Made from durable material

Comes in various colors and prints
Dimension: Fold Size: 6.6 x 1.9 x 8.2 Inch & Unfold Size: 12.5 x 6.3 x 19.3 Inch
Weight: 1.05 pounds
Capacity: 40 L
3. Hynes Eagle Travel Backpack
source: pinterest.ca
Hynes Eagle backpack is flight approved means you can take it with you in IATA flight, and it easily fits it into the overhead compartment and as well as fits under the seat. It can be easily transformed from a duffle bag to a backpack. It comes with multiple interior slip pockets and a large pocket where you can easily fit the laptop of 15.6 inches.
Features:
Has easy to store shoulder straps

Comes in multiple sizes and colors

Water Repellent

Comes with a water bottle holder
Dimension: Fold Size: 20.1 x 13.4 x 9.8 Inch
Capacity: 40 Liters
4. Osprey Packs Atmos AG 65 Men's Backpacking Backpack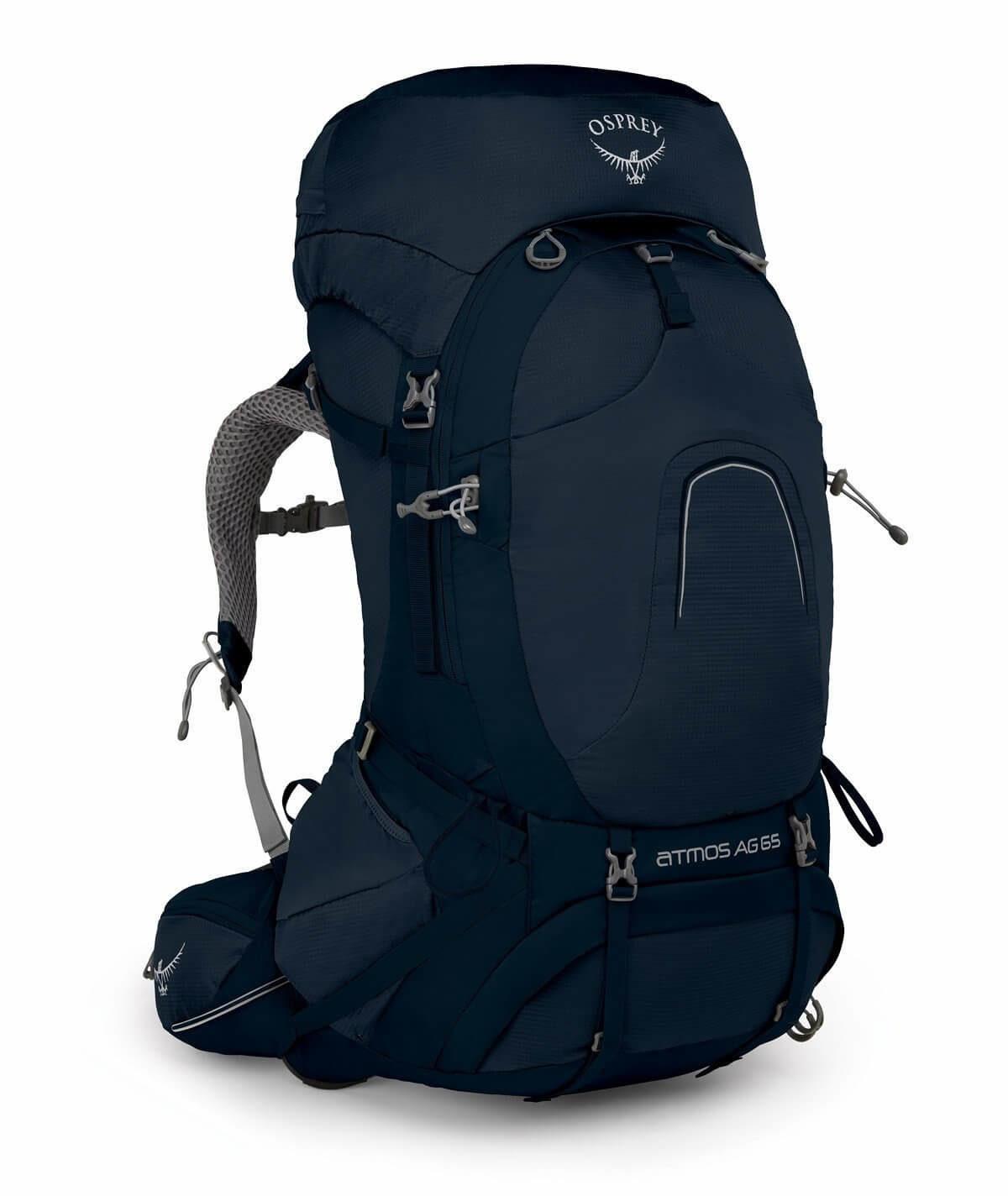 source: questoutdoors.com
Love trekking and climbing mountains? If yes, then this is the perfect bag for you. This is an extremely comfortable and flexible bag with great storage. It also has a netted back so that it never touches your back, which means no matter how much you sweat, this bag stays on your back. Just buy this in your desired size and color.
Features:
Available in multiple sizes and colors

Anti-Gravity suspension

Removable sleeping pad straps

Adjustable harness and Fit-on-the-Fly hipbelt

The removable floating top lid and web attachment points

Two zippered front pockets for additional storage
Capacity: 65 L
5. Camel Crown Packable Backpack
source: amazon.com
This bag is foldable, you can easily fold it into a sandwich size handbag. It comes with spacious pockets where you can store your keys, wallet, laptop or tablet, clothes, and a couple of beers!! It is sturdy and comfortable, which means it is perfect for day trips to long weeks trips. The shoulder straps have a cushion padding, which gives you less shoulder pain.
Features:
Packable & Compact

Two-way abrasion-resistant metal zipper

Comes with Shoulder Padding and adjustable side straps

Made from 100% nylon fabric and has NeloOxford waterproofing coating

Breathable honeycomb mesh

Multiple colors options are available
Dimensions: Folded size:6.7×1.8×7.1 inches; Unpack size: 11.8×7×20 inches
Weight: 0.66lb
Capacity: 35 L
6. Adidas Foundation Backpack
source: fado.vn
This beautiful bag is from brand Adidas, which is known to make extremely good quality products. It is made from 100% polyester material, so it is sturdy and strong. You can carry this bag from your classes to the week-long trips. It comes with 9 zipper pockets and a laptop pouch inside, where your laptop or tablet remains safe on your entire journey.
Features:
Padded shoulder straps and back panel

Easy to wash

Zippered Pockets

Two water bottle pockets
Dimensions: 0.7″ high x 14″ wide
7. OutdoorMaster Hiking Backpack
source: amazon.in
Love to travel with all your stuff and want a bag that can fit all these? Here is the perfect bag for you. It has plenty of pockets and space to keep things and also zipper pockets & external attachments. It has S- curved adjustable shoulder straps so you can easily adjust it and make it suitable for you.
Features:
Lightweight & Comfortable

Comes with waterproof rain cover

Has elastic side pockets, hip-belt pockets, and front pockets

Foam padded hip belt

S-Curved Shoulder Straps
Dimensions: 23 x 15 x 8.6 inches
Weight: 2.4 pounds
Capacity: 50L
8. KAKA Crossbody Backpack
source: galleon.ph
This bag can be your school bag or shopping bag or travel bag or biking bag. Yes, it is multifunctional. So you can use it in many different ways. It is an advanced bag that comes with a unique USB charging port. So now charge your phone during your traveling without any complications. It is 18 x 11.5 x 4.5 inches in size, which is very compact, yet you can fit a lot of things in it. Use it as a sling bag while you're going to the beach or exploring the near market.
Features:
Has a hidden pocket

Multifunctional

Comes with a USB charging port

Water-resistant
Dimensions: 18 x 11.5 x 4.5inch
9. Venture Pal Lightweight Packable Backpack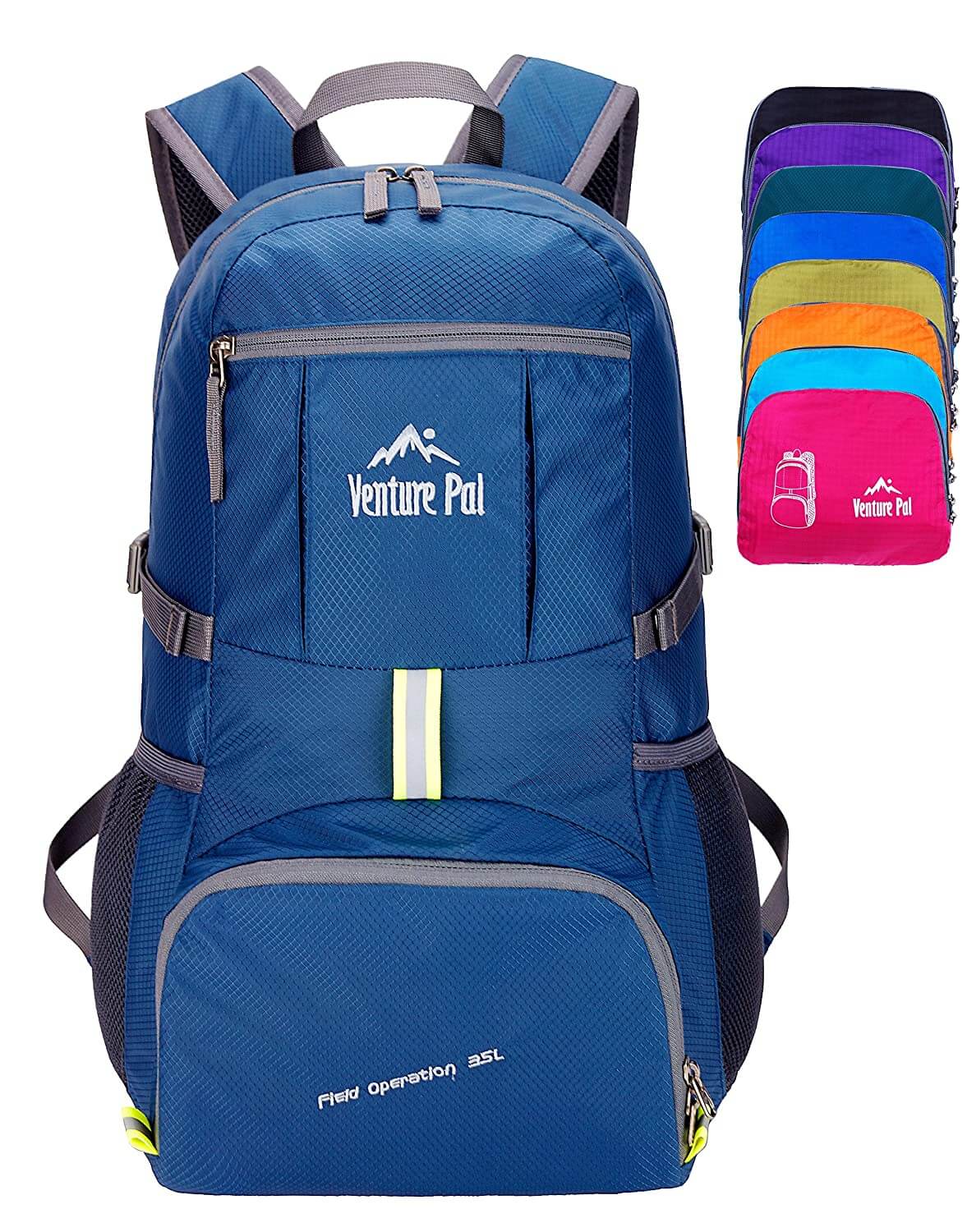 source: amazon.in
This Venture Pal hiking daypack has several pockets for handy storage. In the main compartment, it has two front zipper pockets for smaller items and also has two open mesh pockets on each side, where you can place books, mobile, or water bottles. It is a foldable bag, which means you can quickly fold and unfold it as per your need.
Features:
Has a double layer bottom part for extra strength

Water and Tear-resistant

Lifetime warranty

Chest strap with whistle buckle
Dimensions: Fold: 9×8.5×2.2 inches Unfold: 20x13x7.5 inches
Weight: 0.7 lb
Capacity: 35 L
10. Ibagbar Canvas Backpack
source: tripstodiscover.com
Ibagbar Canvas Bag is really a super bag!! How? Because it can be used as a duffle bag, backpack, travel bag, handbag, and suitcase. Quite amazing, right? Now you don't need to buy many bags, just buy this one only. It is made from high-quality cotton canvas and PU leather.
Features:
Fashionable & Multipurpose bag

Comfortable to carry

Thicken breathable strap design

Made with good quality material

Comes with a 1-year warranty

Two durable straps are in a hidden compartment to make this bag a backpack/rucksack/satchel.

Backpack for outdoor, working, traveling, hiking, camping, school, and everyday use.
Dimensions: 12″L x 18″H x 7″ W
Capacity: 30 L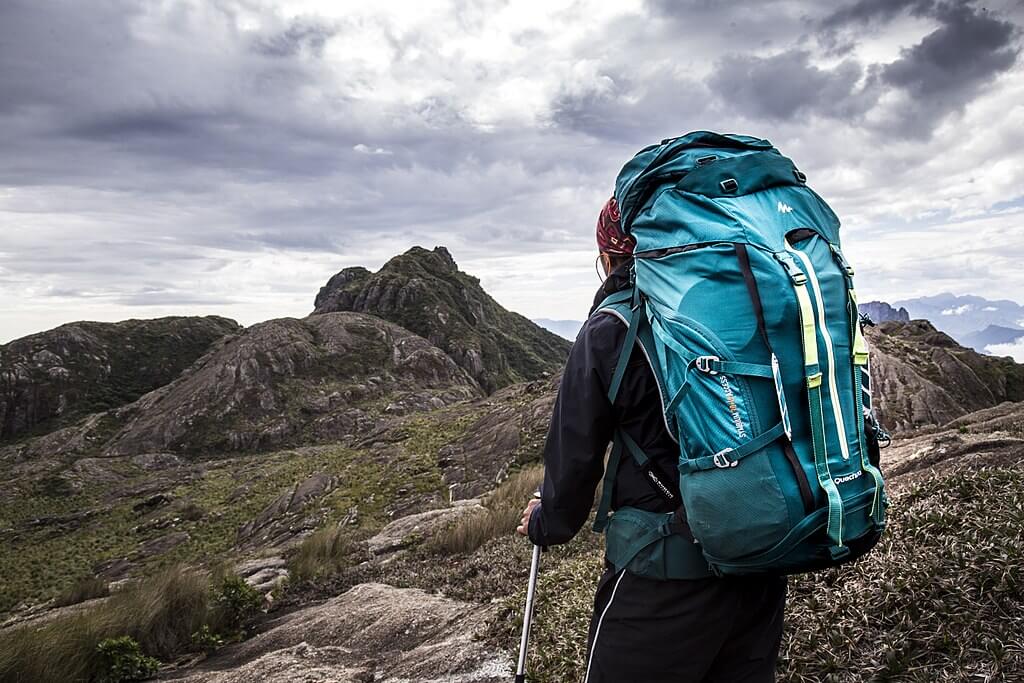 source: nzpocketguide.com
So which bag is your favorite? Surely you're confused with that many options. Just pick the one which fulfills your requirements. For example, if you're planning to go on a long trip, then always select a bag with large storage capacity, and if you want a small bag, then you can choose a sling bag from the list.
All these bags are made from excellent quality materials and are durable & strong. In addition, they are budget-friendly too, so you don't need to take any tension. Just place your order and enjoy traveling with these wonderful bags.
For more travel tips and information, visit Travelila.