Chardham yatra by Helicopter: It consists of four places which are Yamunotri, Gangotri, Kedarnath, and Badrinath. These places are highly admired by the pilgrims. Thousands of people visit these four sites because they believe that by visiting the four most revered places of Uttarakhand they get blessings of the Lord and get Moksha in return. It is also said that by visiting these places one can wash away all their sins because it opens the gates of salvation. The yatra takes around 09 to 10 days for completion, But if you are short of time and wants comfort then you can also look for Chardham yatra by Helicopter which almost ends in 05 Days
Book your Chardham Yatra by Helicopter Package for the year 2020 and experience the best pilgrimage sites of India. LIH, Leisure India holidays, the best tour operator of India provides customized tour itinerary for all the pilgrims for a memorable sacred trip.
Best Time to go for Chardham Yatra by Helicopter:
As we all know, the temperature is not definite and you can expect drastic changes in the weather. The preferred time to visit the four divine dhams is in summer between the months of April to May. The weather is very pleasant with a little cold you can manage with some light woolens. The temperature remains in the domain of 13-15 degrees centigrade which makes this time the best time to visit Chardham.
If you want to explore the beautiful snowy mountains and the cold ambiance of Himalayan valleys then winter season is the best time for that which is between October to the end of November.
Opening and Closing Time for Chardham Yatra:-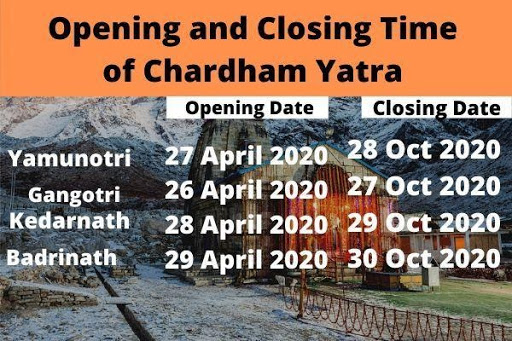 Offline and Online Registrations for Chardham Yatra By Helicopter
The state government of Uttarakhand has made biometric registration compulsory for all the visitors. You can also do offline and online registrations for the journey by Helicopter.
You can do offline registration for the pilgrimage by going to any of these 14 centers mentioned below:-
| | |
| --- | --- |
| Places | Registration Counter location |
| Haridwar | Railway station |
| Haridwar | Pandit Dindayal Upadhyay parking |
| Rishikesh | Roadways bus stand |
| Rishikesh | Hemkund Gurudwara |
| Jankichatti | Janki Chatti |
| Phata | Phata |
| Gangotri | Gangotri |
| Guptkashi | Guptkashi |
| Sonprayag | Sonprayag |
| Kedarnath | Kedarnath |
| Govindghat | Govindghat |
| Uttarkashi | Hina |
| Uttarkashi | Dobata |
| Pandukeshwar | Pandukeshwar |
You can also do online registration easily by Visiting the site or by downloading an app of the Uttarakhand Tourism Development board. It is mandatory to do the biometric registrations to make your journey safe as it will update your location and other important things.
Advantages of Biometric Registrations-
A special card will be given to every tourist after their arrival

It helps in making the journey safe because it gives regular updates such as locations, destinations, and other important things.

Tourists will get the benefit of services like food and lodging.
Also Read: Are You Planning To Travel During The Coronavirus Outbreak?
Booking of Chardham Yatra By Helicopter:-
Visit the LIH Leisure India Holidays Tour and Travels website for booking your Chardham yatra by helicopter Package 2020 and other queries. Our agent will get in touch with you to make a customized itinerary for you according to your preference for date and timings online.
Before going for the journey, plan your itinerary prior. This includes hotel bookings, helicopter bookings. Ask your travel agents to book your Helicopter rides in advance to remain free from the last minute hassle in that place. Helicopter rides can be varied from 30 minutes to 3 hours as it depends on the current weather of the place. So keep yourself prepared for the things that can happen.
Package Cost and other Details for Chardham yatra tour package by helicopter:-
The package Cost of Chardham Yatra by Helicopter is around 1,75,000 INR for each person.
The age limit for doing the yatra is 10 years to 60 years. It is advised not to bring small children for the journey.

Carry soft bags or Duffle bags with you with essential things only. Do not carry trolly bags as there is limited space in the Chopper.

A cab will always be ready for you and can take up to 6 passengers.

Cancellation Policy:-
Up to 45 Days before journey — 30% of the amount

Between 45 to 30 days — 70% of the amount

Between 30 to 0 Days — No Refund
Day wise Itinerary of Chardham Yatra by Helicopter Tour Package:-
Day 1
: Dehradun to Yamunotri
Tour Route:- from Sahastradhara Helipad to Kharsali Helipad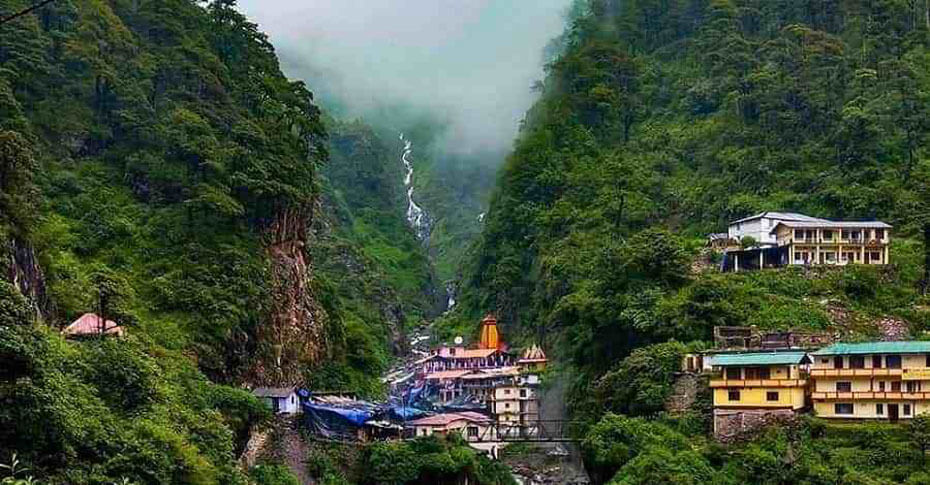 source: reginalynn.com
After your arrival at the airport, you'll be transferred to your preferred hotel in Dehradun. Take some rest for the day before starting your journey.
Ride to Sahastradhara helipad at Dehradun for your next destination Yamunotri early in the morning. Ride back to your next hotel in Yamunotri and enjoy your supper in the hotel room and relax in the hotel room to regain energy for your next day of Chardham yatra by Helicopter tour Package.
Day 2
: Yamunotri to Gangotri
Tour Route:- from Kharsali Helipad, Yamunotri to Harsil Helipad, Gangotri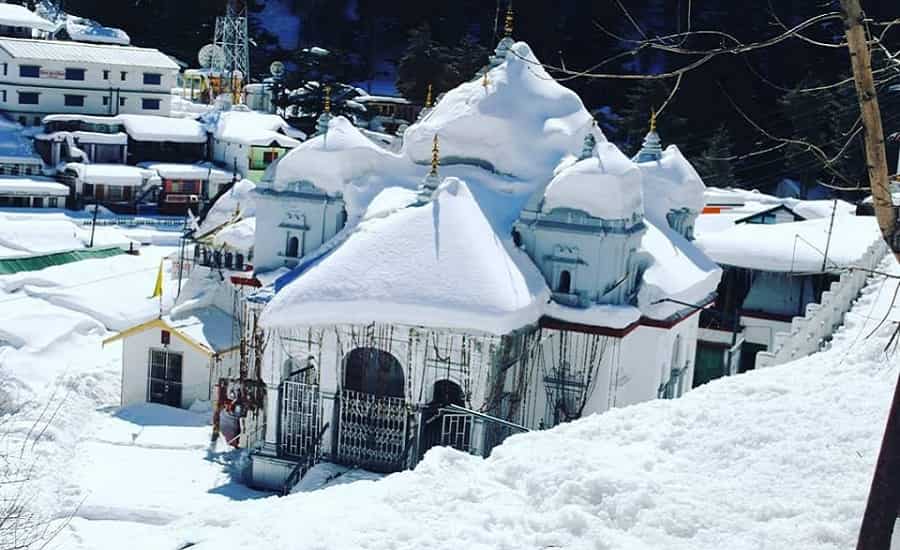 source: happytoursandtravels.com
The next day will be your special darshan at Gangotri Temple by helicopter ride from Kharsali helipad. Enjoy the scenic views of mountains and valleys while your darshan.
Day3
: Gangotri to Kedarnath
Tour Route:- from Harsil Helipad, Gangotri to Kedarnath Helipad (Base Camp)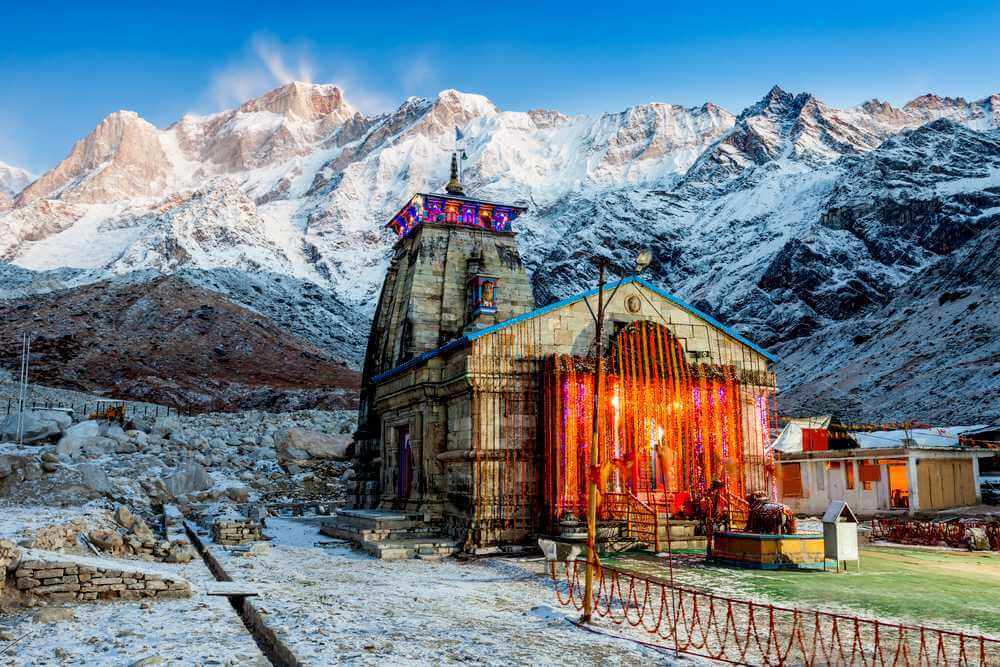 source: asianitinerary.com
The 3rd day will be your Kedarnath darshan after your landing on Guptkashi helipad and a 10 minutes ride from there. Enjoy the JAL ABHISHEK at Kedarnath temple and return to your hotel room at night.
Day 4
: Kedarnath to Badrinath
Tour Route:- from Kedarnath Helipad to Badrinath Helipad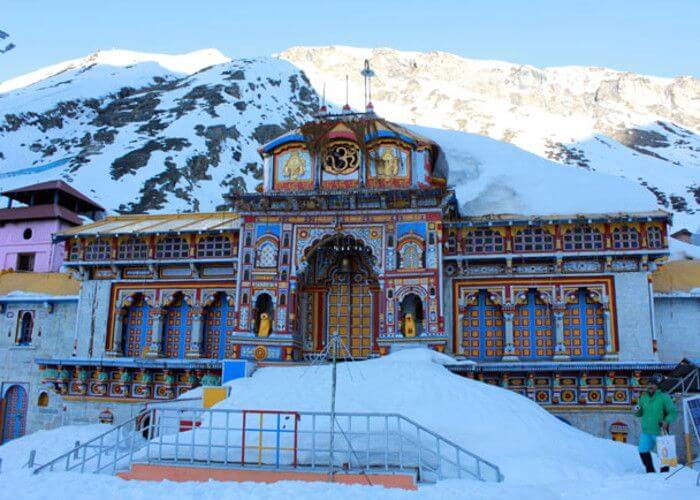 source: patrika.com
The next holy place will be Badrinath "The Land of Narayana" and some other places to explore like Mana village and the Vishnu Sahasranamam path.
Day 5
: Return to Dehradun
Tour Route:- from Badrinath Helipad to Dehradun Helipad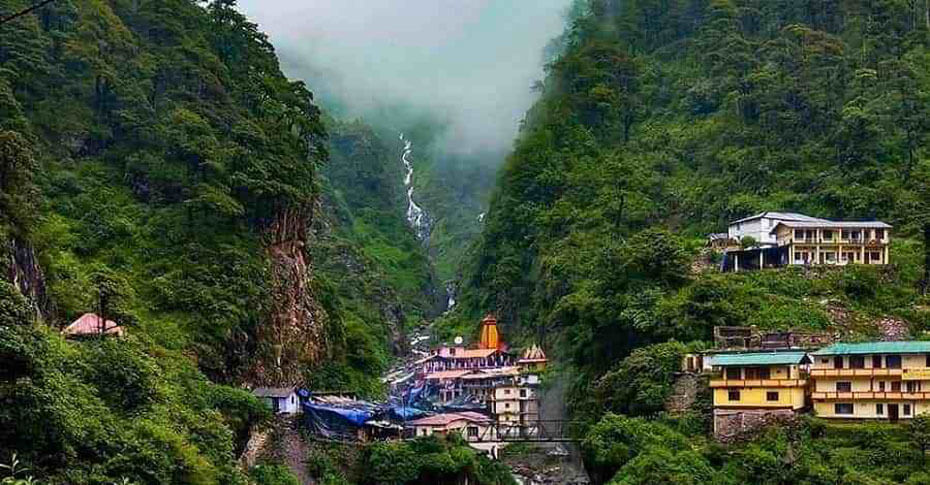 source: lemontreehotels.com
After your Breakfast, you will fly back from Badrinath to Sahastradhara helipad, Dehradun. After arriving at Dehradun, your itinerary will come to an end with amazing lifetime memories.
Things to Carry While going for Chardham Yatra by Helicopter 2020:-
Carry your essential documents like Voter Id and Aadhar Card for registrations at biometric counters.

Always carry some extra woolens and raincoats as the climate is not certain and always be ready for the worst to happen.

Some routine medicines, including some painkillers and some antibiotics plus some moisturizers and sunscreens, can be added to the list too.

Always carry some extra batteries for your cameras and power banks for your cell phones, as electricity is never regular in these places.

Carry some food items along with you which can provide instant energy like dry fruits, glucose tablets, and fruits. Chocolates are also good to go to.
Things to Take Care of while going for Chardham Yatra by Helicopter 2020:-
Always book your hotel rooms in advance for a safer side and book your itinerary by some experienced tour agents as they know very well about the place and can help you with your needs and requirements and also a light on your pocket.

Chardham yatra is not an easy task, it requires some planning and preparations too. It is advised to start some preparatory exercise for the journey, as the trek and the roads are going to be tiring, and time-consuming.

Always ask for directions from the shopkeepers and local people, as they know the place better than the rest.

It is advised to not travel in the monsoon season and in the winters.

Always check weather reports of the place before going to make sure that your journey is safe.