Dubai is a city endowed with several superlatives and world records. The city does not do anything half-heartedly. Right from the tallest structure in the world (the Burj Khalifa) to the largest manmade island in the world (the Palm Jumeriah), there is no dearth of awe-inspiring and record-breaking attractions in Dubai. So, it was no surprise when Dubai announces the construction of Ain Dubai, the tallest Ferris Wheel in the world.
Set to open at the end of 2021, the Ain Dubai promises to become a popular tourist attraction of Dubai. Here is everything you need to know about this giant Ferris Wheel, right from Ain Dubai tickets to the experiences you can enjoy here.
Important Facts About Ain Dubai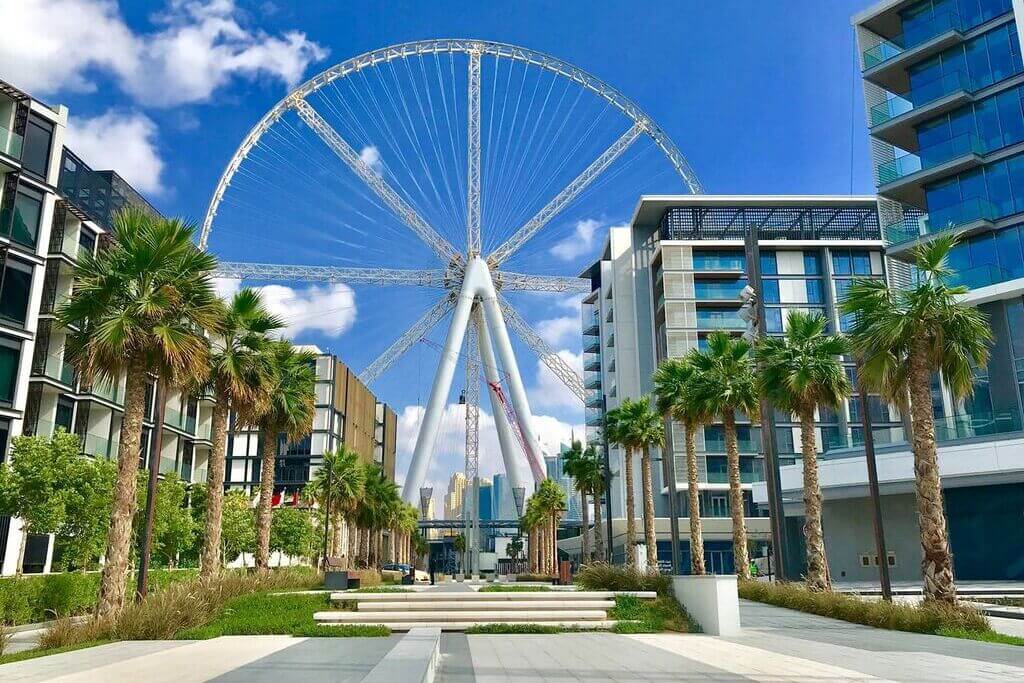 Source: amazonaws.com
Ain Dubai is located on Bluewaters Island, an artificial island measuring 500 meters, which is located off the coastline of the Jumeirah Beach Residence.

Ain Dubai was previously named Dubai Eye or Dubai-I

Standing at 250 meters high, it would be the tallest Ferris wheel in the world, a title currently held by High Roller (167.6 meters), the observation deck located in Las Vegas

The construction of Ain Dubai began in May 2015

The design and construction of this Ferris Wheel was done by Hyundai Contracting and Starneth Engineering

It took more than 9000 tonnes of steel for the construction of Ain Dubai, which is 25% more than what was needed for the Eiffel Tower

Ain Dubai has 48 air-conditioned capsules or pods and altogether can hold around 1900 people at a time

It would take the wheel around 45 minutes to complete a cycle

Every spoke of the Ferris wheel weighs five tons and the weight of the rim equals 16 Airbus A380s

Each spoke of Ain Dubai is as long as one football pitch

While the official release date gets delay by one year due to the Covid 19 pandemic, Ain Dubai would open for the public in 2021.
How to Reach Ain Dubai
The Bluewaters Island is connecting to the city of Dubai by a bridge from Sheikh Zayed Road. If you fancy a walk to this interesting island and the intriguing Ferris wheel, you can also walk on the pedestrian bridge that starts from the Jumeirah Beach Residence. It would take you around 15 minutes to reach the island on foot.
Ain Dubai Experiences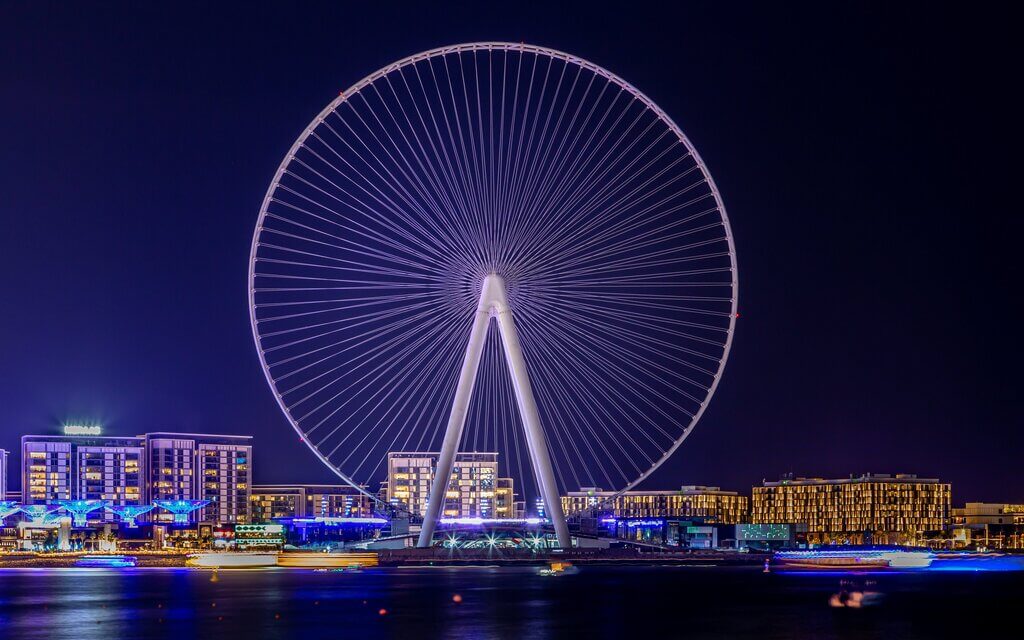 Source: hdqwalls.com
Ain Dubai is mainly a moving observational deck that gives you incredible views of the city. You would be able to see delightful sights of the Dubai Marina, Palm Jumeirah, Burj Al Arab, and Burj Khalifa while riding on this Ferris Wheel. Apart from this, Ain Dubai promises to offer you several more interesting attractions.
Three types of pods or capsules are available in Ain Dubai: observation cabins, social cabins, and private cabins. Let us look at each one in detail:
Observation Cabins:
As the name suggests, a ride in one of the observation cabins would give you the chance to check out the incredible views of Dubai. It is also a great way to take some pictures for your Instagram profile. You can relax on one of the benches when the Ferris wheel takes you 250 meters above the ground. On the other hand, you are also free to roam around the carriage to see the views of the city from different angles.
Social Cabins:
Social cabins are where you can have a delicious drink while enjoying the views of the city. You can also opt to have a bar with personalized services if you wish to. Tickets to social cabins also give you access to Ain Dubai's Seaview Lounge. It is a great way to have a relaxing evening with your friends.
Private Cabins:
If you want to celebrate a special occasion in a unique way, you can do so at one of the private cabins in Ain Dubai. Tickets to the private cabin would give you the chance to enjoy a three-course mezze feast along with sparkling and bubbly beverage packages, which would serve by a private bartender.
Also Read: Top Things to do in Dubai in 2021
Groups & Events:
Apart from the ones mentioned above, Ain Dubai is also a great place to host some important events and celebrations. It is a great place to host birthday parties, engagement parties, and even weddings. You can also book one or even the entire Ferris Wheel to host a corporate event or meeting. In short, the options are endless.
Ain Dubai is also open for school students. With the help of educational visits for students, it aims to encourage critical thinking and reasoning skills amongst them. Schools can either choose expert-led programs or teacher-led programs. In either case, they would get to learn about the science behind the construction of Ain Dubai and participate in some fun, interactive activities.
Adventure:
Although it has not been announced officially, it is believed that Ain Dubai would also offer visitors an adventurous experience. Once open, Ain Dubai would also be the highest rope-climbing platform in the world. All precautions would be taken for the safety of the visitors.
Ain Dubai Tickets
Tickets for Ain Dubai would depend on the experience you choose, and several of them are available. The prices of the tickets have not been announcing yet. You can book tickets at the ticket counter near Ain Dubai. However, it would be best to book your tickets online in advance, especially if you are looking for a premium social or private experience, as arrangements have to be made in advance.
Although Ain Dubai is in the final stages of completion, there is still a lot of anticipation about it amongst locals and tourists as well.
Apart from experiencing an enjoyable ride on the Ferris Wheel, you should also take the chance to explore Bluewaters Island. It is a project developed by Merras and includes apartment buildings, landscape gardens, children's parks, etc. You would also find several amazing restaurants and cafes where you can enjoy a delicious meal. Overall, a trip to Al Ain would be truly memorable.