5 Abu Dhabi Attractions to Visit to Cure Your Boredom
Do you feel like your day-to-day life is becoming dull and monotonous? Or perhaps nothing surprises you anymore to the point that you no longer look forward to the coming day?
It's official. You're bored.
Repetition is the primary cause of boredom: same commute, same food, same routine.
Fortunately, there are many solutions to boredom as well. And travel is arguably the most effective one.
When the excitement is already gone, it could signify that you need to visit other places or try new things again. And where better to do that than the United Arab Emirates (UAE) capital?
Here, you'll find five Abu Dhabi attractions that will surely cure your boredom.
1. CLYMB Indoor Skydiving and Wall Climbing
Source: imgix.net
If you're looking for something to get your adrenaline pumping, consider booking a day at CLYMB Abu Dhabi.
Located on Yas Island, CLYMB is an adventure hub housing two record-breaking attractions.
First is The SUMMYT – one of the world's most exciting indoor climbing walls and the tallest one on the planet. Aside from its height, the climbing wall has 13 routes, each offering a unique climbing experience.
CLYMB houses the world's largest flight chamber, with a width of 32 feet (9.7 meters) and a height of 104 feet (31.6 meters). But besides its unparalleled size, the indoor skydiving structure also boasts 16 powerful fans, delivering four times the flight power than others.
How to Get There
To visit CLYMB, you can take the E10 (Al Raha Beach Highway) or the E12 (Sheikh Khalifa Bin Zayed Highway).
If you don't want to drive, you can also ride the 190 bus, which will bring you to Yas Island, Abu Dhabi. Once you arrive, you can simply walk for a few minutes to reach CLYMB.
2. Ferrari World's Formula Rossa
Source: thrillophilia.com
Besides unparalleled heights, Yas Island also houses speedy attractions like the Formula Rossa – the fastest roller coaster in the world. This Ferrari World Abu Dhabi ride can go up to 149 miles per hour (240 kilometers per hour) in less than five seconds.
If you choose to try this rollercoaster, be prepared to experience the thrill of riding 4.8gs of force after scaling a whopping height of 170.6 feet (52 meters). After all, the ride is equipped with a hydraulic launch system akin to the steam catapults in military aircraft carriers that propel fighter jets into the air.
This and the sheer speed of the ride are the reasons the park requires guests to wear goggles for a safe and spine-tingling experience.
How to Get There
Wondering how you can reach Ferrari World? Drive the same route as instructed on item no. 1 if you're coming from Abu Dhabi.
If not, you can take the E11 Highway (Sheikh Zayed Road) from Dubai, then head to the Yas Island East Exit labeled "Yas Leisure Drive." Follow the blue signs, and you'll reach both Ferrari World and CLYMB Abu Dhabi after a 50-minute drive.
3. Warner Bros. World's Batman: Knight Flight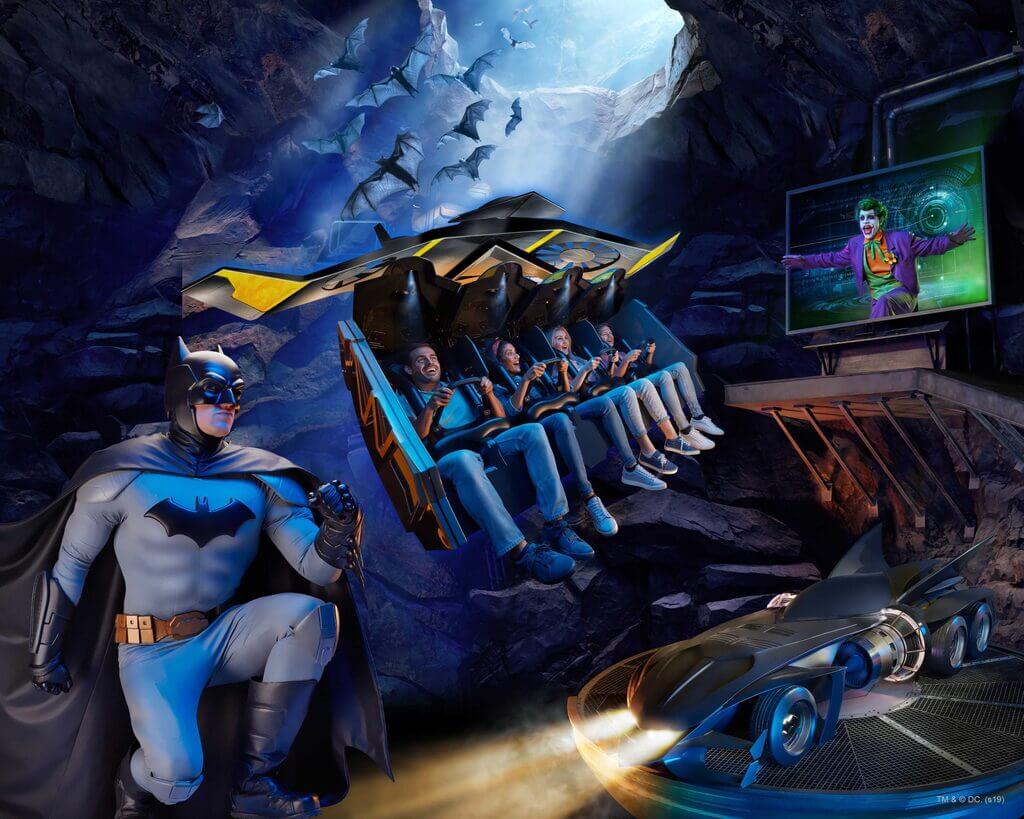 Source: wego.com
Not ready to try extreme rides and attractions? Perhaps the whimsical but equally exciting experiences at Warner Bros. World Abu Dhabi are more your speed.
Home to famous cartoon characters and superheroes from Warner Bros. franchises, the Yas Island amusement park is divided into six lands, including:
Warner Bros. Plaza

Bedrock

Dynamite Gulch

Cartoon Junction

Metropolis

Gotham City
Gotham rides are quite famous among youngsters and adults alike, especially Batman: Knight Flight.
A ride with one of the longest queues in Warner Bros. World, this Dark Knight-inspired attraction brings guests to WayneTech Industries, where they are "hired" to become test pilots of a newly developed urban patrol vehicle.
Filled with exhilarating climbs, drops, and spins after launching from the Batcave, this high-speed ride brings the right amount of excitement to break your routine with breathtaking action.
The best part is that you can enjoy the attraction anytime since it is located in an indoor theme park – the largest one in the world. And when you choose a 1 day 2 parks ticket, you get access not only to Warner Bros. World™ but also to either Ferrari World or Yas Waterworld in one day.
How to Get There
Like Ferrari World and CLYMB, Warner Bros. World is on Yas Island and can be reached via the E11 highway from Dubai or the E10 and E12 from Abu Dhabi.
Also Read: 8 Best Outdoor Activities You Should Try In And Around Dubai
4. Yas Waterworld's Liwa Loop
Source: travelabudhabi.ae
Visiting Abu Dhabi during the winter? You should plan and book tickets early to enjoy popular water theme parks like Yas Waterworld Abu Dhabi.
Hailed as water's greatest playground, this Emirati-inspired water park features 40 exciting rides, slides, and attractions, including the first-ever body speed slide in the Middle East.
Liwa Loop is unlike any other water slide you've tried before. Considered the fastest water slide in Yas Waterworld, this intense, high-speed slide drops guests down a looping tube.
With its 1,800 feet (550 meters) length, this body speed slide offers a refreshing, adrenaline-pumping experience that could make your trip to the UAE much more memorable. In fact, it is one of several attractions in Yas Waterworld deemed worthy of being called a "bucket list experience."
How to Get There
Yas Waterworld is another one of the "Big Three" theme parks on Yas Island. It is situated right across Warner Bros. World and Ferrari World.
To get there, you can ride the complimentary shuttle or go on a 25-minute or 50-minute drive via the E10, E11, or E12 highways coming from Dubai or the other parts of Abu Dhabi.
5. Yas Marina Circuit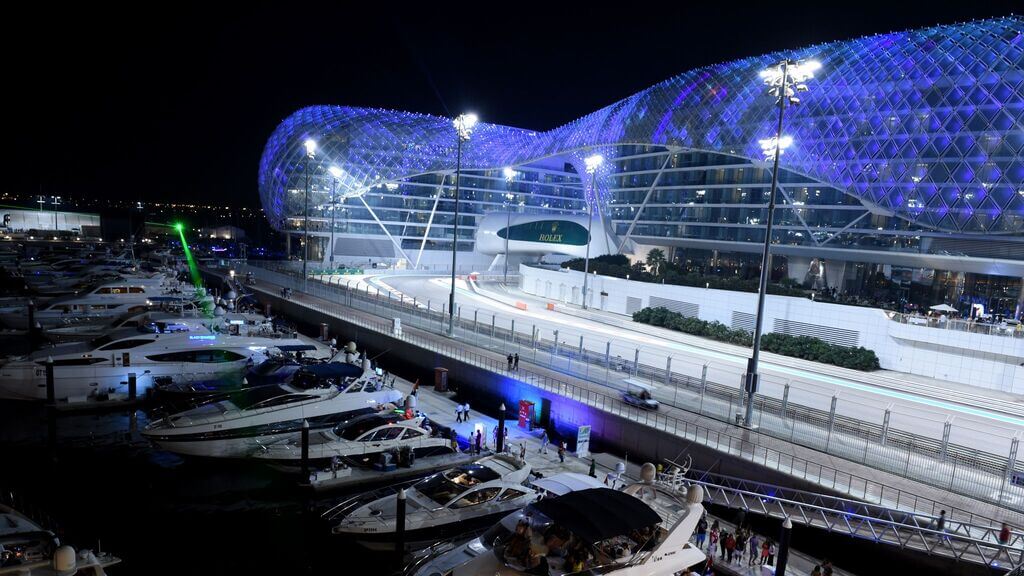 Source: 365dm.com
Home to the Abu Dhabi Formula One (F1) Grand Prix, the Yas Marina Circuit is another ideal destination for people seeking to cure their boredom. It is a place where history is made, after all.
Established as the venue for the annual F1 race in 2009, the Circuit attracts big crowds composed of motorsport enthusiasts, couples, and families annually.
Aside from being a world-class sporting destination, Yas Marina Circuit is considered one of the UAE's finest sports and business venues.
It doesn't matter if you're a racing fan or not. Experiencing the glamor unique to a Formula One venue all year round is something that could leave your heart pounding harder than ever before.
From getting a behind-the-scenes look at the racetrack to driving on it, a day at Yas Marina Circuit will never be dull.
How to Get There
Yas Marina Circuit is also on Yas Island, which means you can follow the same directions as the other destinations on this list.
You can also hail a cab or ride the A1 bus outside Terminal 3 of the Abu Dhabi International Airport. Free shuttle buses are also available.
Experience Excitement Like Never Before
Nothing cures boredom better than new experiences. Exciting things await you on your trip to the UAE. Make the most of it by booking your preferred destinations ahead of time and relish your time in Abu Dhabi.