No one can deny the fact that you can't skip oral care even on hiking or luxurious stay at a five-star or seven-star hotel. All you can do is take the best available option with you. There's nothing wrong with the traditional brushing style, but it takes up too much time and energy. You have to pace the brush back and forth for at least 2 minutes, twice a day, for the proper dental cleaning.
Whereas, an electric toothbrush eases your work, especially when you are traveling. You won't have to carry a toothbrush and tongue cleaner differently; a single travel electric toothbrush does the job of both.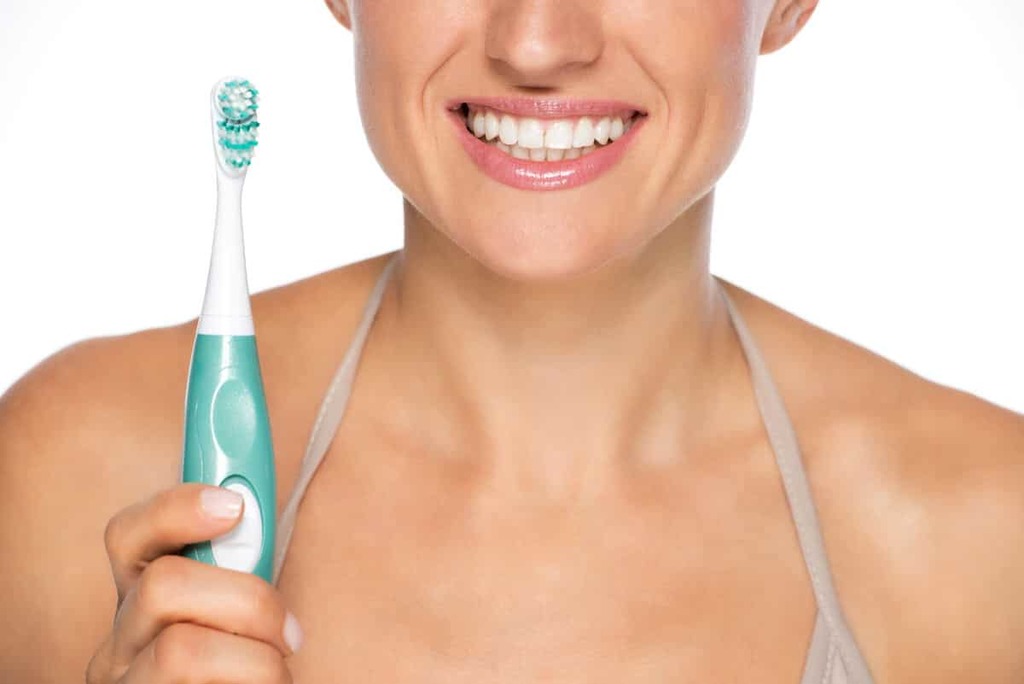 Source: wp.com
After 20+ hours of research on 35 different electric toothbrushes, we have agreed with the five electric toothbrushes best for travel. Here's the list explaining their features and reviews. The list includes a few of the best travel electric toothbrushes from oral b, Sonicare, and a quip.
Without much delay, let's read the reviews of travel electric toothbrushes.
Few Best Travel Electric Toothbrush:
#1: Oral-B Genius Pro 8000 Electronic Power Rechargeable Toothbrush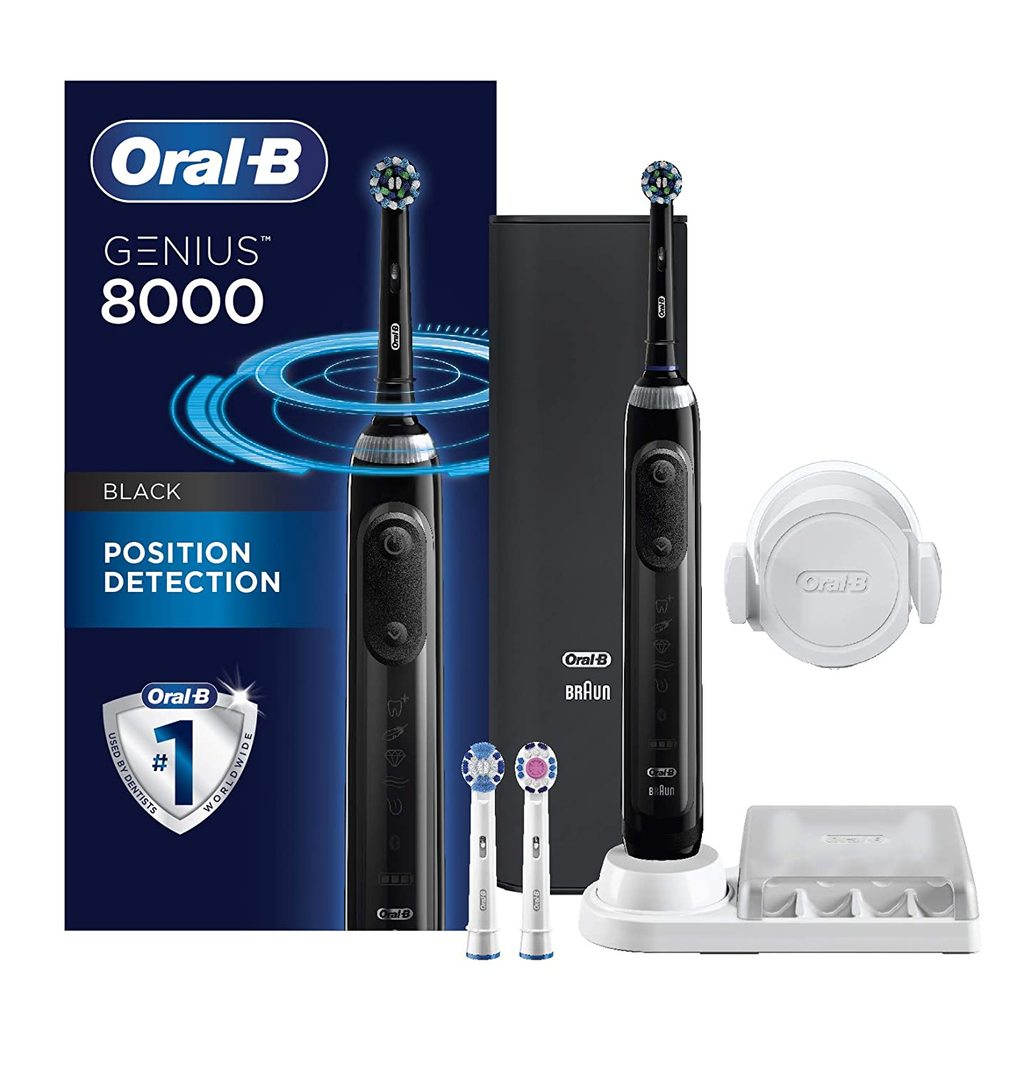 Source: amazon.com
Features:
It has 3D cleaning action with oscillation, rotation, and pulsation.

It can work up to 12 days, with a single charge.

The timer of 2 minutes with 30-second intervals.

Six different brushing modes – Daily Clean, Sensitive, Whitening, Gum Care, Pro-Clean, and Tongue Cleaning.

Comes with a 2-years warranty period.

Smart travel case and USB included.
Design:
The design of the brush is done so well. It comes with six brush heads to help you out with the different types of dental cleaning. The shape is simple yet gives out an elegant look. When we talk about the travel design case – it's more than perfect.
The charging travel case can charge not only the toothbrush but also the mobile phone. Yes! You read it right. Apart from the features mentioned above, it also has Bluetooth compatibility, dual voltage smart charger, a pressure sensor, and a multifunctional 360-degree SmartRing.
Reviews:
Some of the top reviews (from the Amazon Customer Reviews section) of this electric toothbrush include:
"Great Daily Cleaning and Polishing of Teeth Very Easy To Use! a must-have for great Oral Hygiene."

"The toothbrush is outstanding with its functions. I am very satisfied with its performance."

"This product has a lot of options fully compatible with every oral-b brush head on the market. It has several brushing settings from deep clean to teeth whitening. My mouth feels so clean that a regular toothbrush does not even begin to compare."

"I have been using a Phillips Sonicare for years. However, NOW I feel as though my teeth are finally clean. Only the dentist will tell me for sure, but my feeling is that they are better. I have not used all the functions yet, but I love it."
#2: Oral-B Pro 1000 Electric Toothbrush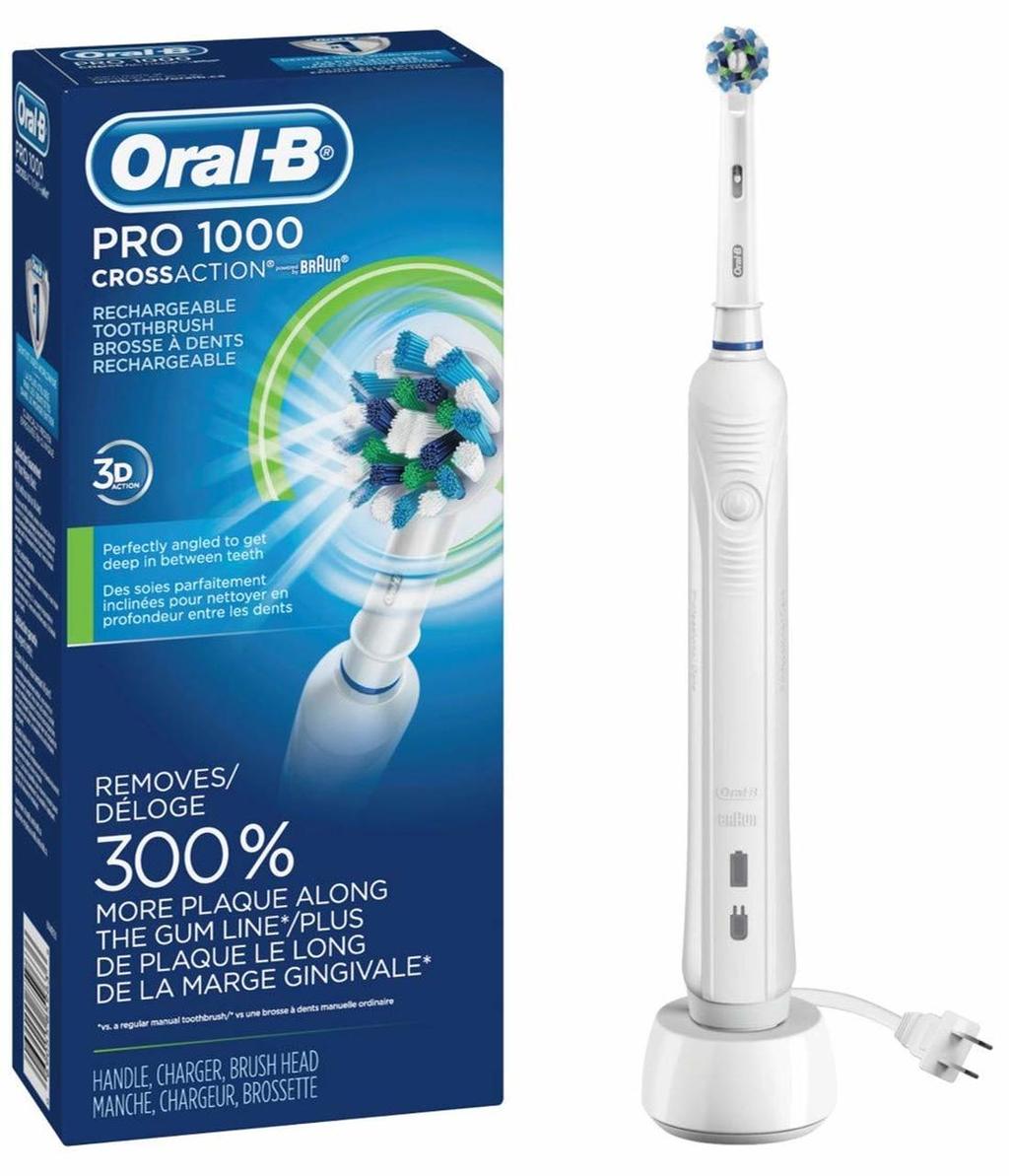 Source: bigcommerce.com
Features:
It has a 3D cleaning system, which includes oscillation, rotation, and pulsation.

Comes with a rechargeable battery.

Only one daily cleaning mode.

It works up to 7 days with a single charge.

2-minute timer with the pacer for proper cleaning.

It has an invisible pressure sensor.

It comes with a charging station and CrossAction brush head in the box.
Design:
The design of this electric toothbrush is sleek, slim, and lightweight. Also, the placement of grips is so well that it makes handling easy. If you are looking for a brush just to clean your teeth, this is the one.
Many people have voted it the best for travel electric toothbrushes. You might have no idea, but this one is ADA (American Dental Association) approved, which means it already had gone through the harshest situations in the lab tests.
Reviews:
Some of the online reviews on Amazon include:
"Works great and easy to use. No issues or problems, great for any teenager girl or older that loves pink."

"This product is worth every penny. I would highly recommend it. Leaves teeth super clean and thoroughly cleans gums too. I would buy it again."

"The thing I like the best about this toothbrush is something I didn't think was important–the timer. It really helps me stay disciplined on brushing for two whole minutes."

"I really like this toothbrush and the round toothbrush heads. It really feels like I'm getting a thorough cleaning of my teeth and gums. I also appreciate it being rechargeable and easy to keep clean. I don't particularly care for the time function and have figured it out – the way to disable it."

"Great toothbrush. Comfortable and thoroughly cleans."
#3: Philips Sonicare DiamondClean Smart Toothbrush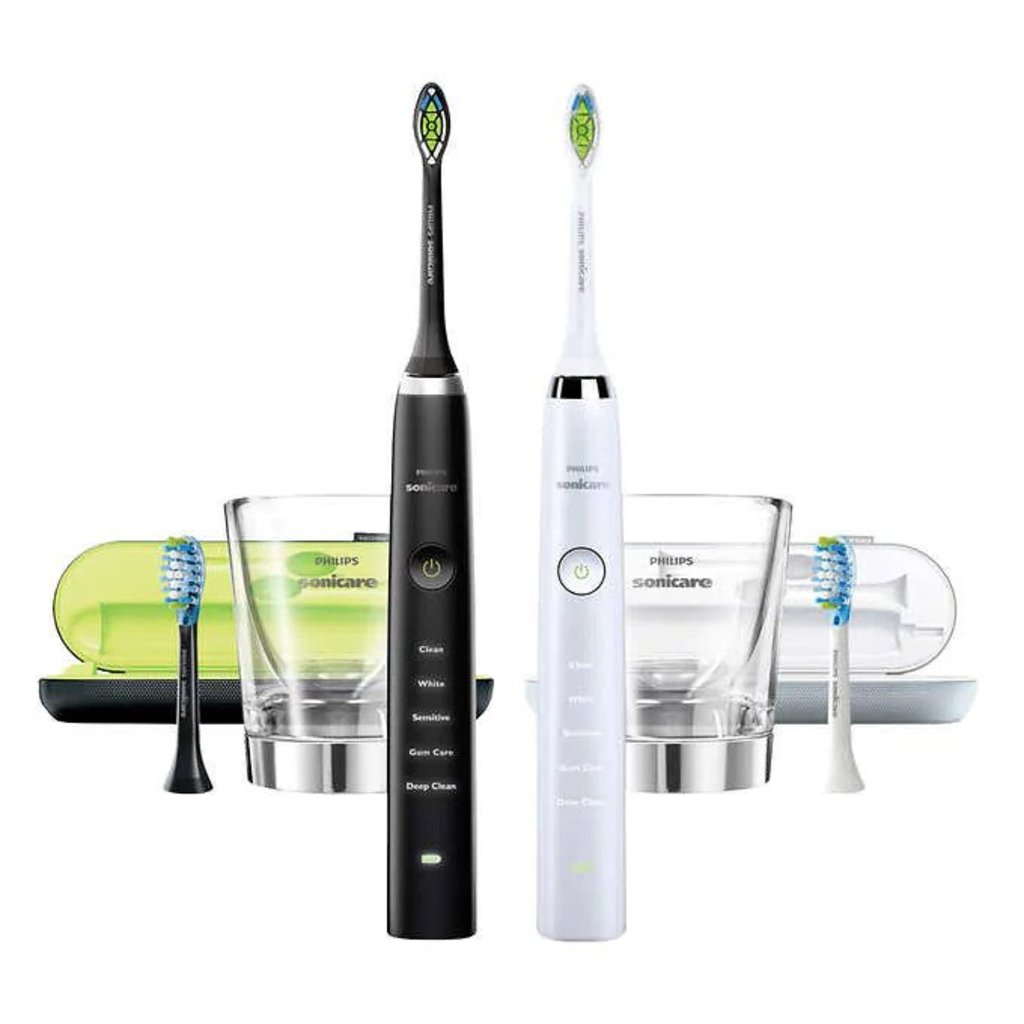 Source: costco-static.com
Features:
Equipped with sonic technology.

Works for straight three weeks with single charging.

2-minute timer with quad pacer (beeping in the intervals of 30-second).

Five brushing modes (Cleaning, Whitening, Polishing, GamCare, and Sensitive)

It has 31000 strokes per minute.

Comes with a warranty for 2-years.

The box includes two brush heads, a charging glass, and a USB charging travel case.
Design:
Philips' has always been the number one company in the electric toothbrush industry, be it in outlook or the features. The design of this brush is made with the travel expeditions in mind. It is easy to use and understand.
You will get a case with its delivery, which will help you carry overseas without much hassle. The only downside of this Sonicare electric brush is its 30,000 strokes per minute. It is the highest it can reach.
Reviews:
Here are the few top reviews on Amazon for this one:
"This is my favorite toothbrush I have ever owned. My teeth have never felt so clean after each time I brush. The color is even beautiful!"

"I bought this toothbrush at the beginning of 2017. It has been running perfectly and smoothly this whole time! Battery life is absolutely PHENOMENAL!! I charge it once for a solid day and it usually lasts me about 3 weeks, It insane! Highly recommend!!!"

"It's really good. I like it very much. The cleaning power is very good. The appearance is also very good."

"Excellent performance with multiple cleaning options. Great travel bag with charger included."

"I happen to love my sonic diamond toothbrush. I feel that it's the best one on the market. I do have another kind I prefer: Sonicare. Very clean feel like I just got out of the hygienist. I must have it for me."
#4: Philips Sonicare Essence 5600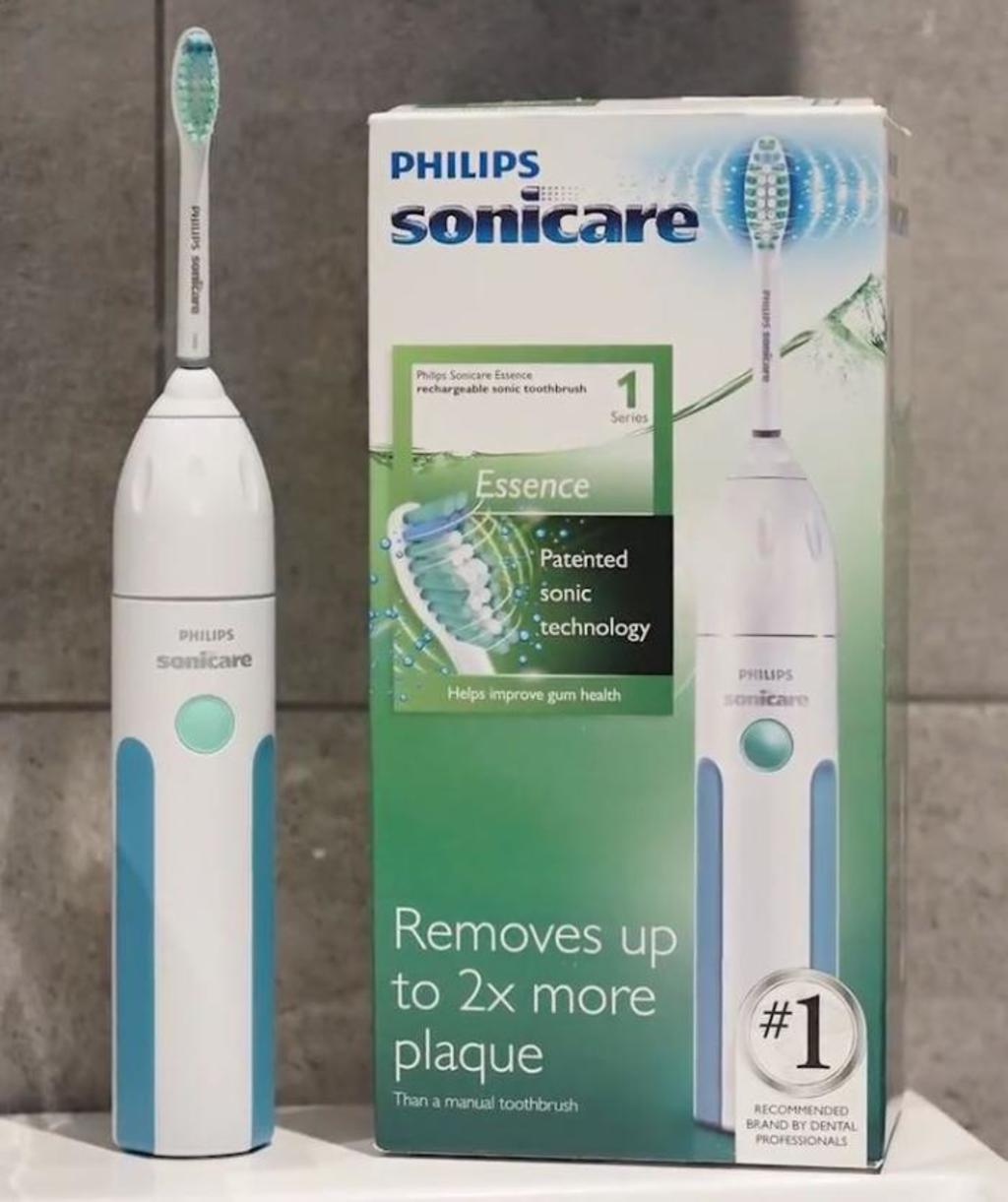 Source: electrictoothbrushhq.com
Features:
Deep mouth cleaning technology.

SmartTimer feature to keep track of brushing time.

Only one brushing mode – Clean mode.

It can work up to 2 weeks with a single charge.

It has a rechargeable battery.

Easy-start program to understand the mechanism well.

The box includes an electric toothbrush, charger, and extra brush head.
Design:
The design of the toothbrush attracts many first-time users. It has an angled neck and colored bristles for the pop look. The grip of the brush is perfectly fine and allows it to hold comfortably. It comes in white color with blue or pink side stripes.
It has a blue power button in the front and has a straight yet elegant look. It can rotate 31000 times per minute but can't move back and forth on its own. Why? Because it doesn't have a pacer installed. Other than that, it is one of the best travel electric toothbrushes. Easy to use and carry!
Reviews:
We found a few fantastic customer reviews on Philips Sonicare Essence 5600:
"Amazing product! Lasted me years on end and was compact and efficient and easy to travel with. "

"I have used this toothbrush twice a day for five years. Timer and rechargeable battery still works like new."

"Great toothbrush and have received good results in dental check-ups after using this."

"Got two units with four heads for the whole family. Years later, still going strong, just had to replace heads as they got worn and bases still going strong! Wonderful brand, hearty and stands up to teenage users and abuse well."

"I've been using Sonicare for decades and prefer the old-style model like this one. My dentist hates me because my teeth and gums are really healthy. LOL!"
#5: Quip Electric Toothbrush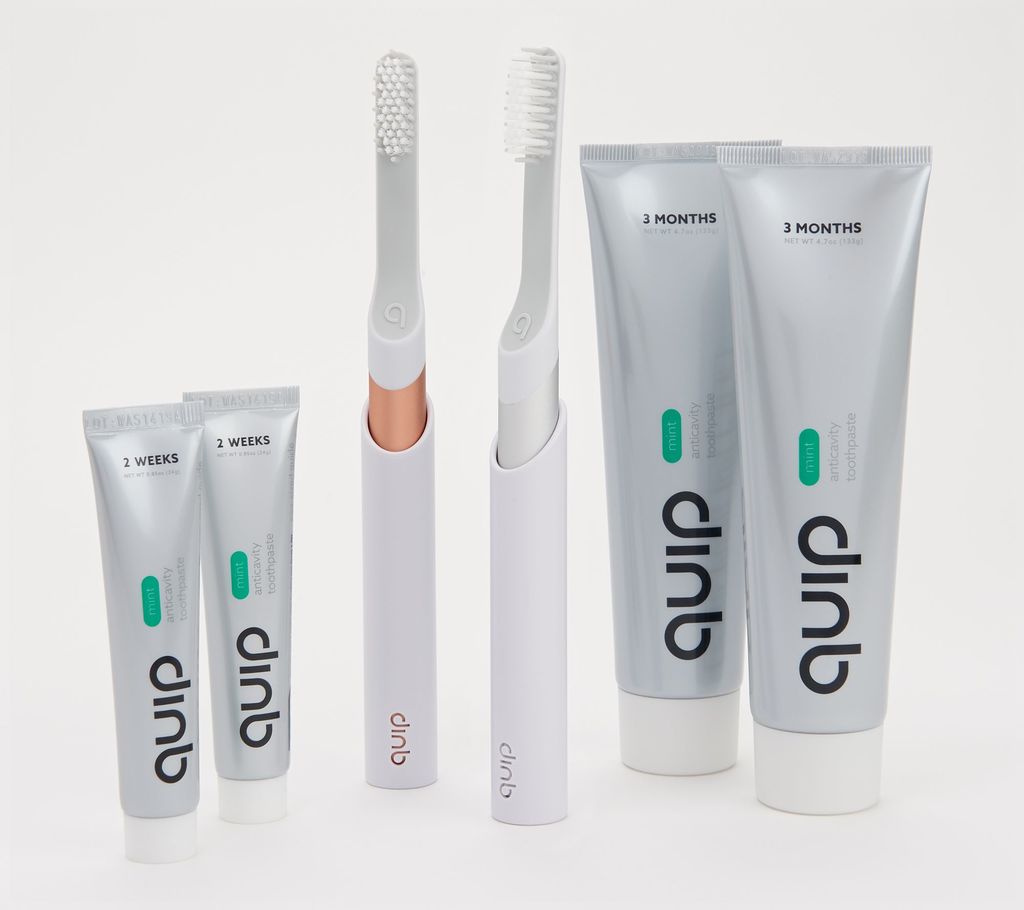 Source: qvc.com
Features:
It has a replaceable battery.

Comes with an in-built timer and pacer.

One cleaning mode.

Automatic power-off function (after 2 minutes).

ADA approved (American Dental Association).

Four different color variants.
Design:
The design of the brush is simple, sleek, and stylish. When we talk about the construction, you will see small yet neat touch-ups with a solid structure. It has a copper metal handle but is lightweight.
This electric toothbrush's box includes one extra brush head, two weeks and three months' toothpaste tube, travel cover mount, and a single AAA battery. It only lacks a few technical errors, like not showing battery percentage and no pressure sensor.
Reviews:
Here's are few reviews to consider before buying the Quip electric toothbrush:
"Nice handy packaging for a travel electric toothbrush."

"I heard about this on a podcast. I can't believe how great it works!!! I've always used electric toothbrushes, floss daily, mouthwash, and still get plaque between cleaning. All plaque is gone each time I brush."

"I love this toothbrush – I am doing a MUCH better job brushing every part of my mouth. The toothbrush pauses every 30 seconds to let you know it is time to move on to the next quarter of your teeth. It is sleek and heavy to the touch."

"This toothbrush is great at doing its job. I honestly feel my teeth smoother when I run my tongue against them, I don't feel plague on them."

"I love the sleek design and copper color. The built-in timer is a great reminder of when to switch sides."
So far, you have read everything about these amazing travel electric toothbrushes. You might have noticed how Quip is giving tough competition to Philips' Sonicare series. Also, this is a hot topic over the internet too. You may believe it or not, but thousands of people are searching for Quip vs. Sonicare results.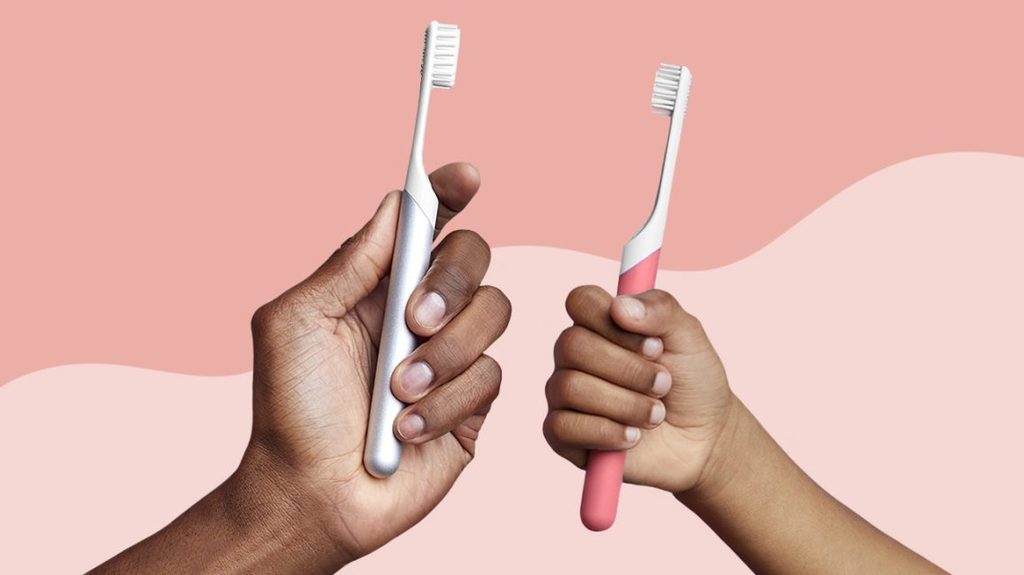 Source: wp.com
So here's our take on them. Let's dive into the difference between both!
Also Read: Travel Packing Checklist: Carry All The Essentials Along The Tour
Quip Vs. Sonicare
There are specific differences in both. Let's have a look at them.
Quip vs Sonicare Features:
Both quip and Sonicare have single brushing modes, but the real difference is in the brush strokes per minute. You will get 15000 strokes per minute in Quip, while Sonicare has up to 62000 strokes per minute. You can get multiple brushing mode options in the other Sonicare products.
Both of them have a 2-minute timer and automatic off to make sure you brushed for the right amount of time. No more, no less! You will find a pressure sensor and quad pacer in Sonicare, but there's none in Quip.
There are various options available in brush heads for Sonicare, making it easy and challenging (as well) to select one for your brushing needs. Quip has a single brush head. No hassles! The most positive point of Quip is the subscription part. No one can surpass this feature.
Quip is the first company to provide subscriptions to its customers, which now many companies are adapting. The subscription is about delivering the set of brush heads to your doorstep every three months. You won't have to place an order once subscribed. As soon as your brush head dies, you will have another waiting at your door.
Quip vs Sonicare Design:
Designing the electric brushes is done well, keeping in mind the traveling purpose. Sleek, slim, and elegant are the words to describe Quip's and Sonicare's brushes' beauty. Also, both of them come with an excellent travel case.
However, when we talk about grip, Sonicare wins the round. It has a firm and better grip to handle it comfortably than Quip. There's one round where Quip will definitely win once again, which is color variants available to choose from!
Quip vs Sonicare Battery Life:
Well, there's no tough comparison between quip vs. Sonicare in this matter. Why? One has a replaceable battery (Quip) while the other one has a rechargeable one. You won't need to replace the battery for three months in Quip. Once charged, Sonicare electric toothbrush can last up to two to three weeks (depending upon the product).
The last point we would like to discuss is about
Quip vs Sonicare Availability:
You will see many products of Philips' Sonicare in online stores as well as offline retail shops. There's plenty of availability. Whereas, when it comes to Quip, you can order it directly from its official website. It is available on Amazon but not the real version.
Thus summing up the section, Quip is a budget-friendly option and suitable for new users too. However, if you are looking for more advanced technology in electric toothbrushes, you should definitely try Sonicare.
Also, if you cannot get your hands on the Quip, the best alternative for it is an Oral-b battery toothbrush.
Carry Travel Electric Toothbrush With You: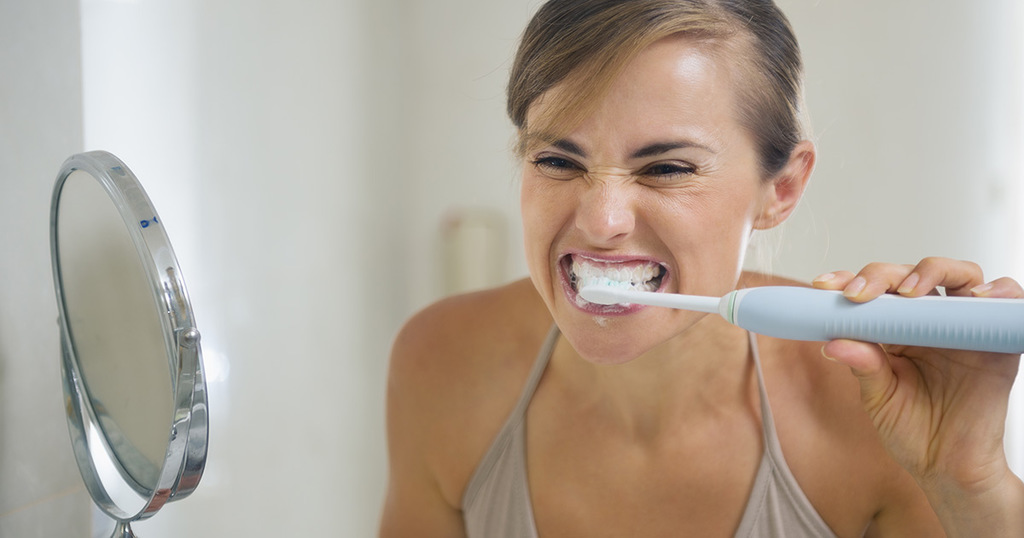 Source: dentistexam.com
Now you have better options on hand rather than skipping dental care. These travel electric toothbrushes are the best of all. As said, after thorough research of 20+ hours, we have gathered them and provided you the best information possible.
Which one do you think is going to fit your requirements? Are you willing to try on the Quip, or will stick to Sonicare or oral-b? Whatever the decision is, may your travel be full of sweets and spices. For more information on travel gear or ideas, visit Travelila.