Want to experience camping, sightseeing, the best of nature, hiking, etc. that too in one place? Don't get shocked. There is a place that offers everything at a location. Yeah, obviously it is on this planet only. Mars is still under construction! Haha.
Okay, okay. Yosemite National Park is the place. It is a place with 800 miles of trails and 21 waterfalls. Apart from these, there are many places to see that will make you go aww on its beauty. To date, it hasn't ever disappointed any traveler. And we don't think it can ever. The entire 1169 square miles national park isn't that easy to travel whole in once. Even if you try, it has the capacity to give you more thrill and excitement every time you go there. Here are some of the best 8 places that should be on everyone's Travel Bucket List.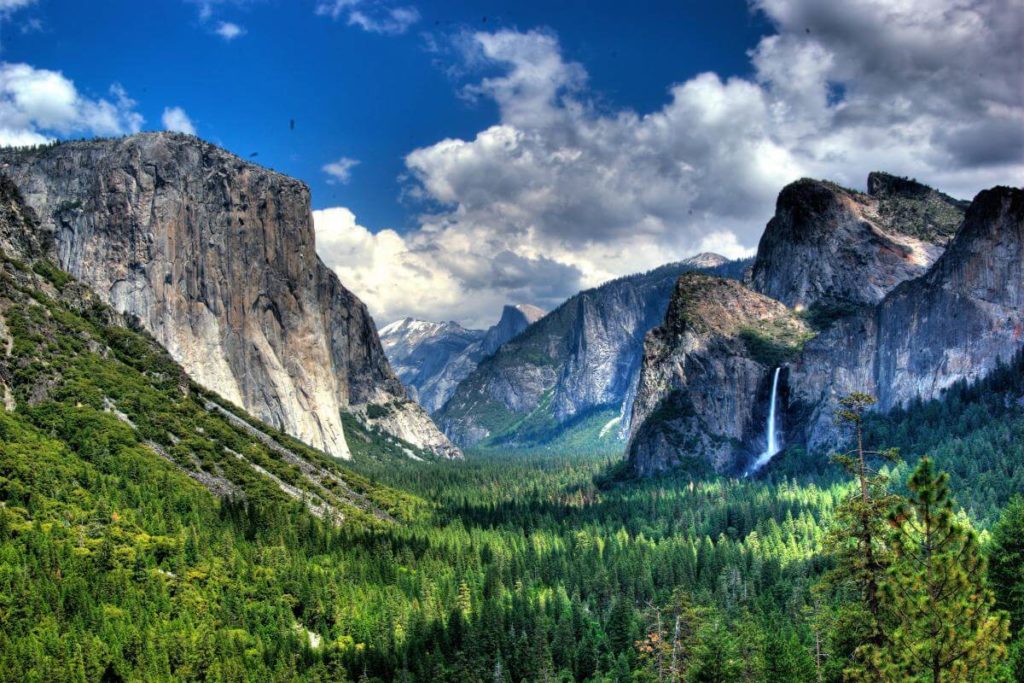 Source: trailmob.com
From the 1920s to date, this place has a special place in the hearts of many artists, travelers, climbers, and nature lovers. In 1920, Ansel Adam's monogram pictures of Yosemite stole the hearts, and now colorful photos of different travelers are stealing the heart. Only the thing that is constant here is stealing the hearts.
Still before visiting you should read this blog on Things to do in Yosemite once you are there. It can sometimes get challenging to choose between Yosemite Hikes or Yosemite Falls Hike. But don't you worry, we are here to be your decision-maker. From basic to pro everything you can do, there has been covered by us.
First things first, the Best Time to Visit Yosemite?
You can visit Yosemite any time of the year and will experience something beautiful. But yeah there are some months in which you should go to experience certain things. Such as,
May and June are the best months to see the waterfalls.

July and August are the best months for hiking.

And in September you can experience the wilderness of Yosemite with a sense of peace as the crowd over there gets lessen till the time.

In short, May to September is the best time to visit the Yosemite National Park.
One more thing, in winters, you can experience Yosemite's Ski and Snowboard Area and the glimpse of Natural Firefall. Now when winter falls there? Between December to April.
Now coming to the virtual tour of Yosemite. Scroll and roll.
Glacier Point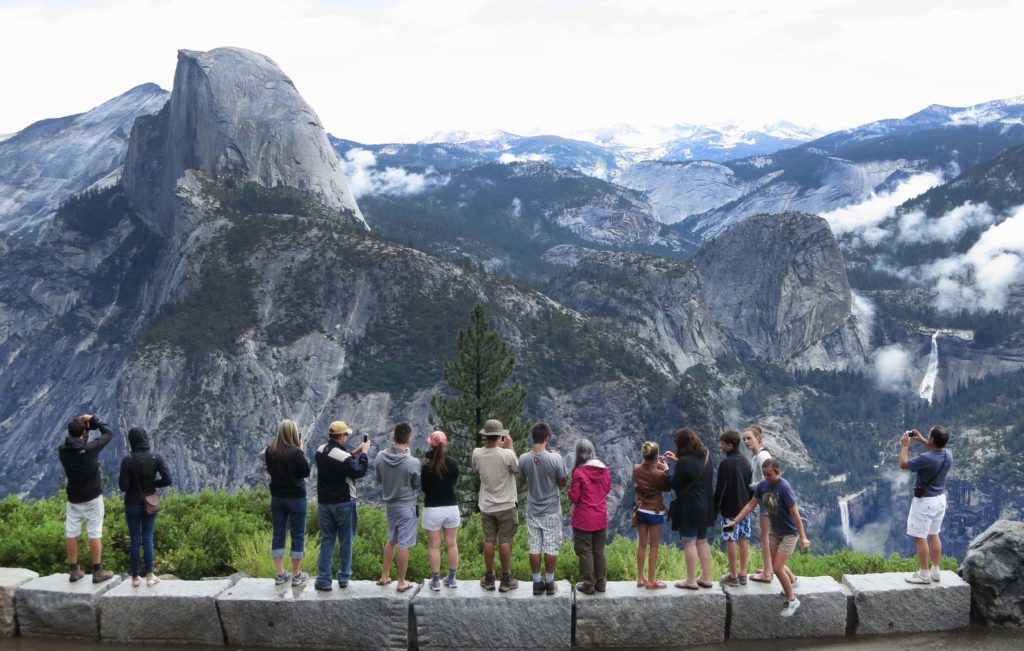 Source: tripsavvy.com
The point from where you can get the incredible and comprehensive views of Yosemite Falls, the high sierra, and half dome. It is an overlook situated 3200 feet above the Yosemite valley. It is a great starting or even ending point for the two most popular Yosemite hikes: Four Mile Trail and Panorama Trail.
You can reach glacier point by car from May to November. In winters you can reach there through cross-country skiing for 10.5 miles. Visit Glacier point early in the morning to avoid the crowd or in the evening for a mesmerizing sunset view.
Half Dome
Source: wordpress.com
The cable route of the half dome is something that you will never forget after hiking up to it. If your heart is a week, then this isn't the place for you to visit. The overall trail is 14 to 16 miles and has an elevation of about 4,800 feet.
The only way to reach there is through hiking. Once you start hiking, the challenges begin with a steep ascent up the Mist Trail. It also serves as the litmus paper test to see if you can complete the remaining journey.
The National Park Service (NPS) advises leaving from half dome before or at the dawn. You will need at least 12 hours if you plan on completing the hike.
Yosemite Falls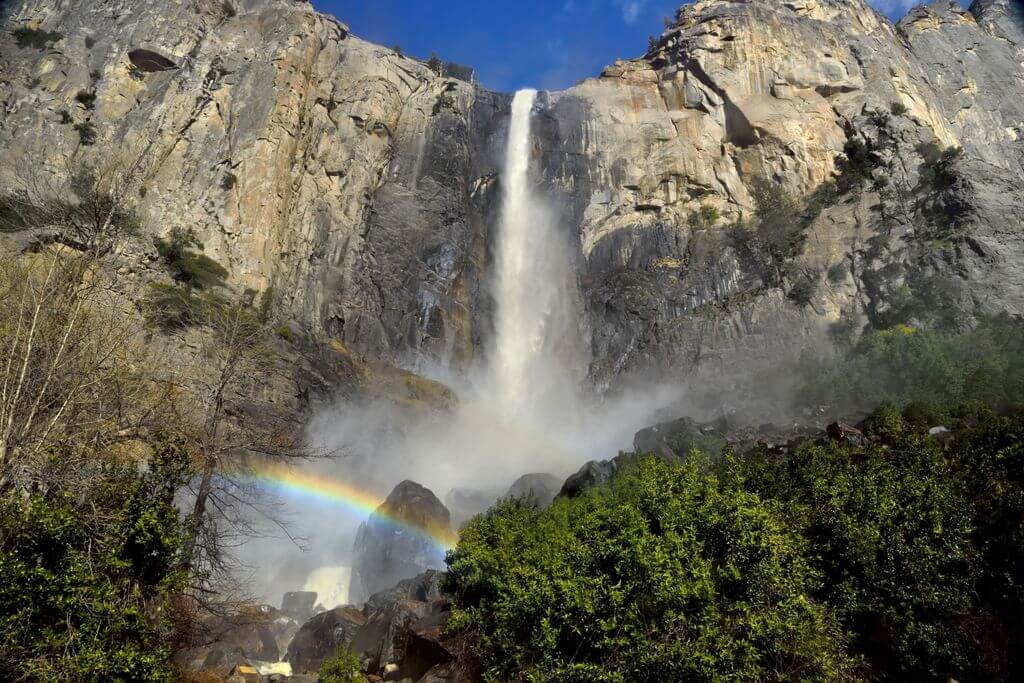 Source: tripsavvy.com
The Yosemite falls in Yosemite is the highest waterfall in North America and the world's fifth tallest waterfall. It drops a total of 739m from the top of the upper fall to the base of the lower fall.
Fact:- It is one of the oldest falls in Yosemite built in the 1870s.
It is easily accessible from Yosemite lodge. It is divided into three viewpoints: upper fall trail, middle cascade, and lower fall trails. You will have to hike up to it. As you will cross the viewpoints one by one, you will have the urge and excitement to reach the next viewpoint. The views from there are just awesome. Carry a camera and keep some Photography Tips in mind while capturing this beauty.
It has the major attraction of travelers and hikers during the late spring when water flow is at its peak (in May).
Tunnel View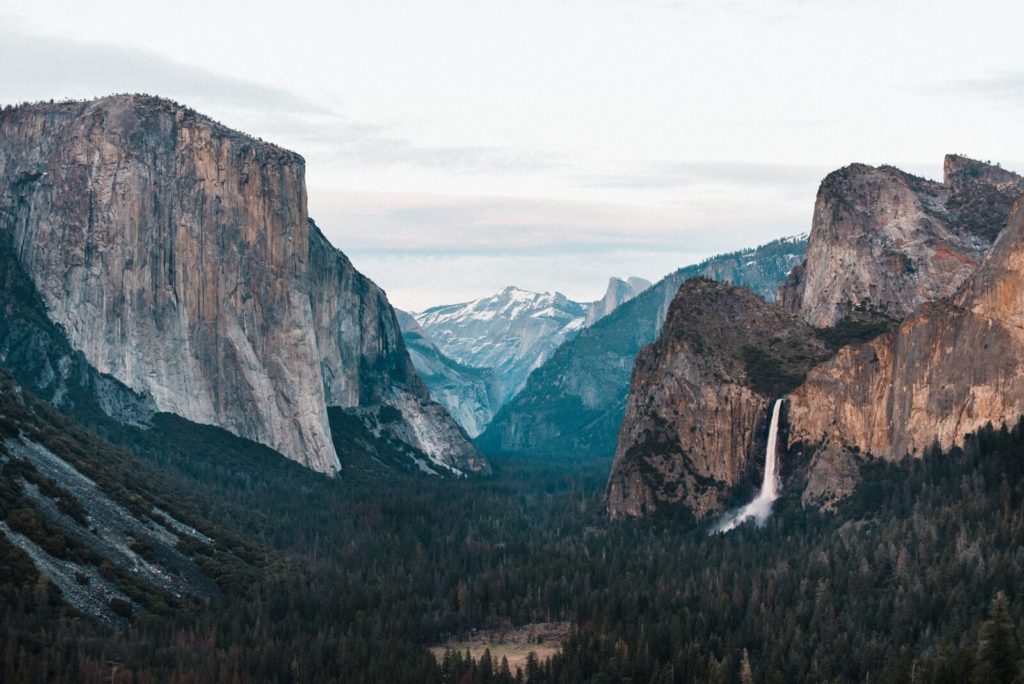 Source: thefoxesphotography.com
The tunnel view is the place where you can get an overview of Yosemite National Park. Many travelers and hikers have agreed that it is the best place to start off the journey for Yosemite. It also serves as the gateway to the Yosemite Valley.
The tunnel view is found on Wawona road. Plus you won't find this place less crowded during any time of the day. As it is the best introduction for the Yosemite people naturally drive here for the amazing views.
Yosemite Valley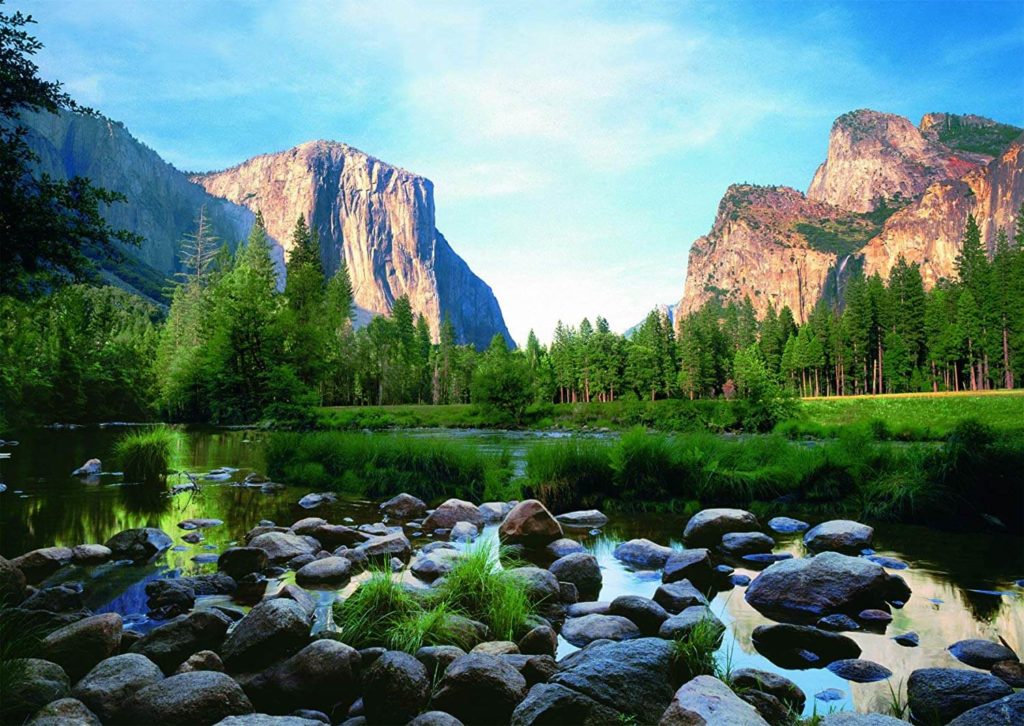 Source: amazon.com
If you are there for the backcountry expedition you are definitely going to end up here and tunnel view. This is the best place to be if you are seeking something for an amazing sightseeing experience. You can see the overview of famous park attractions like Yosemite falls, half dome, Nevada falls, etc.
You can reach there from Wawona road. It is a part of Yosemite village you can even gain cultural knowledge from there. It also has the trailheads of the El Capitan and the lower Yosemite falls. If you want to do more than just sightseeing then take a 7-mile trail or 11-mile round trail; it will also gain you views of meadows.
You can reach there through highways 120, 140 and 41. It also has shuttle shops and places to eat.
El Capitan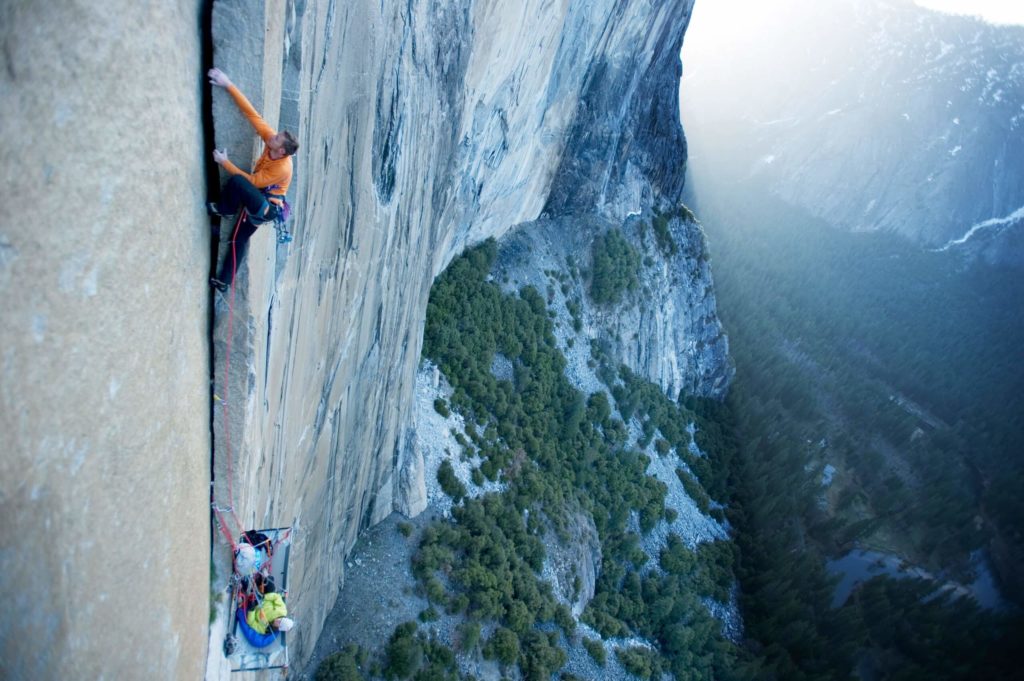 Source: wordpress.com
The granite monolith El Capitan is the vertical surface rock in Yosemite. It has always been popular amongst rock climbers. It stands tall with a height of 2308 meters and with an elevation of 1100 meters.
You can get there by hiking, or you can say rock climbing. There are many routes that offer the hiking trail, f which some are, The Nose, Iron Hawk, and Sea of Dreams. Almost every climbing route is arduous.
Also Read: Top Things To Do In Yosemite National Park This Spring
Mist Trail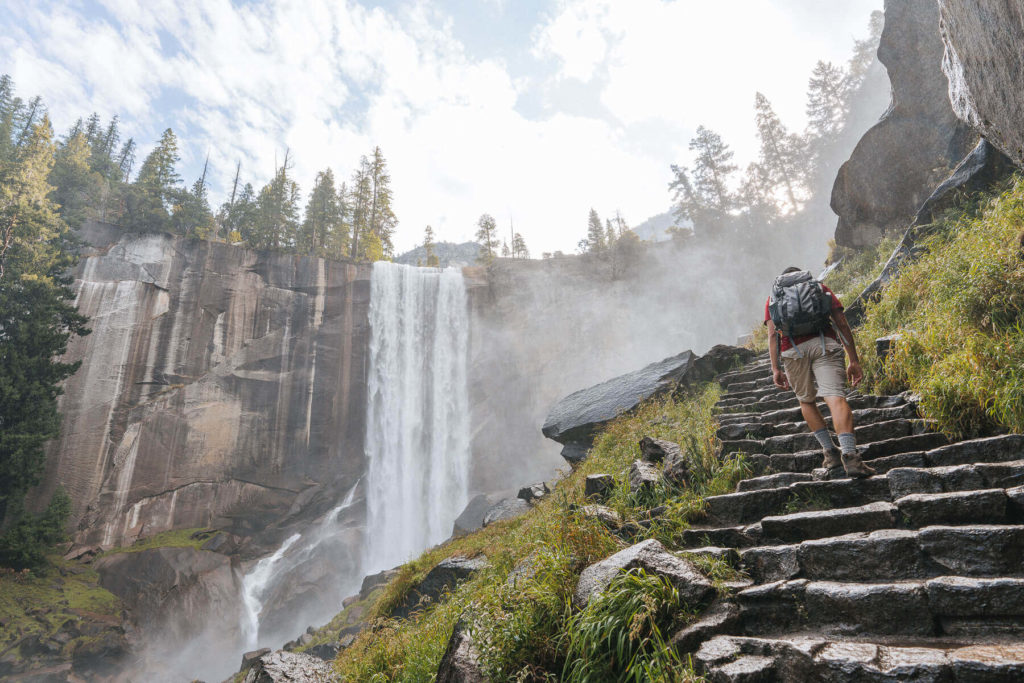 Source: aspiringwild.com
Mist trail is not famous for its destination but the way you get there. But that doesn't mean the sites aren't beautiful. Do you know why it is called the mist trail? To reach the top of the falls, you will have to climb the 600 step granite trail that takes you so close to the falls that the mist of its sprays on the trail. Now you know why.
Many climbers complete their trip at the Vernal Fall and get back down but to enjoy the real best form of nature go further for Nevada Fall. It will take you 2 to 3 hours to reach Vernal Fall, and from there it will take 5 to 6 hours to reach Nevada Fall (plus it gains the elevation 1000 meters after the Vernal Fall).
Bridalveil Fall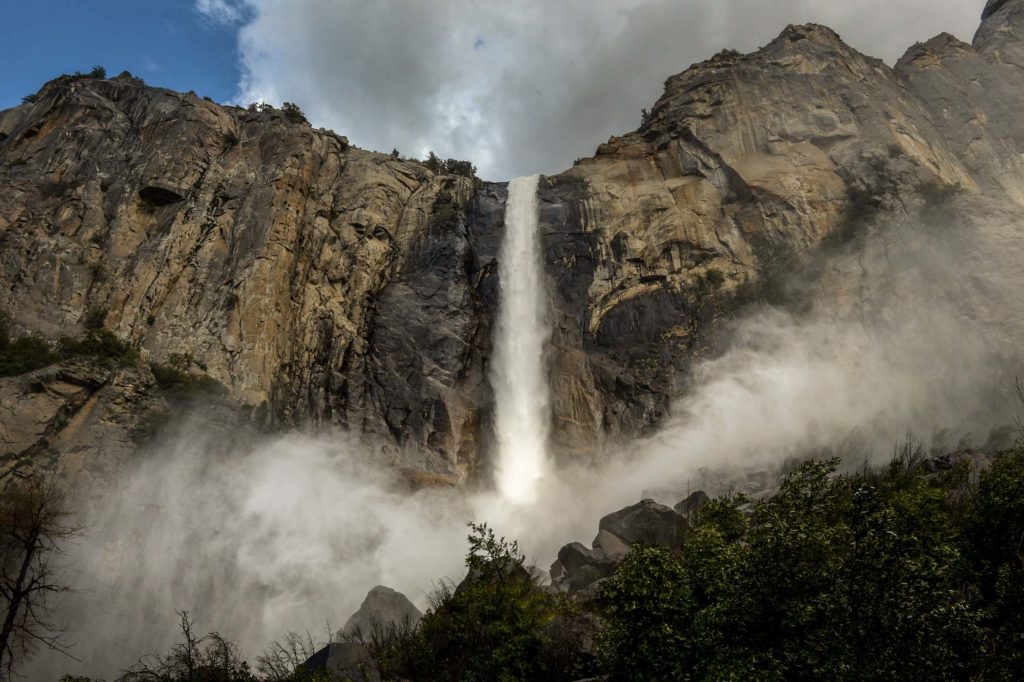 Source: mercurynews.com
The beautiful fall of all waterfall is Bridalveil fall. Though its drainage system is low, it flows all-year-round unlike Yosemite Falls. This fall trail is compatible with all skill levels. This trail is used for hiking, nature trips, and bird watching.
And good news for pet-people!
You can take for fluff ball with you, but you will have to keep it on a leash.
Wrapping up the Trip:-
These were eight things that you should do when at Yosemite. Make sure you carry all the hiking and camping gear. Without proper equipment, it is risky as well as impossible to enjoy the real Yosemite.
For more ideas on traveling to the places, visit Travelila.