Glacier National Park is a beautiful park located in the state of Montana. Its border also lies along the Canadian border. It is spread across an area of over 1 million acres.
Covering two mountain ranges, having different lakes and numerous species of plants and animals, this park is a worth visit. Everyone who visits this park gets fascinated by the sheer beauty and peaceful silence that this place provides.
It is also called "the Crown of the Continent" and to know why it is called so, you have to visit the park and feel the enthralling experience that this park provides to you.
Today, we have brought this piece of information to make you know about it, the best time to visit Glacier national park, and things to do over here. So, get ready to get acknowledged about the park, and then you can plan out a trip over here in your vacations.
Let's start by checking out the different things to do in glacier national park. There are too many hiking trails over here so let's start by having a look at the glacier national park hikes.
Highline Trail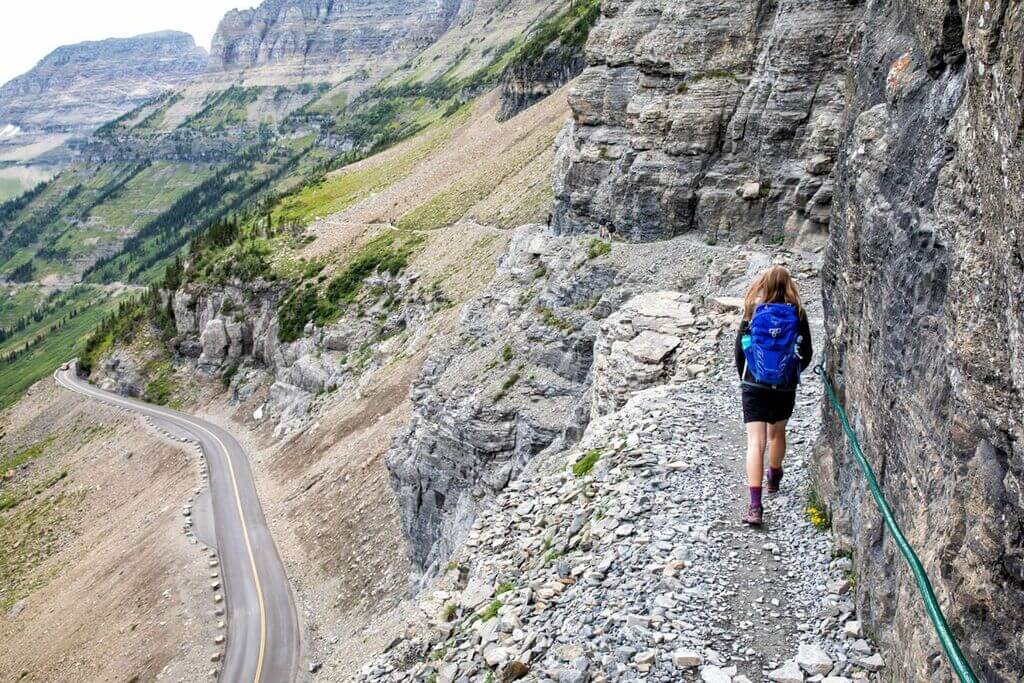 Source: s27363.pcdn.co
One of the prominent hiking trails of the park and also popular overall in the US, the Highline trail is loved by the hiking passion. It spans 7.6 miles from the Logan Pass to the historic Granite Park Chalet. One gets to see wonderful glacier valley views which will keep you mesmerized.
There is enough space for the hikers to walk in the opposite directions so that is not a worry. One gets the opportunity for a short side trip to the Grinnell Glacier Overlook when hiking on this trail.
If you want to see Mountain goats in a big number then this trail is the best place to go for. Other animals can also be seen from here.
Snacks are not available throughout the trail but one will get them after they complete the hiking and reach the other end of Granite Park Chalet.
Grinnell Glacier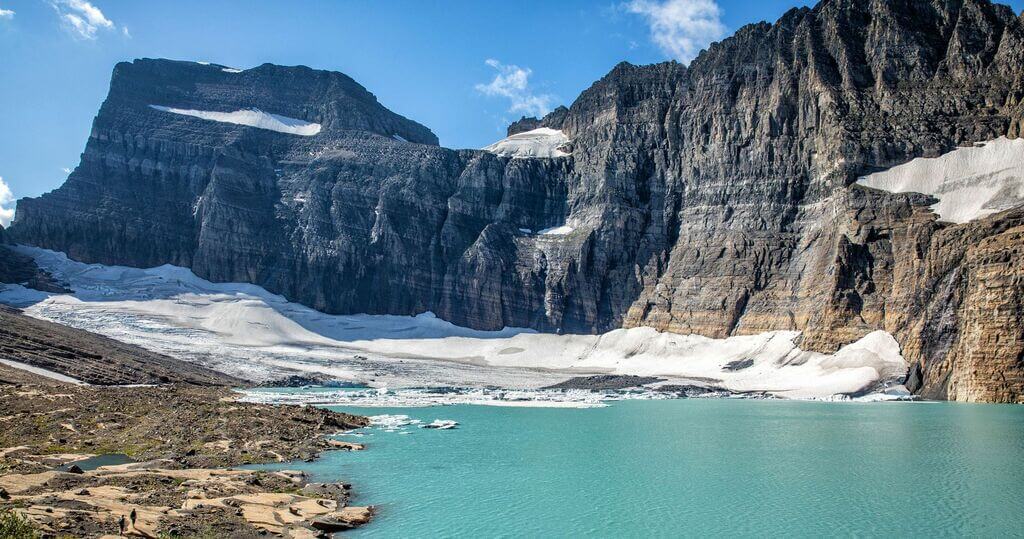 Source: s27363.pcdn.co
If you want to view wonderful natural scenic beauty in the park then the hike to the Grinnell Glacier is worth going for. Icebergs over here will take your breath, they are damn beautiful.
Alpine scenery, glacier, lakes, waterfalls, and wildlife are the enormous natural wealth that you will see while hiking on the Grinnell Glacier. Mountain goats, bears, moose are some of the wildlife that you will have a chance to see. If you get bored of hiking then you can do boating in the lakes and that will help you to reduce some miles as well.
You will have a wonderful experience on this glacier so you must visit it. The breath-taking views over here will just mesmerize you and they will remain in your memory for long years to come and you will wish to come here again and again.
Avalanche Lake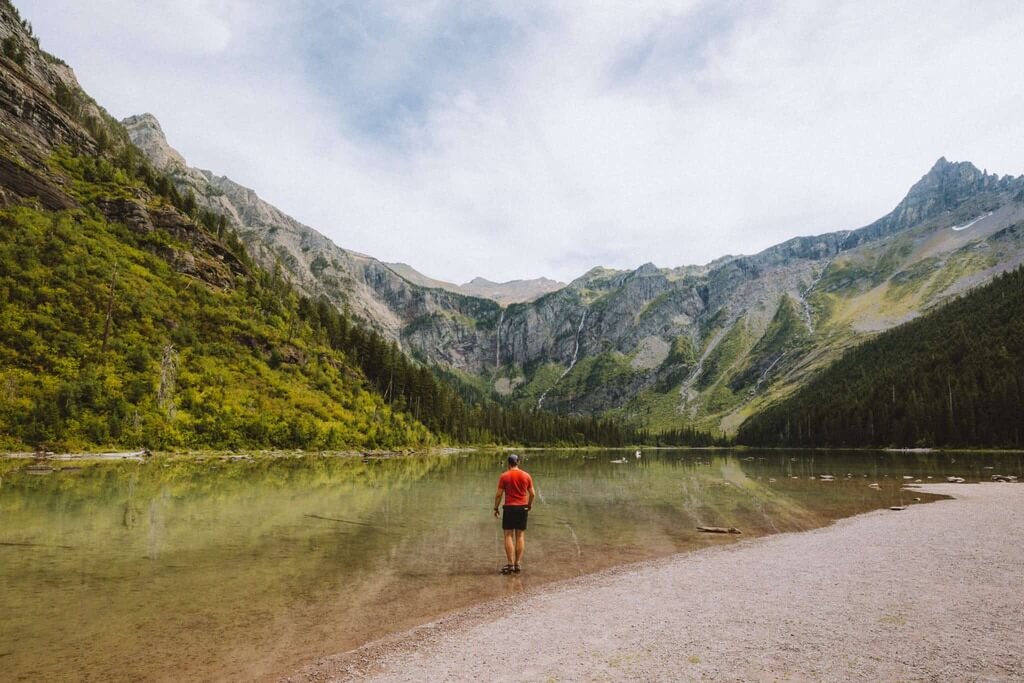 Source: themandagies.com
Avalanche Lake is a good picnic spot so after hiking, if you want to eat some snacks that you have brought along and relax for some time then it is a suitable place to go for. The view of the lake and the serenity over here will make you fall in love with it.
The trail to reach this lake starts at Trail of the Cedars and goes along Avalanche creek. Many tourists that come to the park go hiking along this lake so it is a kind of busy trail so start the hiking early so you won't find too many people.
It is also one of the shortest hikes in the national park so if you are kinda new to hiking and want to go for a short hiking trip initially then this is the most suitable hiking trail to go for. The path is quite broad so it supports two-way traffic easily. You will get a moderate uphill push while hiking so you will enjoy the real feel of hiking.
You will see people of all ages hiking here. Kids, youngsters, middle-aged people, and even senior citizens love to hike around Avalanche lake for its amazing beauty. Dense forests come along the way where you will get a chance to view the ancient western hemlocks and red cedars.
Going-To-The-Sun Road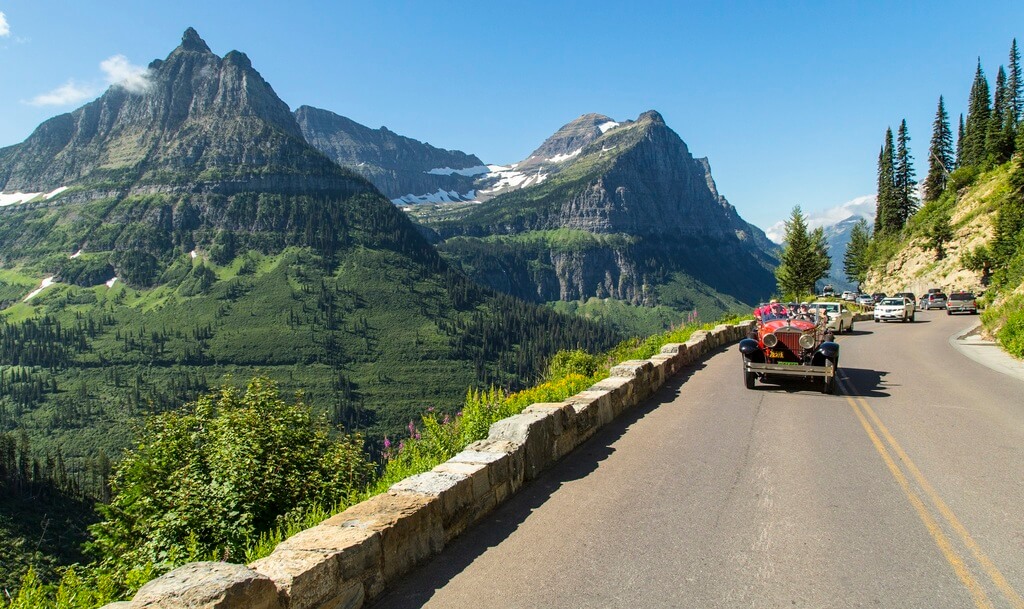 Source: nps.gov
If you want to have an amazingly long drive between nature then the Going-to-the-sun road is perfect for you. It is a very popular tourist destination and that's why you will see n number of cars passing through it. Not only it is a road having superb scenic beauty in the park but we can say that it is one of the finest roads to have a long drive in the whole US.
You can stop your car anytime you want and park it on the roadside, take some good pictures with your family and friends, and start your journey again.
You will get awesome pictures over here and as the completion of the road takes two hours so you will have to take 1-2 breaks to relax and stretch out your legs. This will give you a chance to stop for some time and just get mesmerized watching the scenic beauty.
Spanning over 50 miles, there are too many twists and turns through the mountains so you will feel like having a roller-coaster ride. If you want to go hiking then you have to pass through this road as in the end, there is Logan pass and most of the hiking trails start from here.
Now, the question comes whether this road is open 365 days or is it open only for a time period. Mostly, this road is open from the end of June to October end. Still, you can check the official website and take a note of the timings and time period for which it is open.
Make a note that heavy, long, and tall vehicles are not permitted on this road so check out the rules and regulations on the website before you plan to go.
Lake McDonald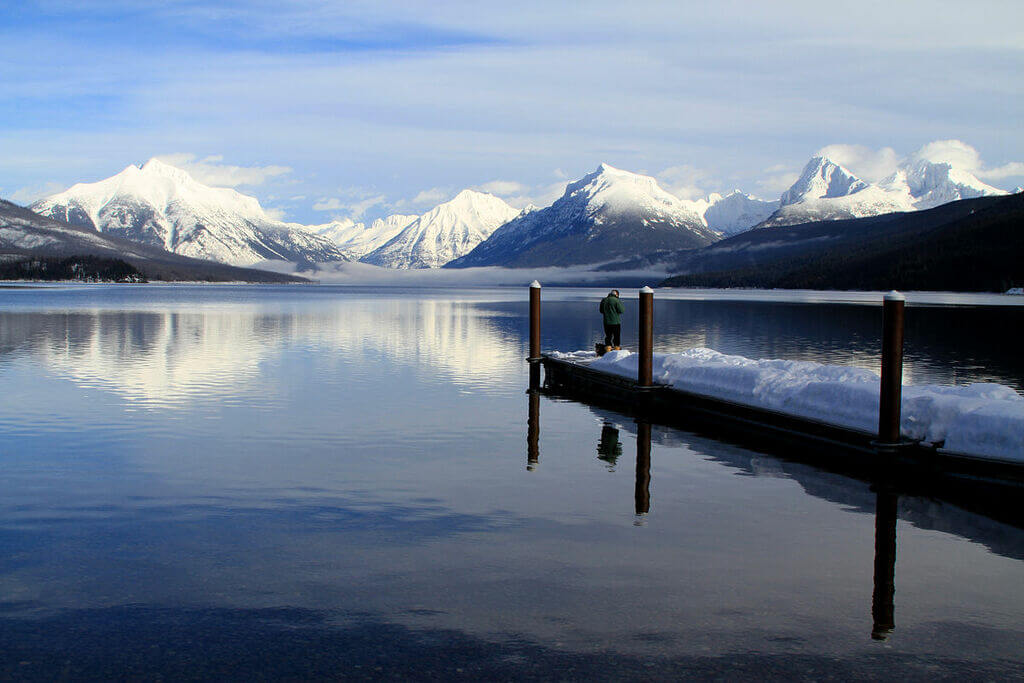 Source: wikimedia.org
Want to be at the largest lake in the park then you have to be here. Lake McDonald is the largest lake in the park, you will enjoy a complete boat tour here. You can do horse-riding here, good for your kids, they will enjoy it a lot.
Logan Pass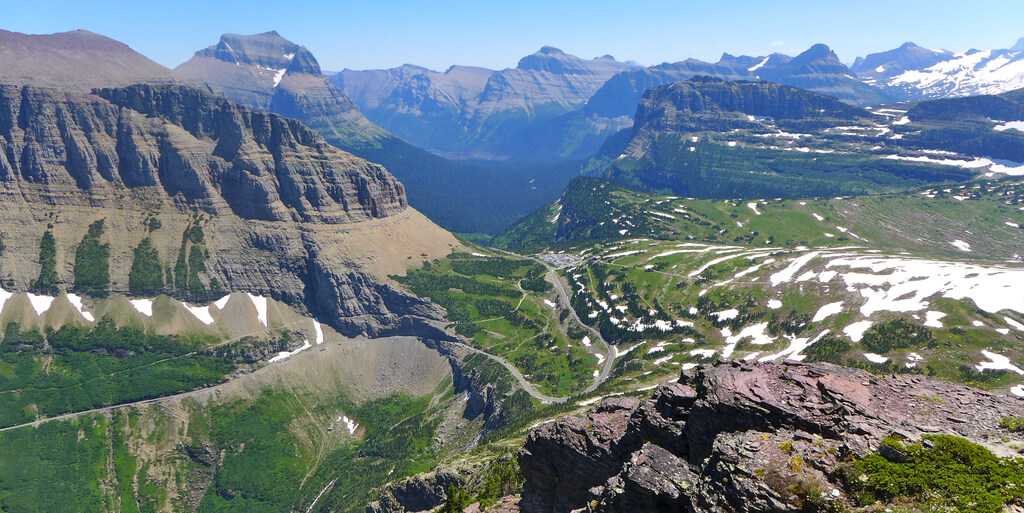 Source: usra.edu
It is a very popular point where most of the people coming to the park visit. It is the highest point on the Going-to-the-sun road located at 2025 meters (reading this, you will be excited for sure to visit it and in fact, you should definitely go here as it is the highest point of the park that can be reached by car so if you have the mode of transport then you must).
You will be at a high altitude and viewing the mountains, wildlife, and other natural elements is a wonderful moment to enjoy. You will see fields of wildflowers which looks just beautiful.
If you want to start hiking to the Hidden Lake and Highline trail then you need to come to this point as they start from here.
Many Glacier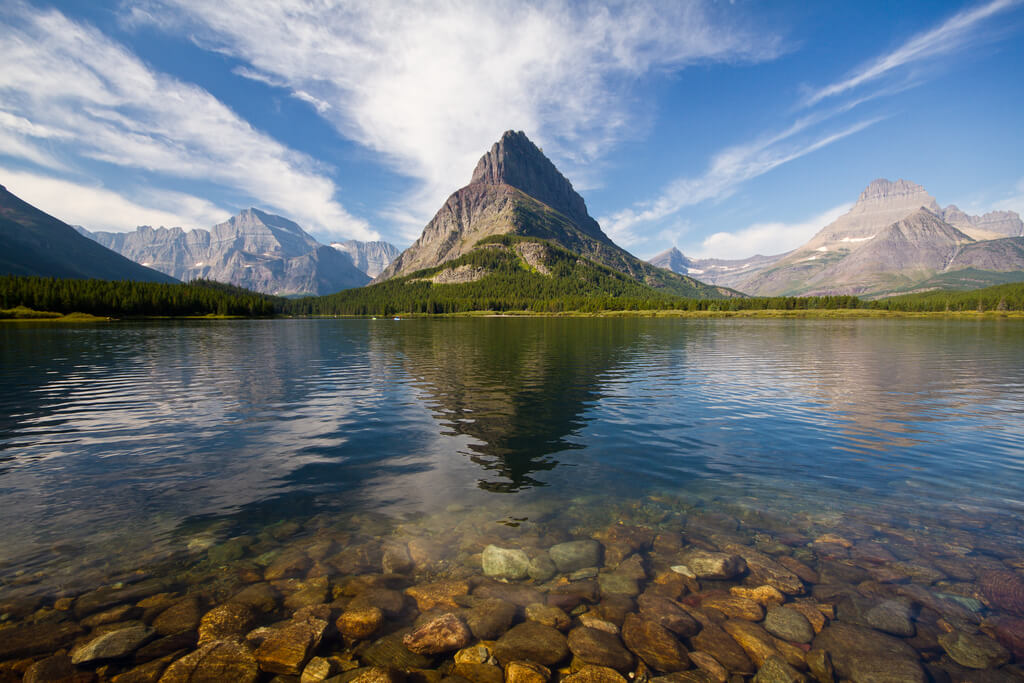 Source: wikimedia.org
You will like to visit this mesmerizing place full of natural beauty. Waterfalls, lakes, snow-covered mountains, and glaciers, you will get to see everything here.
Two very popular hikes belong to this area. One is Grinnell glacier and the other is Iceberg lake. If you want to stay here for some days then you can stay at the Many Glacier hotels that are inside the park itself. So, if you are on a vacation with your family or friends and want to spend some days in nature's lap then you can check-into this hotel.
You can do boating at the Josephine and Swiftcurrent lakes and enjoy the flow of water.
What Are the Entrance Fees?
Entrance fees differ age-wise. There are four categories defined on the website: Adults (from age 18 to 64), Seniors (above 65), Youth (from age 6 to 17), and Group (up to seven people arriving in a single vehicle).
The fees for Youth is totally free. To check the rates, visit the website https://www.pc.gc.ca/en/pn-np/bc/glacier/visit/tarifs-fees where you will get an idea of the overall fees and would get to know the camping fees, fishing fees, and backcountry use and camping fees.
Also Read: 6 Greatest Things to do in Montana
For How Many Days Should One Plan the Trip Here?
At least one day is required to enjoy the beauty of the park to the fullest. If you have more than one day, like two to three days then it will be the best. Nothing less than one complete day is sufficient to visit different places.
If you have one day then you can visit the Going-to-the-Sun road, Logan pass, Hidden lake, McDonald lake, Avalanche lake, Trail of Cedars and do hiking at the Highline trail. For this, you have to arrive at the park by 7 am, not late than that if you want to enjoy everything giving proper time.
If you have two days then you can visit Many Glacier on the second day and if you have more than two days then you can visit the rest of the places in the park on the third, fourth, and following days.
Which Is the Best Time to Visit the Glacier National Park?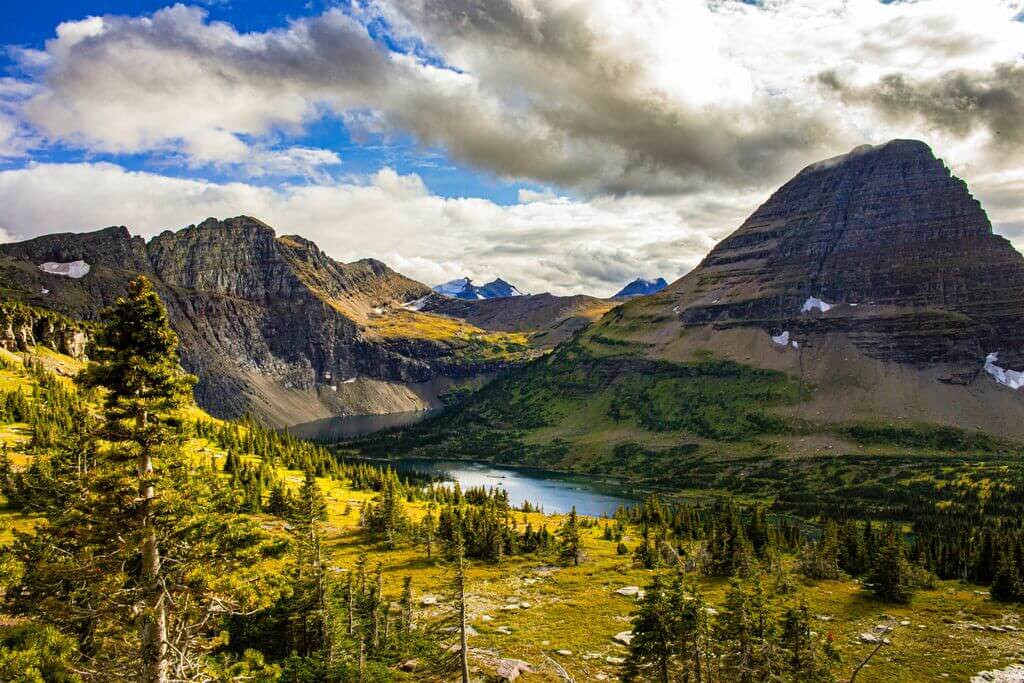 Source: tripsavvy.com
Summer is the best time to visit the park. Going-to-the-Sun Road is closed in the Winter and it is a must-visit spot so you should go in the summertime. Prices do fall in the Winters but you will miss out on some popular spots as they are closed due to snowfall.
So, here was an overview of Glacier national park and the places to visit it. Just pick a good weekend and plan a family trip here to relax in the lap of nature!
For more updates on the tourism industry, visit Travelila.