Must Things to Do in Dubai in 2023
From the city sights to thrill in theme parks, bright lights to water parks, the city of Gold, Dubai offers you limitless things to do. While combining new and old, Dubai includes each and everything from record-breaking skyscrapers to dune bashing. Indulge yourself in the glamour of this city to get a lifetime experience. If you are planning for the Dubai tour 2023, it's the ideal time to visit. Although the prices are high, the dun is endless.
Visit the top of Burj Khalifa, dine in the luxury restaurants, celebrate your special occasions on a yacht and never forget a brunch scene in Dubai. If you are here with your family or friends, a desert safari tour and yacht rental Dubai must be on your bucket list.
If you are curious to know what the city looked like hundreds of years ago, you must take a dhow cruise experience in Dubai Marina and Dubai Creek. Take a long relaxing ride towards Bluewaters island or endless beaches. After enjoying, take a break and enjoy a refreshing drink at one of the famous cafes in Dubai. However, if you are still confused while planning your tour for Dubai, don't worry, this post is for you. Let's discuss some of the significant things to do in Dubai in 2023.
Get Lost in the Deira- Local Markets of Dubai
Source: afar.com
In order to get an ideal getaway from the luxuries of Dubai, Deira (also known as old Dubai) would be the right choice for you. You'll find a thrill to walk in the narrow streets and bustling markets. Get the elegant textile, perfume souks, gold, and beautiful pashmina souk in Bur Dubai. Don't be embarrassed to bargain. Another amazing attraction that you must visit in old Dubai is Abra- a water bus ride. Relish your moments with the beautiful contrast of old and new Dubai- narrow streets and record-breaking skyscrapers.
Enjoy the Middle East Cuisine- Local
Source: matchingfoodandwine.com
The best thing about Dubai is, it offers the mini version of the Middle East. You are allowed to enjoy almost every delicious cuisine here. If we talk about some of the best restaurants for breakfast, Zaroob, a Palestine chain would be an ideal choice for you. Try Manakeesh and enjoy Mandi, prepared by their local chef. Hadeeth is one of the delicious and healthy recipes made from chicken or lamb.
Allow yourself ready for the food coma! Do you know that Dubai offers the best types of Dates worldwide? Yeah! Your heart is right… in Dubai, you'll get the dates in numerous ways- stuffing with nuts and chocolates are quite popular. Furthermore, you can also head towards Bu Qtair fish shop, a local establishment serving seafood.
Relish Your Beautiful Moments on Palm Jumeirah
Source: wp.com
The Palm Jumeirah island is not to be missed man-made island in your 2023 bucket list. Shaped like a palm tree- this beautiful island is showing its impressive architecture. Ride a bike, take a drive or just walk with your partner around the island. Just marvel at this beautiful view and relish some moments are one of the luxury hotels there. If you are visiting here with a travel agency, you'll also get to know more about this brilliant design, hidden gems as well as the story behind the architecture.
In the evening or night, Nasimi beach is another local hangout in Dubai. You must enjoy this experience while enjoying a mouth-watering meal. Moreover, Dubai hangouts in Dubai are the best in the world.
Never Miss to Visit the Mosques of Dubai
Source: tripcdn.com
If you have never been to a mosque, in Dubai it's a must to visit. It is fascinating to know that Dubai has incredible mosques in the world, best done within the local area. Visiting the Jumeirah mosque and Grand mosque brings unforgettable experiences while leaving you stunned.
Visiting with any host or travel agency is better than alone because they'll keep you updated with authentic information about the building. You'll get the complete history of these mosques with an overview of the rituals of Islam. As Islam is the major religion in UAE.
Tallest Building and Largest Mall- Go Ritzy
Source: forbes.com
Are you carving some local glitz of Dubai? What about the largest mall and the tallest building in the world? Here you have two options for visiting. You can either get a private tour of both buildings or visit or visit along to avoid the boring version. However, some of the hosts will spice up your visit.
Enjoy their backstories and controversies between these two major architectures of the world. Relish some best moments in one of the luxury restaurants of Burj Khalifa with an incredible sunset view. Must visit a stunning aquarium along with other gems.
What About a Dubai Nightlife Tour?
Source: nomadicmatt.com
Your Dubai visit is just completed without a night spent out a well worth activity. The experts say! If you haven't enjoyed a party in Dubai, you haven't had a party yet. Spend some hours at party houses with 90s music themes. You must enjoy this nightlife experience in Dubai while dancing, looking for new friends, and hooping from one place to another. After a long night, satisfy your hunger with delicious baked pies for breakfast.
Find the Hidden Gems in Al-Bastakia
Source: travelandleisure.com
It is fascinating to know that; Dubai offers a rich cultural history worldwide. Dating back to the 1890s, Al Fahidi Historical Neighborhood or Al-Bastakia quarter located at Bur Dubai is one of the major ones. Initially, it was built by the Iranians, hence, got the name. you must get a private tour to get all the information about old houses, roads, art galleries, cafes, and historical buildings. Its bohemian flavor will amuse you when you have someone to guide you regarding its hidden gems.
Ain Dubai- A New and Never to Miss Activity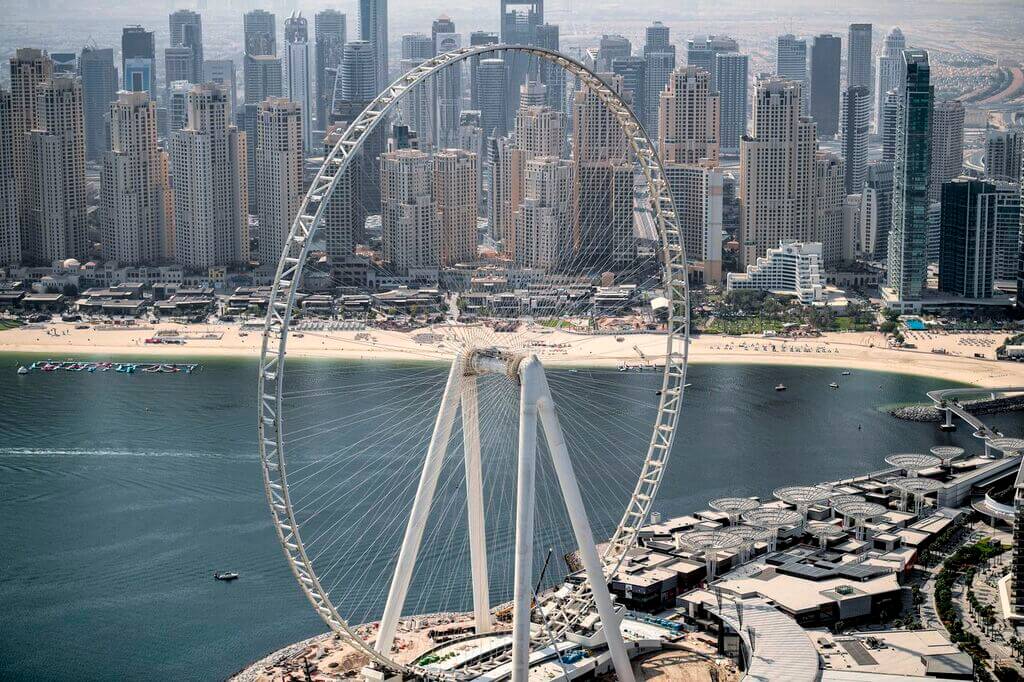 Source: silive.com
As Dubai is holding numerous world records like the tallest building and largest shopping mall, Ain Dubai is a new addition to this list. The world's tallest Ferris wheel located at Bluewater island is offering a 360 degrees view. You'll be surprised to know, Dubai Eye is approx., twice the overall height of the London Eye. Book your Ain Dubai tickets now to enjoy breathtaking scenes of the Emirate's skyline.
The best thing about the Dubai Eye making it unique from other observation wheels is, over 1700 guests can enjoy this ride. If you are planning for your Dubai tour 2023, Ain Dubai placement is on your list.
Also Read: 10 of the Best Beaches in Dubai: Beat The Heat With Style
Enjoy a Desert Safari Tour
Source: dubaitourservices.com
We all know, Dubai is famous for its desert safari tours. The experience is more delightful when followed by Bedouins- local communities living in the desert. In order to avoid any generic tours, local hosts are always the best option to enjoy camel rides on the sand dunes. You'll also see falcons admiring the beautiful sunset view.
If you are planning for an overnight stay, then the fun is endless because the main attraction will be Bedouin prepared meal. The entire meal is mouth-watering including chicken, rice, fresh salad, grilled meat as well as various sweets. Tea and hookah pipe are also part of the meal. If you are in Dubai, never miss the opportunity of this amazing experience.
Conclusion
Make your Dubai tour more salubrious by adding some of the above must-to-do things to your bucket list. Find yourself soaking in the mesmerizing views of Dubai architecture and collect lifetime memories.