Renowned the world for its magnificent architecture and breathtaking views, visitors flock to Budapest each year to soak the tranquility and beauty of the place. There are no two thoughts to the saying, "Food connects us all." Whether you in a foreign land or chewing delicious dish in your homeland, it is only the food that helps you to an established life-long friendship. Is that true, right? So, today we are here to help you find out the best Budapest Restaurants.
Onyx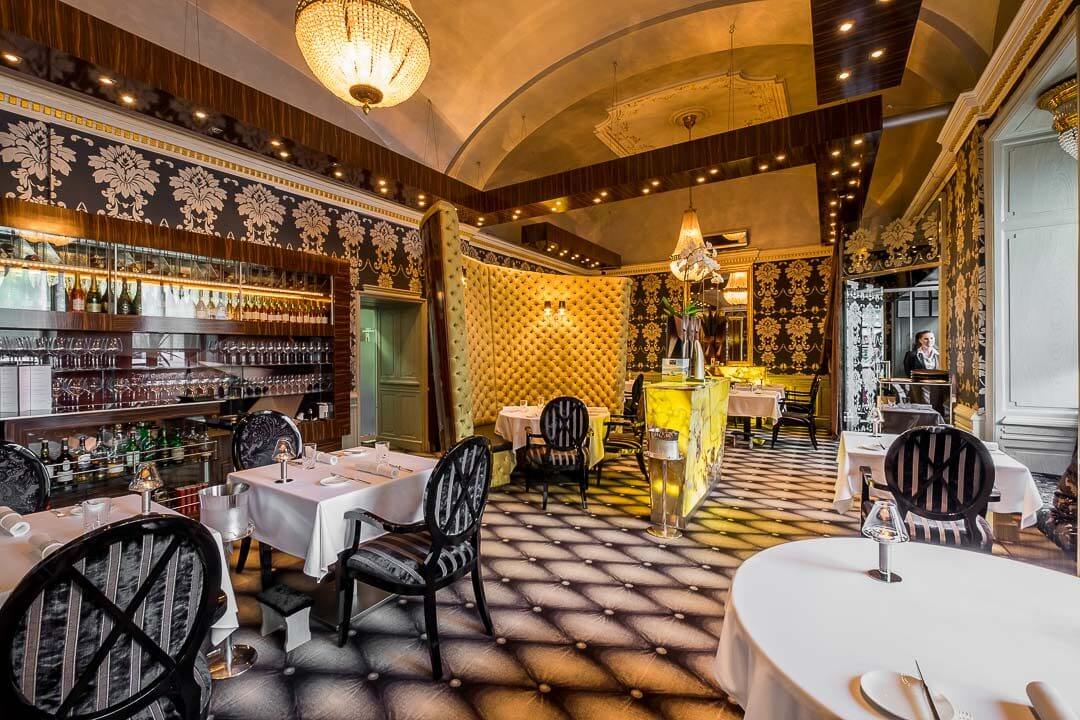 Source: hungryformore-mag.com
Address:
Budapest, Vörösmarty tér 7-8, 1051 Hungary
When it comes to choosing the best restaurants in Budapest, no one can forget the Michelin star restaurant, Onyx. If you wish to enjoy the complete experience and hospitality of Budapest, then this is the restaurant for you. The first thing that will steal your heart is its ambiance, the beautiful and grand chandelier, marble statues, widely spaced tables, and melodious music in the background, and on top of that, the authentic and delicious food, who can ask for more?
Food:
If you are this place for lunch, then you can choose between 3-courses, 4-course or 6-course menu with the wine, which is not complimentary. Diners have their own exotic experience with wild sea bases and authentic local Hungarian cuisine. Its deserts have its own deliciously and fan following. Even if you are vegetarian also, this place is a must-try when in the country.
Spinoza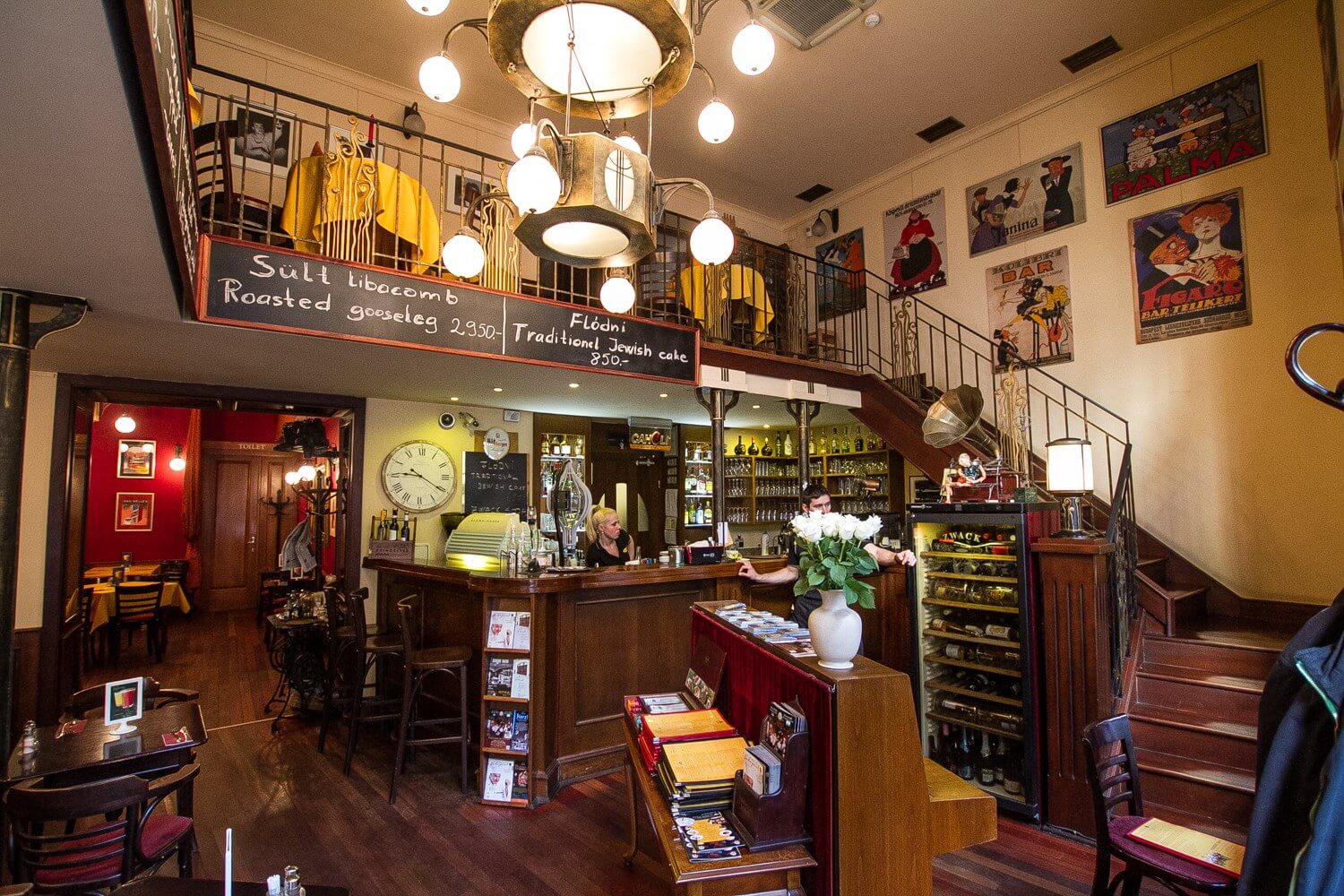 Source: etterem.hu
Address:
Budapest, Dob u. 15, 1074 Hungary
Spinoza is the best location to enjoy the delicious food in the ambiance of the early 20th century. It is a very popular dining place amongst local as well as tourists. Imagine yourself enjoying yummy food with the live piano, what a deadly combination, right?
Food
The restaurant serves its guests with a warm and welcoming gesture. The food here is a result of a perfect blend of Hungarian and Mediterranean tastes. The place is a venue for theater and art gallery lovers between May to September. Recommended dishes include goose fried leg, goulash soup, and goose liver.
Náncsi Néni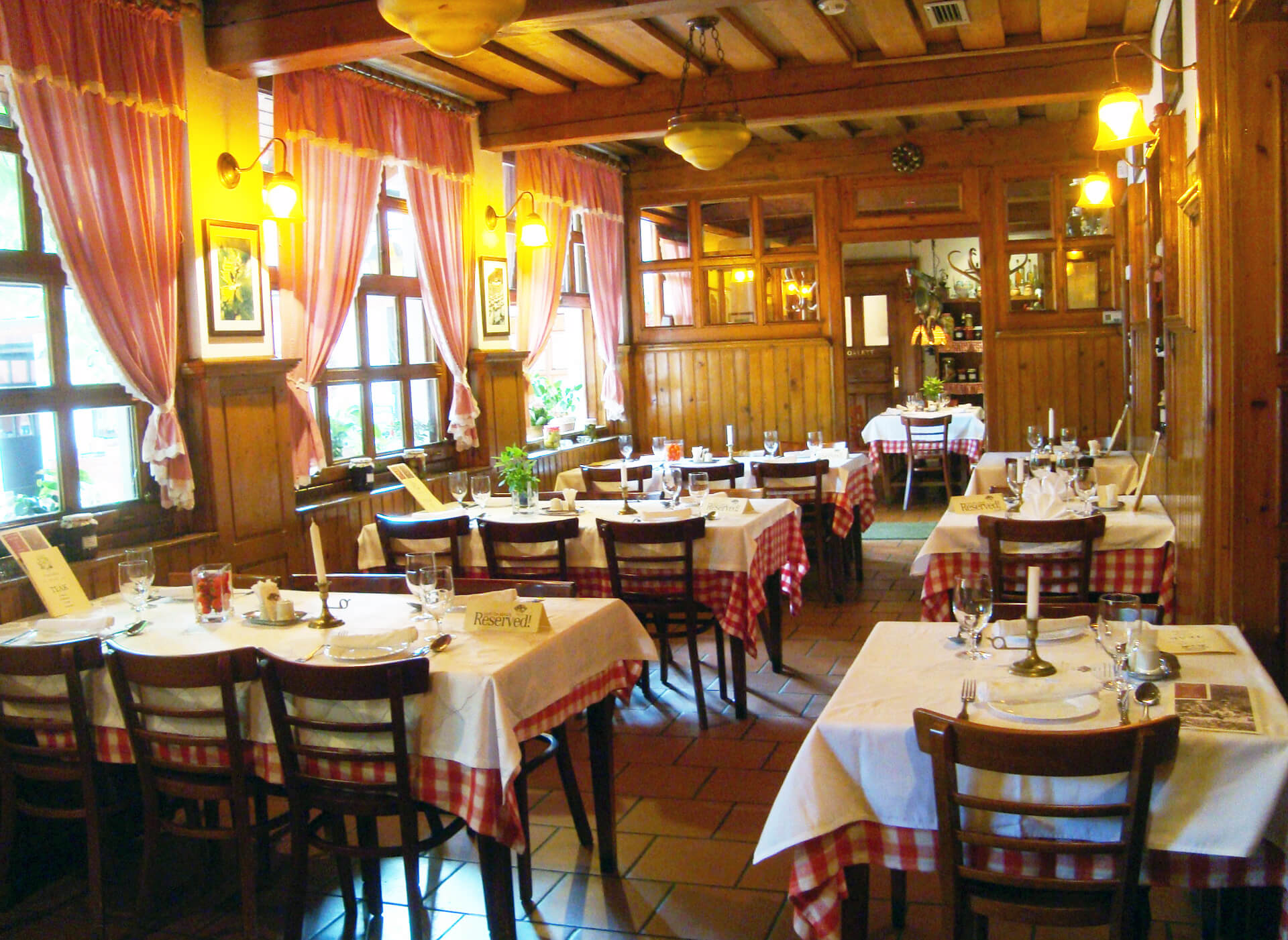 Source: nancsineni.hu
Address:
Budapest, Ördögárok u. 80, 1029 Hungary
Just like an interesting story behind the Nanci Neni, the ambiance like wood-paneled walls and shelves with home-made pickles(animal-shaped pickles) is quite impressive. The restaurant was the continuous winner of Michelin Guide's Bib Gourmand award from 2003 to 2007. Located at the Buda Hills, it becomes very popular among locals and travelers to serve authentic Hungarian food.
Food
The restaurant serves food depending on seasons as they want their customers to enjoy different and season Hungarian dishes. Let have a quick highlight of its menu; their specialties include catfish paprikas, pike perch, chicken broth, stuffed turkey breast, túrógombóc and don't to forget its traditional brandy, pálinka.
Csalogány 26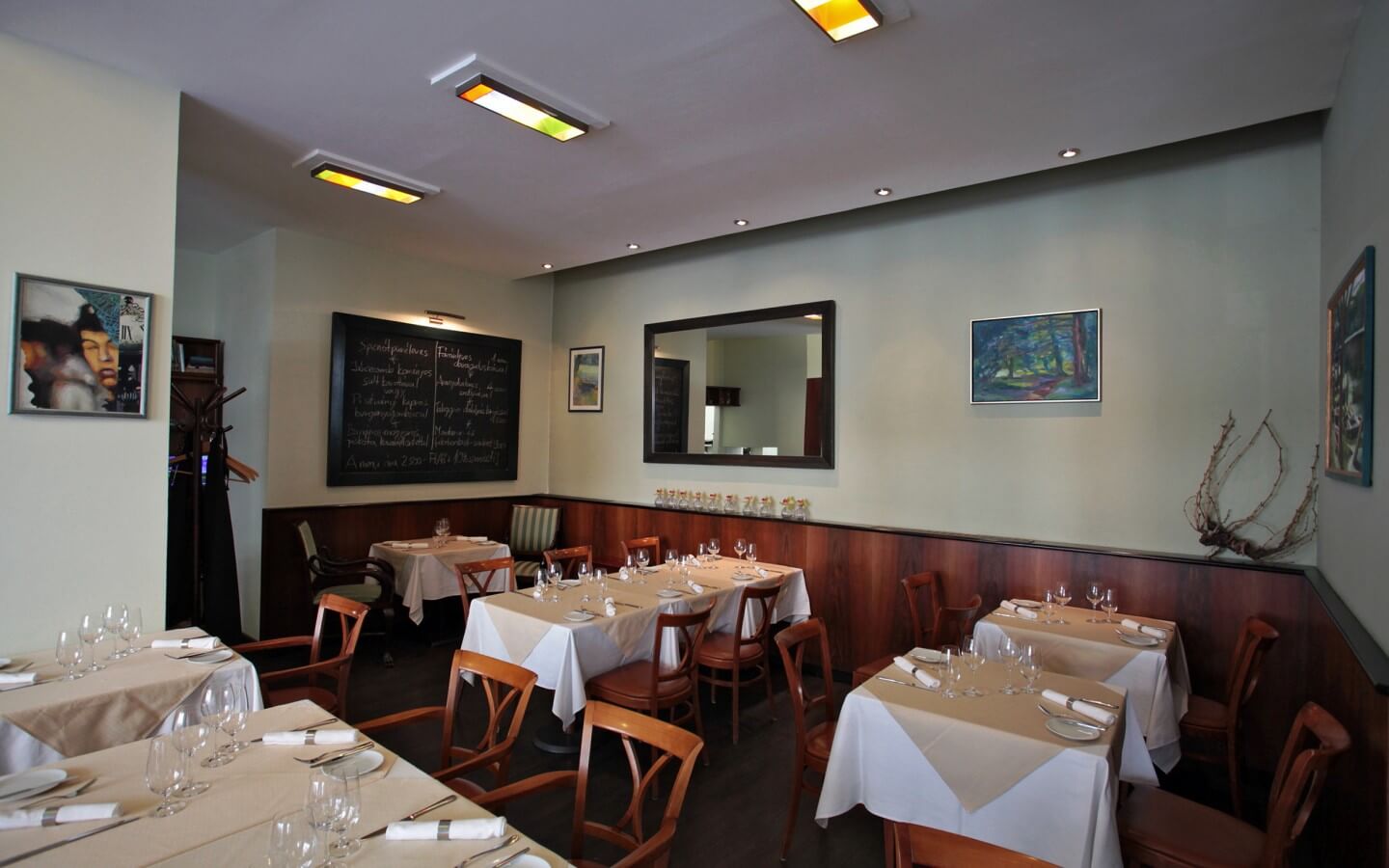 Source: csalogany26.hu
Address:
Budapest, Csalogány u. 26, 1015 Hungary
If you want to make the best of your lunchtime with great food and wine then Csalogány 26 is your place. The ambiance is cozy and comfortable to offer you a great experience. You know the surprising part of this restaurant, its menu keeps changing daily. Isn't it crazy? They serve the best quality food keeping local and seasonal factors in mind.
Food:
You should definitely try their catfish, grilled duck liver, magyartarka tartar with quail eggs, and lots more. They offer a tasting menu as well as a lunch menu.
Mazel Tov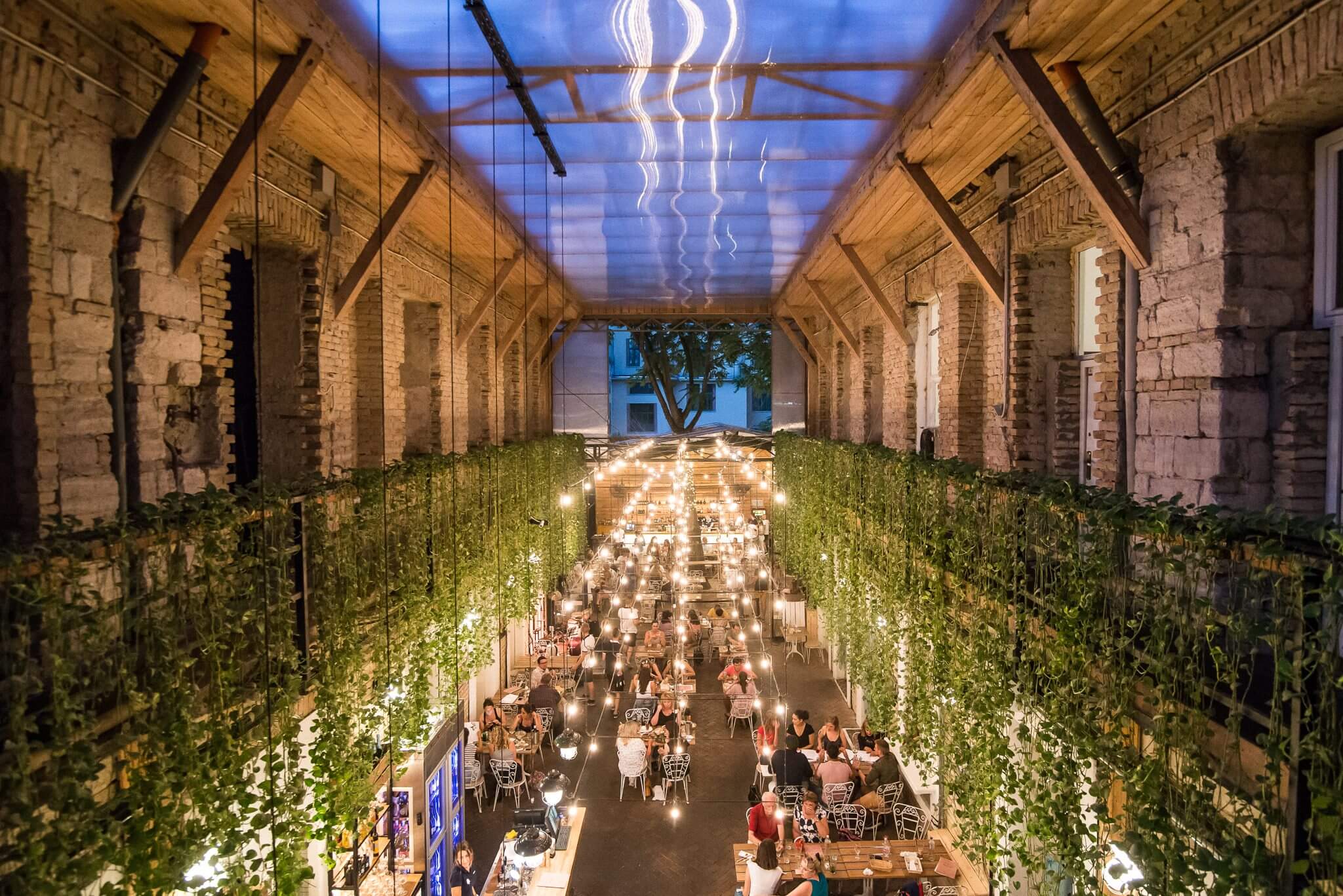 Source: welovebudapest.com
Address:
Budapest, Akácfa u. 47, 1072 Hungary
All the gastronome on the Budapest tour, if you wish to enjoy luxury and mouth-watering food, then never ever miss visiting Mazel Tov. This spacious and open glass roof restaurant is a complete package to quality time with friends and family. You can enjoy a hybrid of Israeli-Mediterranean food and, of course, cocktail in its best form.
Food:
Falafel burger in a sweet potato bun, shakshuka, shawarma, kebab platter, and semolina pudding, and Hummus bowl. Complete your food with the sweet note by ordering anything between traditional malabi pudding and Jerusalem cheesecake.
Borkonyha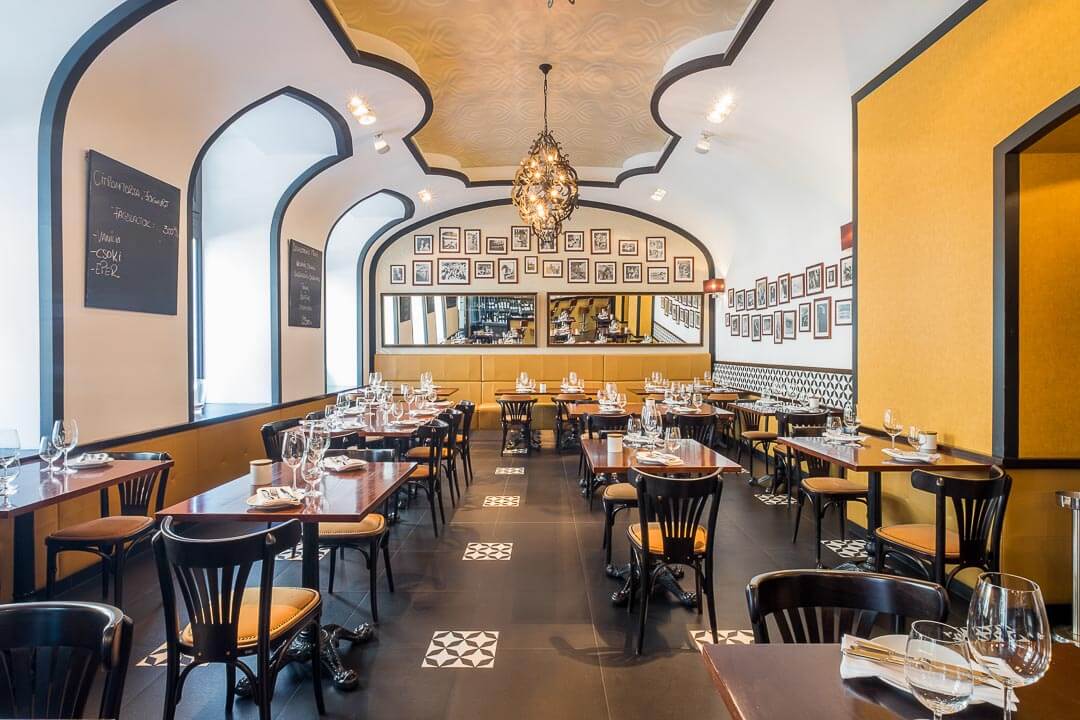 Source: twitter.com
Address:
Budapest, Sas u. 3, 1051 Hungary
If you wish experienced fine dining experience, then what's better than Michelin-starred restaurant, Borkonyha. But the trip to this restaurant can be quite a costly affair; however, its variety makes it worth it.
Food:
How many types of wines have you tasted till long? 20, 30, or 100, what if we say Borkonyha offers you 200 varieties of wines. Its food got the influence of French bistro-style and contemporary Hungarian. Picking from its menu, one should surely try grilled duck liver with creamed broccoli, grilled prawns, Blue-fin tuna, cabernet sauvignon, liver appetizer, and lemon cake.
Also Read: 3 Best Food Tours: To Experience an Appetizing Travel
Costes Downtown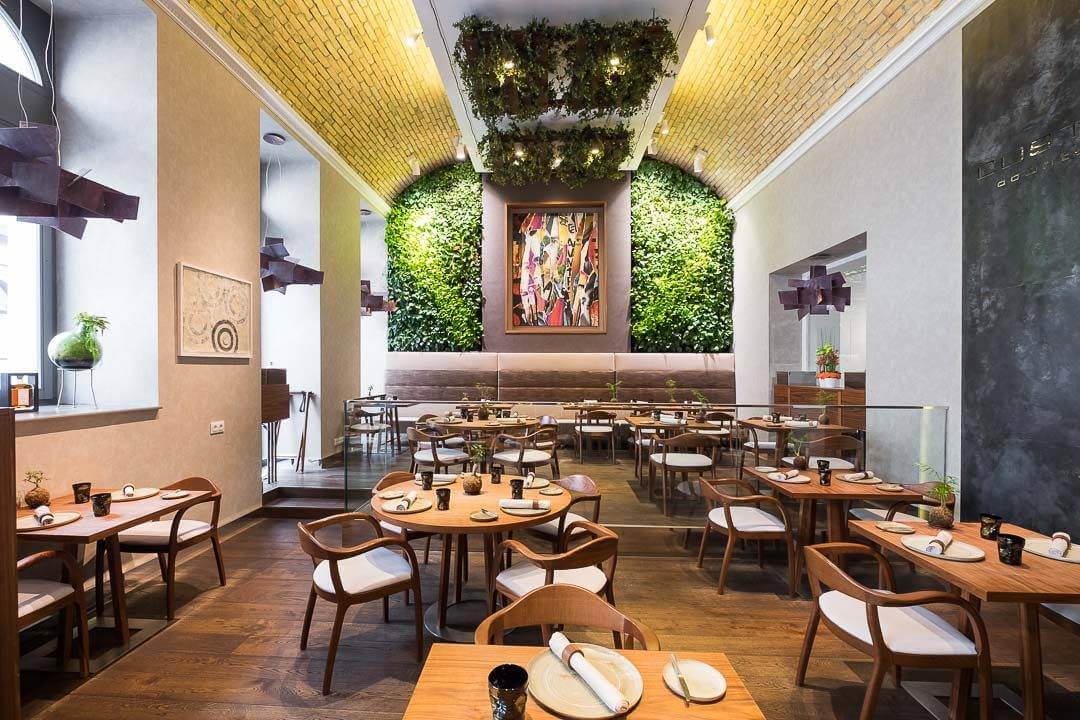 Source: olvidar.co
Address:
Budapest, Vigyázó Ferenc u. 5, 1051 Hungary
Don't worry all-vegetarian out there, Costes Downtown is your place. This Hungarian restaurant is open to serve breakfast, lunch, and dinner to its visitors at an affordable cost. They offer a five-course vegetarian menu. To avoid waiting, make sure to reserve a table in well advance.
Food:
With the motto, " Quality gastronomy without compromises", they offer a seasonal menu, but one focused ingredient that remains in all dishes is Jerusalem artichoke or celeriac. If you wish to taste its delicious breakfast, then it is open from 6:30 am to 10:30 am. Even omnivorous can check out this place for one of the best dining experiences in Budapest.
Bon Appetit!
Make your trip to Budapest a memorable one by exploring an amazing beauty spot and delicious dining experience. Budapest restaurants have something for everyone. We hope that you have a clear head now when it comes to where to eat in Budapest. For all the traveling guides and tips, keep reading Travelila.