Costa Rica, the place known for the diversified wildlife, is also famous for its hiking trails. It attracts people who have a specific interest in hiking, surfing, or any other adventurous sports. Costa Rica, located in Central America, has the best scenic landscapes, refuge trails, unique wildlife, waterfall hiking, and many more. In this article, we list down the best hikes in Costa Rica which you need to check out.
Even if you are a beginner in the field of hiking, Costa Rica has covered you up with easy hiking trails as well. It has many hiking trails with different types of difficulty levels. Except for this, it also has trails for the ones who just want to wander in the wilderness.
You will find the Best Hikes in Costa Rica around the whole world. Costa Rica Hiking can give you indescribable pleasure if you are totally into the hiking thing. You would be confused about where to go as they have a number of national parks and trails that allow you to hike. Here are Women's Hiking Boots.
Did you know, Costa Rica has more than 25% of its land covered with national parks, wilderness, and reserves. It also has the world's deadliest lizard named Jesus Christ lizard.
Let's move on to the list of best hikes in Costa Rica that you shouldn't forget to add to your checklist before starting the voyage.
Best Hikes In Costa Rica: Arenal Hanging Bridges
Source: wp.com
The place in Costa Rica that has the active volcanoes ever is none other than the Arenal national park. In fact, it is the only place in the world that has this much of active volcanoes and also an area with 15 bridges to go through. How can we forget to mention that it is one of the many Costa Rica Attractions?
Yeah! Of which six are hanging bridges from where you can get the best scenic view of the rain forest canopy and distinctive wildlife as in birds, monkeys, and insects.
Although it is just 2 miles, it can give you the best experience of hiking and a view of nature's magical moments and no to forget about the La Fortuna waterfall that most of the tourists love.
Did You Know? Earthquakes here are the common thing.
Manuel Antonio National Park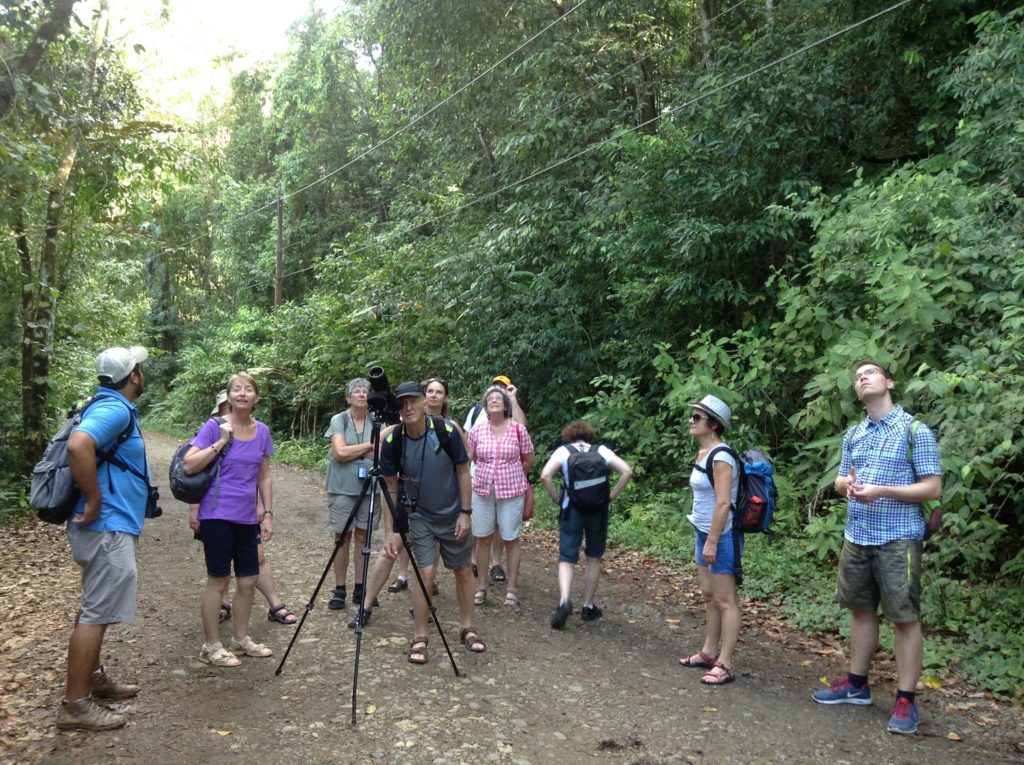 Source: wixstatic.com
The smallest national park of Costa Rica, Manuel Antonio covers just 1680 acres of land. Despite small space, it can give you fantastic views of a variety of wildlife. Also, it is best for the less experienced hikers as the infrastructure is maintained at its best and signages are correctly placed.
If someone wants to experience a little bit of stricter hiking, they can add one mile of walking up to the Cathedral Point Trail. You may also be able to see four different species of monkeys, some of the vibrant, colorful birds, and raccoons.
It has a white sand beach named Third Beach that you can discover after the trail from the dense rainforest. You will feel like finding the treasure after struggling for a long.
Did You Know? Costa Rica is the home to the rare wild sloths.
Also Read: Spectacular Hiking Trails In Los Angeles With Beautiful Endings
Best Hikes In Costa Rica: Rio Celeste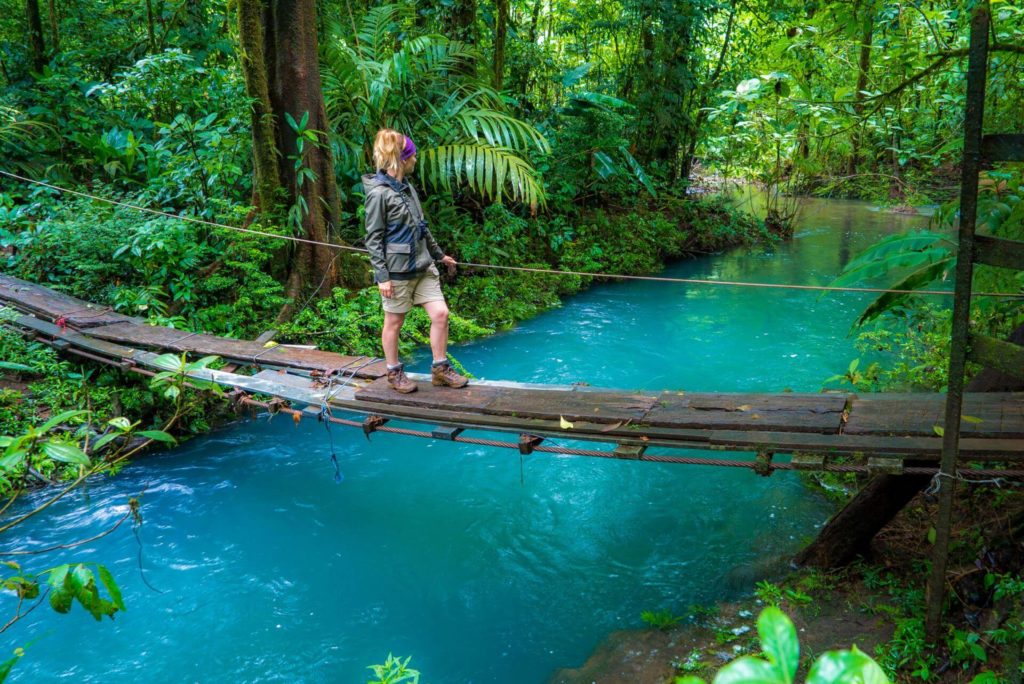 Source: tinyhousegiantjourney.com
Rio Celeste, located in the Tenorio Volcano National Park, looks like a place that has come straight out from the fairyland. Why? Just look at the above image it isn't photoshopped. The Celeste river has clear turquoise blue water without even a single spot of a different color. The reason behind it is carbonate and sulfur mixed in water from the nearest volcano.
The glowing effect can make anyone put in doubt whether it is real or just a mirage. To reach there, you wouldn't have to go through extremities as the rail up to Rio Celeste is not that difficult. It needs moderate hiking.
Prefer having a guided tour that will also cover some geological features of volcanoes. The paths towards the Rio Celeste also have The Overgrown Tree Roots.
Did You Know? Costa Rica has 1400 varieties of orchids.
Corcovado National Park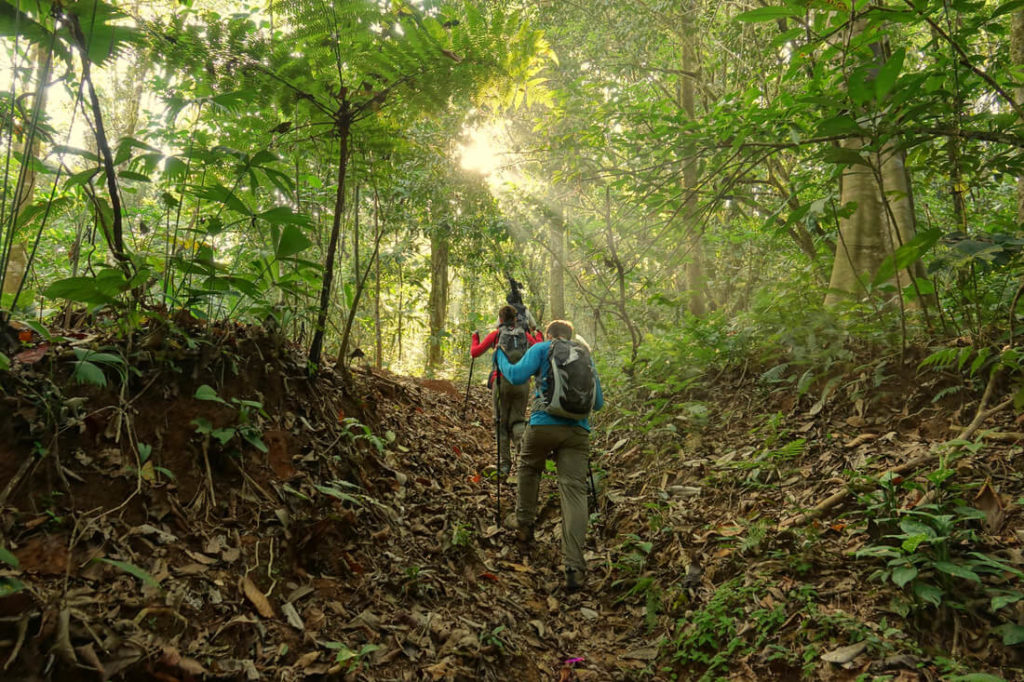 Source: darnoldhiking.com
Corcovado national park is titled as 'one of the most biologically intense places in the world' for a reason. It has a vast population of jaguars, tapirs, monkeys, scarlet macaws, and lot many different species of wildlife animals and plants. The trail or hiking in this national park needs a professional guide. It doesn't have an exact entrance or the perfectly paved path.
To experience great hiking, cover the 10-mile trail between the Leona and Sirena, you may have to take hold for one night. It will be worthy, and if you are lucky enough, you may spot the Jaguar passing by. It has an abundance of wildlife; after all, it is famous for them only.
This national park has windy trails that take you to the beach, crossing rivers, and walking into the deep rain forests. You can experience all the things while hiking here that you have only seen on screens.
The trail in the Corcovado National Park is much of a difficult but can give you the best experience of life.
Did You Know? Costa Rica has more than 5% of the world's biodiversity.
Other than all these places there are other locations as well that you should go for, and they are as following:-
Sendero Bosque Nuboso
Blue Lake and Congrejo Falls
Barva Volcano
Cahuita National Park
Cerro Chirripo
These are the four best hikes in Costa Rica that you should definitely go to without having a second thought. For more ideas related to travel expedition, visit Travelila.