Get the Best Anna Maria Island Restaurants
Meal planning is the last thing on your mind while you're on vacation. Mealtime should be as relaxed as the rest of your trip. The same may be said for a trip to Anna Maria Island. There are myriad of fantastic eateries to choose from.
Anna Maria Island is widely regarded as one of the most gorgeous islands on the planet! That's a really wonderful title, and you'll realize why after you visit. However, you won't be able to spend all of your time on the beach, so you'll need to find some places to eat on Anna Maria Island. We've got you covered!
We've put together a list of the top restaurants on Anna Maria Island for you to try during your visit. We offer something for everyone, whether it's breakfast, lunch, supper, or brunch. We also offer a variety of cuisines to choose from, so you can find whatever you're craving!
Also, while you're preparing, have a look at some of the most beautiful Florida VRBO vacation rentals and the top Airbnbs! On Anna Maria Island, there are some stunning possibilities with the best Anna Maria island restaurants.
Check out these anna maria island restaurants on your holiday for anything from breakfast to brunch, lunch to supper, and even a quick snack:
The Rod & Reel Pier Restaurant Is a Seafood Restaurant on the Pier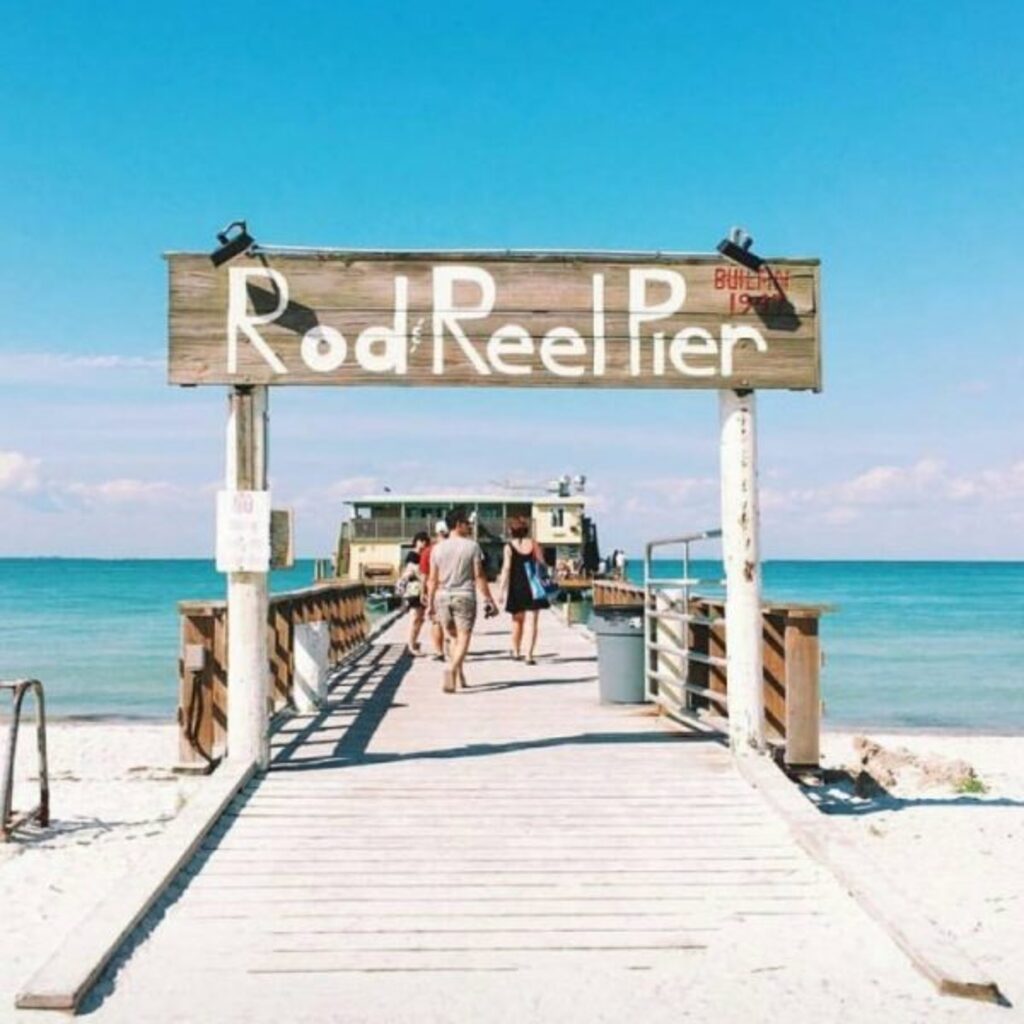 Source: annamaria.com
The Rod & Reel Pier anna maria island restaurant is one of Anna Maria Island's greatest restaurants. They provide the greatest grouper sandwich in town, in our opinion! Depending on your desire, there is both indoor and outdoor sitting available.
Hurricane Hanks
Source: alwaysontheshore.com
The laid-back, uncomplicated dining selections are Hurricane Hanks' claim to fame. We're talking about things like loaded potato skins, fish and chips, and burgers. The costs are comparable to those seen at similar establishments, ranging from roughly $10 for a full-size house salad to around $25 for more specialized seafood selections. However, the majority of the meals on the menu will cost between $10 and $20 for each plate. Plan on trying a few different things; the peel-and-eat shrimp are great, and they offer a pretty tasty crab cake.
Beach Bistro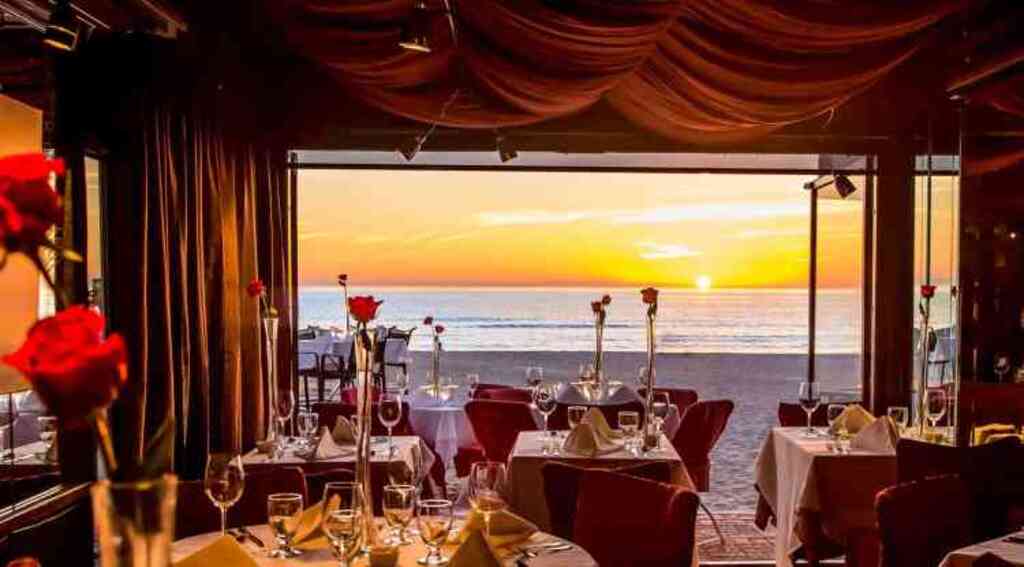 Source: wanderingourworld.com
On Anna Maria Island, Beach Bistro is a terrific restaurant choice among Anna Maria island restaurants. It is an elite dinner-only restaurant that is not only lovely and charming but also one of Anna Maria's best seaside restaurants.
To dine here, you must make a reservation, and we recommend that you check the sunset time and schedule your reservation for approximately an hour before sunset so that you can enjoy a spectacular sunset over the sea while enjoying your delicious dinner.
Restaurant on the Water View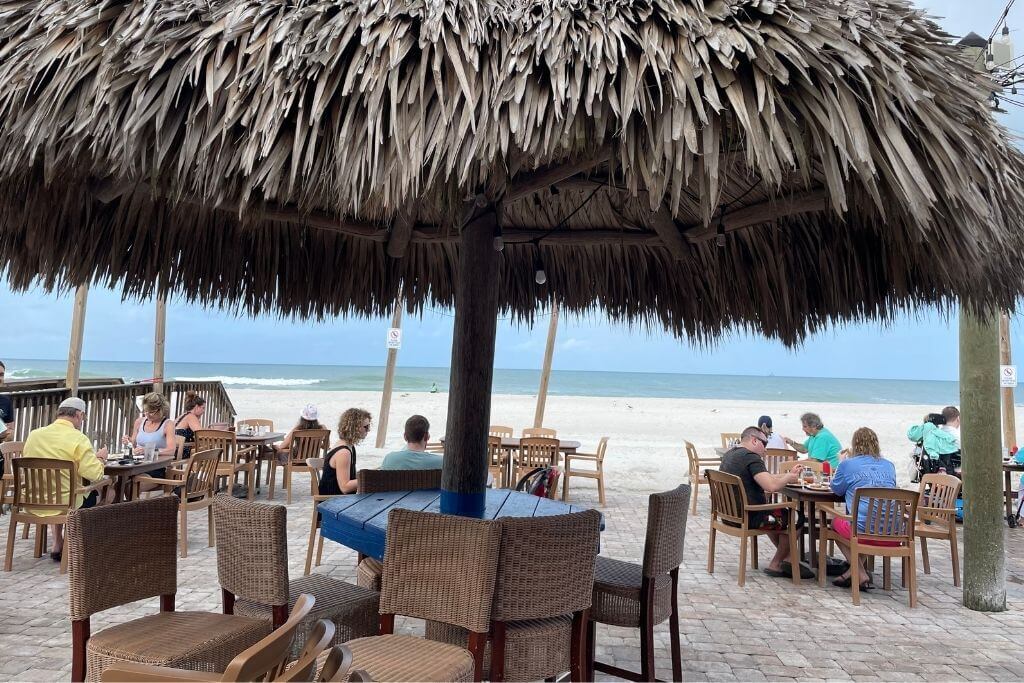 Source: alwaysontheshore.com
When your company is ready for a more formal meal, the Water view restaurants on Anna maria island is the place to go. If you'd like to make a reservation in advance, you may do so online. They can also accommodate a variety of diets and allergies because their cuisine is prepared fresh.
Fin With Freckles
Source: alwaysontheshore.com
Freckled Fin is a laid-back Irish bar in the neighborhood. Because of their late-night hours, it's ideal for a late-night snack or drink. Their online event calendar lists everyday activities such as quizzes and live music.
My AMI
My AMI is a small French restaurant on Anna Maria island and one of the greatest restaurants on Anna Maria Island. All of their meals are created to order. It's a once-in-a-lifetime opportunity.
Take a Break and Eat Here
Eat Here stands out thanks to its pleasant, comfortable atmosphere. People keep coming back because of the laid-back vibe created by a luminous purple sign and mismatched tableware. Salads & soups, tacos, pizzas, and home-style blue plate specials are all popular items on the menu. They also provide a range of seafood, including wild Atlantic salmon, and the selection is based on the day's fresh catches.
Allow Ginny's and Jane E's to Satisfy Your Hunger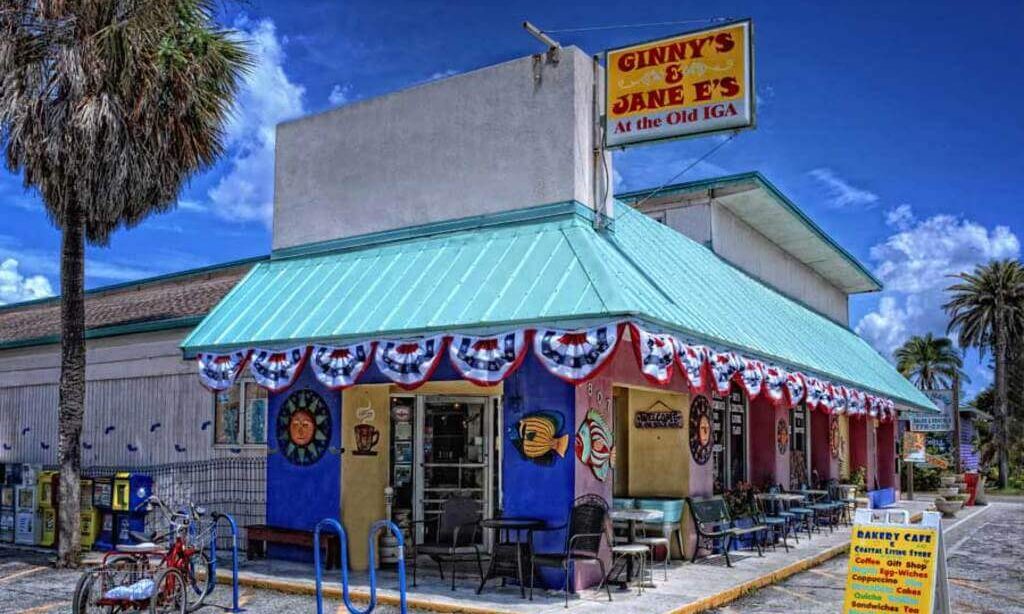 Source: simpleviewinc.com
Breakfast and lunch are served at this local popular restaurant on anna maria island. The bakery sells fresh cinnamon buns, pies, and other baked goods, while the café offers a full menu of hot and cold beverages, quiches, and sandwiches. Check out the shop for antiques and knickknacks. Many of the products originate from local artists and pickers, and many of them are one-of-a-kind works that tourists won't find anywhere else.
The Island Spice Serves Indian Cuisine
The Island Spice, restaurants on anna maria island which specializes in Indian cuisine, is a good choice for those who prefer it hot. The dive is known for its original tastes, delectable cuisine, and generous quantities. Dosa, uthappam, and huge meals, with or without meat, are popular lunch and supper options. Sides and sweets, as well as American dishes, are available, providing a multicuisine setting.
Sandbar
Source: alwaysontheshore.com
This is one of Anna Maria Island's top beachfront restaurants, located immediately on the beach. Not only can you dine on the beach, but they also cater to special parties and have professionals on hand to assist you in planning all of the amazing details. So, whether you're organizing a wedding, family reunion, birthday party, or another special occasion, The Sandbar Restaurant might be an excellent choice.
The Sandbar restaurants on anna maria island have plenty of parking, however, they don't take bookings. As a result, plan on arriving a little earlier for supper or expect to have to wait a little longer for a table. The menu isn't particularly extensive but it gives a decent range and even includes vegan and gluten-free alternatives.
Poppo's Taqueria Allows You to Make Your Own Tacos
This hotspot serves excellent Mexican cuisine. Poppo's serves distinct flavors and a wacky range of craft beers, and it's always fresh. Burrito, taco, quesadilla, and bowl creations are popular, with both hot and cold sides and toppings. This restaurant employs largely organic products and prepares many of the dishes from scratch in front of the diners.
Rod and Reel Pier Are a Great Way to Unwind
This island institution provides both traditional and seafood meals. Rod and Reel is open for all meals and has a menu that includes everything from morning pancakes to sandwiches to major entrees. Dinner options include grouper and a seafood combination. This relaxed, family-friendly eatery includes indoor and outdoor dining on two levels, as well as a bar on the first.
Become a Member of the Skinny's Place Family
Try this family-owned dive for a burger, which has been listed among the best restaurants in anna maria island for over 60 years. Meals include burgers and hot dogs, sandwiches, and sides, and the restaurant specializes in American cuisine. My favorite is Grandma's homemade chili. Visitors adore the modest charm and island-friendly environment of this restaurant, which is open for lunch and supper. Pair it with a nice beer to round out the meal, and bring cash because this is a cash-only business.
Make a Dinner Reservation at the Waterfront Restaurant
Foodies will like the extensive menu, which includes a craft bar. That's a bar, not beer, therefore there are four different drink menus to choose from, as well as three different tasty food menus. The Waterfront serves a variety of seafood and salads, including tropical and crab Caesar salads, for lunch and dinner. Daily specials are very popular, and they alter according to catches and seasons.
When it comes to the best restaurants in the Anna Maria island a view, the Waterfront Restaurant is the place to go. You may eat on their patio while admiring the view of the lake, the skyway bridge in the distance, and the pier. It's a fantastic combo and a fantastic seaside restaurant choice on Anna Maria Island.
The Waterfront Restaurant has a little higher price tag than some other restaurants, but the cuisine is wonderful. You should expect to pay between $50 and $100 per person (with food and drinks). However, for that price, you will receive genuinely great cuisine and service. The kindness of the employees and the high quality of the cuisine reflects their delight in being here.
Feast Restaurant
Source: alwaysontheshore.com
Looking for a seafood-heavy meal at one of Anna Maria Island's restaurants? Then the Feast Restaurant is a fantastic choice! The Feast Restaurant offers a broad variety of seafood dishes, all of which are highly praised.
Not only is the food delicious, but the service is also excellent. If you have food allergies, the waiter and kitchen staff will help you to explore the menu so that everyone may have a delectable dinner. Of course, if you have any further issues, phone the restaurant ahead of time to address them!
Of course, seafood isn't their only offering. They also serve delicious salads that are fresh and colourful, as well as the tastiest pizzas. The pizzas are especially amazing since you can build your own from over 20 different toppings if you don't want to order one of their pre-set combos.
The meal is just stunning, and they dish everything with a lovely creative eye. Coconut shrimp, hogfish Sanibel, and shrimp and lobster risotto are a few favourites to try.
You'll have a truly immersive dining experience thanks to the tiny restaurant environment and the gorgeous and excellent cuisine. The Feast Restaurant is open for both lunch and supper, so you may choose whether you want to come here for lunch or dinner on Anna Maria Island!
Conclusion
Beautiful beaches, excellent fishing, animal viewing, and panoramic vistas are all available on Anna Maria Island. The majority of the island can be explored on foot or by bicycle, making it a popular destination for adventurers. When it's time to take a break, the area's eateries have everything you need to refuel. Here were some of the must-try Anna Maria Island eateries.
For more updates on the tourism industry, visit Travelila.