In our opening statement, we will be completely frank about this: Dubai is no Paris. Many tourists who have been there will report that modern Dubai is nothing like Buenos Aires or other capitals/most populous high-prestige cities of other cultures. True, it is a commercial hub, indubitably among World's top commercial hubs at that – but much of today's Dubai stands as a decoy of affluence and the zenith of luxury, and limited to being only that. 80% of Dubai's residents are ex-pats whose sweat the city's foundation is laid upon, but there is no cultural assimilation to give it a unique Dubai tint. If we don't mince our words, Dubai is a soulless husk. But it is the most intricate of husks, nevertheless. You will not derive the essence of Arab culture, or any other culture, or even a cultural hotpot typical of metropolitan cities like this, but Dubai is definitely UAE's most majestic city. Most of its common cityscape may be devoid of an architectural tradition that lends a religiosity, a certain dignity to monuments, and makes them heritage, or into best hotels but Dubai can still show you the peak of modern architecture. Dubai is called the 'city of the future' with good reason.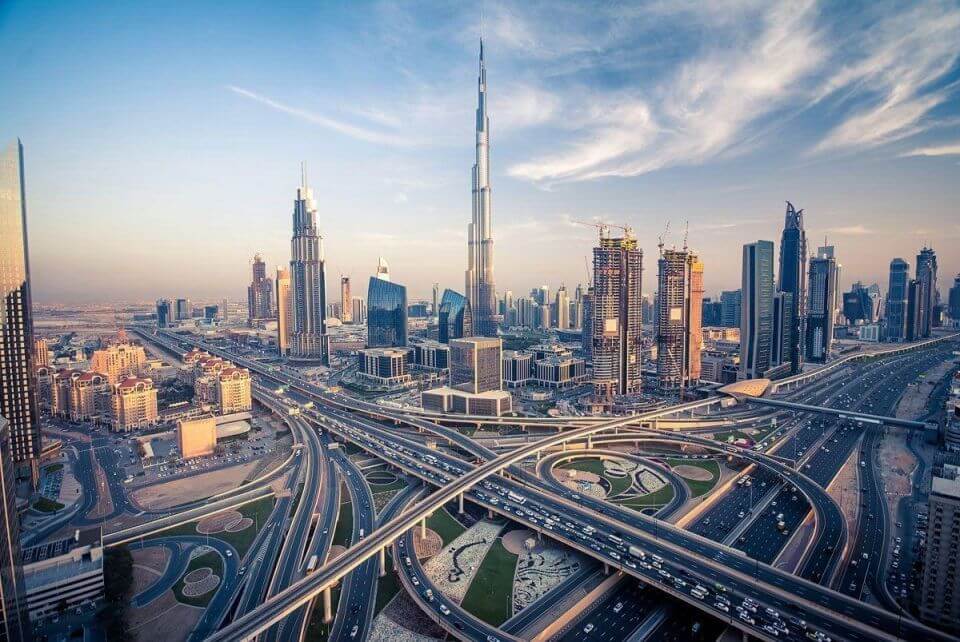 Source: arabianbusiness.com
But this does not mean Dubai does not have a gripping historical trajectory. Dubai has always been the center of the trading web that connects faraway corners of the earth in a common trading thread, and through thick and thin, it has withstood the test of time as such. It used to be a pearl export hotbed in the 1930s before the Great Depression came along, that is. It recovered even after the collapse of the pearl industry with a thriving gold-trading network. Then in the 1960s, oil revenues started piling up, which brought infrastructure developments, which brought a tsunami of migrating foreign workers, creating a huge labor market, and you know the rest.
Now that we have addressed the elephant in the room, let us actually account for the tourist destination Dubai presents to you. We might have dubbed it soulless, but this cannot deter you from the fact that there is an endless queue of places to see and things to do in Dubai. The city is one of the richest on the earth, and its tourism precedes this reputation. Here are the top 10 places you must never miss on your Dubai itinerary.
Burj Khalifa: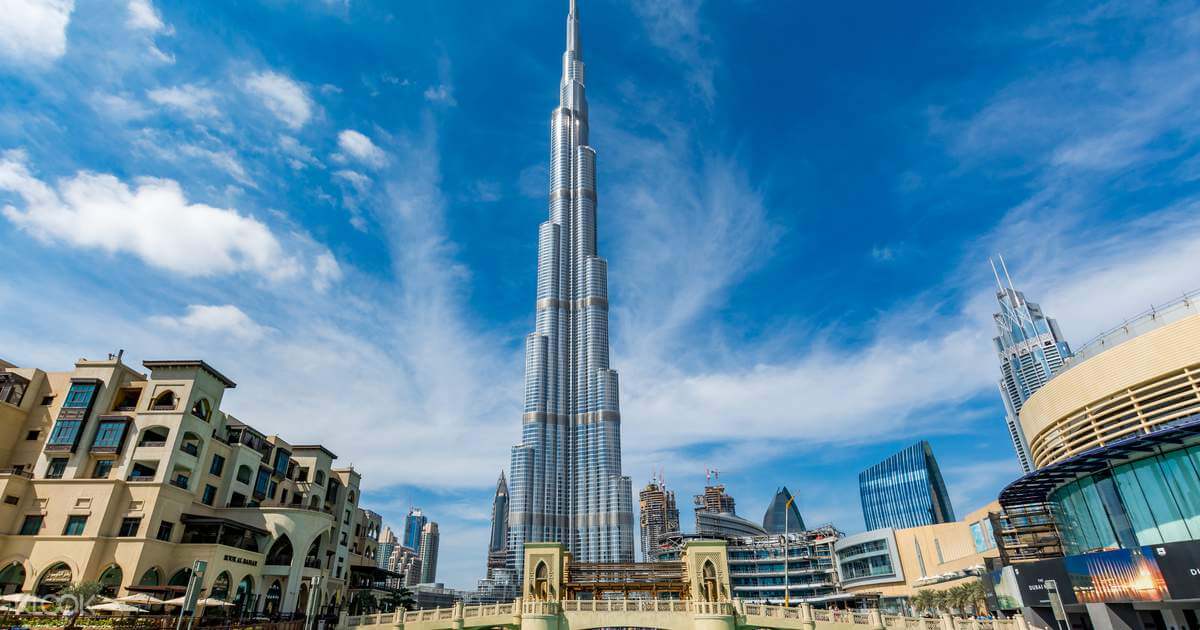 Source: res.klook.com
Selling Burj Khalifa to any tourist would be child's play – no matter how ridiculously bad you are as a salesperson, you can do it. This is because Burj Khalifa is not just any tourist destination, but arguably the eighth wonder of the world, right next to the likes of Machu Pichhu and Taj Mahal. And it could be the best stay for a honeymoon destination for any couple!
Most of Burj Khalifa's press comes from its reputation of being the tallest structure in the world, clocking in at 2,700 feet. But when you see it first hand, you will see that this length comes secondary to its architectural value. Burj Khalifa is the pinnacle of the modern tube building design, the spiritual successor to the Willis Tower and Skidmore, Owings and Merril's high point. It has been a prime spot for some of the most famous BASE jumping endeavors. For tourists, the foremost task should be to see Dubai from atop the building – which is nothing short of a lifetime achievement. This is not just some bird's eye view, but a view standing on the literal highest point in the history of construction! It closes down at 1 am sharp, though, so plan your trip accordingly.
Burj Al Arab: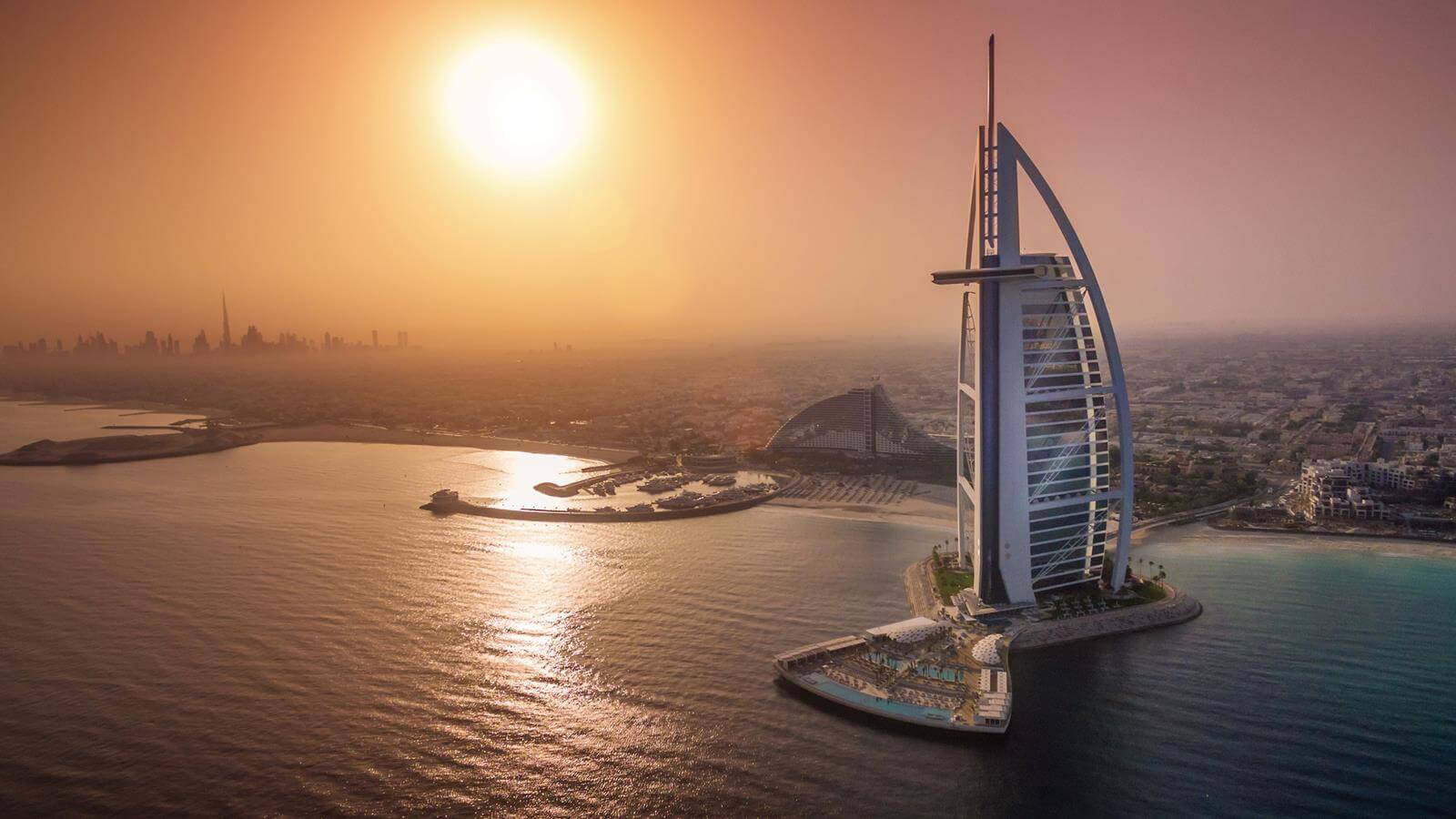 Source: jumeirah.com
If you marveled at the glorious tube structure that is Burj Khalifa, prepare to be blown away by the sheer force of awe that Burj Al Arab's presence exerts. There are two caveats: one, the primetime is in the evening when the choreographed lighting comes alive, and secondly, it has quite a bulky tariff that you need to adjust your budget for. Burj Al Arab is believed by some to be the most luxurious 7-star hotel in the world. Shaped like a sail, the building stands on an offshore island off the Jumeirah beach.
Jumeirah Beach: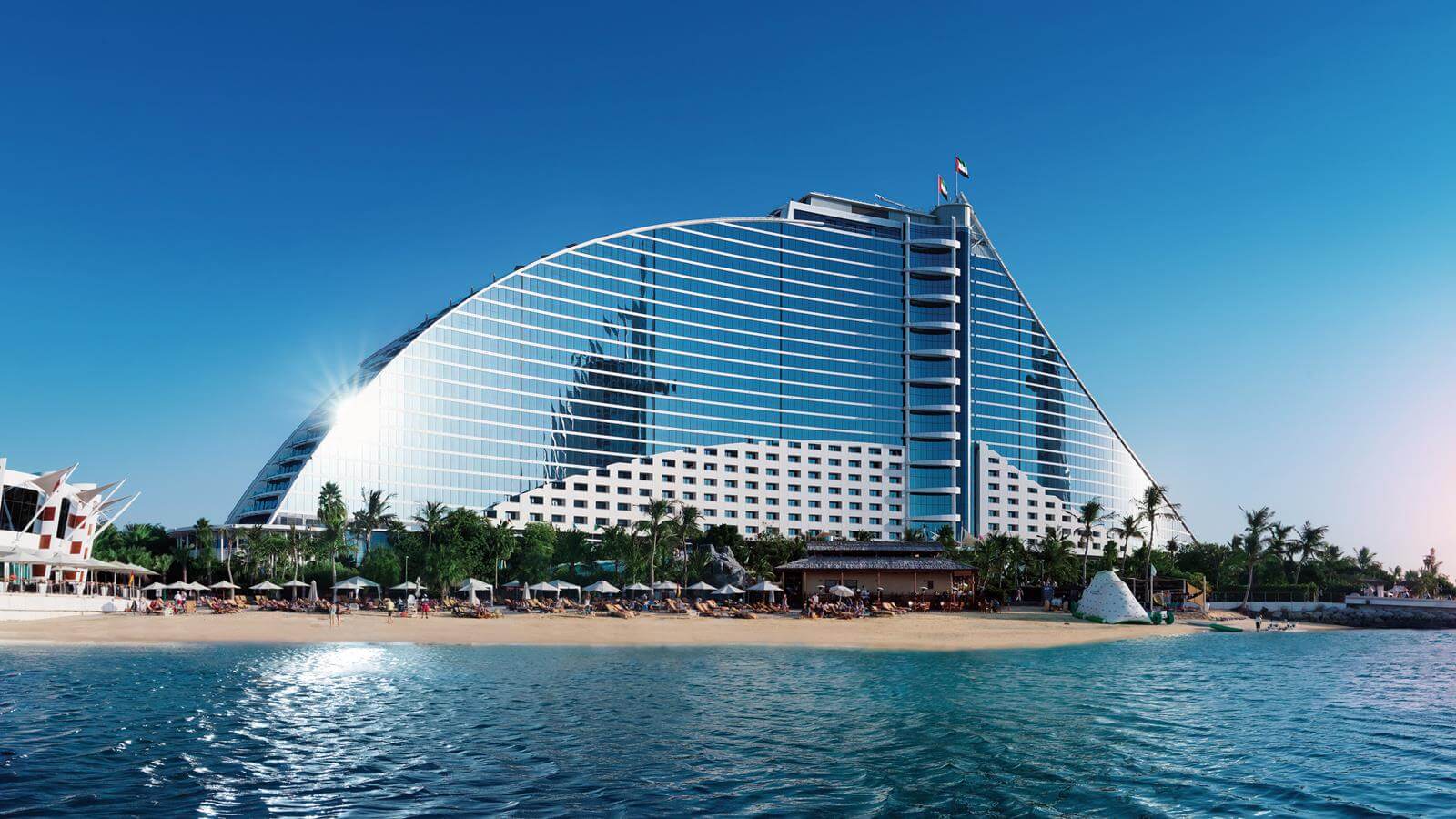 Source: mediastream.jumeirah.com
If you have seen Burj Al Arab, the beauty that is Jumeirah beach has already passed you by. In fact, its location next to Jumeirah beach is what makes Burj Al Arab so special, and that's saying something. Jumeirah is the best white sand beach you can find on the Persian Gulf, and has activities fit for all ages of people and walks of life – the best of which is Wild Wadi Waterpark. There are many more theme hotels where you can have a lavish stay. If you can afford it, Madinat Jumeirah is also one of the finest resorts in the world for a night of either wild partying or tranquil musing.
Dubai Creek:
Source: cloudfront.net
Towards the west is the historic and old Bur Dubai, towards the east the new age of the Deira, and in the middle lies a saltwater creek. Extending to the Persian Gulf, the creek presents better sunset photo opportunities than any beach in Eurasia can get you, and thus it's already on a league of its own. The ongoing project of the creek tower is planned out to be another breakthrough in architecture from Dubai, projected to exceed Burj Khalifa in its height by 2020.
Sheikh Saeed Al-Maktoum House: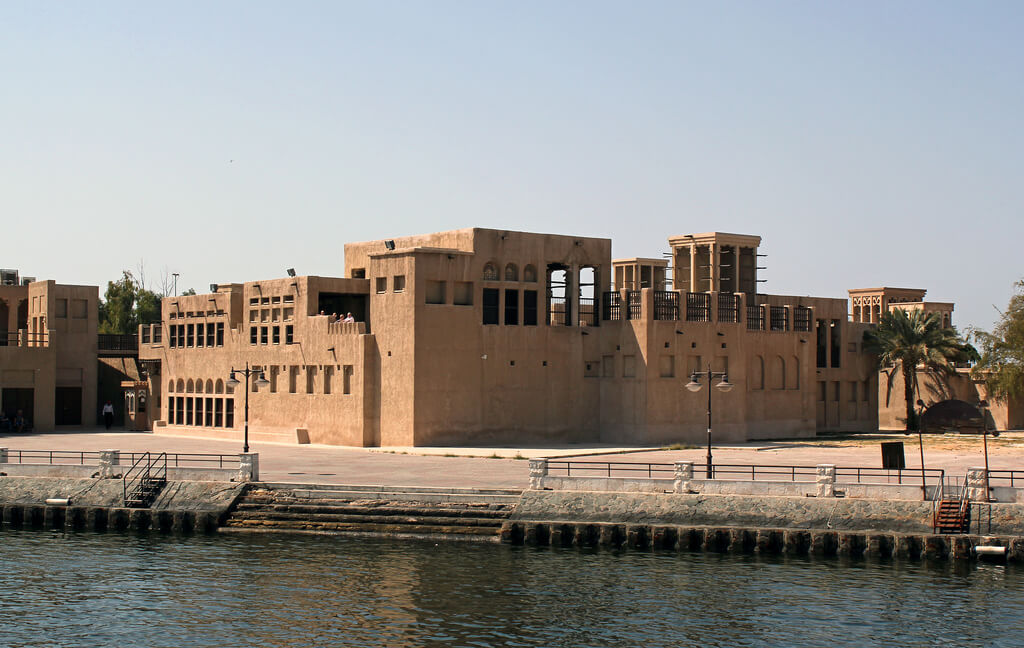 Source: c1.staticflickr.com
Located in Al Shindagha along the creek is Dubai's most iconic residential quarter of a former UAE ruler. The building has since been renovated as a museum in the 1960s, showcasing artifacts of yore with the well-knit organization of its nine wings. It also looks quite dashing at night, on par with the rest of Deira by the creek.
Also Read: Best Outdoor Activities You Should Try In And Around Dubai
Palm Jumeirah: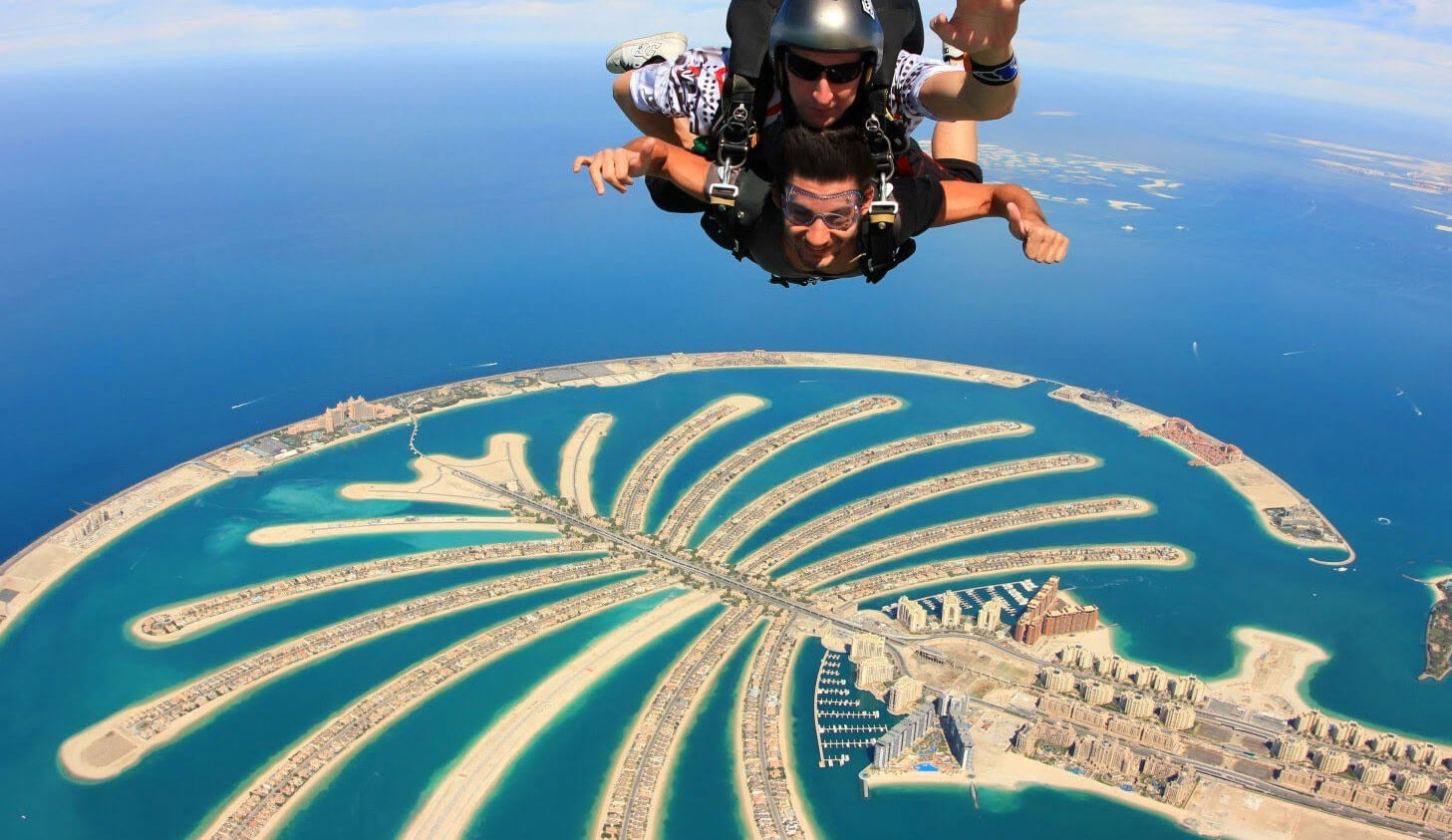 Source : resources.lookup.ae
Helman Hurley Charvat's masterpiece, Palm Jumeirah is so far the most successful, well-received, and famous part of the Palm Islands project. Built-in 2006 near the Jumeirah coast, the artificial archipelago hangs like a medallion in the Persian Gulf to symbolize Dubai's wealth and progress. An indispensable experience, should your physique permit it, is skydiving above Palm Jumeirah, which many independent certified agencies organized all year long.
Dubai Miracle Garden: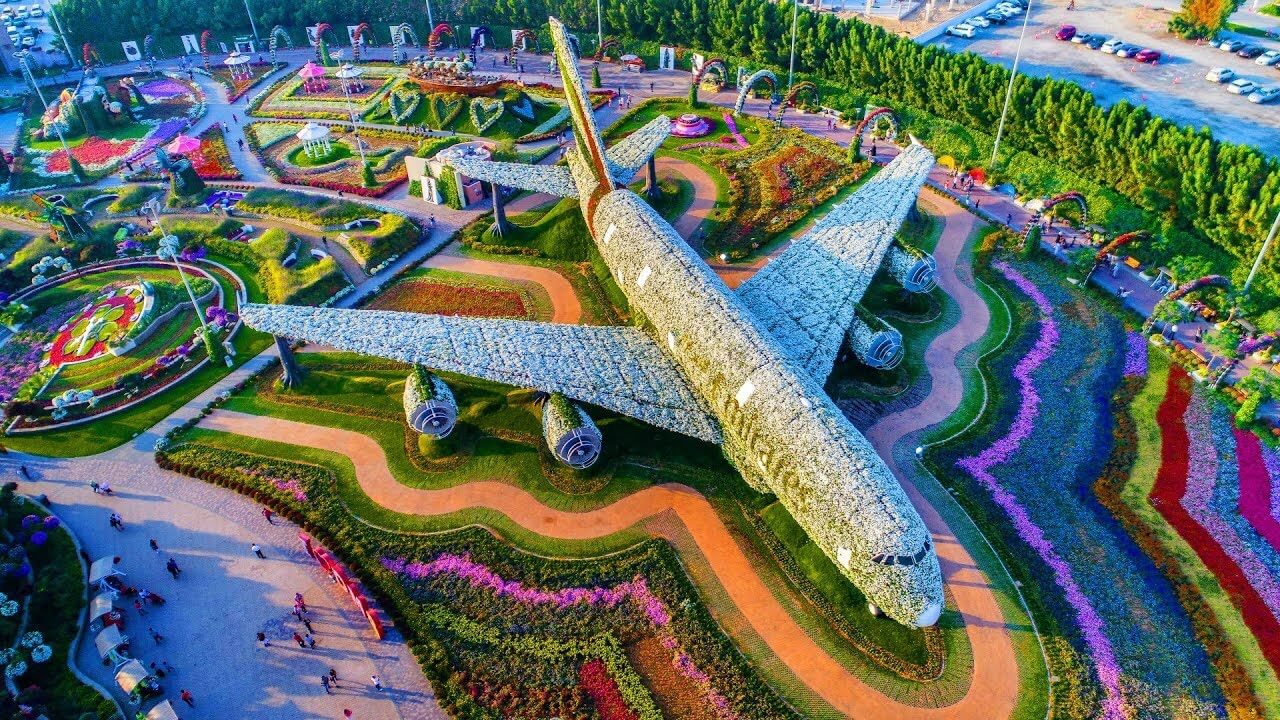 Source: i.ytimg.com
One cannot simply miss the world's largest garden and historically the most successful application of drip irrigation. Recently opened in 2013, Dubai Miracle Garden boasts as many as 45 million flowers in its 70000-meter expanse. In 2015, it inaugurated an irresistible feature – a butterfly garden with over 15000 butterflies from 25 different species! On an important footnote, May to September is offseason for this, as the garden is closed due to the high temperature.
Bastakia:
Source: arabiczeal.com
If you are a history buff looking for a touch of the past, the Al-Fahidi neighborhood should be your go-to. Other than the mystical ambiance that presents the quintessence of Persian culture, the limestone buildings of Bastakia provides a breakthrough in Old Dubai much, much before oil revenues were even a thing – way back in the 19th century. The Persian merchants, who built the neighborhood as their exclusive residence, attracted by the low tax rates, innovated the first conceptual precedent of modern air-conditioning: wind towers. One of these wind towers is the Majlis Gallery, which has a great collection of traditional Arab ceramics.
Gold Souk:

Source: thatdubaisite.com
Even if you do not intend to browse the gold-plated wares of the largest gold bazaar in the world, Deira's heart will present you with a throbbing heart of the Arabian market bustle – a vibe that is rare in the modernized Dubai. Dubai has very attractive malls, doubtless, but none of them comes close to the atmosphere and souvenir-shopping of Gold Souk.
Dubai Opera: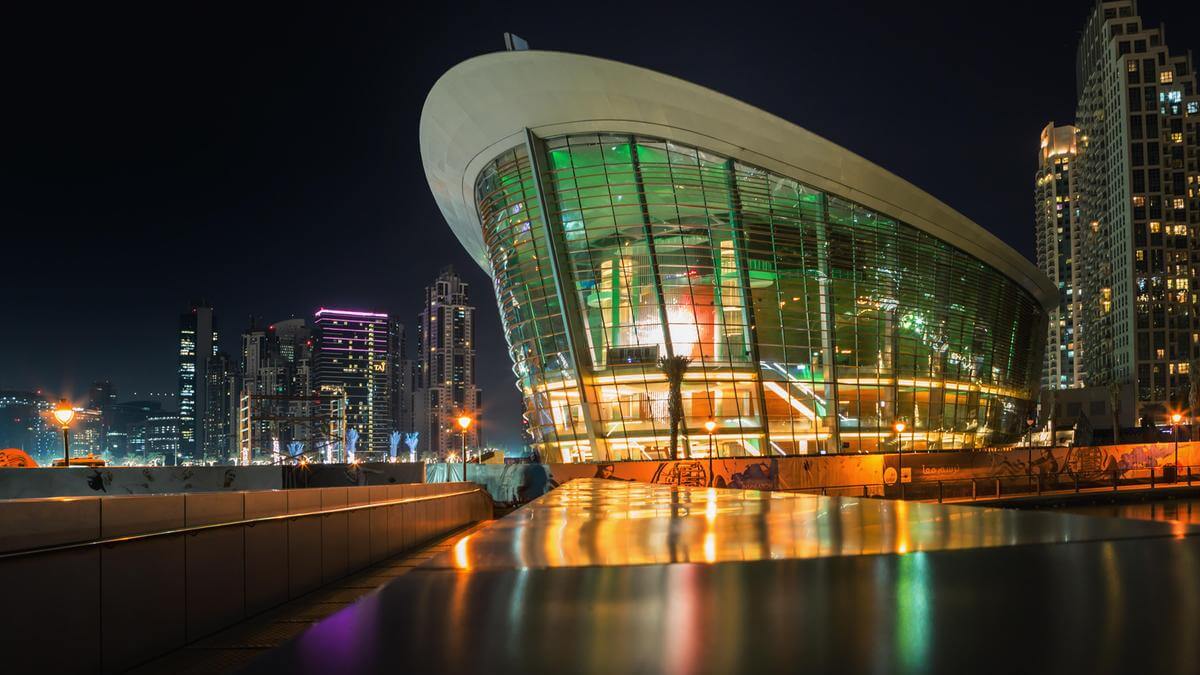 Source: thenational.ae
There is an array of evening attractions in Dubai, but none top this if you want a spot of music and world culture. Opera, ballet, and classical music, all abound in the 2500-seat Dubai Opera house's many year-round musical festivals. It is also wondrous just at sight, adorned in contemporary architecture of glass and steel.
Thank you for visiting Travelila. Have a happy journey!!