Do you know? San Diego is the most preferred place for living as well as traveling. Why is it so? Because of its climatic conditions and laid-back lifestyle. It is commonly known as 'beach town.' The reason behind that is 70 miles of pristine coastal beaches. In this blog, I have penned down the best beaches in San Diego that you shouldn't miss.
Apart from that, you will also find famous zoos, SeaWorld, and even the classic LEGOLAND of California. If you are a beach or ocean person, you should never miss San Diego beaches when in the city.
In total there are 31 beaches in San Diego. It might get difficult for you to choose a few of them to travel to, so here I am with the solution.
Let's read the list!
Best Beaches in San Diego
Every beach in San Diego, CA has its own specialty, some are famous for scuba diving, while some for snorkeling.
Coronado Beach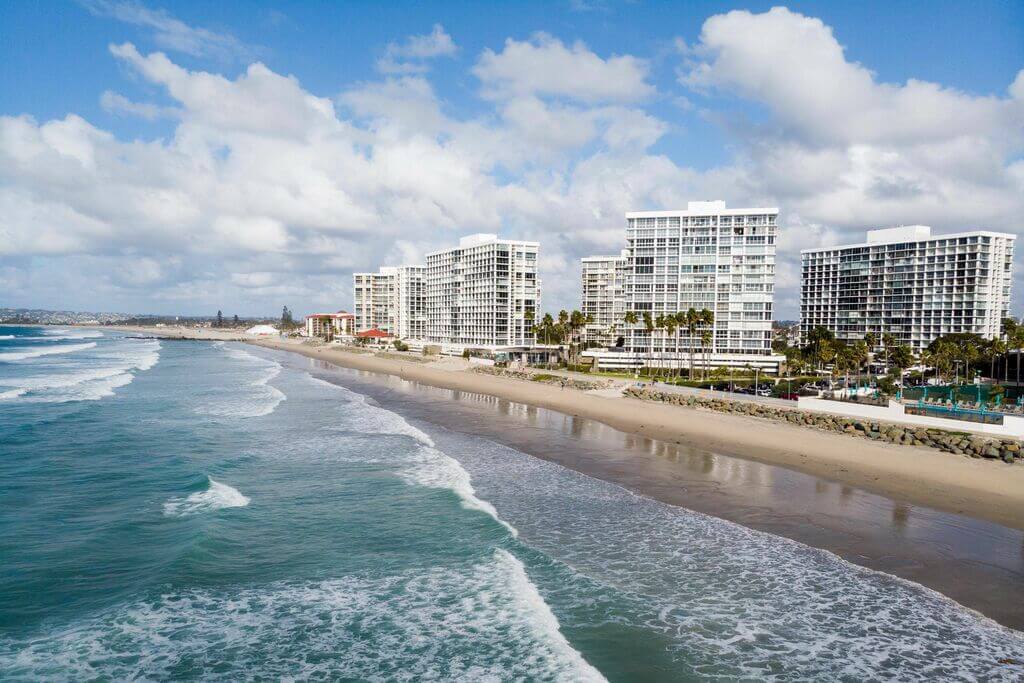 Source: tripsavvy.com
No matter what blog you read, the very first option will be Coronado beach. Wanna know why? Firstly, it is the central beach of the city and secondly, it is owned by the municipality. There are four different beaches in Coronado namely, Glorietta Bay Park, Coronado City Beach, Tidelands Park, and Centennial Park.
If you are planning to take your pet on a trip to the beach, head to the northern side. It is pet-friendly. The beach is easily accessible from any public or private transport San Diego-Coronado Bay Bridge. It is a family beach, so don't worry about seeing any explicit scenes.
Do you remember that hotel with a red roof and a nice Victorian exterior? Yes, Hotel Del Coronado. It is right beside it on the starting point of the beach. Also, Coronado beach parking lots offer a few free areas, to access the good spot you must reach early.
Moonlight Beach
Source: tripadvisor.com
Moonlight Beach, located a few hours' drive from San Diego is the most organized one. You will see different spaces allotted for the snacks, volleyball, football, and there are a couple of restrooms as well.
If you are planning for a fun family picnic, it has got the right elements for you. You can rest near the seashore as your kid plays around freely. Moonlight beach parking is paid, but you can get free spots on the street parking.
However, you must make sure to reach as early as possible. This beach is popular among families and gets crowded real quick.
Mission Beach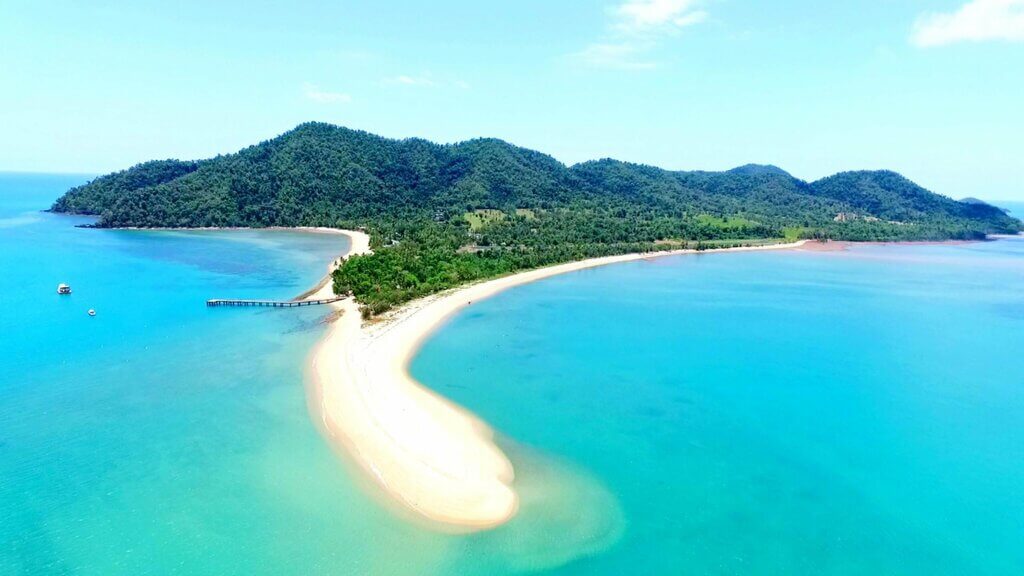 Source: tripadvisor.com
Located at the exact center of the city is Mission beach. It has the classic laid-back style of Californians and will give you the perfect East Coast feel too, which makes it one of the most crowded beaches in the city. If you are planning to visit an amusement park, the Belmont is just beside it.
On the eastern coast, you will find Mission Bay, which offers a network of waterworks, inlets, and islets. Belmont park makes this place a favorite spot for the family with kids, as they can enjoy the excitement-filled day.
Don't worry, even if you are an adult, the nightlife is happening too. You will find many bars and clubs around the corner. If you want to play volleyball and other sports, head to the south mission beach located at the extreme south of the beach.
Solana Beach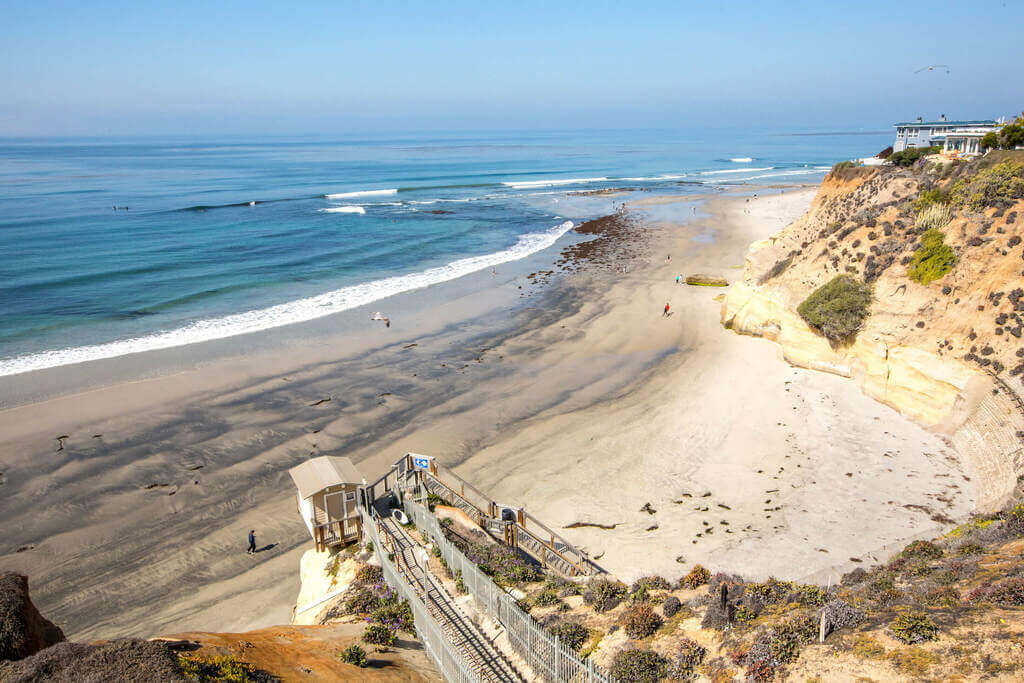 Source: realgeeks.media
The Solana beach is located at a secluded spot on the northern side of San Diego. If you are a surfer, this beach will interest you more than anything. Solana beach is considered the best surfing spot in San Diego. There are in total five hotspots, of which Del Mar Shore is often visited by the locals.
Each beach has its USP (unique selling point) like Seaside beach is known for the outer reef and surfing, Tide Beach is famous for white sand, and Fletcher Cove is again for surfing. Last but not least is Seascape Beach, tourists love it for its extreme beauty and surfing spots.
The Solana beach in San Diego is well facilitated. You will find showers, restrooms, and respective distances, and also lifeguards are present during the long summer vacations. So if you are planning to get there even with kids, it is safe!
Black's Beach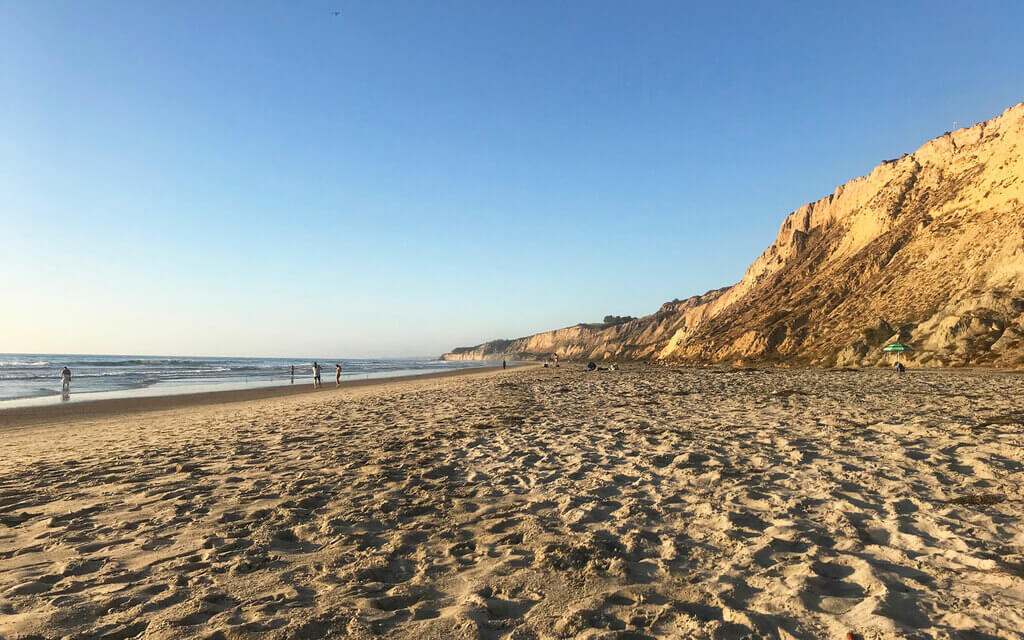 Source: worldbeachguide.com
Bold enough to experience the nude beach? Yes, Black's Beach is a clothing-optional gay beach, which means you can enjoy the sun with a bare body (if you like). The beach is liked by families as well. It comes as a surprise to us as well, but that's true. You will find families with kids sunbathing on the beach (peacefully and quietly).
There are many reasons why this beach is on the list, from being beautiful with the scenic views, it also has the perfect surf break. To access Black's beach you can also take the Ho Chi Minh Trail.
To the north of this beach are San Diego's coastal towns and La Jolla on the south side. Above this beach is the famous Torrey Pines State Natural Reserve, which attracts hikers.
Pacific Beach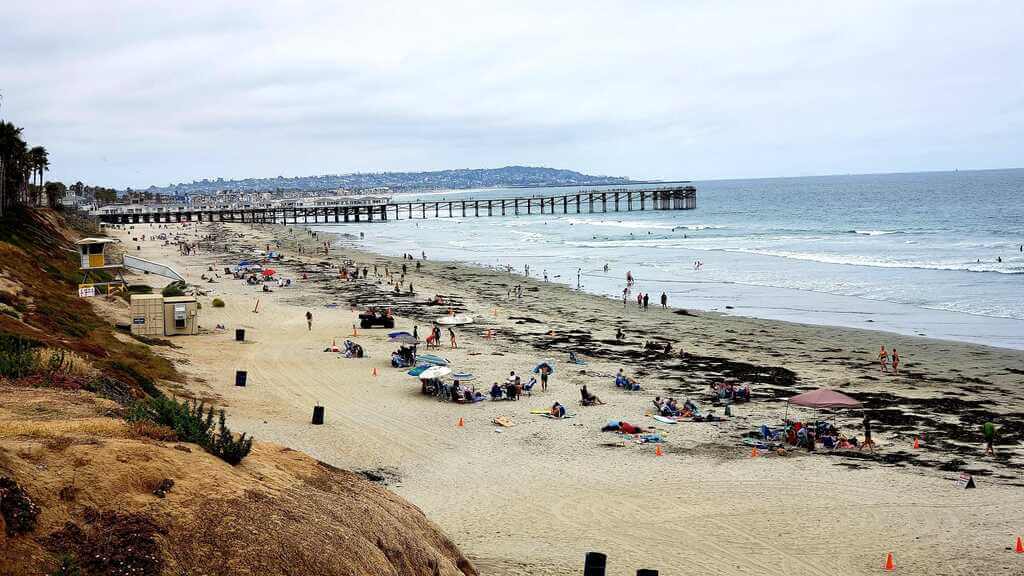 Source: ellingtoncms.com
If you are at Mission Beach or La Jolla (more on that later!), Pacific Beach is easier to reach. How? It is located in the middle of both beaches. It is a 2-mile long beach that offers perfect family activities and walking areas. Along with that, the view from the seashore is breathtaking.
This beach has a specified surfing area with lifeguards on duty (every day). You will find many rental shops on and around the beach. Some sell water sports equipment for scuba diving, surfing, etc. You will also find bars and restaurants that make the nightlife of the beach happening.
Pacific Beach comes as one of the most popular beaches in San Diego. It attracts lots of visitors and travelers with its beauty. There's a 90-year old Crystal Pier that everyone likes to see, and if nothing else it's a 3.5-mile boardwalk is something to experience.
Ocean Beach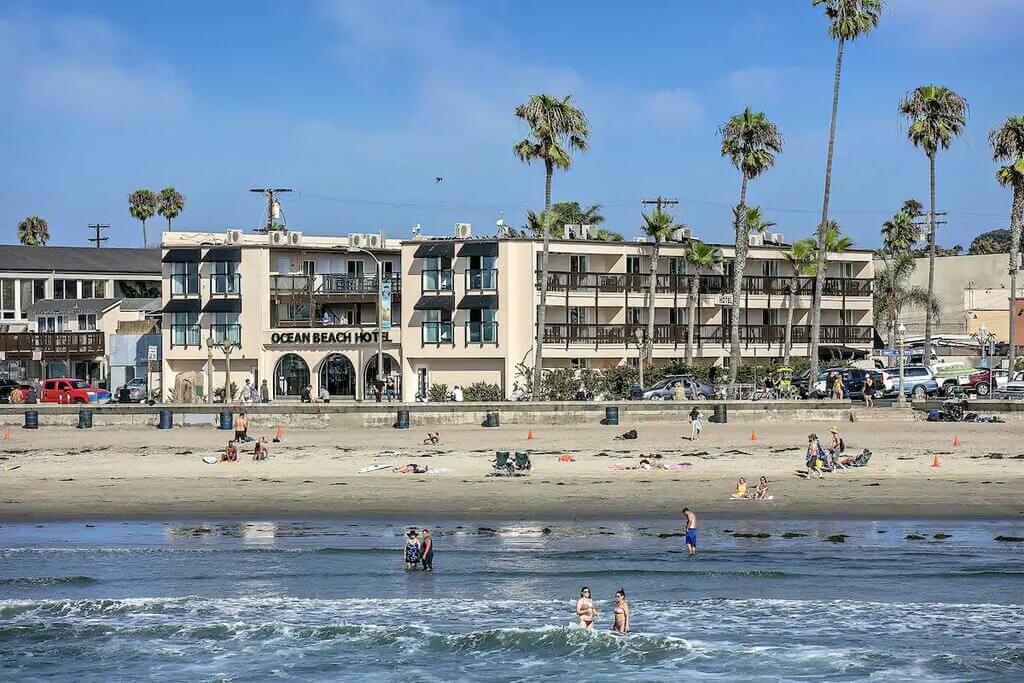 Source: trvl-media.com
Looking for a pet-friendly beach in San Diego? Ocean Beach is the one. They have a separate dog area, here your friend can run around freely but leash. Almost all the pet-friendly beaches have a norm of taking a dog or any pet on leash only.
On the other end, you can even experience fishing (no license needed). Where? The famous Ocean Beach Pier. It is also known for its best fishing spot. You can do swimming, surfing, sunbathing, and whatnot!
One of the most beautiful places in San Diego offers the best views of the city from its shore. There are restaurants and bars on the beach that will offer drinks and food to unwind and experience the most satisfying moment of your life.
La Jolla Beach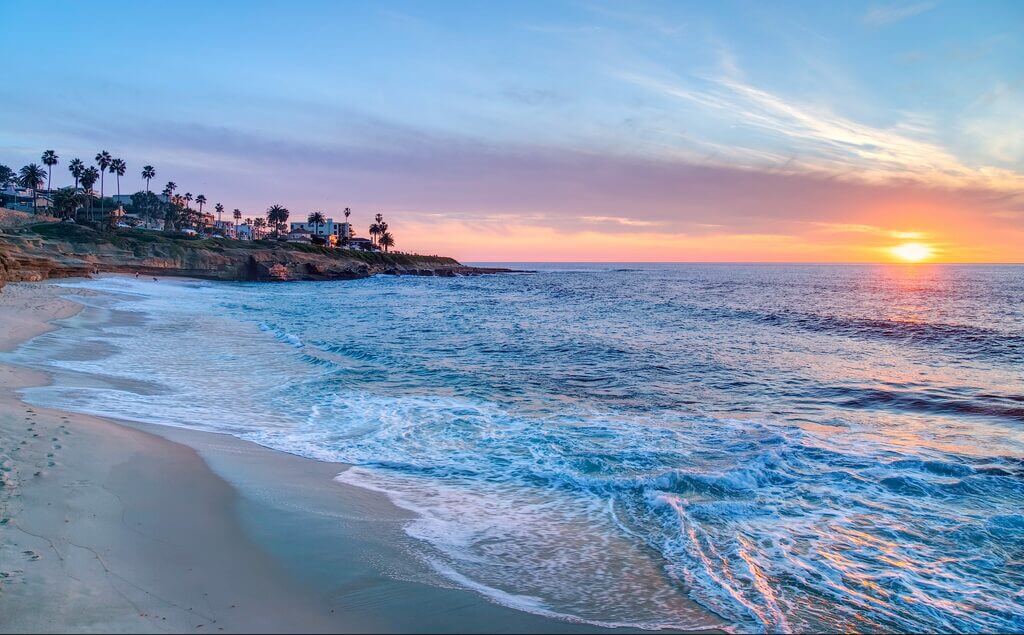 Source: californiabeaches.com
If you are at Pacific Beach, then do visit La Jolla Beach as well. They both are not that far. La Jolla is also the perfect family beach, just like its neighboring beaches. You will be able to enjoy activities like swimming, surfing, paddleboarding, and scuba diving.
It is a relatively safe space to learn water sports as well, due to its sandy bottoms and easy access to the ocean. You can pay a visit to the nearby Kellogg Park for the family picnic and Steven Birch Aquarium.
Near the beach, there is a large grassland, where people from over the town come to take regular yoga lessons. La Jolla Cove offers views of seals and birds on the rock. You will have to reach early to get the parking space.
Imperial Beach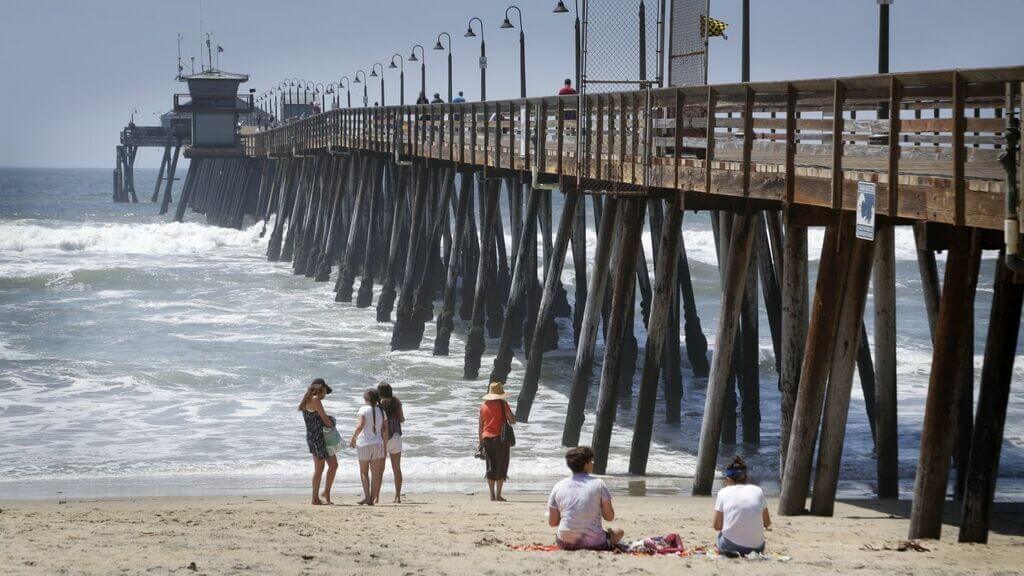 Source: brightspotcdn.com
If you are a bird lover and loves to watch hundreds of different bird species, Imperial Beach is a must-visit place. This beach is known for its vast variety (300 species) of birds. Another interesting thing is that these beaches are known for hosting the U.S. Open Sandcastle Competition in the summer.
The view of the Los Coronados Islands from the beach is just amazing. You can reach the sands via hiking on numerous adventurous trails available. You can surf and swim throughout the day. Oh! By the way, you might like exploring the Surfboard museum located just a walk away.
Also Read: Some Of The Best Beaches To Visit During The Month Of January
Del Mar City Beach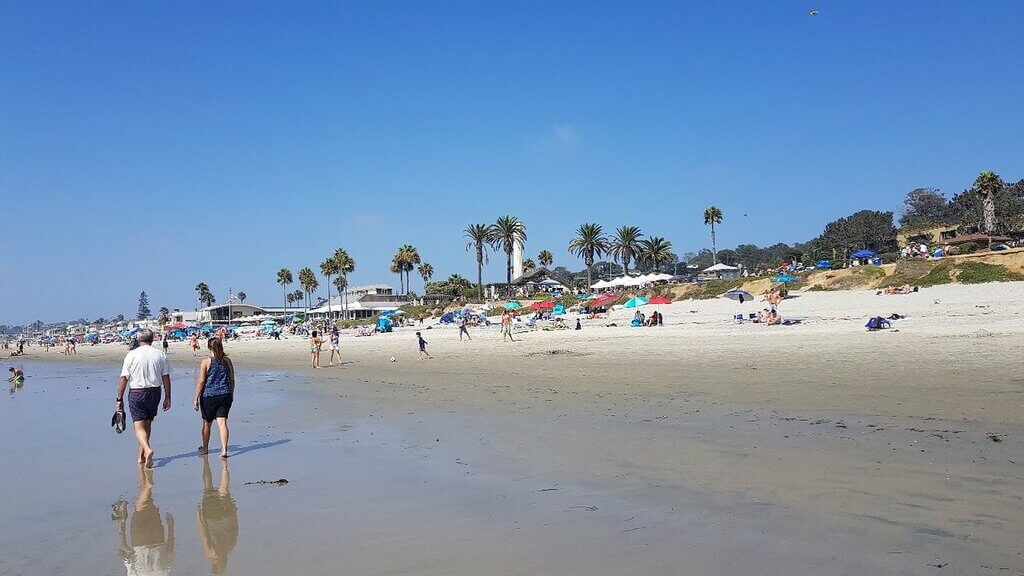 Source: tripadvisor.com
Whether you are on a vacation with family members (including kids) or with your lovey-dovey dog, this beach is a perfect choice. The Del Mar City beach has a separate dog-friendly area on the north side, which extends from the 15th street to the Rivermouth.
There are two parks that are used as family picnics, social gatherings, or even wedding ceremonies, namely, Powerhouse Park and Seagrove Park. you will be able to feel the rustic vibes due to its rocky cliffs. The beach has a dirt trail to offer as well for jogging.
Windansea Beach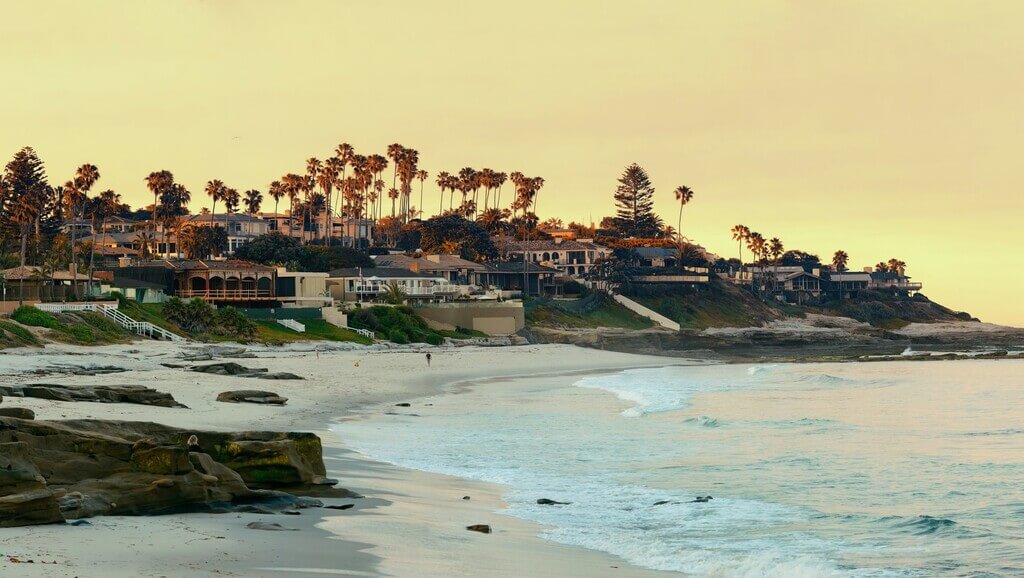 Source: californiabeaches.com
Windansea Beach is located in La Jolla city, San Diego. So, it will be a great chance for you to visit the two famous beaches in a day or two. If you are more of a private person, this beach will fulfill your needs. The experienced surfers and sunbathers are very much attracted to this place.
Though swimming here is advised with caution, as the waves from the ocean end right at the shoreline. Other than this, it offers the best surf breaks and amazing scenery. There are rocky cliffs as well to access the beach. Be careful it has steeped places and this pathway isn't advisable for older people or the ones with mobility issues.
Wrapping Up:
So this was the list describing a few of the best beaches in San Diego. Whether you are planning the trip to San Diego or are already there, this article will help you to curate the best travel itinerary. Oh yes! Don't forget to get classic and eye-catchy souvenirs from there.
For more help and ideas to create your own itinerary for the trip, visit Travelila.