Travel bloggers don't just write about their travels; they also share those experiences through photos of their high-quality cameras and beautifully edited videos. Video is the perfect way to share your story because it improves engagement and helps viewers visualize what you saw and experienced. It can be challenging to explain what a travel destination was like, so you want to leave as much as possible up to your viewer's imagination. Your stories should be told visually, and video makes this possible. The problem is it isn't always affordable or convenient to travel with an entire production crew. That's where cutting-edge online video editor come into play that can create pro-level videos from photos and footage you already have.
This blog post highlights our top 7 picks for the best online video editors available in the market.
So let's begin!
Top 7 Video Editors to Create the Best Travel Videos
1. Adobe Premiere Pro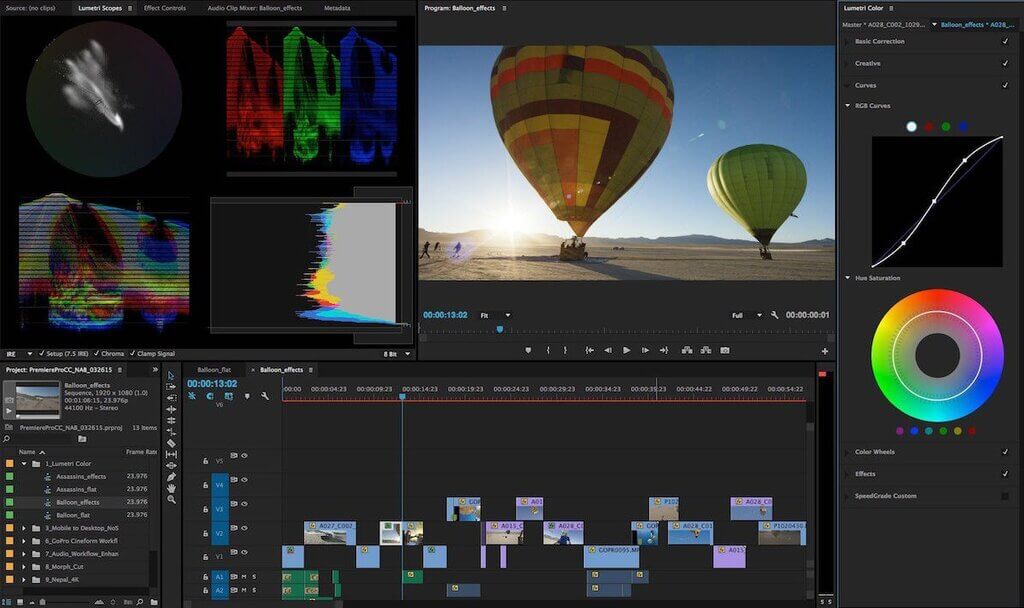 Source: malavida.com
On the top of our list is Adobe Premiere Pro. It is a powerful video editor designed for professionals. Furthermore, this video editor is packed with advanced video editing features that allow you to create professional-quality travel videos in minutes.
Adobe Premiere Pro is packed with several amazing features. Some excellent features include:
Powerful yet intuitive interface

Ability to import multiple formats of video and audio files

Ability to create HD videos from scratch

This video editor is able to add titles and transitions to your videos

Ability to add different effects, including text, blur, distortion, and motion effects

Ability to add layers to your videos and much more.
To sum up, the Adobe Premiere Pro video editor provides a streamlined workflow that allows you to edit, add effects, cut, adjust audio, and render video quickly and efficiently.
2. InVideo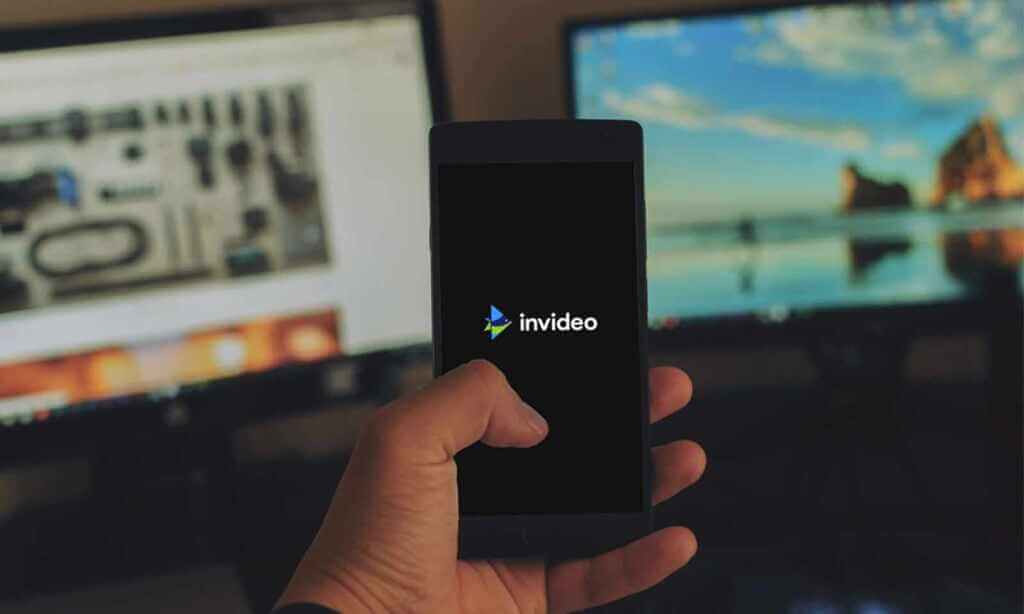 Source: thehansindia.com
If your travel plans include exploring a destination with your camera, but you don't have the time or skills to edit your videos when you return home, turn to the online video editor. This online video editor lets you create and edit awesome travel videos in just three quick and easy steps.
Some top features include:
Over 5,000 plus pre-made video templates covering all the industries

Automated text to video converter

Option to add music, photo and video filters, special effects, etc., to the videos templates

Offers complete flexibility and control over editing videos
Furthermore, this online video editor also offers several special effects and filters, perfect for making videos eye-catching. The special effects and filters include text effects, blur, light, shadow, and sharpen.
3. Final Cut Pro X
Final Cut Pro X is the best video editing software for amateurs and professionals alike. It's packed with powerful features and easy-to-use editing options, so you can quickly produce professional-level videos.
Top features include:
Magnetic timeline to keep everything well-connected

Continuity camera feature

Non-destructible editing

Compound clip feature
With Final Cut Pro X, everything's always connected. You can move clips around by dragging them anywhere on the timeline, and you can combine clips in new ways. Furthermore, you can import your media from the camera directly into Final Cut Pro X. So, to sum up, it is a great video editor for anyone who wants to create stunning travel videos.
4. WeVideo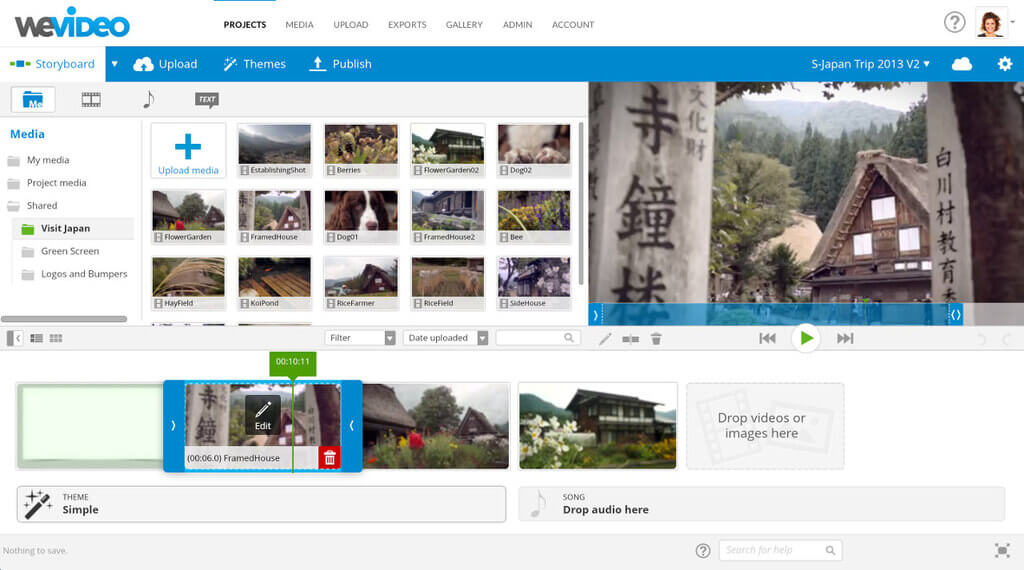 Source: ergonotes.com
WeVideo is an all-in-one video editor. It is perfect for everyone, even if you have almost no video editing experience, as it is easy to learn and simple to use. WeVideo allows you to create, edit, combine and share videos. It lets you use images, video clips, music, text, and effects to create video stories.
Top features include:
Import, edit, combine and share videos

Over 1 million-plus piece of stock media, including audio, pictures, videos, etc

Colour-correct videos and do advanced editing with video, audio, and text

Compatible on both Android and iOS
WeVideo is the leading video editor for travel bloggers. It is a fun, easy, and powerful video editor and allows users to create stunning videos in minutes.
5. Wave.video
Wave.video is one of the most powerful video editors in the market. It offers a wide range of features. Furthermore, it is a robust professional video editing tool that lets you craft professional videos with ease.
The interface is clean, easy to navigate, and packed with features. Whether you're a pro or just starting, Wave.video offers all the tools and features you need to create stunning videos.
Top features include:
Interesting and easy-to-understand interface

It lets you edit and organize your videos with ease

You can easily drag and drop videos, add texts, images, audio, effects and more

Edit your videos in the built-in timeline as well as in split-screen view
Furthermore, you can also add filters, transitions, effects, titles, images, audio and texts.
Conclusively, We.video is a robust video editor for travel videos. It comes with a wide range of pro features and the tools you need for professional video editing.
6. Kizoa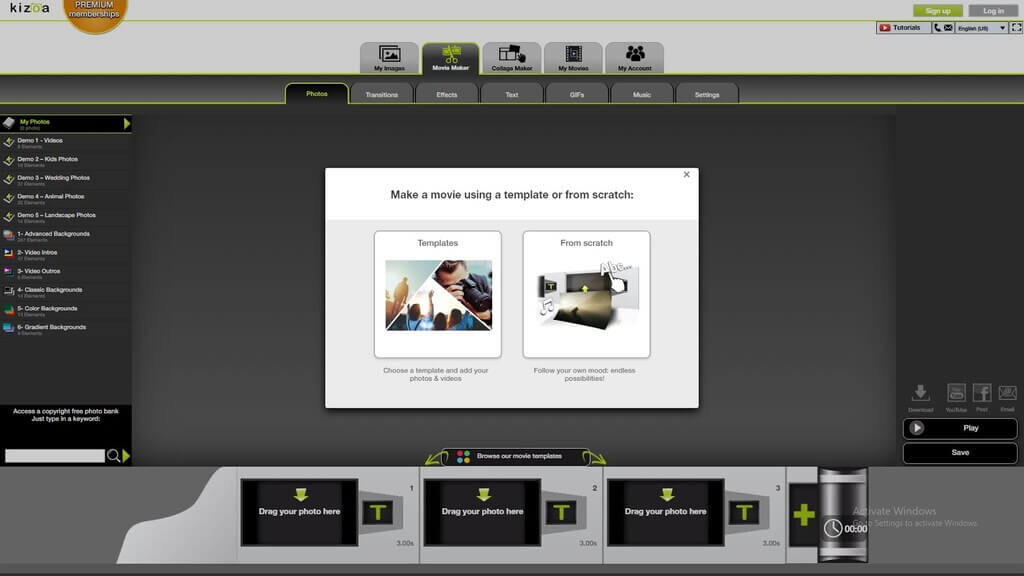 Source: blogspot.com
Next on our list is Kizoa. Kizoa is also a stunning video editor that can help you create eye-catching travel videos. It will provide you with all the tools that you would need to generate neat-looking and sophisticated travel videos. Some of the most prominent features include:
Aspect ratios

Instant playback

Vast template collection to choose from

Provide videos in a wide variety of formats such as square, portrait, landscape photograghy, etc.
So, this was all about Kizoa's top features. However, a few minor lacks in the editor, such as the website, can sometimes lag. Also, the interface is not very intuitive and lacks fun. Apart from this, Kizoa is a fantastic video editor that can help you make some good travel videos.
7. Biteable
Source: martechseries.com
The last one on the list is Biteable. Biteable has features that let you create stunning videos that combine all the ways of telling a travel story. The editing features allow you to combine video clips and sound clips in one video. Furthermore, the effects and tools let you make simple or complex visual transitions between different video clips.
Top features of Biteable include:
Wide range of templates

Edit videos with a simple drag-and-drop

Royalty-free, top quality music and audio tracks

Direct sync option to upload edited videos directly on social media
To sum up, Biteable is an excellent option for beginners and travel vloggers who might not have many resources, to begin their video editing journey.
Let's Wrap Up!
Video editing is a creative medium. But it's also a technical one. Creativity requires inspiration, but technical competence is indispensable. A good video camera is essential, of course. But even the best video camera needs an editor. And also you should know some travel photography tips to get good photos and edit those to a beautiful video. Thus, with this blog post, we believe now you will be able to choose the right video editor for your travel videos.