Are you planning your honeymoon in Greece? If not then do it. Why? You won't find a more romantic place than Greece. If yes then follow us, we will show you where to visit for the ultimate experience.
Greece is a country with 6,000 islands (out of which 277 are inhabited), which will make an overwhelming work to decide where to go. It is a country where you can feel the breeze on beaches, watch sunsets on hills, and explore the olive gardens. No matter what kind of honeymoon you want, Greece is a one-stop destination for all.
From spending quality time with each other to getting a photo clicked with a picture-perfect background, everything is possible there. Without much discussion let's move to the self-curated list of best islands to visit in Greece when on honeymoon.
(P.S: You will find a tip on the best honeymoon hotels in Greece while exploring the Greek islands virtually.)
Best Islands in Greece for Romantic Getaway:
There's an unsaid rule of planning things when you are honeymoon. This plan includes watching the sunset (hand-in-hand), candlelight dinner, road trip, romantic place to stay, and exploring local food specialties.
When in Greece you can do everything in one place, but you shouldn't. Why? Because every island is famous for something, for example, Zakynthos is known as the most romantic place, Corfu is famous for snorkeling, and so on.
1. Santorini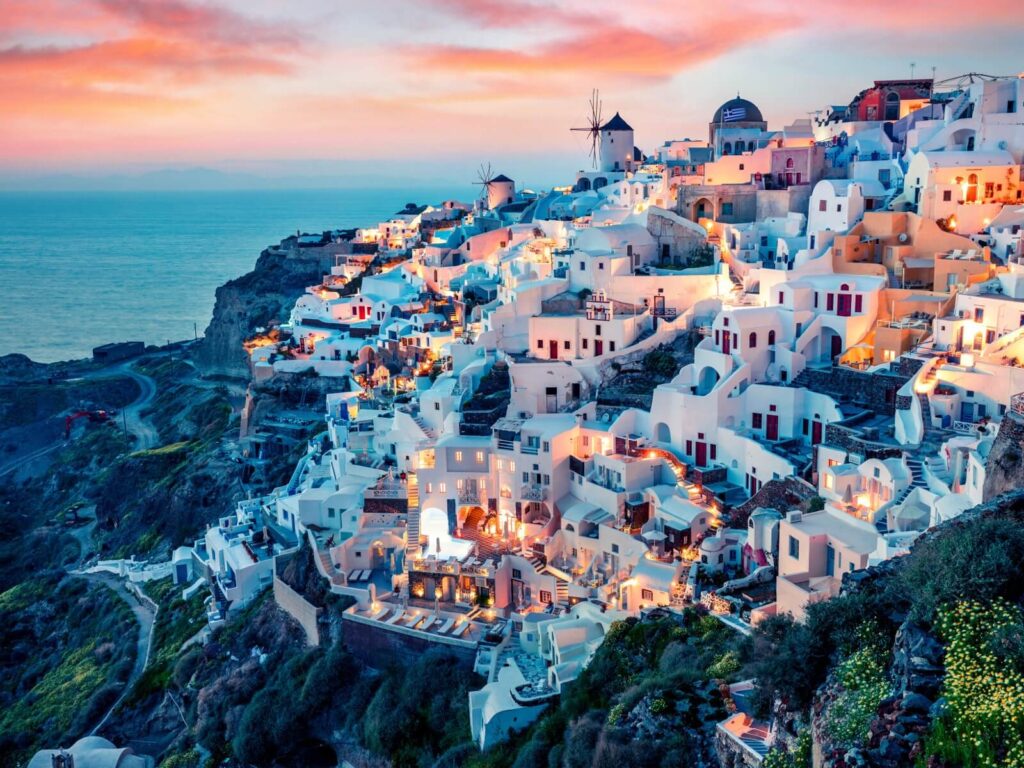 source: pinterest.com
Imagine spending time with your partner watching sunset holding hands! What else can be more romantic than this? Santorini, one of the most beautiful islands of Greece is known for its amazing sunsets from its white, blue, and colorful cave houses. It has remained the center of attraction to many film industries because of its incomparable beauty.
Best Honeymoon Hotels to stay in Santorini:
Istoria Hotel on Perivolos Beach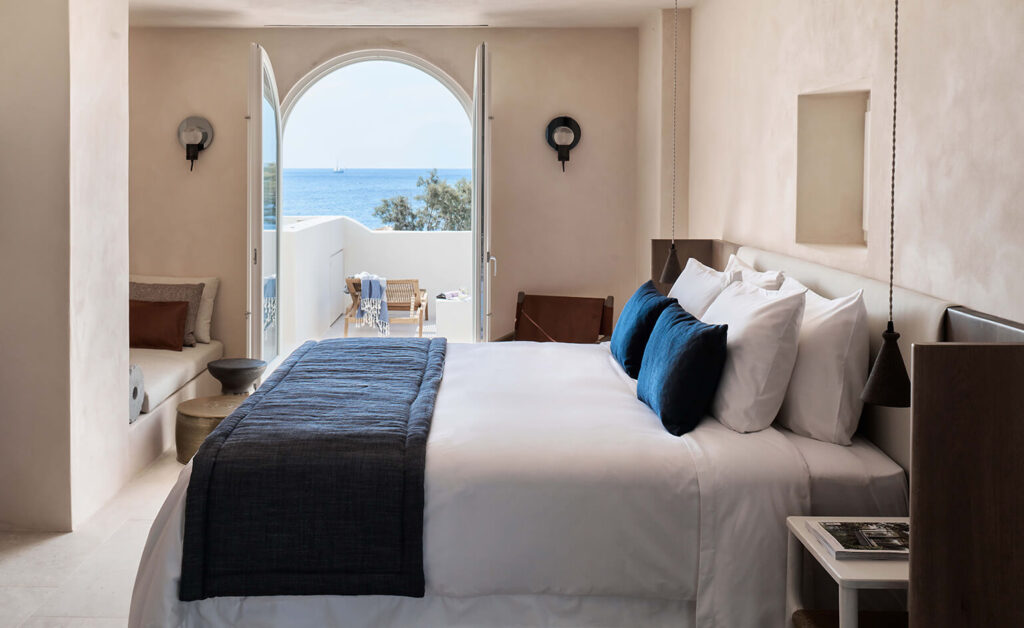 source: wallpaper.com
Katikies Hotel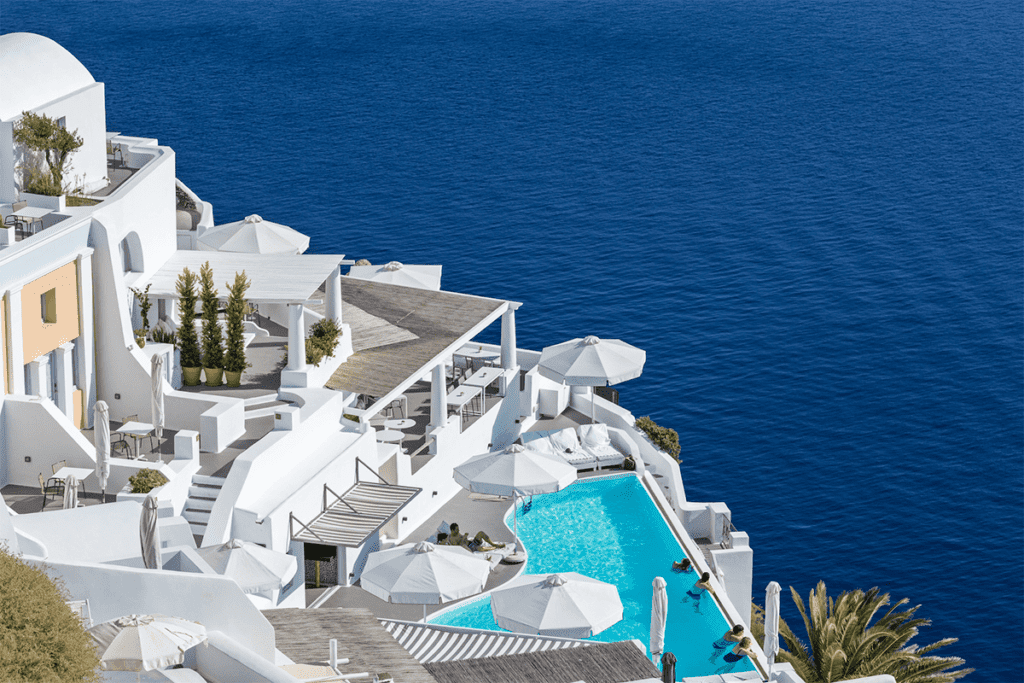 source: fantastichotels365.com
Andronis Boutique Hotel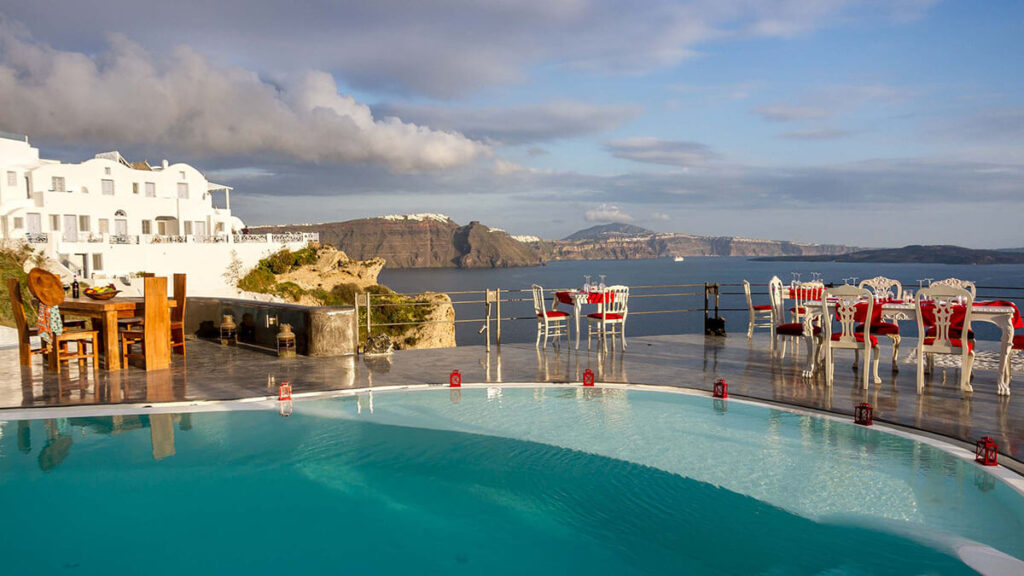 source: beleontours.com
2. Mykonos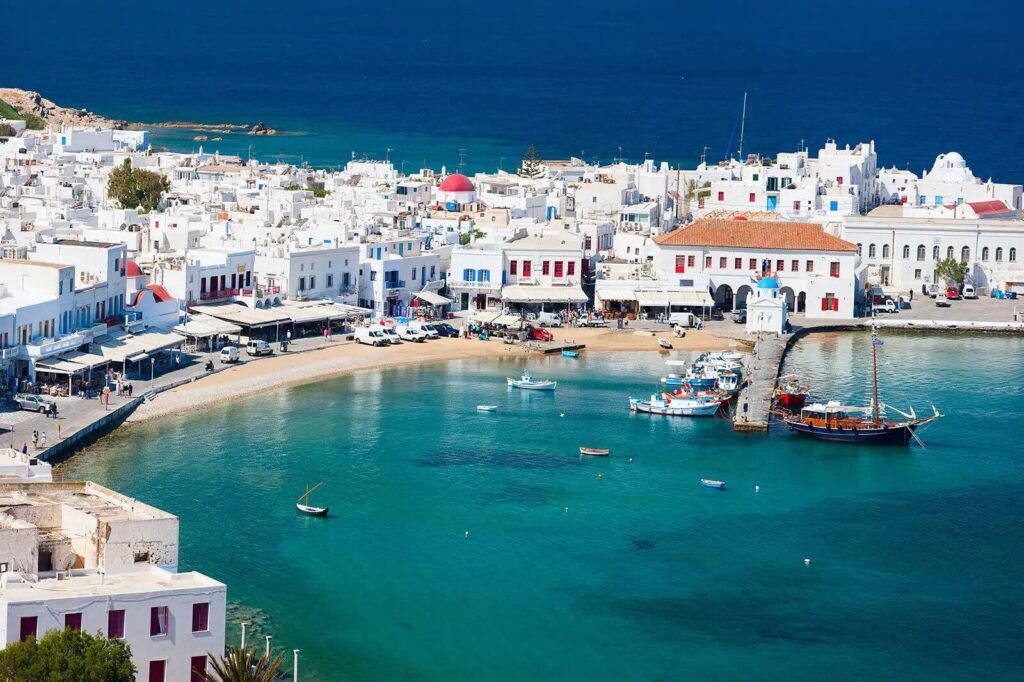 source: cdn-hotels.com
Having a similar aura to Santorini, Mykonos is well known for happening nights. If you wish to spend the night dancing, drinking, and enjoying life to its core, Mykonos is the place. On this island, you can live two different types of lives. How? Spend your day wandering around the city and experiencing the calmness of the beach and at night party hard in the clubs and pubs. There are also luxury villas in Mykonos where you and your family or friends can stay and make the most out of your vacation.
You might encounter witty furry pets around you while roaming, Mykonos is also known as Cats Island.
luxury hotels in Mykonos for a honeymoon:
Semeli Hotel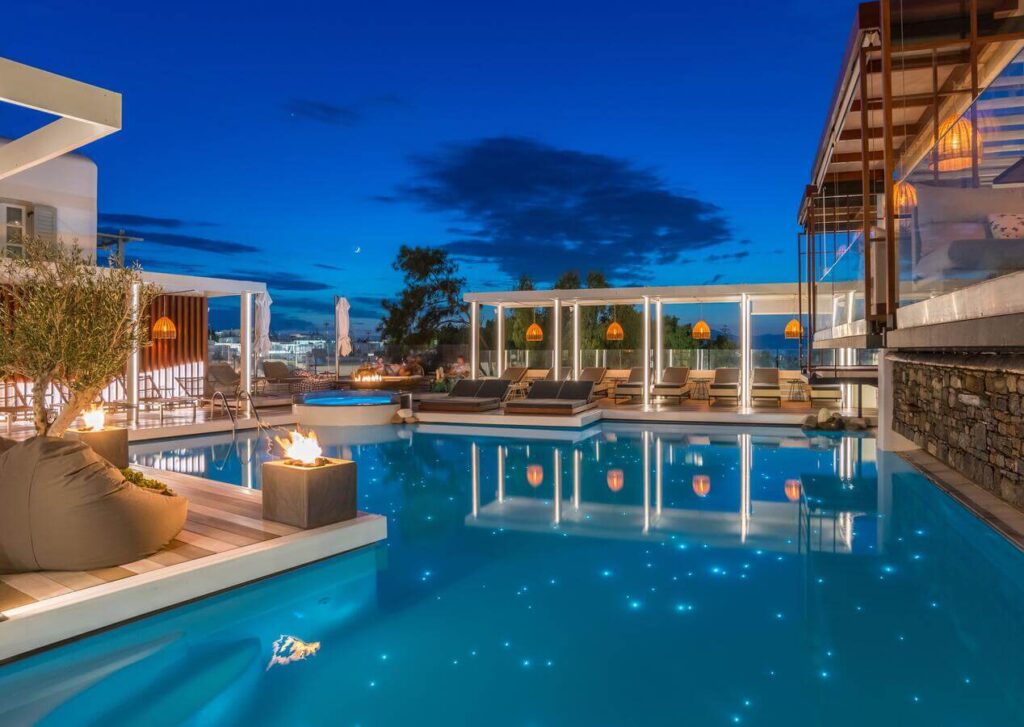 source: bstatic.com
Aether Boutique Stay
Poseidon Hotel – Suites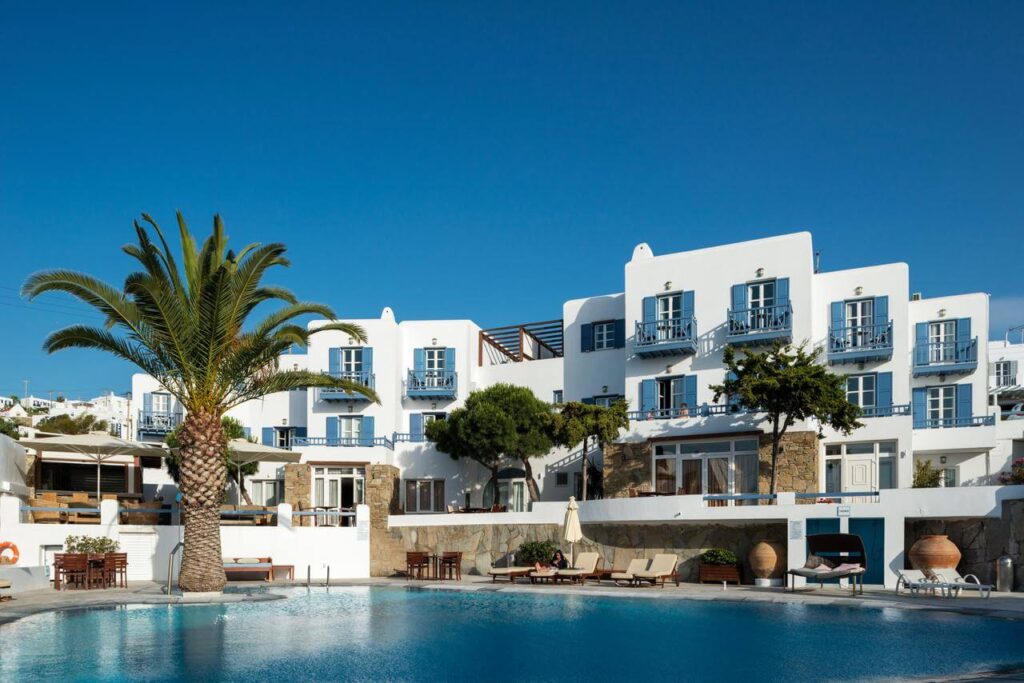 source: arianahotels.com
3. Athens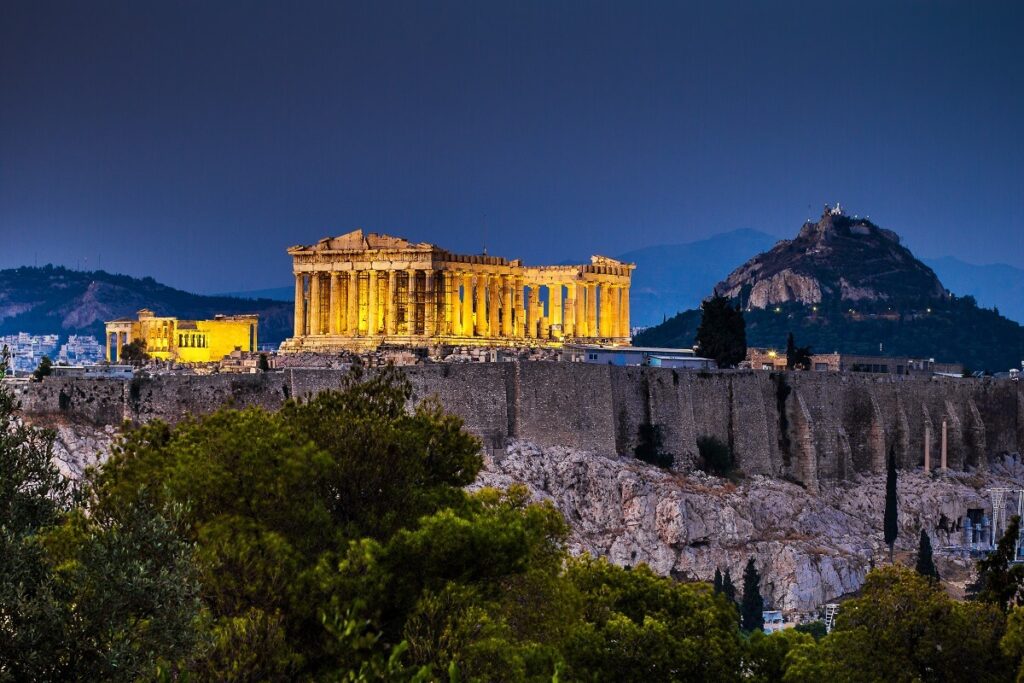 source: smartcitiesworld.net
Athens is one of the most visited cities in Europe. This is the land of Aphrodite – the Greek goddess of love and beauty. You will find the historical structures and ruins in the city. The rustic feel of the city makes it easy to savor a day and night there.
When in Athens you must visit the National Gardens, the Temple of Zeus, the Acropolis museum, and the Parthenon along with checking out the big churches on the corner of the street. Prepare yourself to discover the folk dance of Greece at night while having a wonderful dinner.
Best Honeymoon Hotels in Athens:
Hotel Grande Bretagne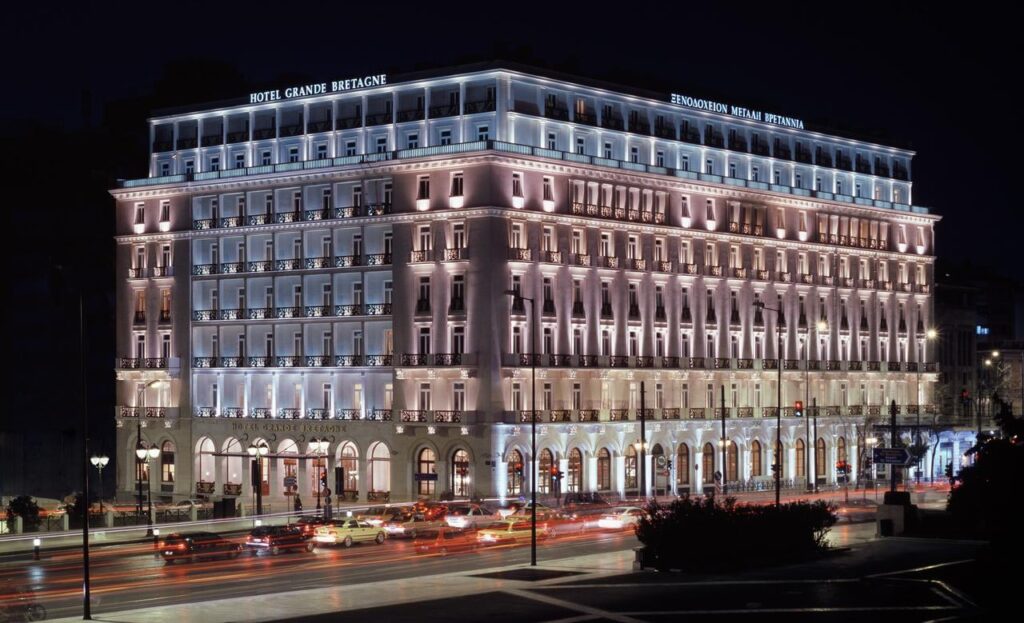 source: smartcitiesworld.net
The Foundry Hotel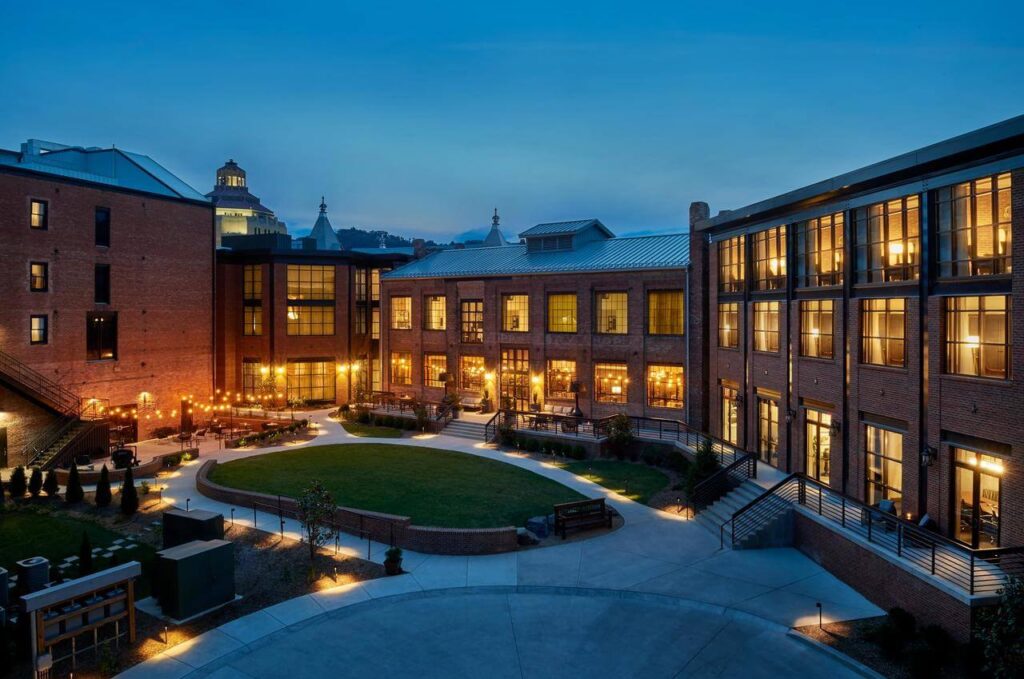 source: bstatic.com
Pallas Athena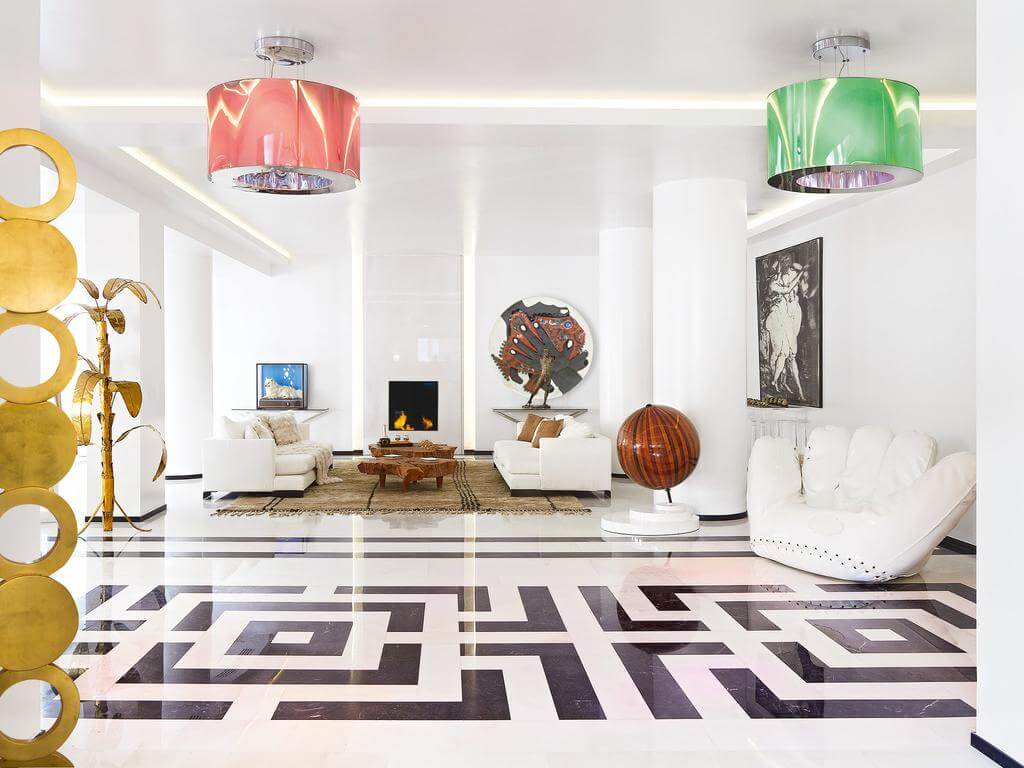 source: bstatic.com
4. Zakynthos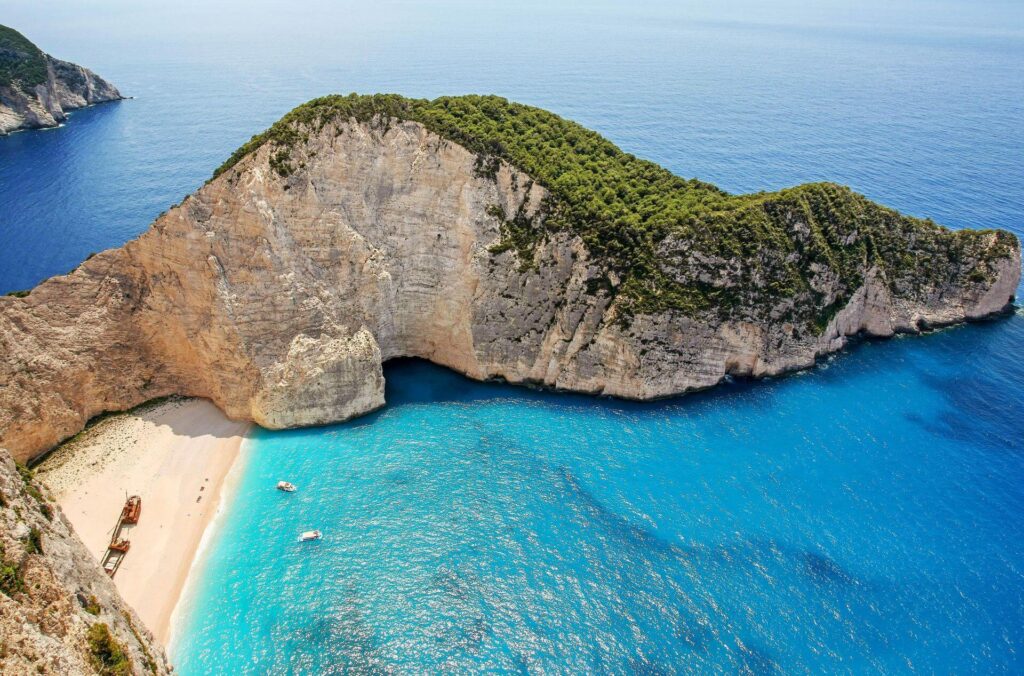 source: greeka.com
Not everyone will tell you this! But Zakynthos is a place that you shouldn't miss at any cost. You will have to rent a car for exploring the beauty of Zakynthos. Drive on the narrow road of the island to reach the east side. There you will find wild and lonely beaches, where there won't be much crowd.
You can also enjoy the private boat tour and snorkeling there. In the evening the best thing to do is watching the sunset. Grab a bottle of wine and two glass with you and enjoy the wine with your love by the sunset.
Best Honeymoon Hotels in Zakynthos:
Lesante Blu Exclusive Beach Resort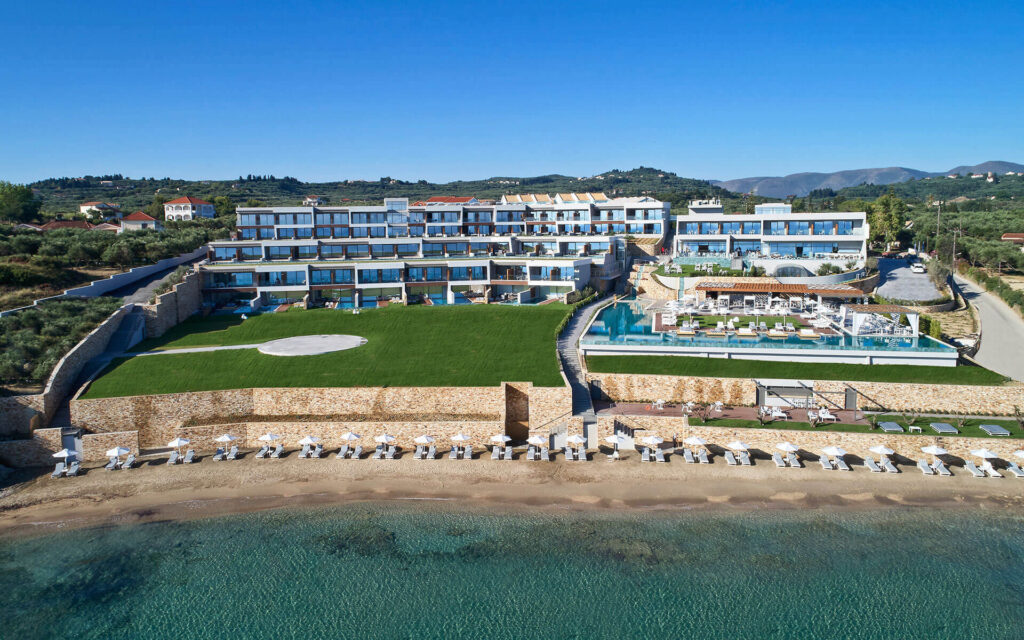 source: volineos.com.mt
Kalamaki Beach Hotel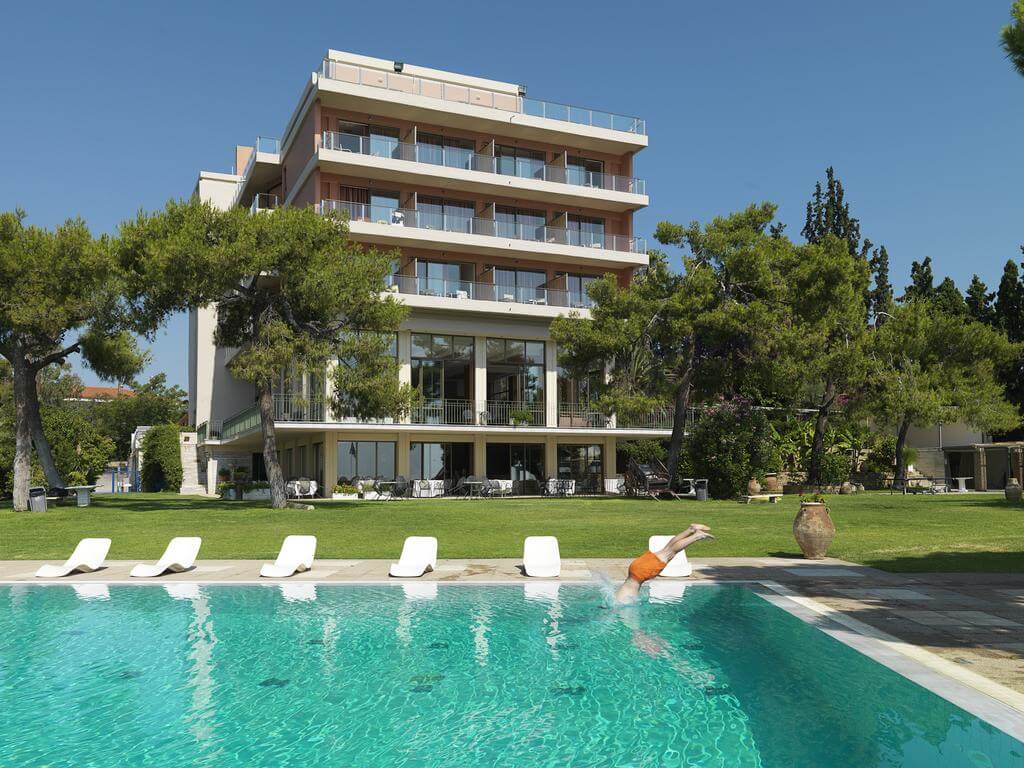 source: bstatic.com
Arkadia Hotel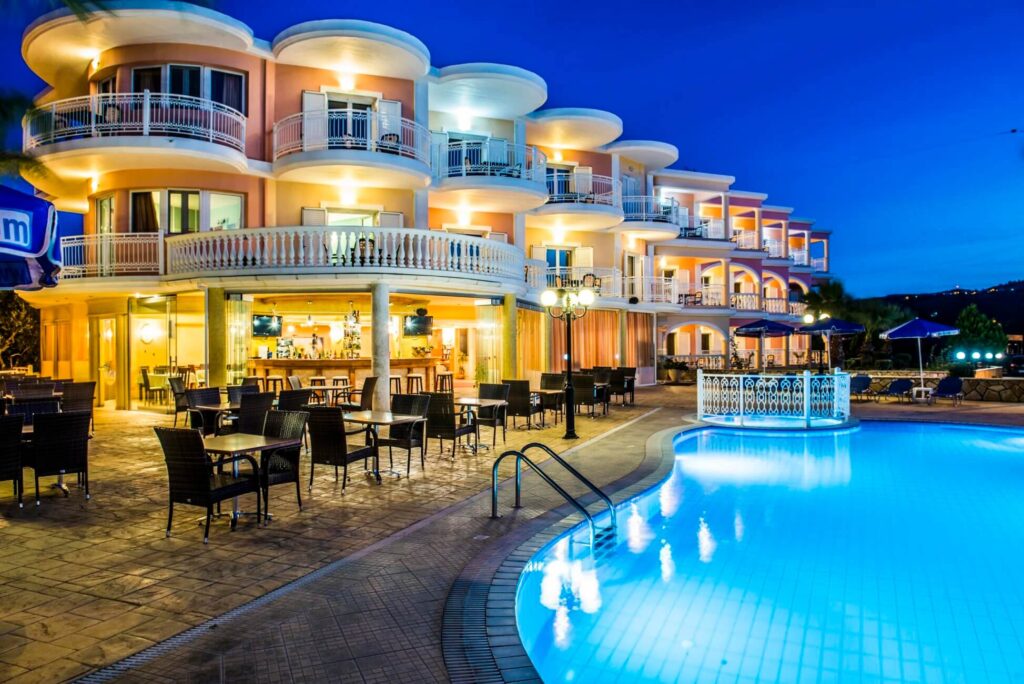 source: trivago.com
5. Kalymnos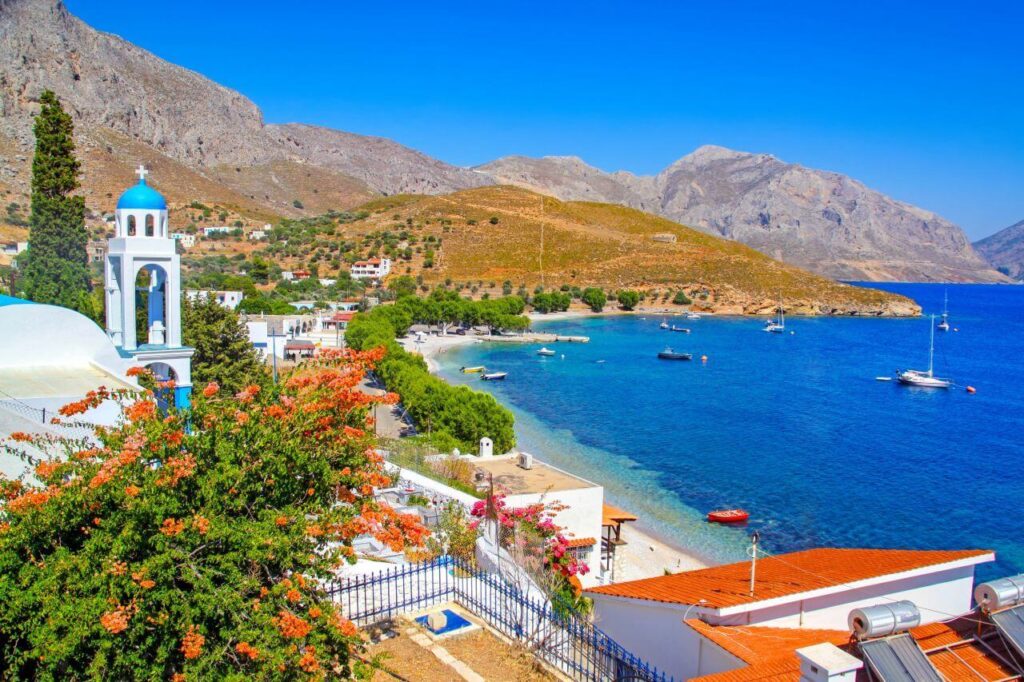 source: greeka.com
Kalymnos is a secret paradise (now it isn't! Haha). It is often overlooked due to its marvelous neighbor Rhodes. If you are someone who is looking for an undisturbed romantic getaway with best of the nature's view, Kalymnos is the place you should visit. It has four main beaches in the surroundings, namely Masouri, Kalamies, Kantouni, and Gefira.
It is the island with one road and most traveling is done through a boat. You can visit the nearest island Teledos after spending a romantic day at a Kalymnos, don't forget to have dinner at fish restaurants on the roadside.
Best Honeymoon Hotels in Kalymnos:
Petra Boutique Homes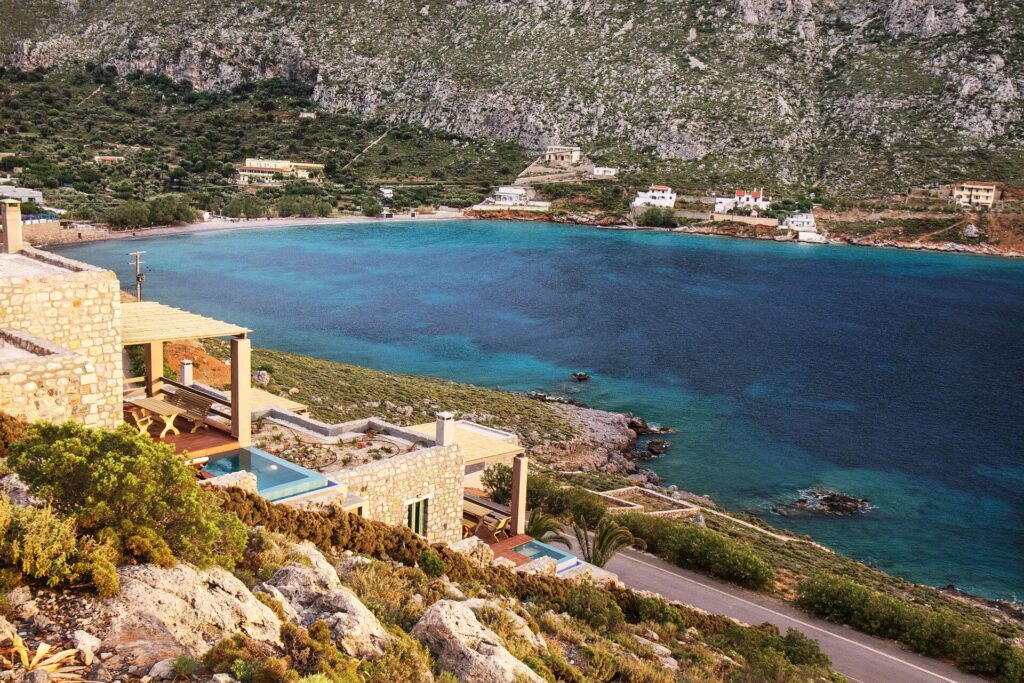 source: kalymnos-bookings.gr
Afroditi Hotel Studios
MasouriBlu Boutique Hotel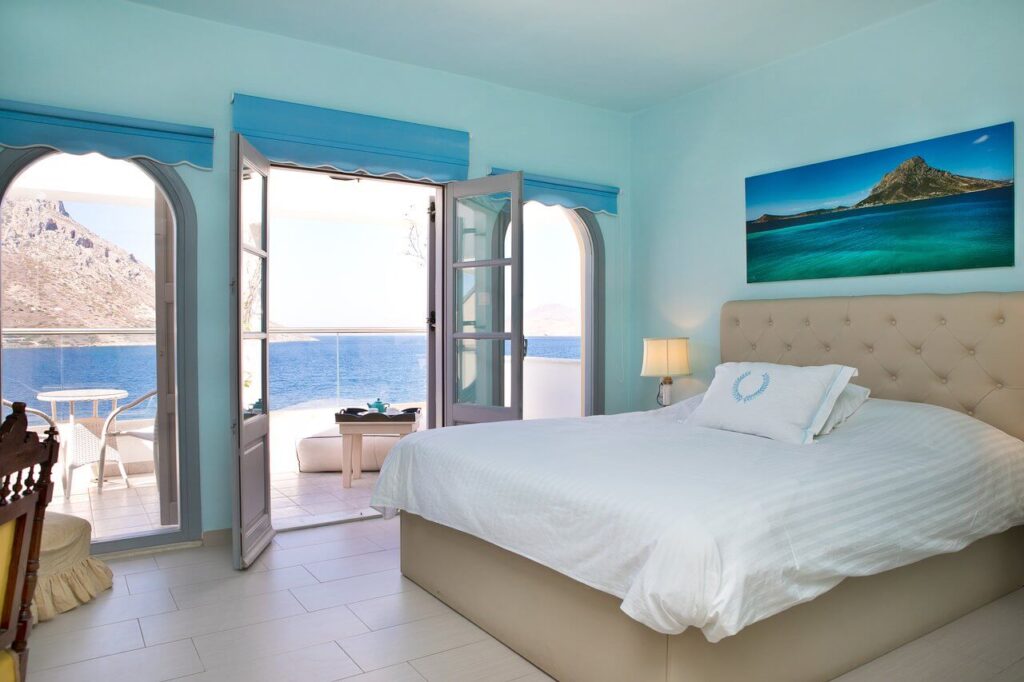 source: tripadvisor.com
6. Rhodes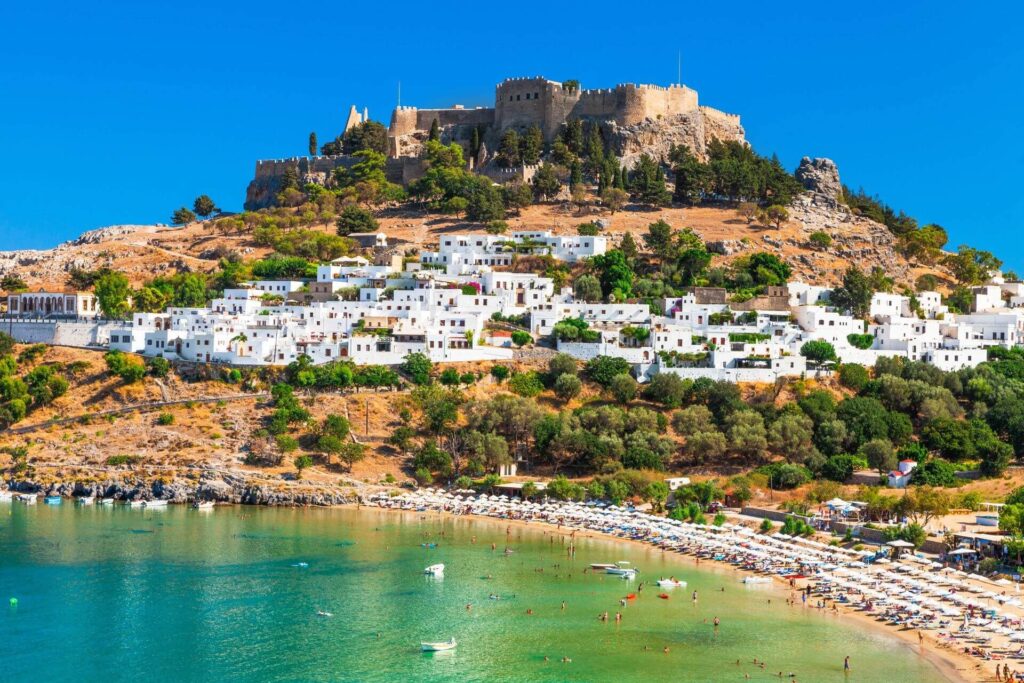 source: greeka.com
As said above, it is one of the magnificent islands of Greece. Honeymooners never miss a chance to visit this place. There have been times when either a couple starts their journey from here or ends it here. The tranquility of golden sands and turquoise blue waters attract the newlyweds most.
You will love the medieval town's 15th-century romantic feels while walking around the city. To enjoy the spectacular view of the Meditteranean sea, visit Lindos Acropolis. You can savor the best of local food there, such as gemista, fava, and dolmadhes.
Best Honeymoon Hotels in Rhodes:
Lindos Blu Luxury Hotel & Suites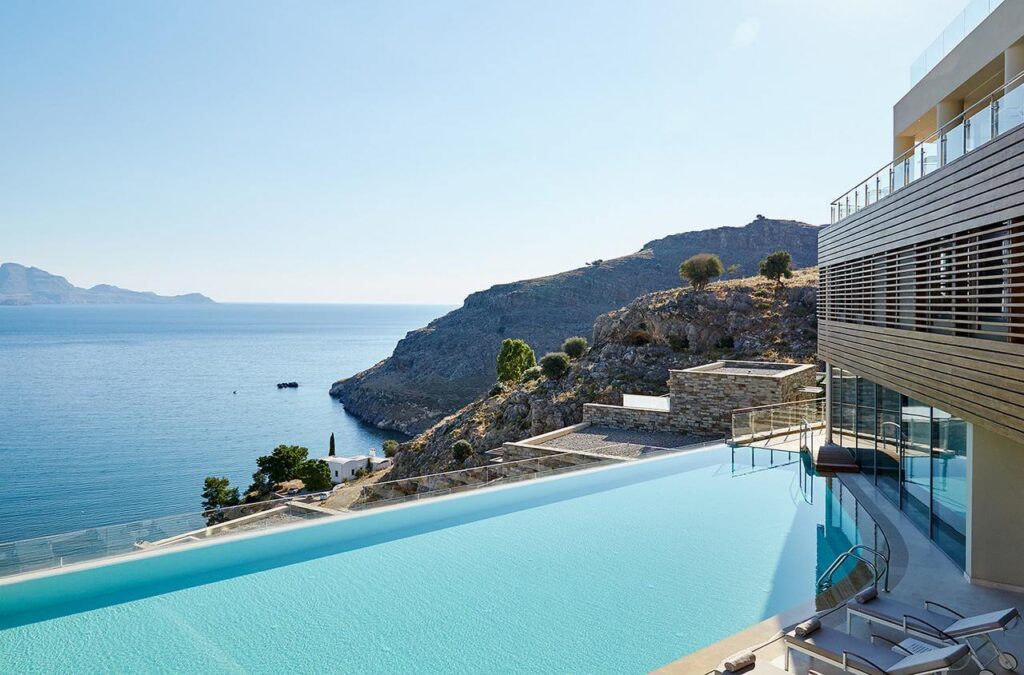 source: bstatic.com
Sentido Port Royal Villas & Spa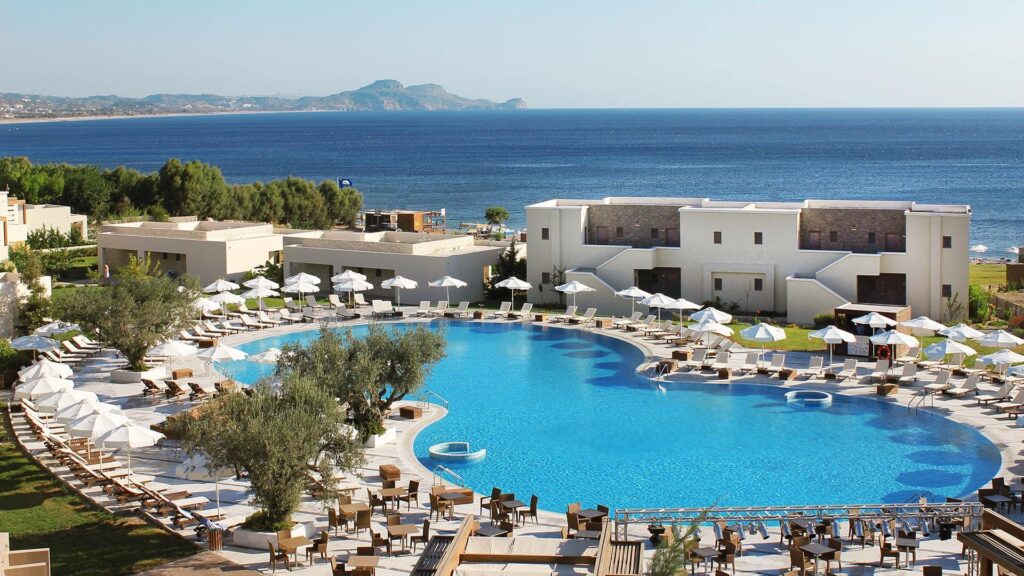 source: secureshop.gr
Amathus Elite Suites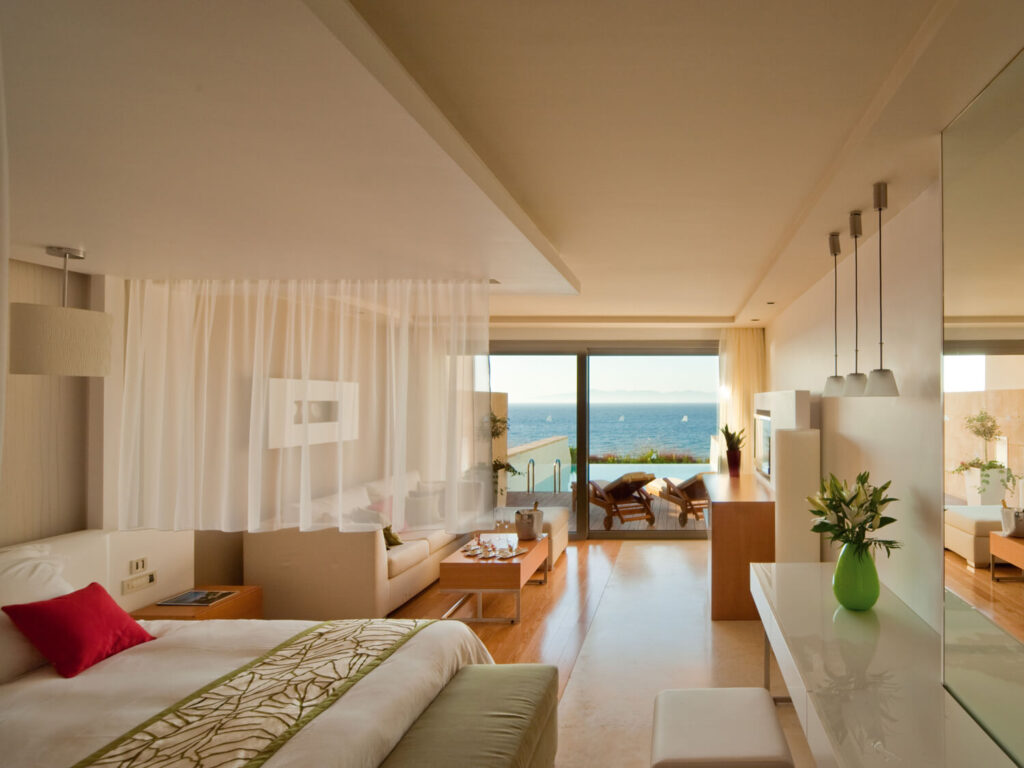 source: agoda.net
Also Read: 8 Romantic Honeymoon Places In Kerala To Visit With Your Soulmate
7. Corfu
source: telegraph.co.uk
It is the second-largest island of Greece, where you can wander on the beach hand-in-hand and feel the love around the monuments of past eras. After Santorini, Athens, and Rhodes, Corfu is a place that is in the list of lovebirds who want to spend some quality time together.
Corfu is a place where you can experience a dream date by getting sunkissed on the beach with the views of volcanic mountains and crystal clear water. On the east of the island walk on the pebbled beach or go snorkeling with your lover and explore the underwater life.
Last but not least, climb on the top of the Church of Saint Spyridon, give a back hug to your partner, and whisper, "Today, we are on the top of the world, and still the thing I want you and everyone to know is I love you the most."
Best Honeymoon Hotels in Corfu:
Mr. and Mrs. White Corfu Couples Retreat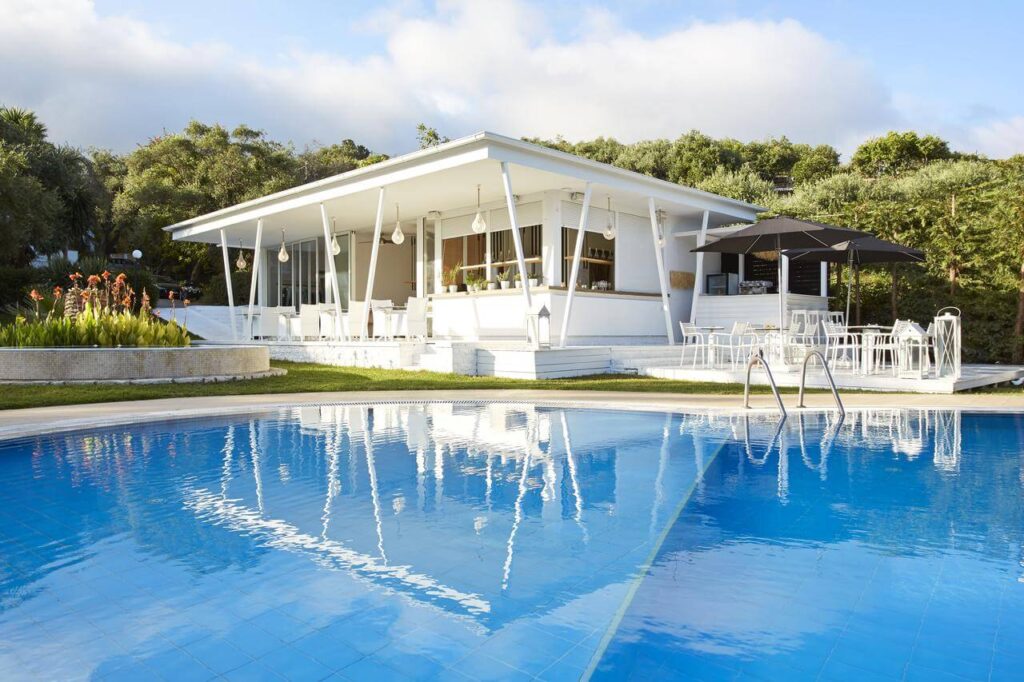 source: bstatic.com
Domes Miramare, A Luxury Collection Resort, Corfu
source: amazonaws.com
Agios Gordios Beach Resort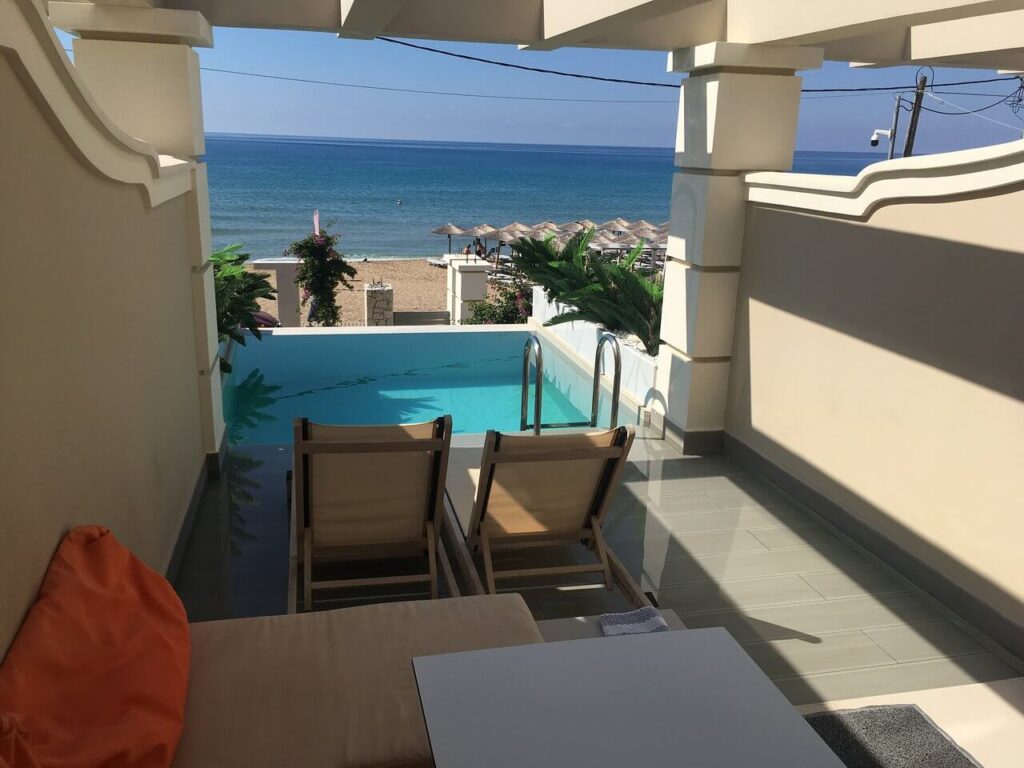 source: tripadvisor.com
8. Crete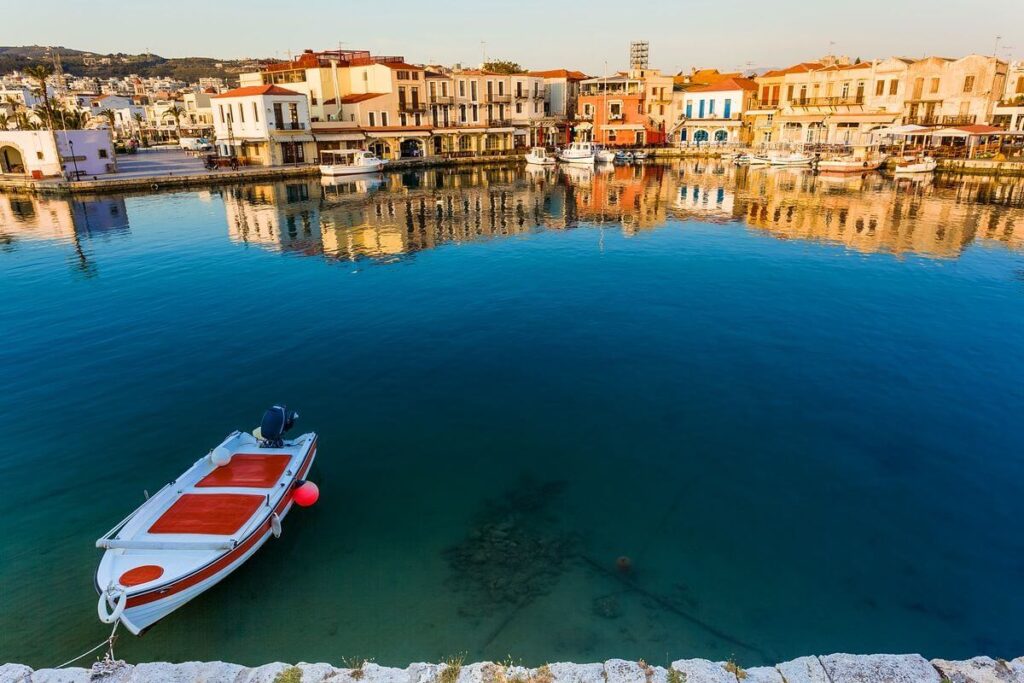 source: pinterest.com
Crete, the largest island of Greece is one of the most adored honeymoon spots among the lovebirds. It has everything you wish for, how? Do you want to explore history? Covered. You wanna know the modernity of the city? Done. Nature attracts you more? It has that too.
It is an island with all forms of beauty, mountains, forests, plains, and even beaches. To see the best views or insights of the place, rent a car and go on a Cretan road trip. Stop near the mountainous villages to explore the real beauty. Don't forget to enjoy the local dishes like Feta and Raki.
Best Honeymoon Hotels in Crete:
Mythos Suites Hotel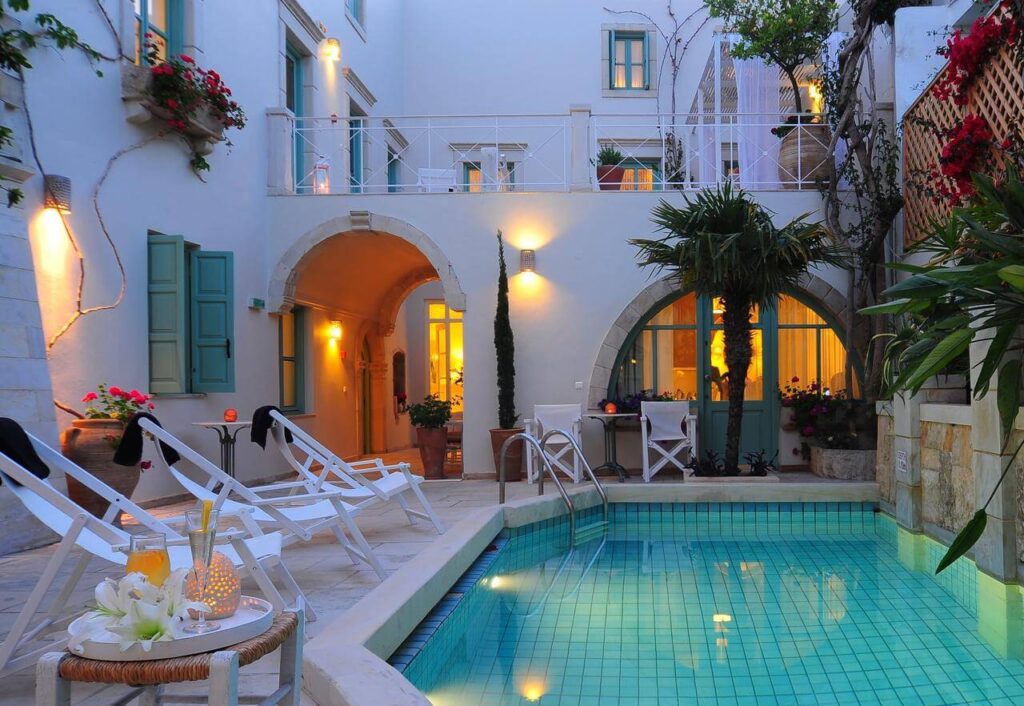 source: bstatic.com
Avli Lounge Apartments
source: bstatic.com
Lato Boutique Hotel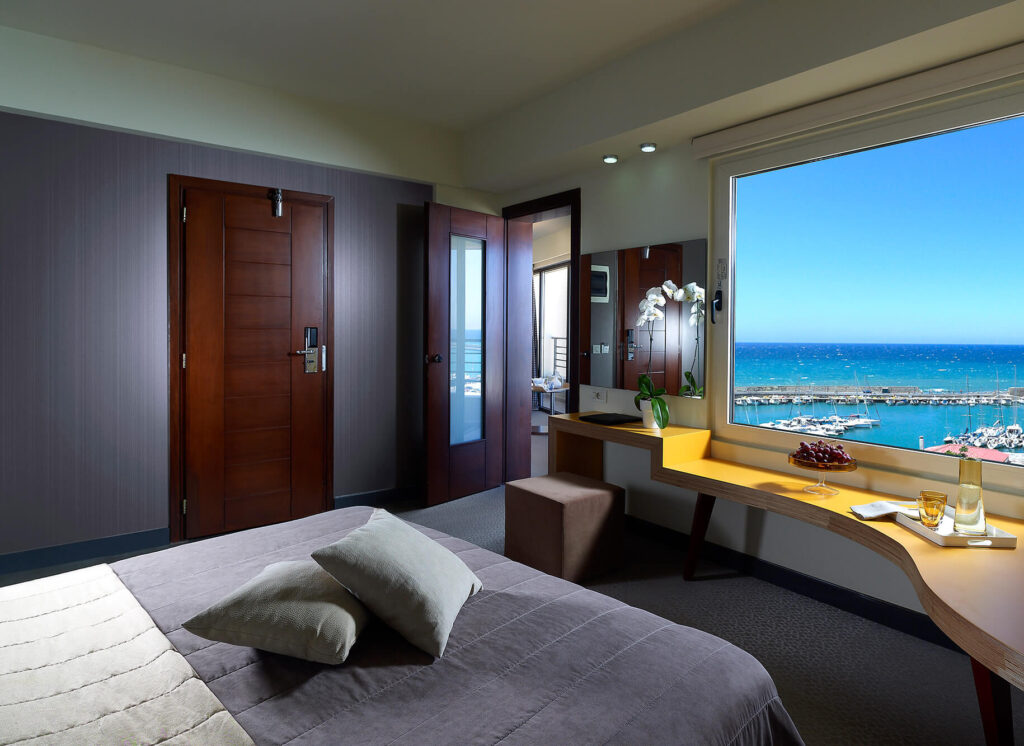 source: grekomania.ru
9. Lesbos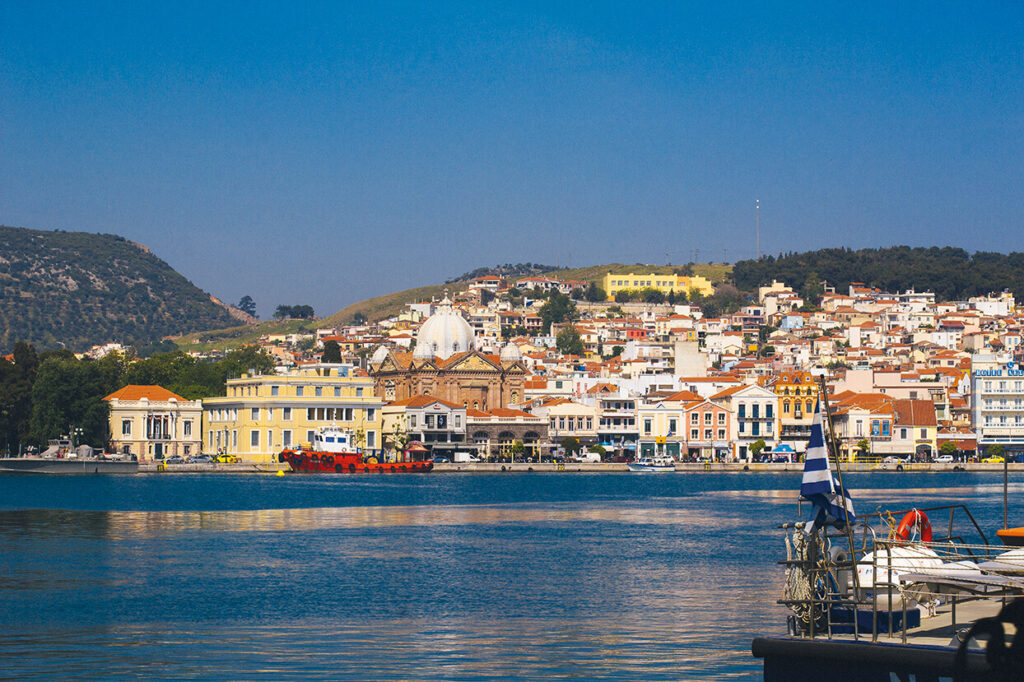 source: theguideistanbul.com
Lesbos is known for its impeccable natural beauty and strict rules for the preservation of it. It is the third-largest island of Greece and is common among the honeymoon spots. When in Lesbos you get to explore the flora and fauna at its best. Don't forget to visit the petrified forest covering the Sigri-Eressos-Antissa area.
The city gets the attention for its olive gardens, beaches, and petrified forest, which is one of the natural monuments of two in the world.
Best Honeymoon Hotels in Lesbos:
Theofilos Paradise Boutique Hotel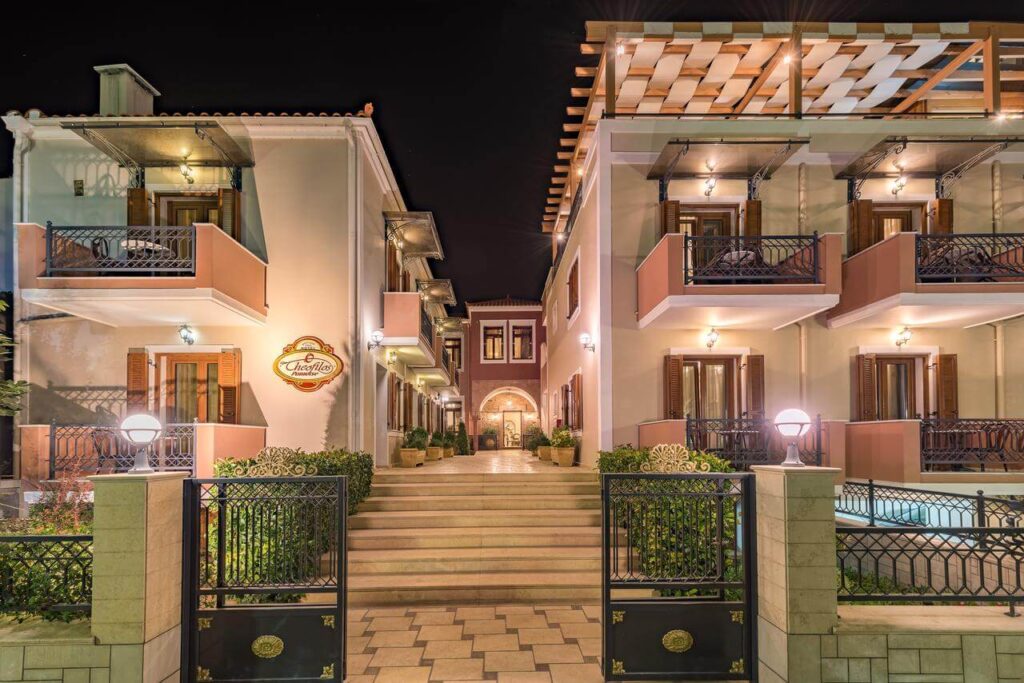 source: bstatic.com
Olive Press Hotel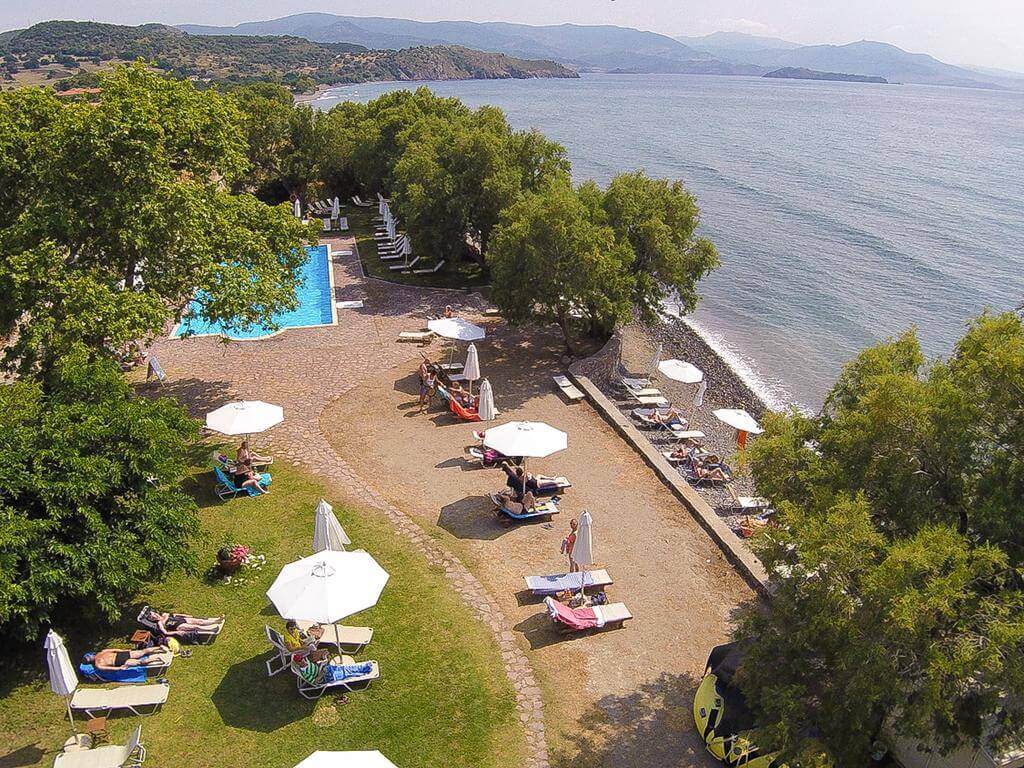 source: bstatic.com
Aeolian Gaea Hotel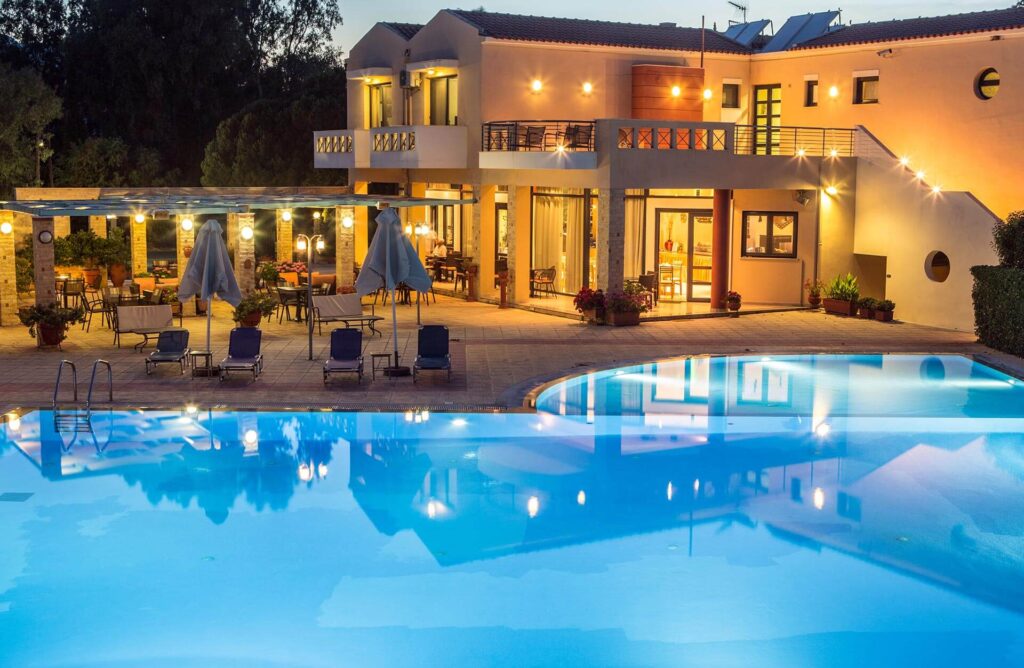 source: aeoliangaeahotel.com
Best Time to Visit Greece
Before finalizing the dates for your honeymoon period, first, let's see what is the best time to visit Greece for the honeymoon. You don't want to get there and feel horrible, right?
The best time to visit Greece for a romantic honeymoon is in May, June, September, and early October. During this time there will be less crowd and heat. You will be able to spend your time lounging on the beach.
Greece is a place where you can have a budgeted honeymoon as well as a big fat honeymoon, whatever you go for, the satisfaction will be at another level. You can plan your own trip but we would recommend you on getting information about Greece honeymoon packages from travel planners to get the most out of your trip.
Enjoy the Greek Honeymoon:
Above are the places that you should definitely add your list, some of them will consume your day or two, while others will require a week or more than that for exploring. The only thing we can promise you is an unforgettable Greece honeymoon. Explore the historical monuments, eat the delicious food, take a sunbath on the beach, see the colorful sunsets, experience the mad party nights, and end your day in each other's arm in the luxurious hotel.
For more information on planning the travel or selecting the best place to explore, stay tuned with Travelila.