9+ Best Travel Purses to Stay Organized on Your Trip
Who knows better than us the pain of searching for the best travel purses for 2023? As a woman and an avid traveler, I know the importance and role of a travel purse. Whenever we go to a remote or foreign location, we tend to be overwhelmed.
There are mixed emotions on how to start packing and what to explore. We need to make a checklist, pack the luggage, and carry a travel purse too.
From kohl pencil to sanitary pads, everything needs to stay with us. Why? You never know when periods will knock the door or a need for clicking pictures with the scenic charm (touch-ups are necessary).
Here are the best travel purses for 2023 to buy.
And while you are traveling, there are few things that you will find in every women's and traveler's bag, which are:
– Diary (for writing down the instant thoughts, or to look at the checklist)
– Passport
– Cards and Cash
– Earplugs
– Cosmetics (foundation, compact, lipstick, and kohl eyeliner)
– Sanitary Pads
– Gadgets (Mobile Phone, iPad, Digital Camera, Powerbank, etc.)
It isn't necessary to have all of them, there will be times when you will need to carry just a few of them. And hence keeping all the possibilities in mind, we have come up with a few travel purses for women that will act as a savior in times of confusion.
So without any delay, let's take off to the land of stylish yet functional best travel purses for 2023.
Here we have segregated the best travel purses for 2023 as per their exceptional feature.
1. Best Anti-Theft Travel Bag
source: amazon.com
Travelon's bag is designed specifically for travelers. With anti-theft features like slash-resistance material, lockable zippers, and security hardware, this one makes the best in this field. The travel bag has RFID blocking pockets for cards, a separate compartment for the passport, and space enough to fit an iPad. The straps of the backpack are also slash-resistance.
The material used is water and heat resistance. It is employed with a front zipper to keep the easy-to-access things and has removable LED light too. With the two mesh pockets on both sides, you won't have to put the water bottle inside the bag.
Measurement: 14″ X 11.5″ X 3″
Colors Available: Black, Charcoal, Midnight, Nutmeg, Purple, Chocolate, and Graphite
Price: $37.69
2. Best Travel Purse for Women
source: travelandleisure.com
You need fashionable and trendy travel purses in 2023 to carry, which is as safe as any other bag. This crossbody travel purse from Notag is all you need! The fabric used in the production of this travel purse is nylon for the outer side and for lining as usual polyester is used. Both are water-resistant and the strap of the bag is upgraded according to the customer feedback.
On its exterior, you will find two side pockets, two front zipper compartments, and one back zipper. And the interior is styled with two zipper pockets and two open ones. The spaciousness of the bag will allow you to organize even small things.
Measurement: Large (12.2" x 4.3" x 9.4") and Small (10.2" x 3.5" x 8.6")
Colors Available: Black, Navy Blue, purple, and Pink.
Price: $16.69
3. Best Travel Crossbody Purse
source: amazon.com
Don't like moving with thick bags? Don't worry, we have a solution for that too! This one is again from Travelon, a slim crossbody travel bag. This one is also designed for travelers. It is slender, yet the anti-theft quality isn't compromised.
The product consists of slash-proof material and has lockable zippers. The travel purse mentioned in the 1st point has the same qualities as this one – the only difference is size. It has two front pockets and one snap-close zipper.
Measurement: 10" x 8.5" x 1"
Colors Available: Black, Cranberry, Midnight, Nutmeg, Wine, Peacock, and Purple.
Price: $28.96
4. Best Stylish Yet Functional Travel Purse
source: leakhenapage.com
Always stay updated with fashion. You won't want to look outdated on the trip, so we are here with both stylish and functional travel purses for 2023. This is a sequin-studded purse with a serpentine pattern.
The purse has an adjustable leather strap, which makes it perfect for multi-use, be it as a crossbody bag, handbag, or shoulder bag. It has two compartment pockets and a zipper pocket. The metal rivet is the focal point of the product.
Measurement: 8.27″ x 3.15″ x 5.91″
Colors Available: Black Gold, Black Silver, White, Pink, Purple, and Blue.
Price: $27.99
5. Best Travel Fanny Pack
source: dealsfinders.blog
Fanny packs came in fashion at the end of last year and have decided to stay. This waist bag has specific fan followers, at the start, no one knew that it would be such a comfortable piece to carry. And as soon as people realized this, the sale increased to a higher level.
The one here is with 3 zipper compartments of which one is at the backside, the secured pocket. You can use this in a day to day life as well. The waist bag can carry your phone, essential cards, passport, earplugs, and even cosmetics like kohl pencil, eyeliner, & compact.
Measurement: 11.5″ x 3″ x 4.5″
Colors Available: Olive, Grey, Pink, Orange, Forest Green, Digital Camouflage, Jade, Dark Purple, Coral, White, and Black.
Price: $4.60
6. Best Travel Duffel Bag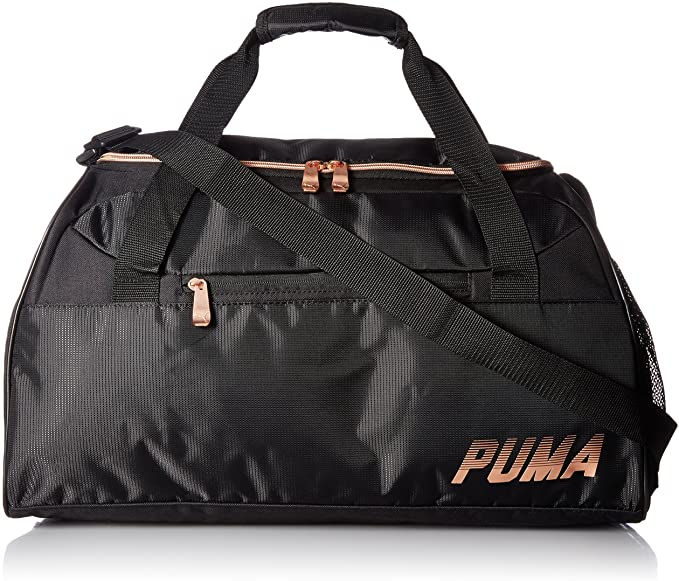 source: amazon.com
It isn't necessary to go for small handbags only. You can Check here the Best Smell Proof Duffle Bags.
Travel purses are for carrying the essentials, no doubt. But if you are on a business or work trip, you might not need to carry luggage. This is where the duffle bag comes into the scenario.
The puma's duffel bag designed for women is perfect for two to three days of business or work trip. The material used for both exterior and lining is polyester. The travel bag has 1 zipper compartment, one small pouch at the front, and a side pocket.
Measurement: 20″ x 10″ x 11″
Colors Available: Black/Gold, and Grey
Price: $16.97
Also Read: 6 Packable Sun Hat That Will Save You From Harmful UV Rays
7. Best Lightweight Travel Purse
source: zulily.com
The lightweight travel purse from Scout is all you need to take a light hold on the essentials. This small and slim crossbody bag is an ideal fit for traveling women. Though it looks small but can carry most of the items mentioned above (in the introduction part).
The fabric is a super-durable 100% cotton twill with lamination for heat and water resistance. It has three zippers, which can perfectly fit the cosmetic essentials, passport, mobile, cards, etc. Planning for water skiing, surfing, or paddle boarding? Go on without any hesitation, the travel purse has got you covered for protection.
Measurement: 8" x 6.5" x 0.5"
Colors Available: Multicolor and Patterns
Price: $24.98
8. Best Mini Travel Backpack
source: amazon.com
Tired of holding the purse in hand or on the shoulders? Try a mini travel backpack. You can just fix it with the luggage using a strap given for a particular purpose. You can carry much more than a specified list as it is more capacious than any other travel purses.
The travel backpack has three-ply pockets, which can fit tablets, A4 size files, purses, umbrellas, and many more. It has an anti-theft pocket where you can store cards and a passport. Don't wait to take up the whole make-up kit as well!
Measurement: 12" x 11" x 5.9"
Colors Available: Black
Price: $21.99
9. Best Convertible Travel Purse
source: pinterest.com
Convertible things have a magnet in them, people draw towards them. Haven't you experienced the awe feeling while watching a convertible car? Okay, come back!
Here we are discussing the convertible travel purses for 2023 This one can be carried on shoulders or converted into a backpack.
The material used in the backpack purse is high-quality nylon, which makes it lightweight as well as water-resistant. With its two side pockets and one zipped compartment at the backside, it earns the tag of anti-theft. Inside there is one zipped pocket and two open ones for phone, wallet, and cards.
Measurement: 13.3″ x 5.5″ x 12.2″
Colors Available: Khaki, Pink, Light Grey, and Blue.
Price: $23.99
10. Best Travel Tote Purse For Women
source: ebay.it
The perfect travel purse for women – Tote bag. The bag has functionality as well as is fashionable. This chic has 1 zipper pocket and 4 slip pockets, where you can store almost everything.
If you still think this one is less safe and functional, get the Scout's lightweight purse, remove its strap and fit the essential and put it into the tote with other essentials. The Michael Kors' tote bag is famous in its field, providing convenience when on a trip.
Measurement: Has different size (11″-14″ x 10.5″ x 4.5")
Colors Available: Black, Brown, and White
Price: $179.99
11. Best Travel Wallet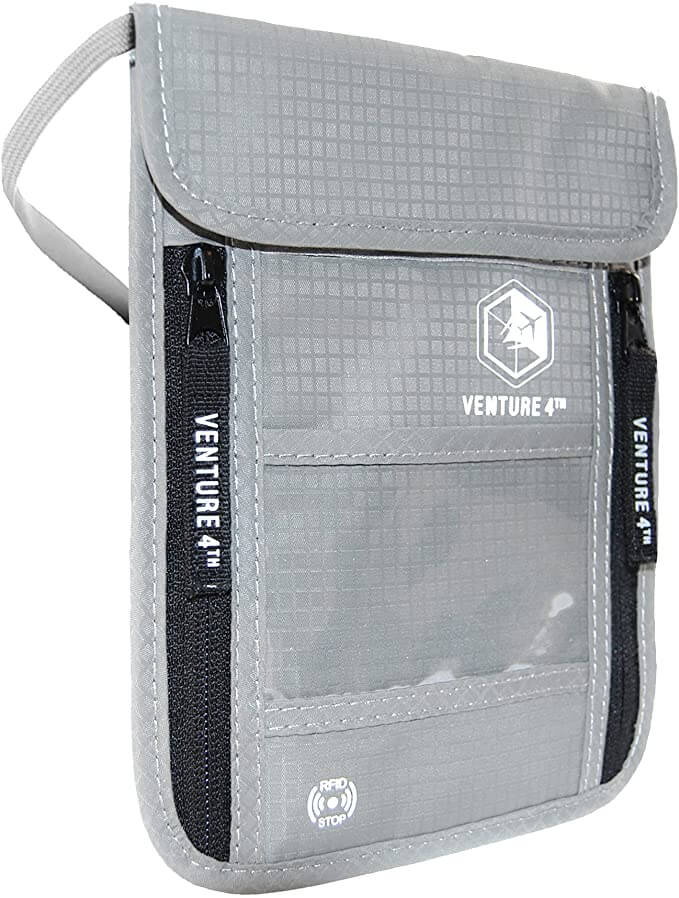 source: getdebestpro.com
This wallet is specially designed for travel purposes. It is a travel neck pouch or wallet that can fit credit cards, passports, and keys too. It has an RFID blocking card to save yourself from electronic thieves and pickpockets.
The material used is water-resistant, breathable, and lightweight. And has a snap closure with velcro with zippered pockets and three smart storage compartments for the organized documentation.
Measurement: 8.27" x 5.91" x 0.20"
Colors Available: Black, Brown, Beige, Green, Silver, and Grey.
Price: $17.95
source: insider.com
Travel Purse – A Truthful Companion
So these are the best travel purses for 2023 to carry. Having one of them or more than that will allow you to secure your essentials and won't let you skip any of them. Be it on the flight or exploring the city, be care-free and comfortable with these lightweight yet capacious travel bags. The list contains pocket-friendly as well as high-cost travel bags, but each one is worth the price.
For more updates on the tourism industry, visit Travelila.