Chilly winter can restrict your legs to go outdoors. Stylish and lightweight electrical heated jackets will make your winter outdoor memorable. Next winter, don't forget to keep your electrical jackets. The stylish and lightweight electrical jackets are considered the best-heated jackets for the winter season. It can withstand water and winds. In best heated jackets, you will find a rechargeable battery and a charger that can give extended hours of warmth upon charging. You can manually set the temperature level from a low, medium, and high level.
In this guide, you will witness the top heated jackets for 2023 to give you a sense of warmth in chilly winter. You can choose any one of the given heated jackets that will meet your requirements.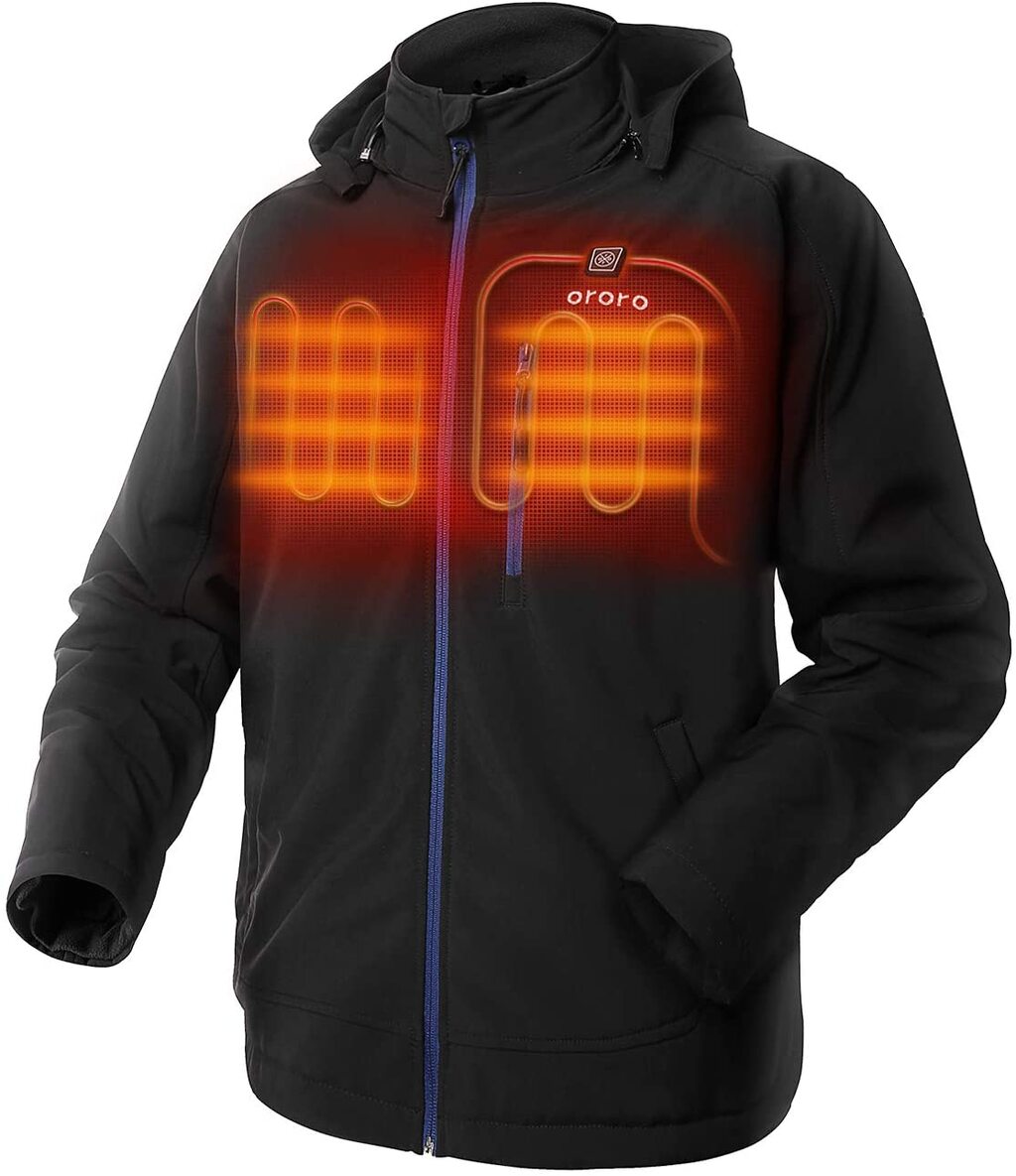 Source: amazon.com

Ororo heated jacket is one of the premium electric jackets for the year 2023. It has a detachable lining that gives you comfortable warmth. Three carbon fiber heating elements generate heat on the left & right chest, mid-back area of the body. You can adjust the heating level to low (100° F), medium (120 °F), and intermediate (130 °F). It has an inbuilt 7.4 UL/CE certified battery that can work for nearly 10 hours. The additional USB port will give you an option to charge your smartphones. It can endure 50 + machine wash cycles.
Pros
Comfortable wear
Stylish look
The battery has a long run time
Cons
Inconvenient zipper placement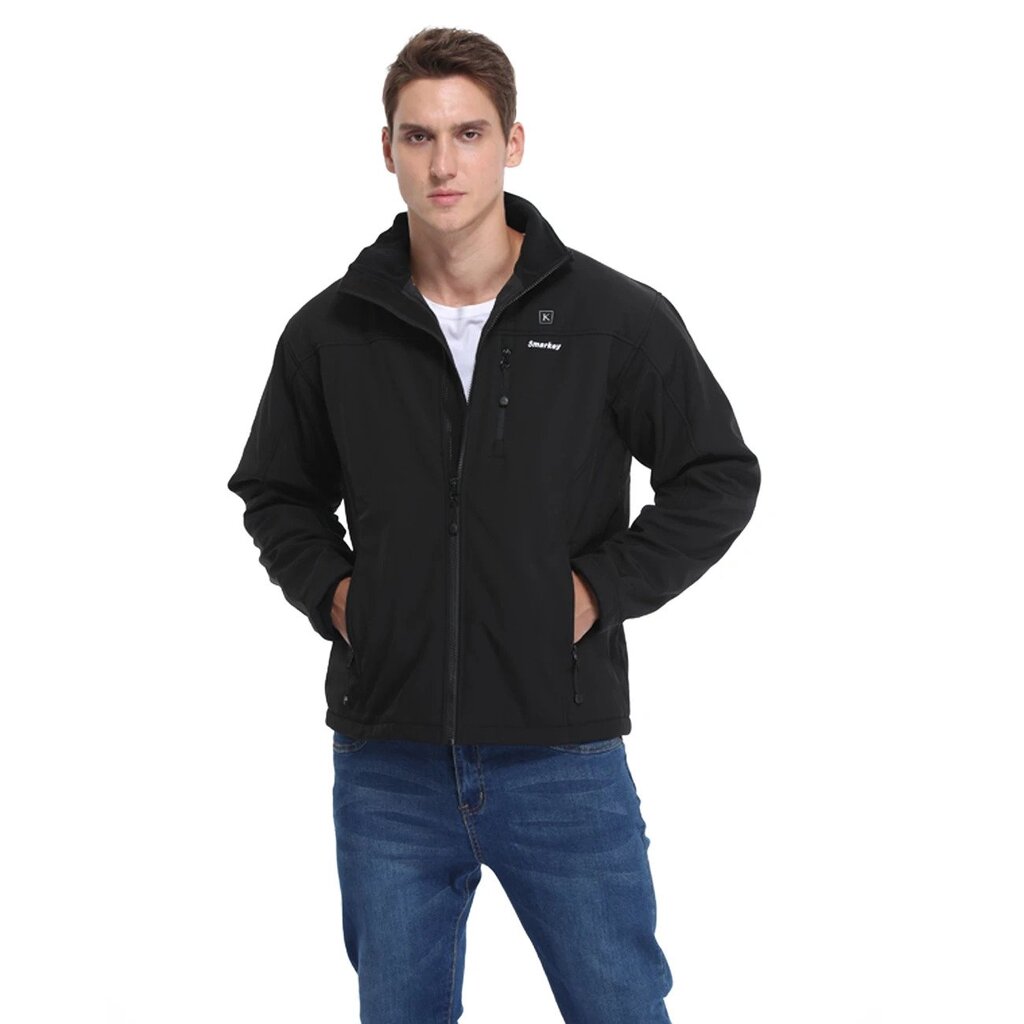 Source: shopify.com

Smarkey has built an innovative heated jacket that can control your body temperature. It utilizes 8.4V power with the option of adjustments. Three LED lights like RED, WHITE, and BLUE indicate high, medium, and low temperatures. You can adjust it manually on the settings option. It can work 9 hours on a low mode setting.
The jacket battery has 5200 mAh power that can last up to 8 hours upon charging. The jacket has three insulation layers. The upper lamination layer, the medium heating carbon fiber, and the last layer is the inner lining. The battery looks bulky in comparison to the thin layer of the coat.
Pros
Lightweight jacket
Flexible option
Extended run time of the battery
Cons
Bulky or inappropriate size battery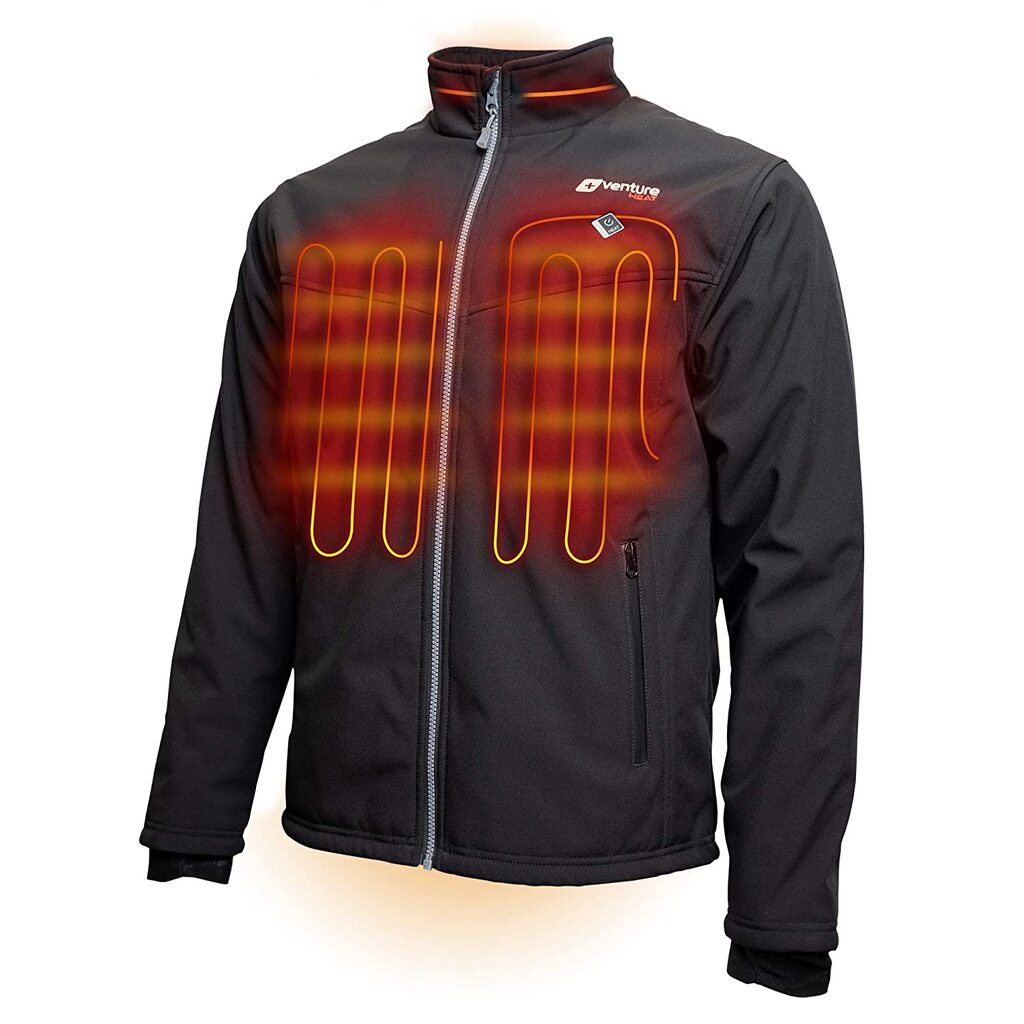 Source: amazon.com

You can say it is the most convenient jacket for the chilly winter. The latest version has 20% larger heating panels that help to keep your body warm quickly. Jackets have exterior fabric and interior fabric. The ultra carbon fiber nanotech heat panels target your back, chest, and neck. You can change the heating option to high(131-degree Fahrenheit), medium (113 degrees Fahrenheit), and low (100 degrees Fahrenheit).
Venture heat jackets are machine and dryer friendly. It can endure up to 50 wash cycles. The battery run time is exceptionally high, and it can last up to 10 hours upon charging. The battery and the charger are UL certified. It can give 7.4 Volt, and its capacity is 5200 mAh.
Pros
Additional heating elements
Wireless remote control
The battery is internationally safety certified
Cons
No color options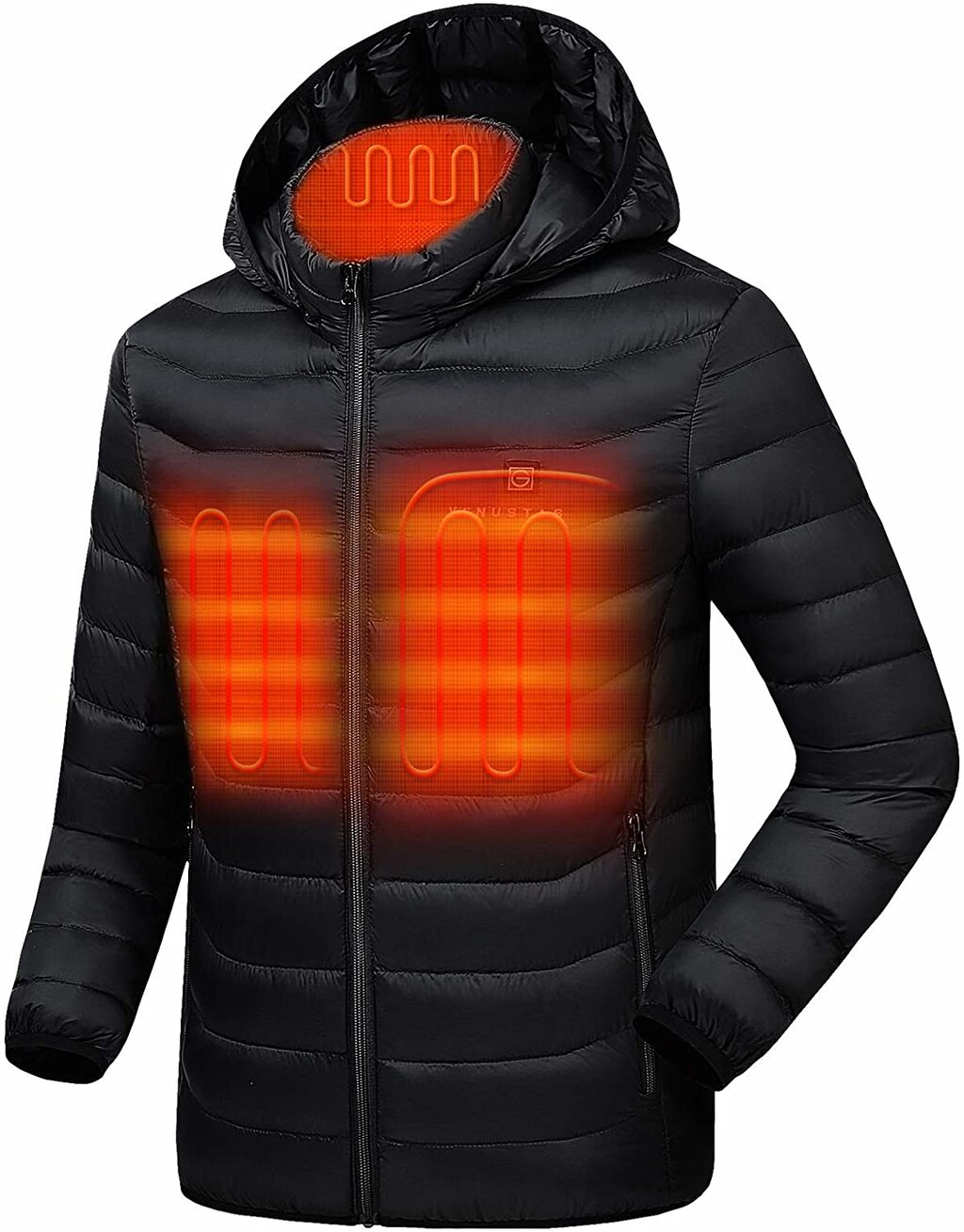 Source: amazon.com

The manufacturer has updated a skin-friendly mylar thermal lining to the jacket. The rich carbon fiber heating element can cover four heating zones of the body; left and right chest, collar, and mid-back. You can adjust the heating system by simply pressing the button. The temperature level can be set for low (77 degrees Fahrenheit), medium (95 degrees Fahrenheit), and high ( 113 degrees Fahrenheit).
The battery is the prime feature of this heated jacket. Venustas battery can last up to 12 hours upon single charging. It has a capacity of 5V and 10000 mAh. The battery has 2 USB ports so that you can charge your smartphones seamlessly. The company has not compromised on its zipper quality. It has a smooth and long-lasting YKK zipper.
Pros
Skin-friendly mylar thermal lining
2 USB ports included
The battery has a long run time
Cons
Mismanaged LED button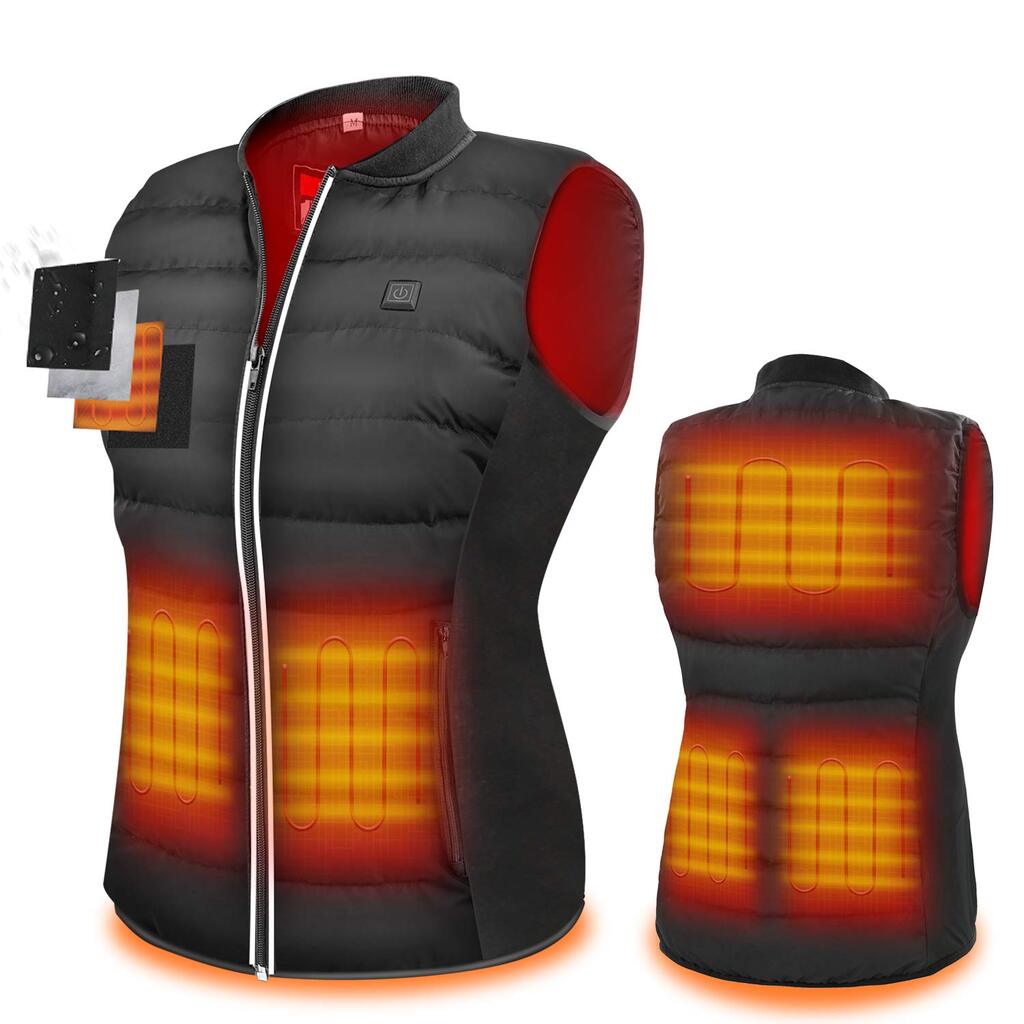 Source: amazon.com

ZLT Fashion heated jackets are the most affordable jackets for the winter season. It has lightweight and waterproof materials. The 5 carbon fiber heating pads can efficiently warm your body in 360-degree mode. You can adjust the heat setting into high (131 degrees Fahrenheit), medium (122 degrees Fahrenheit), and low (113 degrees Fahrenheit).
The LED buttons will help you to adjust the heat setting. You can turn the Red LED on the extreme temperature, white LED for medium temperature, and Blue LED on low temperature.
It is available in four sizes, from S to XL, that is suitable for men, women, boys, and girls. You can enjoy your winter by wearing this jacket whether you are camping, hiking, skiing, fishing, or hunting.
Pros
Windproof material
5 heating areas
3 heating levels
Cons
Separately purchase portable charger battery or power bank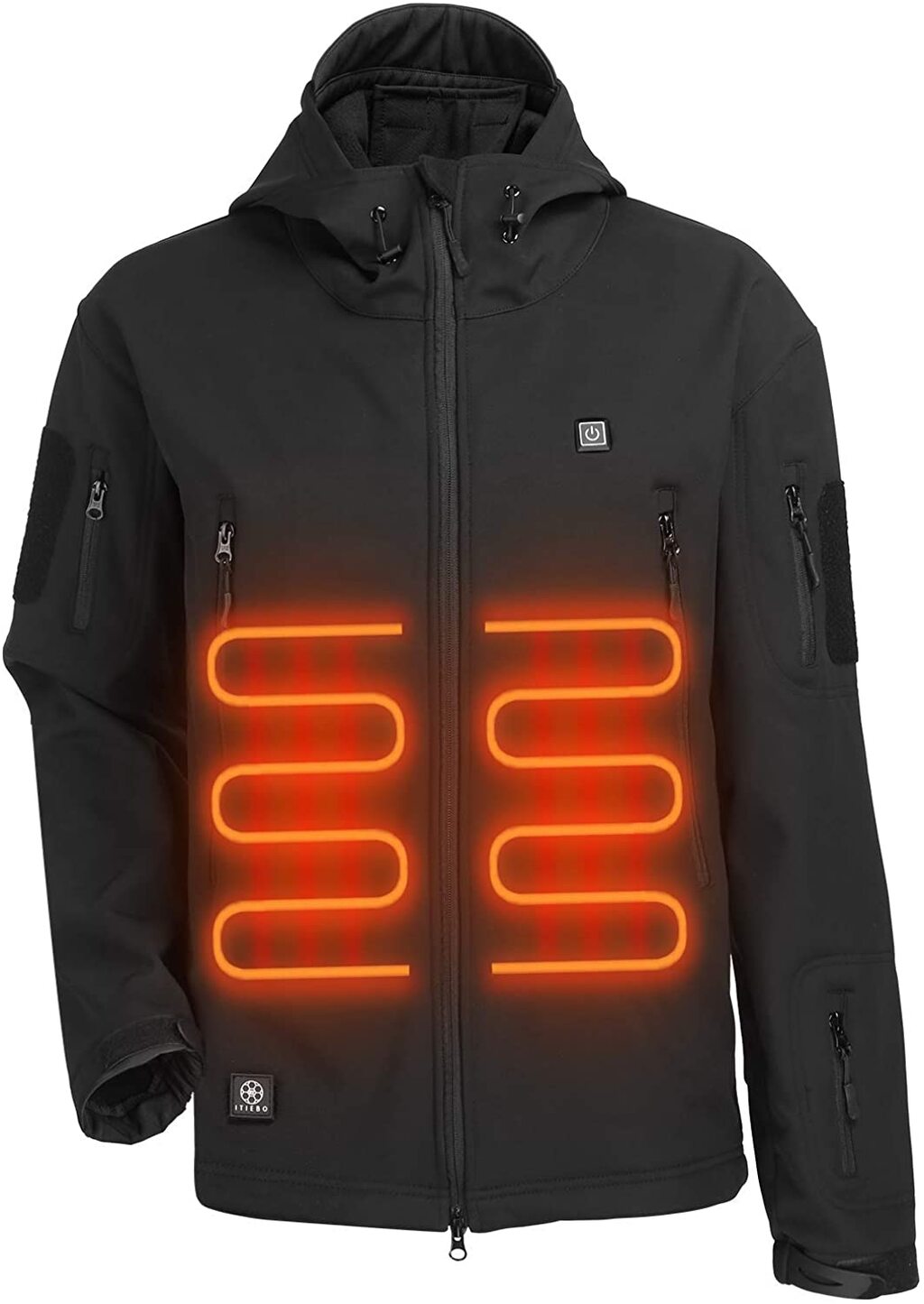 Source: amazon.com

Gone are the days when you need to wear bulky and heavy outfits to keep yourself warm. ITIEBO battery jackets can withstand severe winter conditions. You can wear it for any kind of outdoor location. Three different heating zones make it warm within minutes. Three LED light buttons will tell you the temperature level. You can set the heat level to green light as low (110 degrees Fahrenheit), blue light as medium ( 130 degrees Fahrenheit), and red light as high (140 degrees Fahrenheit) temperature levels.
It can give you warmness for up to 10 hours in low mode. It has dual safety protection when the temperature will go extremely high, or any short circuit occurs, it stops working. ITIEBO has a 7.4V 5200 mAh rechargeable power bank and an 8.4V charger.
Pros
Dual Safety Protection
Long battery run time
Waterproof and windcheater
Cons
Tricky power button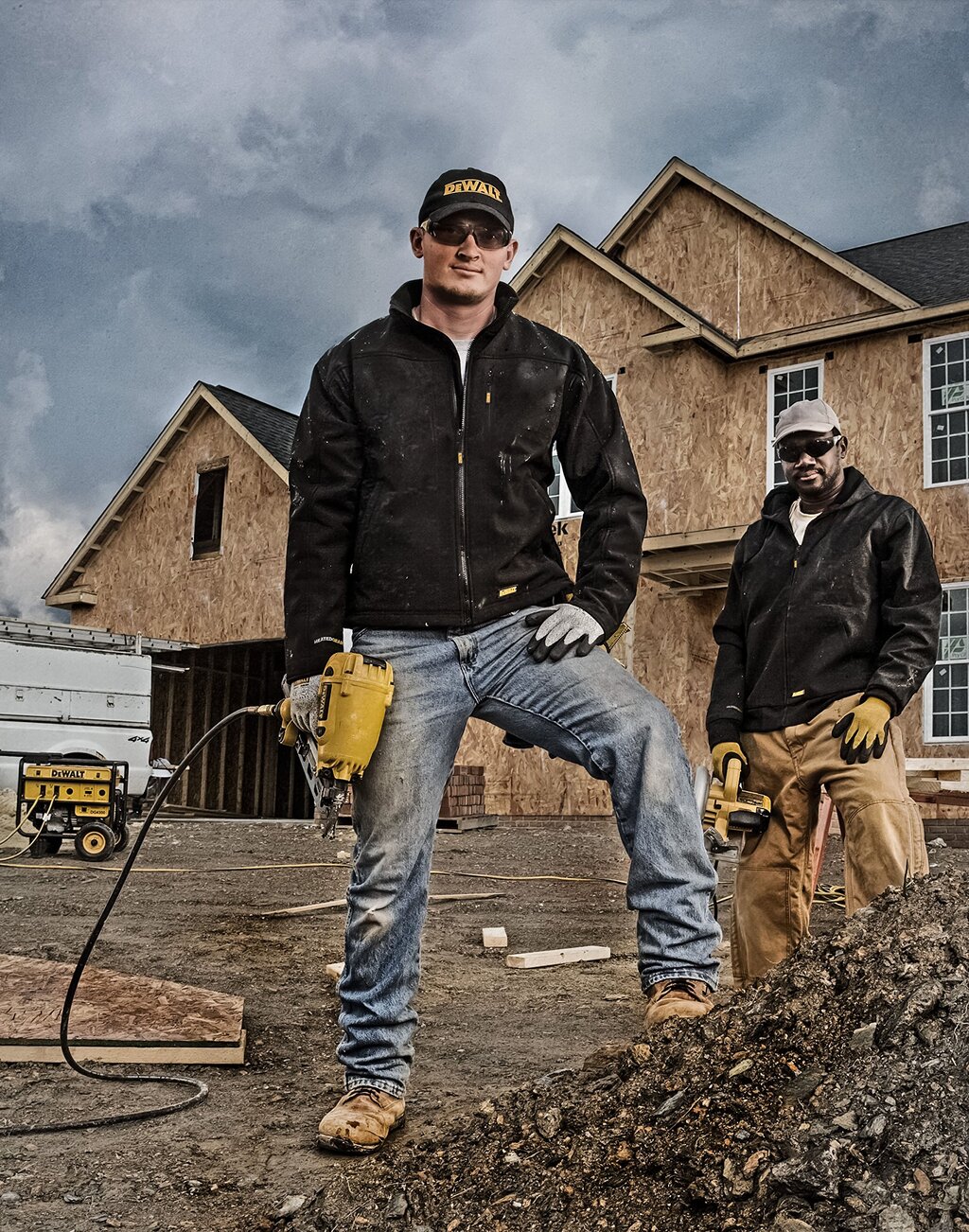 Source: amazon.com

Dewalt heated jackets are ideal for outdoor winter activities. The jacket can keep you warm for up to 7.5 hours. The four heating zones: left chest, right chest, mid-back, and collar make it warm within minutes. It has 3 LED controllers that will give low, medium, and high-temperature levels. You can charge your cell phones from their routing ports.
The jacket includes 20V/12V MAX USB power source, DCB201 20V MAX Battery, and DCB101 20V/12V charger. It has five pockets: Left & right waist, Outer left & right chest, and inner left chest.
Pros
Routing ports
5 Pockets
Water Resistant
Cons
Bulky battery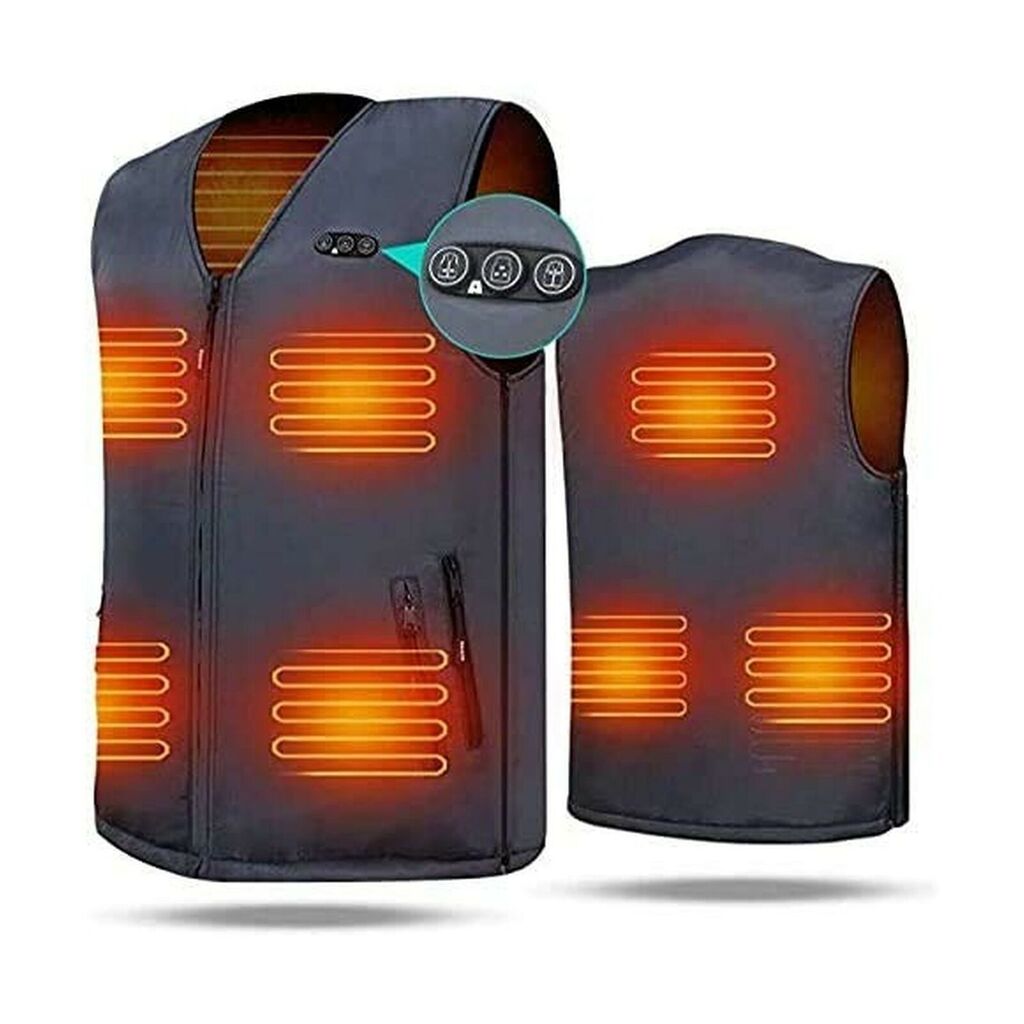 Source: ebayimg.com

Arris heated best has 7 heating zones and 5 temperature control buttons. You can set the temperature from 40 degrees Celcius to 80 degrees celsius. The jacket can give you warmth for up to 10 hours. It has a 7200mAh 7.4V lipo battery and one Lipo battery charger. The battery can run up to 15 hours upon full charging.
It perfectly suits under the full sleeve jacket. Men, women, and children can wear the heated vest. It has subtle health benefits like promoting blood circulation, enhancing metabolism, and relieving muscular pains. You can perform multiple types of winter outdoor activities like skiing, mountain climbing, camping, hiking, snowmobile, etc.
Pros
7 heating zones
5 heating levels
Lightweight
Cons
No options for full sleeve
Also Read: Trendy Carry Luggage For Men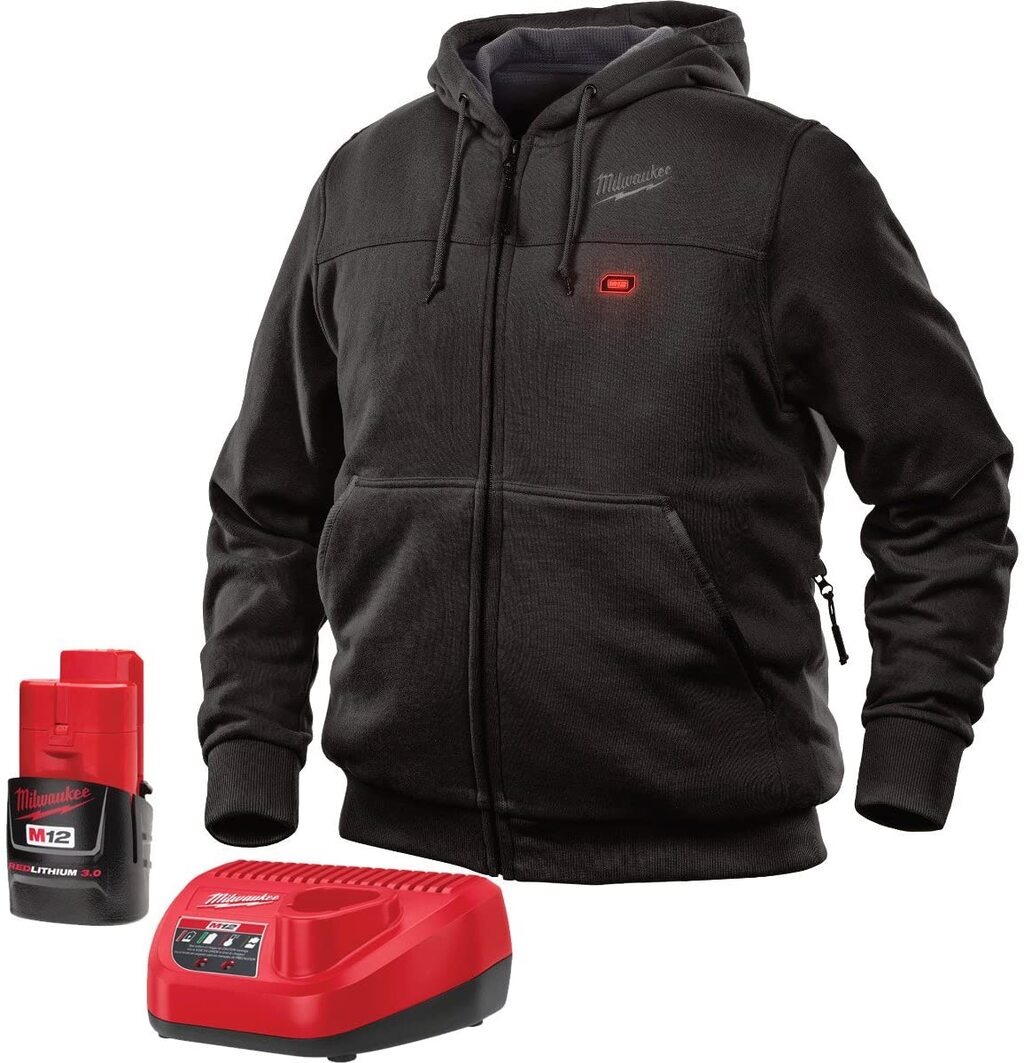 Source: amazon.com

Milwaukee is equipped with M12 REDLITHIUM battery technology. It utilizes carbon fiber heating elements to distribute heat across the chest, back and front hands. ToughShell Stretch Polyester gives a five times longer lifespan than softshell jackets. It can resist water and chilly winds. The battery can run up to 8 hours upon charging. High loft insulation can trap heat to outer zip pockets, inner zip pockets, and low-profile battery pockets. It has 3 temperature control settings with a one-touch LED controller.
Pros
M12 REDLITHUM battery technology
ToughShell Stretch Polyester
Three temperature controls
Cons
No detachable hood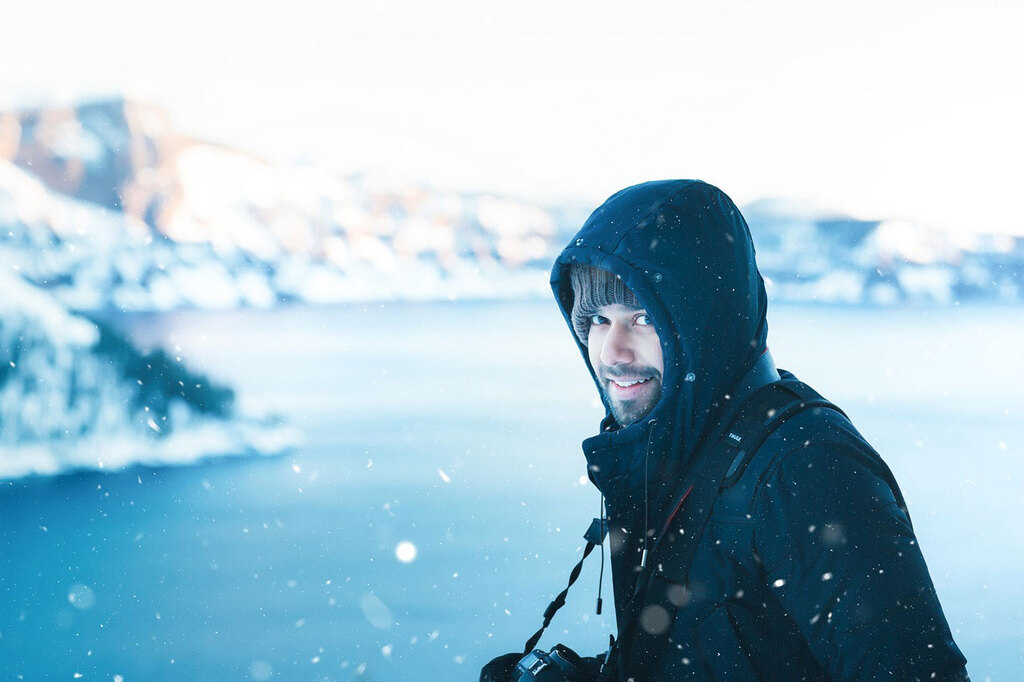 Source: zichor.com
Conclusion
You have seen the top heated jackets for the year 2023. You need to pay extra attention before purchasing electrically heated jackets. And, you need to look at a brand, value, pockets, materials, weight, fit, and heating options. The important prime factor is heating components. You always consider two things: temperature control and heating zones. If there are more heating zones, then it gets warm quickly. If you need an advanced temperature setting, then you can choose the high-temperature level jackets. Always make sure the jackets must have a rechargeable battery and charger otherwise you have to pay extra money for purchasing the battery and charger.
You can visit our site travelia.com for the latest travel updates. You can find here essential travel accessories that can plan your travel.