Hey there, what are your plans for winter vacations? Where are you planning to visit? Which city to explore? Let's get down to Phoenix city. A city in Arizona of the U.S. State. In summer, you would like to visit a relatively cold place. But you know, some places are to be visited in winter only because they look splendidly beautiful. And Phoenix is one of them. We will guide you throughout the journey from things to do in Phoenix to cuisines to try.
You may have traveled to many countries, in search of the best historical or natural places. But have you ever thought of traveling to the valley of the sun? Yep. It's another name for Phoenix city.
Phoenix is known for its grand hotels, luxurious resorts, and golf courses. The city isn't only about relaxing in the spa resort. It has more to offer from historical places to botanical gardens. You can cool down your adventurous spirit by hiking up to the trail of South Mountain Park and giving yourself a chilling treat in the heat of Arizona with a visit to a museum.
Now, when you have finally decided to visit the capital of Arizona. Along with beautiful views to take in, it also offers the best food to taste.
Coming to the topic,
What to do in Phoenix in 2023?
We are mentioning some things that are must-do when in the city.
Desert Botanical Garden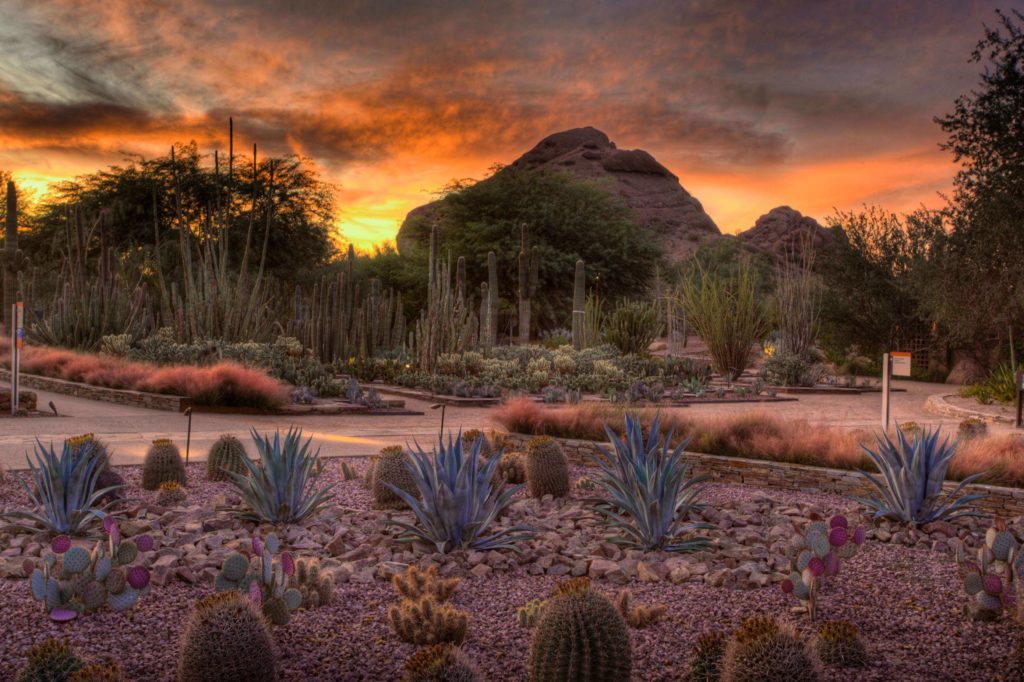 Source: simpleviewinc.com
Desert and garden seem odd together, right? But this desert botanical garden houses thousands of varieties of cacti, trees, and flowers from all around the world. The park has numerous praises for being beautiful and informative. You won't only find variations of flora; it also has different hiking trails that you can hike to like, Plants and People of the Sonoran Desert and the Harriet K. Maxwell Desert Wildflower Loop. We have confirmed that visiting the garden after sunset will give you an illuminated view.
Oh, did we forget to mention, the garden hosts many concerts, exhibitions, and culinary demonstrations? Attend one, if it is hosting any of it when you are there.
The Heard Museum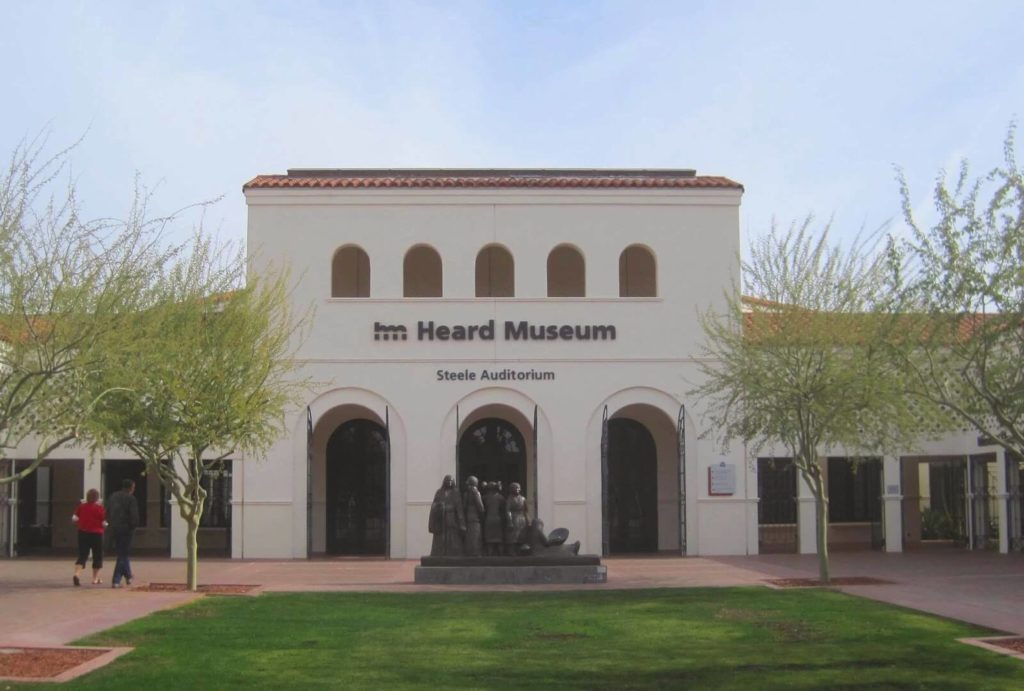 Source: blogspot.com
The Heard Museum, found in 1929 and dedicated to the advancement of American Indian Art. It is full of contemporary and traditional art. If you are a historical worm or art fan, this place should be first on your list. The museum has vibes that comprehend the lifestyle of the Phoenicians. The artifacts it houses will take the time of half-day to see all of them. And trust us, you won't want to leave it in the middle.
The heard museum is located in the north of downtown Phoenix. It's open throughout the week, but timings differ. From Monday to Saturday, it's 9:30 a.m to 5:00 p.m., and on Sunday, it's from 11 a.m. to 5 p.m.
Musical Instrument Museum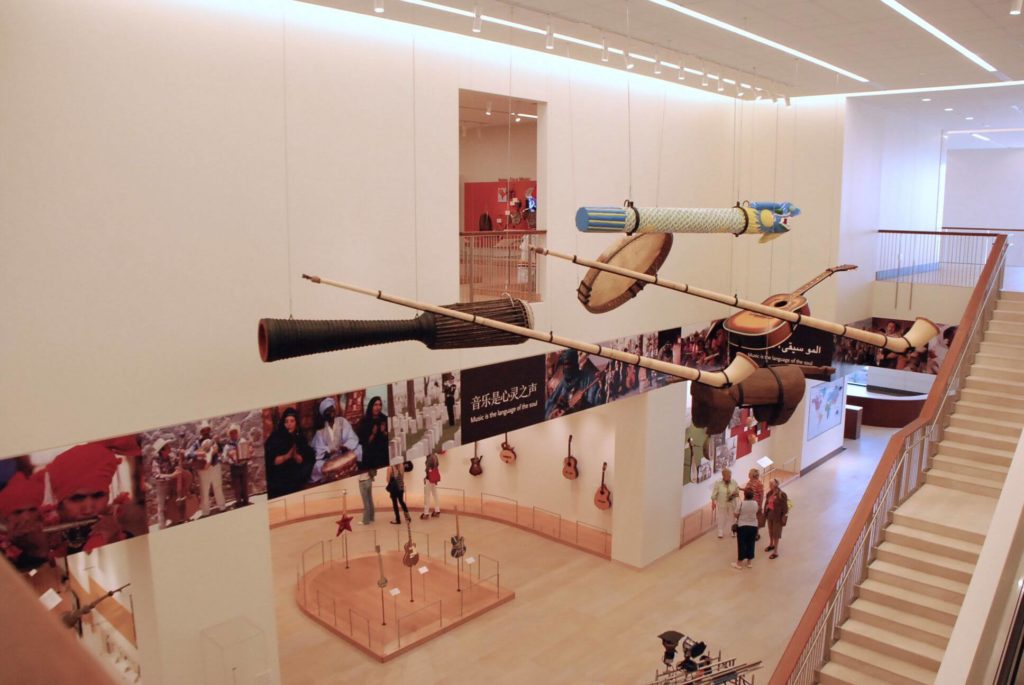 Source: pinimg.com
Are you a musical person too? Then this is also a must-visit place. It has two floors, of which the first floor is full of around 6000 musical instruments from the world. This isn't it. It also houses the concert footage, clothing of renowned musicians, and many more. You can also play those instruments in the Experience Lab. After you are done admiring and enjoying the instrument with your hands move to the upper floor.
The upper floor is sectioned into different parts according to the geographical condition. Each section is accompanied by the instruments, and its audio and video to give in the cultural effect. All-in-all it's going to be a musical visit.
Musical Instrument Museum is located 20miles from the north of downtown Phoenix. It is open all week round from 9 a.m. to 5 p.m.
Phoenix Zoo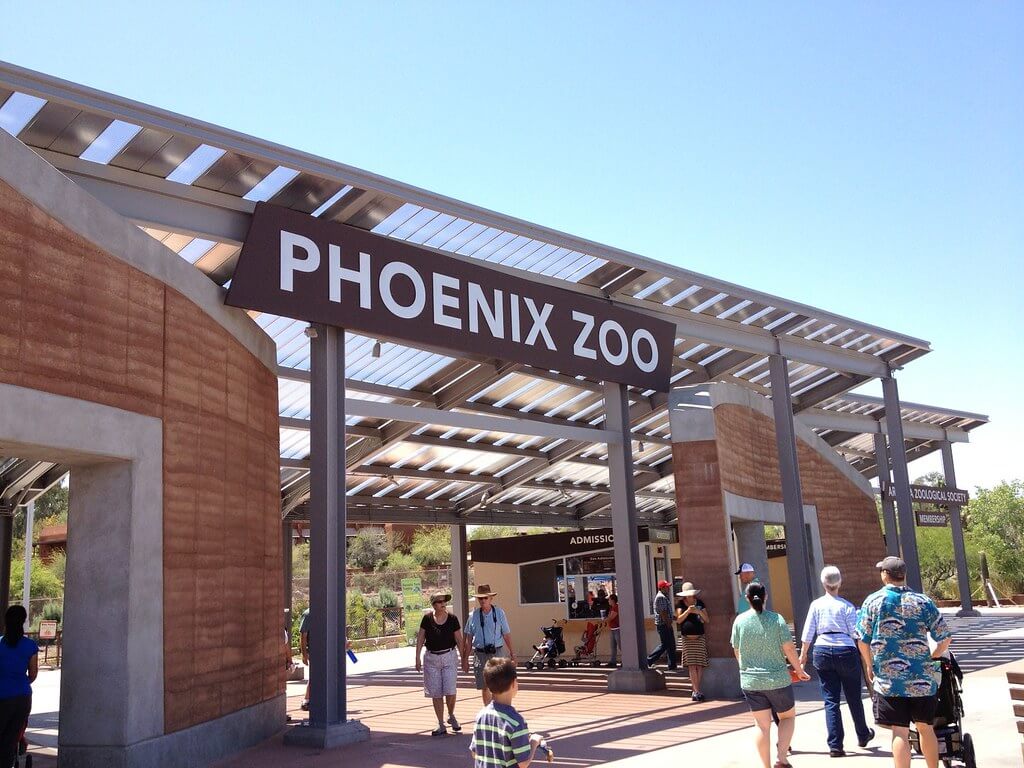 Source: staticflickr.com
If you are there with your young one, then get ready to get yourself and them some knowledge about the animal kingdom. It's always to good study with little fun. The zoo located on 125 acres of land has four trails that will take you to the different types of habitats. The zoo shelters animals like baboons, Galápagos tortoises, Sumatran tigers, Asian elephants, and Komodo dragons. Visit a petting zoo to experience a live encounter with animals like a giraffe.
Other than this, you can also go for a safari train tour or a carousel ride. Add a visual effect to your trip with a 4-D theatre. The Phoenix Zoo is located southwest of the desert botanical garden. Before visiting the zoo, check out the timings on its official website as it offers seasonal tours.
Pueblo Grande Museum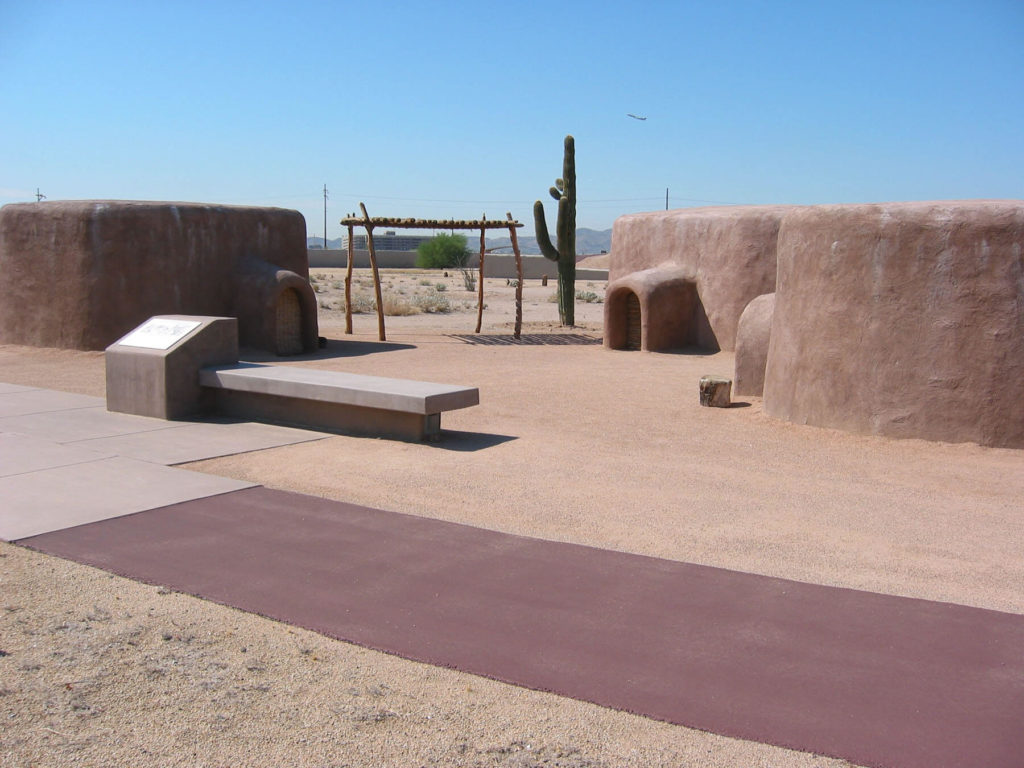 Source: archaeologysouthwest.org
This is a place for archaeology lovers and history buffs. What exactly this museum is about? This museum houses the ruins of Hohokam village, which once was home to 1000 people (approx.). The village mysteriously disappeared around 1450 A.D. You can see the remains of houses, play areas, and cemeteries on the short trail. It has even displayed the art found on the site during the excavation in a small museum.
You can visit the place as you enter the city as it is located near the Phoenix airport. It is open all week round, but timings differ for Sunday. From Monday to Saturday, it's 9 a.m. to 4:45 p.m. but on Sunday, it's 1 p.m. to 4:45 p.m. (only, the afternoon).
Heritage Square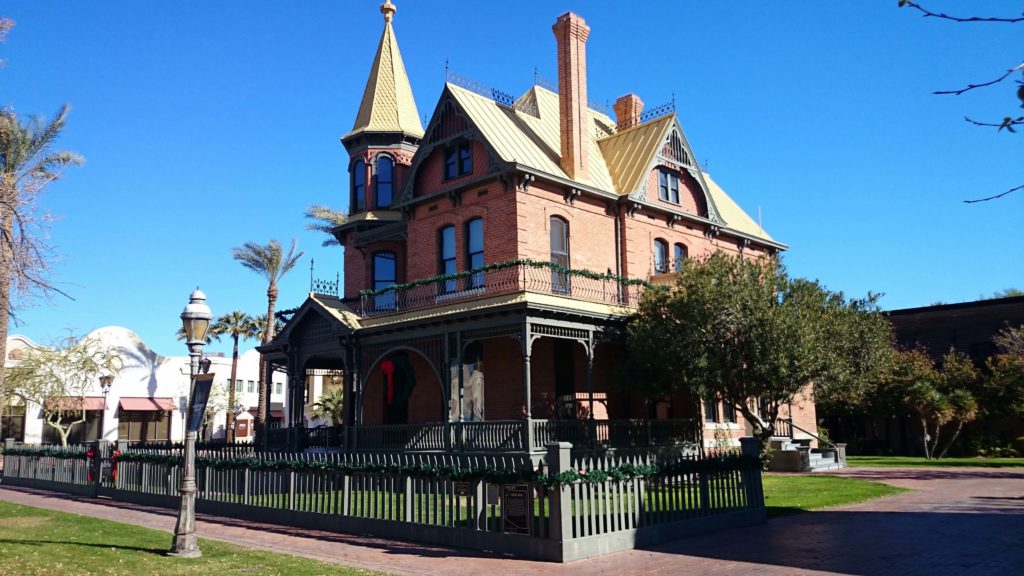 Source: visionsoftravel.org
The parklike Heritage Square is a mixture of a heritage site and a plaza. It houses the play area, biomedical campus, and pizza stores, and all of these were built out of the 19th- and 20th-century houses and commercial buildings. A perfect place to spend your time eating and swinging to the beat of the music. It also organizes various events like parties and exhibitions. Heritage Square is a part of Heritage & Science Park, which also includes the Arizona Science Center and Phoenix Museum of History.
Heritage Square is located on the original townsite of the Phoenix. It is open all week round. Timings from Monday to Tuesday are 10 a.m. to 5 p.m. and on Sunday, it's 12 a.m. to 5 p.m.
Free Things to do in Phoenix
On a budgeted trip? Don't worry. We have covered it too. Phoenix surely knows how to satisfy a travel lover. It will provide you with the same amount of fun and adventure, even on a pocket-friendly trip. This city proves the saying 'All good things are wild and free.'
Camelback Mountains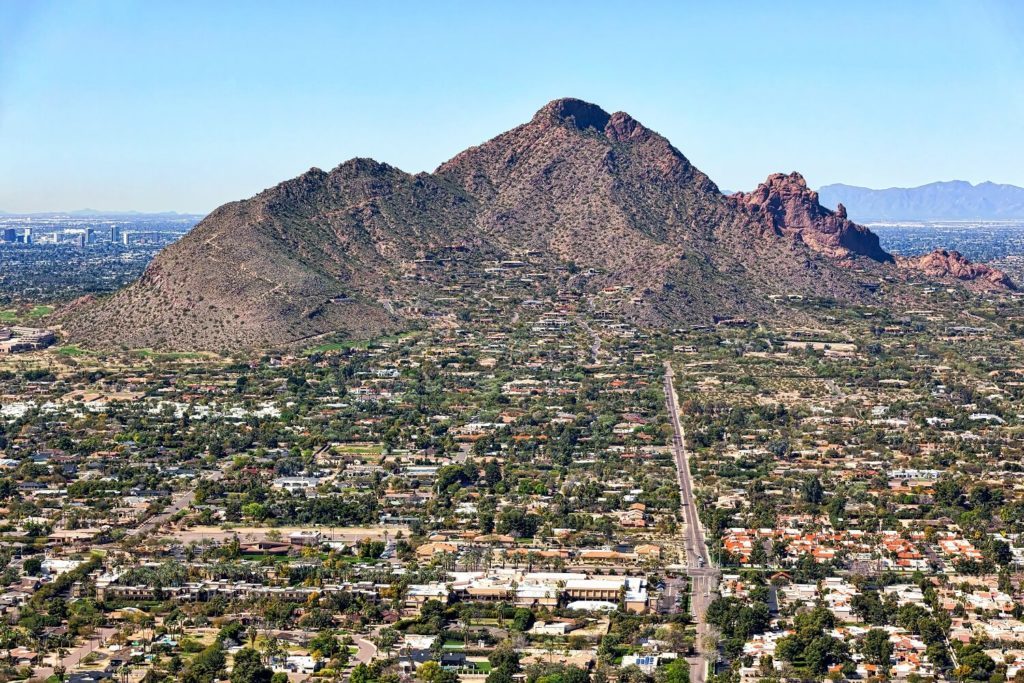 Source: azgolfhomes.com
Camelback Mountains is one of the best free places to visit in Phoenix. It is also one of the most famous scenic hiking sites in the city. This mountain has an elevation of 2704 feet. With the two trails, the Echo Canyon trail (1.23 miles) and the Cholla trail (1.2 miles) you can reach the peak of the mountain. If you are a beginner in hiking, prefer Bobby's Rock trail, which circles around the base of Camelback.
The best time to visit the camelback mountains is either early in the morning or later in the afternoon. It is accessible every day from sunrise to sunset. It is located in the echo canyon park between Scottsdale and Phoenix Mountains Preserve.
Arizona State University Art Museum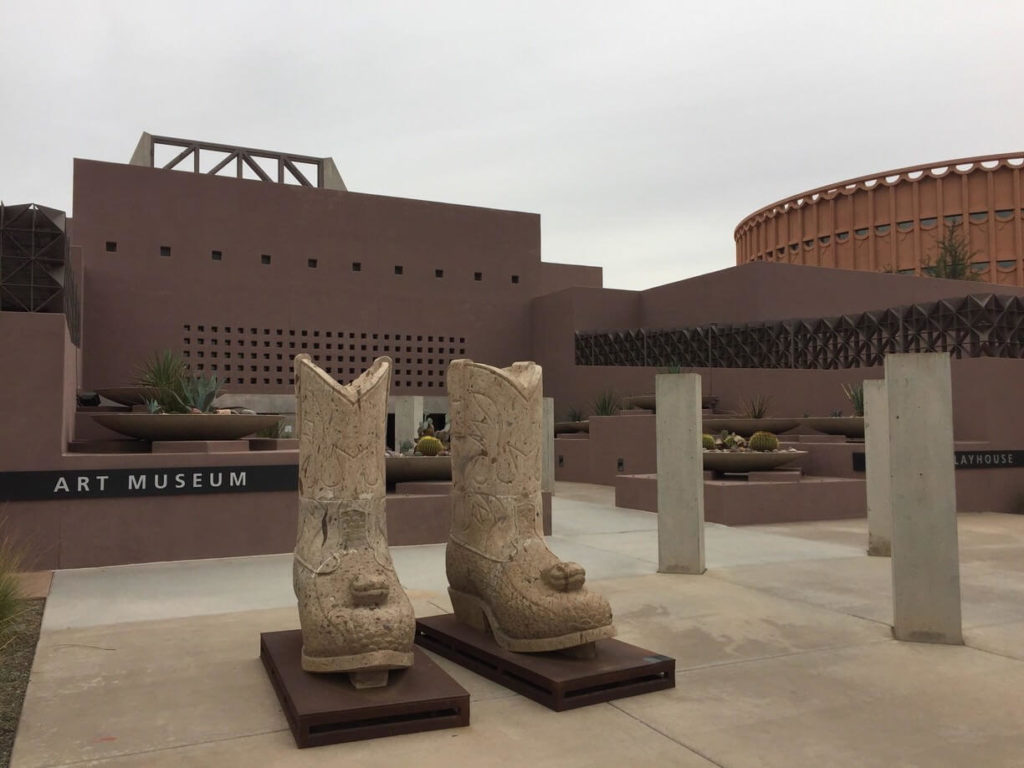 Source: trover.com
One of the oldest and largest anthropological research museums in the U.S southwest is Arizona State University Art Museum. It houses exceptional resources to study, teach, and appreciate of the 13,000-year-old human history of the region. It explains the native culture through exhibitions, docent tours, and workshops. Along with it it also gives out the information through the library and educational museum store.
The museum is located in Tempe, Arizona. The museum is open from Tuesday to Saturday and closed on university holidays. Before visiting the museum, check out the timings on its official website.
First Friday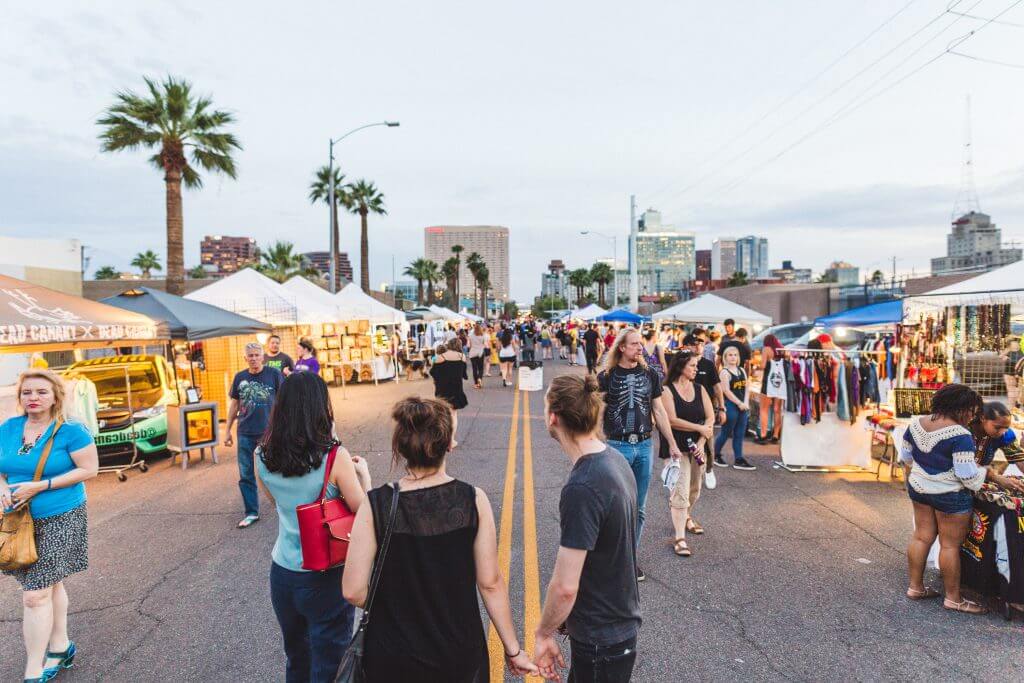 Source: rooseveltrow.org
Whether you are on a budgeted trip or not, make sure you attend First Friday when in the city. Every month's First Friday is dedicated to art and artist. You can watch all types of phoenix art and artist at their best. First Friday locates in downtown Phoenix. Take a self-guided free tour of art galleries, spaces, and studios.
#Tip:- Plan your trip in the first week of the month that too before Friday to experience the wonderful art on the street that too free of cost.
Scottsdale ArtWalk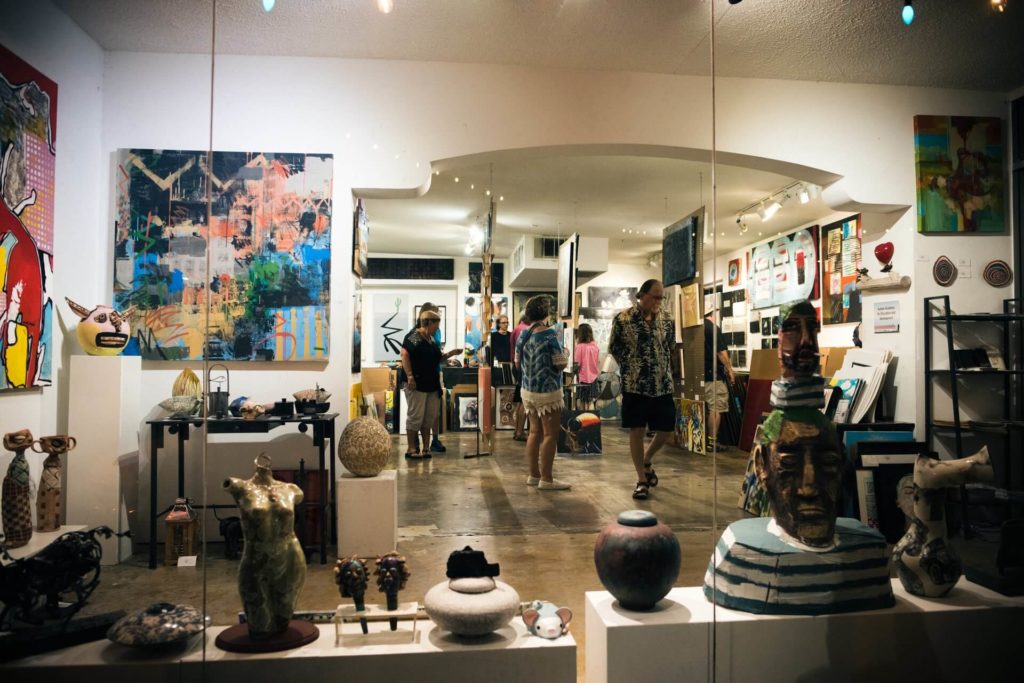 Source: simpleviewinc.com
Another artsy getaway! Scottsdale Artwalk is organized every Thursday except Thanksgiving. The event opens the door for the artist to display their unique art and for viewers to satisfy their art cravings. Spend your evening walking on the streets of Scottsdale, taking in the best views. The time of the Artwalk is from 7 p.m. to 9 p.m.
South Mountain Park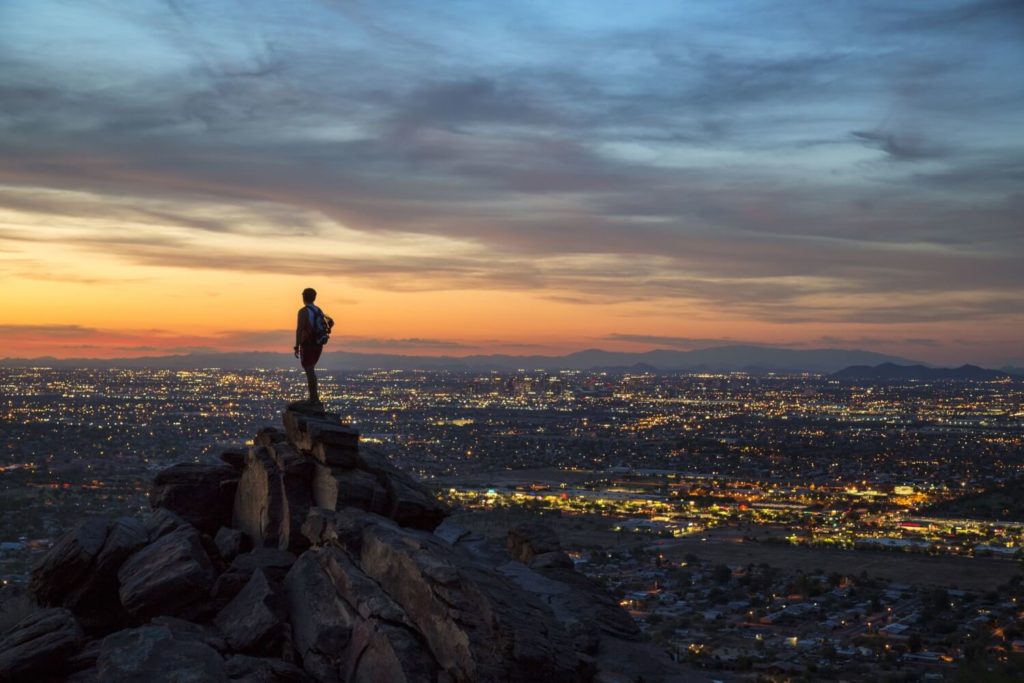 Source: cloudinary.com
South Mountain Park, renowned as the largest city park in the world, offers hiking and biking adventures. When you think of a park, an image is created – a grassy ground, a pond with ducks playing, and a specific play area for kids. This place may disappoint you if you are thinking something like this. It is a desert mountain preserve. But it will offer you the joy of adventure. It covers around 16000 acres of land and has 50 miles of trails.
The entry is free. The park is open all year round but is closed on one Sunday every month for vehicular traffic. Before going there cross-check with their website about the timings. Trails are open till 11 p.m. and park facilities are from 5 a.m. to 7 p.m.
Native American Musical Performance
Source: tripsavvy.com
If you are there between mid-January to March, then attend the Native American Musical Performance. Tribal nations of Arizona and the United States such as Hopi, Diné, Akimel-Au-Authm, and San Carlos Apache get together and represent their cultural values through musical performances.
The performances of Native Trail are held in Scottsdale Civic Center Mall every year. If you are interested in knowing about the Native American culture, it is a must-visit place. There aren't any chairs arranged to sit on; you will have to watch the performance from the grass bed. You can get your chairs and blanket and is totally free to attend. It lasts one hour and can be attended as many times as you want.
Wrapping up:-
All these were the things to do in Phoenix to make the most out of the trip. If nothing else at least visit all the places mentioned in the article. We promise that you will feel utterly happy after the vacation. As promised we will also tell you about the best cuisines to try on from burgers to steak fries everything. Click here to land on the delicious page of dishes to try in Phoenix.
For more information on travel or vacation planning, visit Travelila.