6 Mesmerizingly Beautiful Cities To Visit In Italy
Imagine visiting a city where there are lots of historical monuments, beautiful churches, mesmerizing museums, best wines and important of all great pizzas. Up till now, you would have guessed which country we are talking about. Yeah, it's ITALY. It is also considered one of the most romantic places to visit with your partner. Let us be honest with you; you can visit this charming city whenever you want. It looks beautiful all year around.
We know, You are here to know about the Best Cities to Visit in Italy. But what is the point of knowing about the towns if you don't know about the country itself? Now you know enough about the country, like an overview was necessary.
So, without delaying a bit, we will move to the article about the Best Cities to Visit in Italy.
Rome
Source: fodors.com
Rome is the capital of Italy and serves it right. It is one of the best places to visit when in Italy. Here are some of the most significant Rome destinations, It has got everything from churches, and fountains to palaces and museums. Some of the must-visit places in Rome are Colosseum and St.Peter's Basilica. Rome is a bustling city with an ancient and medieval period's vibe.
The museums there displays astounding paintings, sculptures, and all the other forms of art. It has the best restaurants for having a cuisine, and its nightlife is something that should experience, it is so breathtaking and impressive that it is impossible to describe it in words.
Venice
Source: timeout.com
Venice is a beautiful city that has been built in the middle of the lagoon and on the water. It can also be called a water city, but we do accept that there doesn't exist as many beautiful places as Venice. The only city tour in a gondola is also worth it. While touring, you can observe the charm of the city, the beautiful boutiques it has, and the upmarket souvenir shops.
The food here is also enticing and delicious. Two main attractions of Venice are Grand Canal and Piazza San Marco. It's obvious that this city will be crowded with tourists, but you can still find some deserted streets and hidden street food treasures that will beat the high-class restaurant's cuisine.
Florence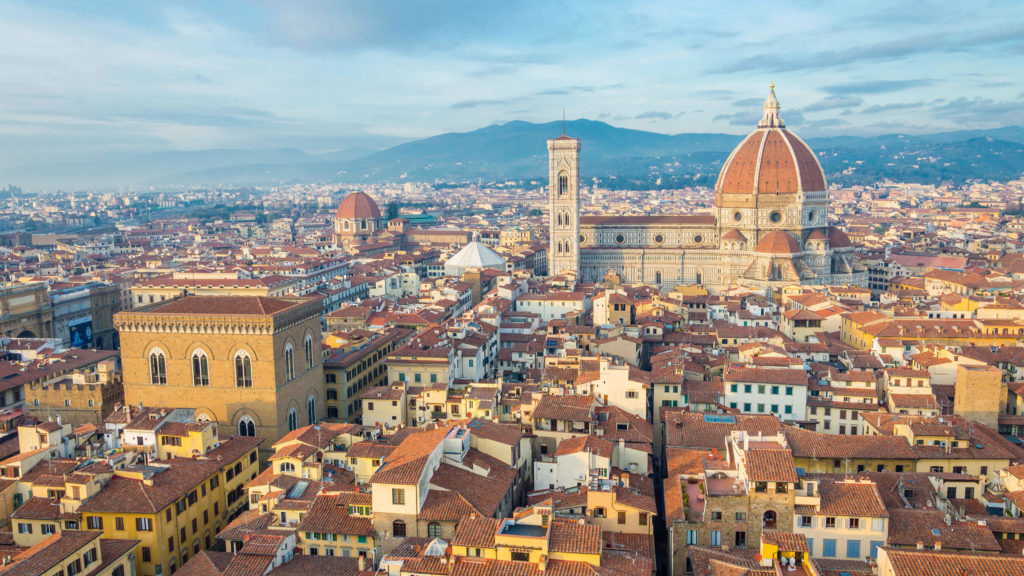 Source: 10places.net
The other best place to visit in Italy is Florence. It is a city with renaissance architecture and art centers. Florence is mostly covered with historical and ancient architecture. It has the Arno River on its side and houses the masterpiece sculptures of famous Botticelli and Michelangelo, leaving no chance of showing it off to the world. Some of the best places to visit in Florence are the Cathedral of Santa Maria del Fiore, Uffizi Gallery, and Ponte Vecchio bridge that has few jewelry shops. Other than all these you can explore the small cities in Florence; they have their unique charm.
Milan
Source: voyagetips.com
The fashion capital of the city is also the wealthiest city of Italy, and it is none other than Milan. It is also the home to many of the big businesses. You will find the most stylish and advanced shops and boutiques in Milan. Decorating the streets of this city with beautiful architecture that you won't stop praising.
A spectacular Duomo is located in the heart of Milan. It homes the last Painting of Leonardo da Vinci, 'The Last Supper, and has one of the world's famous opera house, 'La Scala'. The most exciting point is wherever you go in Milan you will find the best restaurants and dinings.
Naples
Source: handluggageonly.co.uk
Naples is the city of historical monuments. It is the third-largest city in Italy. Mount Vesuvius covers Naples and also the thing that you should definitely do in Naples is climbing this mountain. It has beautiful ruins that date back years ago.
Other places that you should visit in this city are the National Archeological Museum, the geothermal zone, Via San Gregorio Armeno for Shopping, its botanical gardens, Piazza del Plebiscito, and a ride on funicular is a must. Except for all these, it is also known for its delicious desserts, and classic churches and chapels.
Also Read: Best Things To Do in Naples-Italy
Pisa
Source: pcdn.co
Last but not least, Pisa is also the city that attracts tourists with its iconic Leaning Tower. Pisa can be considered as more of an authentic city as it has gothic churches and Renaissance Piazzas that highlight the beauty of the town. The street of Pisa is with archaeological buildings on show, therefore even wandering around is also recommendable. Pisa has a large number of students as it has a reputable university and that makes sense why there is a large number of bars and cafes.
These were the six best cities that you shouldn't miss visiting in Italy. For more ideas related to travel or its planning, visit Travelila.