Thinking of an adventurous trip and searching for haunted places in Indiana? Indiana is home to rice, football, motor cars, and an alarming amount of haunted castles, cursed wildernesses, and crushing cemeteries full of unquiet dead people. Of course, almost every state, from Texas to Pennsylvania to Michigan, hosts its share of ghost tales. Yet, in discovering so much of the macabre in a place that is meant to be the epitome of average, there's something profoundly unsettling.
We have come up with a list focused on electromagnetic field ratings, or EMF ratings, of any of the most haunted places in Indiana. What are the scores for the EMF? They are one of how ghost hunters at a specific location assess spirit behavior. The EMF is a charged particle field or an electric field. In their presence, spirits are thought to disturb this area, resulting in a higher reading.
You must seek the necessary authorization if you want to visit one of these sites. Private land should be upheld at all times, as should all notices posted about trespassing, working hours, and other municipal laws.
Top Haunted Places In Indiana
There are a few haunted places in Indiana that have been included to go along with our top picks.
1. Hacienda Restaurant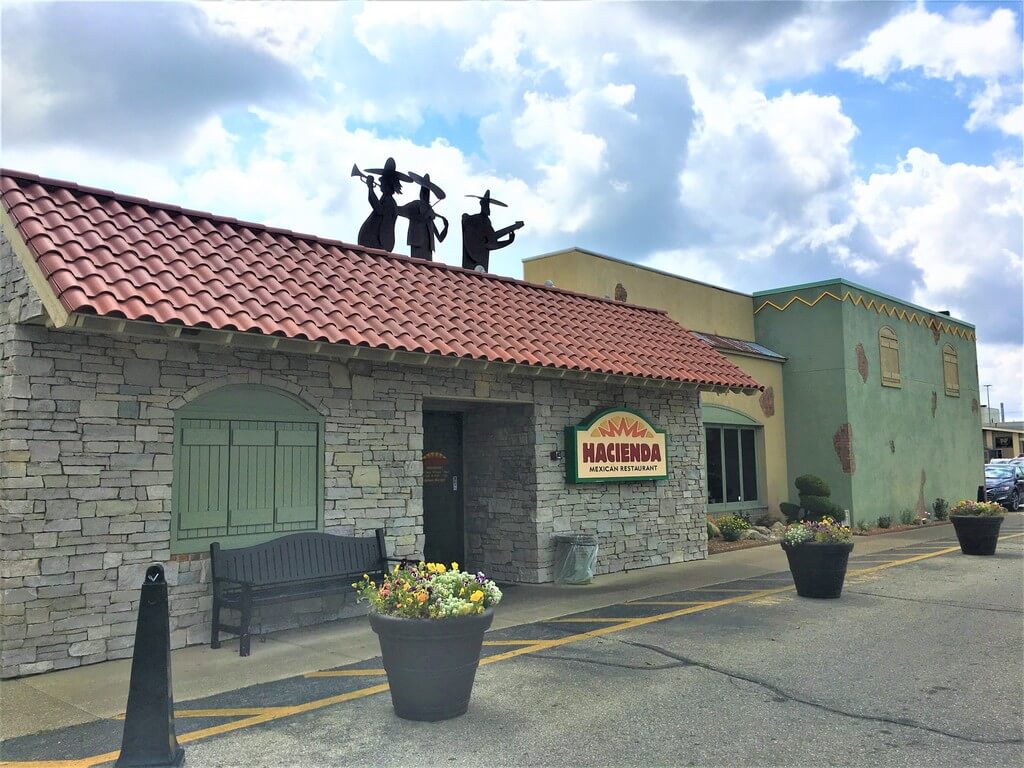 Source: haciendafiesta.com
Once a secluded mansion, Hacienda Mexican Restaurant is said to be inhabited by apparitions of those who used to dwell here. Such legends suggest that one ghost belongs to a prostitute with whom the mansion owner had an affair.
He shunned her after the maid got pregnant, so she hung herself up in the attic. Since he shot himself in the cellar, other reports claim the owner became one of the apparitions. Odd items, such as lamps, electrical equipment, and water faucets operating independently, have been registered. Thus, it is one of the most haunted places in Indiana.
2. Indiana Central State Hospital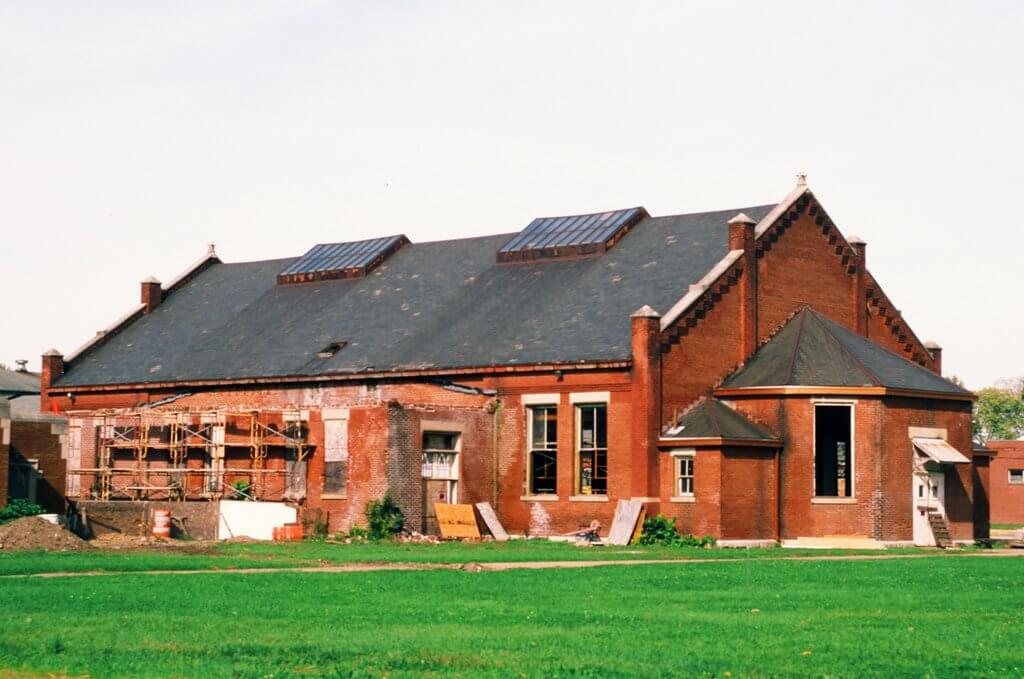 Source: onlyinyourstate.com
This macabre facility deals in bulk when it comes to ghosts. Built-in 1848 and it was called the Central Indiana Hospital for the Insane, before being banished in 1994, it housed tens of thousands of patients in its vast buildings and 160-acre grounds.
Sadly, some of its residents resist moving on. There are rumors of screams and moans in the surviving houses, attacks by invisible hands, and wraiths and glowing orbs floating around the property. What makes it even more strange is that a large part of the former asylum has been converted into flats. Word has it that a spiritualist was called to cleanse them several times.
3. Avon Haunted Bridge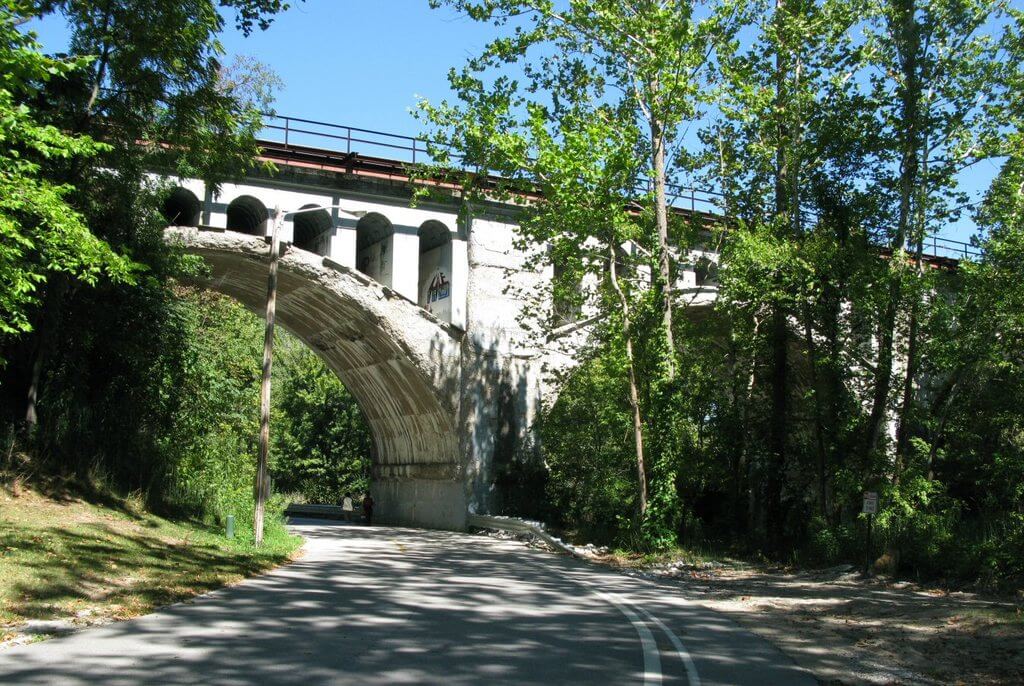 Source: jiffylubeindiana.com
The Avon Haunted Bridge is a bridge built in 1906 for the railroad. The legend goes that a mother and her baby were walking on the tracks when they fell to their deaths. Locals would say you had to honk every time you drove under the bridge to drown out the sound of a mother's ghost wails.
Locals say that if you care about parking and poking around, you may meet the ghost of a weeping woman whose child was killed on the railroad tracks or a drunken worker who fell into a load of wet construction concrete and was buried in the bridge itself. So, it is considered one of the most haunted places in Indiana which you can visit for adventurous travel.
4. Roads Hotel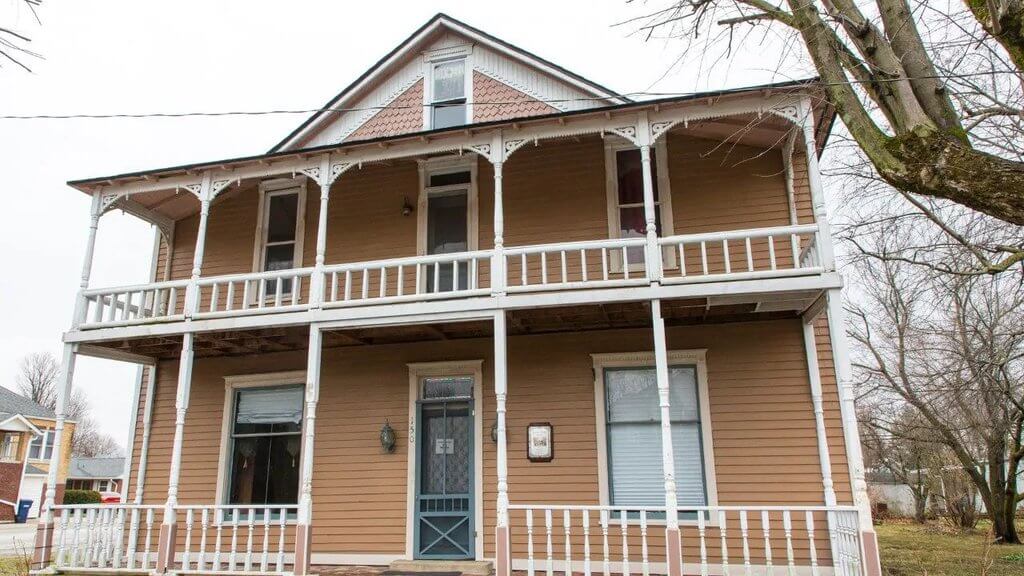 Source: enterprise.ca
It is rumored that the 1893 hotels, once patronized by John Dillinger, is haunted by many spirits. Witnesses have reported men, women, and children's shadows and appearances as well as disembodied voices, footsteps, lights that work on their own, and doors that open and close by themselves or even slam.
5. Whispers Estate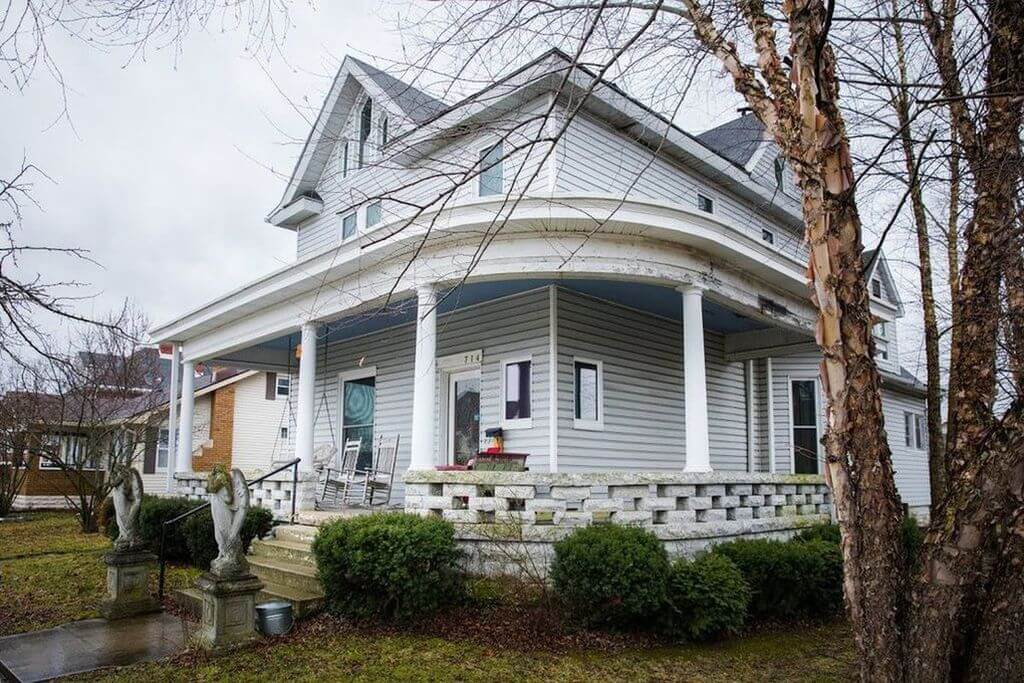 Source: mcall.com
The owners of this 3,700-square-foot Victorian home are walking a fine line when describing the location to potential visitors. "Laid back tourists are told that the house provides a "pleasant environment and a place to relax and enjoy," while hardcore ghost trappers are tempted by the statement that it is "one of the very few places you can go to chat about the back wall!" "They do much more than that. Over the centuries, horrific night terrors, earthquake-like tremors, and getting up to the sensation of stimulation have been recorded by staff and tourists.
6. Elkhart Civic Theatre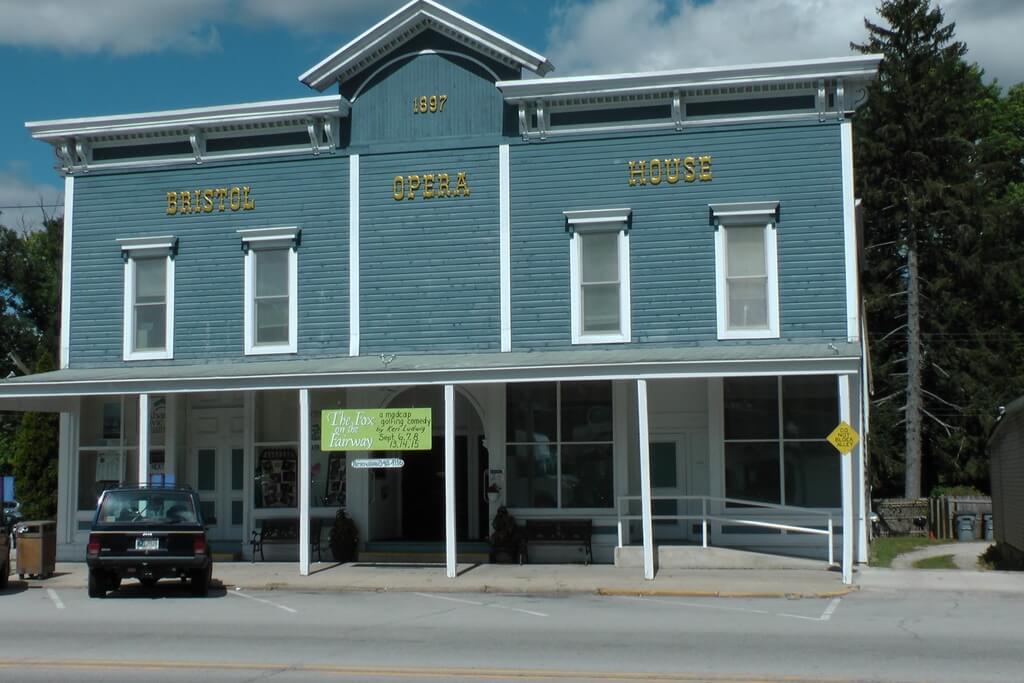 Source: amazonaws.com
The Elkhart Civic Theatre, housed in a building in 1897, is haunted by ghosts carrying books and papers from shelves, levitating small things, running sewing machines, and projecting moving light shafts. Both staff members and theater visitors saw shadows and the presence of a floating dark-haired figure.
When no one else is present, team members appear to have been grabbed by a phantom. The name of a ghost thought to live here is Percy, a.k.a. Percival Hilbert. Since they were evicted in the Depression era, he was a handyman who lived in the basement with his wife and two children. It is said that his spirit manifests like flowing shafts of light. So, we can say it is one of the top-most haunted places in Indiana to visit.
7. Finch Cemetery
Source: googleusercontent.com
The late-1800s Finch Cemetery of the Jay County Conservation Club is said to have been home to the grave of a baby named Cinderella. It is rumored that the gravestones here are moving or missing. You will count 13 if you count the tombstones on the way to Cinderella's grave. Yet there are only 11 on the return trip. Hence, Whispers estate is considered one of the most haunted places in Indiana.
8. Slippery Noodle Inn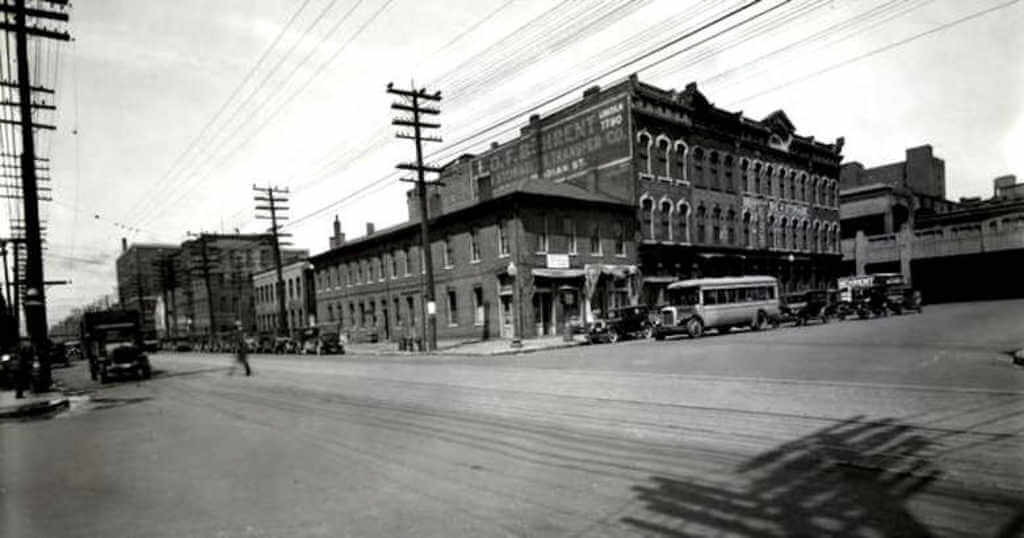 Source: hauntedrooms.com
In service since 1850 under different names, this is Indiana's oldest drinking establishment. And there are, naturally, ghost stories. Legend has it that the apartment is haunted by deceased women's ghosts, from the days when there was an old-school bordello upstairs back in the mid-20th century.
It suddenly shut down in 1953, after one of its managers assassinated another and left a gun—a bloody knife—at the pub. Today, the ghosts remember those more colorful days by harassing visitors who dare to venture upstairs (mostly men). The doors open and shut by themselves downstairs, workers mention seeing apparitions, and patrons are often shouldered aside by unidentified powers.
9. Cemetery of Zion Church
Source: rootsweb.com
The spooky kind enjoys the Cemetery of Zion Church, locals claim. The place is a hot spot for lights and noises that are mysterious, ghostly whispers, disturbing vibrations, and the sense of being watched. Some claim that if they come too close to the haunted site, a helpful spirit is known to leave the graveyard to block vehicles and warn drivers to turn around.
10. Hannah House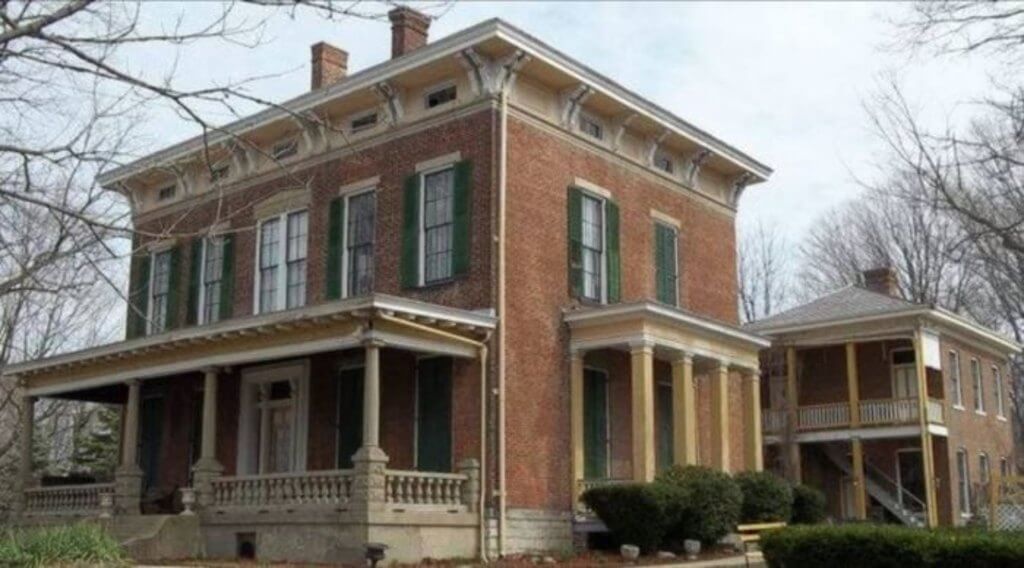 Source: ehowcdn.com
The Conjuring Cosmos will blend right into this 160-year-old mansion. Alexander Moore Hannah designed it in 1858 and supposedly served as a stop on the Underground Railroad. Again, several escaped slaves reportedly died in a cellar fire and were secretly buried there. That may describe the odd noises, the shifting chairs, the chilly drafts, and the constant odor of death.
Despite this, the house can be hired for weddings and other events, and for the curious, there is a monthly open house. There's also an Easter Egg Hunt for children in spring. One enjoyable practice is taking lots of pictures of the interior and outside, then looking for ghostly faces that leer back at you.
11. Le Mans Hall Bell Tower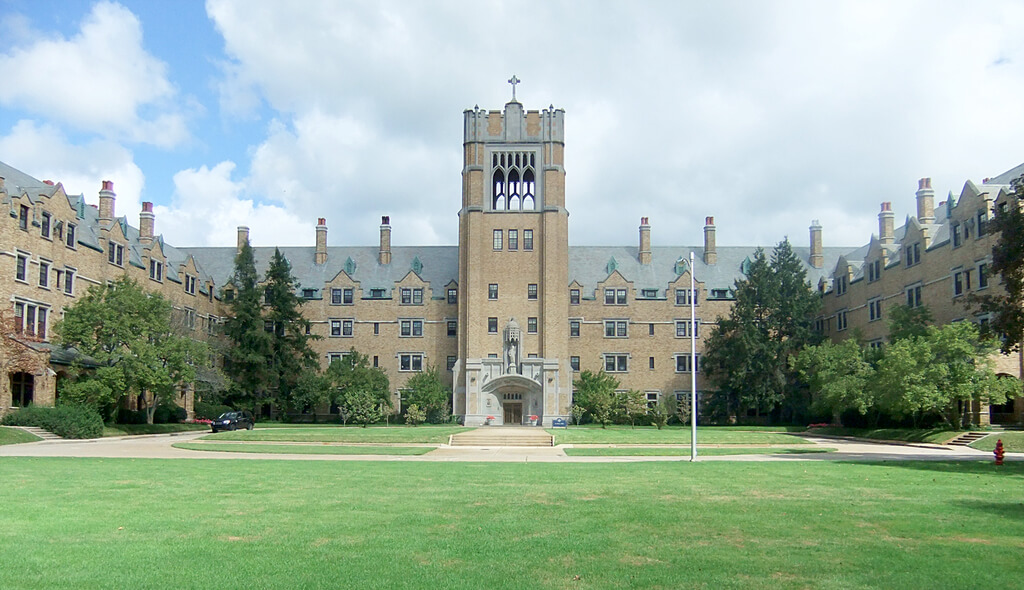 Source: wikimedia.org
In the Le Mans Hall bell tower, a creepy apparition of a girl dangling from a noose was observed. Legend has it that, years ago, she committed suicide in that same location. The infirmary on the fourth floor is also said to be sporting blood stains arising from a child's death. It is one of the most famous haunted places in Indiana to visit.
12. Washington Hall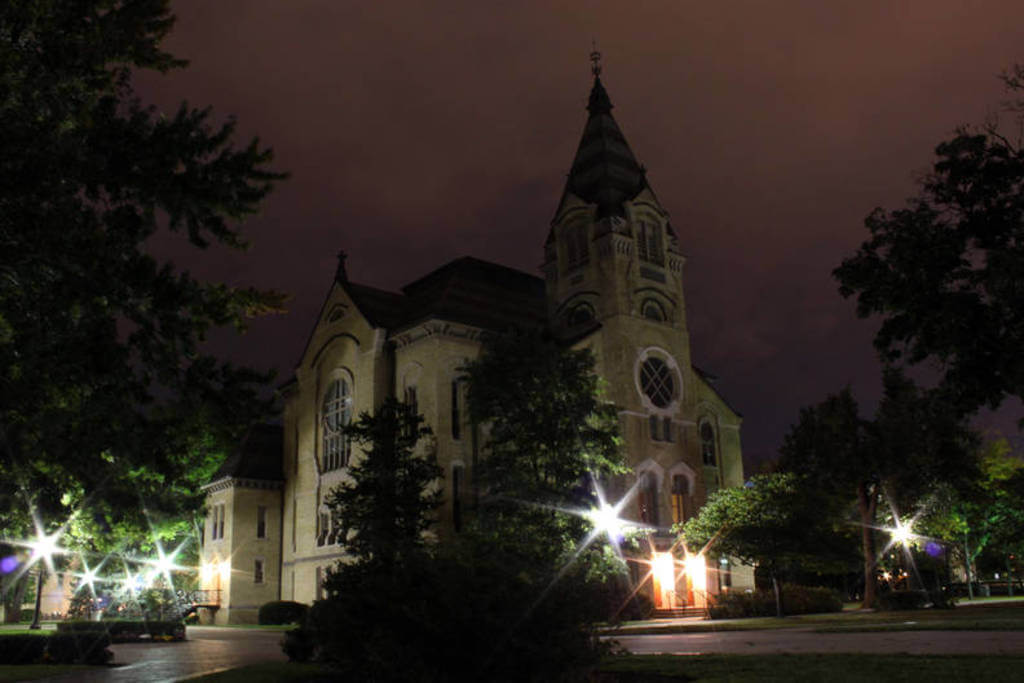 Source: thrillist.com
Visit Washington Hall on the Notre Dame campus in South Bend if you'd like to rub elbows with a celebrity ghost. You could experience the spirit of the famous Notre Dame football star who died in 1920, George "Win One for the Gipper" Gipp.
Students began to report disembodied footsteps, odd music, and doors opening and shutting independently, not long after his untimely exit. The old boys' dorm now houses classrooms, but it is still stated that the Gipper is out and about.
13. Willard Library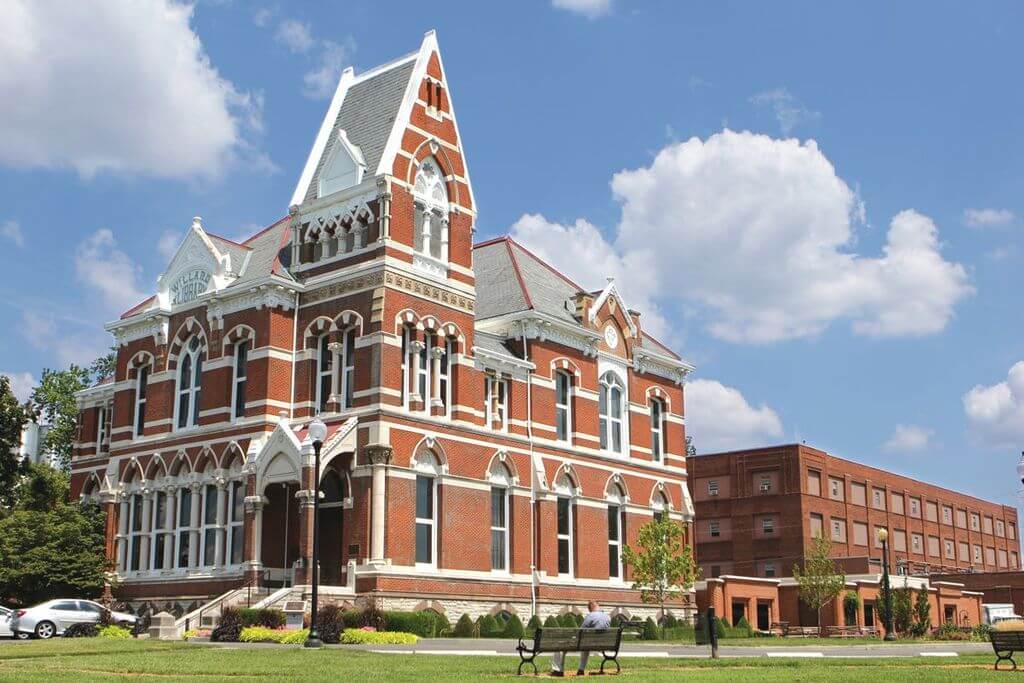 Source: pinimg.com
This Gothic Revival tower, which opened in 1881, houses thousands of genealogical documents, tens of thousands of books, and at least one phantom. They name her the Grey Lady because since the 1930s, she has reportedly knocked around the place, and everybody has seen her, from library patrons to staff to police. The library provides a Gray Lady Ghost Tour during October. You can watch live streams from the library battery of 24-hour webcams if you'd like to keep your distance. Thus, it is one of the top haunted places in Indiana.
14. Highland Lawn Cemetery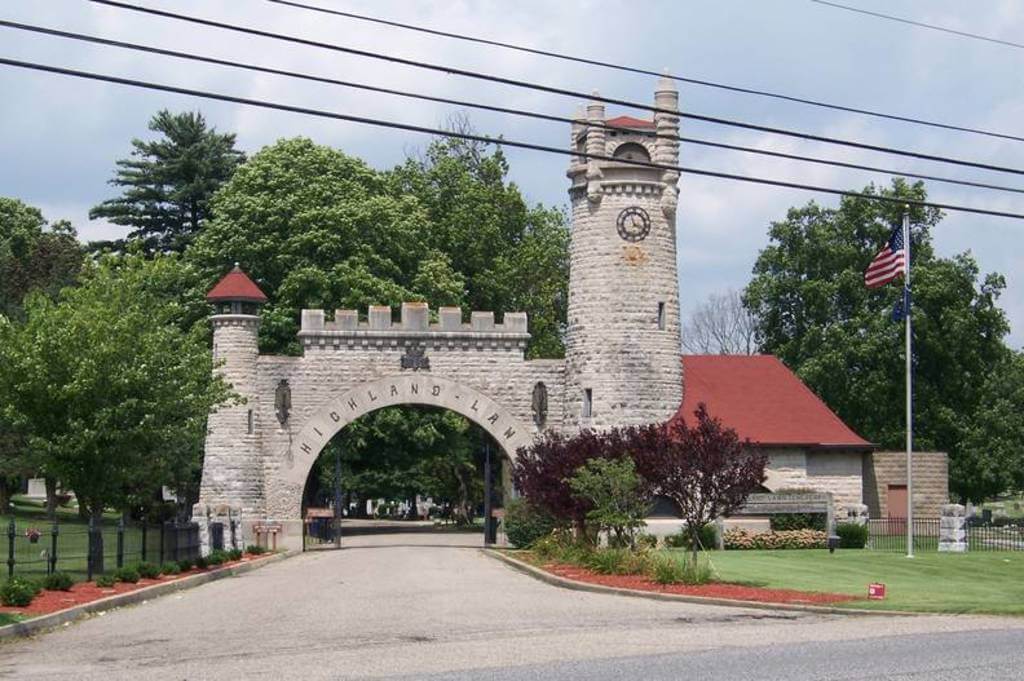 Source: thrillist.com
This 139-acre graveyard, opened in 1884, is full of weeping angels, family tombs above ground, elaborate gravestones, immaculate landscaping, and everything else one expects from an old-school cemetery. It is also home to the most peculiar sight in the state—the ghost of a bulldog named Stiffy Gray.
Stiffy (so-called due to his stiff-legged gait) was the frequent friend of an older man named John Heinl back in the early 20th century. Stiffy was inconsolable after Heinl died in 1920 and sat at the entrance of Heinl's above-ground tomb day and night. When the dog eventually went to waste and died, he and his master were put inside the crypt.
15. The Grave in the Middle of the Road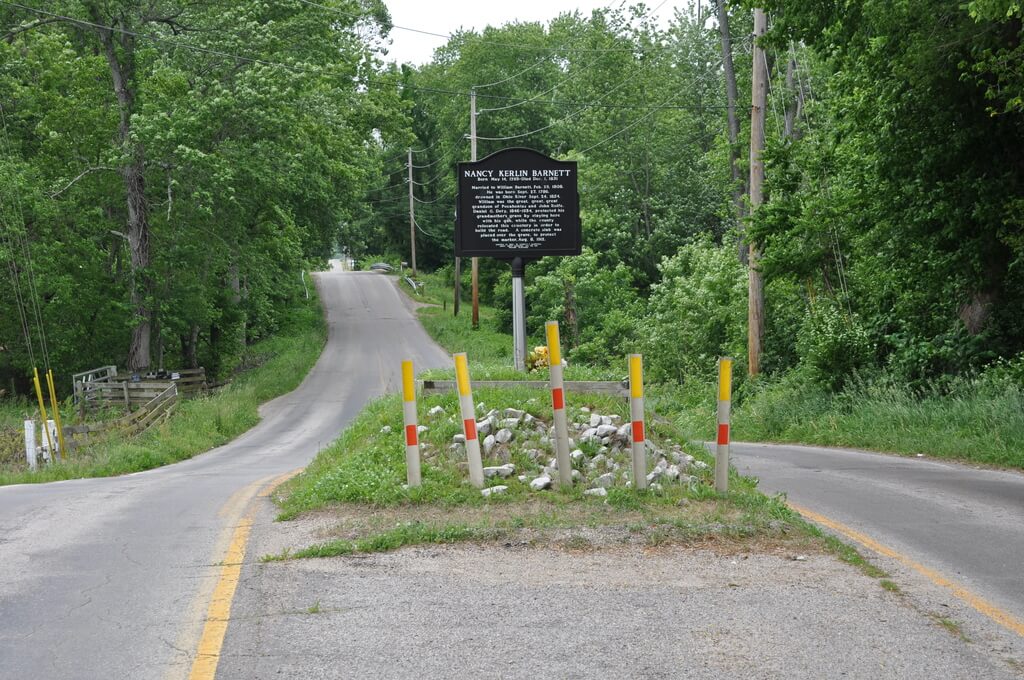 Source: wordpress.com
Although the name sounds like a creepypasta's word, rest assured that this is the real deal. Right in the middle of E lies the cemetery. 400 S, a two-lane blacktop ribbon that bulges outward to protect Nancy Barnett's final resting place (1793-1831).
Her family, reportedly at gunpoint, convinced the people constructing the path to abandon and build around Barnett's grave alone. So passersby not only run the risk of encountering a phantom on E. 400 S, but there is also the genuine possibility that Barnett's concrete-reinforced grave will not be found in time to prevent reaching it. Hence, we can say it is one of the most haunted places in Indiana to visit.
Also Read: Looking for Haunted Places in Ohio? Here Is a Guide for You
16. French Lick Spring Hotel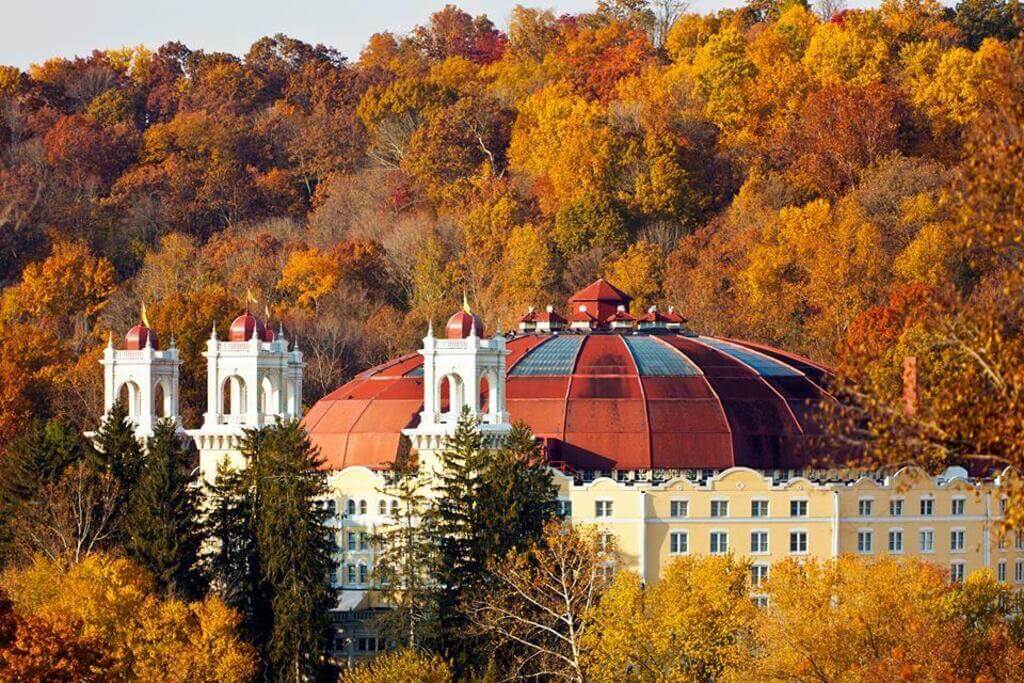 Source: cloudinary.com
Former owner Thomas Taggart, who lingers around the service elevator as mists and phantom tobacco smells, is said to haunt this historic resort hotel complex. He is said to operate the elevator expertly from outside when the location gets busy. He is also said to appear in the ballroom or down the halls riding a horse and holds ghostly parties that have been heard by the staff through closed doors when no one else is in the ballroom.
In a guest room bathtub where a bride committed suicide, a red stain is said to appear, and the cleaning staff claims the entire sixth floor is haunted by shadows, breezes, footsteps, disembodied laughter, and ghosts calling from unoccupied rooms to the front desk.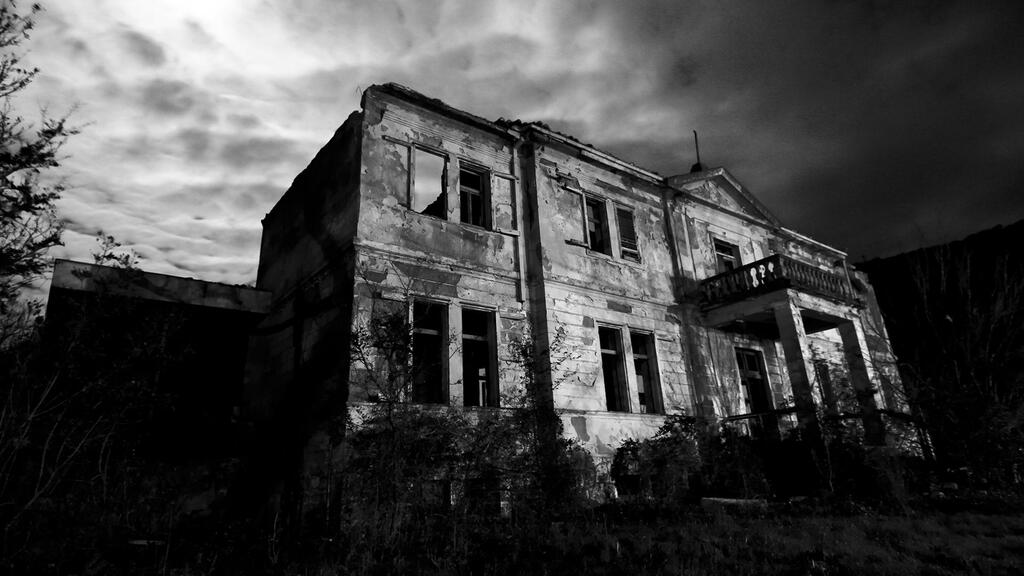 Source: libertytravel.com
Conclusion
You will run into stories of homes, towers, bridges, and other locations almost everywhere you go that appear to be home to an otherworldly entity. Indiana seems to have its fair share of tales of ghosts, boogeymen, and stuff going bump in the night. This is just a little collection of the haunted places in Indiana scattered across the county, so if you're adventurous, catch your EMF readers and take a ride, but don't say we didn't warn you.
For more updates on the tourism industry, visit Travelila.