Let's go to Vegas!
Everyone is ready to go there, right? No one would skip or miss the chance to be there at least once in a lifetime. But first, tell me what comes to the mind when you hear the name Las Vegas?
Casinos and Strip hotels. That is axiomatic. But there is one thing that almost everyone neglects. You will be thinking, what is it? The illuminated streets or its food? No, it's pool parties. Yes, POOLS. There are numerous best pools in vegas to enjoy.
Though they aren't off-beat places, not many people are aware of them, except locals and party freaks. Locals know best of the place and party freaks are in constant search of parties to enjoy, thus it is evident. After reading this article, you are going to put one more name (or maybe more than that) on the list to visit in Sin City.
Before anything, repeat the slogan, "What happens in Vegas, stays in Vegas." But if you are married in Vegas, then you are married everywhere. Don't be Pheobe Buffay! (No offense, Sarcasm intended.)
Every pool is best if you can enjoy it to the fullest. You probably can't explore every pool during your trip to Vegas, so here we are with the list of best pools in Las Vegas.
Without any delay let's dive into the best pools in Vegas,
Mandalay Bay Beach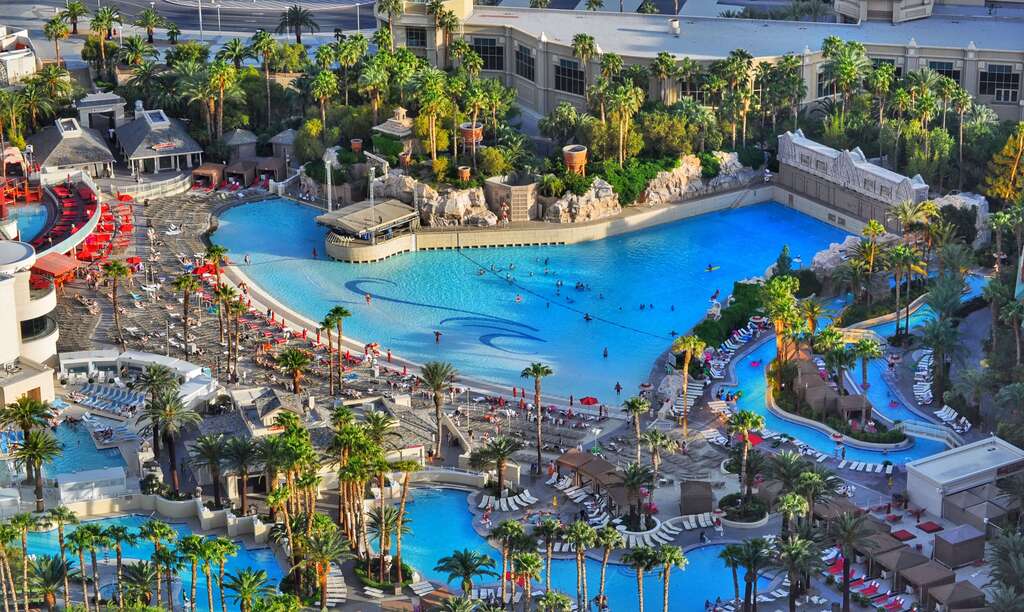 Source: pinimg.com7

Address: 3950 S Las Vegas Blvd, Las Vegas, NV 89119
Timings: 8 AM to 6 PM
Pricing: Adults – $20, Kids (4 to 16 years) – $10, and Kids of 3 years or under are complimentary
The Vegas may not have an ocean, but it has a beach. Kind of a private beach! The property of Mandala Bay Beach is around 11-acre, and it has 2700 tons of sand and a 1.6 million gallon wave pool.
It offers a magnificent and luxurious stay to its guests with cabanas, lounge areas, daybeds, and private villas too. Other than this, it also has everything that a normal resort has, restaurants, bars, shops, and a summer concert series.
This place is best for both families and individual adults. You will get the privacy at its utmost and enjoyability at its best.
Pools of Caesars Palace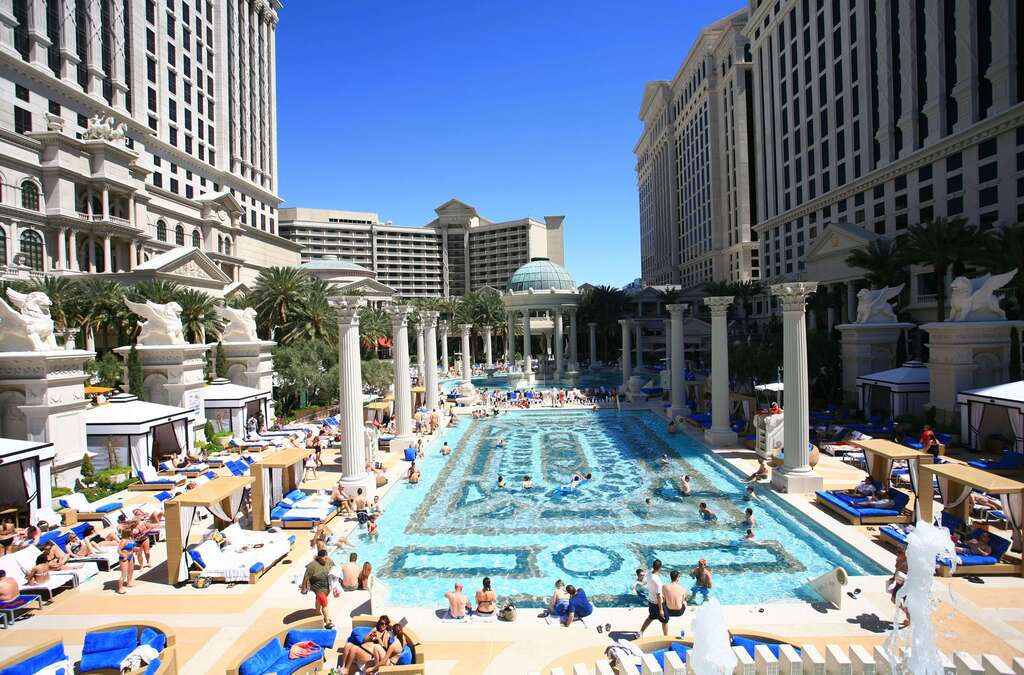 Source: tripsavvy.com
Address: 3570 S Las Vegas Blvd, Las Vegas, NV 89109
Timings: 9 AM to 6 PM
Pricing: The entry for guests of Caesar Palace and Nobu Hotel is free.
A palace with Romanesque architecture has in total of 7 pools in its five-acre complex. Here you can experience the perfect Vegas-style holiday. Caesars Palace may look like a place for roman gods, but they offer you a god-like time during the stay.
Head to the Fortuna pool or Garden of Gods pools oasis for the perfect enjoyment. Even the pools are designed in Roman style. There you can swim up to the blackjack tables, soak in the sun, just do swimming or have a mojito.
Even Caesars Palace is best for both families and adults. If you are someone who is there for rest and recreation, the place also has Qua Spa that offers massages and other relaxing services.
Encore Beach Club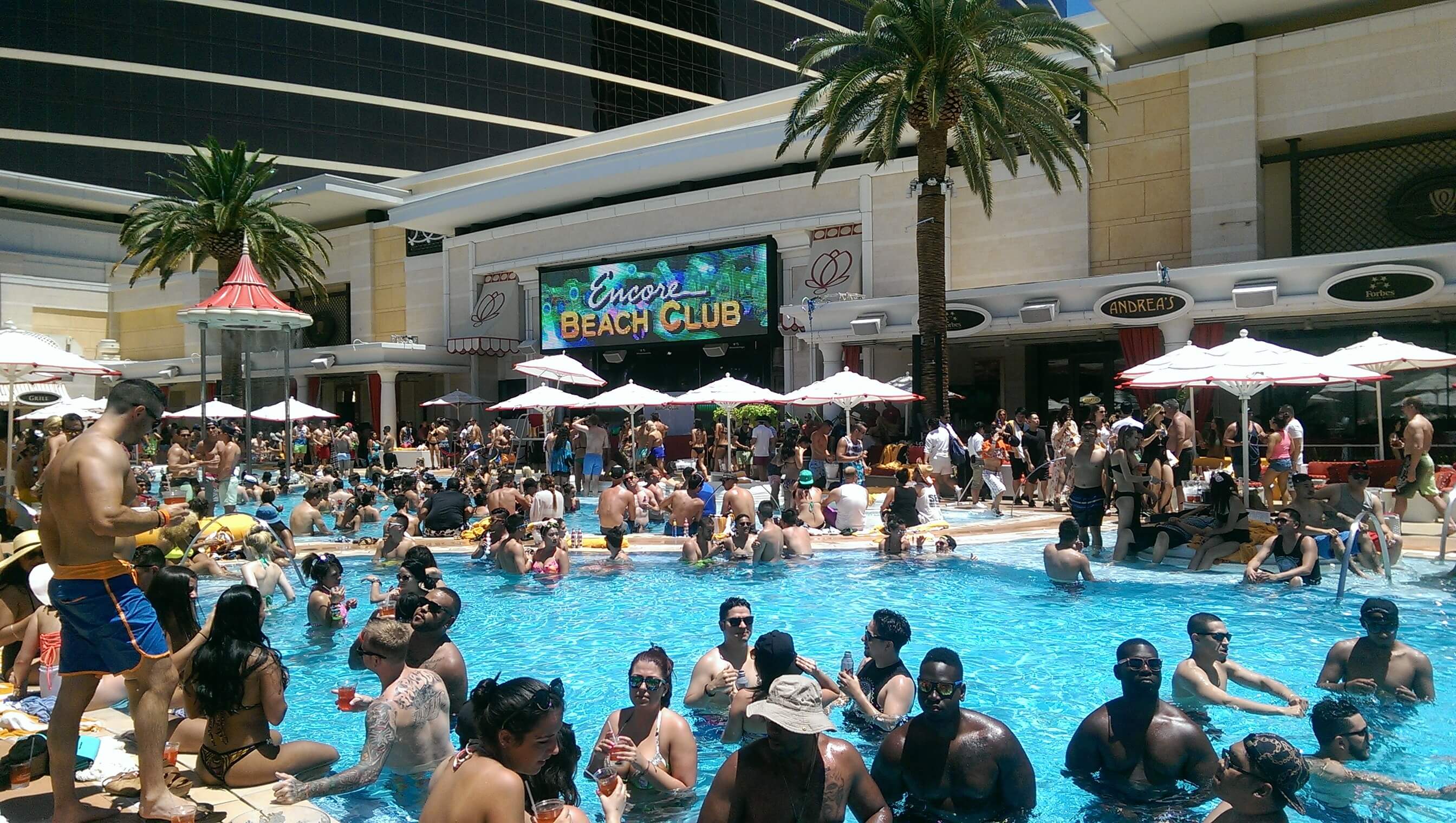 Source: wp.com
Address: 3131 S Las Vegas Blvd, Las Vegas, NV 89109
Timings: The usual timings are from 10 AM to 7 PM, but they also organize night parties.
Pricing: For girls, it's $40 and for guys, it's $60. The prices are different during weekends and top DJs.
If you are looking for one of the best pool parties in vegas, then Encore Beach Club is the place. You will enjoy the quintessential lifestyle of the city here, with booze, DJs, dancing, getting wet and much more.
If you don't want to get in a massive line, you can pre-book the tickets of the event. This is the club where you have high chances of spotting some celebrity stars enjoying the party. They have a strict dress code and norms. Make sure you read it properly to avoid any mistakes.
Encore Beach Club is the best place for people who are looking for all night and stereotypical vegas-style parties.
Pools in Cosmopolitan Hotel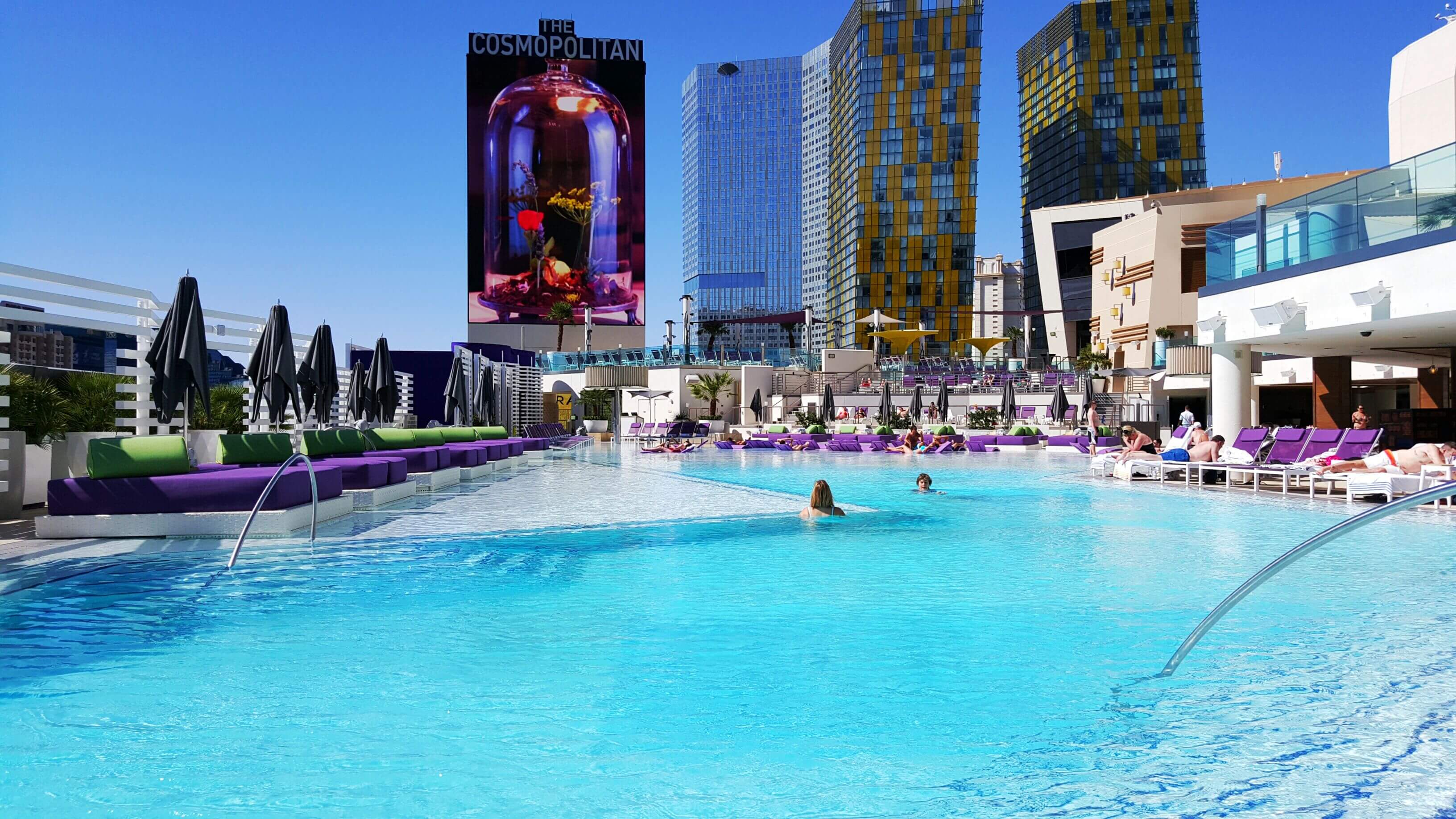 Source: tripsavvy.com
Address: 3708 S Las Vegas Blvd, Las Vegas, NV 89109
Timings: 10.30 PM to 4 AM
Pricing: Entry for cosmopolitan guests in pools is free and for others, the fee is $7.
The complex of the cosmopolitan hotel has three pools, of which Marquee has gained the attention of many tourists over the years. Chelsea pool is famous for a spa-like retreat. And Boulevard Pool is adorned with a stage for live performances.
If you just want to enjoy a swim and to sunbathe, then go for Boulevard. But if you are someone who is more into parties, DJs and dancing all night (along with swimming), then no one can beat Marquee. It has a three-story bungalow with butler services, a party pool, a party deck and an amazing view of Las Vegas Strip.
Pools in Cosmopolitan Hotels have an arrangement for both family-friendly and adult-only parties.
The Tank Pool, Golden Nugget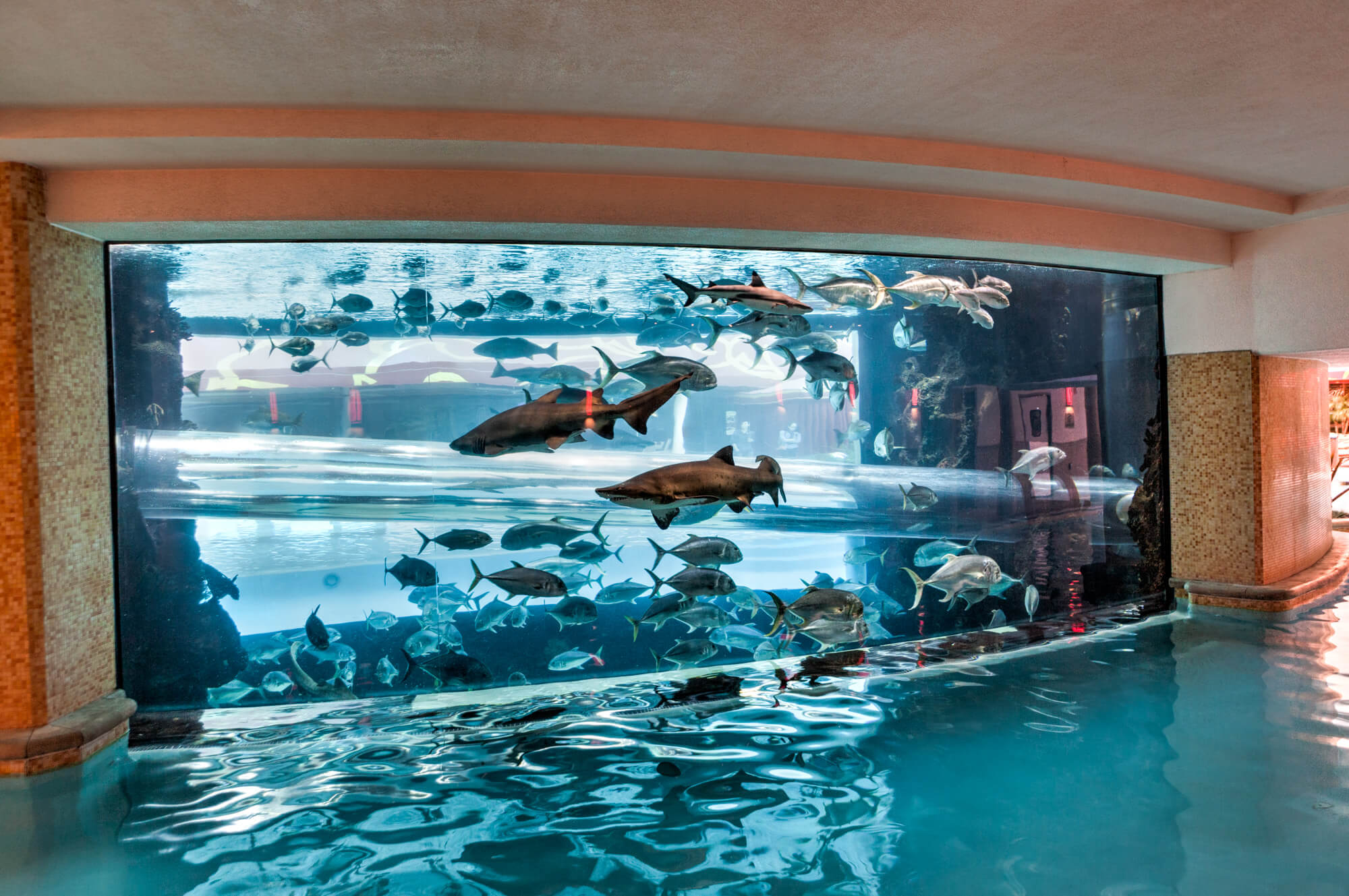 Source: gatetoadventures.com
Address: 129 East Fremont St, Las Vegas, NV 89101
Timings: Open 24 hours
Pricing: The pool is complimentary for hotel guests. And for others, the prices vary from time to time and are different on weekends and weekdays. The minimum fee is $15 and the maximum is $40.
Let's go for something adventurous. Here at Golden Nugget, there is a tank pool. But that doesn't mean the pool is located in the tank. You will see a tank in the mid of the pool and the breathtaking thing is the tank has sharks in it. There is a water slide too, that goes through it.
The 200,000 gallons of shark tank attracts many globetrotters. The buildings have a bar on the third floor of the pool area. Good news! For a wildlife explorer, you can take a behind-the-scenes tour for the detailed information in the sharks' ecosystem, which will be led by a marine biologist.
The tank pool is best for wildlife enthusiast and it is an adult-only pool.
Lazy River, MGM Grand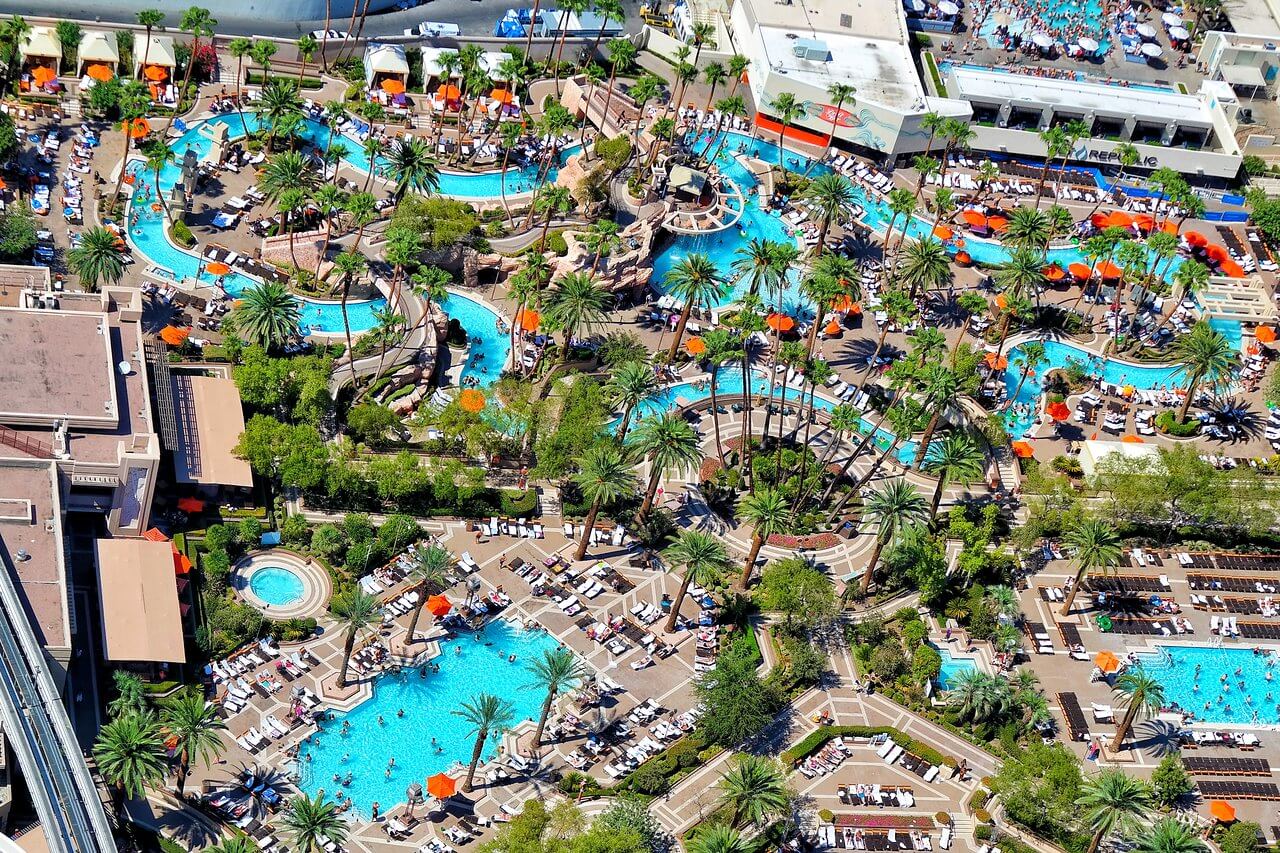 Source: tripadvisor.com
Address: 3799 S Las Vegas Blvd, Las Vegas, NV 89109
Timings: 8 AM to 5 PM
Pricing: The access to pools is free for hotel guests and non-hotel guests can get admission by paying a certain amount. (Weekdays: $20 for adults. Weekends: $30 for adults. And kids of age three or under are complimentary.)
When on a relaxing vacation, you would want to stay in bed and move to the pool. Nothing else. Away from the hustle of wandering in the city for new places to explore. If you are going to have some relaxing time, then go for MGM Grand. Why?
Here you can experience the ambiance of LV and along with it, you can also enjoy the dream vacay of yours! First of all, what is so good at MGM Grand? There are four pools, three whirlpools, waterfalls, a lazy river, restaurant, and bars. What else you need?
Okay! Even if you are want to experience the party life, they have the Wet Republic. It is an outdoor club with swimming pools and party bungalows. The place is best for both family and adults-only.
#Read this: It has 1000-foot long Lazy River, you just have to grab a tube and float down with the flow.
Also Read: Las Vegas Destination: 10 Things To Do In Las Vegas When Visiting For The First Time
Liquid Pool, ARIA Resort & Casino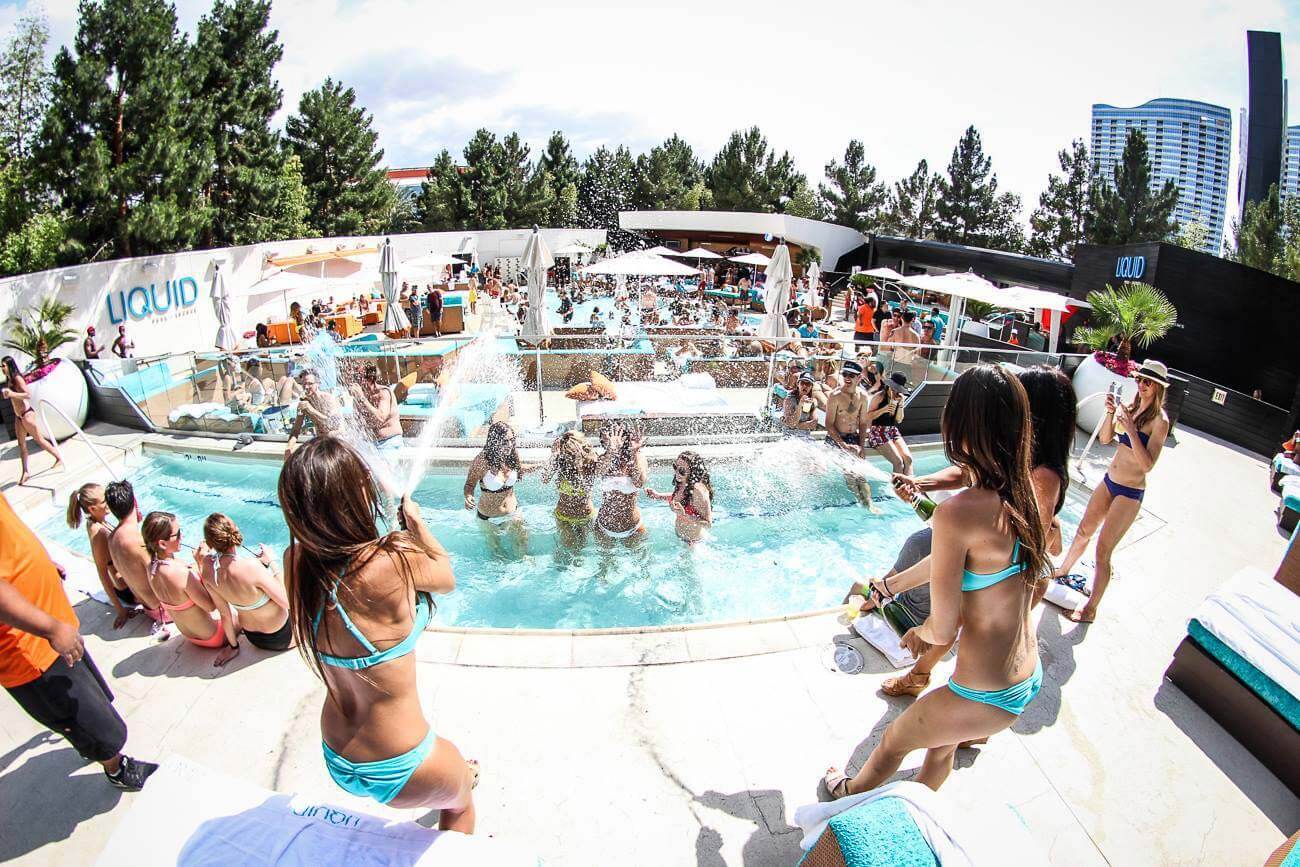 Source: destination360.com
Address: 3730 S Las Vegas Blvd, Las Vegas, NV 89158
Timings: 11 AM to 6 PM
Pricing: Liquid Pool is accessible both by guests and non-guests by paying changes. ($10 for women and $20 for men on weekdays.$20 for women and $40 for men on weekends.)
Sometimes you need a less crowded and chaotic place to hang out during your trip. If this is what you need then, Aria resort & casino is the best option. The complex located in the CityCenter has three tear-drop shape pools where you can kick off the Vegas-style pooling.
As we said, it is less chaotic. But still, you can experience the sexy pool party. It has a limited number of loungers, cabanas, and daybeds so that nothing goes out of control. You can enjoy DJs and groove on the beats.
There is a liquid pool, which is an adult-only area. If you want to attend a less sloppy party, then go for the day party. The resort has a sky suite that comes with a private pool and entrance. You can book that too.
*Note: The pricing and timing mentioned in the article are according to the present day. From the list, few pools are closed for the season. So check once with the website or the trip personnel before booking.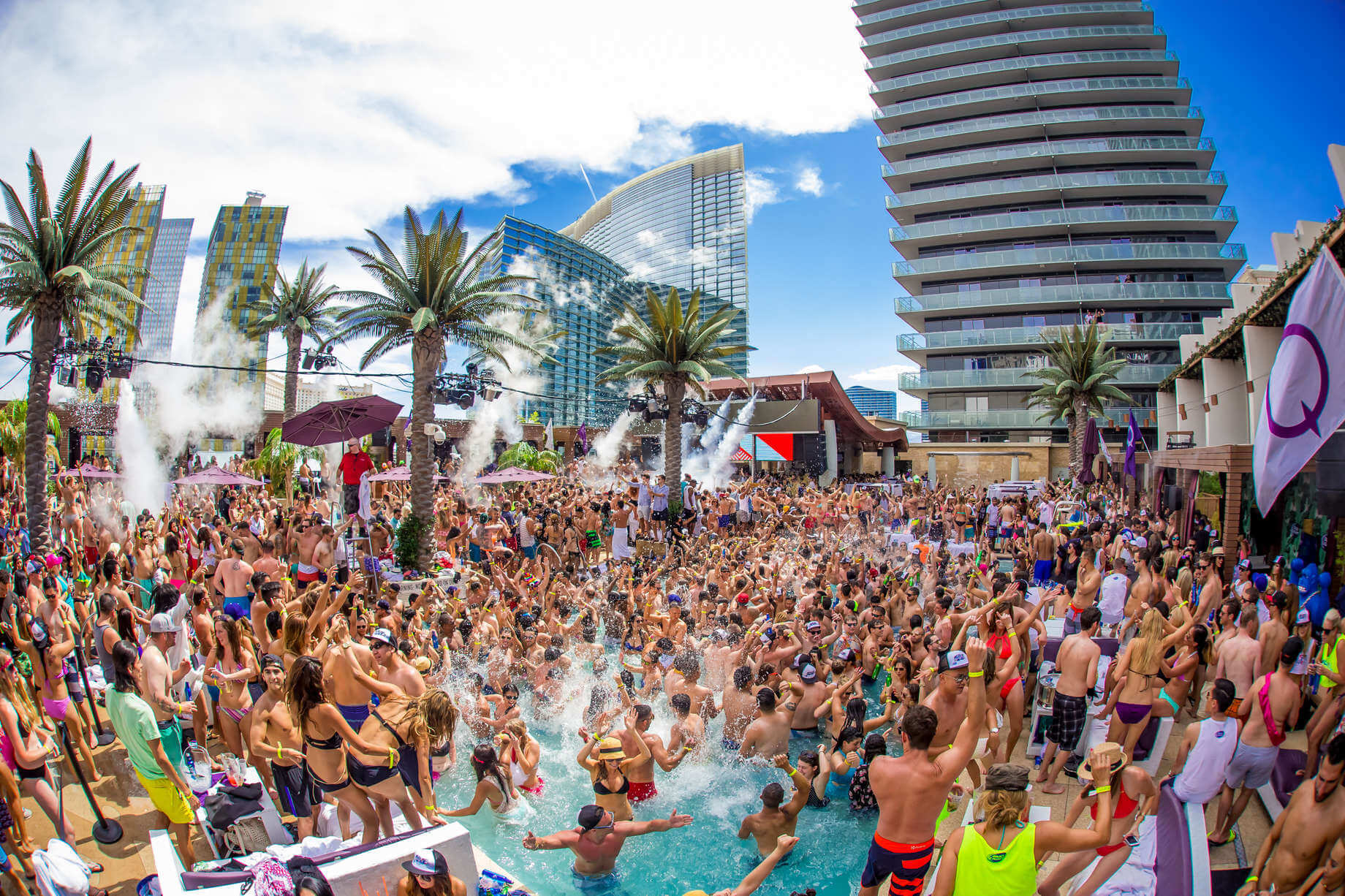 Source: thrillist.com
Let's not keep everything that happened in Vegas here only:
Pools aren't the places to keep it to yourself. Post the pictures of it on Instagram and all the social media, let your friends, family, and others be envious of you. Show them off the places and give them major traveling and chilling goals.
How you came to know about it? We will keep this secret safe with us (wink)! Come on, get moving!
For more information on traveling to the places and what to do over there, visit Travelila.