Europe – The continent with 44 countries is widely loved by travelers. The perfect time to visit Europe is from May to October, of which May, September, and October are the best ones. During those times, crowds are lesser, and prices are pocket-friendly with the mild weather (a light jacket or a sweater would work great!). Except for these, we would recommend traveling to Europe during Christmas; it will be a little more chilly, but its all worth it. 
The entire continent is filled with the aroma of gingerbread, bells of Santa's sleigh, and snowfall rooftops. Europe is known for its best Christmas markets. Every year millions of people attend Christmas markets in Europe. They leave the region with utter happiness and an impish mood. If millions of people are attending the Christmas market, it is natural that there will be many of them. As the number of choices increases, the confusion raises its bar. Your inner soul won't let you randomly select the place, especially when you are traveling to another mainland. 
All you need is thorough research on the best Christmas markets in Europe 2019 to prepare the itinerary. If you are here, then you are already on the process (smart people!). Okay! You are at the right place! We have done research on the Christmas markets in Europe and have differentiated the best ones for you.
Also Read: Great Way to Treat New Year with Top Christmas Travel Destinations
But first of all, you will need to know about the dates for the Christmas markets. Christmas markets in Europe starts in early November and will last till New Year's month (January). So book your tickets accordingly. 
Here we have mention 9 countries of Europe that have the best Christmas market arranged for us people. 
Let's take a look at them:-
1. Austria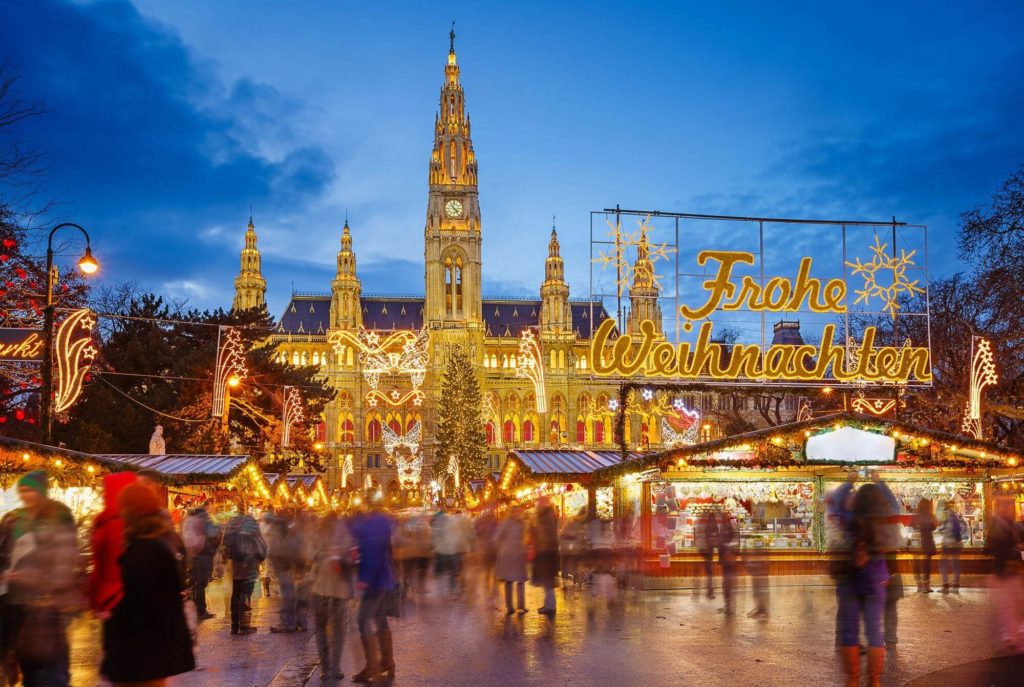 Source: scene7.com
Vienna in Austria is one of the best Christmas markets in the entire mainland. It kicks start in mid-November and lasts till December. Vienna Christmas Dream will give magical vibes with the fragrance of Christmas cookies and mulled wines. The most attractive part of attending the Christmas market in Vienna is its long-standing tradition of Vienna Magic of Advent, where city square hall is transformed into fairy-land with gifts, sweets, decorations, and much more. Apart from Vienna, there is also another Christmas market that is held in Salzburg and is equally famous for its ancient traditions and Christmas carols.
2. Germany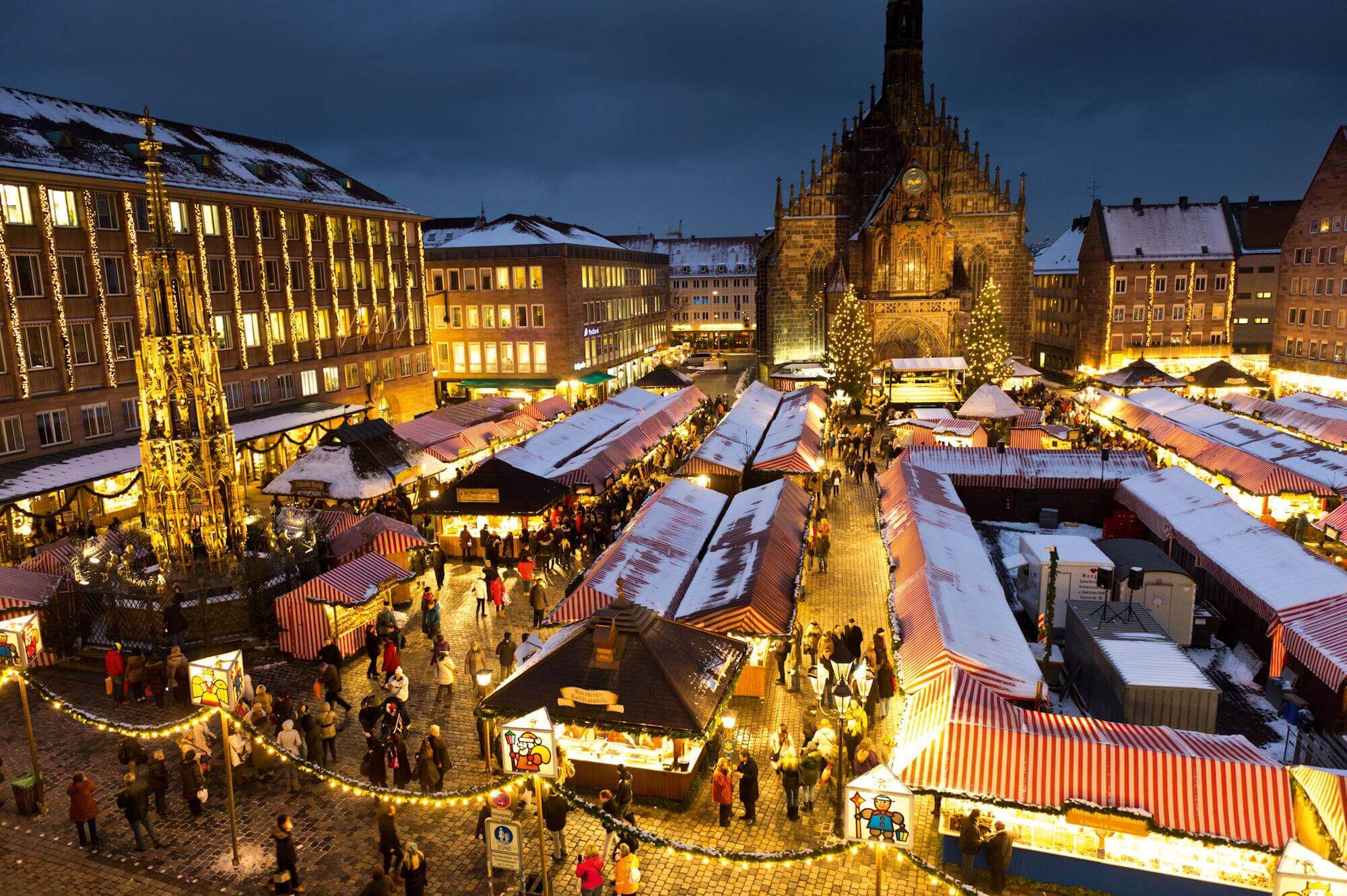 Source: pinimg.com
Cologne is famous for perfumes, but Nuremberg Christkindlesmarkt is the biggest Christmas market in Germany. It is recommended to visit Nuremberg at the opening ceremony where you will see the rare scene of Nuremberg Christkind appearing from the balcony of Church of Our Lady to open the holiday season. The entire city is festooned with lights and sparkling decorations. 
If you are more of an arty person and looking for some art-sprinkled decor and atmosphere, then head to the Christmas market of Berlin. Berlin itself is known for its art scenes that are reflected through its historical places, museums, and galleries. Oh yeah! They also have a special Christmas market for dogs (God Bless them for arranging something for our little love!).
3. Czech Republic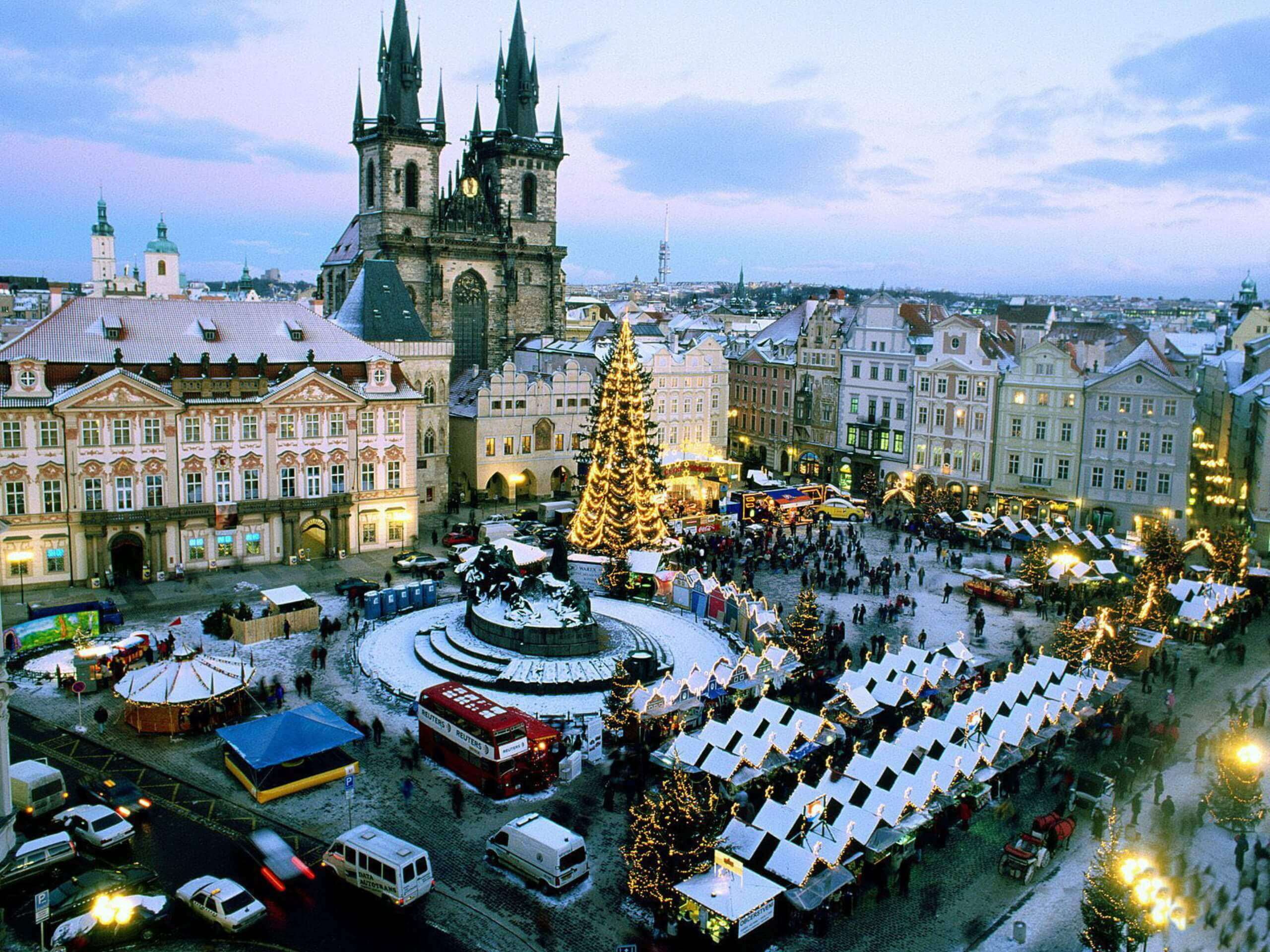 Source: pic2.me
Capital of the Czech Republic, Prague is the most colorful town, and this fact makes it unique. It is said when in Europe you should not miss a visit to Prague. It can assume you with its beauty on normal days, think what it will do with your feelings during Christmas? This colorful city gets more colorful and full of lightings. Prague is among one of the European cities that are best at celebrating Christmas. Along with lightings and Christmas dressing, this city gives out the familiar vibe that will make you feel more comfortable. Best known for its open-air concerts and traditional nativity scenes.
4. France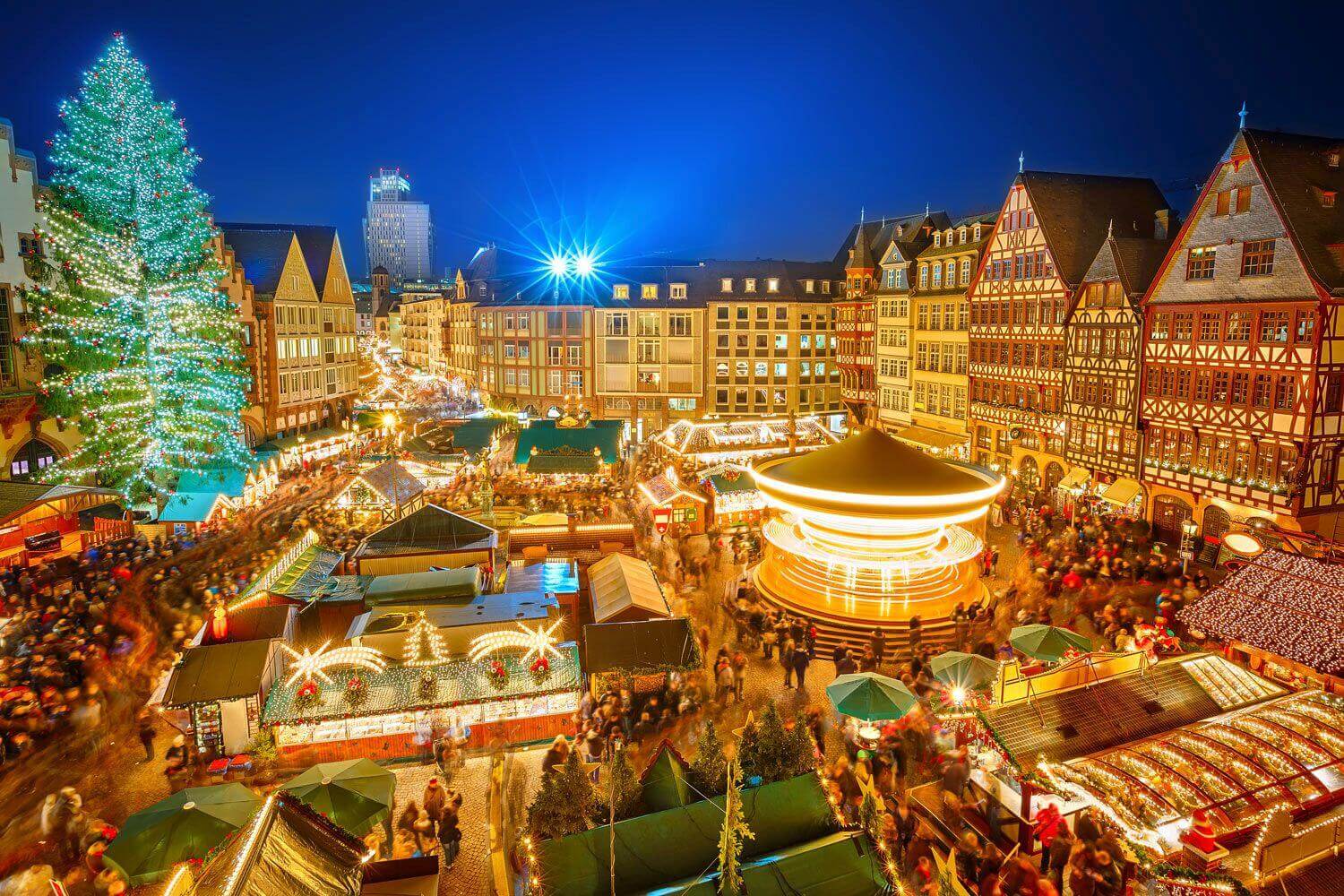 Source: firstclassmagazine.co
Why have we added Strasbourg in France for the Christmas market list? Because it is one of the oldest Christmas markets in Europe whose first edition took place in the year 1570. And it is the birthplace of Christmas celebrations. Once there, you will be carried away by the aroma of tastiest delicacies and will get amazed at the arrangement fairy light decorations. You will stop only at the heart of the city's historic center that, too, for taking in the views of 300 wooden chalets set-up in its best way possible. Apart from Strasbourg, Lille and Colmar have the markets where you will find the best of artisan and the great wheel of Ferris.
5. Estonia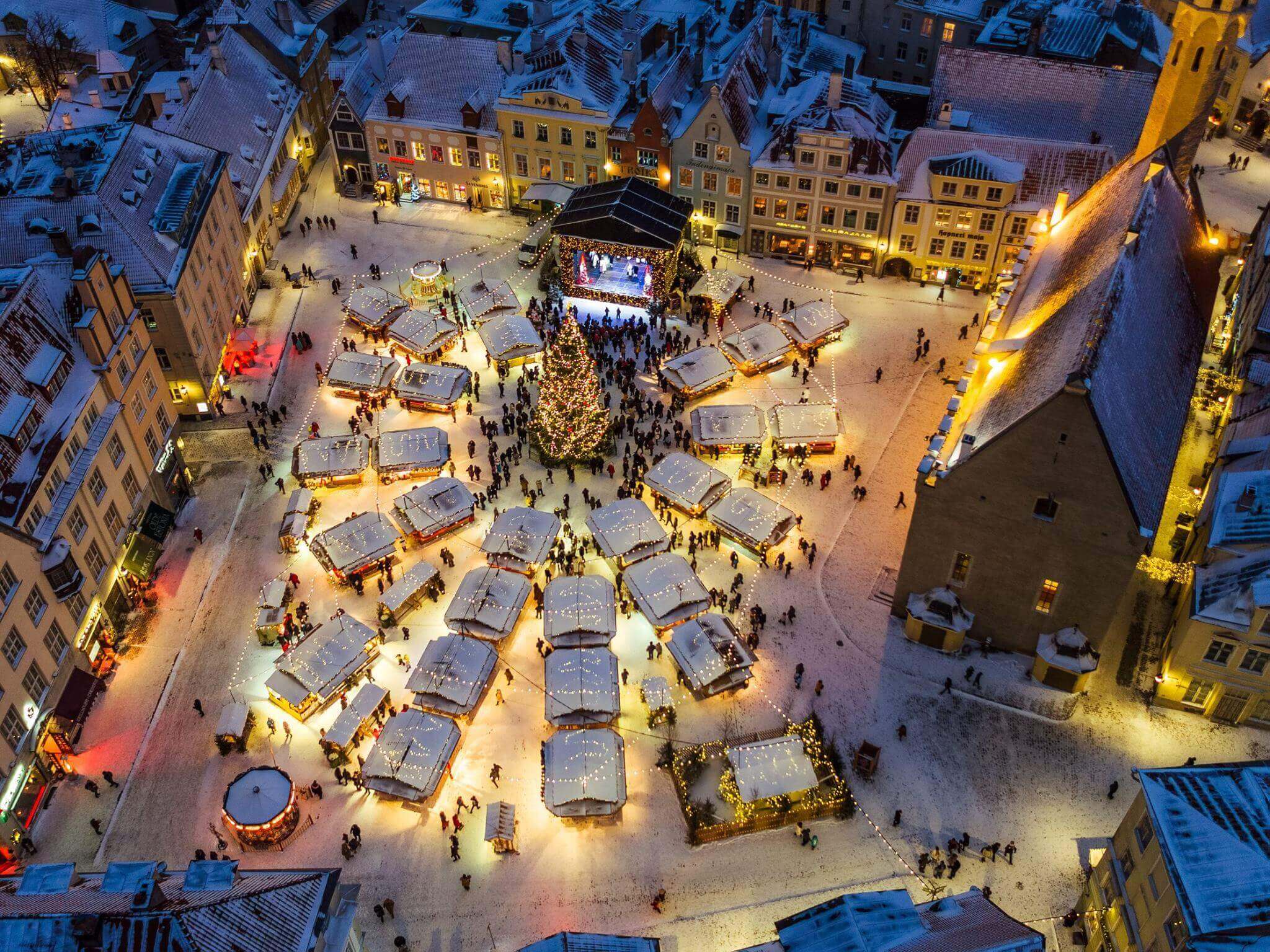 Source: estonianworld.com
Tallinn one of the best Christmas markets as well as the cheapest (in terms of cost) in Europe. There is a reason why it is here on the list. Tallinn in Estonia arranges the coziest Christmas market where you will find small stalls surrounded by illuminated medieval buildings. Here you can get your hands on knitted sweaters, gobble up the gingerbread, and meet Santa in person. And as they are one of the best among the Christmas markets in Europe, it is obvious that it will get crowded. So get your tickets to Tallinn ASAP.
6. Croatia
Source: travelandleisure.com
Attending the Christmas market in Croatia means wandering around the city. Why? Because the entire city is unfurled with the Christmas stalls where you can buy anything from ornaments to tasty delights. When wandering, do stop at the Zrinjevac Park to experience the 200 plane trees illuminated with lights. And if you are a foodie, then a stop at krpice sa zeljem is a must; it offers the appetizing pasta and cabbage dish (which is, by the way, the backbone of Croatian cuisine). How can we forget about Advent in Zagreb? It is all about having a mulled wine with a pinch of cinnamon in it.
7. Sweden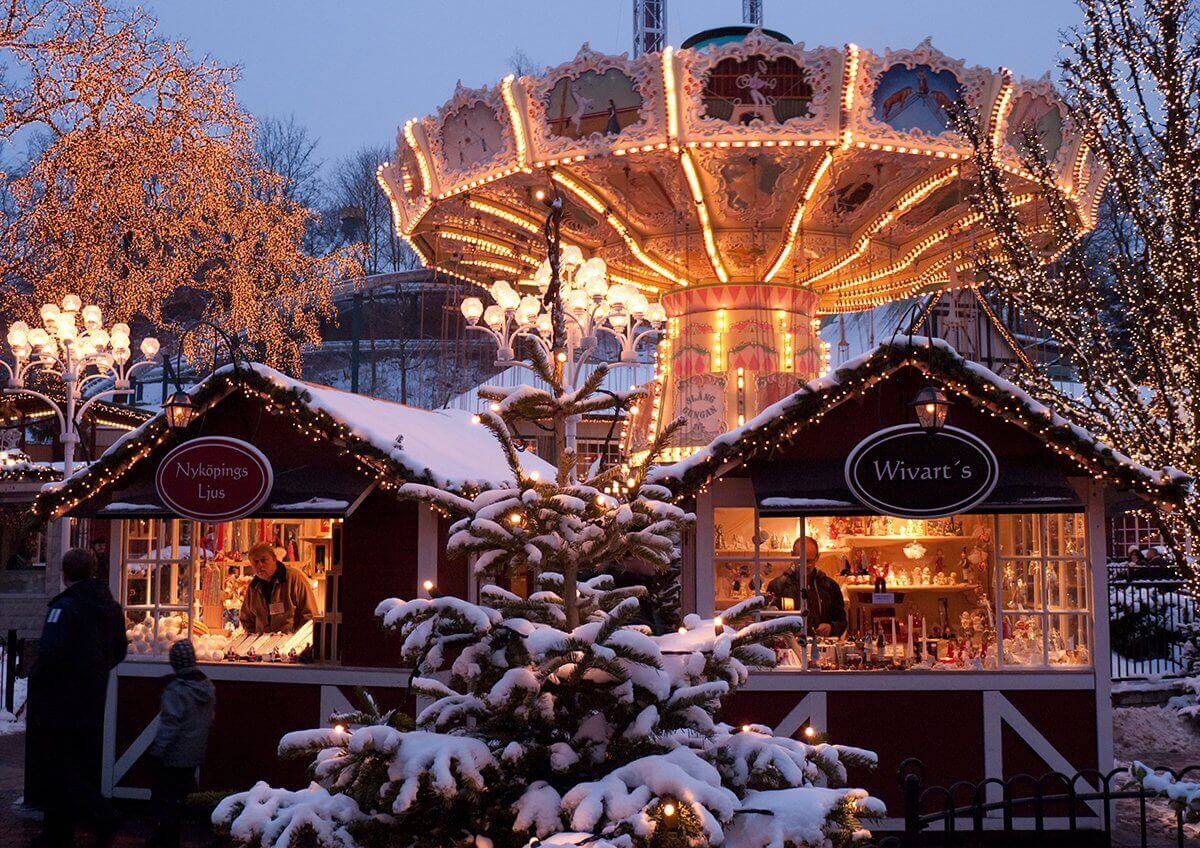 Source: ballyofswitzerland.com
You can spend the best time here in the most popular amusement park in Sweden – Liseberg (Gothenburg). The entire amusement park is decorated with lights, and you will find the sweetest of the food here in the park, from Scandinavian wine (glögg) to Polkagris (sweet Swedish peppermint sticks covered in red and white stripes). You will feel incomplete if you miss out on the Stockholm Christmas market. Importantly – you will miss out on the most amazing feast arranged at Bollnäs Square, where the scent of sugared almonds, smoked turkey, and fresh bread will intoxicate you. The market held at the Skansen museum and zoo has the tradition of celebrating the New Year's eve by illumining the sky with fireworks, till that it the Christmas market doesn't end. One more thing to add! When in Stockholm, look for the Christmas tree ring-dance where professional dancers perform around the central tree (only on Saturdays and Sundays!).
Christmas in the European Market:-
After reading the blog, you will be aware of the amount of enjoyment you are going to have at the Christmas markets in a region where there are most amazing places to visit and which is the home to the country Italy whose most popular food is most loved food around the world. You will get to stuff the best of delights. And also can get your hands on the winter essentials and handicrafts. We guess we forgot to tell you about the best Christmas trees you will see while in Europe. What are you waiting for? Get your tickets booked before it ends. 
For more information on traveling to destinations, visit Travelila, then be it for a romantic getaway, family reunion, solo trip, or expedition with friends, we got all the answers.