Thailand is dubbed 'The Land of Smiles', and with good reason – not just because of its meek, friendly, and hospitable locals, but because it is bound to put a smile on your face. If you are a tourist, select nooks of the vast expanses will certainly suit your desired palette, irrespective of your taste, irrespective of whether you like bustling nightlife, tranquil sweeping valleys, majestic mountains, or soothing beach resorts – Thailand has it all. The places to visit in Thailand are known for being the best honeymoon destination in the world.
In fact, it is practically impossible to even barely consume all it has to offer, even if you travel for a month, even if you select the most optimal itinerary. For a budget tour of a week, it is recommending that you select only two regions to travel at most – one region if you like taking things slow. That being said, without further ado, we will try and list the top Thailand destinations, so you don't miss out on the best of it.
Northern Tha

i

land
(1) Chiang Mai – Bank of Ping: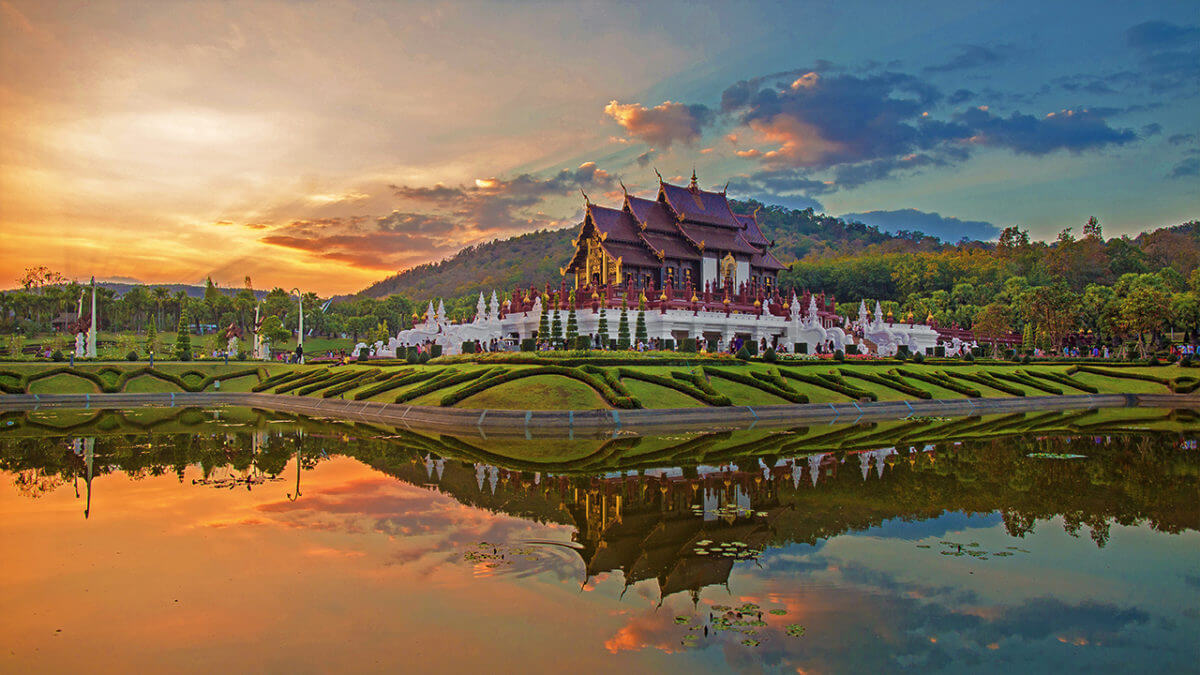 Source: amazonaws.com
Chiang Mai is itself a popular area, so expect it to be very touristy all year round. Since there will be a torrent of people anyway, pick the best time of year to visit there; i.e. any time of year that is not the dog days of summer. The already torrid climate of Thailand is accentuated by the burning season around March to May. It varies each year, so be sure to look it up beforehand and avoid it.
At any rate, if you find yourself trying to get away from the throng of tourists that seem to evermore huddle up; the riverside market is a great escapist's paradise to decompress. The bank of the river Ping is tranquil and picturesque in the evenings. It is only a short walk away from an abundance of bars and markets – including western ex-pat bars.
(2) Chiang Mai – The Moat: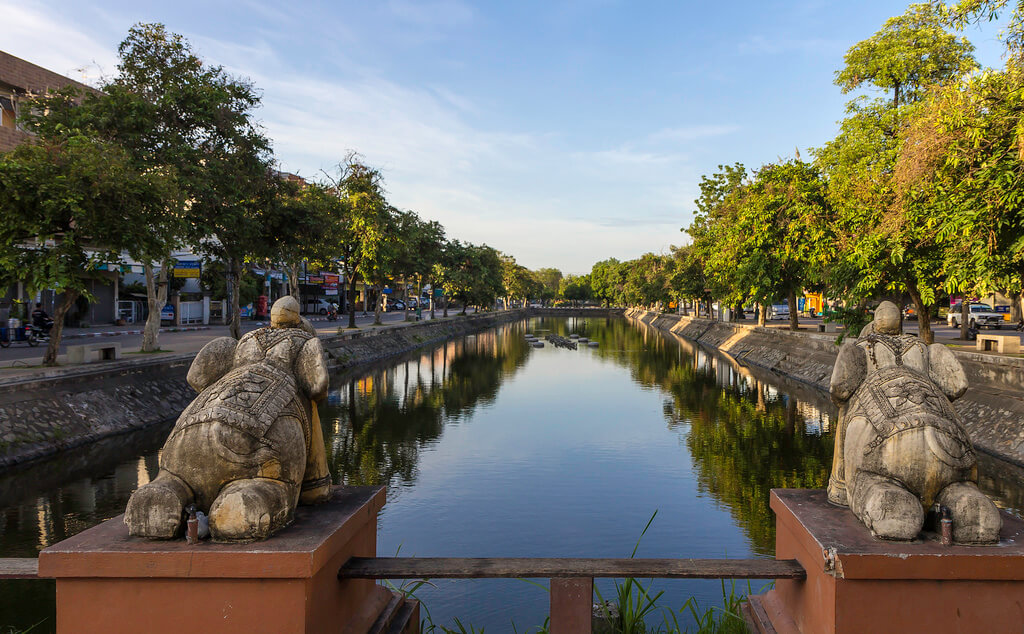 Source: staticflickr.com
For the adventurer at heart, the moat is where home is at. The calm square has enough temples in its nooks and crannies – more than a hundred; in fact – for you to feel like a pilgrim. The southern moat allows for the most peaceful and pleasant walk of all. Add to that the square's affinity for great nightlife and the Moat makes for a place worthy of any itinerary.
The western side of the moat, called the Nimman area, is a place for lowkey souvenir shopping, with stalls for designer clothes and authentic northern Thai accessories, and a swath of great cafes. There are three things around that you should not miss: the beautiful Wat Phrathat Doi Suthep temple, the view from San Ku hill, the hill-tribe markets famous for their sakura blossoms. And of course, don't forget to get a taste of the Khao Soi.
(3) Pai: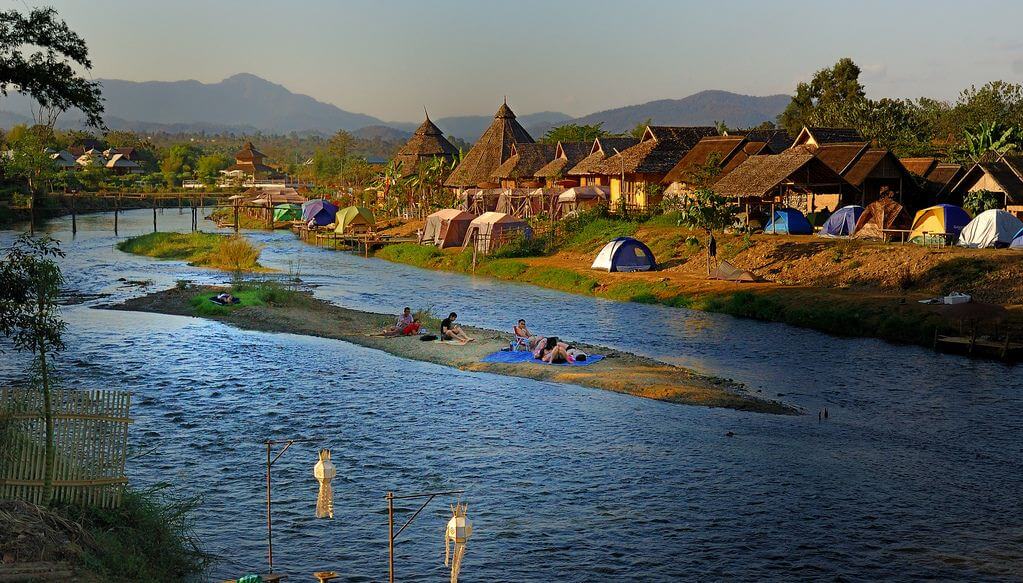 Source: livingnomads.com
Not very far away from the tourist hotbed that is Chiang Mai. Pai is a small town nestled in the middle of a scenic valley. Pai is the definitive adobe for a solo traveler. If you are physically fit and have some experience with traversing meandering mountain roads, you can rent a bike to take the 5-hour ride by yourself, because the route itself is gorgeous and full of surprise vistas around every other bend.
After you are done touring the Pai Canyon, you can engage in various activities. It presents rafting, elephant treks, hot springs, or a stroll down the strawberry farms. Speaking of strolls, the Huai Dimi lake is highly underrated as a photography spot and should be on your list; even if you aren't there to take photos.
(4) Chiang Rai – Wat Rong Khun: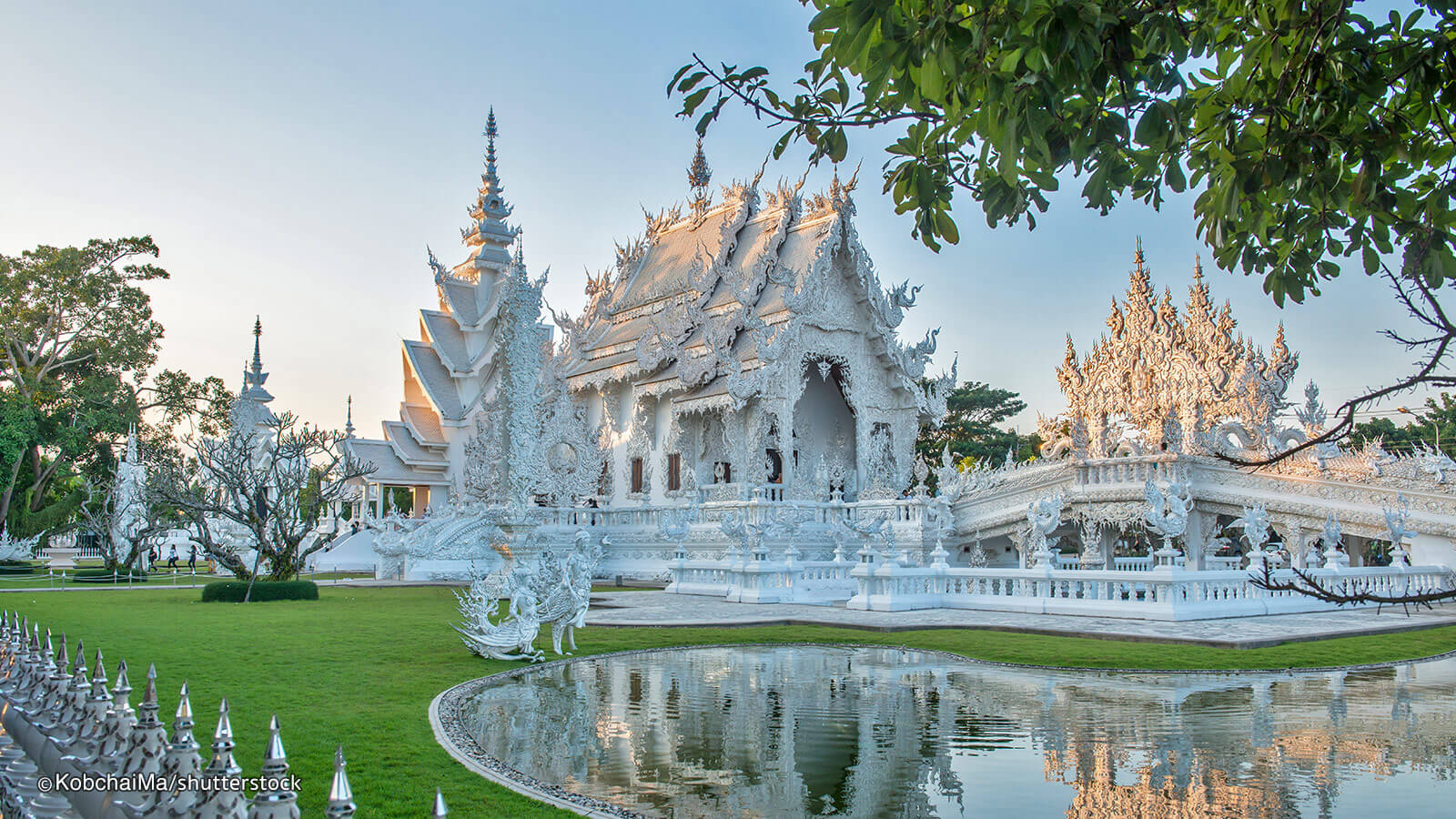 Source: asiawebdirect.com
Coming in from Chiang Mai; it is a great idea to take a detour towards the border in Tha Ton first, and then book a fast boat to Chiang Rai. However, If you go in expecting a quieter small-town version of Chiang Mai, Chiang Rai will disappoint you, as it shares the same problems – gridlocked busy roads and incessantly honking tuk-tuk traffic – albeit somewhat abated.
The top reason anyone considers Chiang Rai is Wat Rong Khun, the eccentric piece of work that will likely be the most bizarre temple you have seen, a masterpiece of classical Thai architecture.
(5) Other places about Chiang Rai: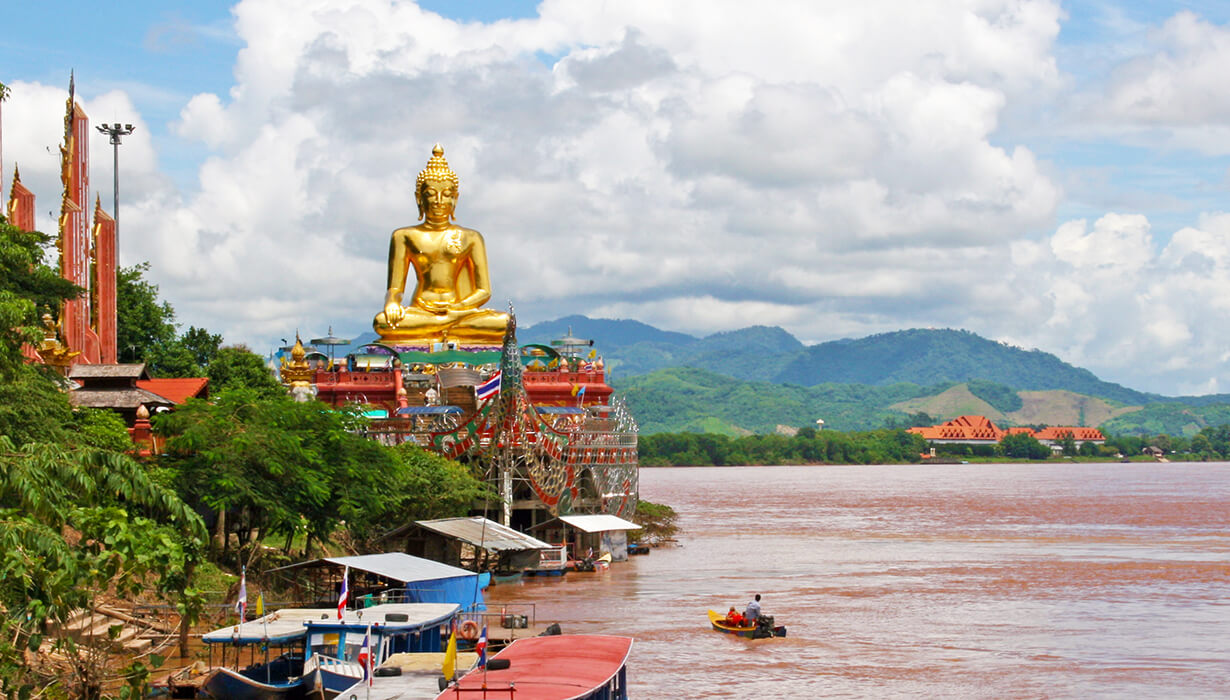 Source: cruisemekong.com
To keep it pithy, if you are a history buff, and want a good showpiece for Thai cultural heritage and religion head over to the Golden Triangle through the Sob Ruak village. There are some holiday travel tips that you need to follow in order to make your journey smooth. If you like the sound of a scenic hour-long trek and a giant 77-meter waterfall, opt for the Khun Korn Waterfall.
Central Thailand
(6) Bangkok – Wat Pho/Wat Arun: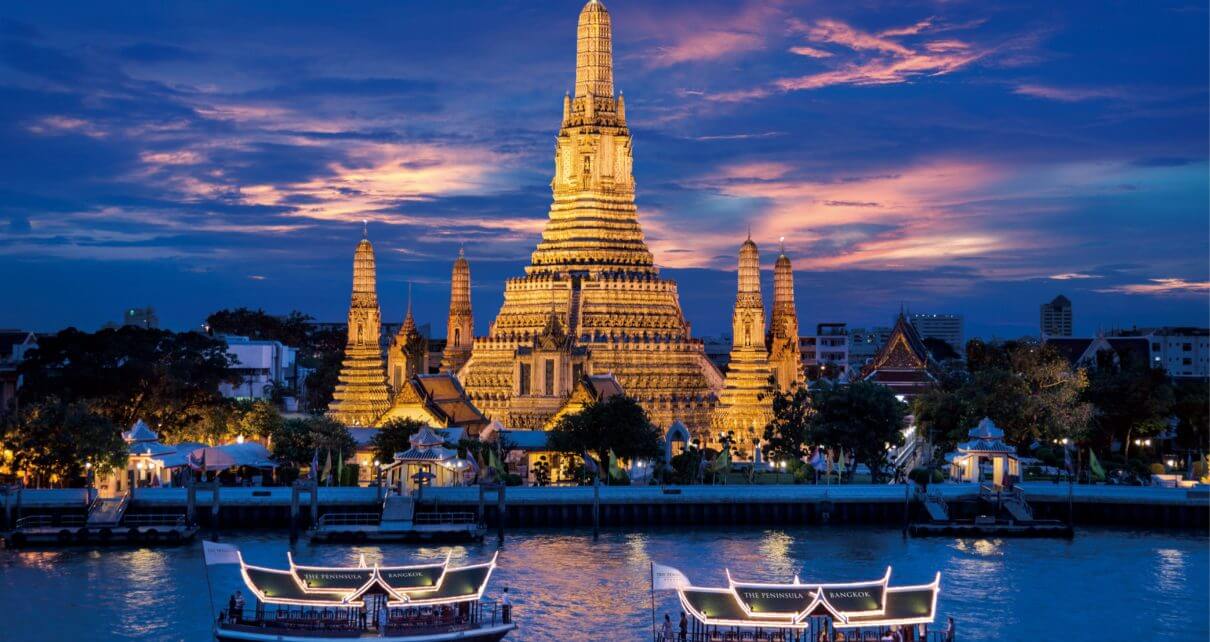 Source: amazing-places.com
The Thai capital is practically the poster city – although Pattaya has taken some precedence in recent years. Yet, Bangkok remains Bangkok, one of the most unique cities in the world known for its heavy saturation of squalor and monuments, chaos and harmony, culture and diaspora. There are many places to visit in Bangkok that we all just dream of. There is a pronounced difference in the old and new cityscape, between Khao San Road and Sukhumvit, and depending on your preference you can find accommodation in either.
The streets are always bustling, weekdays and weekends merge into each other with the vibe of the Bangkok hubbub. Back to the matter at hand: if you had time to go see only one patch of tourism in Bangkok, it would indisputably be Wat Pho.
The Temple of the reclining Buddha is rich in its ornate Ubosot and grandiose reliquary, and the nearby Grand Palace is worth visiting as well. If you have additional time, Wat Arun is also a nearby attraction. If planning for the best tours you can visit Thailand tours and vacation packages.
(7) Bangkok – The Klongs: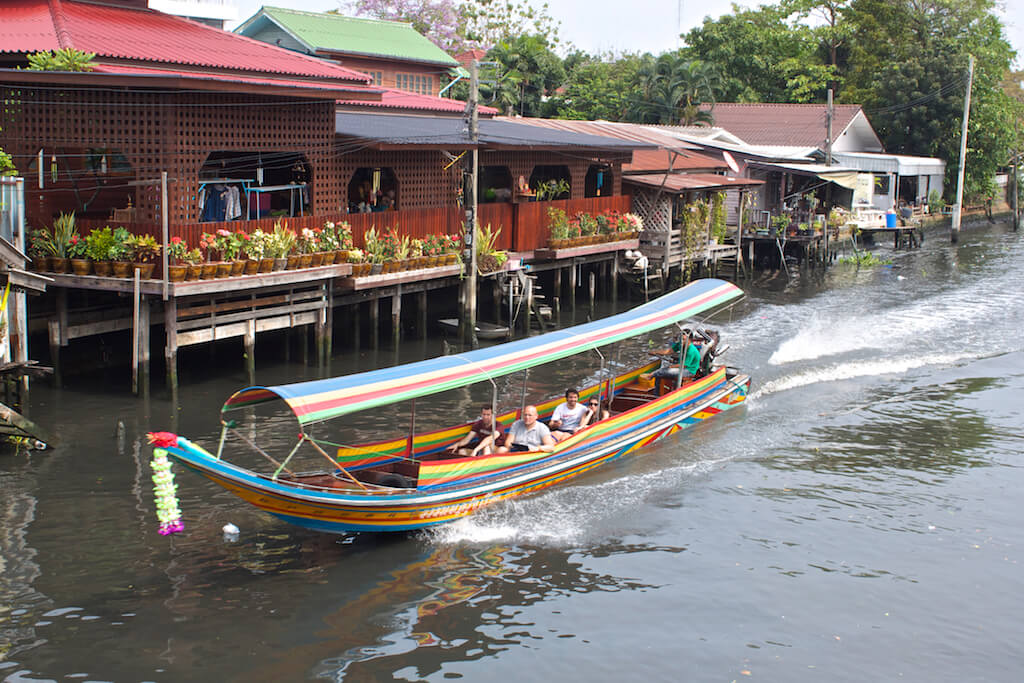 Source: cherylhoward.com
You can walk through the serene awe-inspiring cityscape of Paris or Budapest, but Bangkok's charm is one of a kind. It is called the Venice of the East, because, like Venice, you can explore much of what it has to offer by traveling on the kings. Klong Saen Saeb cuts across the city from east to west, and there is a more intricate Klong network, that of Thonburi, on the other side of the Chao Phraya river.
(8) Bangkok – Chatuchak Market: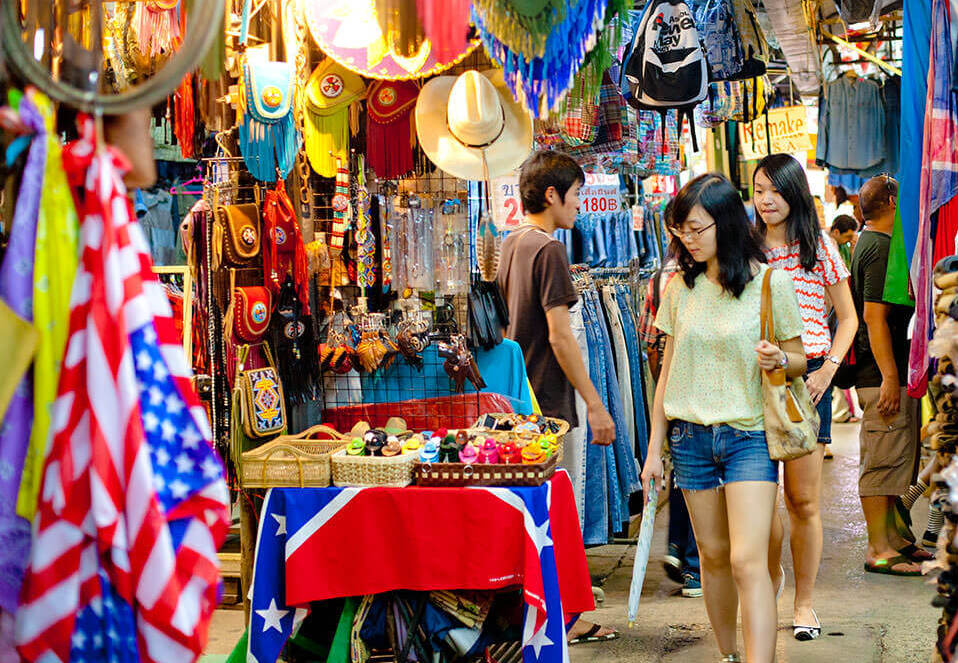 Source: asiawebdirect.com
The day/night market really comes alive on the weekends – and if you are incidentally in Bangkok during the weekend, there is no excuse not to visit it. The street food enthusiast, the photographer, the shopaholic, the casual flaneur – the weekend market at midnight has things aplenty for anyone and everyone.
(9) Bangkok – Escape Hunt: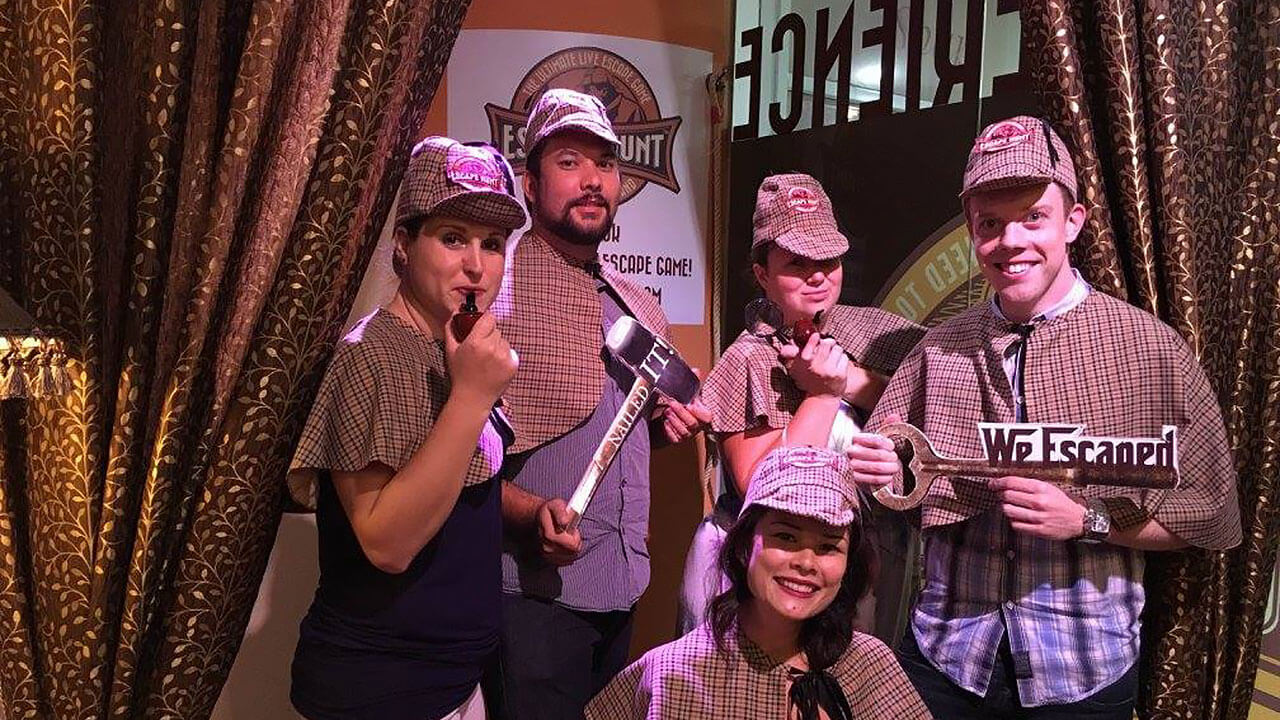 Source: imgix.net
This is a one-of-a-kind activity, and this is why you should NOT miss it. To oversimplify it, it is like a live puzzle game where you can team up with strangers, or with your family, and piece together evidence in a mock-murder-mystery thriller. Designed for everyone over the age of seven, this is a great family-friendly activity.
(10) Jomtien Beach: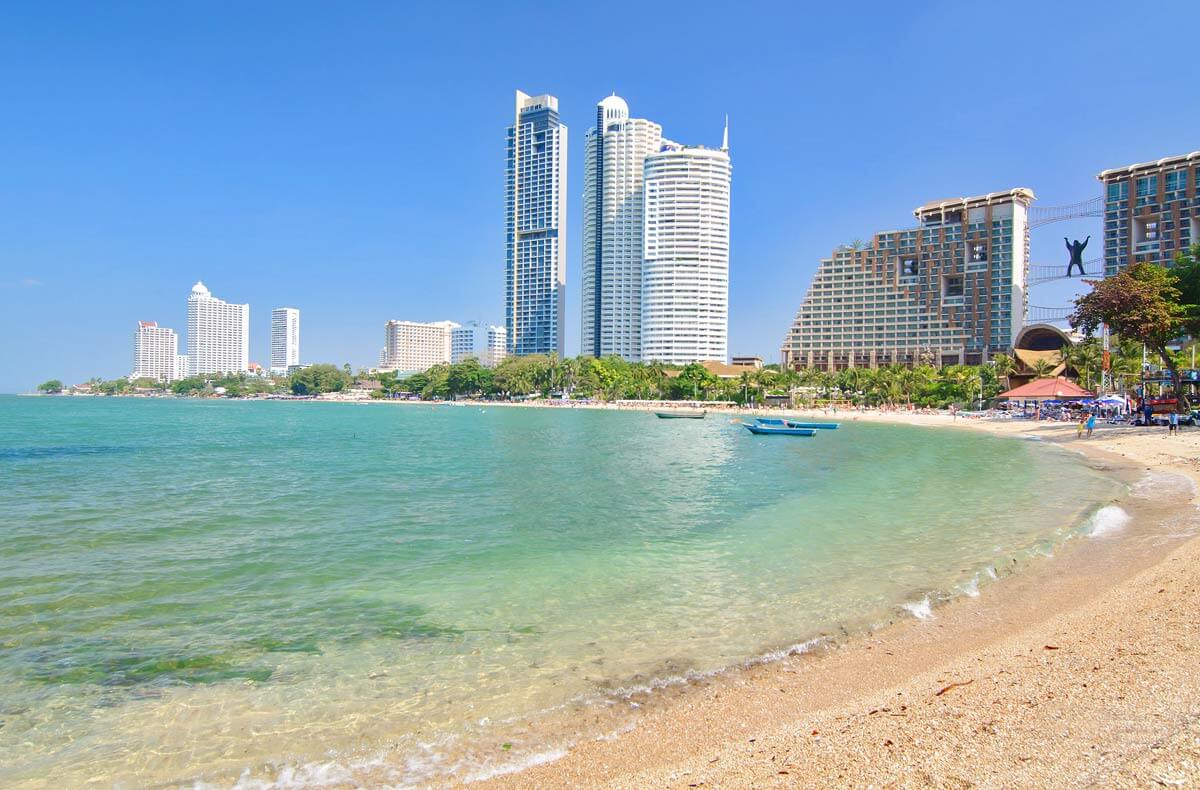 Source: asiawebdirect.com
About 3 km south of Pattaya, this is a textbook holiday beach resort with all the activities you would suppose possible on a beach – jet skiing, kite surfing, parasailing. Jomtien beach has a gorgeous view from the cliffs, and a great family-friendly retreat in Cartoon Network Amazon, in case you were traveling with children.
(11) Wat Phra Yai / Bang Rak: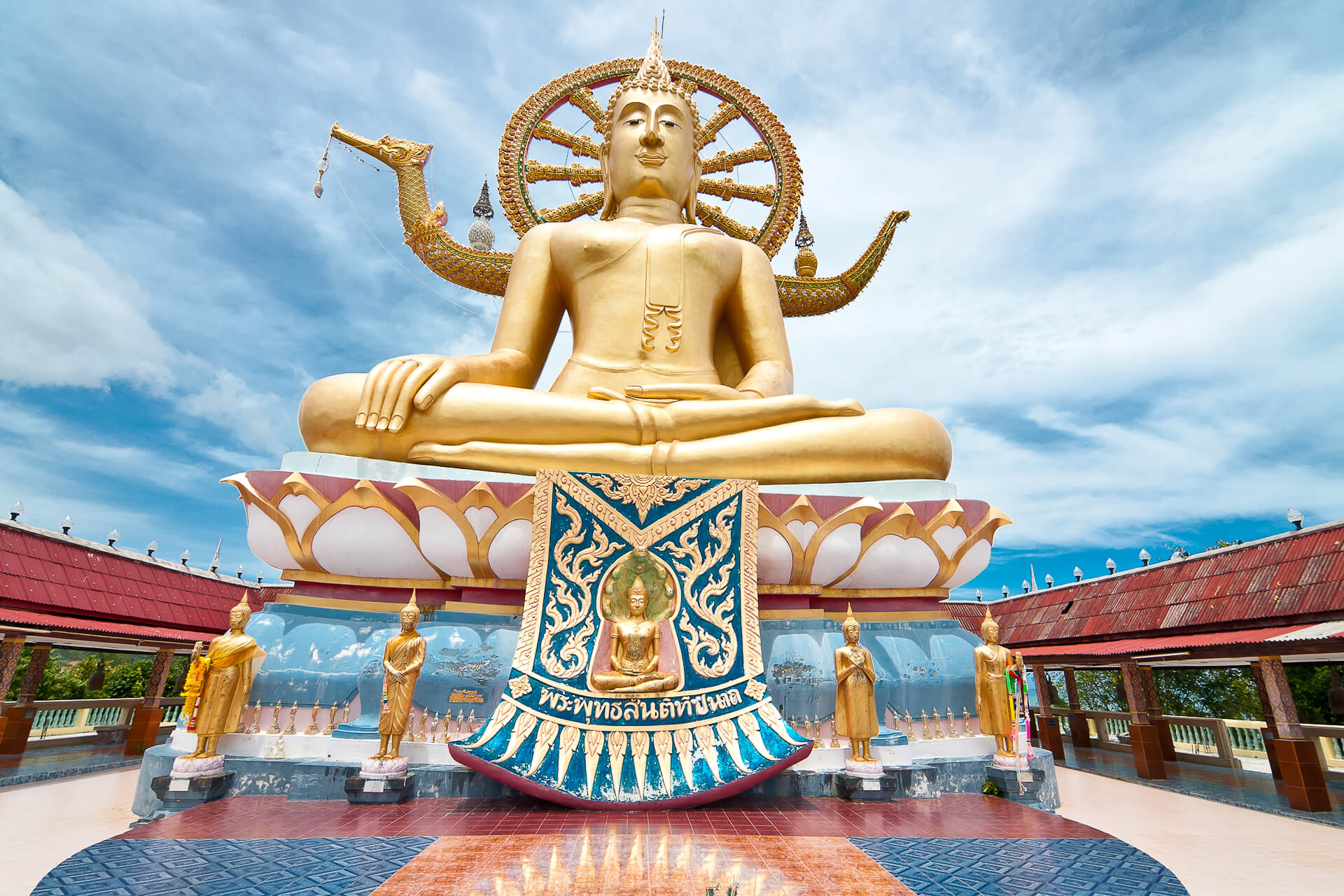 Source: wikimedia.org
The 20-meter gold-coated Buddha statue can be seen in-flight on any plane landing in and taking off from Samui International Airport. The statues are on a tiny island two miles offshore from the Ko Samui search, accessible through a crossway.
The statue is in and of itself a sight you have to see to believe. But the beach town of Bang Rak by it is also a chill place to hang out in. Because it does not attract a torrent of crowds, you can enjoy an hour of pure bliss watching the 18-meter husk of golden contemplation and inner wisdom to truly revitalize yourself.
(12) Pattaya – The Sanctuary of Truth :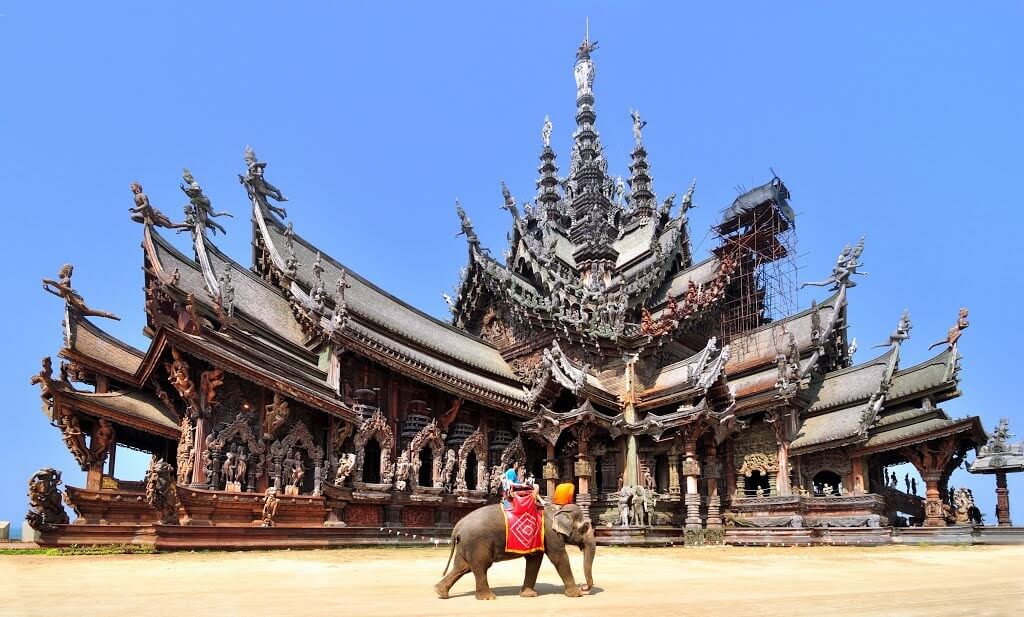 Source: wp.com
The resort city offers excellent nightlife and recreational activities. But no amount of enjoyment can beat the euphoria that is watching the wooden Sanctuary of Truth; dubbed "the magnificence of heaven recreated on Earth".
South-Western Thailand
(13) Chalong – Phuket: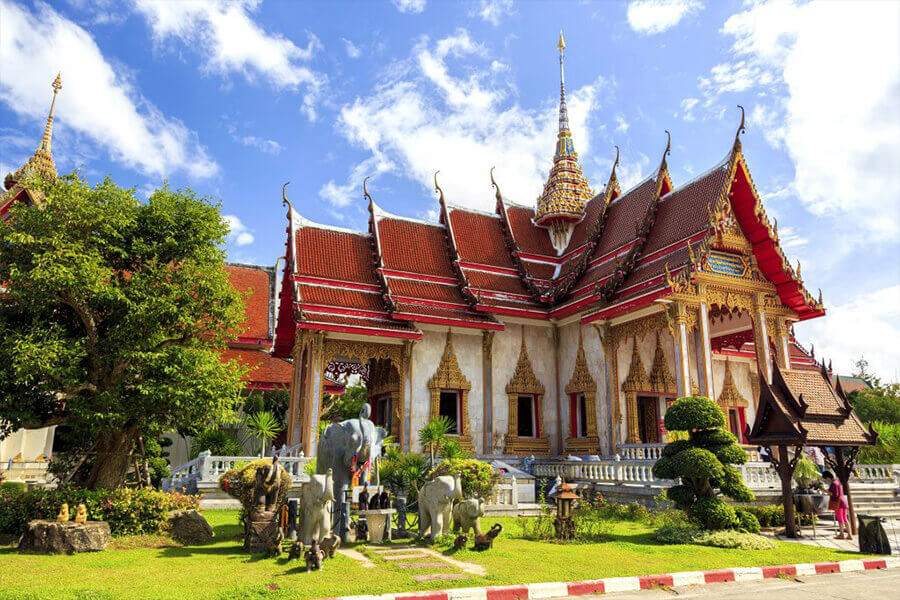 Source: themegatour.com
A sub-district of Phuket, the tranquil sea-shores is a sleepy town compared to the more crowded Thai tourist spots. When in Phuket, always drop by in the Phuket bird park for some exotic birdwatching delights. The Big Buddha by the sea is photogenic all year round, even in overcast weather.
(14) Phuket City: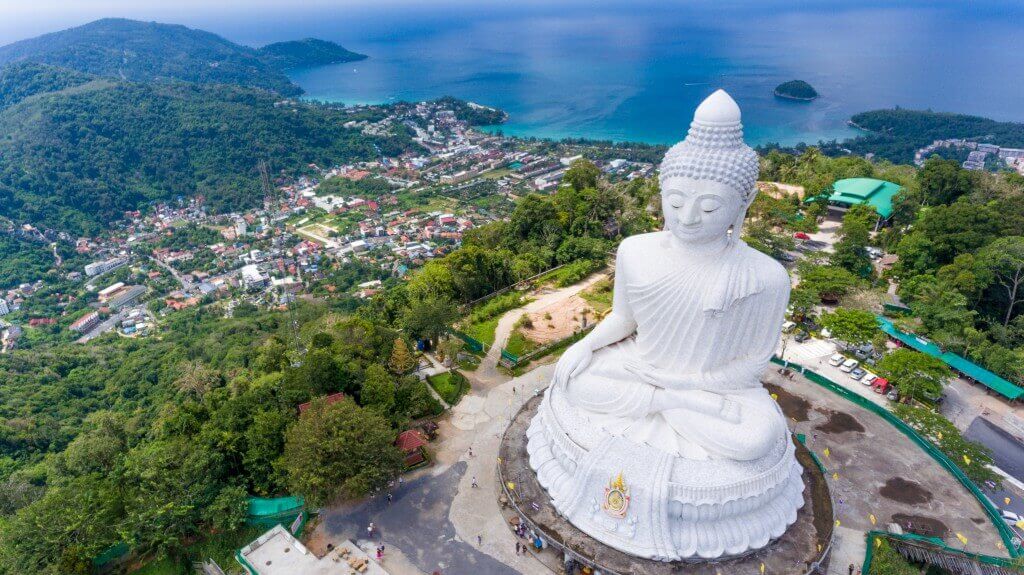 Source: rawaivip.villas
The capital of the Phuket province is an island city like no other in Thailand – at times its streets will feel Latin American, other times Swiss, not to imply inconsistency but to stress the joyride that is walking through Thalong road and its bustling marketplace. And of course, like all Thai places, Phuket city has its fair share of wats and shrines. Have you heard of some unknown beaches of Phuket that you might wonder!
Also Read: Joy Of Travelling: Best Place To Travel In 2021 To Enjoy Lively Weather
(15) Krabi – Phi Phi: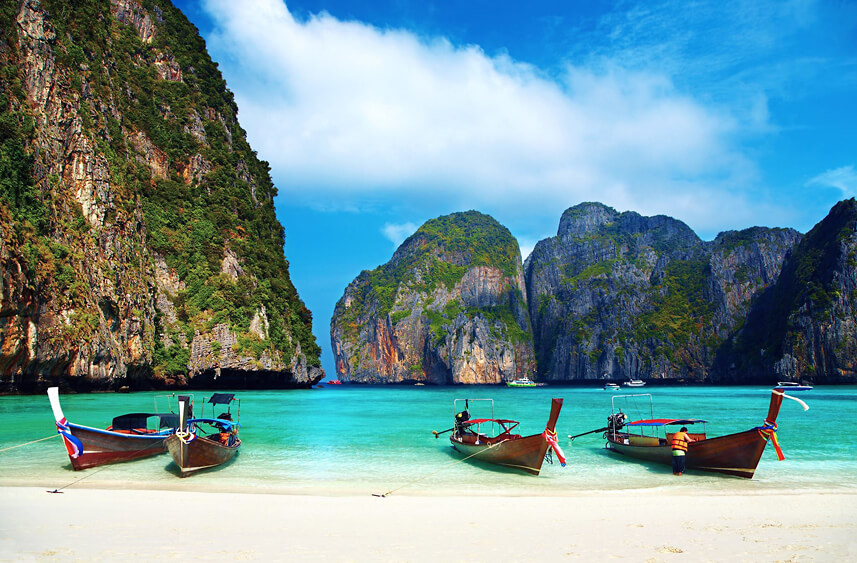 Source: krabi-tourism.com
The west coast of Thailand presents breathtaking sunset vistas and a plethora of cheap aquatic activities – both over and underwater. If short on time, your best bet would be to take a scheduled speedboat island hopping tour from Ao Nang. Most of the things are done within a day. It covers everything including Hat Nophharat, Viking Cave, and a scope to visit the Ko Lanta National park.
If you fancy, you can also partake in snorkeling, waterboarding. Most importantly – kayaking through the emerald green waters – the essential Thai beach experience.
To explore more places like above please visit Travelila.